Have you been wondering if there is a way to schedule Instagram Reels for free? We'll you're in the right place!
Top Instagram Reels scheduling tools can help streamline your social media marketing efforts and improve consistency in your posting strategy.
This is a new feature that many social media management tools currently don't have available. Agency Vista has rounded up the best tools that let you schedule Instagram Reels for free!
Best Instagram Reels Scheduling Apps & Tools for 2022:
Vista Social
Planoly
Preview App
Hootsuite
Metricool 
Later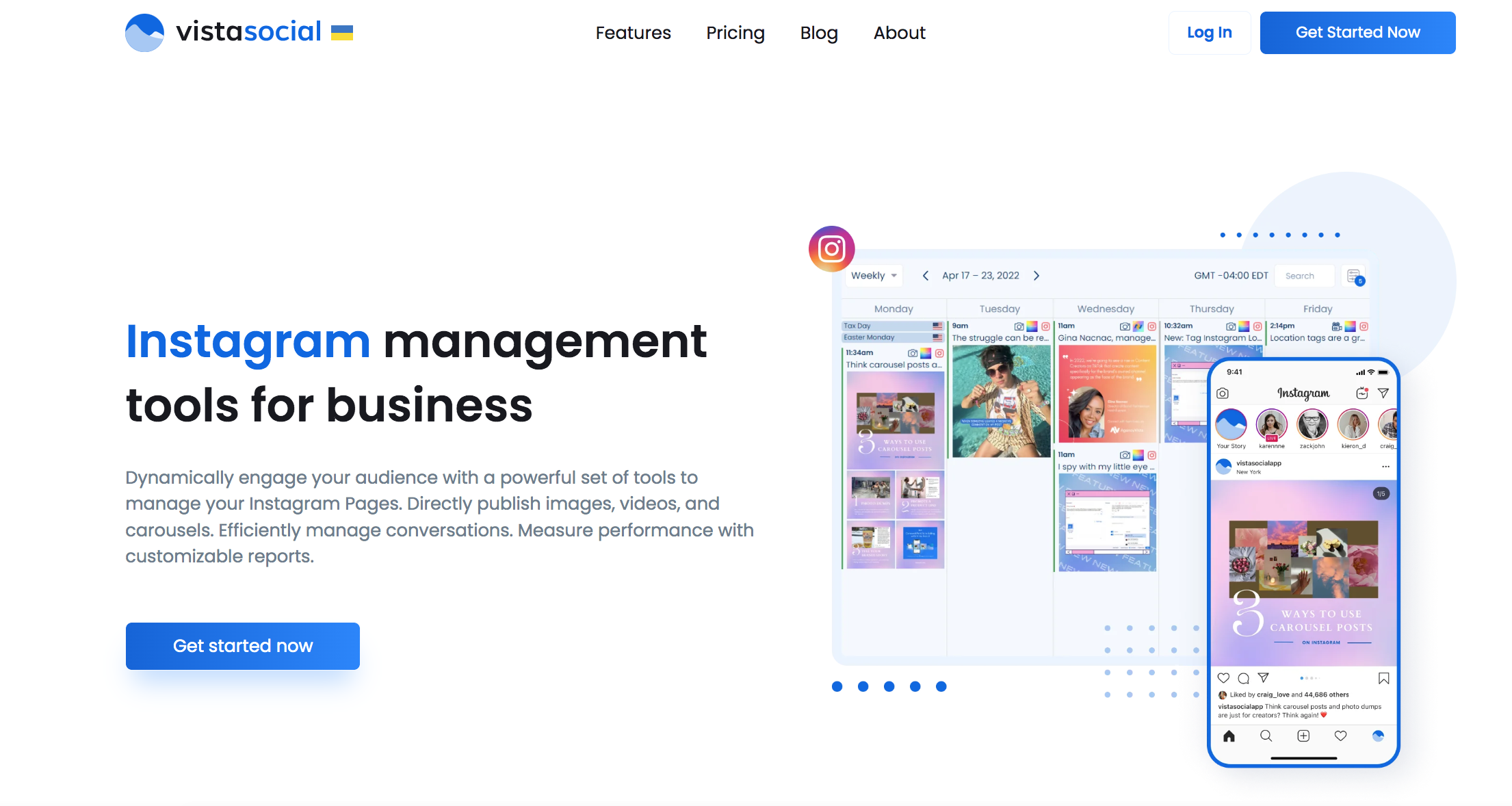 Vista Social was the first platform to offer the ability to schedule Reels directly to Instagram. Their platform allows you to directly publish your Reels without any hacks, workarounds, or mobile app notifications.
Vista Social's comprehensive platform allows businesses to manage their Reels with auto-publishing capabilities and analytics features. This makes it easy for brands and agencies to streamline their workflow and be more consistent across all platforms.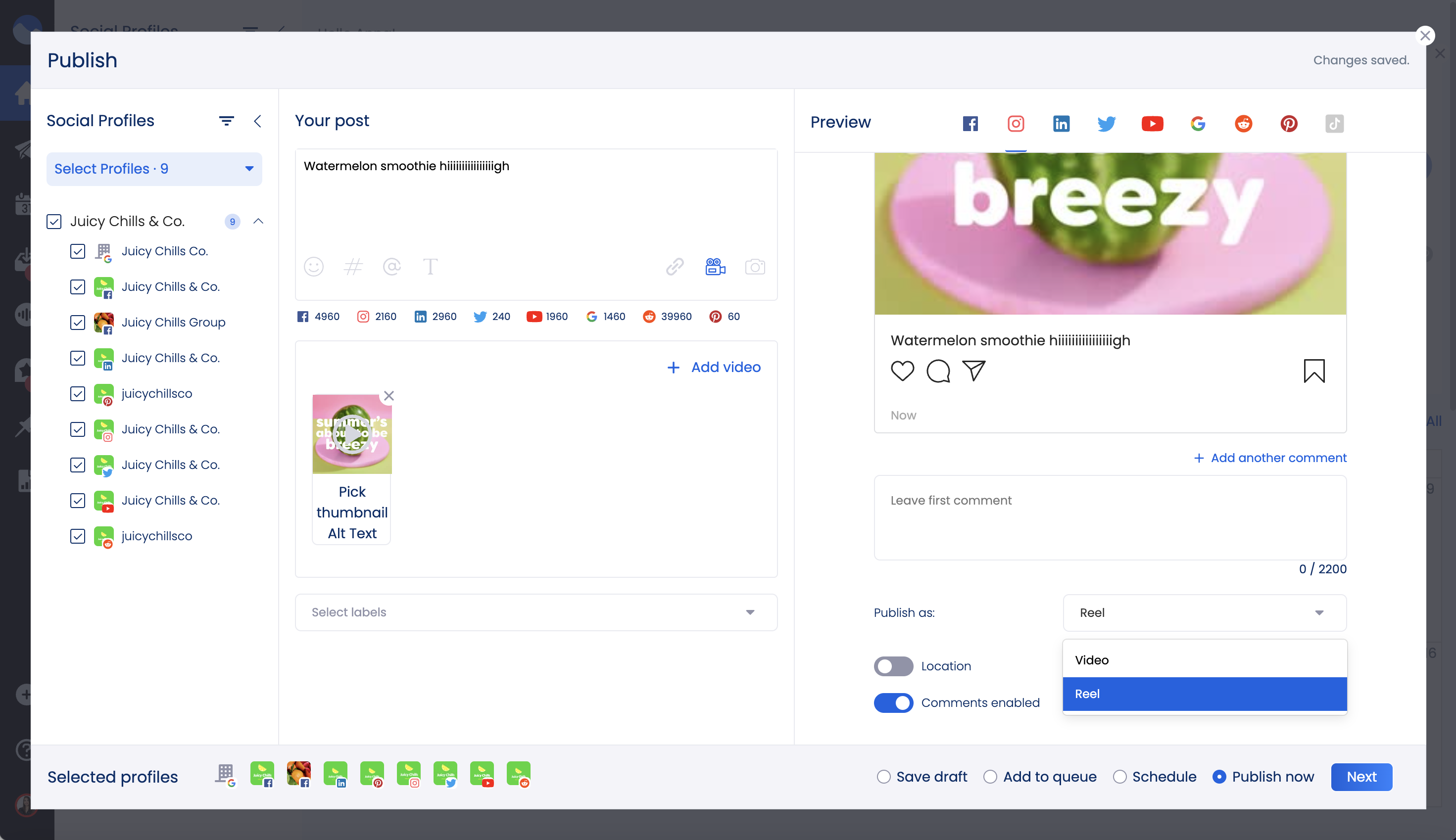 Brands and agencies require certain features to support their social media marketing needs. Using Vista Social's platform to schedule Instagram Reels gives you access to detailed analytics to measure, track, and optimize your Reels performance — all from one intuitive analytics dashboard.
These insights can be a game-changer as they can help you more easily identify content with viral potential and optimize your strategy at scale. Their platform allows you to visually plan your content and preview your Feed or post before publishing!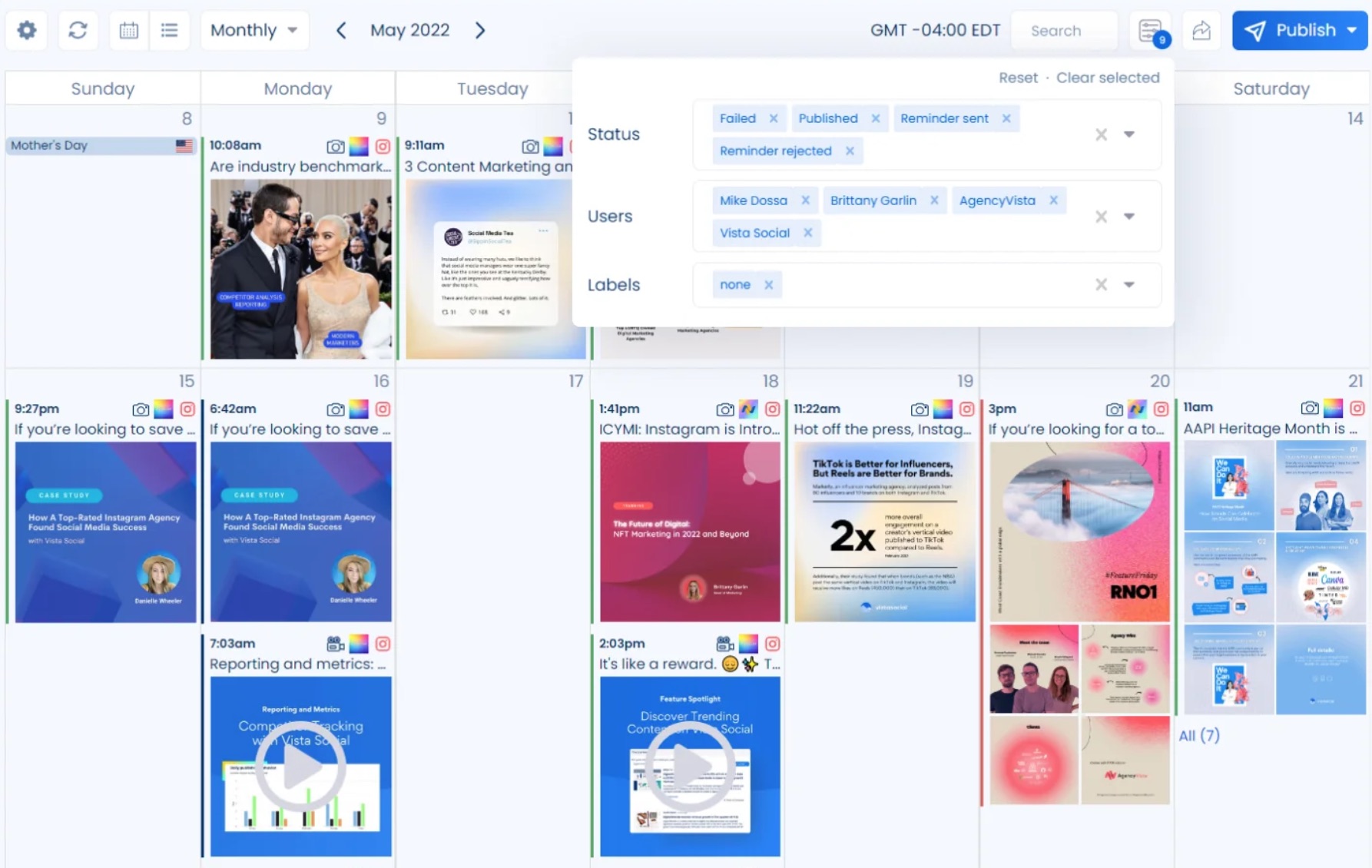 Vista Social isn't limited to Instagram and has a number of integrations available for TikTok, Pinterest, Facebook, YouTube, LinkedIn, Twitter, and more!
Price: Vista Social has the most simple pricing out of any social media management platform, with only 2 plans available. Their forever-free plan lets you connect up to 3 social profiles with 1 user. After that, it's only $2/per profile a month with unlimited users, profiles, and post scheduling.
2. Schedule Reels on Planoly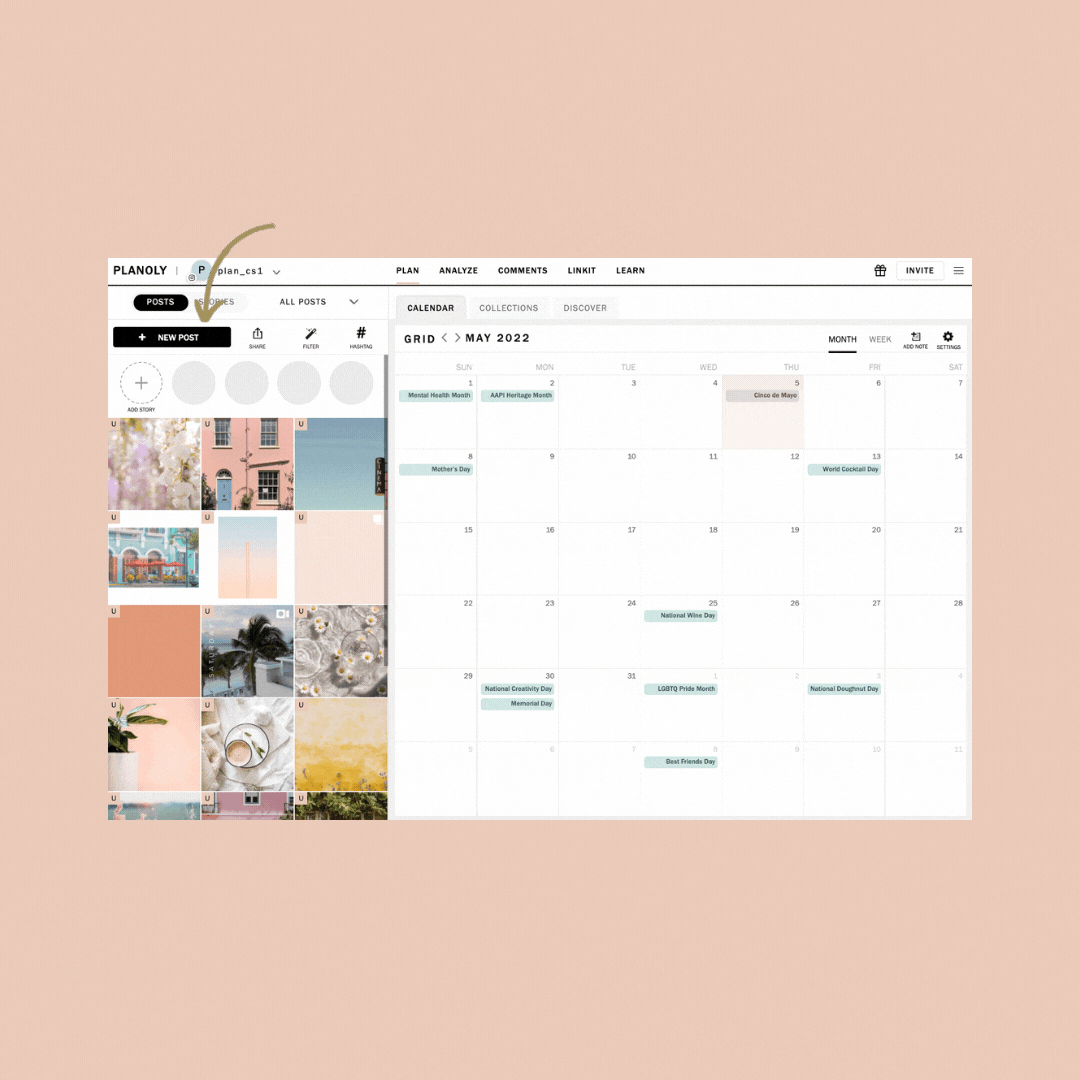 Planoly is a platform that lets its users plan their content visually before posting it to Instagram or Pinterest. With their Reels Planner, you can upload your video and schedule a reminder email or push notification to let you know when it's time to publish.
Its platform is most recognized for its easy-to-use dashboard that doesn't require a steep learning curve. However, it has been known to be a little glitchy at times.
If you're an influencer or only using Instagram or Pinterest for your social media strategy, then Planoly is a viable option!
Price: Planoly's free plan lets you connect 1 social profile with 1 user. After that, the pricing starts at $11.25/month for 1 social set (1 profile connected to Instagram, Pinterest, and TikTok) and 1 user.
3. Schedule Reels with Preview App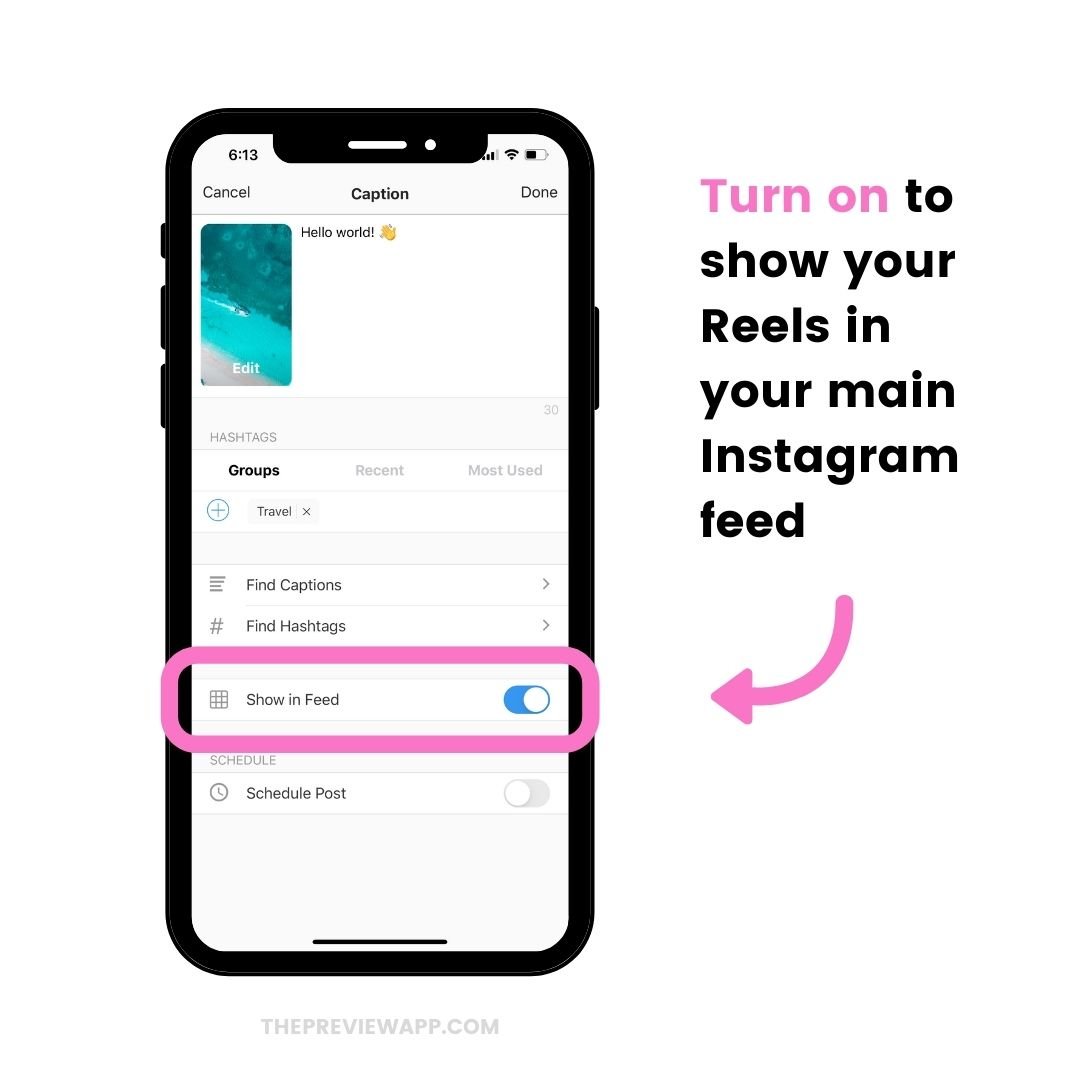 Preview App is an Instagram planning and scheduling tool—it isn't tailored for any other social media platforms. Right now, their app allows you to schedule Instagram Reels for free with push notifications.
Their process of planning a Reel is similar to what you would do on the Instagram app itself, but with a few additional features to plan out your Feed.
Outside of Reels, Preview App allows you to regram, which is something that isn't always available on other platforms.
If your business is only using Instagram, Preview App is a great option, but typically this isn't the case. Most brands and agencies require a platform that supports multiple profiles on various social networks.
Price: Since Preview App is a mobile app you download on your phone, their free plan lets you connect 1 device and have 1 user. Their Pro plan is $6.67/month.
4. Schedule Reels with Hootsuite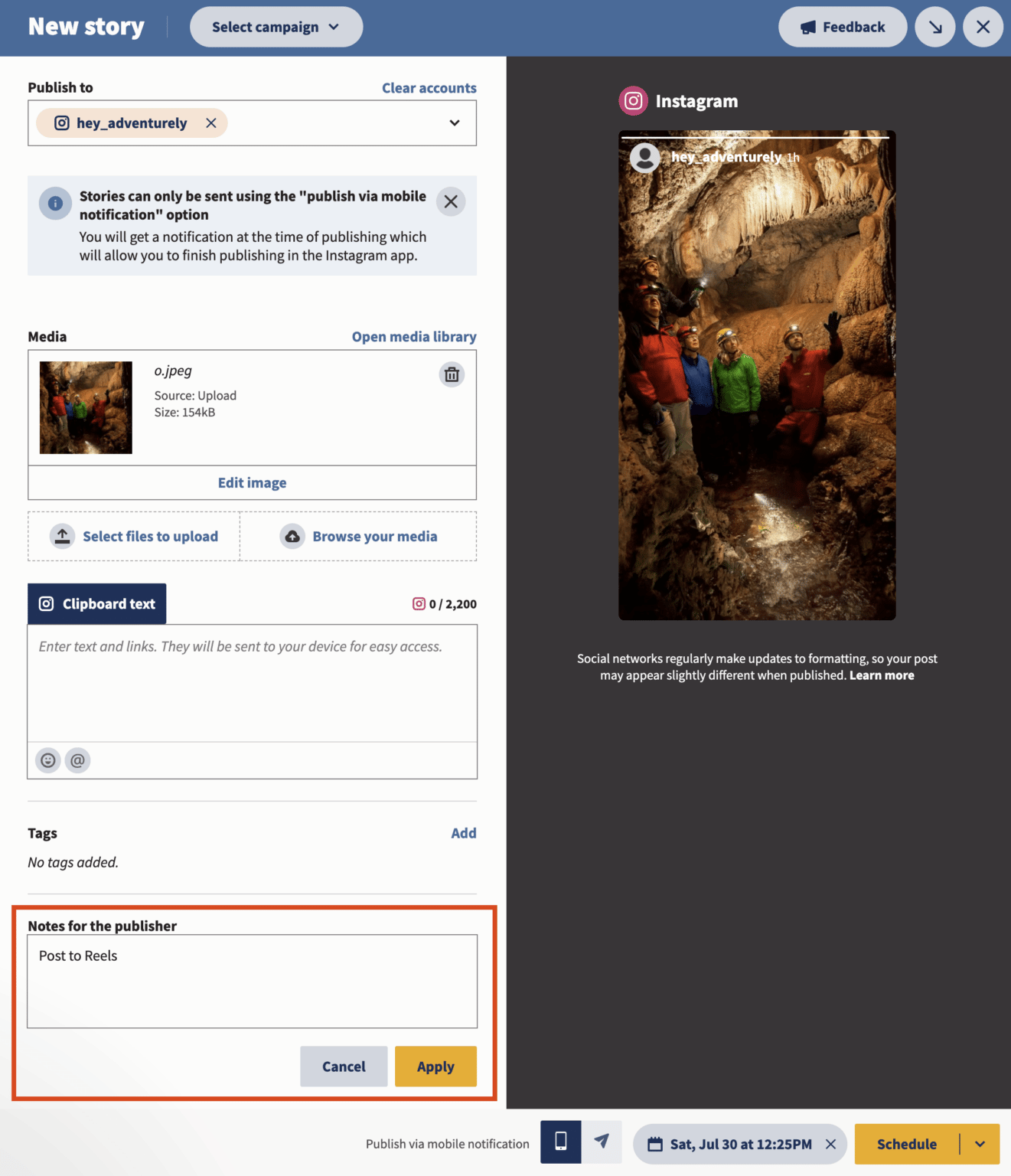 Hootsuite is a well-known social media management tool as it has been around for a while. Their platform offers Reels scheduling through push notifications that are sent to your phone at the scheduled time, reminding you to publish your content manually.
However, Hootsuite isn't a cheap platform. For most businesses and agencies, the team option is going to be required (if you want to have more than one user). This, unfortunately, bumps the price up to their team plan, which starts at $129/month.
If you want 5 users, you're looking at $739/month, which is pretty expensive as social media management platforms go (especially if you're comparing it to Vista Social's pricing).
Price: Hootsuite has a limited free plan that lets you connect 2 social profiles and 1 user. After that, the professional plan starts at $49/month, but you only get 10 social profiles and 1 user.
5. Schedule Reels with Metricool
Metricool is a social media management platform that supports analytics and planning features to help businesses grow their online presence.
Its platform offers reminder scheduling and push notifications for scheduling Reels to Instagram. Metricool has the basic features of a social media management tool: publishing, content creation, mentions, and analytics.
Price: Metricool has a forever-free plan that lets you connect 1 social profile for each network with 1 user. For teams, you'll have to upgrade to their Team 15 plan, which has unlimited users and 15 social profiles available for each network.
6. Schedule Reels on Later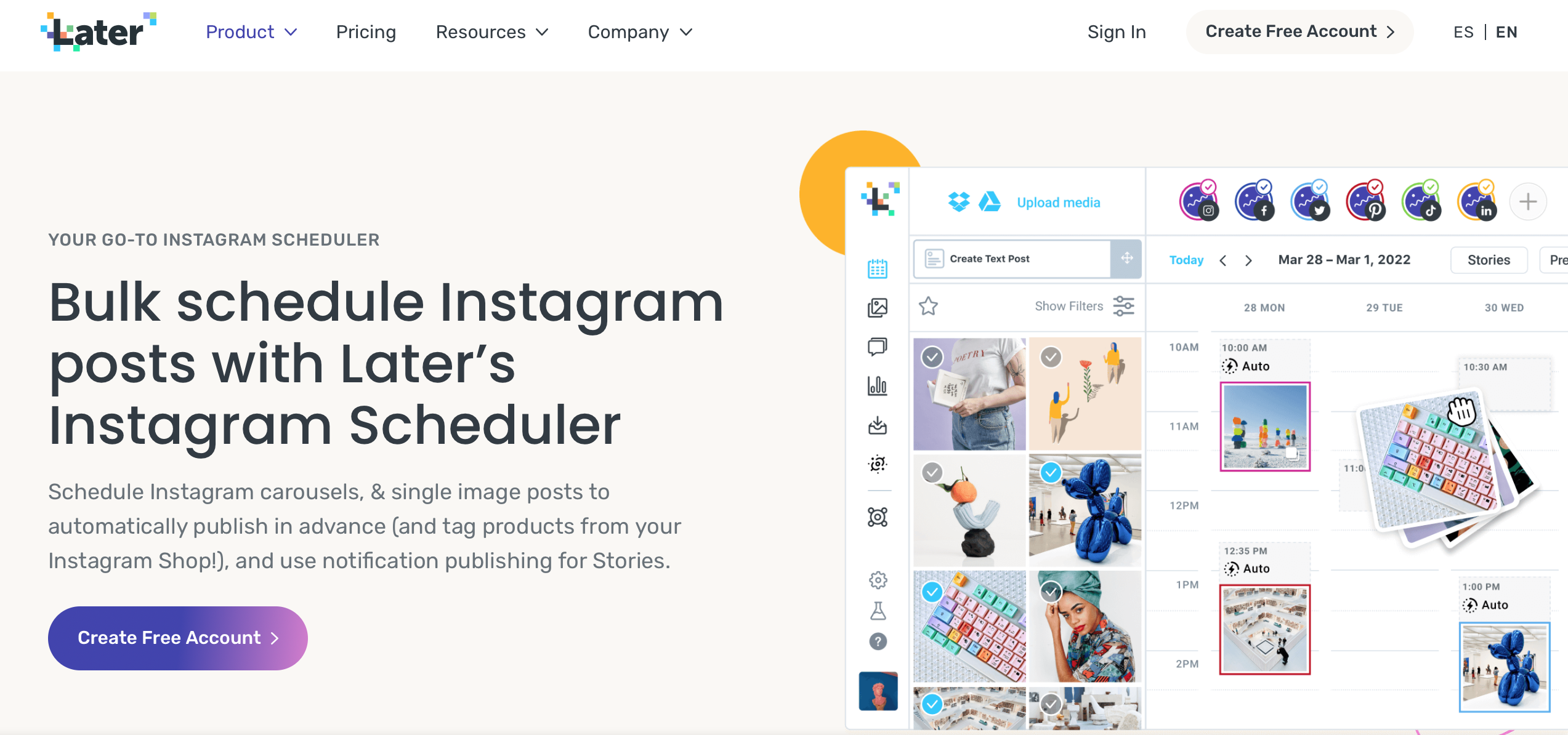 Later allows you to post to your Instagram, TikTok, Pinterest, Facebook, and Twitter accounts; however, it has a strong emphasis on Instagram.
One thing to consider is that Later only offers scheduling Reels through their mobile app with notification scheduling.
Higher pricing tiers of Later provide access to premium features like their Conversations module. This feature helps you manage Instagram comments and conversations from your desktop computer.
Price: Later has a limited free plan that lets you trial the platform for 14-days. After that, their starter plan is $15/month for 1 social set (1 profile connected to Instagram, Twitter, Facebook, Pinterest, TikTok, and LinkedIn) with 1 user.
So, Who Is The Best Instagram Reels Scheduling Tool?
Instagram Reels direct publishing is a new functionality in the SMM space. Most social media management tools don't have the ability to schedule Reels, and the majority of the ones that have it available, offer push notification or reminder scheduling.
The best Instagram Reels scheduling tool will depend on your business's unique needs and goals. Here are some questions your team should consider before evaluating your options:
Do you want to be able to schedule Reels direct to Instagram or set up push notifications and manually publish the post yourself?
Do you require more than 1 user? 
Would you prefer using one user-friendly dashboard or a mobile app that all parties involved are required to download?
Do you require other social networks outside of Instagram?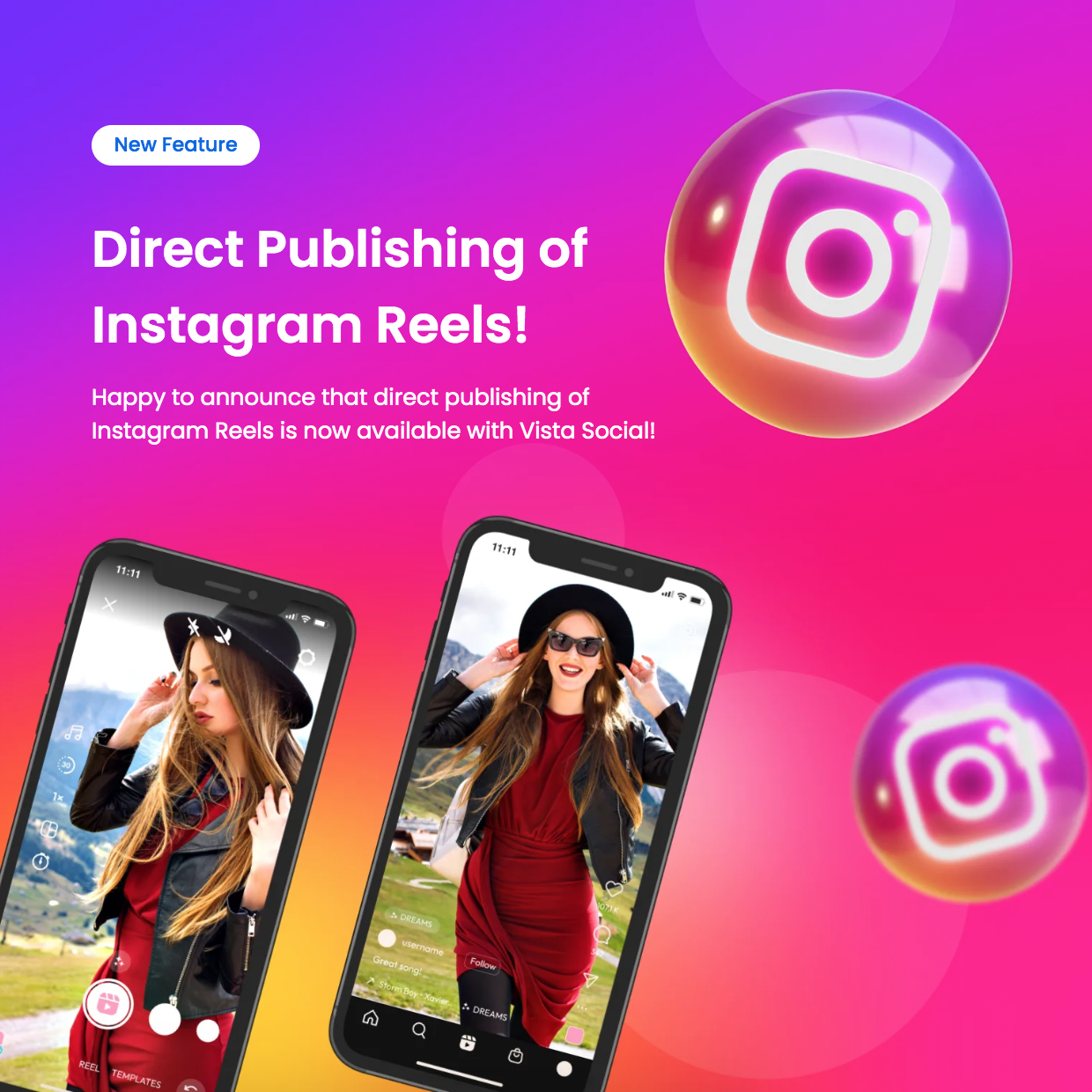 If you're looking for Reels direct publishing, the ability to connect profiles from multiple platforms, simple pricing, and a suite of powerful features like analytics, listening, and review management, you should try a modern tool like Vista Social!