We understand that time can be limited when managing multiple clients, so we have created a social media town hall. Let's get real, nobody that works at an agency has the time to sit and read multiple blog posts. In the ever changing digital landscape it can be difficult to stay up to date on the latest news. At Agency Vista we want your agency to be successful and have all of the resources to do so.

In this edition of our town hall we will uncover social media news that focuses on how platforms are managing trust and safety, the disturbance of fake accounts, and new features to look out for.

Platform Trust and Safety
Over the past year misinformation, data privacy and user safety have been at the forefront of every social media discussion. Throughout the past week Facebook, Instagram, and YouTube have implemented stricter measures to buckle down on these persistent issues.

Facebook
New fact-checking program with community reviewers
Facebook announced on December 17, 2019 that data company YouGov conducted an independent study of community reviewers and Facebook users, who will be hired as contractors to review content flagged as potentially false through machine learning, before it is sent to Facebook's third-party fact-checking partners.
New course to teach Journalists how to spot manipulated media
As reported by Axios:
"Facebook is spending six figures to fund a course on manipulated media and deepfakes for newsrooms, executives. The course material has been developed by Reuters, and Facebook is funding its international expansion as a part of the Facebook Journalism Project."
After responding to a request by US Senators, Facebook has revealed they are still able to track the location of users who have opted out tracking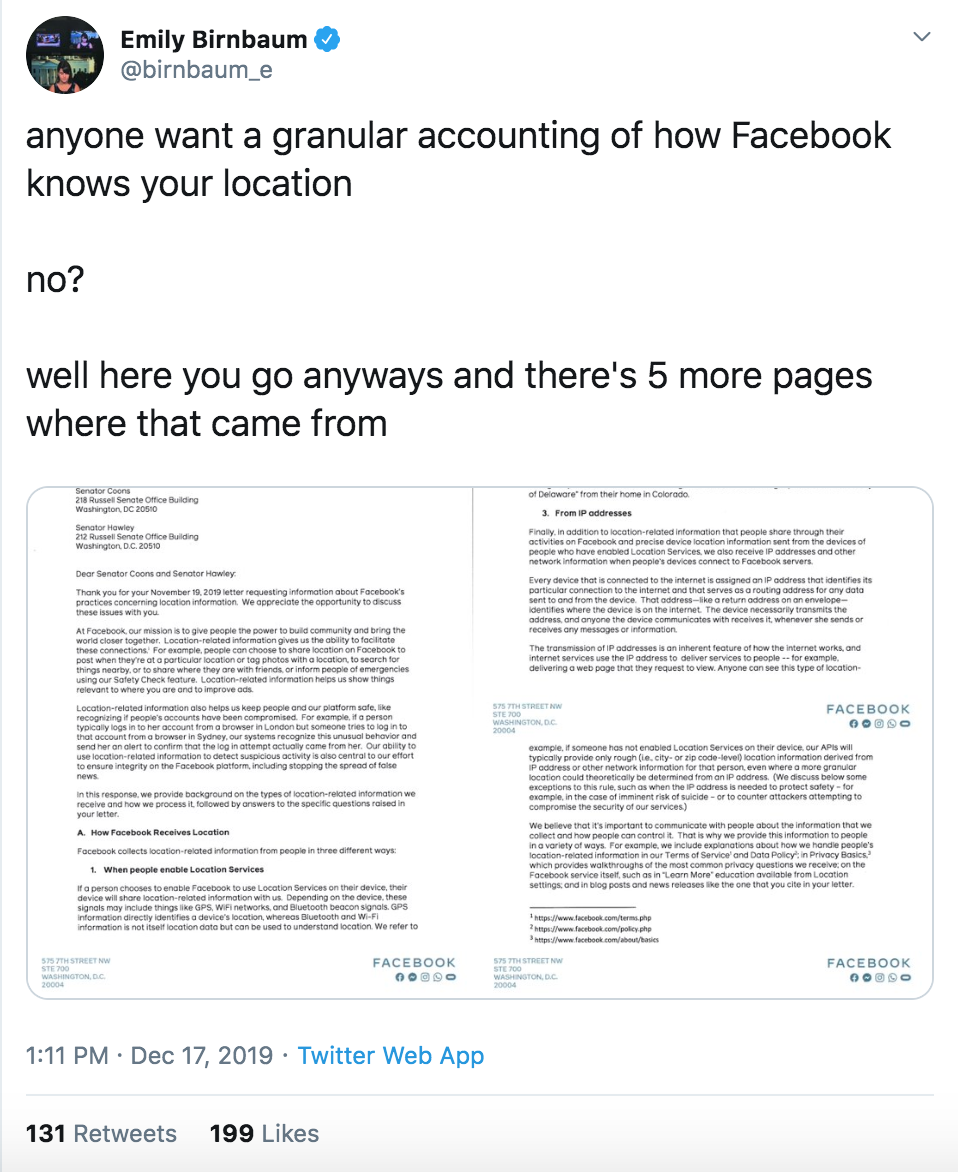 Instagram
Expansion in anti-bullying warnings to potentially offensive captions
As explained by Instagram:
"Today, when someone writes a caption for a feed post, and our AI detects the caption as potentially offensive, they will receive a prompt informing them that their caption is similar to those reported for bullying. They will have the opportunity to edit their caption before it's posted."
Increase in third-party fact-checking on questionable content to all regions
This past year, Instagram began working with third-party fact-checkers in the US to help identify, review, and label false information. On December 17, 2019 the platform announced that they will be rolling out these efforts globally.
YouTube
Tougher harassment policy to address hate speech, threats, and repeat offenders
YouTube took to Twitter to announce the new policy which will prohibit language that "maliciously insults" someone based on their protected attributes — meaning things like their race, gender expression, sexual orientation, religion, or their physical traits.
The Disturbance of Fake Accounts
Advertisers have the ability to collect data on everything from views and clicks, to impressions and behavior across multiple sessions and websites. Fake engagement has been more prominent with influencer marketing, but has started to affect online advertising at scale. With more pressure than ever, social networks are taking steps forward to remove those accounts and improve the effectiveness of their advertising solutions.

Twitter
Cancelled plans to remove inactive accounts a day after announcing the initiative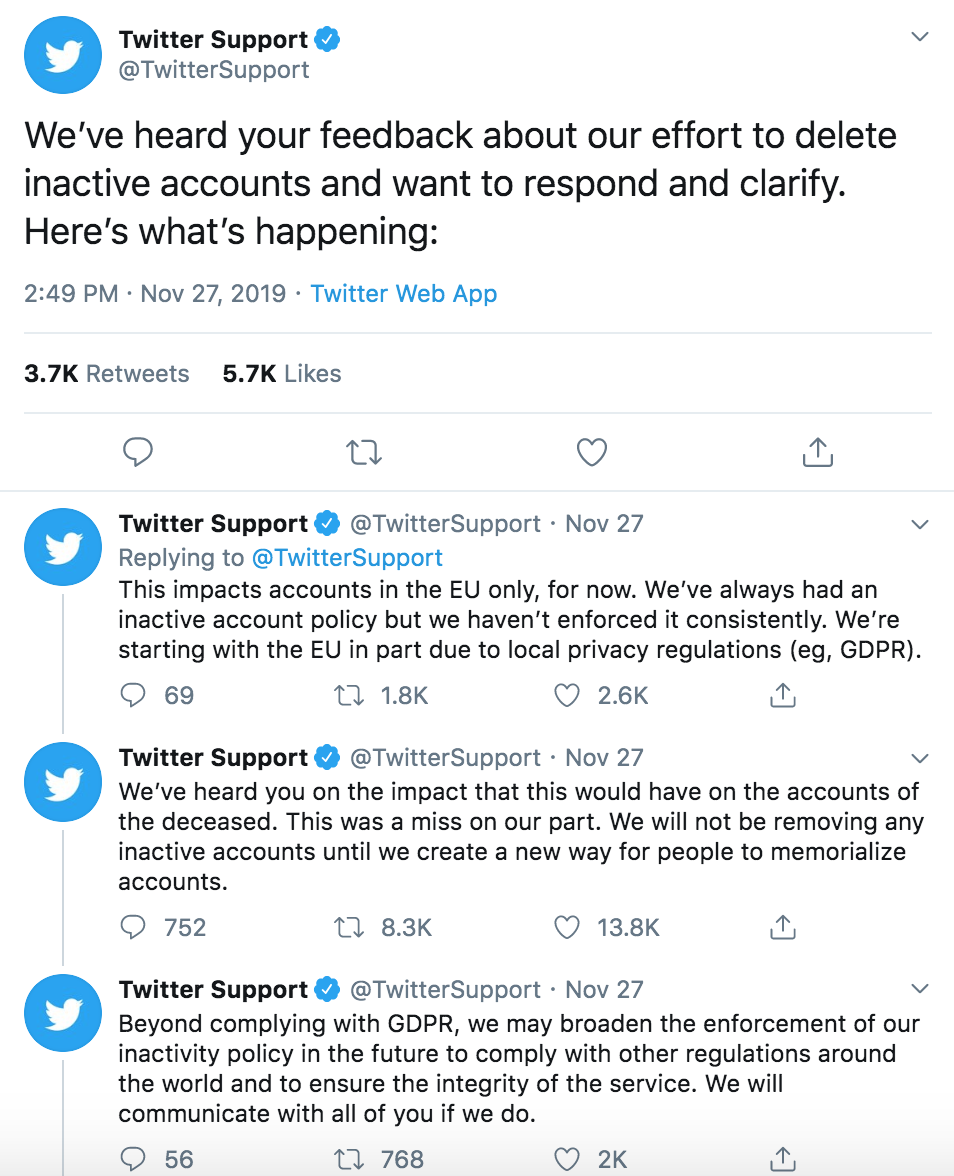 Facebook
Removed 3.2 billion fake accounts in 6 months
That more than doubles the number of fake accounts taken down during the same period last year, when 1.55 billion accounts were removed, according to the report. (bit.ly/2OcsCVI)
New Social Media Features
Social media is continually evolving, with new features and tools almost every week – it can be hard to keep up. If your role specializes in social media, audience growth, or online engagement – you'll want to add these new feature releases into your current strategy.
Snapchat
New interactive ad format and new competitive game features
Snapchat has released a new augmented reality (AR) "trailer reaction lens", similar to TikTok's 'React' option, which enables users to share their video responses to TikTok videos. Paramount Pictures is the first company to sponsor with a promotion for "Top Gun: Maverick," the movie sequel starring Tom Cruise, according to an announcement shared with Mobile Marketer.
LinkedIn
New features for groups to help boost engagement
Here's what's been announced:
Moderate New Posts – LinkedIn is finally giving group admins the option to turn on an option to review all posts before they go live in their group. This is a common feature in most other online forums, so it's somewhat surprising that it's taken LinkedIn this long to catch up.
New Invitation Setting – LinkedIn will now give group admins the power to allow or prevent group members from inviting connections to a group, providing more control over potential new members.
Filter Members – Group admins will now also have more options to be able to locate members, with member search filters like 'Location', 'Industry', 'Company', or 'School'
Delete All Posts – Group admins will now be able to delete all posts from a chosen member
Block Member from Comment – Admins will also now be able to block members direct from a comment in a group, making it easier to sift out some of that aforementioned spam and junk
Search for Content – On the group member side, LinkedIn is also adding some new search options, which will enable members to find comments and content based on keywords.
Share Groups – LinkedIn's also adding new options to share information about groups in the LinkedIn feed and in private messages.
Admin Recommendations – Group members will now also be able to find group posts that have been recommended by admins.
Refined Notifications – And lastly, LinkedIn is also improving its groups notifications to ensure members are made aware of the most relevant group posts.
Instagram
New collaborative group stories option
Instagram users have reported a 'Group Stories' option which enables them and their friends to collaborate on a private Story.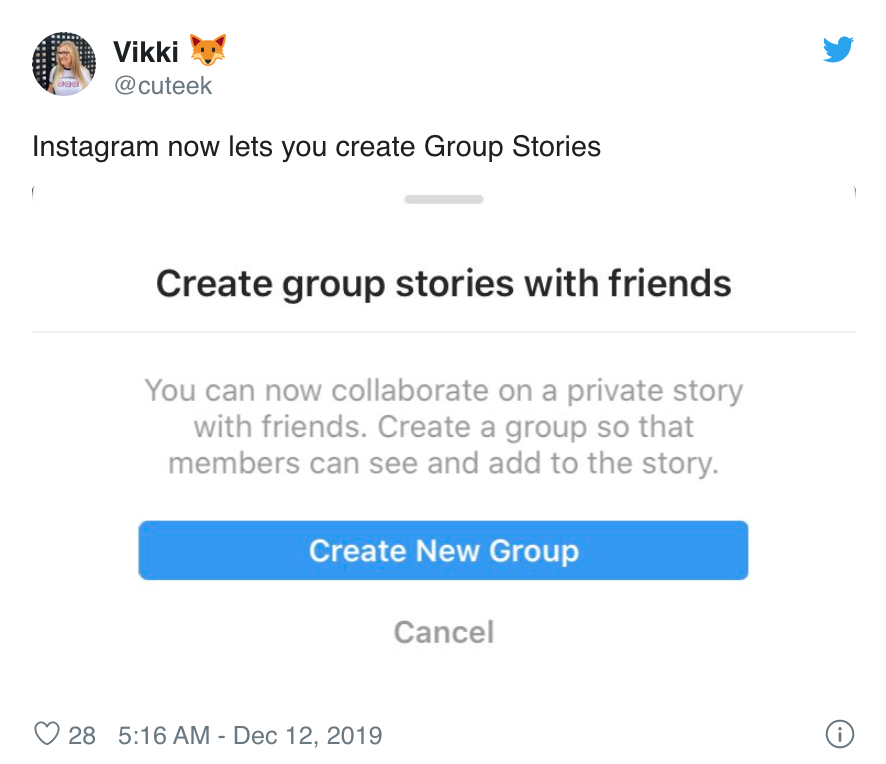 Google
'Google Shopping 100' to highlight trending products based on search data
As explained by Google:
"Google Shopping 100 showcases products with a recent increase in U.S. searches. While classics are still sought-after – for example, search data still ranks Monopoly as a popular present – Google Shopping 100 highlights items that are rising in popularity to give you fresh ideas and keep you up to speed on the latest."
Join in on the conversation!
We'd love to hear from you, if you have any feedback or suggestions on how we can make Agency Vista a better resource for you, please don't hesitate to let us know.