The spookiest time of the year is here, and we have the perfect Halloween social media content to spice up your feed! According to the National Retail Federation's annual survey conducted by Prosper Insights & Analytics, consumer spending on Halloween-related items is expected to reach an all-time high of $10.14 billion, up from $8.05 billion in 2020. With that said, a creative Halloween social media campaign is a must for any business looking for a fun, seasonal way to engage with its audience and increase sales.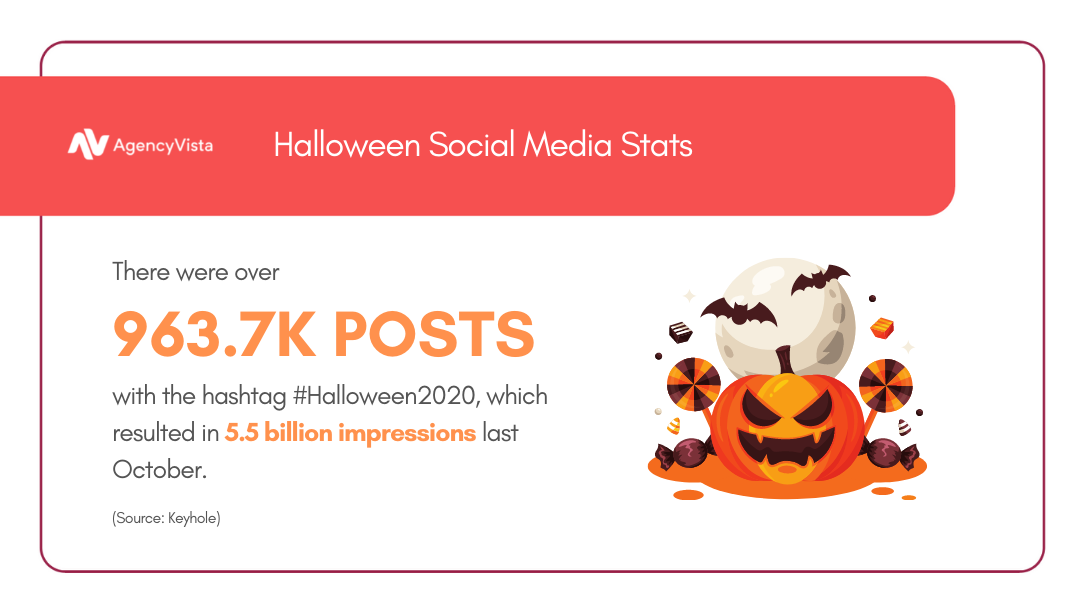 Although Halloween falls on the very last day of October, the commercial Halloween season begins long before the autumn leaves change color. As a result, brands are trying to arrive early to extend the Halloween shopping season, increase sales, and attract consumers' attention to the upcoming holiday. The most exciting (and fun!) Halloween campaigns are launched to keep customers on their toes and open their wallets.
We have reviewed some of the tricks from the most successful Halloween social media campaigns to highlight the best holiday techniques that any brand can use. Let's go.
Top 10 Halloween Social Media Campaign Tricks for 2021
1. Dress up your social media profiles
Some of you still remember the days when holiday shopping was done in brick-and-mortar stores and shopping malls decorated with pumpkins, figures of bats, black cats, and spiders. Talented marketers know how to use nostalgia to their benefit. They are reviving the tradition of decorating shop windows for Halloween on websites and social networks. Creative decoration enhances the pleasant impression of your place, whether it is an office, shop, or restaurant. Similarly, you can decorate your social media profiles.
It is enough to add just a few orange-black strokes to the design to create a "creepy" atmosphere in your social media profile: make the color palette darker, add a cobweb to the corner, add photos of employees in costumes of witches, vampires, and monsters. And remember, if the masses need Halloween, then your brand needs it too.
Burger King: #ScaryClownNight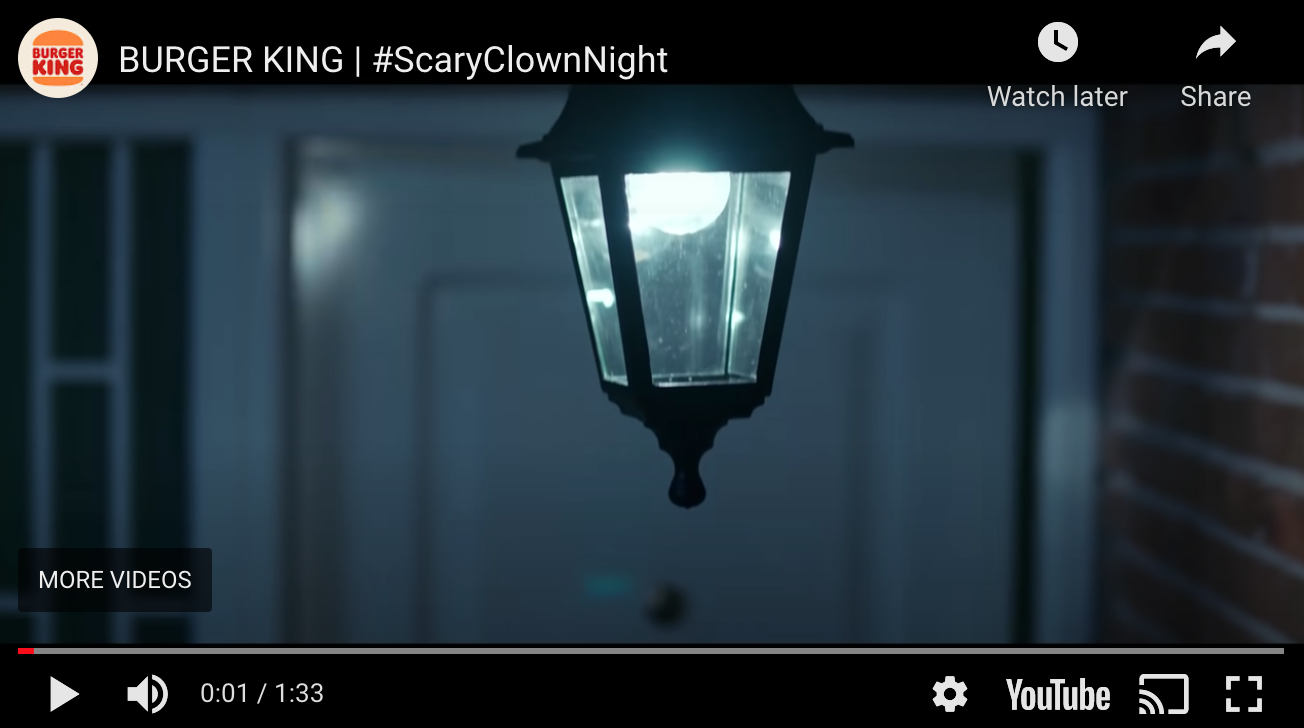 Burger King hit a nerve by highlighting a common fear that many find far from funny: Clowns. This savvy multi-format campaign included a terrifying YouTube video. Think creeptacular clowns as well as real-life meetups in Burger Kings across the U.S. The first 500 guests who visited select restaurants dressed as a clown even got a free Whopper.
2. Announce the holiday discount or bonus
Various discount offers are an opportunity to "lure" customers, and holidays are a great occasion. Hot offers for specific products or discounts on the entire range – in any case, you can expect extraordinary demand. Prepare an exclusive holiday catalog – the audience will love it.
Note that you should not deceive consumers' expectations in any case: if people are waiting for discounts, they should be given them, but only in exchange for something useful for the brand. For example, some companies offer "spookish low prices!" and ask customers to leave their email. Also, offering a discount on certain fall-themed items or a holiday-themed freebie with the specific purchase are popular Halloween social media campaign tricks to engage with the audience and increase brand popularity. 
Skittles & The Walking Dead: #DareTheRainbow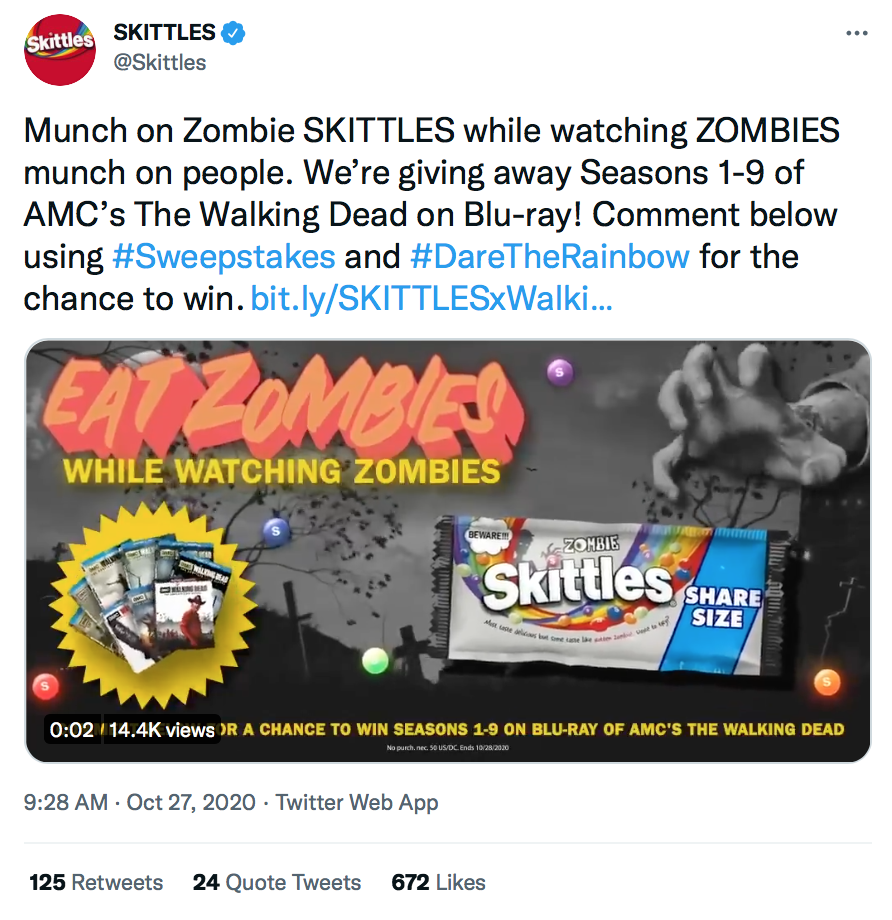 Alternatively, Mars Wrigley's sub-brand Skittles used the #DareTheRainbow to promote two campaigns: a giveaway – with AMC's The Walking Dead – and a zombie-prank challenge, resulting in 1.4 million impressions.
3. Run a photo contest
Yes, this move is banal and as old as the hills but still effective. Photos are generally the primary purpose of celebrating Halloween. Most people are overwhelmed with decorations, costumes, and make-up to capture a photo as a memory.
Offer to share a photo of themselves dressed up, pictures of their decorated home, or even their pets in Halloween costumes. Another great idea is to ask to take a Halloween photo with your branded product. If you are already tired of the classic annual photo contests, you can arrange a selfie contest. Offer a good reward for the best look, and let your followers vote. Create a unique hashtag for the photo contest so the photos have a viral effect.
HarlowandSage + Albertsons & Safeway: #HairyNScary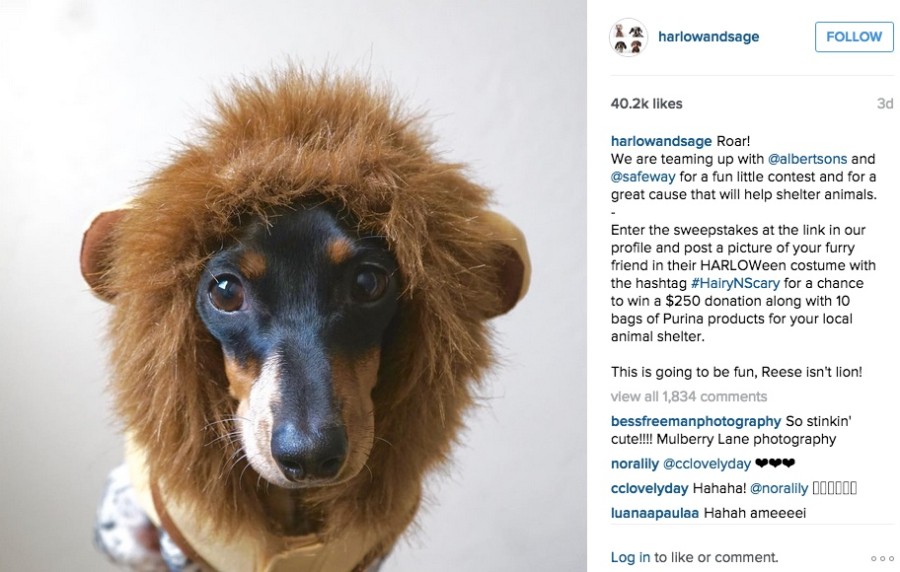 Albertsons and Safeway teamed up with the three dog pals behind the astonishingly cute Instagram account @HarlowandSage for a Halloween social media campaign. (Seriously, you are not prepared for how cute these dogs are — brace yourself.) Post a picture of your pet in his or her costume, hashtag it #HairyNScary and you're entered into a sweepstakes to win a donation of cash and pet products to the animal shelter of your choice.
4. Demonstrate your evil humor with memes
If you cannot rely on your subscribers with a photo contest, take the initiative into your own hands. Every day, post one unique picture with a funny inscription or aphorism relevant to your brand account. You can use them in different ways:
Brand them with a logo, a company product.
Add a slogan corresponding to the nature of the trend.
Create additional activity through witty jokes.
Today's generation can have a whole conversation with memes, for example, in iMessage. And some companies include memes in their Halloween social media campaigns. Knowing that Halloween is one of the best holidays for memes, you can overcome your creative block and arrange a meme search to generate new ideas for Halloween posts. But first, make sure it fits your target audience and brand to make it one of your new social media marketing strategies this fall.
5. Create effective seasonal content
Another advantage of the holiday is the opportunity to increase traffic to the website or a social media account. To do this, it is worth considering the content dedicated to Halloween, which will attract followers. Exciting stories, recipes for pumpkin dishes, options for festive crafts for kids, announcements of discounts – it can be anything, but all this will increase the number of your subscribers and customers from the global perspective.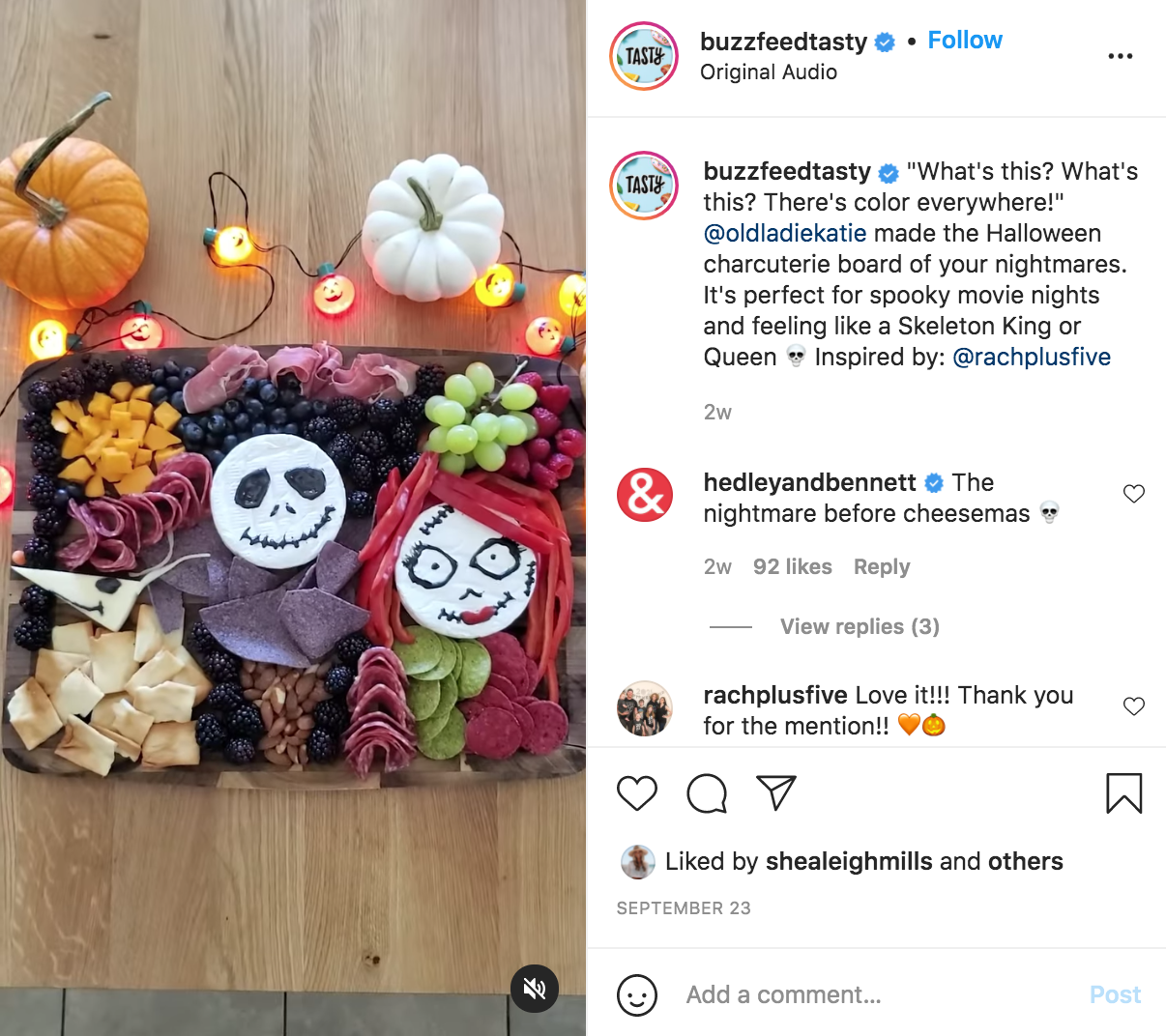 If you have been waiting for a chance to try the situational content, then Halloween is a great opportunity to try something new. Think about how your target audience feels about this day, what they are doing now, and choose the content format to create a social media buzz.
6. Share pre-holiday warnings and tips
Halloween is not only a fun holiday but also a "dangerous" one. It is the night when the boundaries between the real and another world are blurred; restless souls begin to wander through houses and half-empty streets, some evil spirits look out from behind every corner. So, so that the eve of All Saints' Day does not turn into a nightmare for your brand's subscribers, familiarize them with the rules of safe celebration.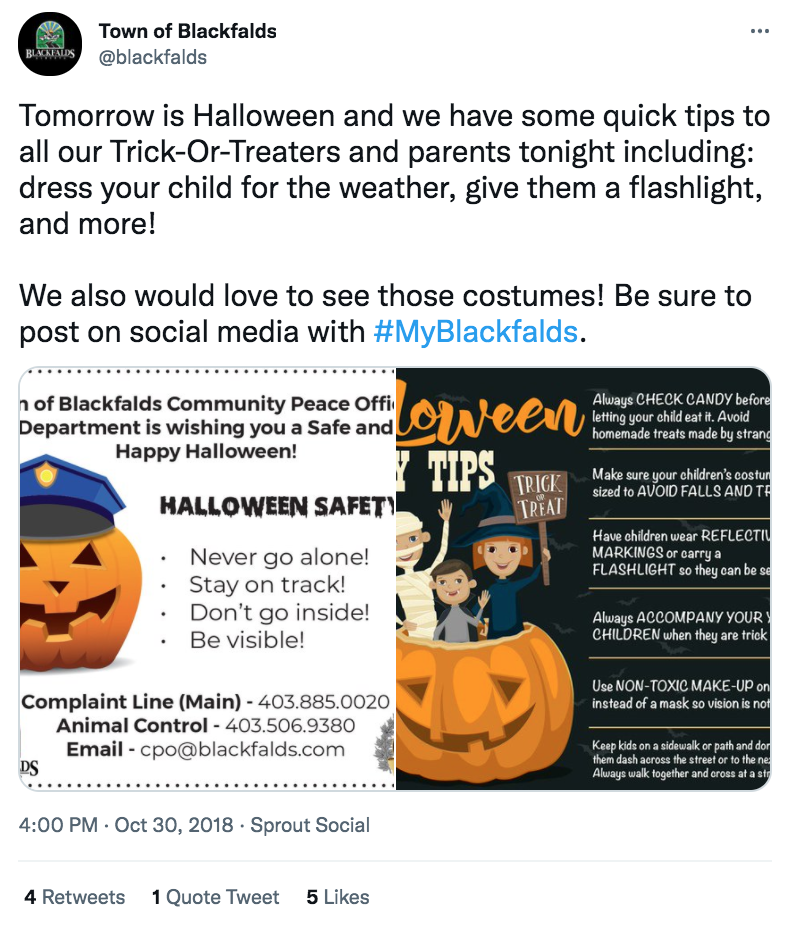 Share a series of simple pre-holiday instructions telling your audience "How not to run into rudeness by begging for sweets," "How not to get scolded for pranks," "How to protect your house from evil spirits," "How to behave correctly in a situation when a strange mummy or vampire comes to you with a threat of "Trick-or-treat," and more.
7. Use the right keywords for your posts
To attract the maximum traffic to your social media, you need to select and analyze keywords correctly. To identify these hot keywords, go to the social platforms frequently visited by target users and see what popular today is. Moreover, pay special attention to the exact phrases they use, and keep an eye out for industry-popular terms and topics.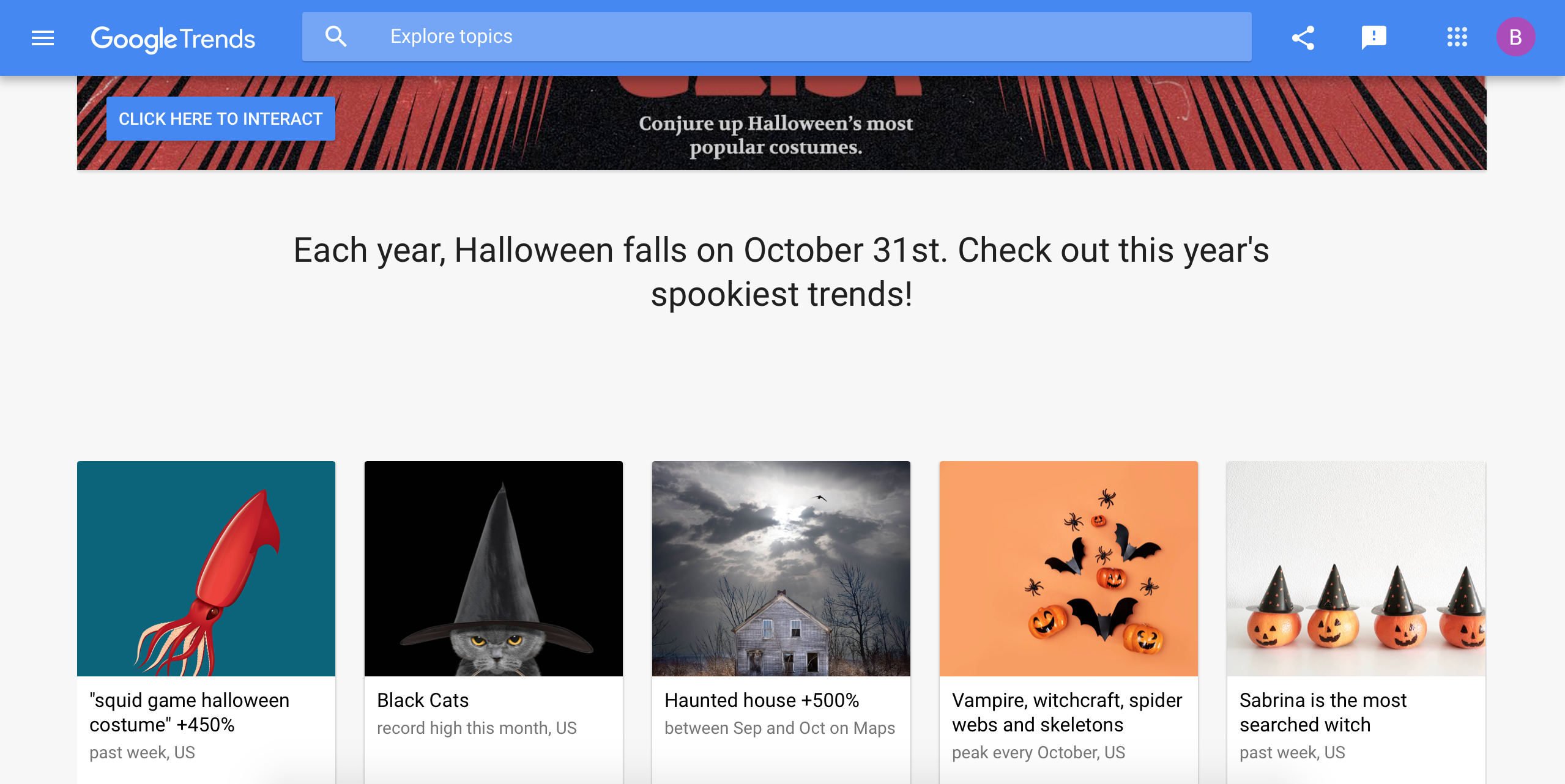 Google Trends can also give you an idea of which keywords are popular at any given time. For example, while Halloween costumes and games are popular this time of the year, you can also pay attention to Halloween movies or Halloween or fall-themed recipes. Remember about your customers, their motives, problems, interests.
8. Take your audience behind the scenes
Give your audience a peek behind the scenes. Time-lapse videos are a great way to guide your customers through a lengthy process in a matter of seconds, which makes the result even more enjoyable.
Disney World: Taking Audiences Behind-the-Scenes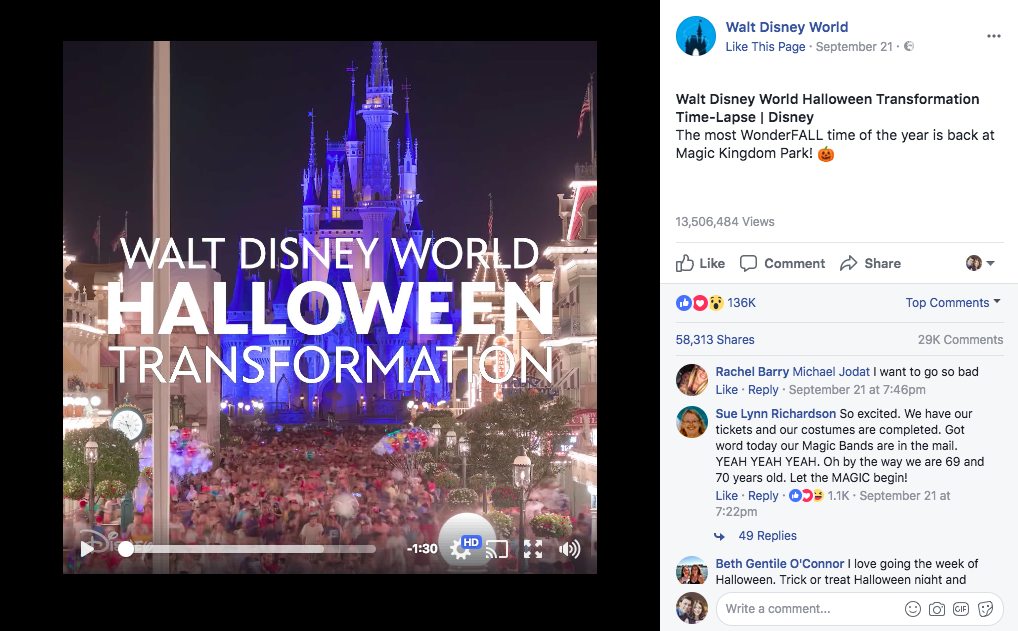 A few years ago, Walt Disney World took a creative approach to Halloween on Facebook. One of their most effective Halloween posts was 100% organic, demonstrating how the content resonated with their audience. Disney's Halloween social media campaign was successful because it hooked the audience by showing what was happening behind the scenes in slow motion video format. Their viewers saw how Disneyland turned into a festive amusement park for Halloween right before their eyes. So, the video allowed its viewers to see all the hard work of decorating one of the largest theme parks around the world.
9. Release a limited series of products
A special series of products dedicated to Halloween will help to boost sales and remind the target audience about your brand. This approach is often used by manufacturers of FMCG products, for example, to change the packaging.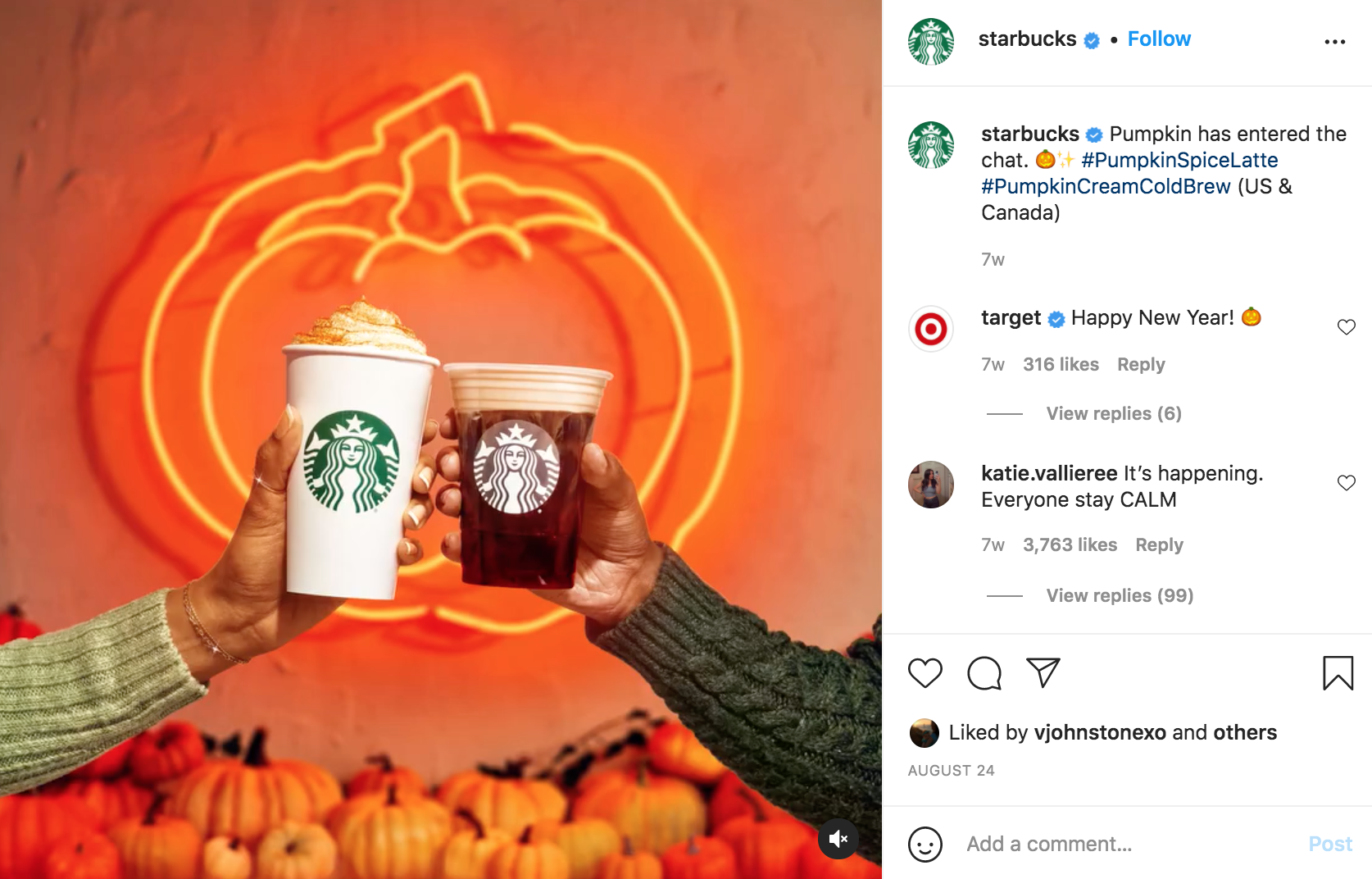 Cafes and restaurants can also offer products dedicated to the holiday. It is not necessary to make global changes to the menu. It is much more important to think through serving dishes, as they did at Starbucks. On Halloween eve, the coffee shop offered visitors a special Vampire Frappuccino cocktail. According to the idea, the drink rose from the dead only during the holiday. So, everyone must have time to enjoy it. As a result, visitors enjoyed drinking more than one liter of Frappuccino and talked about it on social media.
10. Come up with a game for your followers
Another effective solution for a Halloween social media campaign is announcing a game. Any game, like a contest, is a great way to engage the audience in interaction with the company. And most importantly, there are so many options for such activity that everyone will choose something suitable for their customers.
A text quest. Come up with an exciting story with different scenarios and implement it using a chatbot.
A puzzle picture. The participants of the game need to find 50 encrypted movie titles in the picture.
Lottery. Just do not forget to prepare fabulous prizes.
Other. Take any famous type of game — assemble a puzzle, find differences, find a way out of the maze. Connect it to a product or brand, and the game is ready.
Conclusion
As with any holiday period, Halloween gives marketers a lot of creative freedom, which can help draw attention to their brand during a busy season. While some companies may find a close connection between their product and Halloween, it is not easy for other brands. Nevertheless, there are plenty of opportunities for creativity here, as popular brands show. Use the holidays as a way to have fun and connect with your audience. We hope this blog post will inspire you to search for original ideas so that Halloween gives you more satisfied customers and good profits.
Discover Agency Vista's top marketing agencies to launch a winning Halloween social media campaign and fuel your marketing efforts.
Start ranking for keywords relevant to your agency on Agency Vista and top search engine's through our premium lists. Upgrade your plan and start being recognized as the thought leader you are!