Sometimes the best way to get inspired is by seeing what's currently working for others, so we've found 12 successful brands on Pinterest with awesome marketing strategies. Social media networks like Pinterest have blown up the landscape with their excellent, engaging, go-to-market strategies to get better users. Most businesses with social media presence have also adapted the Pinterest style and jumped on the pinning bandwagon to drive engagement, presence, brand reputation, and eventual sales in the long term.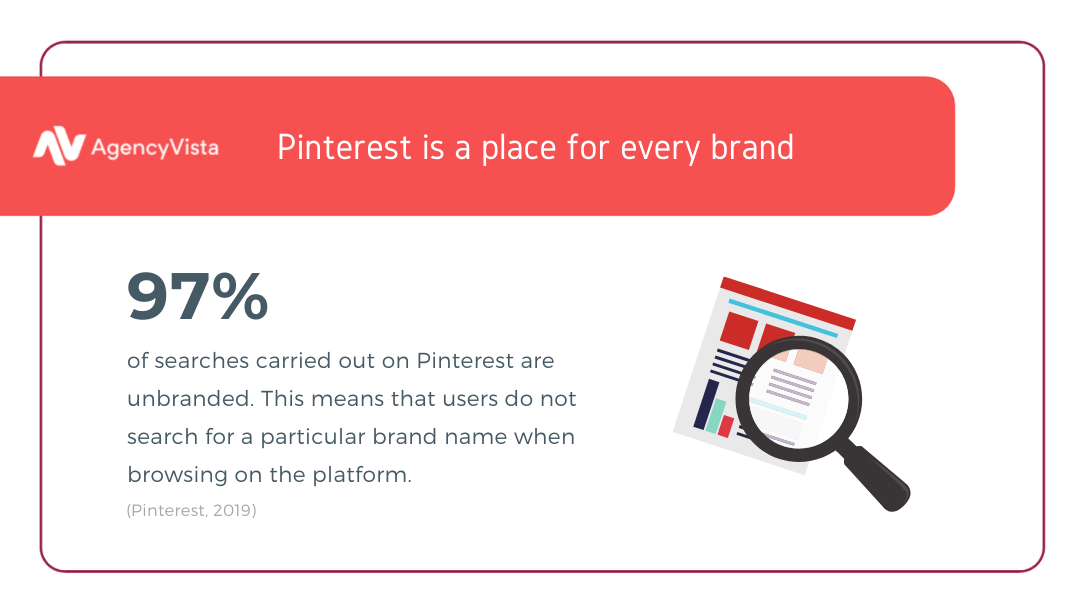 The content, pins, structure, Pinterest SEO, constant online presence, and high conversion rates make Pinterest an extremely lucrative social media site for businesses. Pinterest also helps companies to create strong brand identities and direct viewers straight to the checkout pages on their websites with the new Shop tab link. Since most businesses with products and services (that pin marketable and saleable content on Pinterest) have integrated payment portals, the process of becoming a Verified Merchant becomes quick, and sales conversion rates shoot up tremendously.
Digital marketing agencies and marketers help businesses reach out to target audiences with unique pins and relatable content. There are different ways to do this, and some companies have mastered the art of making pins that are extremely attractive to Pinterest users. So if you don't have a Pinterest marketing strategy yet, now is a great time to get started. And we're looking at some of the best in the brands on Pinterest for inspiration.
12 Successful Brands on Pinterest to Inspire Your Marketing Strategy
1. Pin Aesthetics: Benefit Cosmetics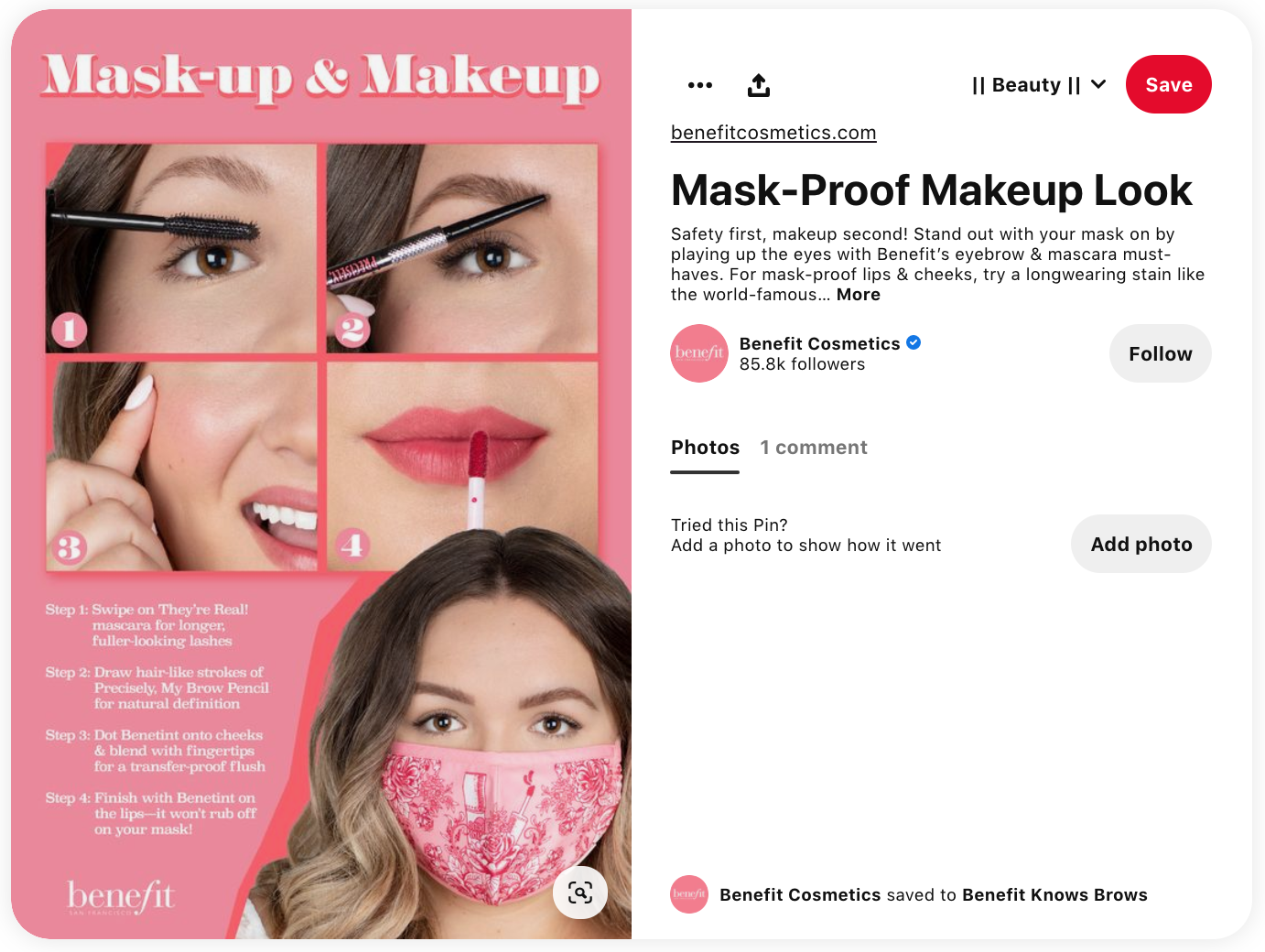 Benefit Cosmetics is widely known for its excellent beauty products. Their Pinterest pins are aesthetic, and users can quickly identify Benefit Cosmetics pins across boards. They maintain the pink color palette, font, and logo on each pin, making their products easily identifiable to users.
They have more than 85.7k followers with 2.4 million monthly views on their Pinterest Profile page. They do an excellent job of featuring their brand on all the campaigns, promotions, advertisements, events, beauty tutorials, how-to videos, and inspirational quotes.
They also make organic pins that resonate with their brand aesthetic and maintain the brand voice and tone across all their content. Easily identifiable pins make it easier for users to instantly add to their wish lists, making them one of the top brands on Pinterest.
Tip: Use Benefits Cosmetics' strategy and consistently pin all posts with the same brand colors, quality, font, and logos for instant brand recognition.
2. Rich Pins: Whole Foods Market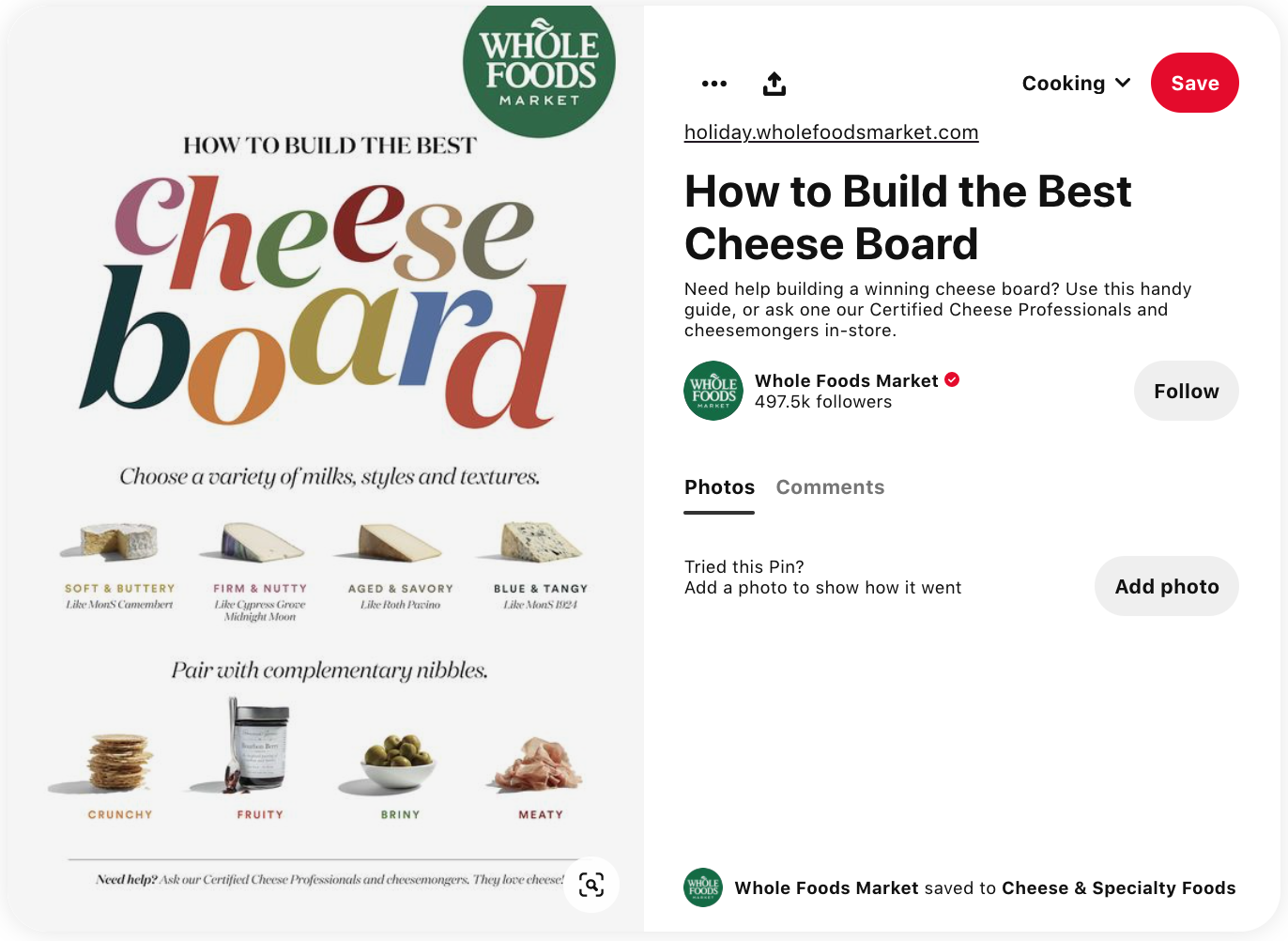 Rich pins are organic pins that automatically sync data and information from the business or company website with Pinterest Pins. Health food supermarket Whole Foods Market has made optimum use of the rich pins feature on Pinterest. Their pins are excellently placed, with great content that resonates with all ages and demographics.
Whole Foods Market maintain their brand voice and context across various different pins like kitchen organization, food storage, wine tastings, health-food recipes, food guides, and more. These pins are excellent at spreading brand awareness while enticing users to pin their posts with relatable, relevant content with widespread application. Whole Food Market has more than 3.1 million monthly views and 497.3k followers on the Pinterest Profile Page.
The rich pins come in handy as they offer real-time product availability, cooking information and redirect Pinterest users to blog posts. Rich pins are also helpful in driving conversion rates for app downloads, calls to action, and sending users to check out products from the in-stock options.
Tip: Add relatable, useful rich pins that appeal to majority audiences and target groups on Pinterest to see more excellent conversion rates and higher sales and average.
3. E-Commerce Pin Strategy: Ruggable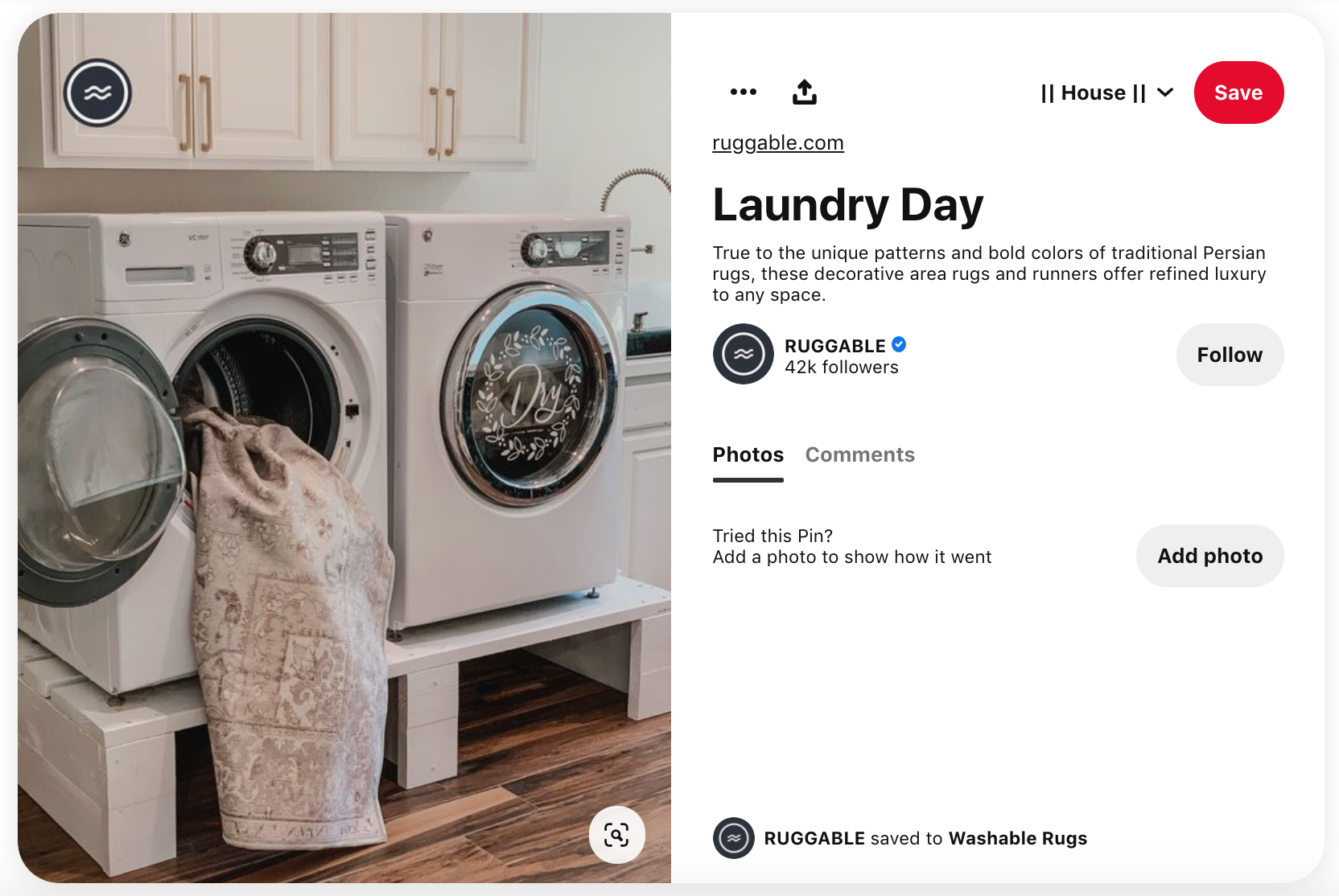 Affordable, durable rugs brand Ruggable have blown up on Pinterest with their e-commerce strategy. They have made optimum use of the Shop Tab link on Pinterest to redirect customers straight to the checkout option on the websites. Since most Pinterest users search for uniqueness and inspiration, the instant gratification of making a purchase is a huge plus point.
Ruggable capitalized on the new features and technology offered by Pinterest to increase integrated customer sales. Each of their pins has its logo and its key features. The rugs are also machine washable, changeable, durable, easy to clean, and spill-proof. The combination of these features makes Ruggable rugs very home, pets, and kids-friendly.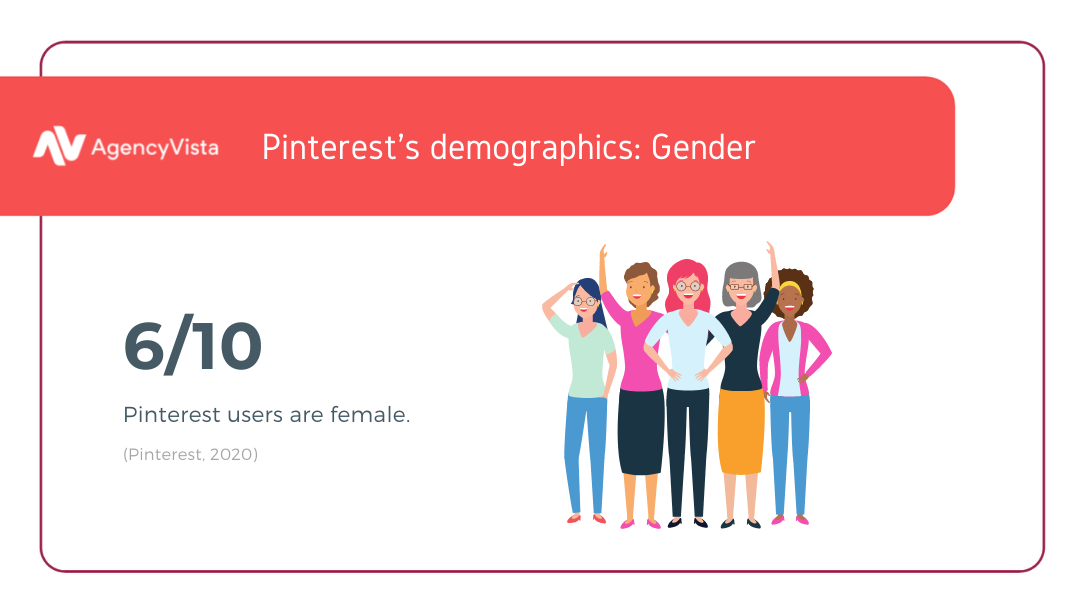 Since women make up more than 60% of the global audience on Pinterest, appealing to homemakers and women with families has helped Ruggable make a name for themselves. All of this allows Ruggable to be one of the top brands on Pinterest.
Tip: Add the Shop tab wherever applicable to direct customers to the e-commerce checkout points to increase sales.
4. User-Generated Content: Mejuri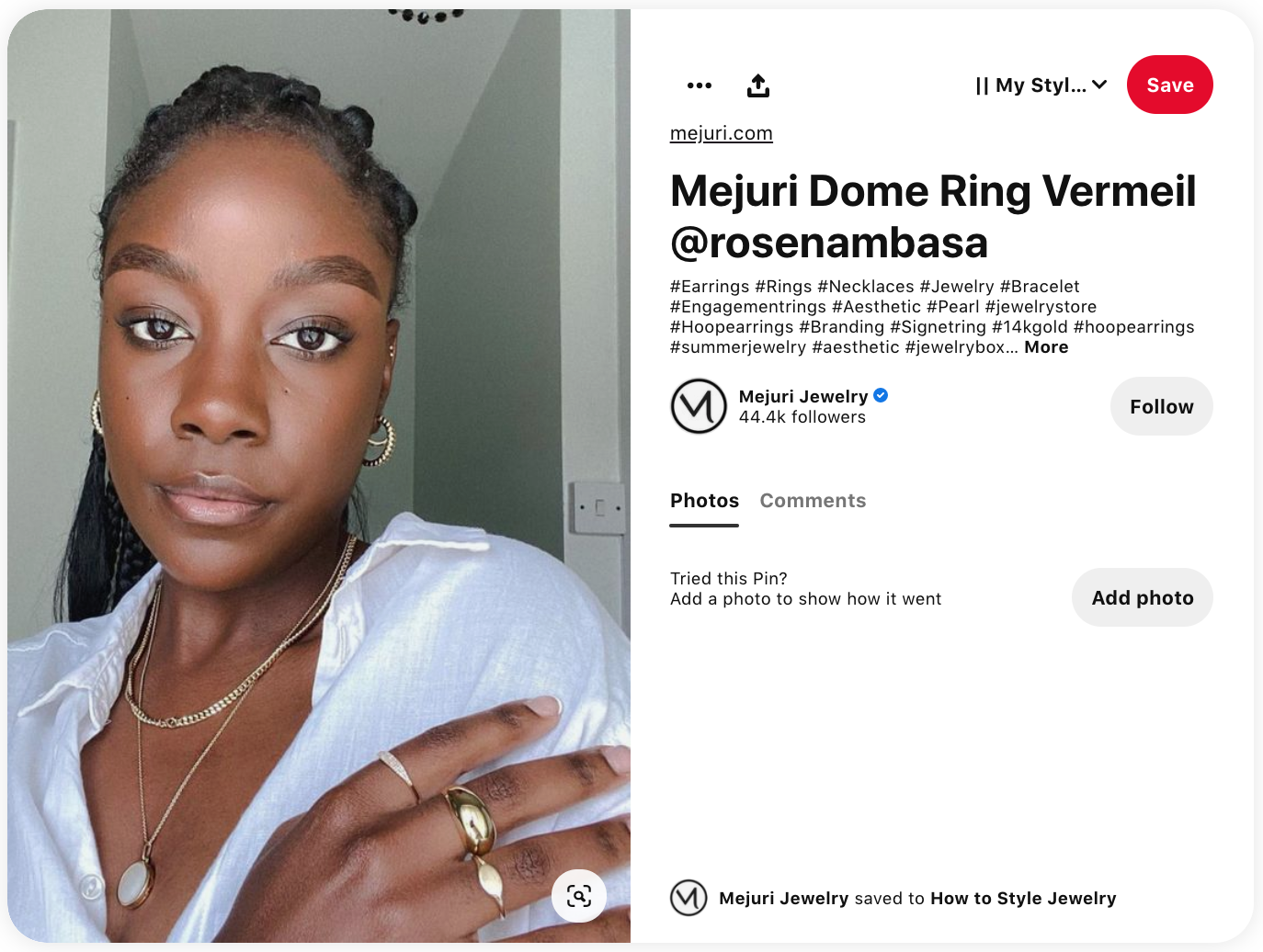 Mejuri, a Canadian jewelry brand, is one of the top brands on Pinterest by utilizing User Generated Content (UGC). UGC helps keep its pins community-friendly and unique. Mejuri is one of the few online brands on Pinterest that has built an impressive community-based ambassador network as part of its marketing strategy. Their ambassador network #thefinecrew captures excellent user-generated content shared across Mejuri's several social media profiles.
Since Pinterest is a community-building, visual sharing platform, Mejuri matched the target audience with their user aesthetics to spectacularly drive people to the websites. Most Pinterest users actively re-share user-generated content and actively participate in events and campaigns.
By curating share-worthy UGC on their Pinterest Profile page, Mejuri captured substantial target audiences and boosted their brand name and logo for recognition. Mejuri now has more than 10 million monthly views with 44.2k active followers.
Tip: Digital marketing agencies should create UGC-style pins for instant sharing and views on their client pages to drive recognition with higher conversion rates.
5. Pinterest Board Variety: Etsy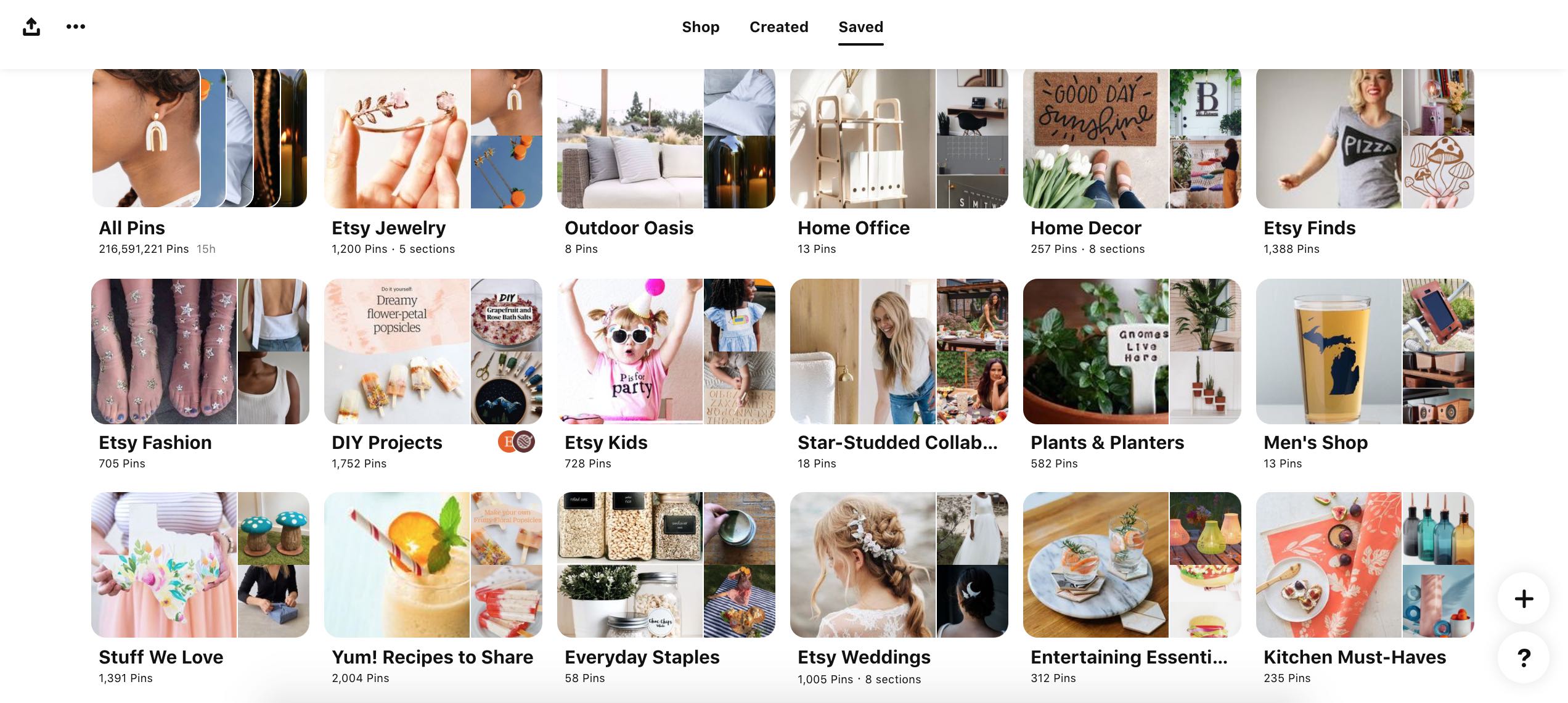 E-commerce site Etsy has a massive audience with multiple products and service offerings. Users can make, buy, and sell things on Etsy. With such a gigantic product basket, Etsy has the room to produce a wide variety of Pinterest pins. While designing the pins, the sheer amount of user content is so vast that creating pins for Pinterest audiences is always challenging.
The pins are created intentionally to drive target audiences towards variety. The strategic board names are also simple to follow and easy to understand. Words like baby shower, weddings, birthdays, living room décor, DIY projects, home care, pet care, and more make Pinterest SEO quick and straightforward.
They also add keyword descriptions to the boards and help drive SEO across Pinterest and other search engines. Etsy now has more than 10 million monthly views and 2.9 million followers on its Pinterest Profile page by using Pinterest marketing strategies.
Tip: Add variety to the pins with strategically placed keywords to increase Pinterest SEO and get a targeted audience to the page.
6. Cross Promotions and Video Content: Fenty Beauty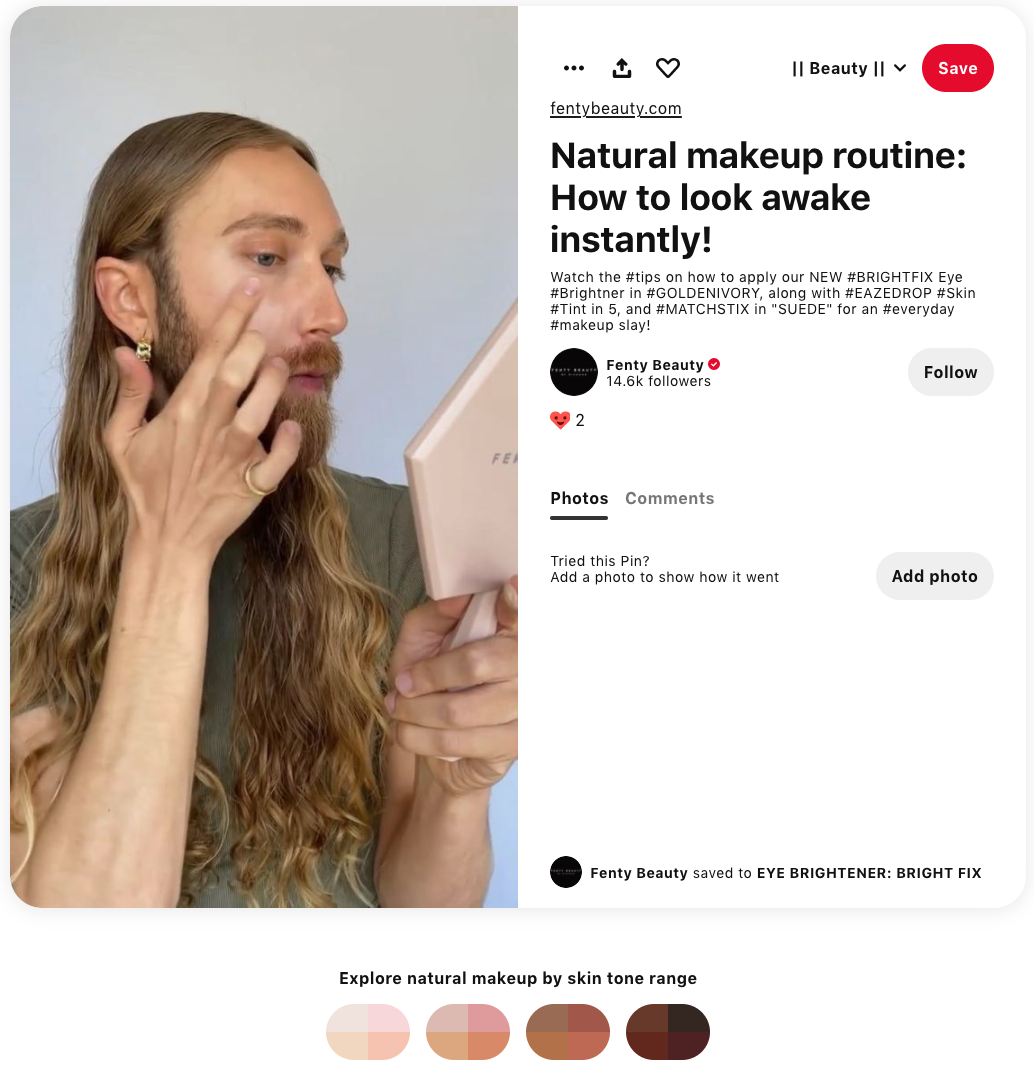 Fenty Beauty by RIHANNA is one of the hottest selling makeup brands across the globe. The brand creates extremely relatable video content that is helpful and relevant to its countless users. Fenty Beauty has taken the lead across social media platforms with trailblazing video content that promotes body positivity, confidence and ensures underrepresented and underserved women and cultures are in the spotlight. Fenty Beauty believes in inclusivity and creating video content shared by millions of men and women globally.
Pinterest users took to the brand by the thousands and shared pins and content, added pins to wish lists, and actively spoke about Fenty Beauty. Since Pinterest is a visual and video-specific app, Fenty Beauty also cross-promotes their YouTube and Instagram stories are Pins for the greater target audience.
Fenty Beauty has more than 2.5 million monthly views with 14.4k followers.
Tip: Attract target audiences by pinning videos with cross-promotions to increase market share. Also, ensure you mention the USP (Unique Selling Propositions) of the brand.
7. Profile Set Up and Optimizing Descriptions: Airbnb
Airbnb has done the best job setting up its Pinterest account. After making the Airbnb account a Pinterest Business Account, Airbnb claimed their website, creating an authentic and active account. Business accounts can claim their official websites on the left of the Pinterest Profile page after official verification. Verified accounts get more recognition, are discovered faster, and rank higher on Pinterest, leading to more extensive reach and higher conversion rates.
Their description in the bio instantly explains who they are, what they do, and why it is helpful to Pinterest users. They use strategic keywords that optimize the Pinterest SEO for search terms. They also include the hashtag for more accessible search terms. Their pins are also optimized to carry text and content that is wholly relatable for users. Each pin has a similar layout and the Airbnb logo on the bottom left corner.
Airbnb has more than 10 million monthly viewers, with 130.3k followers.
Tip: Use strategically placed keywords to optimize the profile page and Pinterest SEO. Also, set up the Pinterest Business Account for recognition and trust.
8. Text Overlay Strategy: HonestlyWTF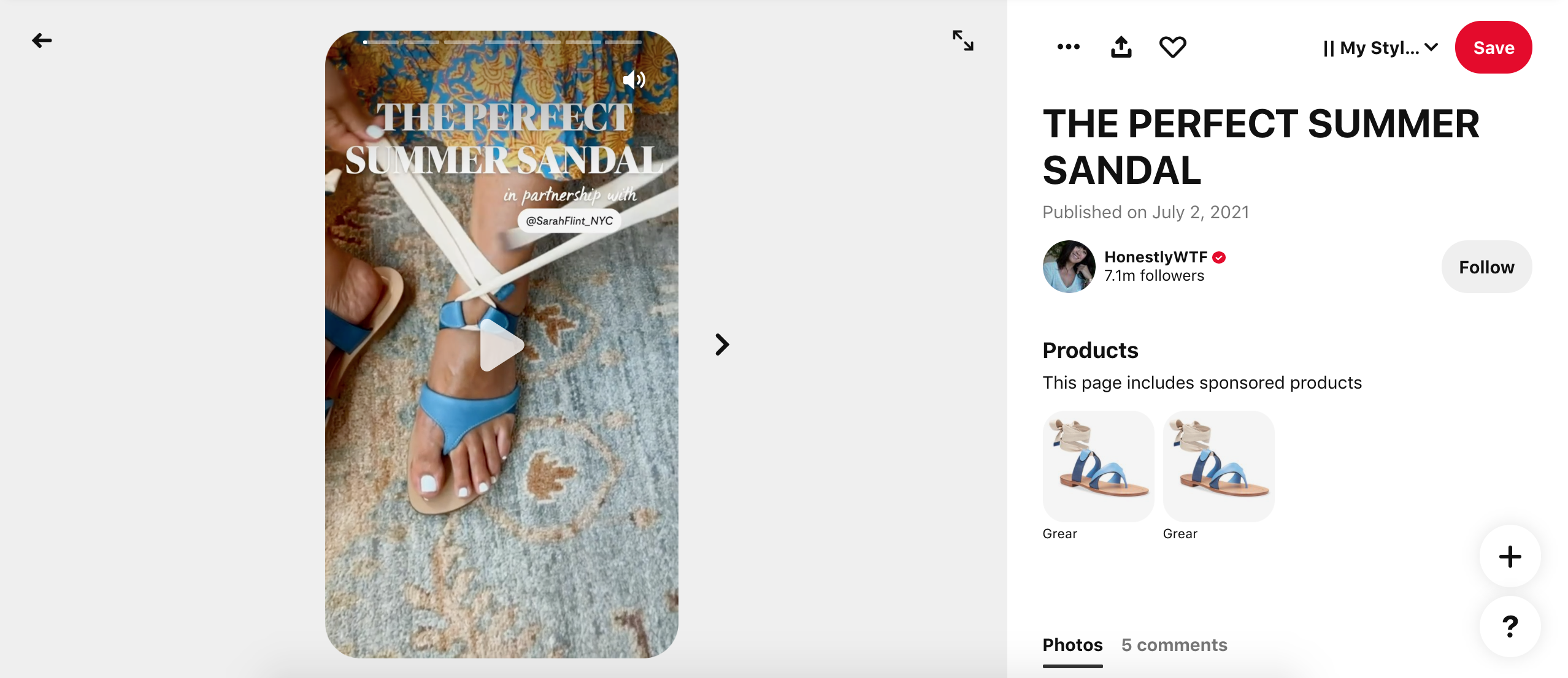 HonestlyWTF perfectly captured the essence of Pinterest. They make eye-catching graphics with keyword-packed text overlays. The overlay is mobile and desktop-optimized for easy readability. The text overlays add value to the images and pictures instead of making them look tacky. The text overlays enhance the meaning of each image without losing the essence of the content.
Text overlays on all the images and pins help pique the target audience's interest and lead to higher engagement and enthusiasm. Pinterest users also share and add the pins to their personal wish lists. Passive scrollers also click on the images to read and follow the calls to action.
This marketing strategy has helped HonestlyWTF get more than 10 million views with 7.1 million followers and be recognized as one of the top brands on Pinterest.
Tip: Create graphics with the help of a digital marketing agency and add keyword-optimized usable text overlays to generate interest in audiences.
9. How-To Content and Tutorial Videos: Chick-fil-A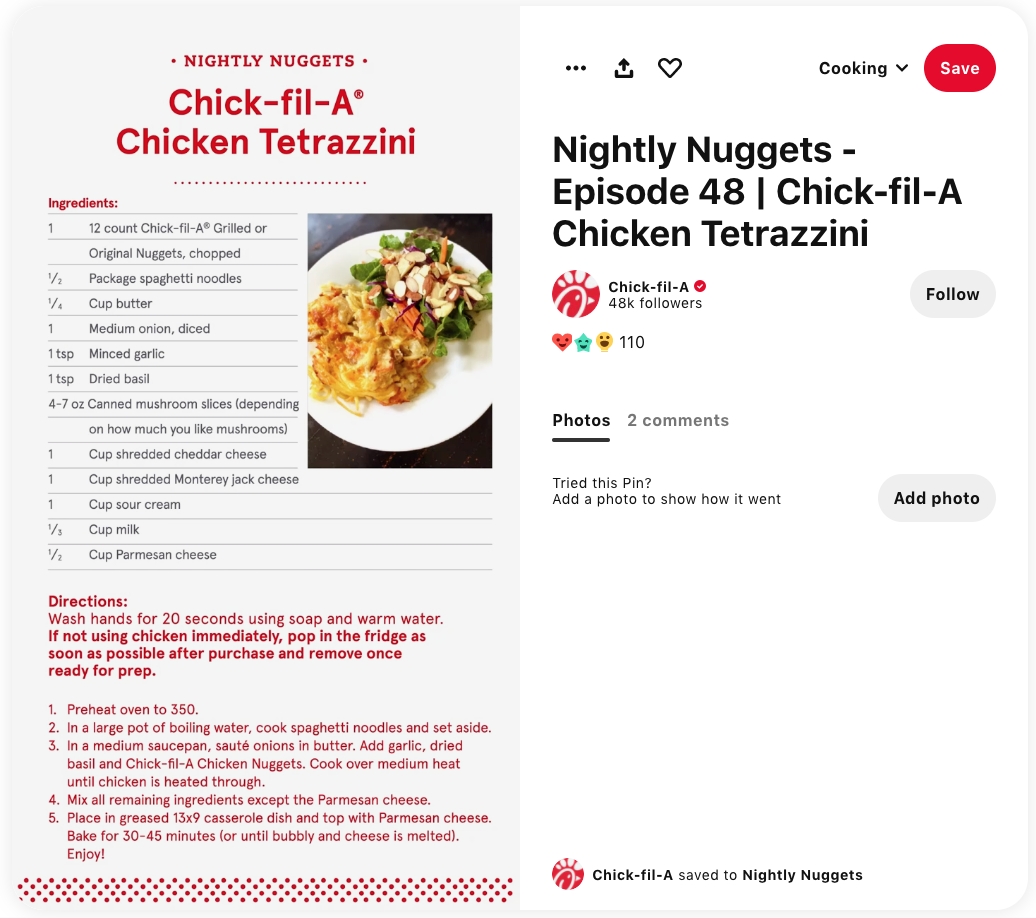 Chick-fil-A customers are literally crazy about the fast-food chain. They maximized their marketing strategy with out-of-the-box thinking. They started adding how-to content and tutorial videos about their recipes, small games for adults, and step-by-step drawing tutorials. This sort of marketing strategy was unheard of on Pinterest.
Target audiences were adding pins to their wish list and sharing Chick-fil-A content constantly. Their videos were eye-catching, and graphics were share-worthy. Sharing recipes and making the brand more family-friendly suddenly attracted new customers and profile visitors.
Chick-fil-A has 47.9k followers and over 373.6k monthly views on their Pinterest Profile page.
Tip: Share how-to content that is useful for audiences, and add a few video tutorials. Doing this will generate interest and create engagement on the site.
10. Eye-catching Pin Titles: Bustle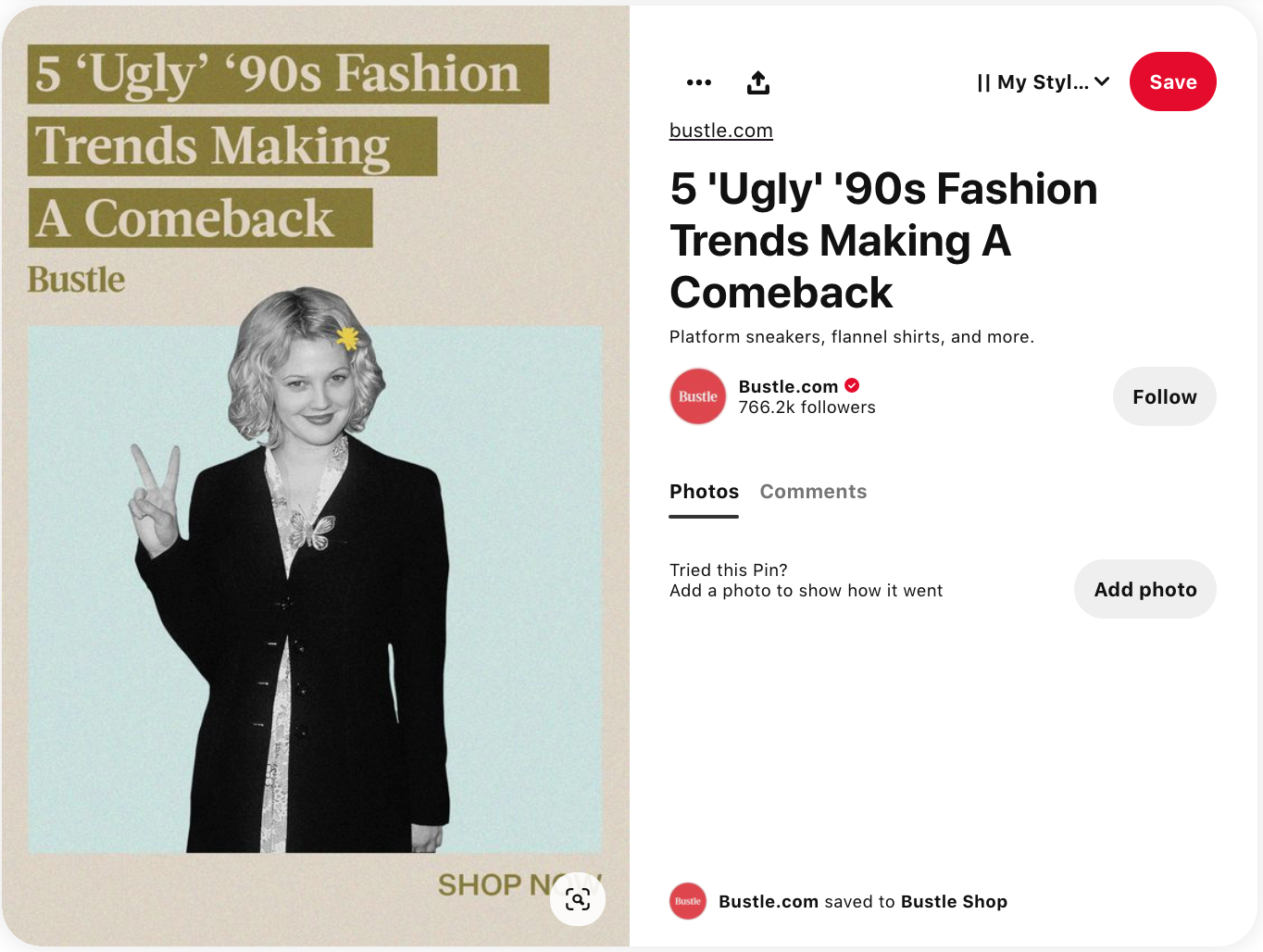 Media group Bustle has more than 84 million monthly readers. Bustle turned to Pinterest to drive traffic to their social media pages with strategically thought-out pin titles. Each of the titles on Bustle's Pinterest board instantly tells audiences what the pin is about. There is no doubt in the viewers' minds that the pin will not deliver the title content.
Bustle has strategically used the video and image-sharing love of Pinterest users to drive tremendous traffic to their blogs, articles, social media pages, and video content. They also add titles with simplistic listicle-style text.
Bustle has 761.7k followers with more than 10 million monthly views on the Pinterest Profile page.
Tip: Since Pinterest allows 100 title characters and the first 30 show up in the feeds, it is best to be extremely specific about the pin content.
11. Campaign Promotion Marketing Strategy: Free People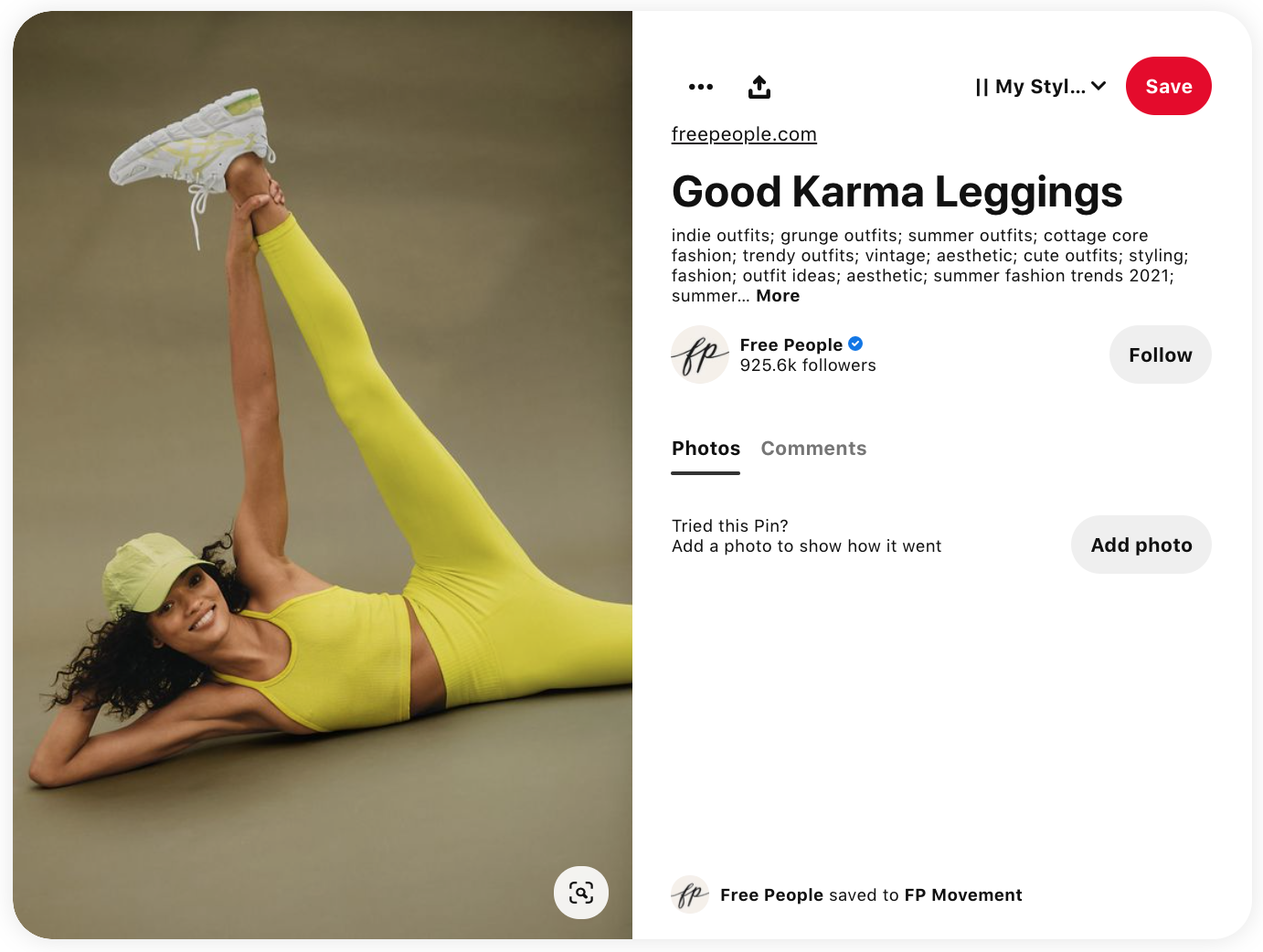 Free People are all about women empowerment. Their marketing strategy lies in the campaign promotion of the FP Movement that is launched across various social media channels. The FP Movement is based on the ideology that women live freely through music, art, fashion, travel, and clothing.
The pins lead directly to the website landing page for their products with direct calls to action. They promote how-to content while marketing their branded products to help women make a quick choice. The pin titles are catchy and helpful, and most women readily add the pins to their wish lists.
Free People have more than 10 million monthly views and 923.4k followers.
Tip: Promote articles and products that can readily be cross-promoted across other pins and articles.
12. Excellent Branding Strategy: The Container Store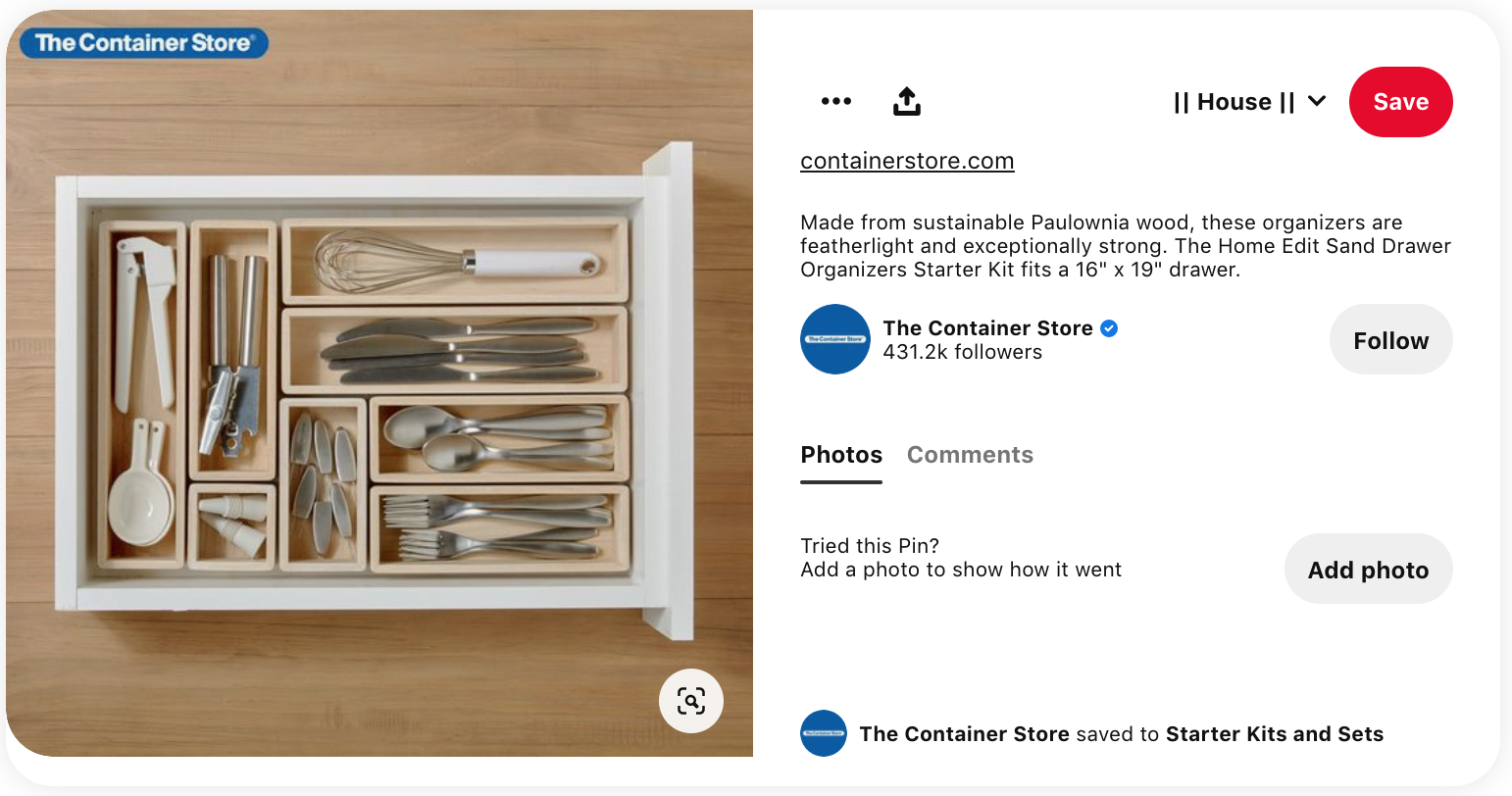 The Container Store is the perfect example of subtle yet strong branding. Each of the images and graphics from The Container Store has a small blue logo. Each pin always has the branding to remind target audiences about the business and its usefulness.
The pins from The Container Store have clear yet powerful images and graphics about their products with simple text about what each image contains. All product images are against a white background, and particular emphasis is given to each graphic's tiny logo. The pins also direct viewers to the checkout pages on The Container Store website for quick purchases.
This branding strategy has helped The Container Store get more than 10 million monthly views and 429.9k followers.
Tip: Add business logos subtly to logos such that they cannot be missed. When adding logos to images on Pinterest, ensure that they are not in the lower right-hand corner since that is where Pinterest adds its own logo.
Final Thoughts:
Each of these 12 brands on Pinterest have different marketing strategies, aiming to drive traffic to their websites and increase conversion rates. Pinterest is business and user-friendly, with an algorithm that allows brands to make direct contact with target audiences to boost SEO, drive creativity, promote uniqueness, and increase overall sales. 
Don't forget — you can be recognized as a top Pinterest marketing agency and unlock additional high traffic placements on Agency Vista. Upgrade your plan to today!