When it comes to increasing business revenue, the first solution that comes to mind is to attract as many new clients as possible. As a result, you can get a kind of a customer conveyor when everything ends at the first sale, and you have to invest another advertising budget for new sales. But with the right mix of strategies, using the right marketing tools, and by paying attention to customers' needs and increasing the level of personalization, customer retention is possible. The customer retention statistics below show how the experience and service that organizations provide can impact retention.
25 Customer Retention Statistics to Keep in Mind
No doubt, customer retention is the new religion of modern marketers. And Agency Vista has collected 25 customer retention statistics to prove that. Check them out to get a better idea of a strong retention rate's importance and benefits.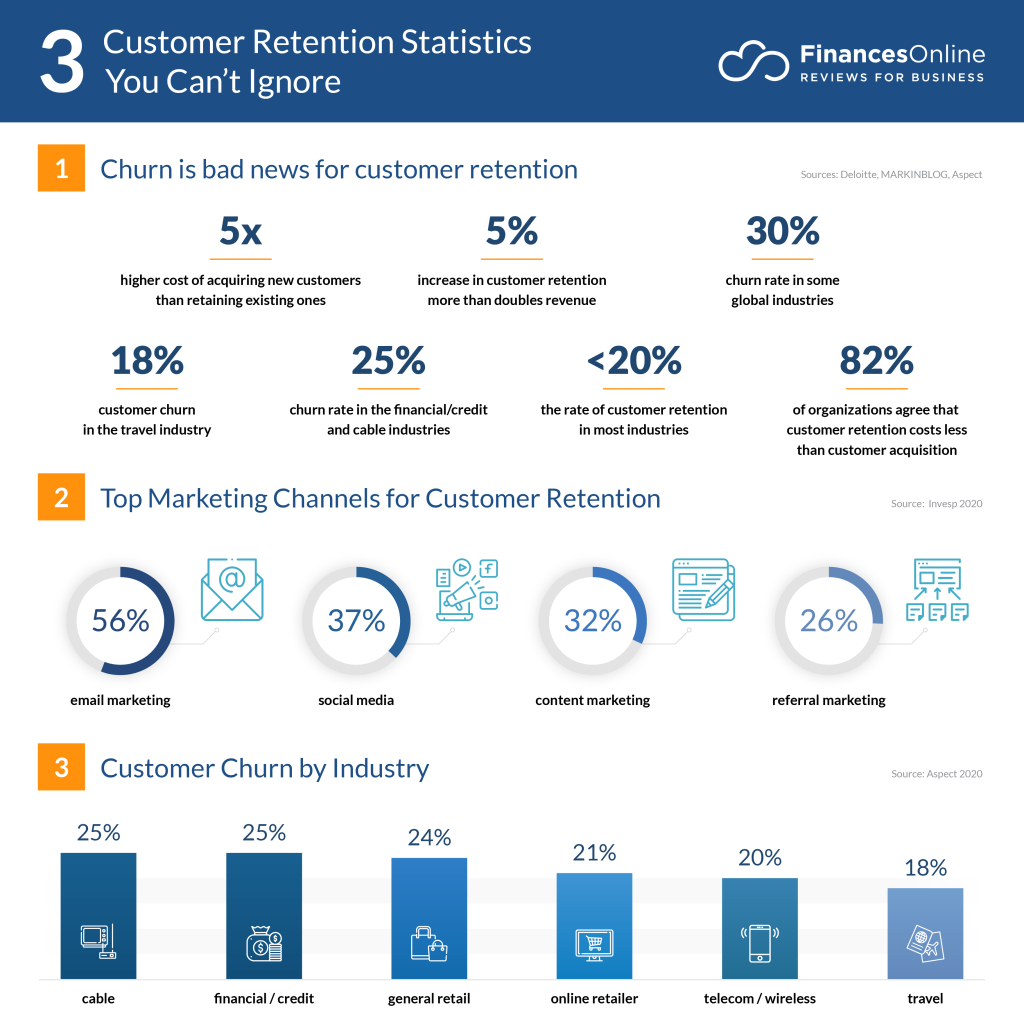 General Customer Retention Statistics
As long as your marketing agency is obsessed with attracting new clients and is careless with existing ones, it does not make a full profit. Pay attention to those significant numbers below to work harder on the retention rate.
1. 30% of consumers will not give brands more than one chance after a bad customer service experience. (Hiver)
2. Increasing your customer retention by just 5% potentially increases your revenue anywhere from 25% to 95%. (Bain&Company research)
3. Marketing Metrics study shows that the probability of selling something to a prospect is only about 5-20%, while the probability of selling something to an existing customer is 60-70%. (Altfeld)
4. Attracting a new client costs five times more than retaining an existing customer. (Invesp)
5. CallMiner Churn Index 2020 concluded that U.S. companies lose $136.8 billion per year due to avoidable consumer switching. (CallMiner)
6. A happy and recognized customer will provide 2.7 times more profit for an agency than the moderately satisfied one. (Annex Cloud)
Customer Service
The success of marketing and advertising agencies depends on the breadth of the audience covered and the quality of the information provided. An essential component of a good customer experience is high-quality and timely support. The support team is closely linked to the work of the marketing department. It helps to communicate effectively with customers both before the sale and in the strategy of customer retention. It is not only the product and price that companies must compete on, but also customer service and relationships.
6. 93% of happy consumers are more likely to support the business with excellent customer service and repeat purchases. (HubSpot)
7. Globally, 54% of all consumers say that they have higher customer service expectations than they did just one year ago. (Microsoft)
8. About 30% of consumers say that a knowledgeable and friendly customer service representative is the most important aspect of customer support. (Microsoft)
9. 12% of Americans rate their number one frustration with customer service as "lack of speed." (Statista)
10. 20% of consumers would complain publicly via social media when faced with poor customer service. (New Voice Media)
Customer Loyalty Programs
Today, сustomer loyalty programs are a fundamental part of any marketing agency's development strategy. In a market with a high or even medium level of competition, many similar products and services are offered at approximately the same prices. Out of a few offers, the clients are most likely to turn to companies where they are valued, where they are offered something more (and more pleasant!) than just a service or product.
11. 49% of consumers only belong to up to three loyalty programs. (Yotpo)
12. 50% of consumers like the idea of joining a loyalty program to earn rewards on everyday purchases. (PDI)
13. Loyalty program members spend 12-18% more per year than other customers. (Fundera)
14. 37% of customers are willing to pay to upgrade to an enhanced tier of a loyalty program. (Bond)
15. 95% of consumers want to engage with their loyalty program using emerging technology like chatbots, AI, VR, and smart devices. (Bond)
Sensitive Personal Data
There is a misconception that only mobile operators and banks work with personal data. In fact, this is not the case. Any company processes the personal data of its customers. Scenarios of personal data breach and the associated risks are individual for each company and depend on the specifics of its activities, the technologies used, the implemented protection mechanisms, etc. Whether it is a marketing agency or any other business, all the clients want to be sure their sensitive data is safe.
16. 56% of American consumers are not confident that brands have their best interests in mind when they use, share, or store their personal data. (Acquia)
17. Nine out of 10 Americans worry about online privacy and data security. (Marketing Dive)
18. Brands that are upfront about using the information to target ads can boost engagement levels by up to 40%. (Marketing Dive)
19. 80% of respondents said they would be comfortable sharing personal information directly with a brand to personalize marketing messages. But just 16.7% said they would be OK with sharing this type of information through third parties. (eMarketer)
20. 83% of consumers are willing to share personal information to enable personalization. (Accenture)
Marketing Channels
Customer retention is one of the key factors that can distinguish developing companies from stagnant ones. The greater the number of customers you have maintained relationships with and regularly sell to, the greater your resilience. Marketing channels play no last role in retaining customers. There are many marketing channels available to businesses today. The cost of using them effectively starts from "free" and ends with "very expensive".
21. About 80% of businesses still rely on email marketing to maintain their client retention rate. (Emarsys)
22. 65% of U.S. customers find a positive experience with a company to be more influential than great advertising. (PWC)
23. 57% of people will not recommend a company if its website does not have a well-designed mobile version. (Sweor)
24. Emails remain the most effective marketing channel for customer retention. (Small Business Trends)
25. 54% of customers prefer social media for customer service over the phone or email. (Conversocial)
Conclusion
The most common mistake companies worldwide make is thinking that only a great product or service guarantees growth and customer retention. The truth is it is necessary to earn customer loyalty continuously. Loyal customers are the foundation of a thriving marketing agency and any other business.
The attention of customers becomes the main object of the struggle between companies. Based on the customer retention statistics above, you can see how important it is to show your clients that you appreciate them. This requires hard work, the right attitude, and the right customer retention programs. You can start by making sure that your customer retention system is set up properly. Do not hesitate to capitalize on the value of client relationships!