While the 4th of July is a federal holiday in the United States and a massive celebration for all Americans, it also offers an excellent opportunity for businesses to boost their sales. Consumers will be stocking up on fireworks, food, drinks, and other supplies this upcoming weekend.
One of the most effective ways to align your product or service with this holiday is through an email marketing campaign. Catchy 4th of July email subject lines can capture your audiences attention and drive immediate action.
A great subject line makes or breaks whether your email will be opened, read, and clicked. 35% of customers open emails based solely on the subject line. That said, it is essential to choose them attentively to drive open rates and sell more.
Before jumping to the best performing 4th of July subject lines for your inspiration, let's run through the 4th of July spending stats first.
4th of July Spending Stats for Marketers
Barbeques, fireworks, cocktails, and patriotic celebration: Americans are preparing for an exciting 4th of July. The National Retail Federation's Independence Day Data Center has conducted its annual Independence Day survey, revealing that 84% of Americans plan to celebrate the holiday. So let's see where their money is going.
Food: As with other summer events, the celebration often occurs outdoors. Barbecues and picnics are the most popular celebration activities, that is why food is the largest spending category on the 4th of July. The total expected spending on food items this year is $7.7B, with an average expected to spend per person of $84.12.

Alcohol: Since the 4th of July is one of the country's top drinking holidays, spendings on beer and wine are usually impressive. In previous years Americans were projected to spend over $1.4 billion on beer and wine. People are passionate about alcoholic drinks on Independence Day, so we expect no fewer beer and wine sales this year.
Fireworks: No doubt, it is a great time for fireworks, fun, and friends. As Covid-19 restrictions continue to ease, Americans are eagerly spending on fireworks and enjoying the explosive delights. The last year's data shows that Americans spend about $1.5 billion on fireworks.
As you can see, Americans know how to celebrate, and this holiday is an excellent chance to grab the audience's attention and make massive sales. So now, let's get to the quality 4th of July email subject lines to launch a successful email campaign.
Best Performing 4th of July Subject Lines
While looking for the highest-performing 4th of July subject lines by yourself can be time-consuming, we have analyzed the Omnisend research to provide you with the top 5 list.
According to the research, besides 'Independence Day/4th of July' wording in the subject lines, the following phrases performed the same great:
holiday
last
sale off
%
don't miss
free
now
save
soon
The following 5 Independence Day subject lines are the winners if we focus on the open and click rates.
"Independence Day Special" (30.3% open rate, 11.6% click rate).
"Independence Day Weekend Special: Free Shipping Over $75, Coupon, and New Africa Twin Items!" (27.3% open rate, 3.5% click rate).
"LAST DAY Independence Day Sale | up to 70% Off" (23% open rate, 10.3% click rate).
"Independence Day Bead Deals, up to 70% Off!" (22.9% open rate, 12.3% click rate).
"INDEPENDENCE DAY SALE!" (21.4% open rate, 4.2% click rate).
Save the image below displaying this valuable data and use it for your 4th of July email campaigns.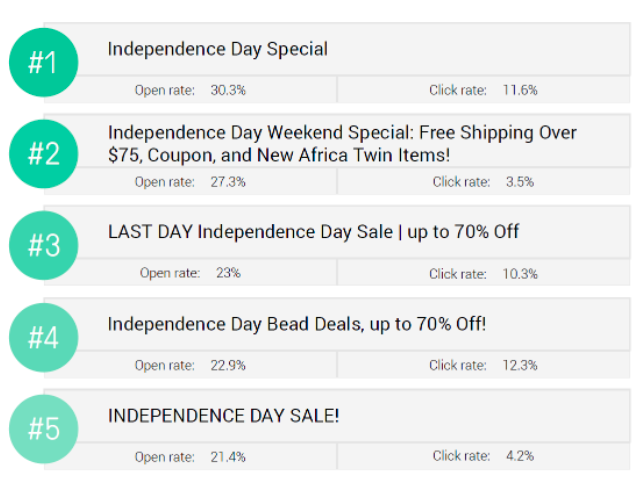 Consider urgency, curiosity, offers, relevance, and timeliness when crafting your email subject line. Not sure which one to use? Try sending out two at the same time. Then, experiment and see what works best.
25+ 4th of July Subject Line Ideas You Should Try Out
We have collected 25+ 4th of July email subject lines to inspire your next campaign. From the patriotic elements to free shipping subject lines, these will help you sell more for the Independence Day weekend. We have split them into a few groups for your convenience. Let's go.
4th of July Email Subject Lines with 'Free Shipping'
Order before the 4th of July and receive free shipping!
FREE SHIPPING this Independence Day only
Light up your July 4th with free shipping
Celebrate freedom with free shipping
Embrace Independence Day with free shipping on all orders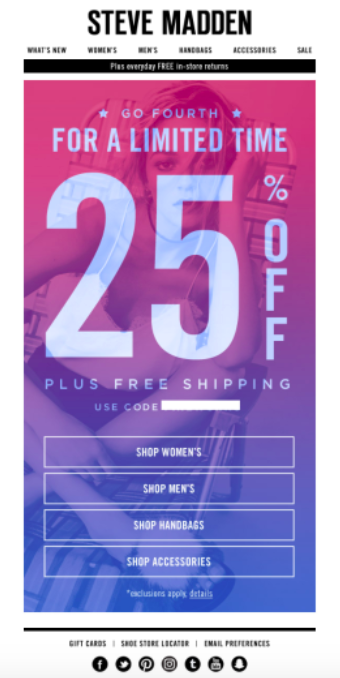 Steve Madden is choosing tactically red and blue email with the subject line "Go fourth for a limited time 25% off plus free shipping".
4th of July Email Subject Lines with 'Celebrate.'
Our Savings celebration is a blast
Get beach ready to celebrate the 4th of July
Celebrate freedom with products that don't depend on a large budget
Go ahead and celebrate liberty with these savings
Celebrate Your Independence

Brit+Co recommends its products while focusing on the colors of the flag. 'Get beach ready to celebrate the 4th of July' is their perfect call-to-action and email subject line. 
4th of July Email Subject Lines with Patriotic Elements
The following email subject lines are related to the flag, patriotism, and American traditions.
Go Fourth in Red, White, & Shoes
America's Pastime on the 4th of July
We salute you … for saving money with this 4th of July sales
The land of the free and the home of this sale: Don't miss out
Happy Birthday the USA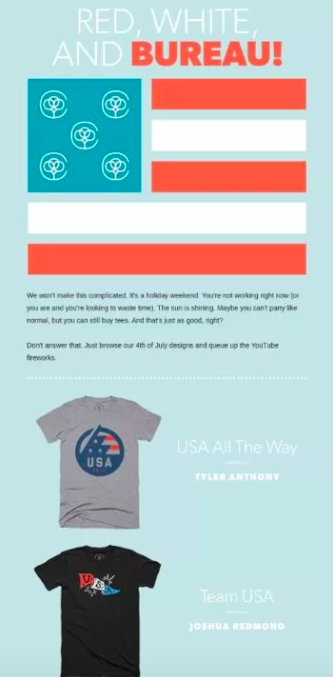 The t-shirt company Cotton Bureau used patriotic elements (American flag colors) in their email campaign and included nearly 15 t-shirts related to Independence Day.
4th of July Subject Lines with Sales
4th of July Sale: Go! Go!…
The biggest bang for your buck: 4th of July-inspired outfits, 50% off
Celebrate the red, white, and YOU with 30% off for Independence Day
LAST DAY Independence Day Sale | Up to 70% off
4 deals that save time and money so that you're free to spend time with your people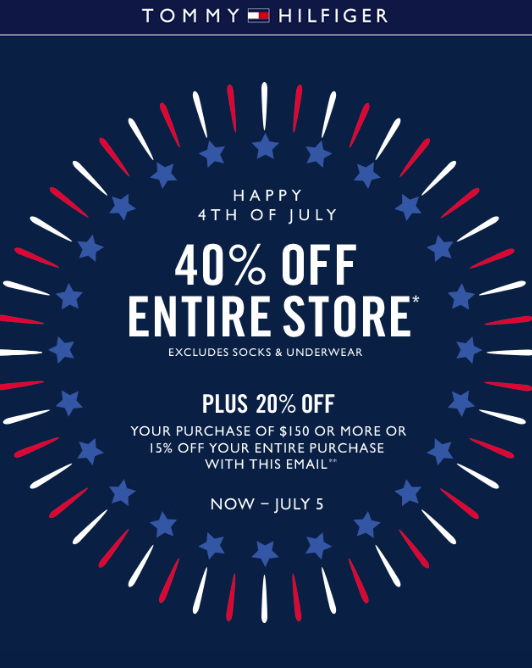 Tommy Hilfiger goes out with a fun gif to inform the world about its sparkling 4th of July sale.
Other General 4th of July Subject Lines
Last chance – 4th of July sale ends today
Create a spark with these new products
The perfect 4th of July weekend
Grilling secrets from the pros – 4th of July party menu
Bring on the fireworks: This deal will have you fired up
Wishing you a memorable holiday with your loved ones
Our favorite 4th of July essential is…
Enjoy your freedom 4th of July Deals
This is better than fireworks
Our flaming-hot guide to the 4th of July will compete with your fireworks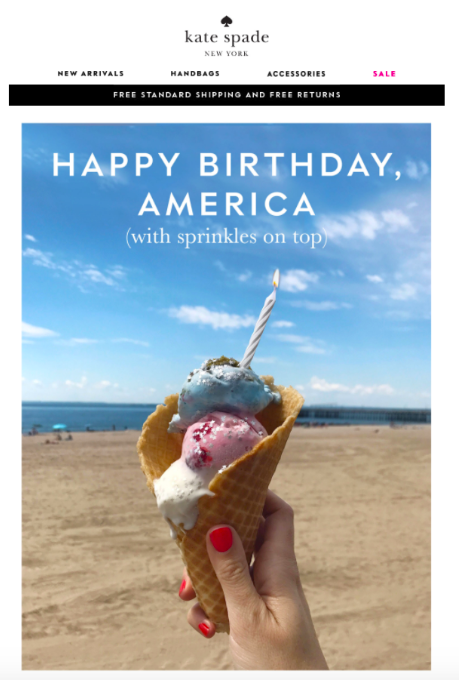 Kate Spade's "Happy birthday America" email subject line and a spontaneous photo stand out from the crowded inbox.
Conclusion
Now you have 25+ 4th of July email subject lines to choose from or get inspired by. Adjust them to your brand and marketing needs, and craft an email campaign that will stand out from the rest of the 4th of July emails. Let's make this holiday a special day for your audience and your brand!
Are you looking for an expert team to manage your email campaigns and drive site traffic? Discover Agency Vista's top email marketing agencies. They are already researched, compiled, and verified for you to collaborate with the best ones on the market.