Technology and social media have changed the way people use information today. In 2020, 52% of US adults preferred getting their news from digital platforms. But even now, when most potential clients prefer to scroll through the posts on Twitter or search for new trends in the Facebook feed, press releases for marketing agencies is one of the essential tools that can help earn media coverage across the globe.
At its core, the press release is one of the marketing tools that inform about an accolade, event, or product launch for the target audience's needs. Public information posted on the web is available to all interested parties – such as business partners, clients and customers, competing agencies and supervisory organizations. Usually, such information promotes something significant and includes:
Formatted text and color graphics.
Author's photos.
Unique video materials.
Links to primary sources.
Authoritative web resources.
Except for social media, blogging, and influencers, a press release is a winning solution for any business, and a marketing agency is no exception. This article will go through the main benefits of press releases for marketing agencies.
Benefits of Press Releases for Marketing Agencies
The role of press releases for marketing agencies can be disseminating information about the activities of your business, client, or employee that is often underestimated. However, this format remains the simplest, most efficient, and least expensive for any business when used correctly. Below we have listed a few key reasons why a press release still matters for a digital agency.
1. Increase your sales 
Many companies understand the value of PR as an independent strategic marketing tool and as an integral part of integrated marketing communications that can increase the level of sales of products and services.
An essential element of improving the effectiveness of public relations is the optimization of press releases. Most potential buyers get their information from the Internet. You need to identify the most popular search queries in your topic and then integrate the most popular ones into the press release. Thus, your news will be on the top lines of search engine results. This can also be done through incorporating a stat on popular topics (ie. ad spend growth, industry benchmarks)
Whatever topic you choose to cover (the launch of a new service, a partnership with a larger company, or new technological development), a good press release will allow you to put your business in the spotlight. Make sure to focus on your product or service's main benefits and features inside the press release.
2. A press release is a more effective digital marketing strategy
According to the B2B Content Marketing 2020 Report, 81% of companies planned on maintaining or increasing their content marketing investment. In addition to a prolific blog and good social media positioning, press releases for marketing agencies will simply allow you to gain popularity, attract more people to your web resource, and therefore earn more money.
It is more effective when a press release is intended to be controlled (partially) not by its creator but by its recipient (journalists, bloggers, influencers). This will change your message for the target audience and improve public relations.
Keep your main goals in mind and accurately share the information about your agency's products, events, or policies.
3. Increase traffic to your website
Once a press release has been deployed they will be picked up from multiple online news sites. The press release can also be shared across your social media channels and others that found the article interesting. The article, written succinctly and informative, attracts visitors to its resource interested in its products and services.
In essence, your press release is an advertisement. A good press release is perfect for attracting more targeted traffic since you can add one or more links to your website or direct readers to other platforms that promote or sell your services.
The first sentence is most important. It is necessary to attract the readers' attention, to arouse their interest. Start with a brief description of your offer, and when potential customers become interested, tell them where they can get your product/service. You need to understand that a press release is primarily news, so it must meet clear criteria:
novelty;
relevance;
informativeness.
Then, it will be an excellent solution for your business to generate social signals, drive shares, and attract traffic.
4. Boost your SEO
You may think there are already enough levers for search engine optimization. But why not take advantage of an open opportunity if it can potentially bring success to your digital agency. With 63,000 searches per second, a high-ranking press release on Google and other search engines will provide enhanced exposure to current and future clients.
The main positive feature of a press release for SEO is a legitimate increase in the number of external links to the promoted site. As a result, you will observe an increase in the site's position in search engines. Besides that:
The number of targeted site visitors is growing.
Competent press releases have a significant impact on the company's brand awareness.
The promotion of self-written press releases is free of charge.
No need to put backlinks to the release directories.
There is a high probability of reposting your news message on other sites.
Optimize your SEO by playing with keywords, headlines, visual content (photos and videos), or even hashtags. Once you have written a high-quality, competent, informative, and unique text with the correct links, relevant keywords, publish it on good resources. A high-quality and timely press release can give significant results and maximize your SEO benefits.
5. Show expertise in your niche
Public relations are critical to your business because they help you build your credibility in the industry. But also the trust of your customers and potential customers. Stand out as an expert in your niche and highlight the unique appeal of your products and services.
A press release is perceived as a trusted source of data and information. For your content to differ from competitors' work and attract more attention, you need to understand your unique features and what your niche value is. Get the most of a press release to build your business credibility and a positive brand image.
6. Boost your social media
With the help of an effective news break today, you can not only promote a product, service or brand, and make a message to the media. More importantly, you can raise the demand for a topic in society and cause a wave of publications on the specific theme.
The information disseminated through press releases for marketing agencies gets into social networks. It generates user interaction with brands, shares, and subscriptions. As soon as your press release is available to the audience, people start interacting with the content.
A successful press release in social media should not only announce the launch of any new services or the achievement of results. It should contain information about what technologies were (or will be) successful, why these technologies worked, and how the results can be helpful for the audience. Note that the press release that focuses on the reader's interests rather than the company's advertising will have a much greater response on social media.
7. Discover new perspectives
The ways you distribute a press release are just as important as its content. Indeed, different channels guarantee you different geographical, thematic, and demographic targeting, etc.
It is also an unstoppable method of promoting your content to an audience that will be more responsive to your calls to action and therefore maximize your reach. By contacting the right platforms/journalists/bloggers, you will better communicate with people who share your interests and views. And who, therefore, will be more likely to test, buy, and even recommend your services or products.
How to Make a More Effective Press Releases For Your Agency
A press release can and should have an original news hook or a bright expert opinion, but the overall structure should be highly standard.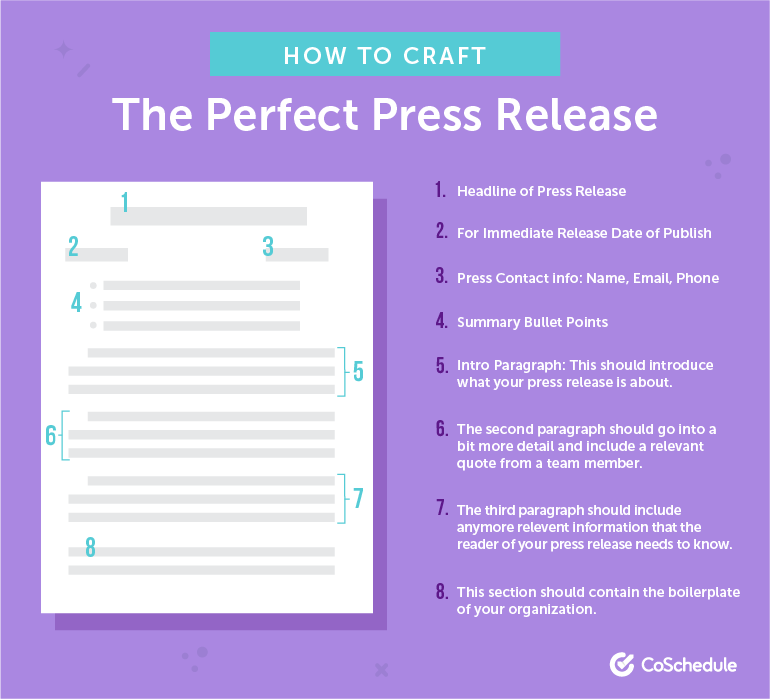 Any press release should have the following structure:
1. Headline
The headline reveals the essence of the information you are sharing. This is the central part of your press release, its "business card"; it should be short and exciting.
2. Lead
The lead is the first paragraph that briefly describes the content of your press release. This is the informational basis of the entire text; it is designed to instantly draw attention to the central part of the material and complement the idea of the title. Conciseness is the main feature of the lead. Just 2-3 sentences will give the reader answers to the questions: when, where, how, and why.
3. Body
The body of the press release or its main part should become a logical continuation of the lead and reveal all the details of the newsworthy event. Here you can already find excerpts from research, facts, figures, statistics, arguments, quotes from experts, etc.
Here are some additional things to consider when writing a press release:
Write only about interesting events.
Come up with a bright, killer headline. 
Present the material briefly and concisely.
Place the press release purposefully on thematic websites.
Track and record the results.
Include information about the company (your business area, products, services, etc.).
Include contact information (link to the website, phone, e-mail, fax, contact person for the press, and position).
Things You Shouldn't Do In Your Press Release:
Do not use difficult-to-read sentences with adverbial and participle clauses, ornate phrases, unique vocabulary, abbreviations, except for well-known ones. Write in a clear and modern language.
Do not post your messages on all possible platforms. Focus on what is most important to you, relevant to your business niche, and targeted to your audience.
You cannot write about anything you wish. You should not post monthly reports about your company's activities. If today there is nothing innovative, original and exciting, there is no news, respectively. 
As the largest marketing agency ecosystem, Agency Vista offers a premium plan for agencies looking to become industry leaders. Except for excellent premium benefits, the plan includes one monthly inclusion in our blog, newsletter, or press release.
While the average press release costs $399, agencies can purchase our premium plan and get included in a release for $199, plus receive additional benefits. Choose the premium package that is guaranteed to take your visibility to the next level.
Conclusion
The media representatives may argue that the press release is dead, but PR specialists continue to emphasize its importance. After all, even with social networks and messengers, they have not come up with a more effective way to tell their news to a broad audience.
If you promote your digital agency, advertise a product or service, or try to attract attention to a non-commercial event, this format can become the best tool for free PR. And we are convinced that a press release in the right hands is an excellent solution for creating an information field around a company, person, or brand.