While everybody makes mistakes, IG mistakes can cost brands big time if you aren't effectively using the platform.
Instagram has the potential to take a business from zero to millions with the viral nature on the app. While some IG mistakes may seem like a no brainer, like not buying your followers, others may be less apparent like spammy hashtags.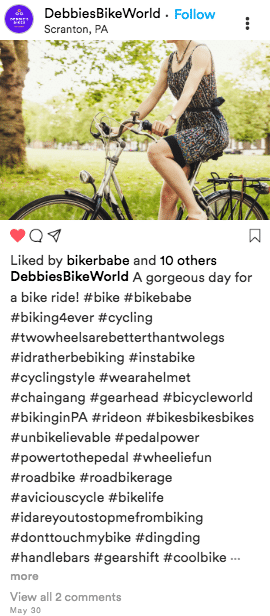 With so many blogs online telling you what to do with your Instagram marketing strategy, it's key that you turn to a reliable source.
Agency Vista's network of over 47,000 agencies allows us to provide brands and agencies with key insights to make sure they have a successful online strategy.
With that said, let's dive in!
Top Reasons to Use Instagram for Brands and Agencies
Most brands and agencies are already using Instagram for their online marketing strategy. But, it's important to know they 'why' behind that.
Are you using Instagram for your top funnel strategies? What about your inbound marketing?

It's important to get very clear about your strategy and why you are using Instagram as the platform for it.
Here are key Instagram stats you need to know about in 2022:
So, what do those numbers represent? We'll show you:
Your target audience expects you on Instagram, and they will search your brand by name or hashtag related to your business. 
Having a verified Instagram account is a signal that your brand is reputable and real.
Social currency is huge on Instagram, people will want to tell their own followers about a cool new restaurant, product, or service they discovered and tag the brand's account. No Instagram account – no review – a huge missed opportunity.
You can tag your products/services and sell better and faster.
Instagram is another social channel to drive referral traffic back to your website.
Creating brand profiles is essential for your brand name's online reputation management and SEO.
Your competitors are on Instagram. You do not want to give them a competitive edge with your absence on the platform.
Instagram is a powerful networking channel. Building a relationship with other businesses and individuals is a matter of time.
You can attract talents. Ensure showing off your honest company culture through Instagram.
7 Common IG Mistakes Marketers Must Avoid
Instagram provides excellent opportunities for brand promotion and growth. Still, there are some blunders that marketers tend to make on Instagram without even realizing. Let's review 7 common (and fixable) IG mistakes when running an Instagram account.
1. Inconsistent Posting Strategy
Inconsistent posting is one of the popular IG mistakes social media teams make. Besides making high-quality, diverse content and meeting business goals, it is essential to publish posts regularly and at the optimal time.
Yes, it is rather challenging to be regular on Instagram, but it is the only way to succeed there. Today, marketers actively use IG tools that help them schedule content and choose optimal posting times.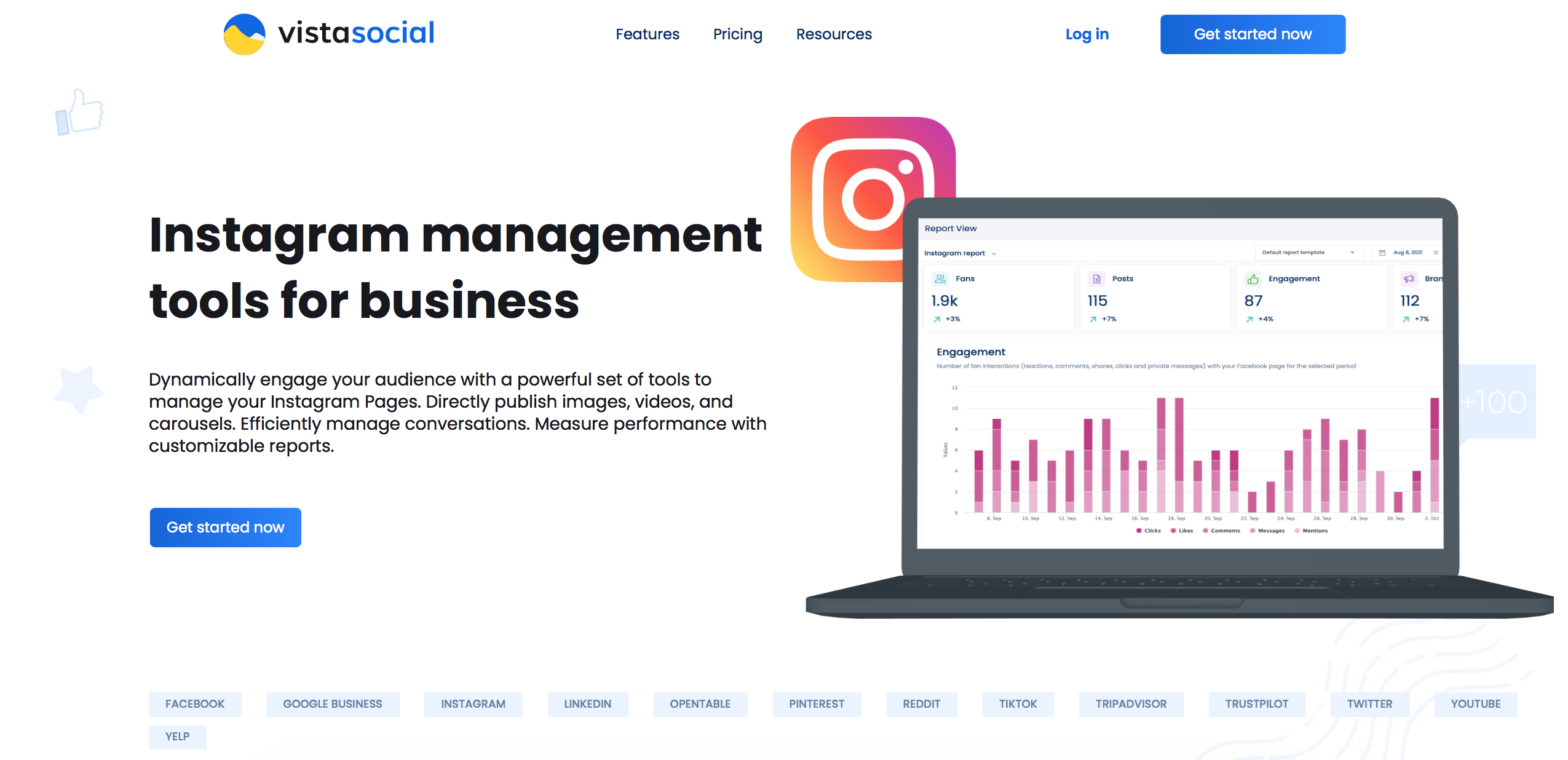 When selecting the suitable Instagram scheduler for you, you should consider what features meet your needs. With Vista Social, you can:
Upload unlimited photos and videos to your Media Library
Connect up to 3 social media profiles (and it's only $3/month per every additional profile)
Use the Visual Planner feature to preview your Instagram grid
Find quality stock photography
Track and measure your weekly and monthly growth with Vista Social's Analytics
Uncover business-critical insights with Social Listening
Schedule carousel posts
Enjoy social media location and user tagging tools
Pick up Optimal Time
Share calendar
Vista Social's new Optimal Time feature makes it easy for brands and agencies to discover when to schedule posts based on your audience's engagement patterns.
In addition, optimal post is automatically enabled on all accounts, so there is nothing that you have to do to start tracking when to post on social media.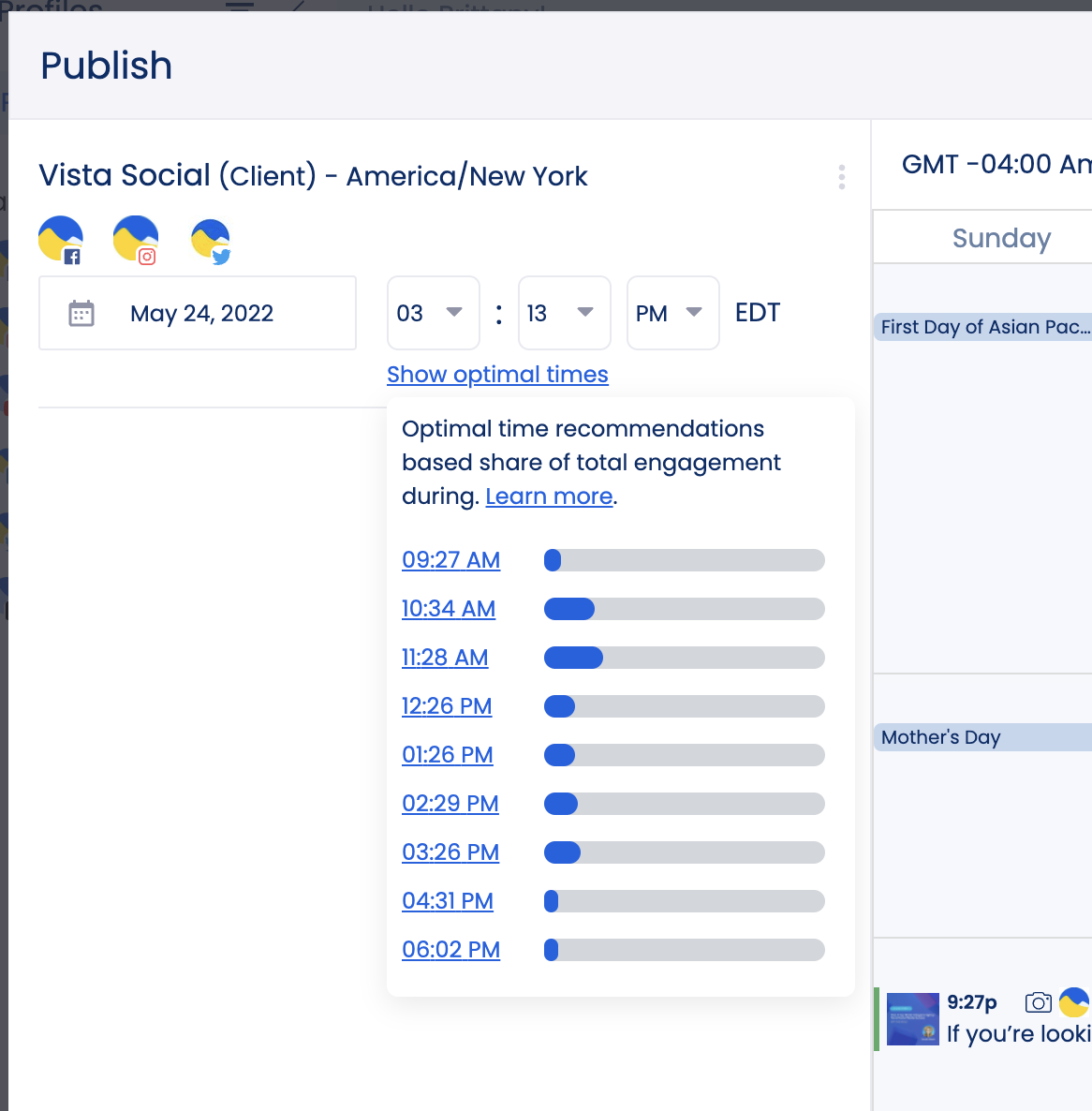 Are you ready to optimize posting times for your Instagram account? Then, join the top businesses using Vista Social and sign up for free to evaluate the platform's features.
2. Using Unpresentable or Low-Quality Photos
Instagram is a visual social network; images' aesthetics are essential, especially if you run a brand's account.
One of the most common mistakes is not curating your feed that is reflective of your product or service and engaging to your audience.
This can be done through cluttered graphics with too much font or just low-quality photos that are pixelated and blurry.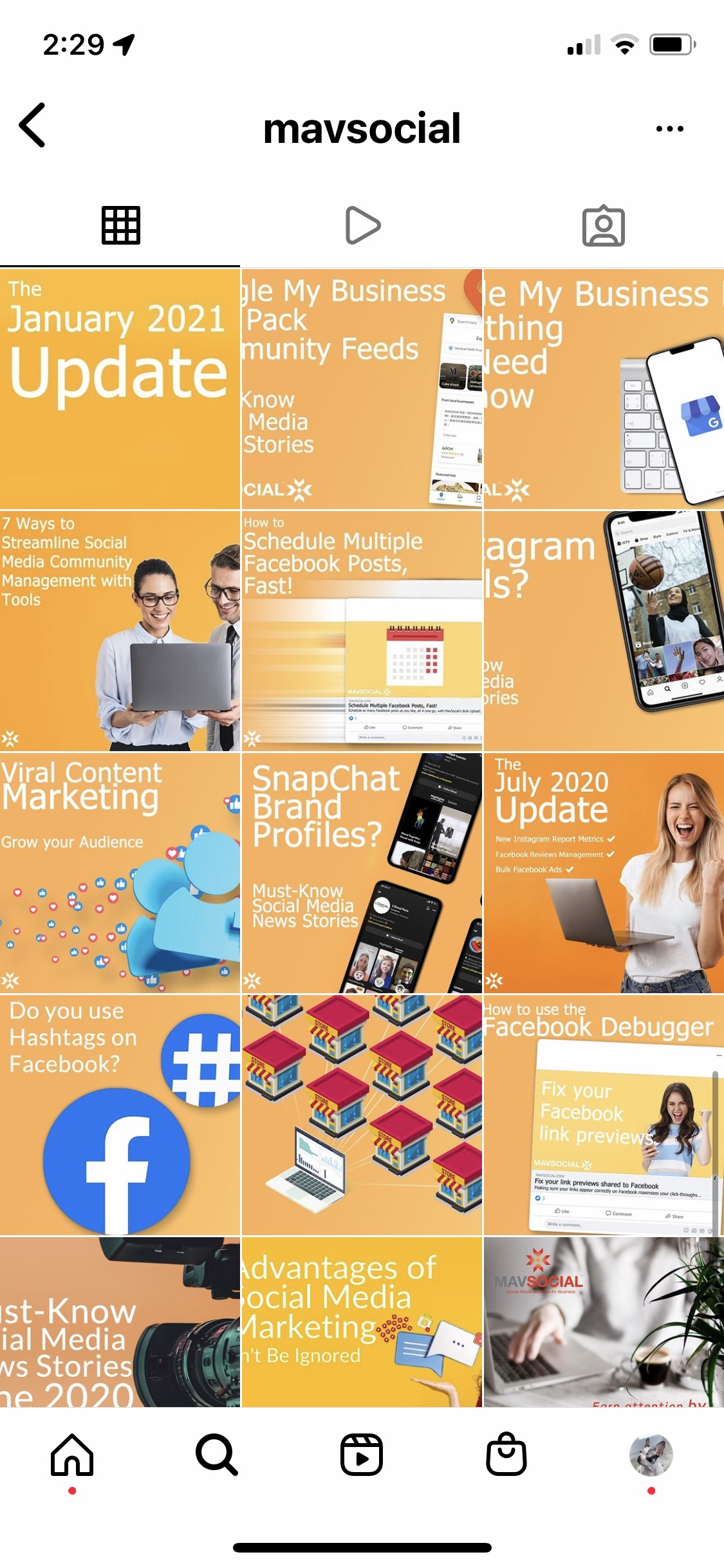 When someone comes to your Instagram profile, they should easily be able to understand two things:
What your business sells.
Who your business is.
This can be done through creating brand style guidelines that keeps your content consistent with colors, fonts, and key messages.
Pro Tip: Vista Social allows you to easily find content in their social media management tool and easily publish it to one (or multiple) social media accounts.
3. Buying Followers, Likes, and Comments
Listen, if you're a new business or just starting out on Instagram it can be tempting to buy your engagement.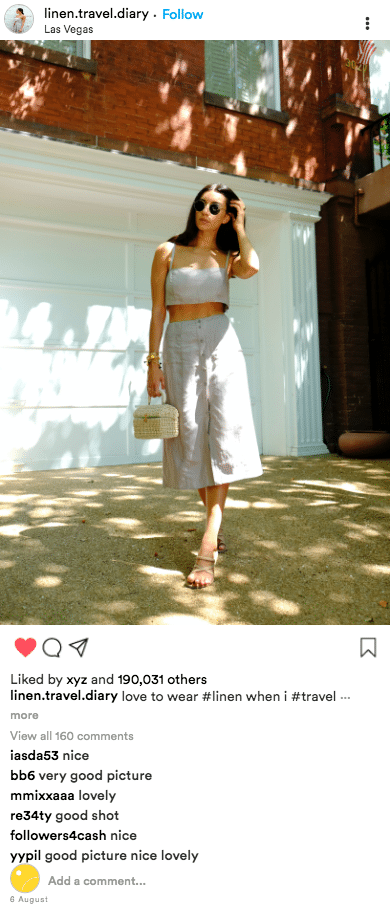 The truth is, a lot of business profiles (and influencers) use to buy their followers and likes. So, when you run a competitor analysis report and look through their following, you will see a number of inactive accounts.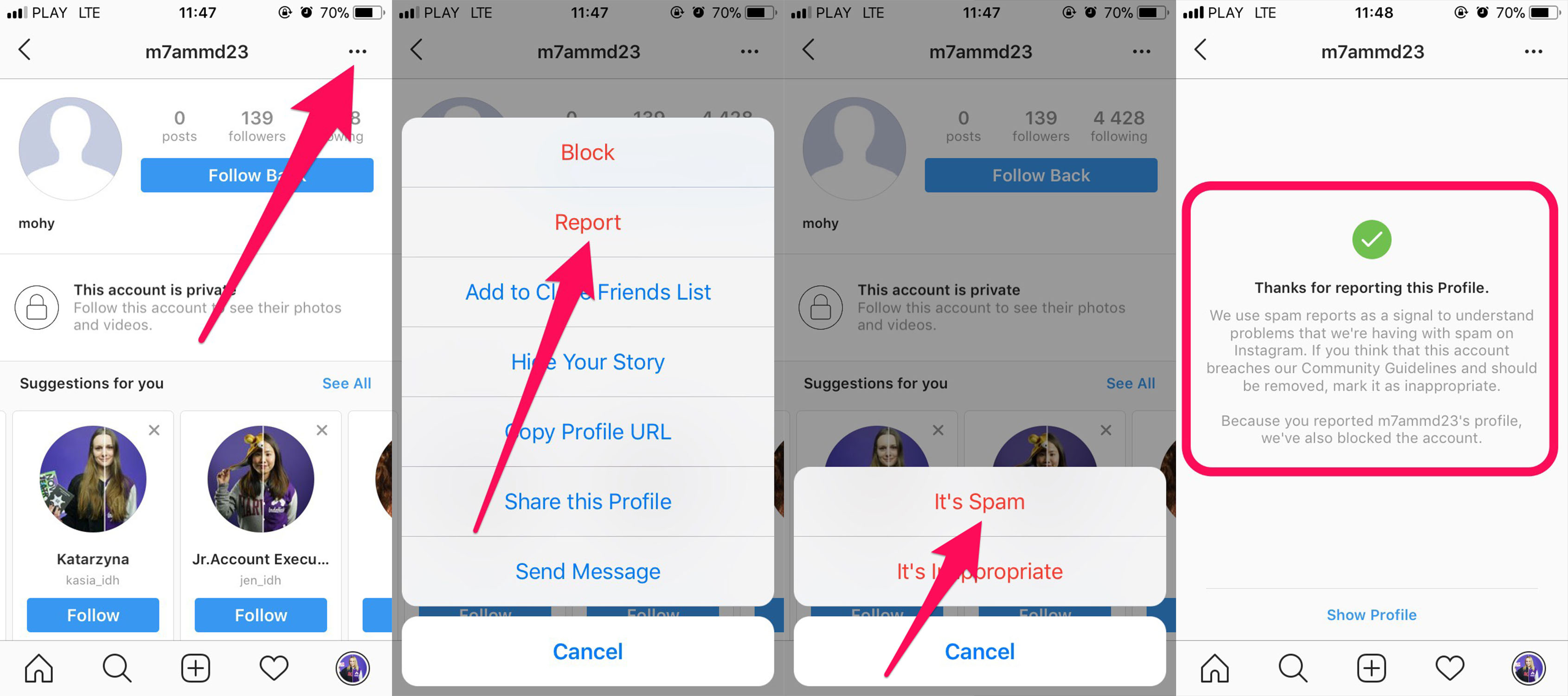 From an initial "looks" standpoint, a lot of followers can be perceived as a well-liked or trusted brand. But, those inactive followers won't move the needle on your bottom line, which at the end of the day, is all that really matters.
Instead of buying fake activities, work on the valuable and exciting information for your audience, answer their questions, and actually help them. This way, you will get a quality audience interested in your brand.
4. Having No Strategy
Creating an Instagram strategy in the dark or having no strategy at all are those IG mistakes marketers should avoid.
In order to monitor your performance and make adjustments, you need to know what you're evaluating.
Top Instagram Metrics to Measure:
Engagements per follower.
Follower growth.
Comments received.
Reach.
Most engaged hashtags.
Referral traffic.
Once you start monitoring these metrics, you can evaluate whether if what you're doing is effective. Otherwise, you're spending a lot of time creating content and maintaining a profile that is driving no real impact to your business.
5. Misuse of Hashtags
We hope that you're not adding #like4like on your pictures, but if you are, please stop.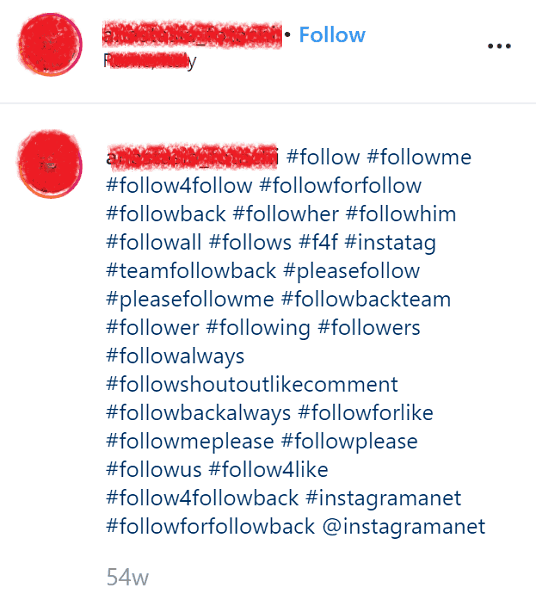 Hashtags are a great way to increase the reach of your content and get it in front of more of your target audience.
There is a lot of debate on how many hashtags to use or where to put your hashtags (i.e., as the first comment or in your caption), but these vary based on business types, sizes, and industry focus.
Instagram allows using of up to 30 hashtags. Still, there is no success formula regarding the optimal number of hashtags a post should have. Overall, it is worth using about ten hashtags and tracking the effectiveness – how they affect your audience and whether they increase engagement.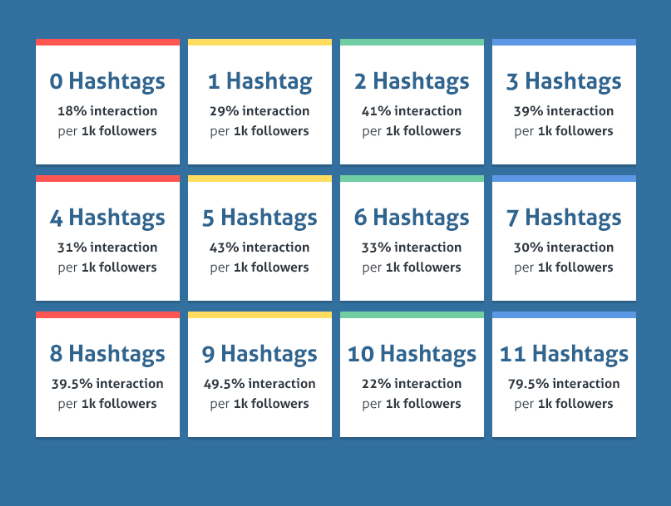 Remember, Instagram prioritizes content, not hashtags. Use hashtags due to the relevance criteria:
describing what is in the photo;
specifying your sector or industry of operation;
belonging to your set of branded hashtags;
referring to communities.
6. No Interactions with Followers
Social media isn't designed for one-way conversations, it's for you to connect with your followers.
When you post content on your account and someone leaves a comment, make sure you're acknowledging that comment by liking it or responding back!
Unfortunately, it is one of the most common IG mistakes. For business accounts with a large following, it can be difficult staying on top of every conversation happening on the app. That's why recommend a social listening tool, so you never miss a comment and can provide quick responses.
Answering questions and responding to gratitude, positive feedback, negative comments, and complaints is essential. Otherwise, it can be interpreted as you do not care about your followers, which portrays you don't care about your customers. Therefore, it is crucial to avoid responding with templates and approach each question individually with personalization.
7. Lack of Analytics
Data is the key to optimizing your Instagram presence and building a successful marketing strategy. It is statistical data that will allow you to:
get information about the users' engagement and their preferences;
implement a business development strategy taking into account the preferences of the target audience;
study the needs of users to develop and maintain a customer base;
integrate practical marketing tools.
Instagram has many metrics that help you understand the campaign's effectiveness and page management strategy. To analyze statistics on Instagram, you can use primary and complex metrics.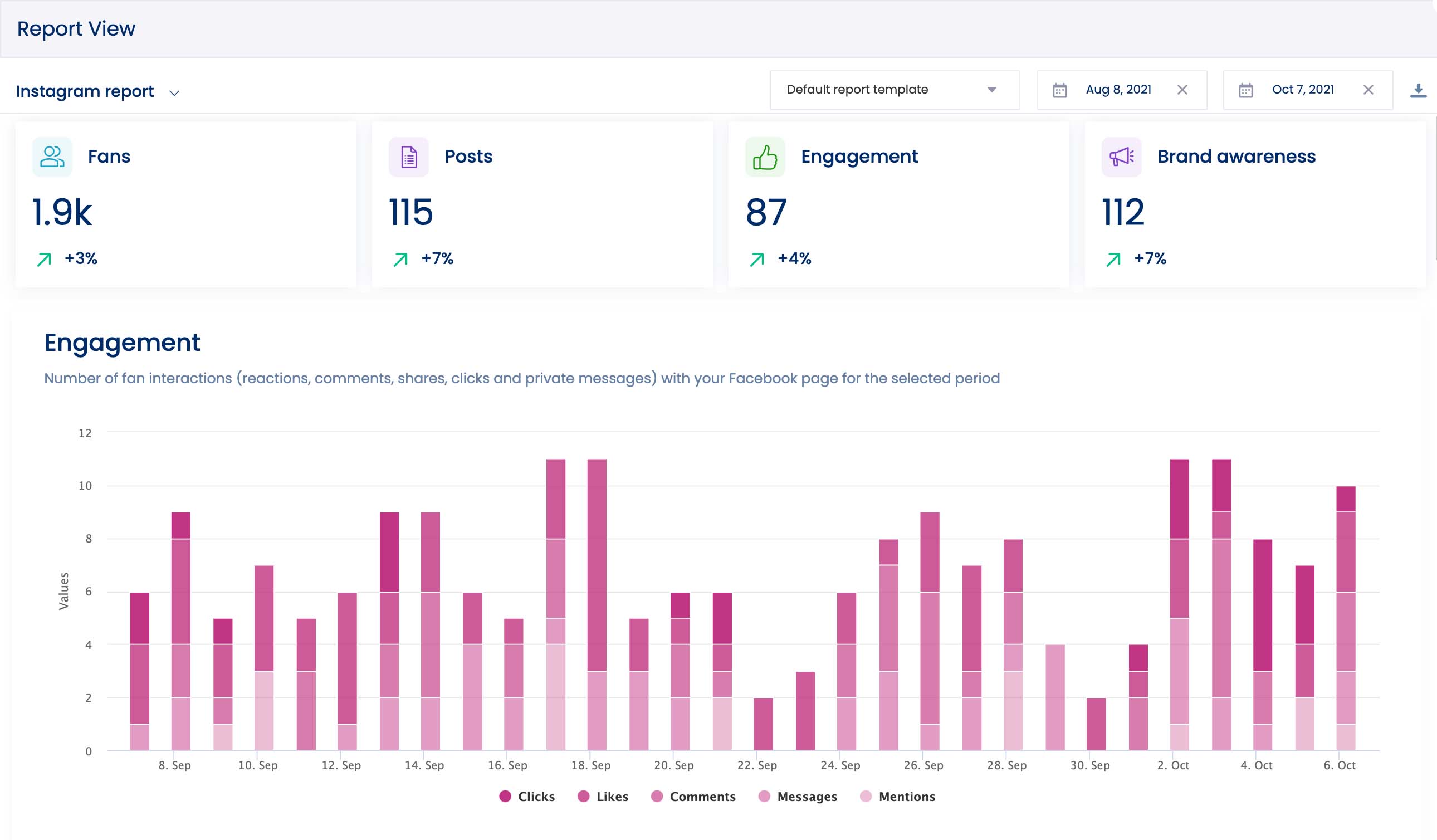 Standard KPIs (key performance indicators) can be tracked using the built-in tool. In some cases, this may be enough, but complex indicators allow you to analyze the work of the account in more depth.
With platforms for social media management like Vista Social and its analytics tools, it is easy to measure follower growth, engagement, hashtag trends, conversions, and paid content performance.
Conclusion
Social media success directly depends on the ability to correctly and competently promote your profile. Instagram is no exception, and it is not always easy.
If your Instagram does not provide the results you strive for, you might be making some errors. By correcting these 7 IG mistakes, you can get back on track and turn your Instagram account into one of the most valuable assets of your marketing strategy.
Manage and grow your account with the Top Instagram Marketing Agencies. No bots or false promises. Discover Agency Vista as the new way for brands to connect with digital marketing agencies easily.
If you are an agency looking to grow your social media presence, discover Agency Vista's Viral plan and give your Instagram content a boost.