A marketer's guide to the LGBTQ community is necessary for producing diverse and inclusive marketing strategies that matter in 2021. At some point in your content creation process, you've searched through stock photos and may have struggled to find an image that is both diverse and inclusive to all types of people in your target audience.
Maybe you were lucky and found some great graphics, but truly diverse and inclusive content – the kind that resonates consciously and subconsciously with your audience – requires far more than an image. It requires thinking more deeply, from your audience research to your team structure, from your style guide to your user experience.
Marketers may want to be more diverse and inclusive in their marketing efforts but not know how to get started. Some businesses struggle to start being more inclusive for fear of saying the wrong thing and facing backlash. So, we've put together a guide for marketers on the LGBTQ community so that we, as an industry, can continue moving forward and connecting people with great brands.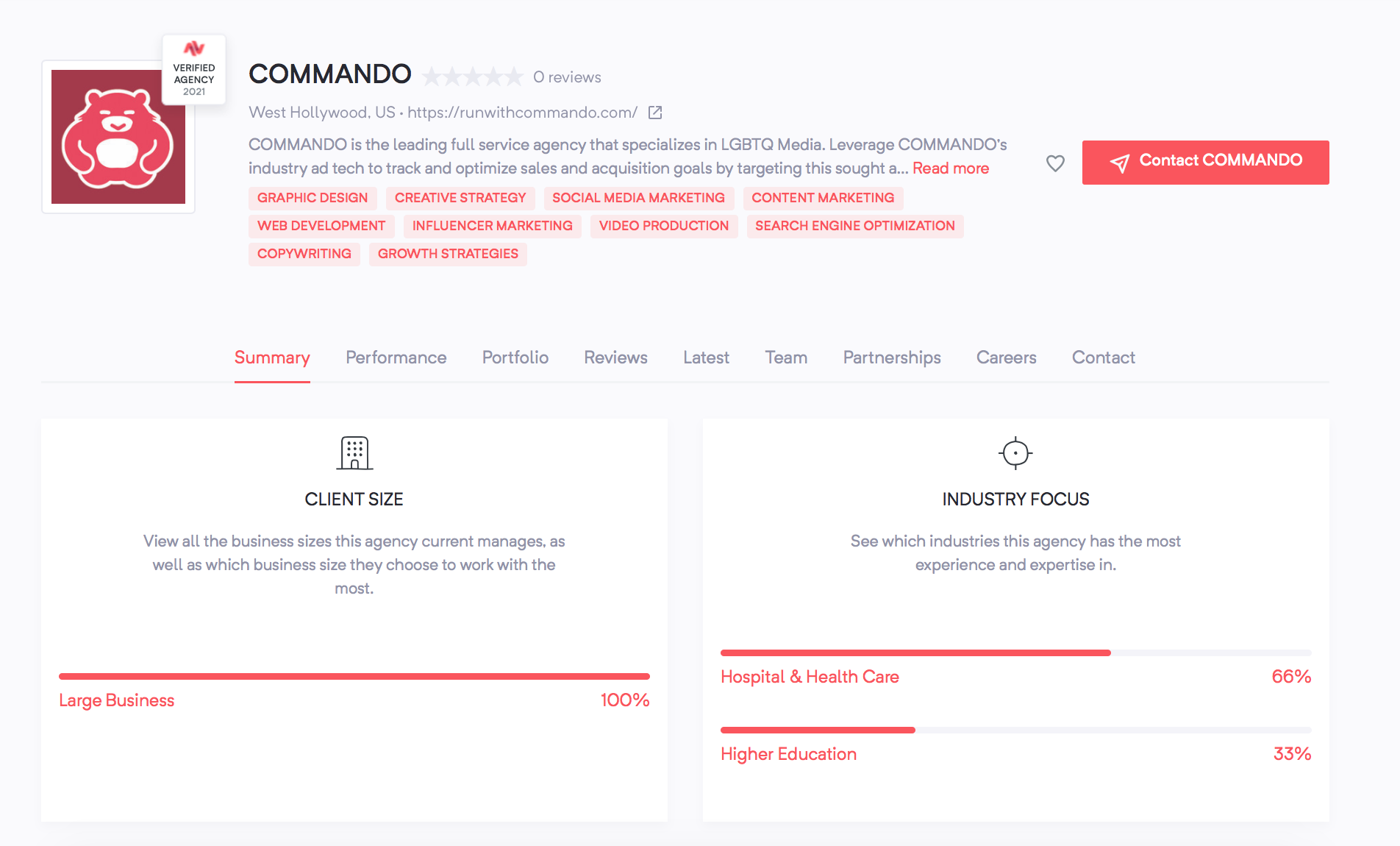 If your business is looking for additional support, COMMANDO is the leading full service agency that specializes in LGBTQ Media. Leverage COMMANDO's industry ad tech to track and optimize sales and acquisition goals by targeting this sought after audience on dating, social, desktop, & video platforms. View their full profile here.
Statistics on Marketing to the LGBTQ Community
The LGBTQ community is one of the most affluent communities in the US. Let's look at the statistics.
Most Common Questions From Marketers About Advertising to the LGBTQ Community
1. Are diversity and inclusivity important in marketing today?
Marketing diversity and inclusivity is the only way to build a successful business. The explanation is simple – all customers are diverse, all employees are diverse, and the global market is diverse. Consumers expect inclusivity from brands and want their real-life to be reflected in advertising.
Moreover, inclusivity and diversity within the workplace are a necessity. You should create a safe space for all employees. Having diverse employees on board, you have more opinions and views that lead to a better decision-making process. This has to be part of a company's culture at every level.
2. How can a brand build loyalty with the LGBTQ community?
Be authentic and genuine. It's very simple, don't hop on the bandwagon just for the sake of it; care about your customers and their rights as human beings. Build real relationships with people and support organizations and events that are important to the LGBTQ community.
Have a vested interest in their success and make sure they're represented and visible in what you do as a company. One way businesses can actively build brand loyalty is to include diverse points of view and perspectives in their marketing material.
3. How to get a clear understanding of the LGBTQ community?
As a brand, you have diverse customers across the globe – various regions, economic classes, races, sex, creed, gender identity, and sexual orientation. One of the main components to understanding and marketing successfully to LGBTQ customers is having LGBTQ people on board.
Valerie Vargas, SVP, AT&T advertising and creative, says, "Many of our colleagues, customers, and clients are part of the community. We listen and make sure we are treating them equally and that they are represented and visible in what we do as a company."
If you want to appeal to an audience that is not yet covered, try to put yourself in consumers' place. That is why it is necessary to involve representatives of different cultures, communities, and identities to help you make decisions. Listen to those who are usually ignored and discover new creative approaches. This way, you will create a team that can resist stereotypes.
4. What marketing channels do LGBTQ-friendly brands use?
There are no perfect marketing channels to attract the LGBTQ community. Meet your customers where they engage the most – community events, social media, blog posts, or any other types of advertisements.
Also, your business can show up in communities, participating in Pride events, and supporting your employees through your Allies Network.
A Few More Things To Remember When Planning LGBTQ Marketing
Below we have listed consistent steps that will lead the LGBTQ market player to success. They are almost universal for the whole world.
Take your time and start planning. One of the biggest mistakes is excessive enthusiasm. The process of research, planning, and implementation of ideas can take several months. Practice proves that companies that enter the LGBTQ market too quickly are defeated and leave it for many years.
Develop mechanisms for analysis. Determine how you will monitor and evaluate your success. You can only proceed from the growth in the number of consumers, but this indicator will not give a complete picture of your achievements since the LGBTQ community is a specific target audience whose requests differ from the generally accepted ones. A clear goal should support your marketing efforts.
Participate in the life of the community. Another grave mistake that companies make when entering the LGBTQ market is the initial use of direct advertising in digital media. Focus on sponsorship and participation in specialized events, communication with potential consumers, and finding out their requests. The most successful players on the rank of the LGBTQ industry are those who put the partnership in the first place and then use advertising.
Share authorities. Your employees who belong to the LGBTQ community will help sell the product many times better than marketers. They position their company as LGBT-friendly in the relevant circles, thus increasing its authority. Also, provide purchasing incentives to your customers – word of mouth will work to attract new consumers.
Conclusion
We hope our marketer's guide to the LGBTQ community helped point you in the right direction to get started. If your business is looking for additional support, Agency Vista has researched, compiled, and verified the top LGBTQ marketing agencies to help your business stand out!