Is agency project management the secret weapon of a successful Q4? The busiest time of year is here for marketers and advertisers! Are you ready for all the joys that come with this time — last-minute creative changes, declined Facebook ads, credit card failures. As a vetted marketing expert, you know what's about to come. But, it doesn't have to be stressful.
A marketing agency has a complex structure where you need to manage tasks, deadlines, resources, expenses, and personnel, and at the same time constantly keep priorities in mind to continue moving towards strategic goals. Indeed, when you manage marketing projects, it is easy to lose track of time and projects. "Just one more thing" tasks quickly become ten, and each one of the utmost priority to your client.
To conduct complex campaigns and implement marketing project management strategies, you usually need tools for allocating resources, making estimates, checking documents, and keeping track of time. These tools allow you to strengthen client relationships, cut down on variability and streamline workflows, and ensure timely marketing campaigns.
Currently, 1 in 4 companies uses any project management software. The rest are working with Excel, paper, or a patchwork of tools with sub-optimal integration. As a result, 54% of organizations cannot track KPIs in real-time.
Do you want to manage your agency projects and improve productivity at the same time? If your answer is yes, then this blog post will be for you. We will go through the tips to enhance agency project management processes and gather the best cloud-based tools to manage your multiple projects effectively.
7 Easy Ways to Boost Your Agency Project Management
Project management is the whole art of management. It includes defining requirements, building clear and achievable tasks, maintaining a balance between achieved goals and customer expectations. Agency project management is no exception.  
These tips will help you improve your processes and set your team up for success.
1. Make a plan of your work processes
One of the best ways to improve marketing project management is to outline a workflow for each outcome. Run through the tasks, assets, and information you need for the project to ensure everything is covered. Next, decide on the marketing talents to involve and the software to use. 
Determine responsibilities, timelines, and task priorities. You can optimize your projects by listing project-specifics as well as "universal" tasks for each result. Then you can transfer workflows from project to project, changing individual steps if necessary. This will simplify the implementation of the project and ensure the scalability of your solutions.
2. Involve a client to create transparency
The goal of any business aimed at growth is not profit but customer satisfaction. Therefore, it is worth involving a client in the project processes to receive real-time feedback and meet their expectations when discussing agency project management.
Arrange regular meetings/contacts to immediately remove some of the issues, create an atmosphere of trust and transparency. All agreements should be recorded and confirmed in written form. Interact more closely when discussing analytics, design, and other marketing campaign stages when materials are being coordinated and prepared. Engaging and managing client expectations will help you avoid disappointment and tailor final deliverables as desired.
3. Simplify the storage and retrieval of materials
Consolidating all the crucial project information into one place will guarantee a smoother overall process. Organize centralized access to documents, images, videos, diagrams, and illustrations. Use tags to simplify search and link creation.
According to McKinsey reports, employees spend 1.8 hours daily searching and gathering information. So it looks like if you hired five managers, and only four of them would work – one would always be busy searching for information. By putting all the info (communications, deliverables, and assets) together, you will increase the efficiency of managers who can make decisions in a matter of minutes.
4. Track the finances
Tracking the project's budget is essential. After agreeing on the project expenses, it is necessary to ensure that the project costs remain within the budget. You should adjust the budget of each task to fit the project's overall budget if the expenses are over the initial budget. This way, you will avoid the chances of cost overruns.
5. Set timeframes
The schedule or calendar of a project is of fundamental importance for planning its development. Each process needs a start date and an end date. Set a time frame, considering the opinion of the project team. These are the specialists who know best how much time they need to complete each task.
Consider possible factors that change this planning, such as important dates that may occur during the project, and include them in your preparation to ensure the flexibility of your time frame.
Once you have set the project time frame, ensure the client knows when they will get the results.
6. Keep the communication channels open
Even with the right approach, something will inevitably come up during a project that requires interaction with several team members. Thus, there is a delicate balance in providing fast and responsive communication, ensuring that creatives have enough time to create.
There is no universal solution here. In some cases, daily meetings are just a great option. For others, an office communication tool such as Slack or Skype is preferable. Sometimes even a simple old-fashioned email is enough.
7. Use project management tools
The only working method to manage complex marketing projects is to use a tool to store all project information. Marketing is a very complex area where everything is interconnected, and a single misunderstanding or forgotten trifle can negate the efforts of even the most experienced team.
Project management tools allow you to minimize the number of such problems and eliminate the possibility of their occurrence even before the start of the project.
Top 10 Project Management Tools for Agencies
What are some of the functions of project management tools? Project management tools are usually defined by the different functions offered. Among them are:
Planning. Project management tools allow you to plan and delegate work in one place with tasks, subtasks, folders, templates, workflows, and calendars.
Joint work. Email is no longer the only form of communication. Use project management tools to assign tasks, add comments, organize taskbars, and approve.
Documentation. Avoid file loss by using file management functions: editing, versioning, and storing all files.
Evaluation. Track and evaluate productivity and growth through resource management and reporting.
We have collected the ten most popular project management tools to help marketers in task management and prioritization more effectively.
Pricing: Starting from €27.00/month. A free trial is available.
If you are looking for one platform to run all project operations in your agency, Forecast is the one. The platform automates busywork, surfaces best practices, predicts outcomes, guides projects to success, and most importantly, empowers every team member to do their best work.
Forecast's Auto-Schedule feature turns a rough list of tasks into a solid project plan. Whether you run fixed price, time and material, or retainers, no other platform gives you the power and flexibility to manage them all side-by-side. Moreover, you will see where you earn the revenue, what it costs you, and how profitable your projects are.
Pricing: Starting from $12.50/month. The free 14-day trial is available. 
Productive is a one-stop shop for agencies of all types and sizes. The service allows collaboration with teammates on tasks in real-time, streamlining best practices and letting clients in on progress. Choose a view that works best for you and subscribes to the tasks to track progress, assign date ranges and deadlines, and check granular steps off with TODOs. With an overview of estimations and tracked time in Productive, you will improve estimates and budgeting in the future. High-performing agencies rely on Productive; join them to achieve your agency's true potential!
Pricing: Starting from $7/user/month. The free 14-day trial is available.
Hubstaff is a robust time tracking and employee management tool. Hubstaff Tasks utilizes the best of Agile to be the most efficient and effective project management tool on the market. Using Hubstaff and Hubstaff Tasks in tandem allows your team members to track time towards specific tasks, better estimate end dates and budgets, and pay your team members for all the work they have done. So do not hesitate to get the best of time tracking and project management, all under one roof.
Pricing: Starting from $39/month. The free 14-day trial is available.
Spend less time wading through confusing email chains or convoluted spreadsheets. BugHerd pins feedback to the page and include all the information you need to make it actionable. The service sends all feedback to a Kanban-style Task Board, where you can triage feedback, assign tasks, add comments, and track work progress to completion. Moreover, you can easily fit BugHerd into your workflow seamlessly with a range of integrations. Send client feedback and bug reports to your existing project management, customer support, or another tool of choice.
Pricing: Starting from flat $45/month. A free trial is available.
Whether it is about keeping your teams on the same page or committing to deadlines and celebrating success, you and your team and clients can do it all under one roof, using one work management system – ProofHub. ProofHub is packed with all the features your teams need to plan, collaborate, organize, and deliver projects on time. It helps your teams to work together in the easiest, fastest, and most innovative way. The platform promises no more chaos, hassle, stress, mess, struggle, and trouble with all the right tools put in one online project management tool.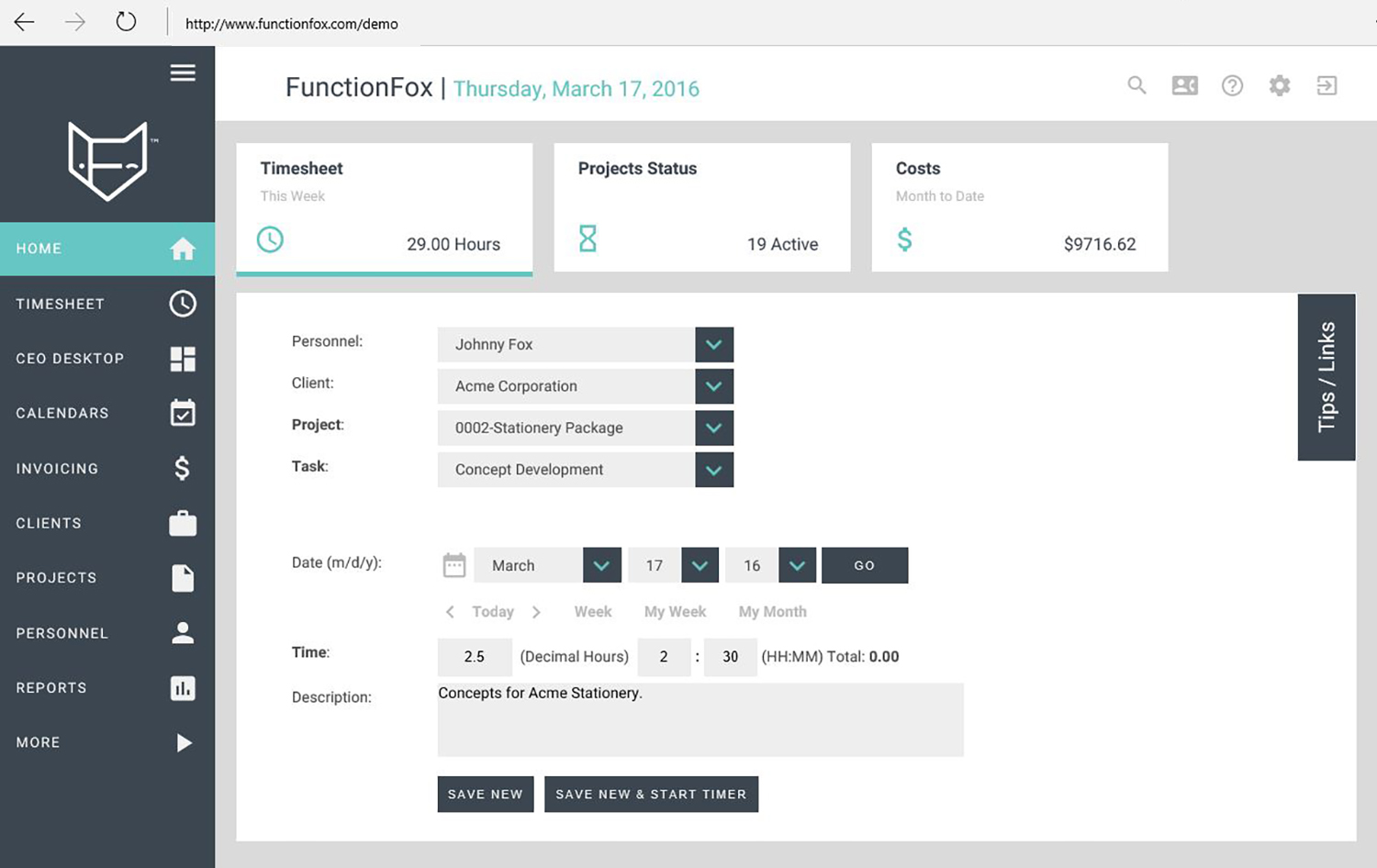 Pricing: Starting from $3.5/user/month. A free trial is available.
From initial campaign strategy to implementation, having an accurate task and project management system is essential. FunctionFox will help you streamline, optimize, and manage team resources in a central location. The service features robust project planning, centralized team communications, superior reporting capabilities, and integrated time-tracking tools. FunctionFox is more than a software provider; it is committed to being a valuable extension of your business. So start aligning your goals and resources.
Pricing: Starting from $20/user/month. The free 14-day trial is available.
Time is money when you run a creative agency. WorkflowMax is your all-in-one project management solution that will transform your creative business. From anywhere, do it all in one place – quoting, scheduling, time tracking, invoicing, and reporting. In addition, WorkflowMax is user-friendly and customizable, so you can see every dollar you are making.
Pricing: Starting from $6/user/month. The free 30-day trial is available.
Float provides the most accurate view of your capacity to plan work more efficiently. Your Float schedule is where you can plan projects, manage your team's capacity, and monitor overtime and time off. Time tracking, comparing estimates with actual hours worked, managing your team's availability in one shared view – this is all about Float. In addition, a dedicated project view lets you identify competing milestones, monitor budgets in real-time, and reallocate resources before it is too late.
Pricing: Starting from $5/user/month. A free plan is available.
ClickUp is another excellent solution that brings your team together to plan, track, and collaborate on any project — all in one place. The service is intuitive for the user; the lightweight design and the training tips that pop up when you first use ClickUp will help you understand the main functions within an hour. ClickUp combines dozens of functions: compiling a list of goals and objectives, chatting, creating documents, notifications, scheduling, and many others. In addition, tasks in ClickUp can be completely customized to users' needs: change the color, add links, documents, images and videos, graphs, assign roles for employees, chat, set deadlines, and more.
Pricing: Starting from $5.99/month. The free 10-day trial is available.
Monitask is a service for monitoring employee productivity, allowing you to monitor each team member's working hours and efficiency. It is suitable for actively developing teams striving for rational use of working time and large organizations with established work processes. The application will take computer screenshots randomly or at intervals assigned by the employer, which can be reviewed online as evidence that work is being performed. No spying, only transparency.
Conclusion
Agency project management is about efficiency. Allocate resources, evaluate tasks, stimulate the team, meet deadlines, make a profit. It does not matter if your projects are big or small; using management tools will help you succeed in everything you do and improve all forms of communication with your team.
There are hundreds of tech stacks out there that have been created for agencies. State of Social Media Marketing: Agency Edition report shows that 85.5% of the agency respondents use social media management software, and 84.1% utilize analytics tools. Agency Vista Hub makes it easy for businesses to review and compare the top tools for marketers.
Do you have the perfect tool for marketing agencies? Contact us to learn more about our software growth solutions. 
Take your agency's project management to the next level and discover how Agency Vista's plans can drive your marketing growth while you're managing your clients.