Has your organization considered Amazon advertising? If you work at or are an agency that works with a large organization, the smallest details can feel like it takes forever to get approved when there is such a large hierarchy for it to go through. But with PPC bidding wars and black-hat SEO tactics becoming more prominent – you may need to push harder to try advertising on a different platform.
Understanding Amazon's Growth
Each month more than 197 million people around the world get on their devices and visit Amazon.com. That's more than the entire population of Russia! In 2018, Amazon's share of the US ecommerce market hit 49%. That's 5% of all retail spent across the entire country. To put things in perspective, this is more than Amazon's top three competitors combined, with eBay coming in at 6.6%, Apple at 3.9% and Walmart at 3.7%.
Up until recent months, Google and Facebook were dominating ad spend in the U.K. and U.S. They took over 70% of all U.K ad spend, and it seemed as though they wouldn't be challenged by other ad spend revenue collectors for years. However, for the first time, their share of the U.S digital ad market is showing signs of decline, with Amazon being one of the main causes for the drop.
Types of Amazon Advertisements
Amazon Sponsored Product Ads
Sponsored product ads are conducted similar to ads run through the Google Shopping Network. These are the ads that drive Amazon searchers directly to a specific product you're selling on Amazon. Displayed on mobile and desktop, Amazon Sponsored Product ads can appear on the right side of search results, on the bottom of search results, and on the product details pages.
Sponsored Product Ads are helpful for attracting target shoppers because of their keyword targeting abilities. Since these ads are keyword-targeted, advertisers have the option of choosing from exact, phrase, or broad match types.

Similar to Google, Amazon Sponsored Product ads budget is set at your discretion. The more competitive your bid is, the better your ad will perform as it will be displayed more when it matches a customer's search intent. You are not charged for the amount of times your advertisement is displayed; you will be charged per click of your displayed ad. There also is the functionality to set a daily budget, as well as the campaign duration. While the campaign can be paused at any time it must run for at least 1 day.
Amazon Headline Search Ads (a.k.a. Sponsored Brand Campaigns)
Amazon's Sponsored Brand Campaigns allow advertisers to promote multiple products and their overall brand in one place. Using this placement, you can target three types of keywords – branded product keywords, complementary product keywords, and sponsored products automatic target keywords.Brand Campaigns are a great option when you're looking to drive engagement for your brand. Ads are displayed on top of, next to, or within search results on both desktop and mobile.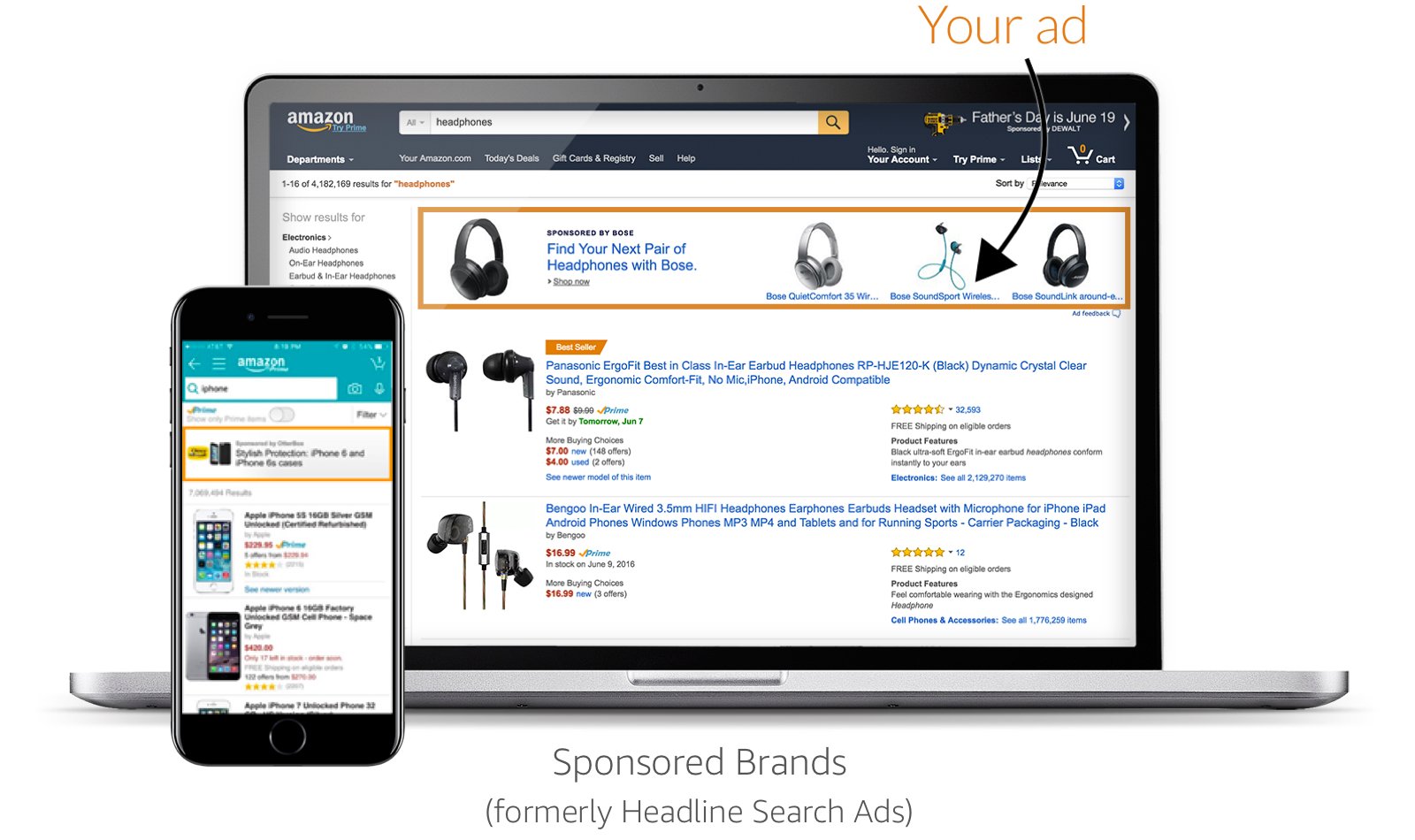 One thing to consider is that if you are interested in utilizing Brand Campaigns, you will need to create a custom landing page with Amazon. The landing page will be designed around your brand and the products that you're selling. Building a creative experience means showcasing your products with more than just an image: videos, image galleries, and other features are available. Taking advantage of these features means that you'll be providing the best experience possible for those who choose to click on your ad. The better the experience you give, the more likely you'll be getting ROI.
Amazon Sponsored Display Ads
Amazon Sponsored Display is only accessible to sellers enrolled in the Amazon Brand Registry, vendors, and advertising agencies that have clients who sell their products on Amazon.
Sponsored Display uses automation and machine learning to optimize your campaign. By having the ability to display both on and off of the Amazon platform, Sponsored Display gives advertisers a lot of opportunity to connect with customers at the right time and place. Creative assets are automatically generated by Amazon to have the look and feel of the ecommerce giant to ensure that viewers can immediately recognize where your product is being sold.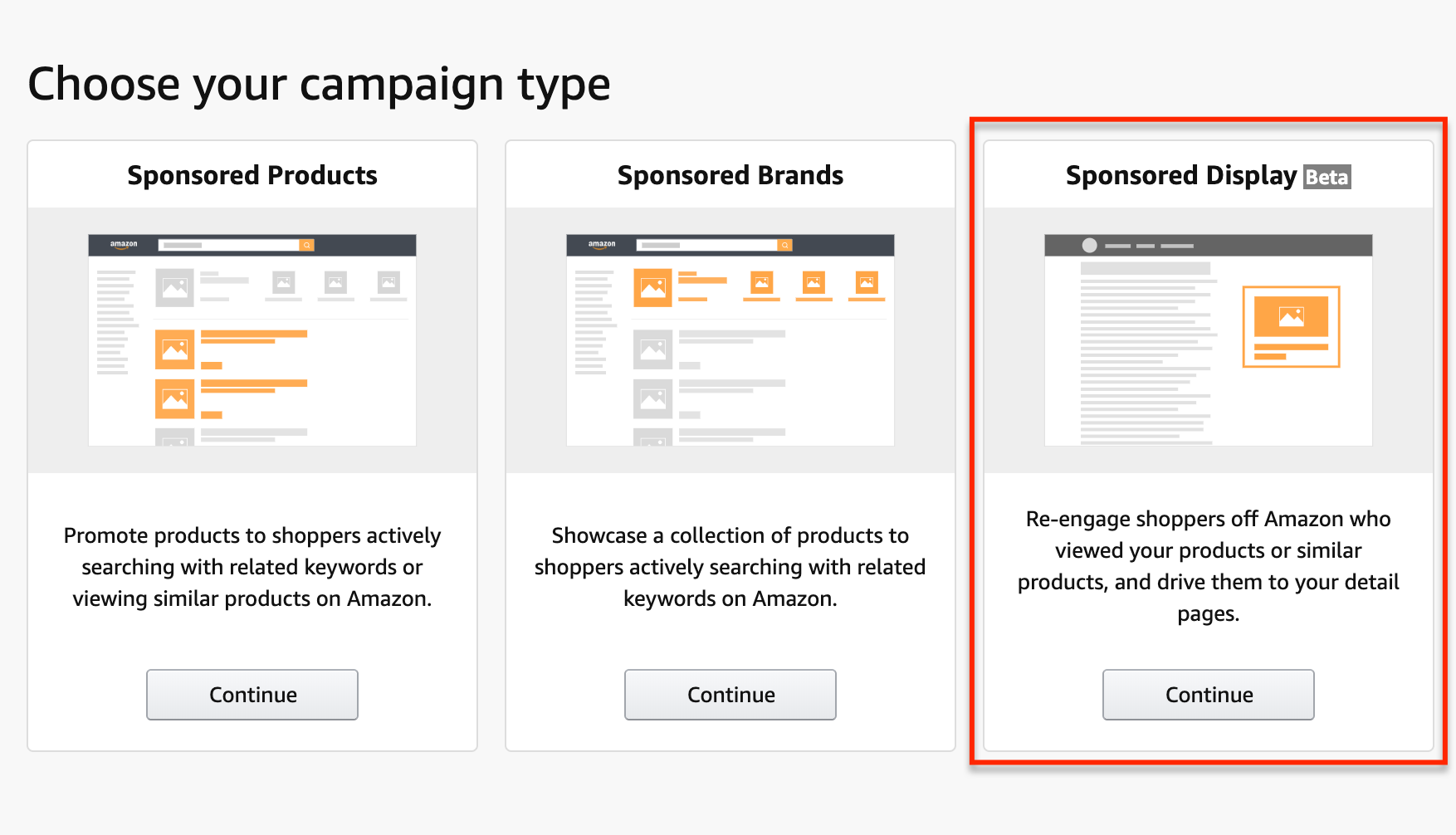 Sponsored Display ads are CPC based advertisements. Ads will display at no charge to the advertiser until a user chooses to click on your ad. Advertisers are able to choose their own budget, and no minimum advertising investment is required.