On April 1st, not only friends and colleagues joke about each other, but also large companies fool around in every possible way. Yes, April Fool's Day is an excellent time to take a chance and venture into a "humorous" marketing campaign. It is a traditional holiday of non-traditional advertising and participating in all-day fun. No doubt, April Fool's Day marketing is an opportunity to expand the audience and stimulate sales.
Businesses are up-and-doing during this period – many websites suddenly have funny redesigns, apps have funny features, and someone creates unique experiments specifically for the sake of one day a year.
Why not? Companies want to remind you of their existence, brands want to boast about their products' positive aspects, and smaller projects are happy to be mentioned on social media. April 1st is somewhat predictable, but it can still surprise you every time.
Are you planning to share the spirit of the holiday with your audience? If you do not know where to start, we have collected examples of funny marketing content created by ten well-known brands. Grab the best ideas for your inspiration and play pranks on your clients.
April Fool's Day Pranks from Brands for Your Marketing Inspiration  
The audience likes bright and funny content, and when it comes with a taste of shocking, it will bring a wow effect. The discussion of such content goes beyond the target audience, gets more coverage, and other viral characteristics. Check out how big brands get the most of April Fool's Day marketing.
1. PayPal
Do you remember PayPal's joke in 2018? PayPal posted a tweet saying that you can now print money directly from your phone. The feature was supposed to be launched on the PayPal app.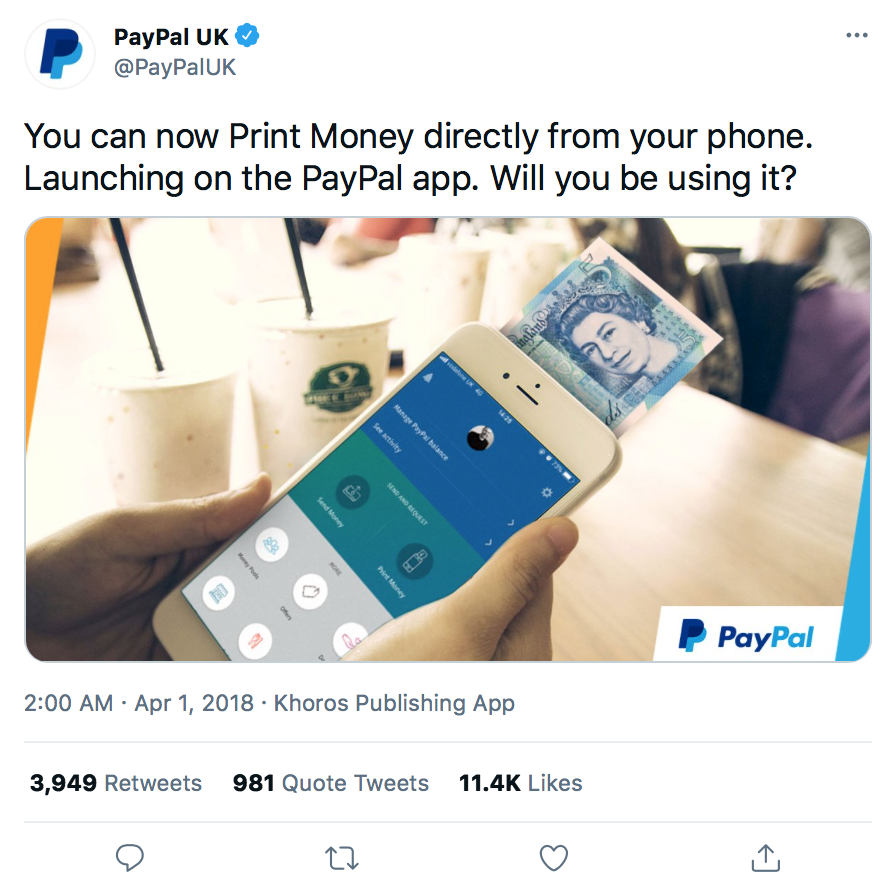 It would be a helpful feature, wouldn't it? Though our modern smartphones are good enough, unlikely technology allows bringing this feature to life. PayPal was good at making the joke, and at the same time, increased brand awareness.
2. Google Play
Google canceled its 2020 April Fools' jokes for the first time due to the COVID-19 pandemic, but the company was happy to fool around all the previous years. They announced creating a data center on Mars, featured a video with the Pegman from Street View disco dancing, introduced a new app allowing you to communicate with a tulip, etc.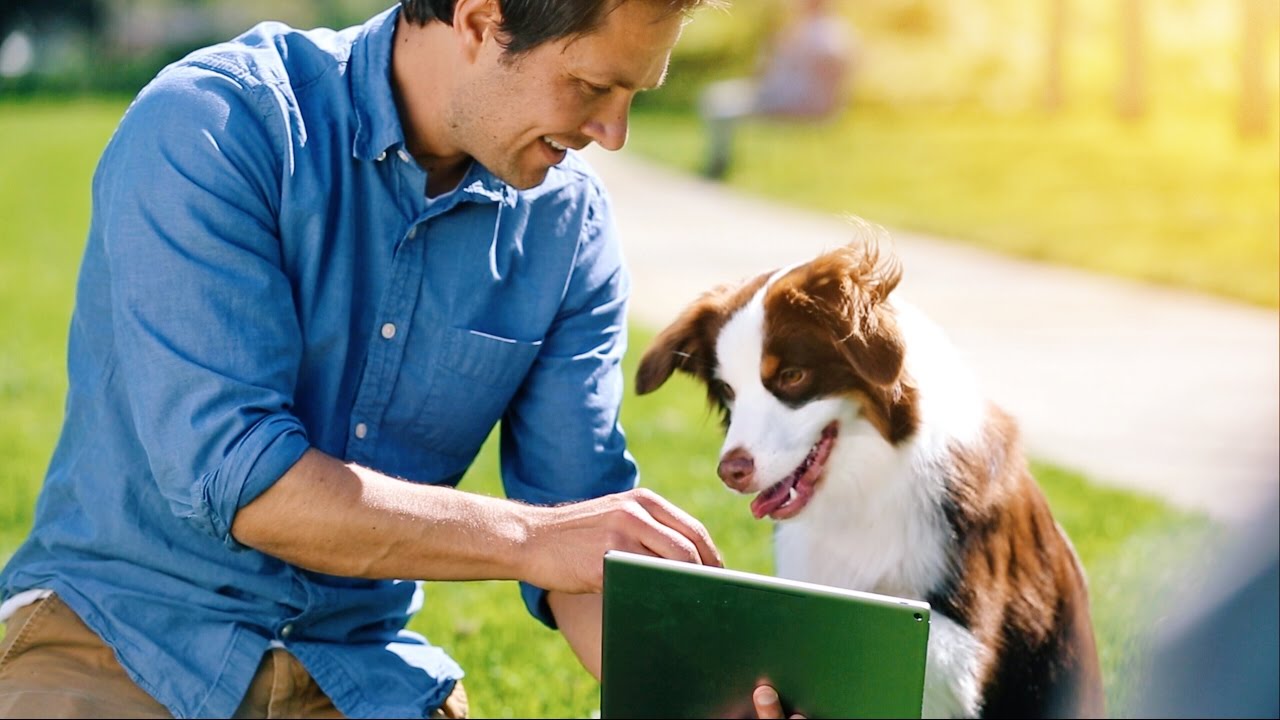 In 2017 Google Play introduced Google Play for Pets, a new category of games, apps, and training tools to keep your pet stimulated. This may still be a joke now, but we believe that this may happen in the not too distant future. Do you agree?
3. Sony
In 2019 Sony released a funny video dedicated to April Fools' Day and the 25th anniversary of PlayStation. In honor of the anniversary, the company decided to release branded keychains in the form of consoles — a 1:1 ratio. That is, in full size.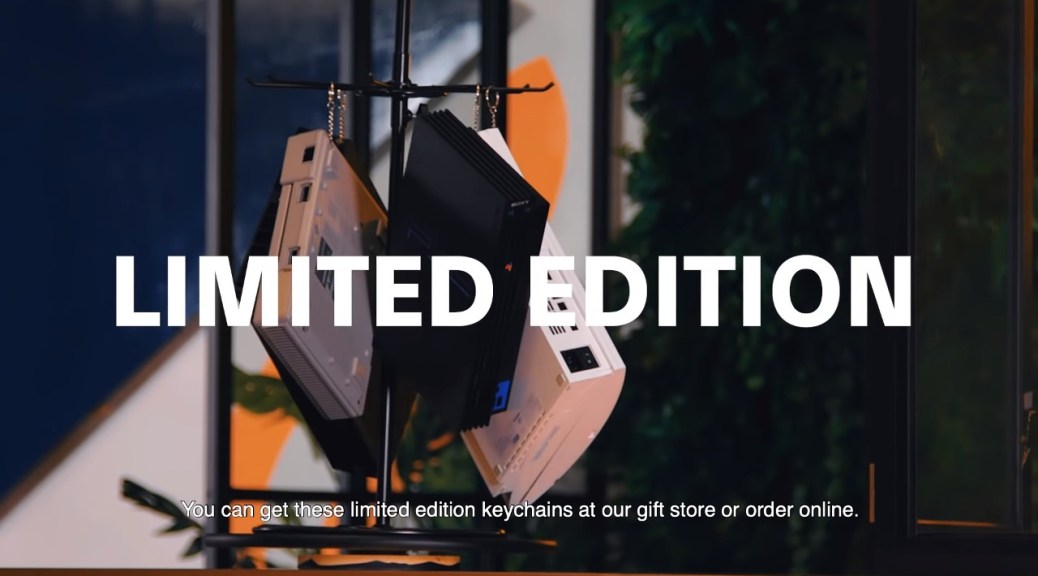 In a disclaimer that quickly runs through at the end of the video, the company quips: "Miniature keychains in the form of our consoles are also available, but they are not so epic. Accessories such as controllers, cables, and CDs are sold separately. If you seriously paused this video to read the disclaimer, you have too much free time. Better buy yourself a real PlayStation, not a keychain so that you can spend your time much more usefully." What a great April Fool's Day marketing!
4. McDonald's
Ever wanted your face on a burger? In 2018 McDonald's introduced #MyBigMac. The company offered to take a selfie right on the Big Mac bun. McDonald's released a video showing how this can be done (actually not) with sesame seeds and a special application. A few steps were suggested to follow. Take a selfie with an app or use a kiosk in one of the restaurants. After, personalize a meal, and share with friends.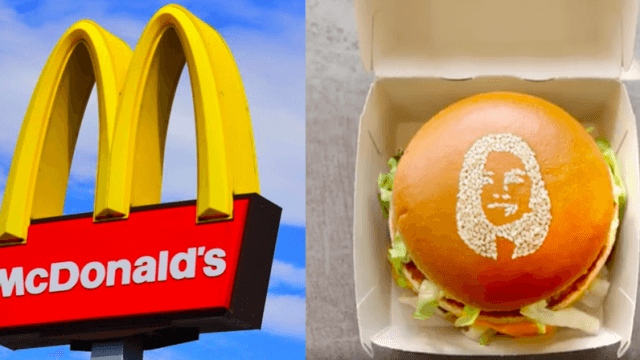 5. OnePlus
The company OnePlus played a joke on users, presenting the upcoming WarpCar electric car. According to the company, its car will be able to accelerate from 0 to ~100 km/h in 3 seconds and safely overcome more than 400 km of the way on a single charge, which takes only 20 minutes. Besides, instead of the alarm keychain, the car will be unlocked using the OnePlus 6T.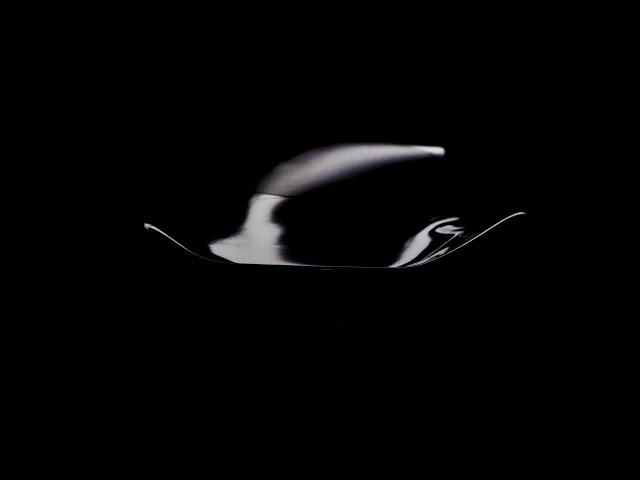 But the car from the video is the McLaren P1 racing hypercar produced by the English company McLaren Automotive. And this is a delicate hint of the OnePlus 6T McLaren smartphone line — a special edition of the OnePlus 6T with support for Warp Charge fast charging technology, capable of charging a smartphone up to 100% in 20 minutes. It is no more than a subtle joke for fans of the brand.
6. Coca-Cola
In 2018 Coca-Cola announced launching three new flavors for their Zero Sugar range: avocado, sourdough, and charcoal. The company said that the sugar-free drink's new variations would appeal to the "Instagram generation."
As per Coca-Cola, "Not only do they promise to be the perfect tasty, sugar-free refreshment, but they'll also double-up as the ideal accessory for any brunch time social media photo – guaranteed to see the 'likes' rolling in."
7. Tinder
The dating app Tinder offered a new feature – Tinder Height Verification: make sure that a man is 6 feet tall. This is a popular requirement for a partner among American women. Statistics say that only 14.5% of men are 6 feet tall or taller in the USA, so soon, the number of liars in the app was supposed to drop.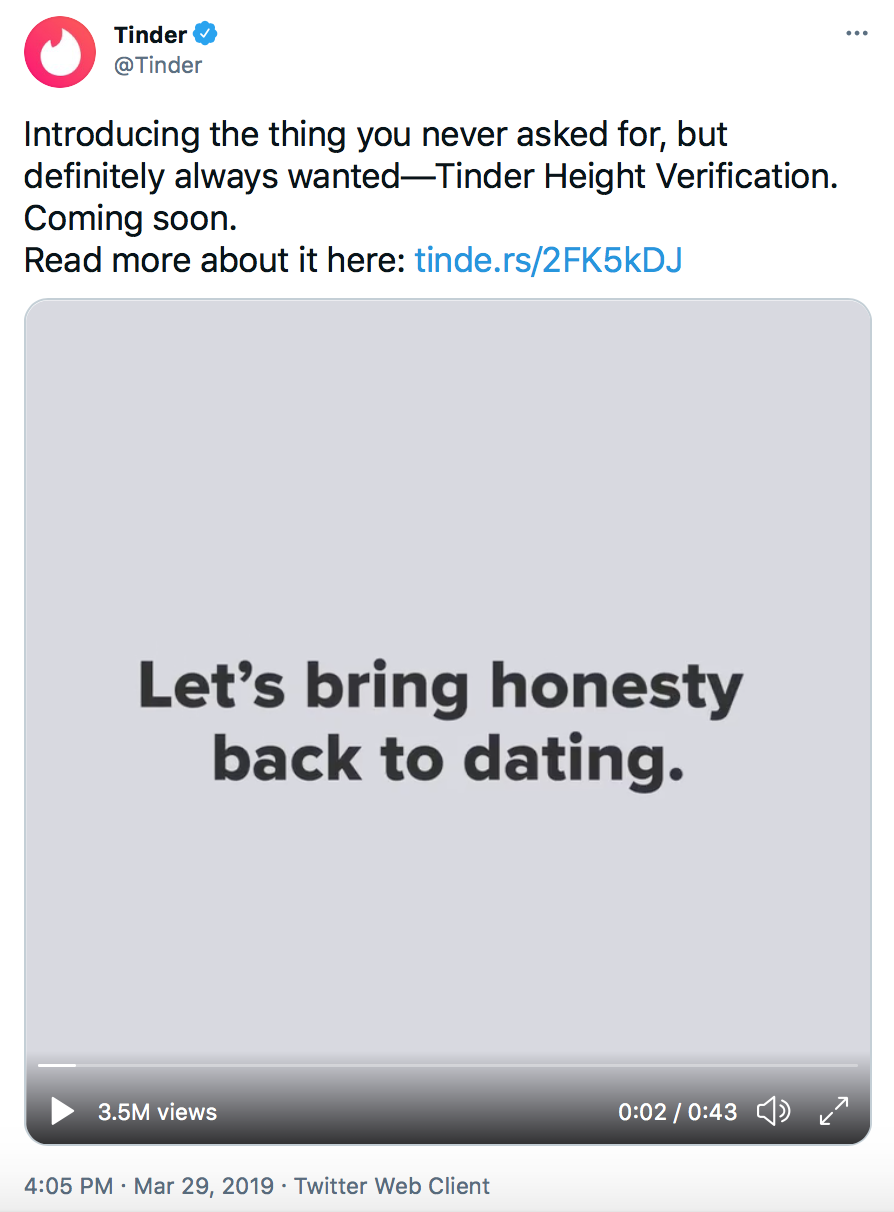 8. T-Mobile
In 2018, on April Fool's Day, American operator T-Mobile offered the innovative gadget to its customers. T-Mobile introduced the world's first smartshoephone. Inspired by the past but stepping boldly into the future, the company promised the gadget to have revolutionary AI, headphones that double as chargers, personalized GPS guidance by John Legere, and more! Below the video, they wrote, "This T-Mobile announcement is about the new T-Mobile Sidekick phone… And it is also an April Fools day joke!".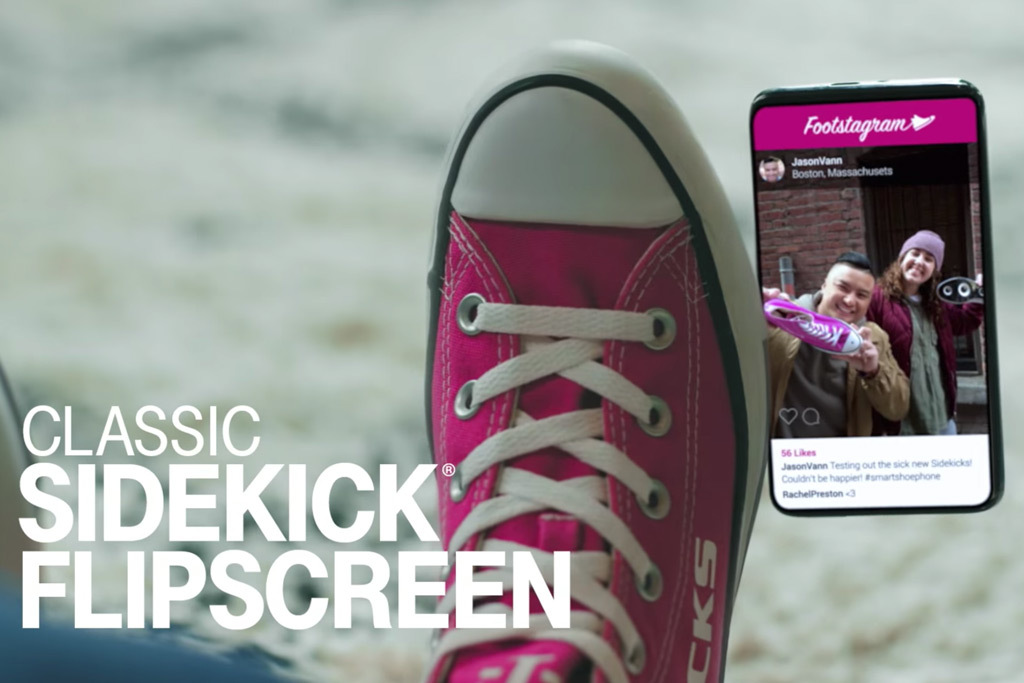 9. Duolingo
Users used to joke about the app's reminders' persistence, which required them to open it and learn a few new words. Whether it was a Duolingo ad campaign or the company just noticed the trend, the April Fool's Day video is dedicated to reminders' aggressiveness. The Duolingo mascot was promised to chase its users in the real world, demanding to continue training.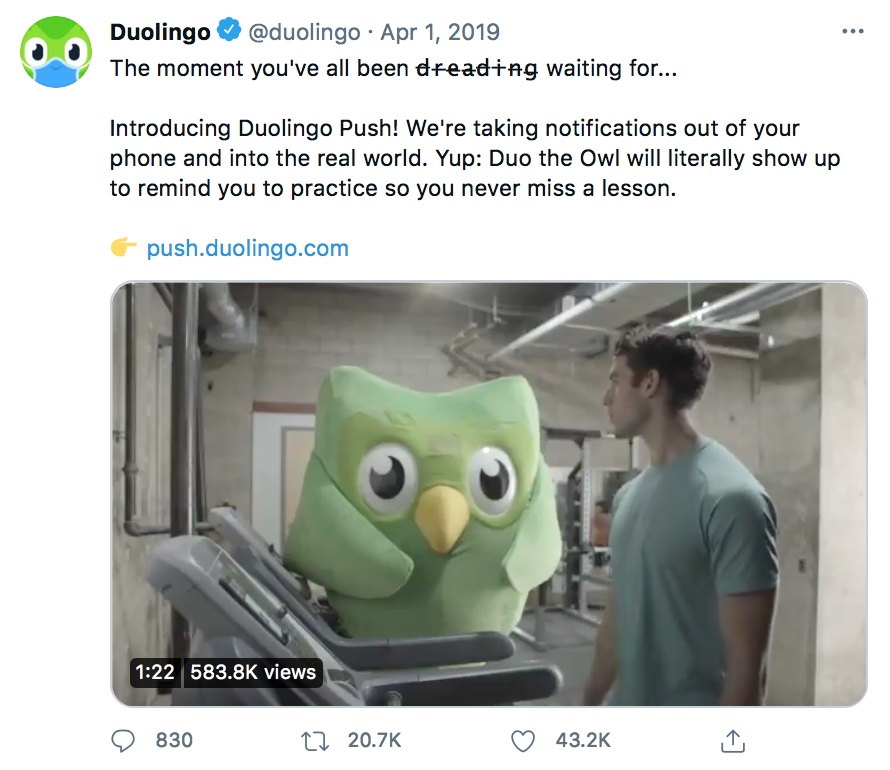 10. Burger King
Burger King has long established itself as a master of situational marketing and scandalous PR. A chain of restaurants in France and the Buzzman agency decided to treat fans to a whopper-flavored toothpaste that will simultaneously take care of the teeth and leave the taste of a burger. It seems that Burger King employees worldwide find whopper's smell and aroma the most attractive on earth. Well, this is an April Fool's Day marketing; why not?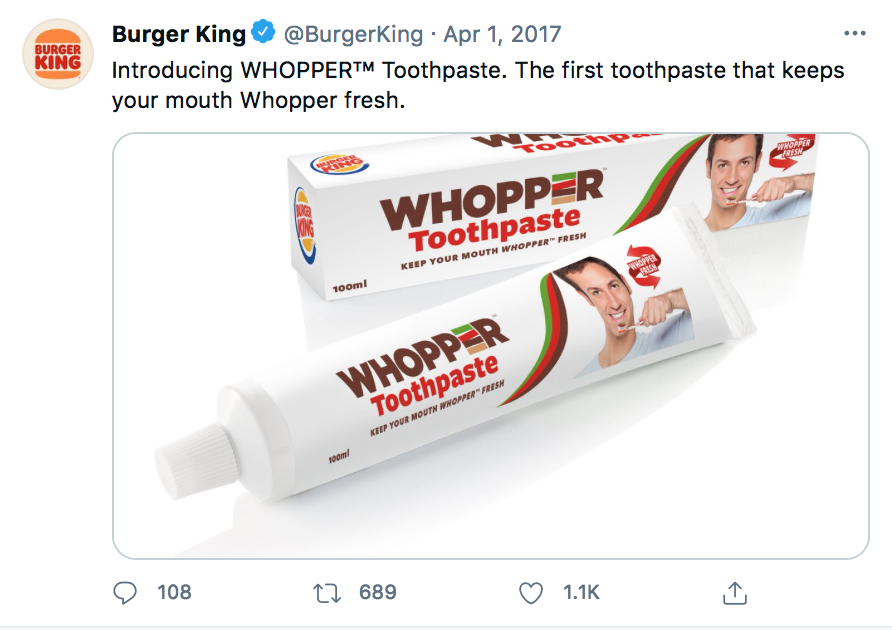 How to Make Proper Jokes to Attract Your Target Audience
Funny content is not suitable for all brands. The communication of serious companies can be very conservative, and bright content will distort the brand mission's balance. These are financial services, the pharmaceutical market, the public sector, and politicians with a specific image and position. Their audience expects stability, clear rules of the game, and predictable behavior. Even innocent jokes can be misinterpreted, which will cause at least reputational losses.
April Fool's Day Flashmob Recommendations
Take into account the interests of your target audience and the specifics of its mentality. What you think is funny may not be appropriate for others.
Avoid jokes about political, religious, or social issues. Gender stereotypes, elements of racism, and violence are all taboos that should not be broken for your business's benefit.
Do not forget about the specifics of your product. If your joke has nothing to do with the company's activities, then what is the point
Make jokes only about yourself, and do not go into personals. Even the most harmless joke on a client can turn a significant part of the audience away from you.
Do not hesitate to apologize if someone found your joke unpleasant.
April Fool's Day jokes are a great way to create content with a viral effect and attract your target audience. But do not forget that this is a rather risky tool. The success of the April Fool's marketing campaign depends only on you and your ability to find the right topic.
Conclusion
Opening the calendar on April 1st, people are ready for jokes from friends and acquaintances. Everyone strives to play the most plausible pranks and thereby enjoy the April Fool's holiday of humor.
April Fool's Day marketing is an excellent opportunity to promote brand awareness, attract attention to business. It has a good effect on the process of studying the brand and collecting information about it. Do not hesitate to embrace April Fool's Day and enjoy marketing jokes this year!