NFTs are slowly moving into all media spheres: from video games to metaverses. And it is only a matter of time when in some WhatsApp, a person will have not an ordinary picture but a non-fungible tokenon the avatar. So, today we are talking about digital collectibles on Instagram.
A few months ago, Meta CEO Mark Zuckerberg confirmed they were working on bringing NFTs to Instagram in the near term. And just recently, Instagram head Adam Mosseri has announced they are beginning to test digital collectibles with a handful of US creators and collectors who will be able to share NFTs on Instagram. The company states there will be no fees associated with posting or sharing a digital collectible on Instagram. A stated goal is to "bring NFTs to a broader audience."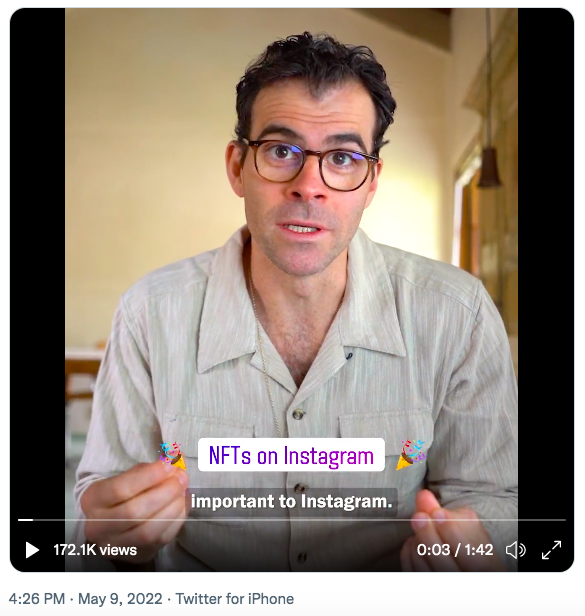 The initial test application is 'digital collectibles.' So, what are digital collectibles on Instagram, and what does this change mean for your Instagram strategy? We are sharing answers to these questions below.
FYI: Agency Vista is a modern network connecting businesses with reliable marketing agencies. Partner with NFT marketing agencies to gain credibility and win trust in the NFT space.
What Are Digital Collectibles on Instagram?
Digital collectibles on Instagram are unique digital items you can share on Instagram. These collectibles include art, images, videos, music, and trading cards and use blockchain technology to record ownership. Users will be able to show their NFTs on the main feed, in Stories, or DMs. Also, a new tab should be added that will have a tick inside a hexagon, which will mean that the NFTs are verified.
This feature includes:
Connecting a digital wallet. Instagram will support wallets from MetaMask, Rainbow, and Trust Wallet. Coinbase, Dapper, and Phantom are coming soon. Once connected, creators and collectors will have the ability to choose which NFTs from their wallets they would like to share on Instagram.
Sharing digital collectibles. Once a creator or collector posts a digital collectible, it will have a shimmer effect and can display public information, such as a description of the NFT. Posts will also be visible on their profile.
Automatic tagging of both the creator and collector. The creator and collector can be automatically tagged when a digital collectible is shared as a post. If you own or have created a collectible and connected your wallet, you may also be tagged if someone else shares that collectible.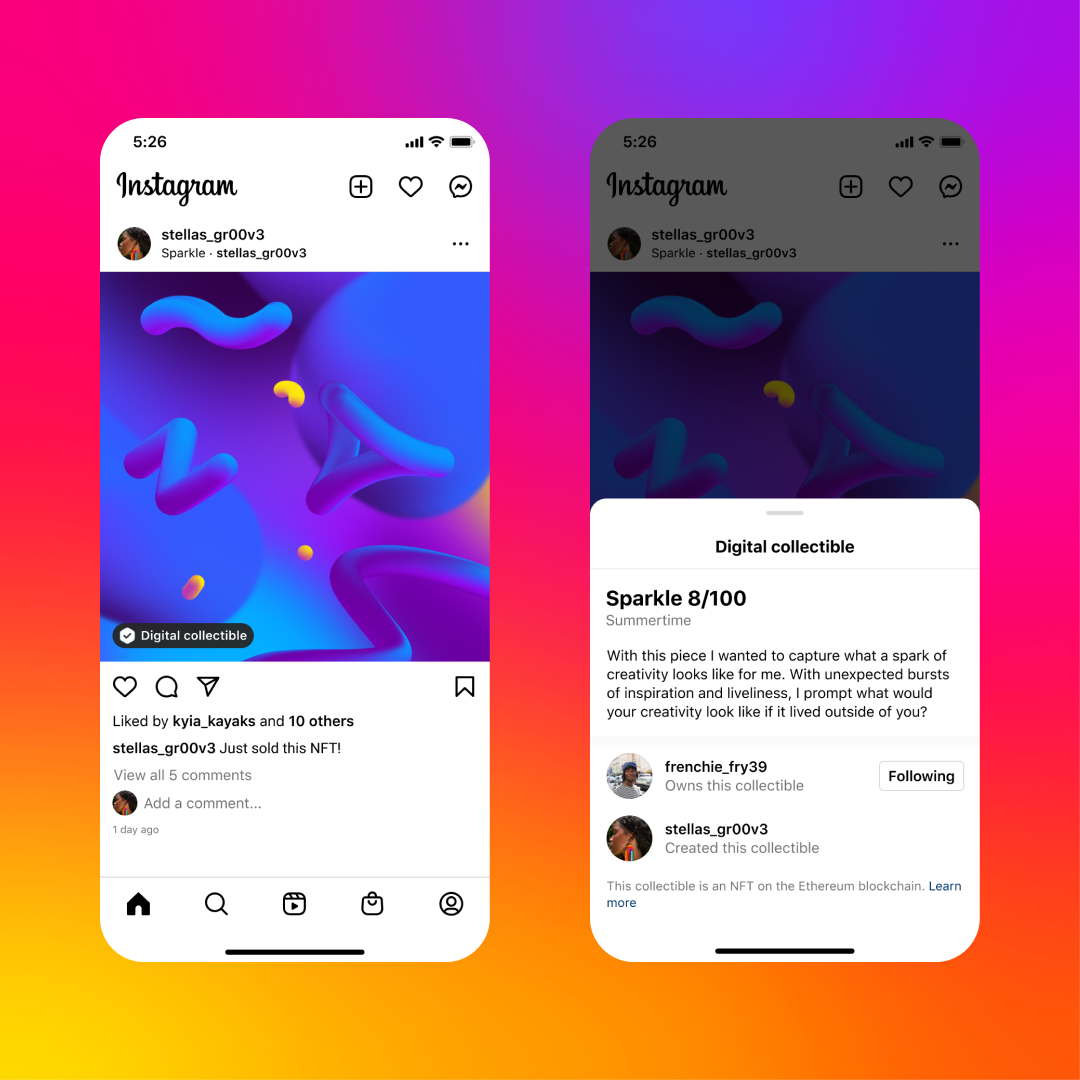 Instagram provides tools to help keep all the accounts secure when connecting digital wallets and sharing digital collectibles on the platform. For example, Instagram will not show collectibles to other users without permission from the collectible owner or creator. Indeed, no one has access to your digital wallet address on your public profile.
If you are a company, agency, or investor, learn more about a new tool for content monetization and NFT Marketing in 2022.
What Does This Change Mean for Your Instagram Strategy?
Despite The Wall Street Journal's recent report showing that NFT sales declined by 92% since September, this seems like an excellent effort to keep up with the market.
While NFT marketing in 2022 is somewhat unpredictable, there is no doubt that digital goods will play an expanded role in the coming Metaverse shift. The potential of NFTs extends well beyond the current flood of cartoonish avatar pictures, and they require strong marketing and promotion, so that target consumers are aware of their presence and value.
Businesses and agencies should follow these tips on how to promote NFT on Instagram:
Build a loyal community.
Carefully nurture your audience by creating specific content related to cryptocurrencies and market movements on Instagram. Such videos and posts simplify complex topics for investors, increasing their reputation and leading to loyal subscribers. High conversion rates due to targeted marketing are around the corner.
Leverage the power of influencers and opinion leaders.
Influencer marketing is still one of the most powerful tools for marketers. Influencers have conquered not only the market but also demonstrated real results. They can not only introduce something new to the target audience but also convince them to invest in it. Sometimes even one mention from the right person can project your NFTs as the next big thing.
Use catchy captions and hashtags.
Right hashtags and informative captions will put your profile at the forefront of the Instagram discover page. Determine what the target audience would like to know about the NFTs space and represent it in your publications.
Create Reels and IGTV videos.
Posting photos is not the only way to engage with the audience. Publishing teasers or short trailers about upcoming NFT collections through Reels orIG TV is an excellent solution to enhance engagement. Add trending music for more likes and shares, and you will be happy with the users' responses.
Partner with top NFT marketing agencies.
That is a perfect option for your business if you want to kickstart your NFT marketing with a team of skilled professionals. NFT marketing agencies will help the projects to get started, engage with the audience, and reach long-term goals.
Are you in the NFT business and looking for the perfect exposure for your digital art? Agency Vista's top NFT marketing agencies will help you launch successful marketing strategies.
Digital Collectibles on Instagram Examples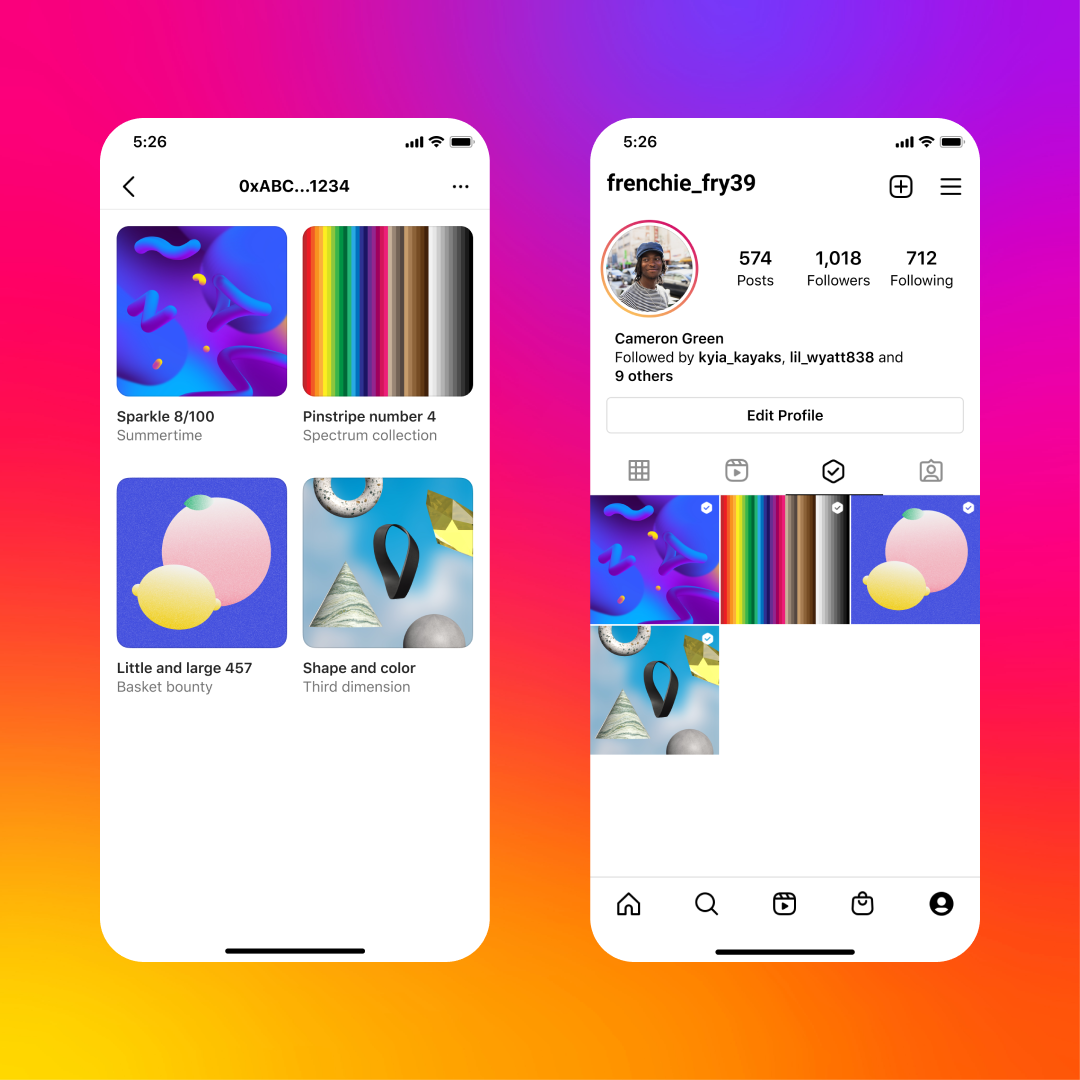 As mentioned above, the initial test involves a small group of 16 U.S.-based creators and collectors. The company promises to expand access to digital collectibles on Instagram soon, bringing the benefits of NFT ownership to even more creators and collectors. So far, if you want to see digital collectibles in action, you can follow these accounts:
"Shoutout to @instagram @meta for allowing me to be one of the first artists to show how the feature works. Hella excited to show y'all some of the stuff I'm working on and collecting! Let's keep supporting artists digitally and irl!" – @bluethegreat
"THANK YOU @instagram for inviting me to use the new Digital Collectibles feature! Soon everyone will be able to link their wallets to IG and show off their NFTs. I'm excited to be part of the evolution of Web3 by inspiring and guiding others through this digital world." – @jenstark
Conclusion
The NFT industry has managed to attract a broad audience's attention, which means that large social platforms have no choice but to follow the trend. NFT artists use Instagram to create hype for their collections and individual artworks. That is why the company wants not only to match popular trends but also to find new customers. We will soon find out if that will lead to broader adoption of NFTs across Meta's apps.
Sign up for free to Agency Vista to connect with verified NFT agencies that will help to launch winning marketing strategies and grow your brand.