Do the current tools in your tech stack make the list of the best digital marketing software for agencies in 2023?
With a potential recession on the horizon, decreasing social ROI, and increasing platform costs—it's time to evaluate your marketing tools.
So, what are the best social media management tools for agencies? What benefits do you get with an agency directory? And how much will this all cost?
With over 47,000 agency members, Agency Vista has vetted the top platforms used by leading agencies worldwide. Keep reading for all the details! 👀
Best marketing agency directories 2023
1. Agency Vista
Best digital marketing agency and ad agency directory to build brand awareness, thought leadership, and generate leads.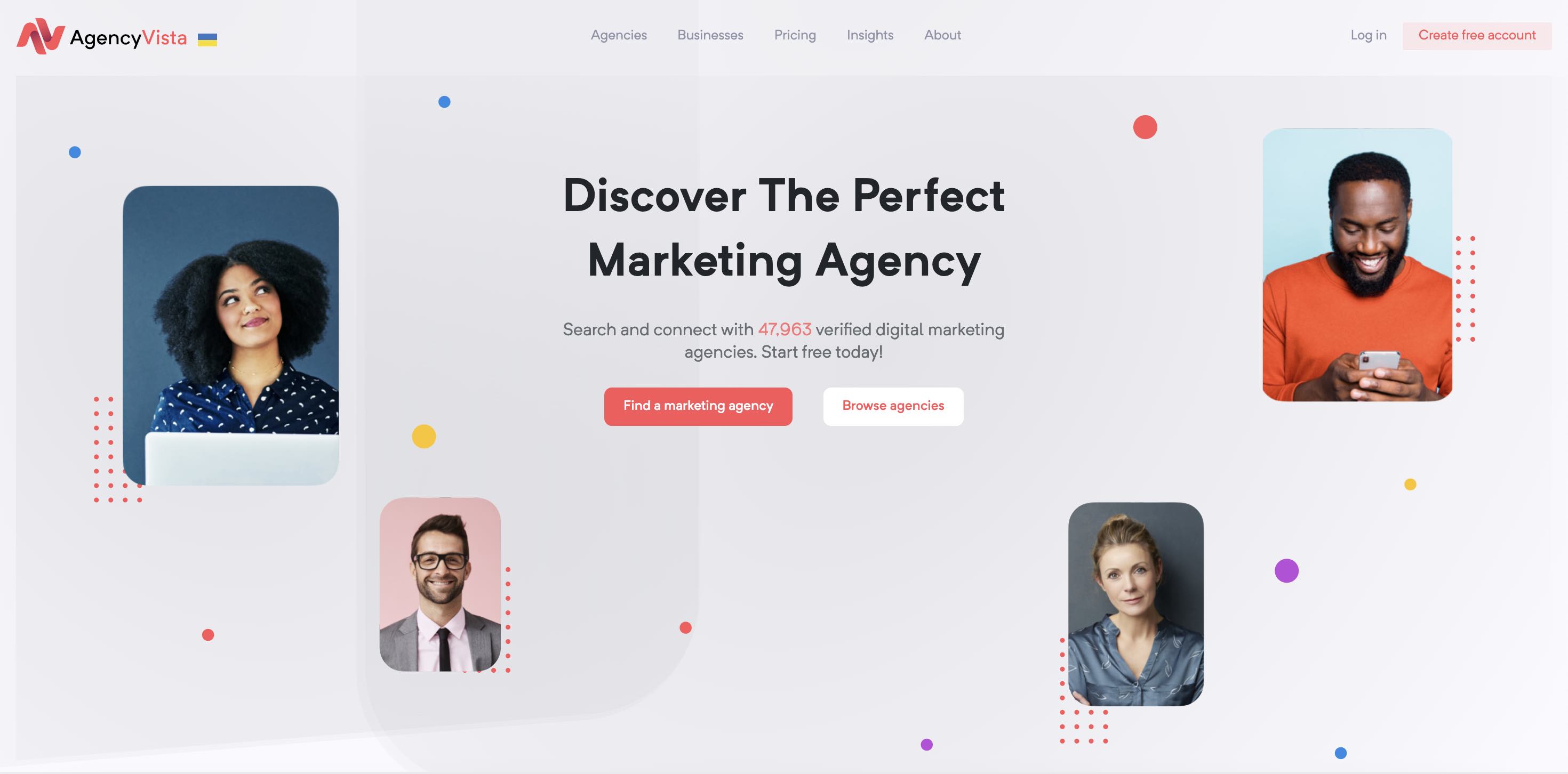 Agency Vista is the largest agency network in the world, with over 47,000 agency members in 230 countries.
Their platform offers tons of solutions, including an innovative digital marketing and ad agency directory.
Agencies can put their marketing on autopilot through various lead generation, brand awareness, and thought leadership strategies.
It's the only agency network that ranks agencies by verified profile information!
Other marketing agency directories rank their providers based on reviews from top customers, which is viewed as biased by brands.
Key features:
Agency Profiles: Digital marketing and ad agencies can create a free profile of their business that highlights company information, reviews, client portfolio, team members, social media updates, and more. All agency profiles automatically get added to Agency Vista's advanced agency directory.
SEO Top Agency Lists: Agencies can appear on SEO lists that rank on Agency Vista and search engines like Google. There are premium lists for every industry, network, tool, service, country, and more!
Thought Leadership Content: Agencies on the premium plan can access thought leadership content created about their agency and automatically distribute it across Agency Vista's communication channels.
Verified Badge: Agencies can earn the well-respected verified badge that will be automatically added to their profile and can be installed on an agency's website or email signature to foster trust and credibility with potential clients. Partnerships and certifications, such as the Facebook Marketing Partner badge, can also be added to a profile.
Request For Proposals (RFPs): Businesses can use Agency Vista to compare providers and send RFPs to agencies in real time.
Automatic Lead Generation: Businesses can use Agency Vista's advanced agency matching questionnaire that filters their network to find the top agencies based on their criteria. The matched agencies will be saved to the business's profile for future reference and automatically contacted to close more deals.
Price:
Agency Vista offers a free basic profile that includes client information, team, agency experience, and social media profiles. Their essential plan starts at $99 USD/per month.
Interested in learning more? Check out every cool feature available in Agency Vista today! 🔥
2. Agency Spotter
A directory that lists marketing agencies by service.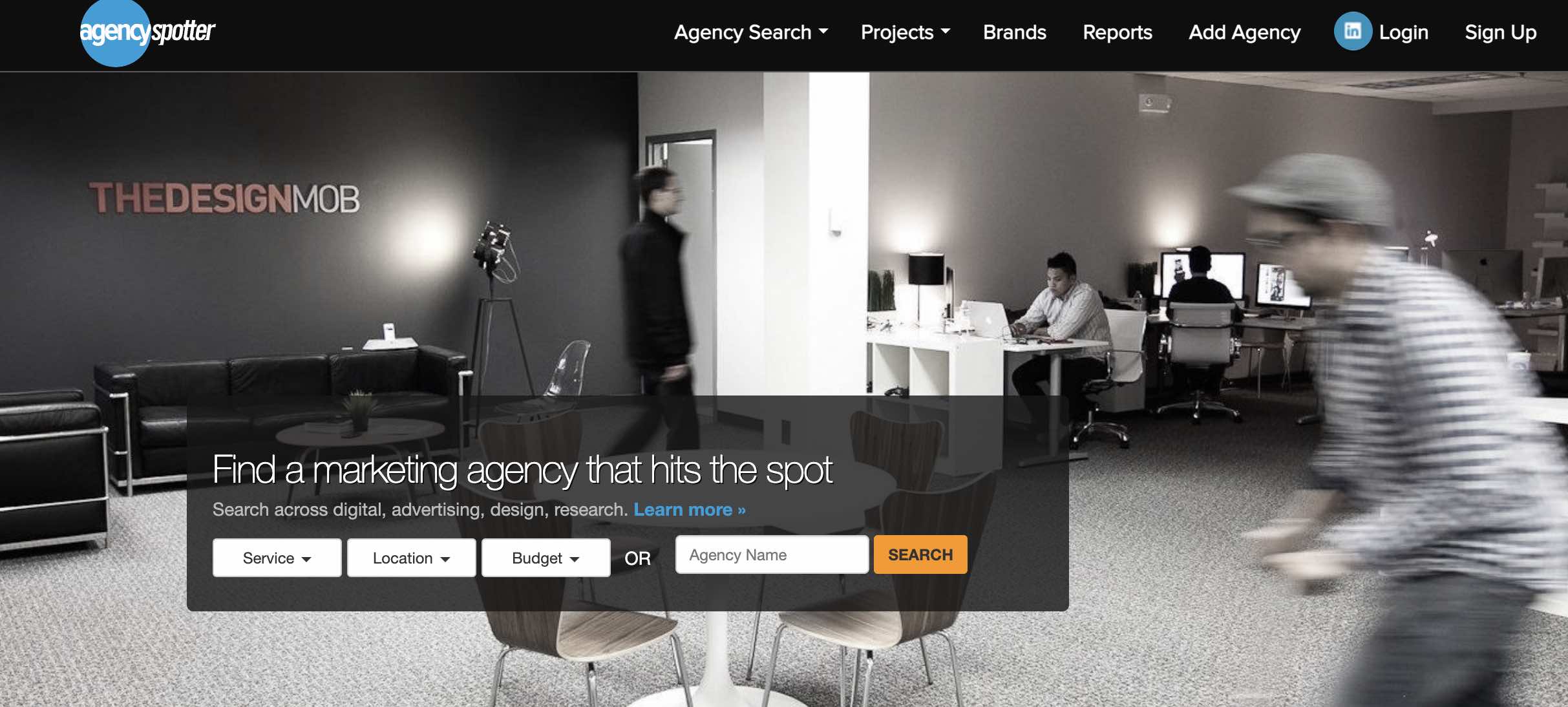 This is one of the most well-known marketing agency directories, as it was founded almost a decade ago!
With Agency Spotter, businesses can add their profile to their search, update portfolio details, and add client reviews.
Their free plan only allows profiles to be searched by one service, and they don't get to access any leads.
Key Features:
Search: Agency Spotter allows users to search for agencies by location, industry, and service type. Users can also filter their search results by agency size, client list, and awards.
Reviews: Agency Spotter has a review system that allows users to leave feedback on the agencies they have worked with. This helps other users get a sense of the quality of work and service provided by the agency.
Case Studies: Agency Spotter has a library of case studies that showcase the work of different agencies and the results they have achieved for their clients.
Request For Proposals (RFPs): Users can use the platform to create and send RFPs to agencies, which allows them to receive customized proposals from multiple agencies at once.
Price:
Agency Spotter offers a free plan with a basic profile. The next plan option starts at $197/month.
3. Clutch
Best business directory for consulting, IT, and web development agencies.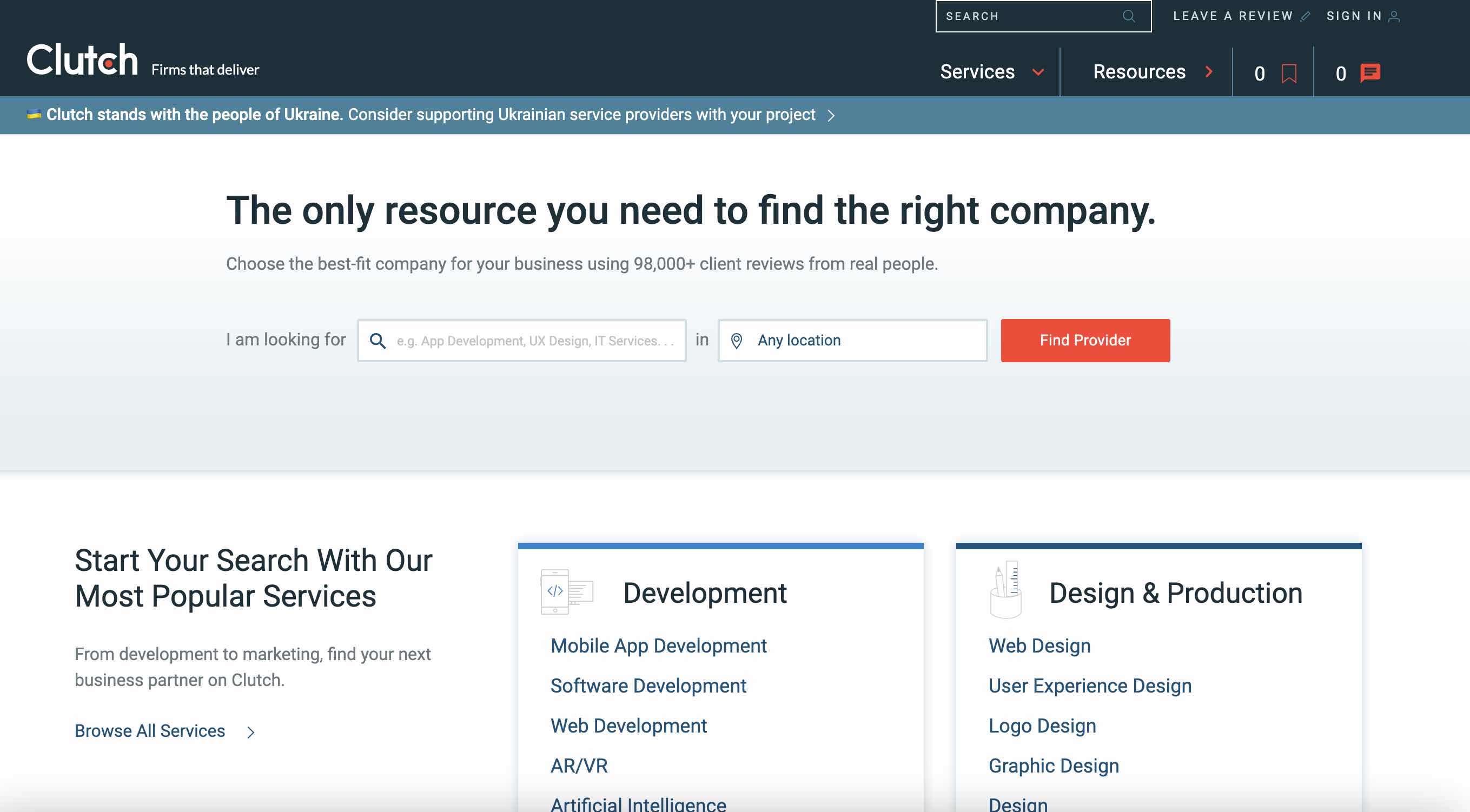 Clutch is a directory for accounting, consulting, IT, web development, and marketing businesses.
Their platform ranks providers based on the number of client reviews on their profiles.
Key Features:
Company Profiles: Clutch allows IT businesses to create company profiles that showcase their services, client reviews, ratings, and other relevant information. This helps businesses establish their credibility and attract new clients.
Leader Matrix: Clutch ranks IT businesses based on their ability to deliver high-quality services to clients. The leader matrix helps businesses identify industry leaders and assess their capabilities.
Client Reviews: Clutch allows clients to leave reviews of the services they have received from IT businesses. These reviews provide valuable insights for businesses looking to understand their strengths and areas for improvement.
Price:
There is a free plan available. Businesses will need to contact sales for their other plan pricing.
Best social media management tools for agencies 2023
1. Vista Social
The best marketing agency software to schedule, plan, and manage social media marketing.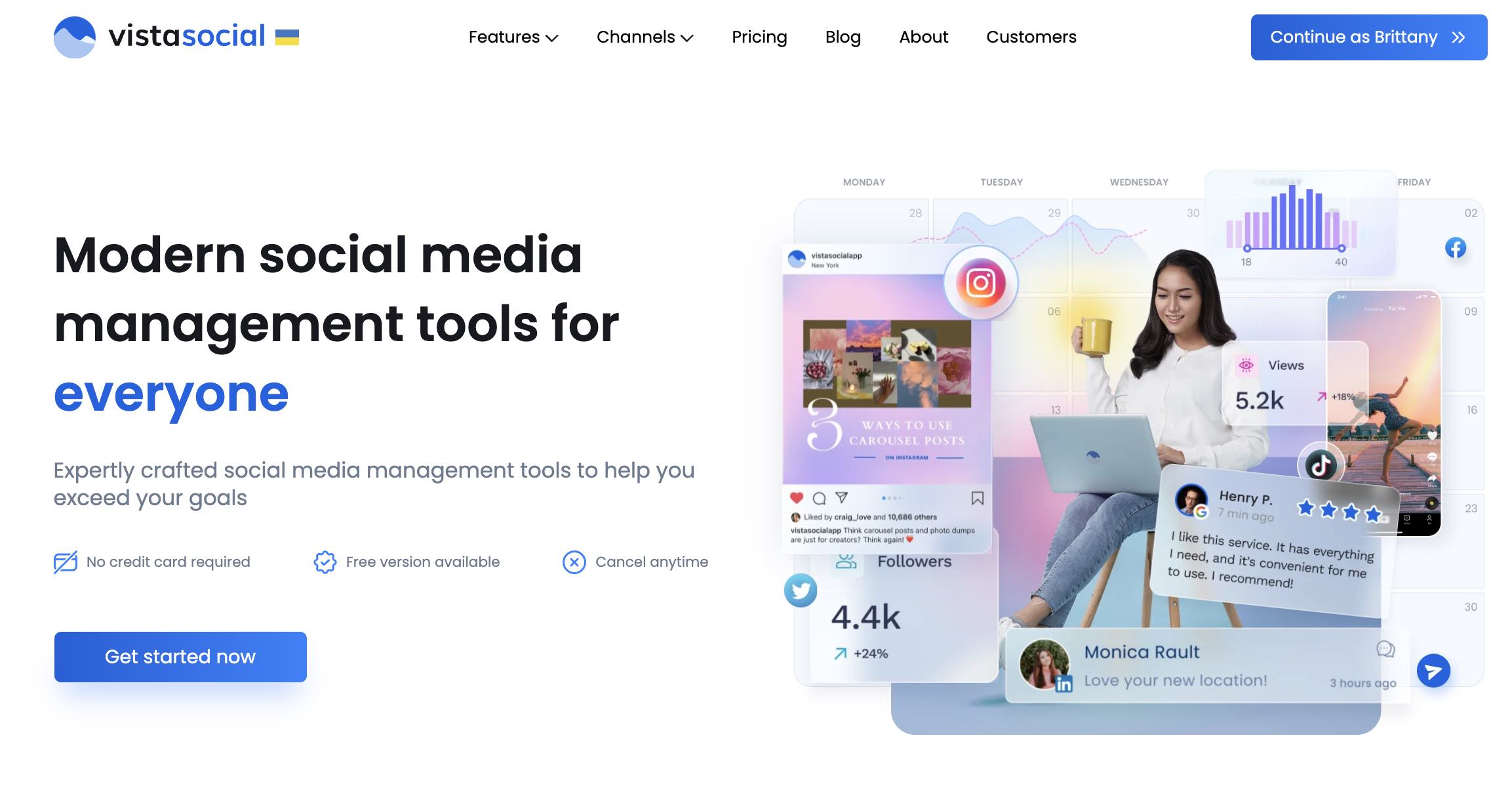 Vista Social is the best software for marketing agencies to plan and schedule their content on social media.
Its platform offers scheduling, content planning, engagement, reporting, social listening, and review management tools for over 14 social media networks.
Key Features:
Trending Audio Tools: Vista Social is the first approved platform to offer trending audio tools to business and creator accounts! This feature lets businesses quickly source the most popular sounds, import audio to their media library, organize their audio with labels, and schedule posts with trending audio.
Social Media Integrations: Vista Social offers social media management solutions for 14 social media networks. Businesses can auto-publish posts simultaneously and have them publish at their best time for each network.
Content Planner for TikTok and IG: Vista Social is the first SMM tool to offer a TikTok content planner. For both planners, you can streamline your workflow by selecting all of the profiles that you manage for that platform and easily toggle between accounts. Now, you can access your media library, Feed preview, and content calendar details in one view!
Instagram Tags: Tag users, products, and locations in Instagram posts. This lets businesses see what exactly is generating interactions and clicks, which can help inform your social strategy.
Shared Calendar: Create a shareable link to your content calendar (scheduled, planned, or published) and share it with clients and colleagues. Shared Calendar is the ultimate content planner!
Review Management: Easily monitor and manage reviews across Facebook, Google My Business, Yelp, TripAdvisor, OpenTable, and TrustPilot in a single stream so you can stay organized and informed, and respond quickly to every review.
Unlimited & White-Labeled Reporting: Build fully customized reports and easily export them to share them with your colleagues and clients. Access competitor analysis reporting to benchmark against your own and to identify new opportunities in your industry.
Price:
Vista Social has simple pricing with only 2 plan options available: free and paid. The paid plan is $3/social profile with unlimited users, connected profiles, and post-scheduling.
PS: There is a free trial available with no credit card required.
2. Later
The best software for influencer marketing agencies, creators, and bloggers.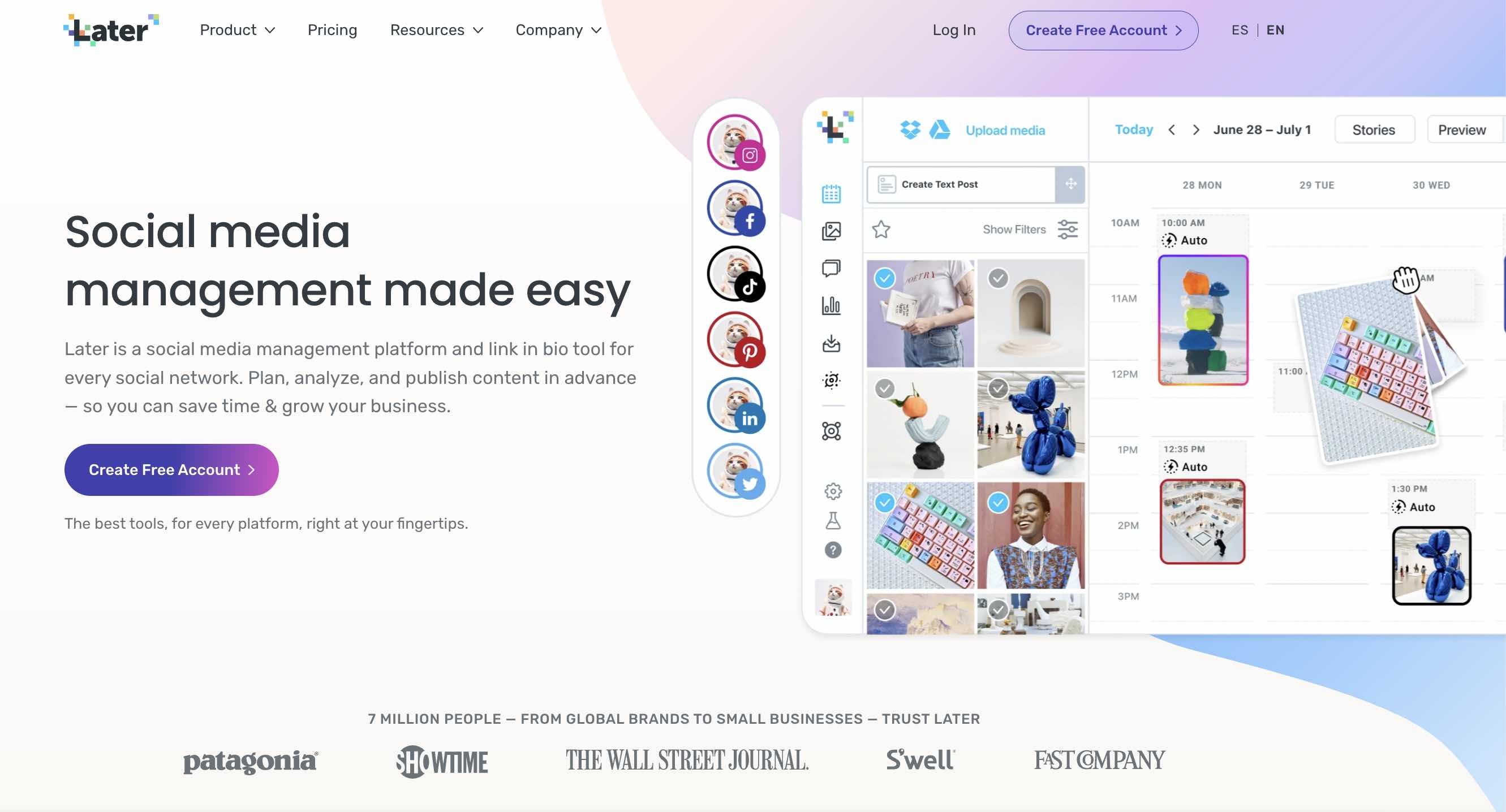 For creators and bloggers, Later is a great option as a social media management tool.
Their platform is well-known for its visual features, with a strong focus on blogger and creator tools.
Key Features:
Link in bio: Later has a feature called "Linkin.bio" that allows you to create a landing page with clickable links to your website, products, or other content. This can be useful for influencers who want to drive traffic to their website or promote specific products or services.
Instagram Shopping: Later has integrations with Instagram Shopping, which allows you to tag products in your Instagram posts and create shoppable posts that link directly to your online store. This can be a useful feature for influencers who want to monetize their Instagram presence.
Creator & Brand Collabs: This is a program built to bring together creators and brands for partnerships, collaborations, sponsored content opportunities, and more. Influencers can join Creator & Brand Collabs and be added to a creator database to be found by brands who are searching for creators to collaborate with.
Price:
Later's creator plan starts at $15/month for 1 social set, 10 posts per social profile, and 1 user.
The cost of Later for an influencer marketing agency would be $40 USD/month—this would provide 3 social sets and 3 users!
Pro Tip: Be mindful of Later's social set vs. social profile pricing.
3. Sprout Social
The best software for enterprise-level businesses.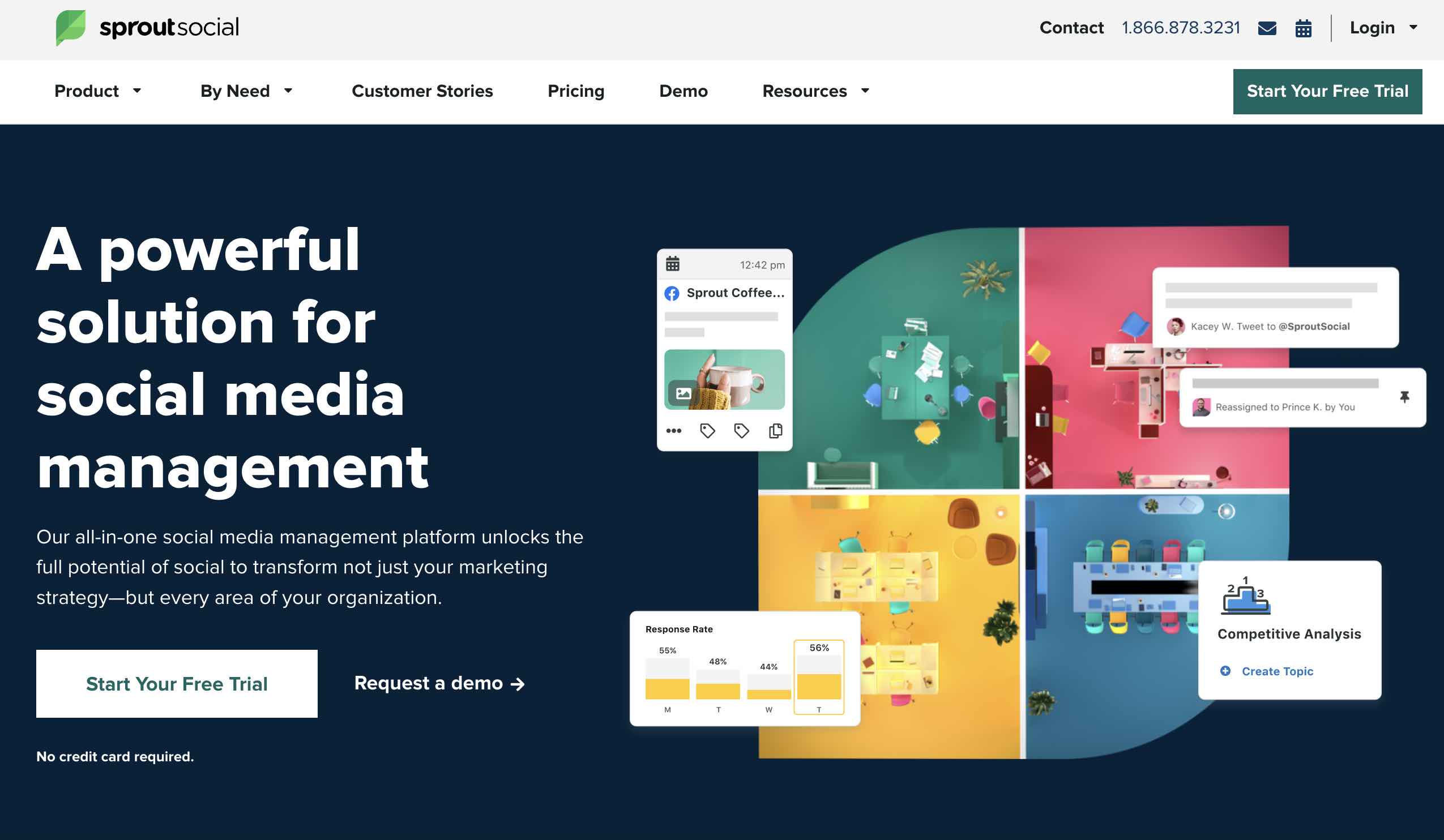 Sprout Social is a good option for enterprise-level businesses that need support with their social media management.
It's more known as a corporate tool for features like social media analytics and smart inbox.
Key Features:
Social Media Advertising: Sprout Social offers a range of tools for managing and optimizing social media advertising campaigns, including targeting, budgeting, and performance tracking.
Customer Service & Engagement: Sprout Social provides a range of tools for managing customer service inquiries and engaging with customers on social media, including a unified inbox for managing incoming messages and a social media monitoring tool for tracking and responding to mentions and comments.
Integrations: Sprout Social integrates with a range of other tools and platforms, including CRM systems, analytics tools, and marketing automation platforms, allowing businesses to seamlessly connect and manage their social media activity with other parts of their marketing and customer service operations.
Price:
For an agency, SproutSocial would cost $399 per month plus each additional user +$299/mo.
Looking to compare more platforms? Check out the 7 best social media management tools in 2023.
Best marketing project management tools in 2023
1. Google Workspace
Collaboration and communication in one.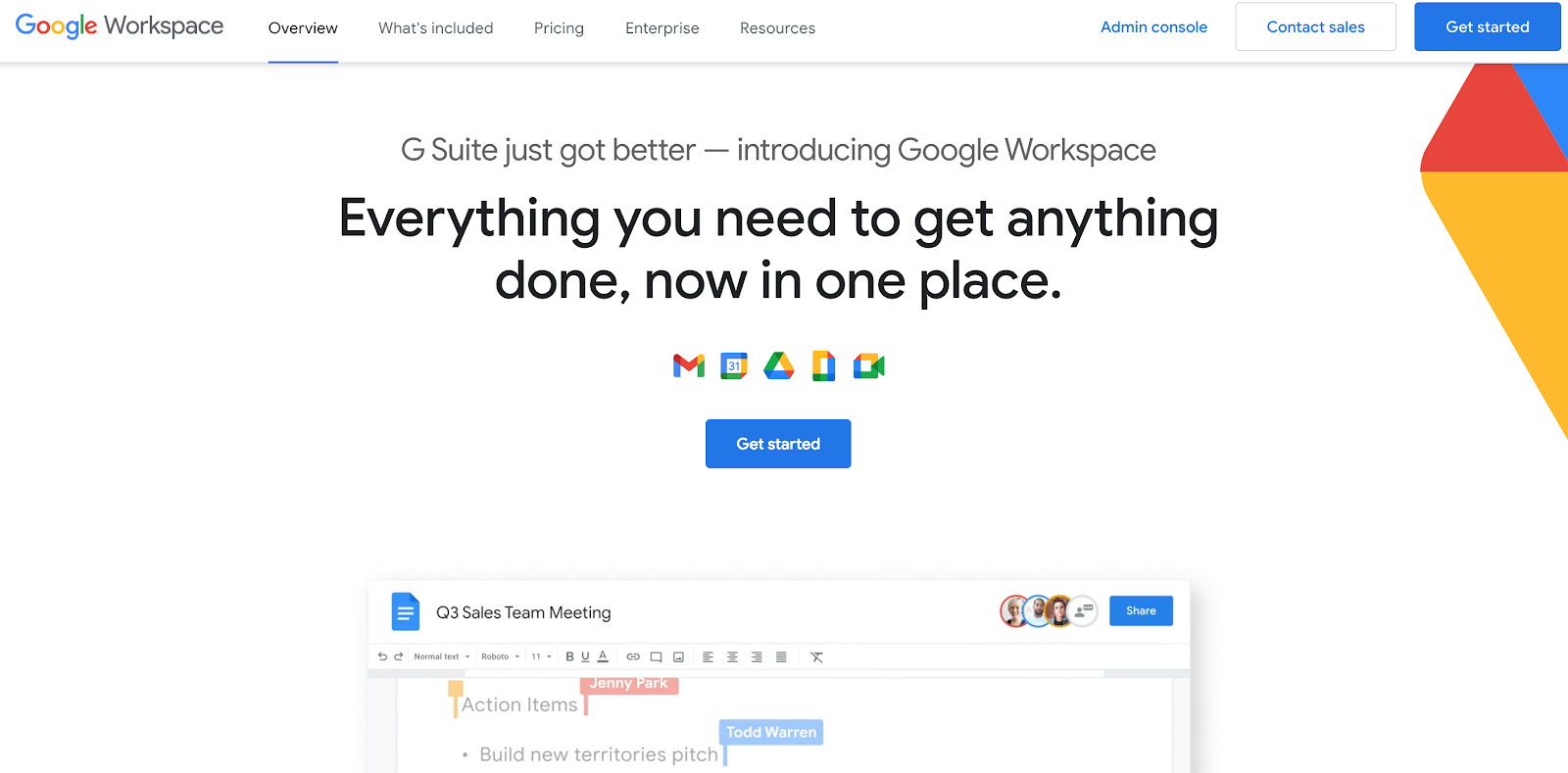 Most agencies already use Google in some capacity, whether through Docs or Spreadsheets, Hangouts, or Google Analytics.
Google makes it easy to integrate data between their products, so agencies can easily keep track of key details on their clients.
Google Workspace makes it easier to store your data, collaborate, and create all in one place.
Key Features:
Collaboration Tools: Google Workspace includes tools that allow you to collaborate with your team in real-time, such as Google Docs, Sheets, and Slides, which allow multiple users to edit the same document simultaneously. It also includes video conferencing tools like Google Meet and Google Chat, which allow you to communicate with your team members and clients remotely.
Productivity Tools: Google Workspace includes tools that can help you manage your work more efficiently, such as Gmail for email management, Google Calendar for scheduling and time management, and Google Keep for taking notes and creating to-do lists.
File Storage & Sharing: Google Drive is a cloud-based storage service that is included in Google Workspace. It allows you to store, access, and share files with your team from anywhere, on any device.
Security & Privacy: Google Workspace includes a range of security and privacy features to protect your data. It includes two-factor authentication, data encryption, and compliance with various industry standards and regulations.
Customization & Integration: Google Workspace allows you to customize your account and integrate with other tools and services. You can add custom email addresses, create custom documents, and integrate with other tools such as CRM systems and project management tools.
Price:
Google Workspace's starter plan is $7.80 CAD/user/month.
2. HubSpot Marketing Hub
Best project management software for marketing agencies.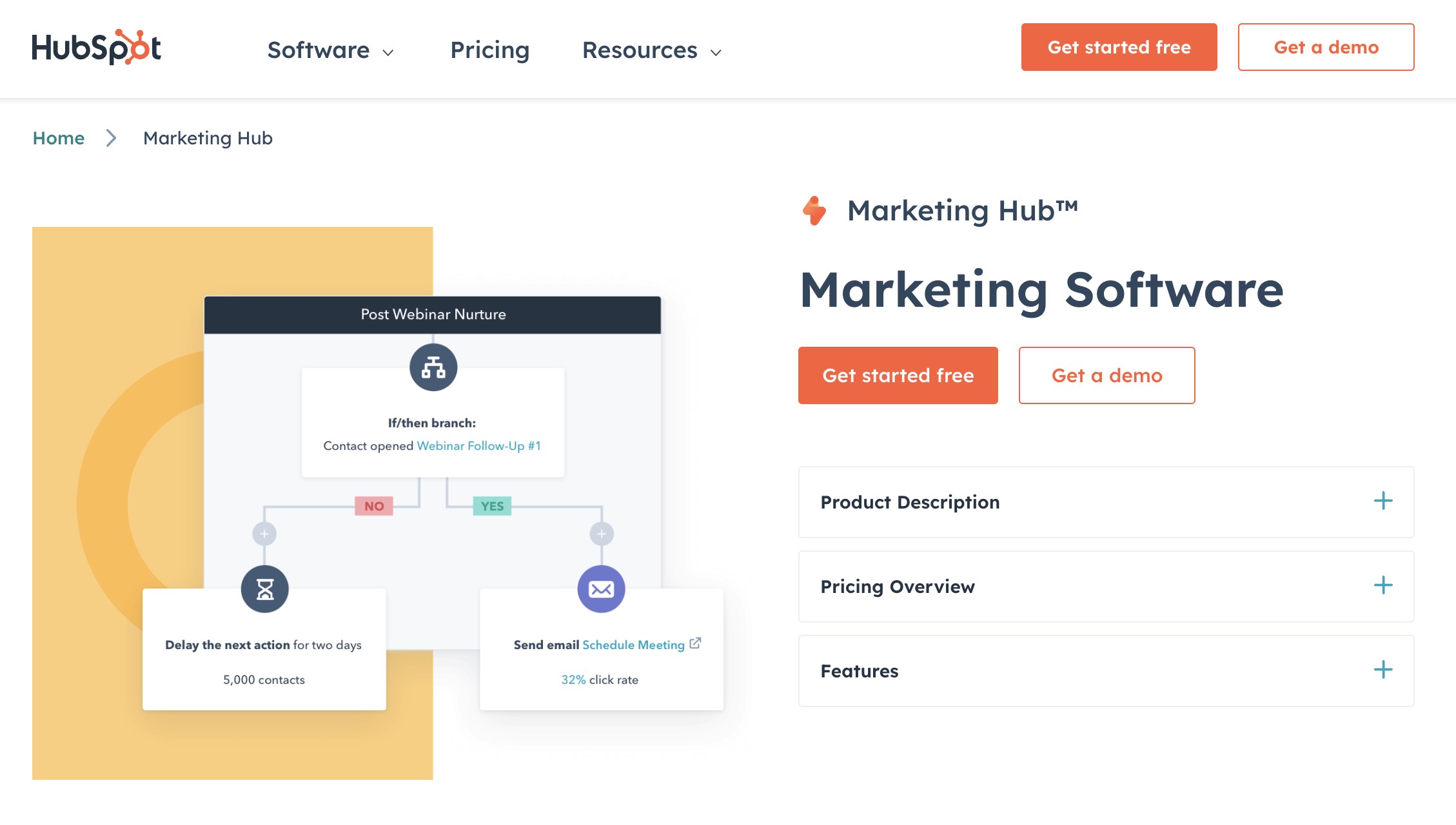 Hubspot is the king (or queen) of inbound marketing, making it a great option as a project management tool for agencies.
Their platform lets businesses manage all projects in the same place, eliminating the need for spreadsheets, trackers, or task lists.
Key Features:
Task Management: Hubspot allows you to create and assign tasks to team members, set deadlines, and track progress.
Time Tracking: Hubspot offers time tracking tools to help you track the time spent on tasks and projects, as well as generate reports on team productivity.
Resource Management: The platform allows you to manage resources such as team members, budgets, and equipment and track their availability and utilization.
Project Planning: Hubspot provides tools for creating project plans, setting milestones, and tracking progress toward project goals.
Customization: You can customize the platform to fit your specific project management needs, using features such as custom fields, workflows, and integrations with other tools.
Price:
Hubspot's Marketing Hub has a free plan that provides the basic features. After that, their starter plan is $45/month.
3. Trello
Workflows for any project, big or small.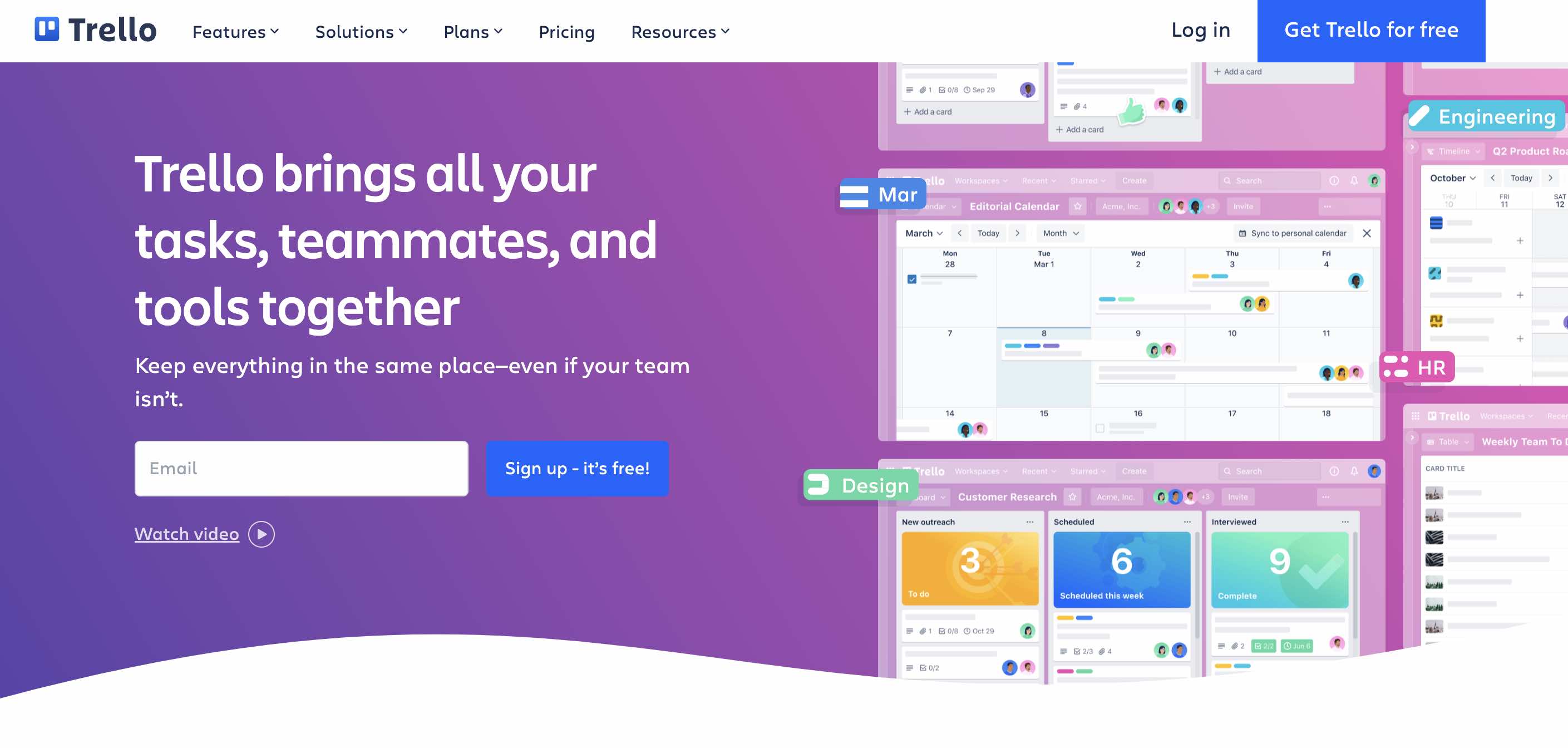 From client details to brainstorming to planning, Trello offers solutions to help agencies manage the day-to-day tasks of working together.
Bring a bird's-eye view to projects and processes with Dashboard so that businesses can manage workloads and prevent bottlenecks before they begin
Key Features:
Boards: Trello allows you to create boards to represent different projects or areas of your life that you want to organize. Each board consists of a series of lists, and you can create as many lists as you need to organize your tasks.
Cards: Trello uses cards to represent individual tasks or items. Each card can contain a title, description, attachments, and a list of comments. You can also add labels, due dates, and checklists to cards to provide more context and help you track progress.
Integrations: Trello integrates with a range of tools and services, including Google Drive, Slack, and Evernote, making it easy to use Trello as part of your workflow.
Power-Ups: Trello offers a range of "Power-Ups" that allow you to customize your boards and add additional functionality. For example, you can use the Calendar Power-Up to view your tasks on a calendar, or the Custom Fields Power-Up to add custom fields to your cards.
Price:
Trello has a free plan available that provides a lot of features such as unlimited cards, 10 boards per workspace, unlimited storage and activity log, plus more!
3 best email marketing tools for agencies 2023 [free & paid]
1. MailChimp
Best email marketing software for all-sized agencies.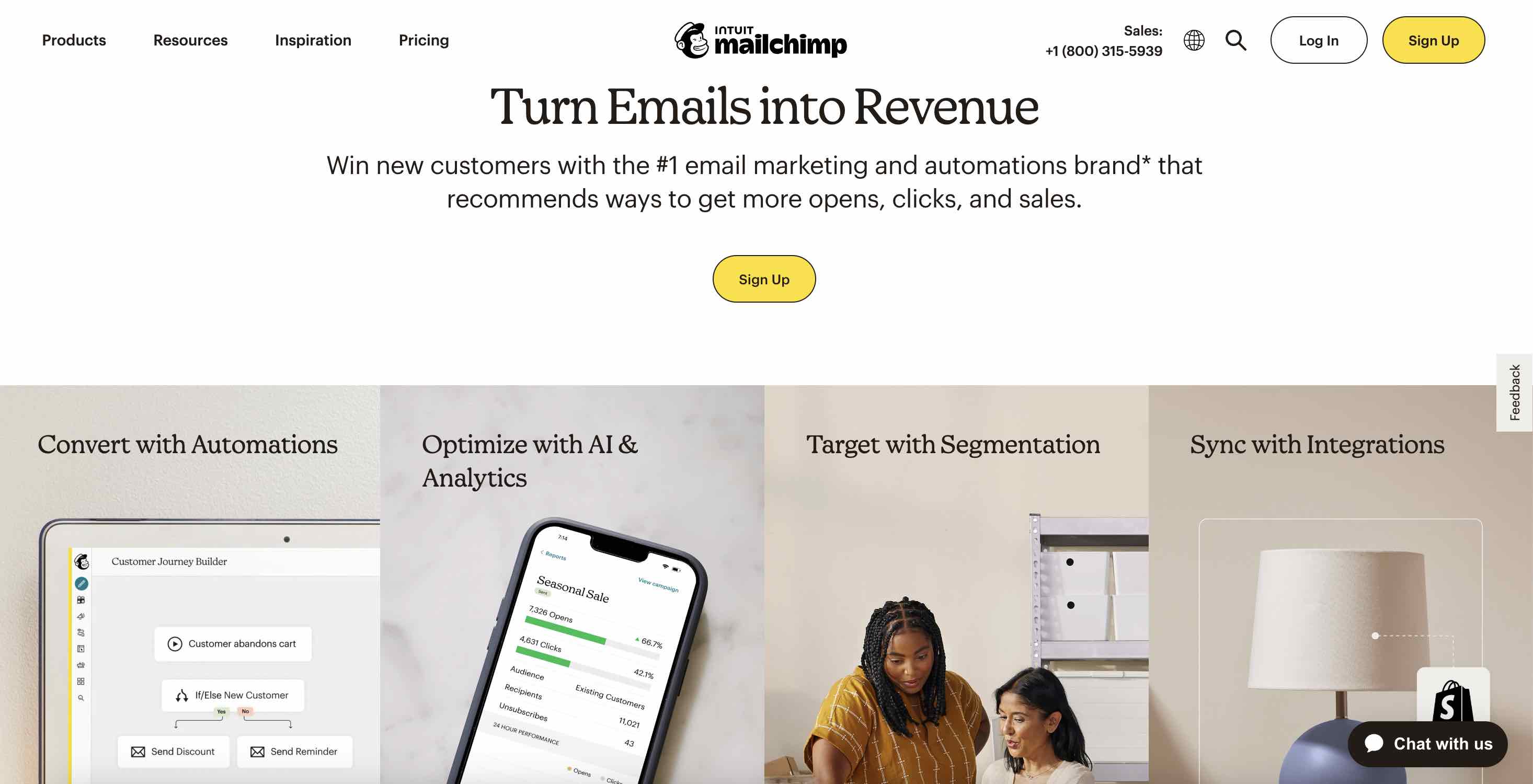 MailChimp is one of the best email marketing platforms for agencies because of its simple drag-and-drop usability and ease of use.
Smaller agencies can access the free plan of MailChimp which provides segmentation tools, up to 2K contacts, basic email templates, and reporting.
Key Features:
Email Marketing: Mailchimp allows you to create and send newsletters, automated emails, and targeted campaigns to your subscribers. You can choose from a range of templates or design your own emails using the drag-and-drop email builder.
List Management: Mailchimp makes it easy to manage your email list, including adding and removing subscribers, segmenting your list based on interests and behaviors, and importing and exporting subscribers.
Landing Pages: Mailchimp offers a range of customizable landing page templates that you can use to create pages for your website to capture email addresses and other information from potential subscribers.
Marketing Automation: With Mailchimp, you can set up automated email campaigns that trigger based on specific actions or behaviors of your subscribers. For example, you can send a welcome email to new subscribers or a series of emails that guide them through your sales funnel.
Price:
As mentioned, there is a free plan available. MailChimp's essential plan starts at only $13/month for 5 users and 5,000 monthly email sends.
Connect with Top Marketing Automation Agencies that Agency Vista has researched, compiled, and verified.
2. Jasper
Best email marketing copywriting tool.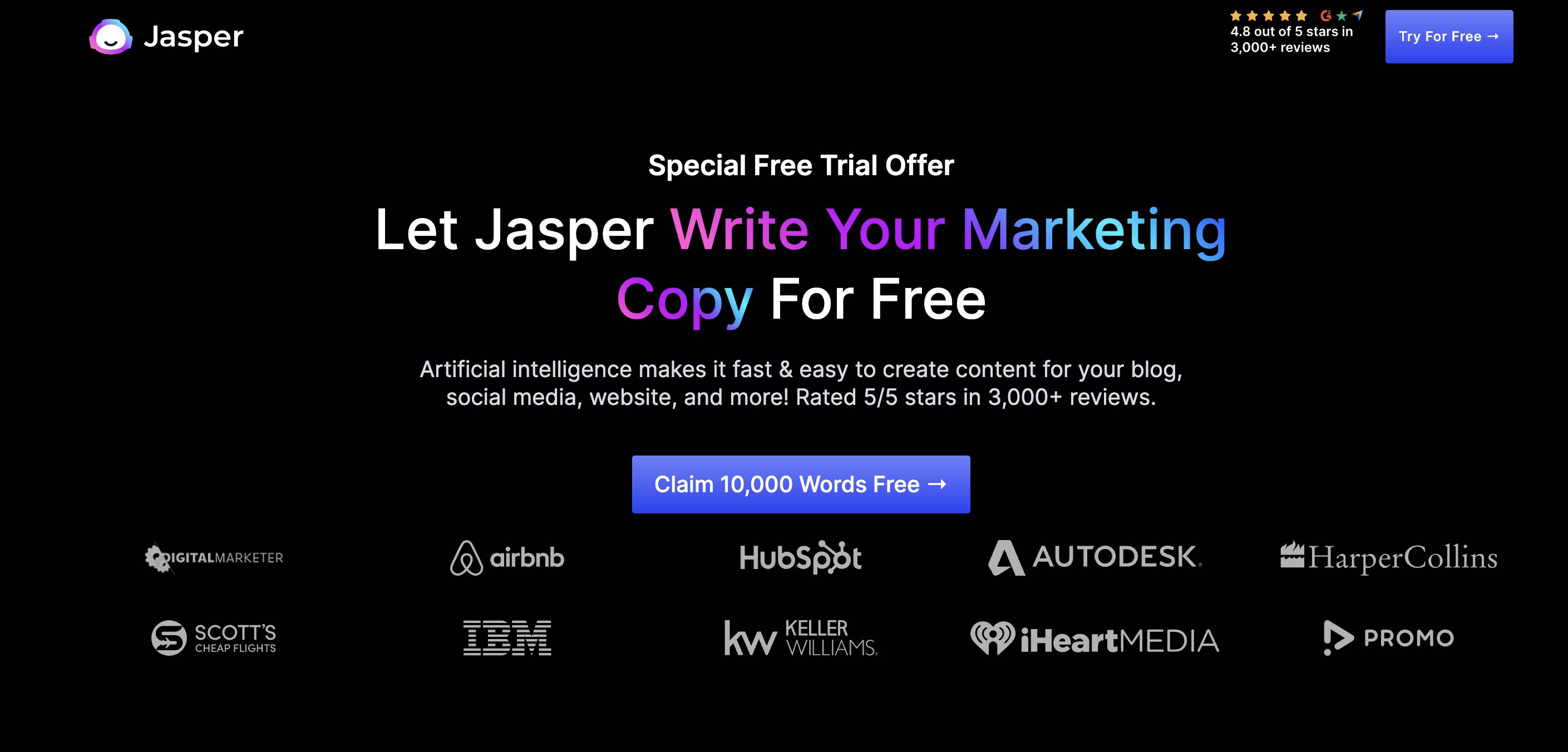 Jasper is one of the best email copywriting tools for agencies!
The platform uses artificial intelligence (AI) to analyze an email campaign and generate suggested copy for the subject line and body of the email.
Users can then review the suggestions and make any necessary adjustments before sending the email.
Key Features:
Customized Email Templates: The platform offers a range of customizable email templates that can be used to create professional-looking emails quickly and easily.
Split Testing: The platform enables you to split test different versions of your emails to see which ones perform best, helping you to optimize your campaigns for better results.
Personalization: Jasper.ai allows you to personalize your emails with dynamic content and personalized subject lines, helping you to create more engaging and effective emails.
Integration with Email Marketing Platforms: Jasper.ai can be integrated with popular email marketing platforms such as Mailchimp, allowing you to seamlessly incorporate the platform into your existing email marketing workflow.
Price:
Jasper's starter plan is $49/mo for 35,000 words
3. ActiveCampaign
Customer experience automation platform with email marketing solutions.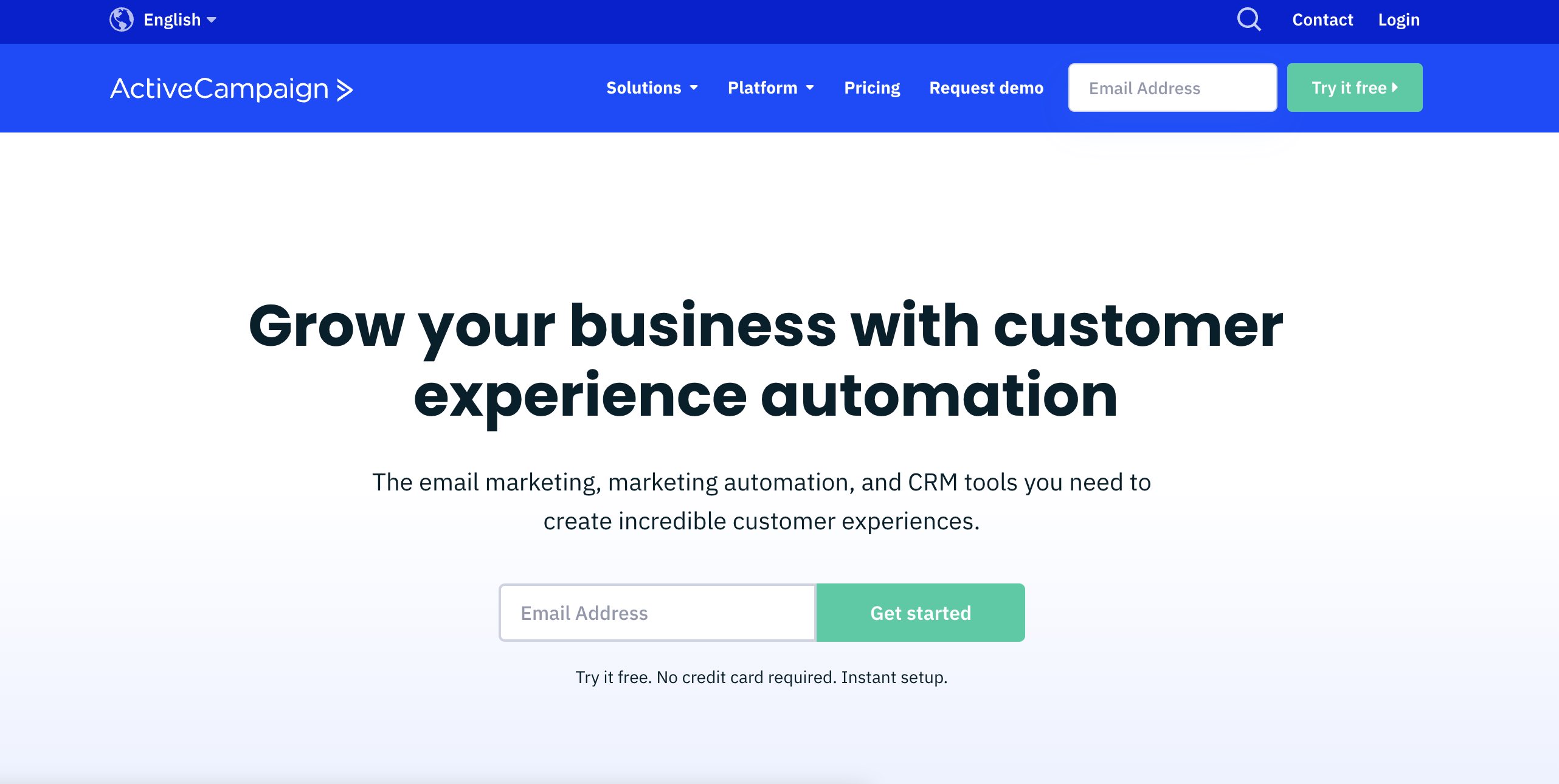 ActiveCampaign can help businesses streamline their email marketing efforts, create more targeted and personalized campaigns, and improve the effectiveness of their marketing efforts.
Key Features:
Automation: ActiveCampaign offers a range of automation tools that allow businesses to send targeted, personalized emails to their customers based on specific actions or behaviors. This can help businesses save time and improve the effectiveness of their email marketing efforts.
Segmentation: ActiveCampaign's segmentation tools allow businesses to create targeted email campaigns based on specific customer characteristics, such as location, interests, or purchase history. This can help businesses send more relevant and engaging emails to their customers.
Integration: ActiveCampaign integrates with a variety of external tools and services, such as CRM systems, e-commerce platforms, and social media networks. This allows businesses to easily track and analyze customer data from multiple sources, and to create more targeted and effective email campaigns.
Analytics: ActiveCampaign provides detailed analytics and reporting tools that allow businesses to track the success of their email campaigns and make data-driven decisions.
Price:
ActiveCampaign offers a free trial! Their Lite plan starts at $51/mo CAD—this includes both email and marketing automation tools.
So, who is the best digital marketing software?
Ultimately, the best software for a marketing agency will depend on the specific needs and goals of the business.
There are a wide variety of software options available, each with its own unique features and capabilities.
Some popular choices for marketing agencies include Agency Vista for an agency directory, Vista Social for social media management, Google Workspace for project management, and MailChimp for email marketing.
Create an account for your agency for free on Agency Vista today!