Content syndication has existed for many years and performed very much the same role as it does today. However, over the years, its nature had to undergo specific changes to remain relevant. As the elements defining great content changed, content syndication also had to evolve.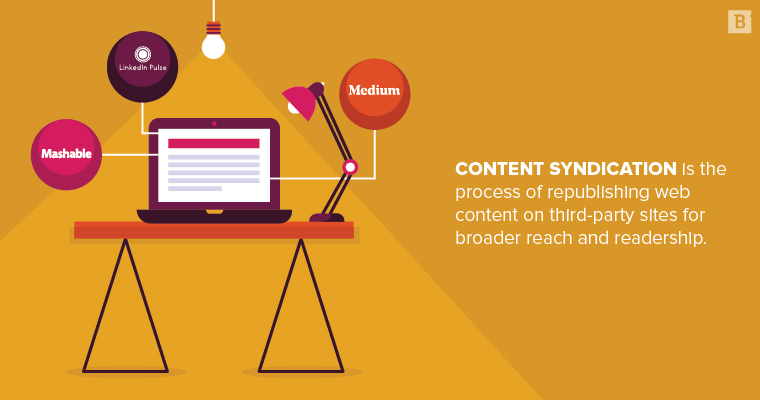 The task of a content marketer is to fill a variety of channels with high-quality, interesting, engaging content: groups in social networks, a blog on a website, a YouTube channel. But there are also guest posts on third-party sites, lead magnets, and others. Do you use syndication as a way to distribute content? If not, then it is worth thinking about it.
You might have many questions to clarify before getting started. Here at Agency Vista, we have decided to delve into the topic to learn more about content syndication, its pros and cons, and ways to syndicate content effectively.
What Is Content Syndication?
Content syndication is the repeated (full or partial) use of your online content (articles, videos, infographics, podcasts) for publication on other sites, third-party platforms, and social networks to reach a much wider audience. Usually, it means republishing the entire content piece, adjusting the content pieces to publish a cut version, or posting an excerpt from the original content.

It is crucial to choose the right platform to succeed. If you know a platform that generates millions of unique page views per month and regularly releases the highest quality content, you can turn to content syndication.
Almost every business has one or more benefits from content syndication. If everything is done correctly and for the appropriate audience, this is simply the best way to advertise. If you approach the matter wisely, you can significantly increase content visibility, strengthen brand awareness, attract additional traffic to the source site, and even increase sales.
Why Does Content Syndication Matter?
Have you written a high-quality blog post, but it went unnoticed? Have you drawn a gorgeous infographic, but no one has ever shared it? Have you spent six months creating a helpful white paper, but no one downloads it? The problem is that you lack a large audience to show this content to. Without an audience, content marketing is a waste of time and resources. But you can change the situation.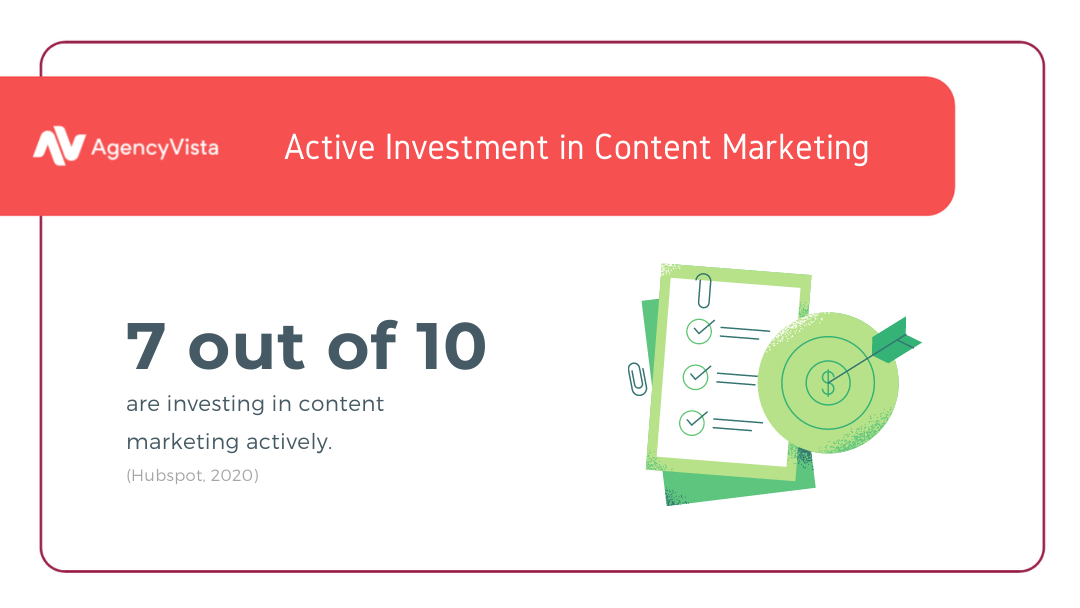 The main driving force is to publish content and ensure its delivery to your target audience. By using content syndication, you can rely on a third party that will allow you to get more value out of your content by placing it in front of your audience. This means that your content will get access to more users who are the type of people you would like to read your content. By expanding its reach, syndication can increase brand awareness and appeal to everyone. The more views the content gets, the better. As a result, you will get more traffic and conversions. And the links from a reputable website indicate a high level of quality of your content.
Content syndication can demonstrate what is perceived as the value of content and the actual value of content as a tool for attracting potential customers. It is one of the fastest and most effective ways to show business value in intellectual leadership.
Content Syndication Pro's
Content syndication offers many benefits, such as:
Multiple audience growth. If the article was initially posted "at home" and then appeared on a popular resource, you get additional coverage — users of this resource. Sometimes this is a much larger audience. And you can safely count on the fact that traffic to the source will also increase. And it will be of high quality and targeted (when choosing the right platform).
SEO benefits. Syndicating your content on third-party websites and getting high-quality backlinks can help you tell search engines that your content is reliable and trustworthy. You can get more backlinks and increase website traffic and strengthen trust and authority in your niche. This will help increase your domain's authority and increase the ranking of your content in the search.
Brand awareness. The beauty of content syndication is that it generates potential clients for you, forming readers' perceptions of your brand. Your ideas can be found on an authoritative site; therefore, you are an expert with whom they should contact, subscribe, or consult.
You will get additional "likes" and reposts on social media. If the publication is successful, you can safely count on a viral effect. A post posted on a top site will be happily "caught up" by social media users.
Content Syndication Cons
Despite many positives, there are still some downsides to content syndication:
Some syndication sites can destroy your reputation. Be careful when choosing a third-party website for content syndication. The platform should be trustworthy and relevant to your business. Some spammy syndication sites can destroy your online reputation if you decide to publish there.
Your lead generation might be far from great. Ideally, people should go to your site by following a link in the text or under the post, but often this does not happen. As a result, the audience has not seen much of your brand.
Syndicated content may impact your SEO. Syndicated content might be treated as duplicate content by Google and outrank your original content. But that is not the case if you include linking to the original post.
Content Syndication, Plagiarism, and Guest Blogging
After publishing on the web, the content becomes the common property of users. This makes it challenging to comply with copyright. In addition, the material gradually penetrates to different sites, so it is sometimes tricky for search engines to determine the source. Often, resource owners have to defend their authorship and protect the content from theft.
Do not confuse plagiarism and content syndication. These terms and processes are not the same.
Plagiarism is copying someone else's information without specifying the source, violating copyright, and breaching trust among the audience. For example, if you publish someone else's article, book, or other intellectual property product on your resource without specifying the author's name and links to it, then you are a plagiarist.
Content syndication is using someone else's content material on their sites, indicating the source. It is not an act of stealing content. It is essential to syndicate your content appropriately not to fall under content plagiarism.
Also, syndication should not be confused with guest blogging. Guest posting is the creation of material for posting on a third-party website. The principle of this method is to publish the text only on the partner's resource. It should not be on your site either.
The difference between these terms is that the first one is the entire or partial placement of the material on any sites that the source site permits. The second one assumes the publication of the article only on one resource and in full. Syndication of content requires less effort than other options since you do not need to adapt to the requirements of the partner site and create content exclusively for it.
What About SEO Risks?
There is the flip side of the coin to everything, and syndication is no exception here. Not all optimizers will enthusiastically agree to promote pages in this way. And this is partly correct because search engines have historically been fighting a fierce battle with duplicates. One wrong move — and decline of search engine ranking of the page, the content of which was clumsily replicated, can not be avoided.
Google will always show the version that it considers the most acceptable for users with each search query. This version is not necessarily the same as the one you would choose.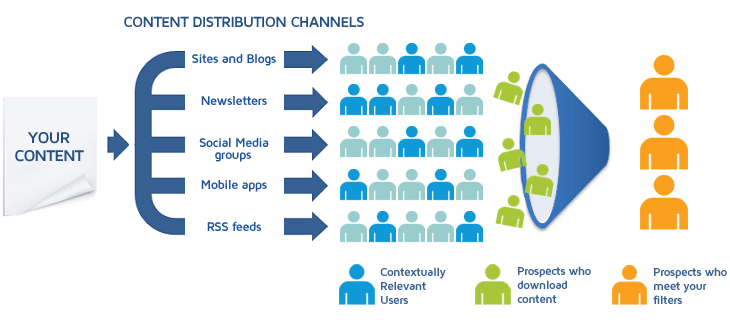 Most content syndicators do not require the authors to change anything other than the title, but some will want to review some content to avoid duplicate content. Do not forget to include the "rel = canonical" attribute in the title of the HTML document, add "nofollow" to the links in the syndicated content, and also provide the content with a note like "This content was originally published (publication date) on (site name and active link to the material)."
It may be tempting to get involved in syndication deals with sites that have a higher authority than you, but be careful. First, make sure that you have asked the syndication partner if they will link to your site appropriately and if they will use a canonical link. If not, remember that their page may have a higher rating than yours, even if you are the article's original author.
However, if you are careful about whom you partner with and how these deals are structured, you can protect your search engine credentials by gradually increasing your search engine traffic. This may be a slow approach to traffic growth, but it is also a healthier approach.
Free and Paid Partners for Content Syndication
Water does not flow under a standing stone – you need to look for syndication websites. And now, you can come across free, paid, and owned platforms.
Free techniques include a simple search in Google. Sites that take someone else's content write the same phrases — "source," "originally published on" – when referring to the author. Enter such queries in the search field and see potential sites for syndication. Lifehacker and HuffPost are a few examples of free syndication platforms. Pay attention to the niche, tone of voice, and target audience when picking up the best option for syndication.
Paid services like Outbrain, Taboola will charge you per click. However, these resources will help you get mentions in well-known media, even in The Guardian.
When talking about owned syndication, we mean sites like Medium, Reddit, LinkedIn. You are writing your content on your own, publishing it on these sites, and including a line "originally published on," and linking back to your original content.
Stages of Content Syndication
Create a portrait of a typical representative of your target audience to focus on the relevant audience only.
Select the platforms for content distribution. Pick up the websites with a higher ranking. Also, evaluate the size of the platform's audience.
Allow the publication of your content on a third-party platform to attract the bulk of users. After that, you should wait until the search engine analyzes the content. This can take up to a few weeks.
Analyze how syndication affected the ranking of the original content in the search. Google claims that duplication of content by syndication does not lead to pessimization. However, so that the search engine does not consider the syndicated content to be not unique, you should optimize the content properly.
Publish someone else's content on your website or blog. Content from recognized experts in your field is ideal.
Promote syndicated content.
Evaluate the results of the campaign. Determine which platforms and content types work best. Evaluate the cost of attracting new users, traffic to the site, the impact on brand awareness, and other parameters.
How to Successfully Syndicate Content
It is crucial to syndicate content right to avoid all the risks and negative impacts mentioned above. Below we have listed a few tips on how to syndicate successfully and achieve the best result.
Create high-quality content. Syndication of content will not bring you success if you do not write something worth reading. Be sure to create content that huge sites will love to publish. Your content should be relevant to your niche and resonate with your potential readers on these sites.
Choose the right platforms. In addition to choosing popular websites, consider syndication with those in your industry. This ensures that you place your content in front of potential customers who may become your customers. Also, adapt the syndicated content to the platform: change the title, add a new image, and others.
Build your credibility first through guest blogging. Do not make the mistake of getting involved in content syndication without strengthening your credibility. Contribute unique content to several websites with good domain ratings. Later, when you are ready to combine into syndicates, it will be much easier for you to turn to giant syndicate partners with a broad audience.
Use appropriate tags to prove to search engines that your content is not plagiarized. Opting for a rel=canonical or a meta noindex tag is the safest way to circumvent duplicate content.
Understand lead quality. Pay attention to engagement, qualification, conversion, and win rates to evaluate the results.
Do not syndicate all the content. Let some of the content be available only on your site — this will give readers a reason to visit it.
Conclusion
Content syndication is a precious strategy and one of the fastest ways to make your content work for you. Even at the earliest stages, it gives encouraging results if everything is done correctly. With content syndication, you reward your investment in content by showing it to an audience that appreciates its value and brings you profit.
Being an Agency Vista's verified agency, you can syndicate your content by republishing it on the Agency Vista blog as a guest post. Check out our guest blogging guidelines to reference and gain access to guest blogging opportunities.