Imagine if you could save 15 hours a week – well with Morphio you can. We all have experienced agency life – whether it's putting out fires or being pulled into meetings there seems to be less time to focus on execution. Campaign complexity has grown and it can be difficult to optimize effectively when you feel like you're spending more time pulling that data than acting on it.
In fact, Morphio conducted a report on more than 300 agency owners, and here is what they found:
60% say they make 6-10 mistakes a week
33% credit card / payment failures
31% campaign spend accidentally left on
29% dead, incorrect, broken links or forms
29% wrong targeting
28% broken tracking
27% campaigns over/ underspending
24% of ads were flagged or disapproved
We'd like to introduce you to a new way to work through Morphio – and the best part is that they're offering Agency Vista members a 14-day free trial + 25% off all pricing plans. Catch common campaign failures before they become more time-consuming mistakes. Think of Morphio as that early detection system similar to what antivirus software was to computers showing you what went wrong and allowing you to resolve it faster – which gives your team more time to spend on improving current campaigns and customer satisfaction.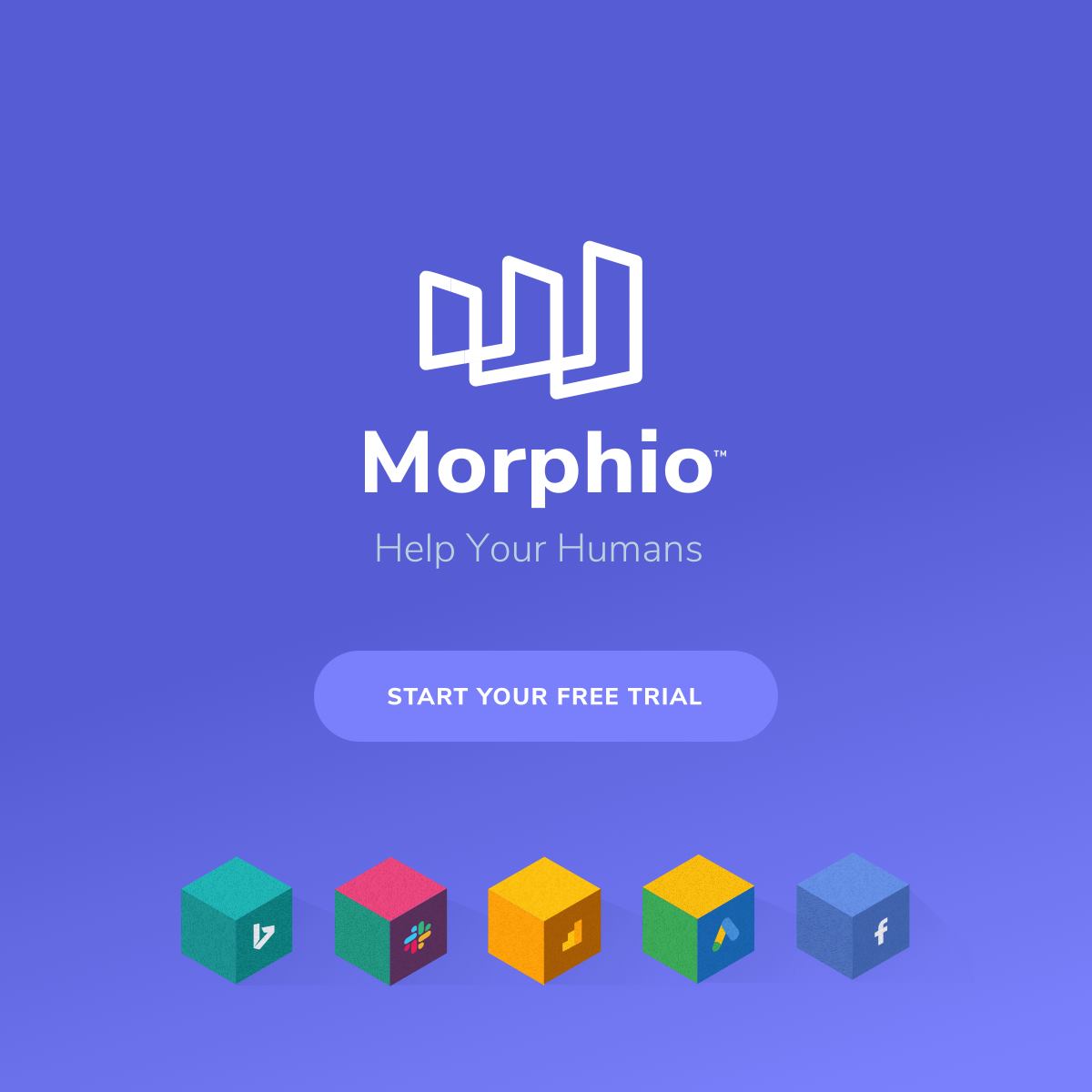 We were able to connect with the Morphio team to get more information on their product offering and how it can improve productivity for agencies. Let's dive into some of the insights they provided to us.
Q1: Tell us about Morphio?
Our mission is simple, to give marketers the freedom to be more awesome and happy.
When we scaled one of the fastest-growing digital marketing agencies in North America we knew that technology and AI more accurately had to be a vital piece of the puzzle. Adding more arms, legs, and smiling faces don't work any longer – there is just not enough time in the day for that 'old school' approach.
After trying every MarTech, agency, and analytics software on the market – we realized we needed to create a product that combined business goal tracking with 'live data' and digital marketing strategy. When our team focused on clients, solving problems, and being creative – rather than repetitive data tasks and analysis – they were much happier, productive, and our clients' results skyrocketed as a result.
We then learned that we needed to invent new ways to work – continually bringing data, our team, and our clients together at different times and for various reasons. Weekly calls, monthly face-to-face meetings, and quarterly reviews are not flexible or fast enough to win in today's digital world.
But, agencies by their nature are adaptive. They have to evolve to stay competitive continually and scale – so experimenting with different data flows and workflows should always be happening and not be a big deal.
So in a nutshell, Morphio is AI software that helps marketing agencies save time and scale faster. Agencies that deliver web, advertising, SEO, and social services should check us out! Morphio is priced to be affordable for small and scaling agencies.
Q2: What software category describes your product best?
Marketing Optimization on steroids.
Q3: What are the unique features of your product that set it apart from other services of this kind and how your customers can benefit from these features?
Anomaly Detection puts an agency on the front foot with data and performance – say goodbye to clients calling and surprising you with questions about data.
Our Competitor SEO Monitoring automates the thankless task of tracking your competitors' websites and SERPs. We actually capture your competitors' metadata changes so you can unwind their SEO strategies.
Morphio's AI can help forecast data performance for a wide range of KPIs. We found that human-centric forecasting is affected too much by mood, general outlook (optimistic/pessimistic), and hangovers. Morphio delivers consistent data-driven forecasts.
Q4: Describe 3 scenarios of specific problems companies often face and explain how your product can help them deal with these problems.
Lack of time
Time allocation is the one commodity where every agency struggles. Morphio takes the tedious robot work away from the humans so they have time to be creative and awesome. Anomaly detection is one of our best time-saving features. We deliver data when something unusual is happening so marketers can take advantage of opportunities or course-correct.
Mistakes
Probably often related to time, agencies make a lot of small errors that can quickly add up and damage or end client relationships. We quantified these mistakes by researching over 300 digital marketing leaders across North America and you can learn more here. A simple example that helps eliminate mistakes is our Page Health feature that alerts our customers if a landing page is down or has a technical error.
Scale
Growing an agency requires constant change and evolution. As an agency owner, you are well versed in hiring, training (and probably firing), but are still dreaming about cloning yourself. Morphio helps automate marketing data crunching and data-driven decision making so you can invest quality time with your team and clients.
Q5: What other software or services does your product integrate with?
Google Analytics is our required connection. We also connect with Google Search Console, Google Ads, Facebook Ads (including Instagram), LinkedIn Ads, Microsoft Advertising, Shopify, and Slack.
No developers or technical team members are needed and new accounts can be set up in a matter of minutes.
Q6: What devices are supported by your product (ie. Windows, Mac, Web-based, iPhone, Android)?
All of the above, as Morphio is a web platform with alerts across Slack and email.
Q7: Which languages does your product support?
English with multiple currencies.
Q8: Who are your typical customers (ie. Freelancers, Small Businesses, Medium Businesses, Large Enterprises)?
Marketing, Digital, SEO Agencies, and Consultants. We also have a growing number of brands that use Morphio but we are primarily focused on helping agencies scale with Morphio at this time.
Q9: What types of support does your product offer (ie. Email contact, Live chat, Phone contact, Training, Tickets)?
We have a Slack community, email, phone, zoom, etc.
Q10: What is the cost of Morphio?
You can get started with 10 accounts for $149 per month and as your business scales so does our pricing with 50 Accounts at $549 and 100 accounts at $999 per month.
Thank You!
A giant thank you to the Morphio team that shared their insights for our #FeatureFriday post. If you'd like to save 15 hours a week then Morphio is the tool for you – claim your free trial here.
This post is sponsored by Morphio. As always, all opinions and ideas are entirely Agency Vista's. They are an affiliate partner, which means if you purchase or sign up, Agency Vista may get something in return. Thanks.