With Black Friday and Cyber Monday just around the corner, the new Google product listing and discovery option could give eCommerce businesses the upper hand. Most sales are still happening online (due to the Covid-19 pandemic), most manufacturers and retailers are concentrating wholly on their digital product listings. They're looking to maximize all their content so customers get what they want from a few well-placed listings. 
Savvy marketers should adapt to this demand and familiarize themselves with the new Google Product Listing feature. As the largest search engine in the world, Google has become the go-to option for shoppers and information-seekers looking for various options. Many consumers look for local shopping options, while others look for nationwide gifting or shopping varieties. For this reason, and many others, Google remains the number one search engine for shoppers ahead of the holiday season.
Helpful Google Search Statistics for Marketers
Most Searched: Google is the most visited website with more than 90.51 billion searches this year. Most users visit Google for its excellent search engine. However, they provide several other features like Gmail, Google News, Shopping, and much more. Marketers and agencies need to remember that nearly 16.3% of this traffic comes directly from users Googling the term 'Google.'
Dominates: Google is the most dominant search engine, with roughly 92% of the world's search traffic in August 2021. It has a majority market share, with most other engines averaging below 3 and 4 %.
Most Searches Per Day: Google has the top searches per day with nearly 40,000 queries per second, about 3.5 billion searches in a day.
Mobile Google Searches: Google doesn't dominate only on large screens, but also smaller ones, with 63% of the US Google search traffic originating from mobile display devices. Marketers need to help audiences connect with brands faster. For this reason, it is necessary to use a platform like Google to help consumers carry out relevant searches from their smartphones and mobile devices. Many consumers who search from mobile phones usually look for information instead of complex problems or issues. Digital marketing teams need to capitalize on the friendliness of Google and its immense traffic.
Maximum Product Searches: Most consumers prefer searching for exciting products and services directly instead of going to individual websites and brands. They do this by entering keywords (related search words) in search engines. For marketers, ensuring all the content and descriptions have ample keywords is key to increasing user relevancy. Marketers can use Google Ads to promote products and services or SEO (Search Engine Optimization) to improve website footfall. Since most product searches start on Google, it is highly critical for marketers to ensure all the products have the correct keywords and terms. Nearly 63% click on paid search ads on Google than on other search engines.
As digital marketers and social media experts get geared up for the holiday push, it is crucial to understand the new Google Product Listing features.
What Are The Google Product Listing Features?
Google (in a stroke of genius) has announced an excellent range of tools (e-commerce tools) – Google product listing and discovery options. As digital marketers, it is necessary to understand the importance and relevance of these tools and factor them into the digital marketing strategy for the holiday push. Google has introduced business and product displays for retailers and businesses looking to attract newer customers before the holidays.
1. Fulfillment Options 
Google has added some excellent transport and returns tools (buttons) for consumers to view. These are in the Google Search and Shopping options available in free and paid listings for businesses. According to Google, shoppers can see the delivery dates (of parcels) with shipping annotations like dates of free deliveries, when shoppers will get their packages and boxes, and free shopping days with less or zero shipping charges.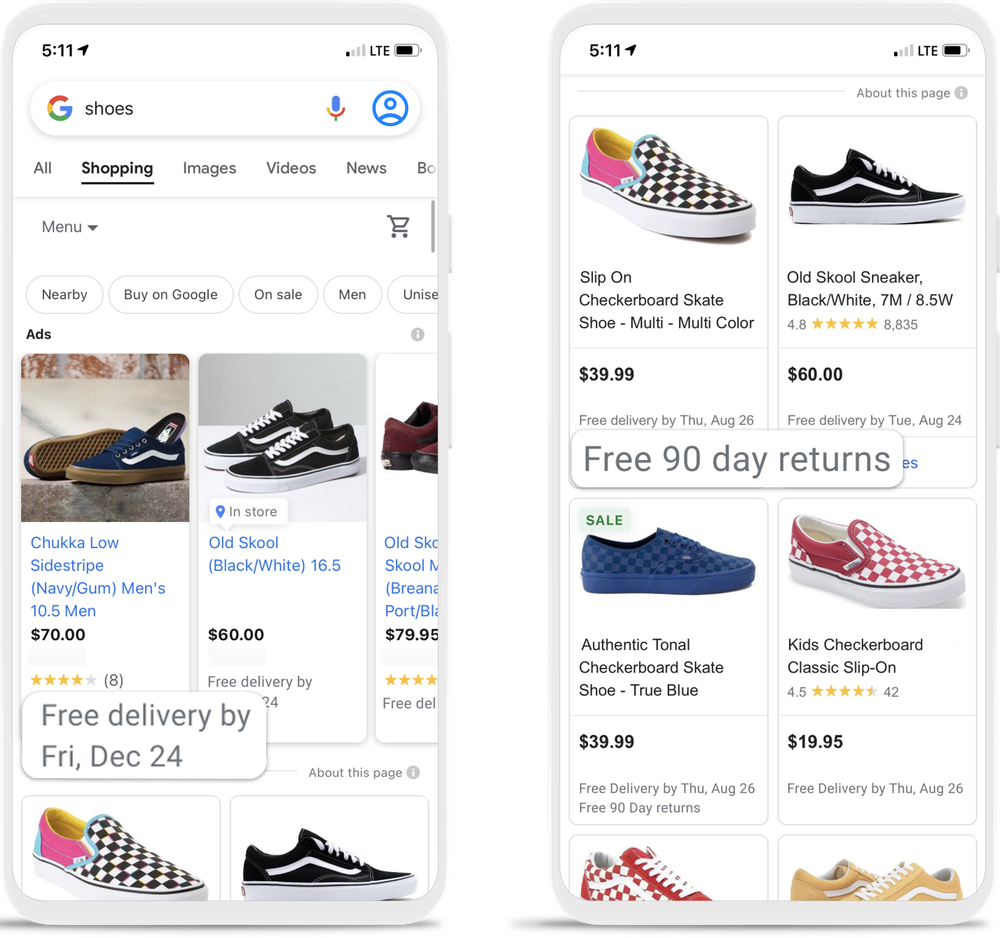 To help shoppers feel comfortable with return policies, Google also has special return annotations for extended return periods like 90-days returns or free returns till a particular date. Marketers can now highlight the holiday shipping and return options to shoppers in advance with the Google Product Listing option.
For many customers, these prompts and snippets of information are all it takes to click on a product, see the features, and make a purchase. Shoppers who get all the information beforehand tend to follow through on purchases and add to their online carts. They also click on relevant links, fill forms, and ensure higher conversion rates. The value addition and relevancy of the search with product listing prompts helps shoppers click-through directly to websites without going through shopping aggregator platforms.
2. Showcase More Products
The best part is that Google also has seamless syncing for products and services for businesses and merchants operating on platforms like WooCommerce, Shopify, and GoDaddy. Small businesses, mom-and-pop stores, freelancer businesses, merchants, and single-owner retailers can also avail of this feature for free by checking their eligibility criteria.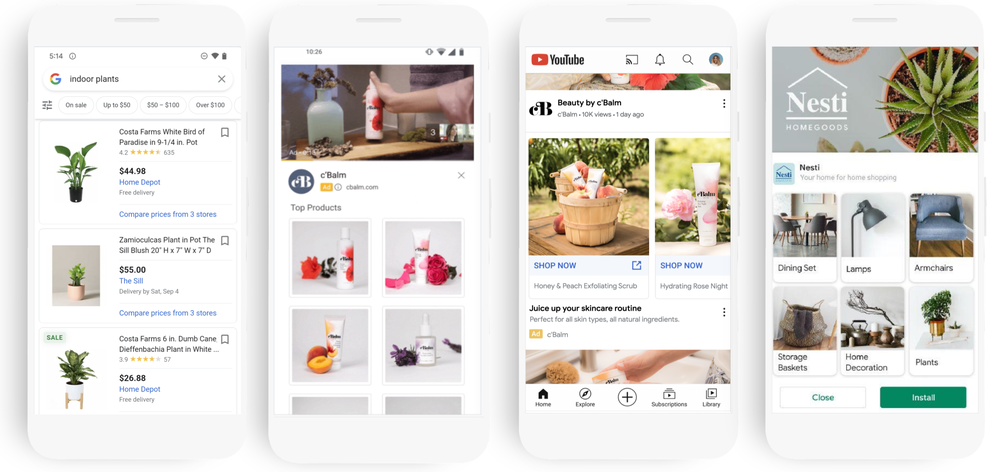 Additionally, Google has made unique product listings for merchants using YouTube videos to showcase their products and services. Merchants can easily connect their product feeds to App campaigns or Video campaigns to drive traffic to individual business sites. In the weeks to come, digital marketers and marketing agencies can link products to Discovery ads where customers explore their interests on various Google feeds.
The Google Product Listing Option helps businesses come out of the slump of the Covid-19 devastation and help reach shoppers directly through the search engine.
3. Connect With Shoppers
With Covid-19 restriction easing up slowly, most shoppers search for places that are open near them. Most users switch quite easily between offline and online shopping and prefer comparing ease of transactions, discounts, and other things before purchasing. If physical stores are finally open, most retailers will want to ensure that customers know about reopening the store.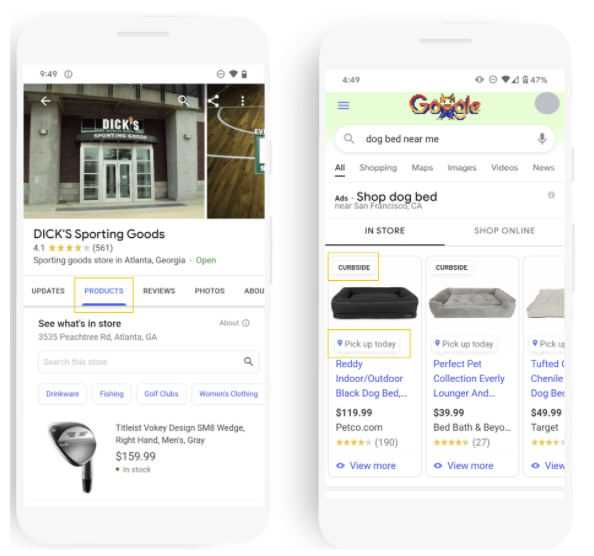 Google product listing options help customers understand which stores near them are open, have fresh stock, and where the discounts are the best. Digital marketing agencies need to make this information available to potential customers to ensure that their clients' Google Business Profile is up to date with store timings, safety measures, and in-store services. Marketers can also set up local inventories for businesses through the Manage Feature, upload the business logo, and create a local product inventory feed.
Marketers can also use the excellent Local inventory ads overview feature that helps show relevant ads to local customers accessing Google search to drive traffic to the store.
Another feature that Google has set up with their product listing option is the Local Campaigns feature to help promote the business to local shoppers. Ads can then appear across Google's online properties like Google Maps, Google Display Network, Google Search Network, YouTube, and more. Experienced digital marketing agencies quickly adopt these new features to improve brand recognition and visibility with target audiences at an exponential rate.
4. Automated Planning and Tracking Tools
Marketers need to make the extra push for their clients after the 2020 slump will be relieved with the automated planning tools feature that helps marketers focus on value addition and long-term profitability. The Performance Planner helps marketers create viable plans for business marketing spend on various Google platforms. It also becomes easier to manage multiple accounts, track the spending, and budget effectively.
The Insights Page helps follow trends that affect buyer behavior and patterns changes and let marketers adapt their strategies accordingly.
Since businesses need the best marketing strategies, marketers must adopt the new Google Product Listing Option to help maximize profitability, value addition, and benefits clients. Ensuring the client gets maximum visibility and sees excellent conversion rates is needed to guarantee potential customers seek the client brand and its products and services.
Consumer Trends Ahead of The Holidays
Marketers should expect that the financial positions of most people recovering from last year haven't improved much, and they will probably consider purchasing items at discounts. According to the Deloitte Holiday Retail Survey, various income groups have been affected adversely, drastically changing spending patterns. Since consumers cut back on experiences and travel, non-gift purchases benefitted from entertaining at home and gifting online vouchers, home furnishings, and non-gift clothing.
The Deloitte survey suggests that nearly 49% of people prefer to return to their pre-Covid shopping habits but are affected by financial restrictions.
One major trend that will be seen in 2021 is that shoppers will continue ordering online for the product ranges, pricing benefits, and convenience that online shopping offers. In 2020, gift card spending rose exponentially.
3 Crucial Consumer Trends For 2021
1. Consumers Are Spending More From Mobile Devices
Consumers are also spending more time on their smartphones and mobile devices than laptops, desktops, and tablets. For this reason, digital marketing agencies must ensure that all social media pages, websites, products pages, and service landing pages are mobile-optimized for user ease.
2. Consumers Like Free Shipping and Holiday Discounts
Consumers are attracted to offers with free shipping and product discounts. Depending on the purchase, these discounts could either be a percentage of the total bill value or a dollar amount. Free shipping with a minimum order is also quite popular with consumers. Marketers need to ensure that all deals and discounts are visible to consumers in the Google Product Listing Option. 
3. Consumers Prefer Online Shopping During Holidays
Festive shoppers, conscious shoppers, deal-seekers, and efficient shoppers all prefer shopping online in a contactless, more efficient, and convenient manner. Since 65% of consumers prefer shopping online to avoid large crowds, marketers should ensure that all products and services are listed for ease of use and purchase.
Benefits To Google Advertising To Marketers
Google Ads or Advertising (formerly known as Google AdWords) is a marketing tool from Google for businesses needing to get a good content copy in front of target audiences. Marketers help companies set up Google Ads Accounts for a Google Ad to display on the website as part of the SERP for higher rankings and relevancy.
1. Increased Customers and Leads
Marketers advertising on Google bring in higher quality and relevant leads and potential customers for their clients and businesses. Setting up excellent marketing campaigns with Google advertising allows people to search specifically for the information, products, or services they need. Digital marketing agencies continually refine the advertising strategy on Google to bring in people who want to buy the business' products and services.
2. High Return On Investment (ROI)
Google makes businesses pay only for ads that are clicked on and followed through. This means that companies get to save money in the long term and not pay for all ads. Doing this leads to a high Return On Investment (ROI). Using Google advertising to optimize the marketing strategy helps identify, test, and track successful marketing campaigns. Marketers that understand the need for excellent advertising always ensure they have included Google Ads in their strategy. Google Ads also provides data and metrics and a tracking and analytics section to help with information and data consolidation and gathering. Some of the information is critical for calculating ROI, like keywords selection and entered, the cost of each click, the number of ads clicked, popular ads clicked, etc.
3. Increased Conversion Rates
Marketers that use Google Ads for the brands see higher conversion rates. The reason for this is that businesses bid for keywords with the highest intent to purchase. People who click on ads on Google are more than 50% likely to make a purchase. Most people searching for something to buy on Google, with the highest keywords, usually make a purchase. Marketers who help their clients bid on such keywords see a remarkable increase in conversion rates, which leads to higher revenue.
Since Google provides metrics and data about audiences and visitors, marketers can easily remarket the strategy and content to people who click on the link or keywords but do not purchase. Remarketing campaigns help reinforce the intent to buy and also bring about great conversion rates. Experienced digital marketing agencies usually plan for remarketing campaigns to help speed buyers' decision-making process with retargeting strategies.
4. Understand the Audience
Most marketers start making strategies based on buyer personas and target audience demographics. While these are incredibly effective ways to start the campaign and build a brand around it, the plan must be evaluated. Marketers who understand their respective audiences can help the brand connect with the masses much better than those who do not. Advertising on Google helps marketers analyze buyer habits, their personas, and requirements.
Understanding these critical aspects about potential customers makes it easier for marketers to tailor audio, video, and written content that appeals to buyers. Understanding the audience also helps marketers deliver the correct kind of content. Refining marketing efforts, changing content, using different strategies, and more is possible only by understanding the audience. Advertising on Google helps with the Insights on audiences. It helps get information about the most used keywords that customers prefer using, customers' locations, devices used to perform the search, the number of times the keywords are searched, and the time of the day and week that they search.