Scaling your businesses growth on your own can be challenging – we get that so we have put together 5 signs it's time to hire a marketing agency. Whether you started your business because you're a passionate creator, freedom seeker, legacy builder, or struggling survivor – managing your digital marketing in an era of constant change with limited resources can only get you so far.
Sure, you may still be generating leads using only one platform – but your audience most likely lives on all of them and limited resources can obstruct building your pipeline. More importantly, your audience behaves differently on each platform. That's why you must keep your message consistent and spread it wide as you adapt to the changing digital marketing landscape.
The good news is, an agency has access to advanced tools matched with the scalability and flexibility to grow your business. Let's dive in to the 5 signs it's time to hire a marketing agency.
Sales Are Stagnant
If you've done your market research and are confident in your businesses product or service – then it may be ineffective marketing. Sometimes small businesses and startups focus more on business development than marketing – just because you paid for an ad and threw together some copy doesn't always mean it is going to resonate with your audience.
Most agencies offer a free consultation or assessment of your marketing or advertising to show you where it could be improved and how they can assist with that.
Marketing Isn't a Priority To You
As mentioned before, if you're running a small business or startup you may be focusing on business development and the day-to-day operations. Marketing is not something that someone can pick up and dedicate a couple hours to each day or week and see success. Marketing techniques that used to work no longer do, so new techniques are always evolving – especially in digital marketing and advertising.
Agencies work with many different businesses, and most likely have worked for a business similar to yours. What this means to you is that they'll understand your needs and will know how to fulfill them. They have the experience and proven processes in place that makes it possible for them to produce high-quality work that meets both your deadline and your budget. You won't have to worry about the operational side of things, this will be taken care of.
Unqualified Leads Are Being Generated
Assuming your salespeople are skilled and hard-working, it could be that current marketing efforts really are producing few leads or poor-quality leads. There's nothing that noticeably boosts the morale of your team more than seeing a waterfall graph headed upwards in the right direction, but as you've surely heard countless other times throughout your life; it's about quality. It's tough to take this approach in regards to your lead generation, as we're inclined to always value quantity, but it's the quality of leads that have a real impact on your business. A good marketing agency will learn about your sales process and integrate their marketing with your sales team.
There Is Budget Restrictions
One of the many great benefits of partnering with an agency is that when you have a strict deadline, you can scale, add skill and experience to your team almost immediately; whereas according to a survey conducted by glassdoor, the average hiring duration takes 23.7 days. And according to the Neuvoo salary checker, the average salary for a digital marketing job is $58,500. This is only for one person, so imagine having 5-10 people to hire for a full team of specialists.
Most agencies charge a small percentage of the marketing budget you have allocated. This can allow you to get the most of your marketing spend with an efficient and effective digital marketing team. Agencies have experience with clients in every industry and know what works for each on every platform. When bringing a full in-house team, it can be difficult to find people that have experience in your niche. It is a far more cost-effective solution to partner with a marketing agency.
Limited or No Reporting Insights
Today, even the average Internet user has access to a massive amount of information that can help them make the right decision when it comes to choosing products, brands, or offers. If you suddenly experience an increase in website traffic, phone calls, or new leads, do you know where they're coming from? If not, you're likely wasting your time on ineffective marketing strategies and squandering potential opportunities for even greater success.
How are your marketing efforts contributing to website traffic, leads and customers? If you can't answer that question, let a marketing agency answer it for you.
How Do You Find The Right Marketing Agency?
Agency Vista has 40,000+ agencies who can help! Explore our global marketing agency ecosystem of businesses that can work with you to scale your growth. You can discover top-performing agencies from around the world through our free shortlist that highlight platform marketing partners. We have implemented numerous ways to narrow your search – there is also a quiz that can match your needs to the perfect match. Search by expertise, location, budget size, and many more filters which enables you to connect with a company that best suits your business needs.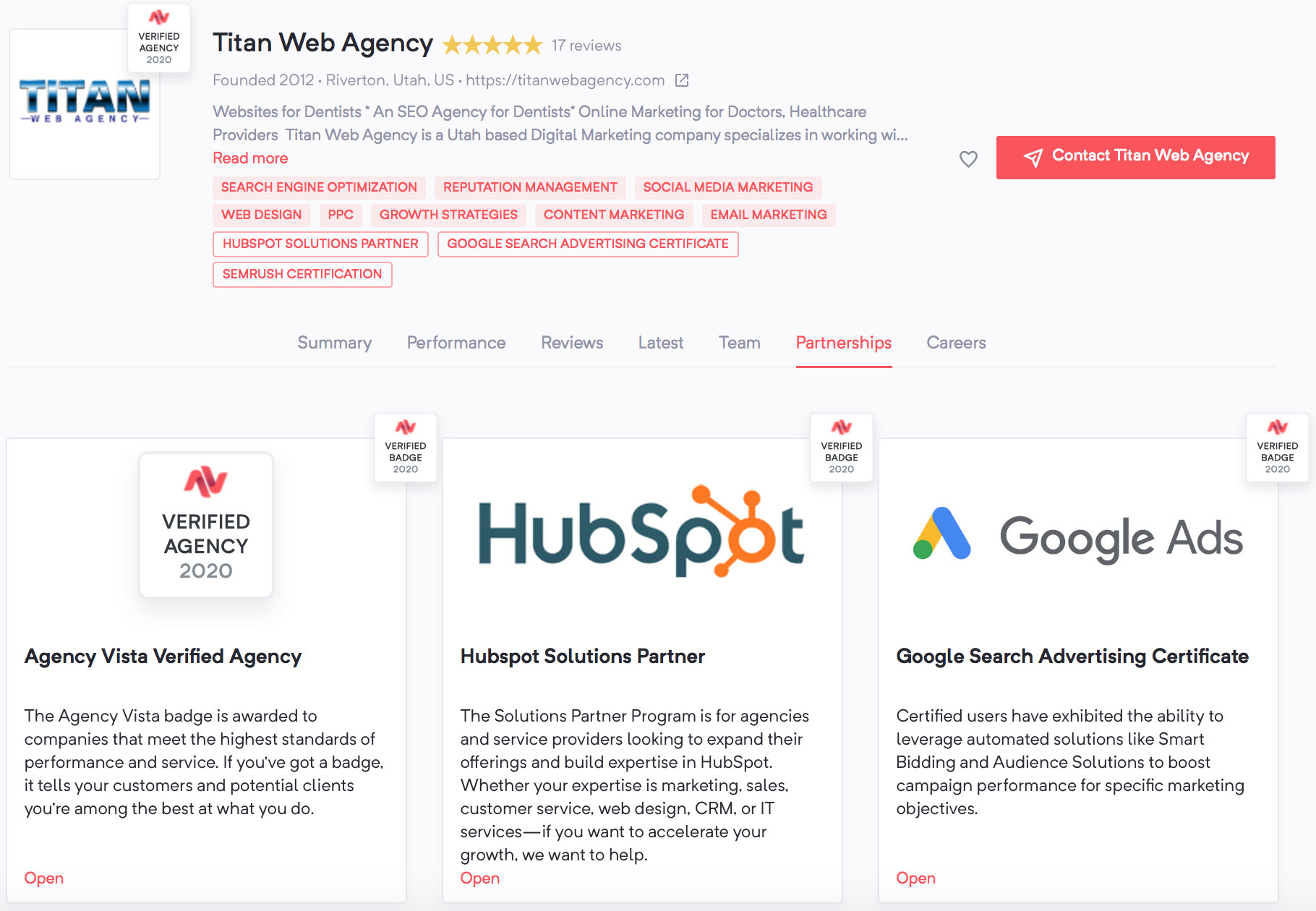 It is important that you search through Agency Vista's network to verify that a company is actually a marketing partner. Some companies will post the certified marketing partner badge on their website without having verifying this information.
If you're looking for skill diversification, cost efficiency, and scalability, then hire a marketing agency to grow your business and improve your marketing results.