Content marketing has been around for countless years. But, with more businesses increasing their online marketing budgets and shifting their focus to digital — we learned that many people are just getting started on scaling their content marketing efforts. For those in that category – or those who encounter misperceptions or misunderstanding about what exactly it is – Agency Vista's has put together a quick rundown on how to explain content marketing to anyone.
Content marketing has become a buzz phrase, not unlike "inbound," "SEO," and other words thrown around by digital marketers. Stephen Moyers of SPINX Digital said it best, "perhaps because of their relative newness – these words tend to be used as blanket terms that describe a laundry list of things. For example, content marketing is often used interchangeably with social media."
In passing conversation, this might not be a big deal, but if you make generalization mistakes when creating a content marketing strategy, it can negatively impact your success. So, let's dive in on how to explain content marketing to anyone!
What Is Content Marketing?
Content marketing is simply sharing informative content that is relevant, useful, and interesting to your existing and potential customers. As a marketer, you must understand the need behind content marketing. Just making a strategy, creating blogs and websites, and setting up a schedule isn't enough. There is no point in creating any type of content (written, audio, video, pictures/images) if it will not be helpful or relevant to the end customer or client.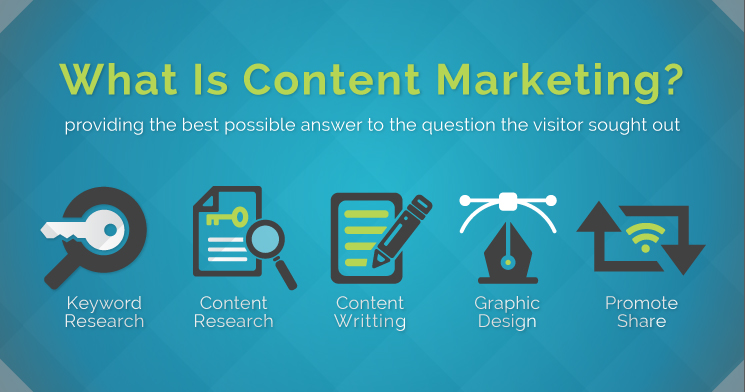 As a content marketer, you help improve the quality of life of all your customers by giving them content that needs to improve their lives and set your client up as an authority figure or a leader in the market. The brand that you are helping to market (either directly or indirectly) should help clients cross the knowledge or awareness gap. At the end of the day, clients who rely on your brand to find solutions will always return. This is called brand loyalty. With brand loyalty, the brand image and awareness increase. Content marketing helps brands and businesses grow from small scale to large by helping reach target audiences and potential clients. 
Content marketing, simply put, is consistently publishing content that is useful to your audience. This content can be awareness-based, need-based, or want-based. Brands act like publishers and create and promote content to attract visitors to their own sites. They answer questions, generate interest, and meet the needs of customers through content marketing.
As a content marketer, it is essential to view content marketing as a powerful financial asset. Your efforts help businesses reach new customers, engage with them, and convert them using keywords and strategically created content. Content marketing helps bridge the gap between what the audience wants and what brands produce.
Content Marketing For Marketers
By now, it is clear that content marketing is not really about the brand – its products or services. It is all about the customer. The entire content marketing and strategy should be based solely on what the audience wants. The content that you, as a marketer, publish online via social media marketing sites, video, and written blogs, should benefit the audience at all times.
This content should be unique, should help audiences connect emotionally, and should create a lasting impression. Many brands sponsor posts and video advertisements about social causes like gender equality, equal pay, animal rights, and many more, hints that their products and services can help. Ads and content like these help create lasting impressions in the minds of the audiences. Any content that creates empathy in the audience is bound to be a success.
As a marketer, it falls upon you to create content that answers specific questions and provides information that they cannot get elsewhere. Once you can show the viewers that your brand is a credible, authoritative source on close and relevant topics, you will earn the loyalty and trust of the people.
When asked about content marketing, you should always tell people that you are responsible for creating worthwhile and meaningful experiences in people's lives. The content you market helps make a positive impact on society and affects changes in mindsets. Content marketing is different from regular sales and marketing because it includes multiple things like entertainment, webinars, educational articles, reviews, referrals, e-books, videos, and more. By earning customers' loyalty, you can help advocate the importance of the brand while increasing the customer base and, eventually, the client's profit margin.
Content Marketers For Families
When you need to explain what you do to your family, always think of it as an elevator pitch. You know – the famous one where you have only a few minutes to speak and impress the other person? Put forth the best points of content marketing in front of your family members, explain your role and what you do. Content marketing helps businesses gain new customers through online, newsletters, email, video, YouTube, and other sources. Creating and making landing pages, articles to read (give some examples about animal posts), or digital ads, and explain how this type of content affects and influences buyer behavior and choices.
Another excellent example of strategic content marketing is the website Baby Center, a blog that discusses topics around parenting, nurturing babies, pregnancy, post-partum, and contraception. It is trendy and considered the go-to site for all things parenting. This site is owned by Johnson and Johnson and helps strategically place their baby products throughout the site.
Why Do Marketers Put In The Additional Effort For Content Marketing?
1. To Target The Right People/ Audience
People always ask questions on search engines like Google. As a marketer, you have to ensure that you provide people with relevant, valuable information that helps them in the long term and that your content is ranking for the terms your target audience is searching for. To do this, you should ensure that your content consistently ranks high on the first page of Google's search results. This is done through Search Engine Optimization (SEO), SEO is no longer only for search engines — it is also used for search criteria on social media sites like Facebook and Instagram. Most of these high-value sites have their own search algorithms for people needing solutions to their issues and queries. 
As a digital media marketer, you would have to answer questions via posts, e-books, emails, videos, written articles, and other online content. The more information you provide relevant to the audience and the brand, the better the business will rank. Doing this also shows audiences that you are willing to connect with the masses and can answer and solve queries. Showing up and answering these queries, making relevant hashtags, constantly staying updated on new viral videos, memes, trends, and other happenings on social media is just the first step in a long way.
2. Build An Engaged And Interested Audience
The quality of the content matters. When you expect potential customers to follow your brand, you must provide them with relevant and valuable content. If it is useless content that does not fulfill their needs and requirements, it will not be remembered. To create loyal followers, get subscribers, and create a customer base, you will need to provide good quality, usable content daily. Once you have created a pool of potential clients, you can gather valuable customer data and insight, follow buying patterns, and incorporate them into the content strategy.
Insurance company Liberty Mutual Insurance has started a blog with helpful tips for home and business owners about safeguarding their property and assets. This blog helps people solve life and home challenges, build valuable skills, and be prepared for emergencies. The purpose of this blog is to create awareness and help people with everyday issues that can save their lives. The content is not insurance-focused and instead is help and need-based for the general audiences.
3. Attract New Customers
Most digital marketing agencies have KPIs (Key Performance Indicators) that they have discussed with the client to assist in scaling their growth goals. Content marketing is a compelling driver and motivator to accomplish these goals. As a marketer, you must generate interest, awareness, and trust for the brand and its products and services. Audiences will only buy the products and services when there is loyalty and trust. Content marketing works to create and maintain this level of confidence.
There have been instances when customers have been unhappy with products or services. Still, with prompt feedback and communication lines, a particular interest, and quick action, these discontented customers come back as returning customers only because of the level of service they have received. 
4. Retain Existing Customers
Businesses use content marketing to create loyal customers and increase revenue with alternative streams of buyers. There is a potential to increase revenue through cross-selling and upselling. Some brands have started monetizing themselves with the help of excellent content marketing and product placement. 
If for example a social media scheduling tool has an awesome resource section that is continually keeping your business up-to-date on trends — then you will most likely use that site over a competitor without a resource section.
What Are The Business Advantages Of Content Marketing?
Content marketing is an organic, sustainable way to create a niche in the market. It requires strategic thinking, planning, designing, and executing for an excellent widespread content structure. Relevancy of the content, market penetration, buying patterns, growth, and awareness – all matter in the long term. Content marketing helps get the brand recognition ball rolling, which creates a snowballing effect as it reaches greater heights of awareness. This awareness leads to creating new leads with high conversion rates. The brand presence becomes profound and impactful, and the brand starts getting positioned as an Authority or thought leader.
Insightful, well-written content helps address the pain points and needs of potential clients and customers. Most businesses prefer making advertisements about their products without creating awareness in the market (since this process takes time). Content marketing helps in eliminating over-exposure and brand fatigue in multiple ways. Customers should not be bombarded with advertisements and videos. Instead, they should be serenaded through numerous ways to create a long-lasting positive impression.
Content Strategy: Why It Matters?
With the Covid 19 pandemic raging since 2020, most digital marketers have had to redo their content strategies. The pandemic has forced a change in buyer behavior, and brands have adjusted and improvised accordingly. Content strategy has always been the backbone of a successful content marketing plan. With a sound strategy, market penetration and expansions are achievable.
Tips for Creating a New Content Strategy as a Result of The Pandemic
Redefine your Mission, Vision, and Business Goals
Since most people work from home, safety and social distancing are now priorities. As a content marketer, you must communicate these new goals to your existing customers. You should analyze who your primary customers are and how you can help them with this challenging time in their lives. 
Understand the Customers
You should change your strategy according to the buyer's behavior, patterns, and challenges. While demographics do matter greatly, answering customers' needs in this challenging time will help maintain a positive brand image in people's minds. 
Priorities
Based on past audience preferences, you should chalk out a new plan for emergencies, lockdowns, safety processes, and protection against the virus. Content formats and channels, relevant content, and constant communication with customers and clients will help retain brand loyalty and customer support. Prioritizing health and safety, the value of human life, and helping positively will work in favor of the brand at all times. 
Plan the Details
This is the time to plan out all the minute details. As a content marketer, you will have to rely on past data future projections to develop new target audiences, keywords, SEO, promotions, social media usage, and fresh budgetary allocations. You may also need to re-check industry events and rollouts for new products and services. Creating a detailed publishing strategy and planning for the posts and feedback mechanisms in advance will help immensely.
Execution
Always keep a contingency ready in case the initial strategy does not work according to plan. Having a backup system in case of emergencies is always a good idea. 
Final Thoughts
As a digital marketer, explaining content marketing can be slightly challenging, especially to people who do not understand the direct and indirect benefits they see daily. Content that is entertaining, useful, fun, and shareable can be scalable to great heights. You should always mention the business benefits and the scope of the work that is done daily.