Although Google likes to keep marketers on their toes with the frequent updates to its algorithm, one thing hasn't changed much from previous years — the need for researching relevant keywords. This is the process of analyzing the terms that people enter into Google and the other search engines.
The most common goal of this analysis is to use the data for SEO. Proper keyword research can tell us all about which keywords to target, how popular they are, how difficult they are to rank for, etc.
Why Does Keyword Research Matter?
Search engine optimization (SEO) has changed a lot over the last decade, and you'll often hear SEO professionals talk about how keywords are no longer that important to your website's ability to rank well.
This is true to some extent, as trying to match people's search terms exactly is no longer the most important ranking factor. In 2021, it's essential to figure out the user intent behind the search. In fact, 70.87% of keywords with more than 10,000 monthly searches consist of only one or two words. (Ahrefs)
When done correctly, keyword research shows you the topics people care about and how popular these topics are for your target audience. By finding the search terms with the highest search volume, you can find the topics that you should create content about. More on this a bit later.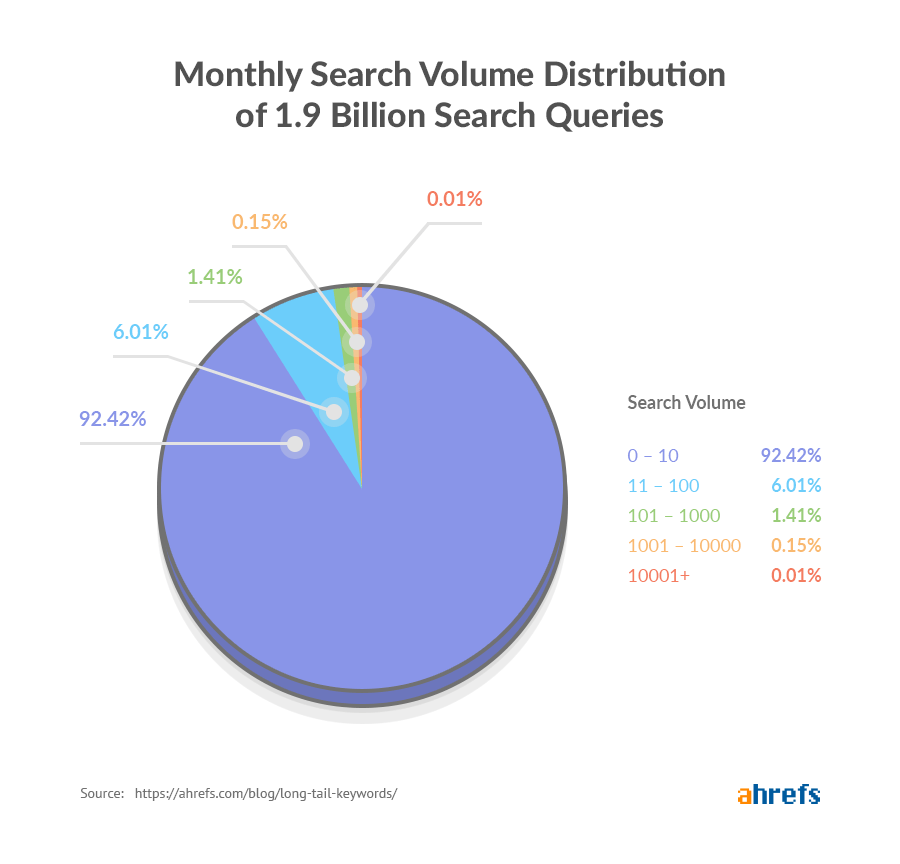 In other words, by researching keywords, you can find the questions that the people in your target demographic want answers for.
Guide to Finding the Best Keywords for Your SEO Strategy
Below, we've outlined a step-by-step guide to researching keywords. Following these steps should help you find a list of terms to target for your website.
Hopefully, this will allow you to build and maintain a robust keyword strategy, directing users toward you when they search for topics that are relevant to your business.
1. List the Most Relevant Topics Associated with Your Business
The first step in this process involves thinking about the topics you want to rank for, in the most general terms. You should be able to come up with five to ten categories you consider the most relevant to your business. You will then use these categories to come up with more specific keywords in the next step.
If you keep your blog updated, these will be the topics that your blog most frequently deals with. They could also be topics that come up most often in sales pitches and in the conversations you have with your prospects.
Try to place yourself in your audiences' shoes — what general topics do you think your buyers are searching for. If you were a web design and branding agency, for example, these might include things like:
"SEO" (216K)
"social media marketing" (76K)
"web development" (90K)
"branding services" (23K)
"email marketing" (44K)
"blogging" (56K)
The numbers in parentheses represent the monthly search volume of each keyword. This number is crucial because it allows you to determine how important each of these topics is to your audience. It also helps you decide how many sub-topics you should create to achieve success with a particular keyword.
2. Identify Specific Keywords Related to These Topics
Now that you've identified the general topics you want to focus on, it is time to find some specific keywords that belong to these categories. Think about what specific search terms your customers are likely to use, as these keywords will help you rank in the search engine results.
For example, if you look at one of the topics we mentioned in the previous step — web development — you can find some keyword phrases that might specifically apply to your company. These might include:
Web development tools
Web development agencies
What is web development?
Top web development tips
And so on. This step aims to come up with a rough list of phrases your customers may use so there are no wrong answers. You'll narrow down the list later, so don't worry about any terms that might seem unwieldy at the moment.
Another good strategy is trying to find out which keywords your website is already ranking well or at least getting found for. Website analytics software will come in handy here, so something like Google Analytics is probably your best bet.
Find the traffic sources of your website and dig into the organic search traffic to find the keywords that lead people to your site.
Finally, if you're having a hard time coming up with relevant keywords, you can always reach out to your sales team or customer service representatives. These people interact with your customers daily, and they should be able to give you a set of terms their prospects use in these conversations.
3. Do Your Research with User Intent in Mind
As we said in the introduction, user intent is now one of the most critical factors for ranking well on search engines.
A few years ago, it might have been enough for your site to carry the keyword that the searcher used. Today, it is essential that you address the problem that the user intended to solve when they performed the search.
This affects your keyword research in several ways.
First of all, you can't necessarily take keywords at their face value anymore, as they can have different meanings depending on the context. You need to be extra careful when interpreting your targeted keywords.
A creative way to identify a user's intent with a keyword might be to use the term in a Google search yourself and see what comes up. Make sure to create content closely related to the type of results that the algorithm has ranked highest.
4. Pay Attention to the Related Search Terms
You might have thought of this step when creating specific keyword terms in step two. If you haven't, don't worry, it is not too late.
Basically, this is a way to come up with more keywords that your audience might be searching for on a particular topic. To do this, simply look at the related search terms that come up near the bottom of the page when you type a phrase into Google.
These can get your creative juices flowing and spark some excellent ideas for other phrases you might want to consider. As a bonus, go one step deeper and look for the related search terms for a few of the best terms you found on the first try.
5. Use Keyword Research Software Tools
Google Analytics is not the only keyword research tool you can use, although it is an excellent start. SEO and keyword research tools such as Ubersuggest, SEMrush, and Ahrefs, can help you develop even better keyword strategies.
Using one of these tools could give you a more in-depth insight into your data and show you some alternative paths you might not have considered.
Whatever you choose to do, make sure to re-evaluate your strategy every few months. As your search engine authority grows, you'll find that you can add more keywords to your lists and boost your online presence.
Author bio:
Tomas is a digital marketing specialist and a freelance blogger. He is focused on new web tech trends and digital voice distribution across different channels.