Have you ever noticed that when you visit your favourite websites that the content and text will interact with you? If you're a frequent online shopper you may see this when you log into a site and it says "Welcome back [name]!" or the site has suggested products you may like. These are examples of companies that utilize smart targeting to enhance their user experience.
Smart targeting is a form of personalized marketing that delivers individualized content to recipients through data collection, analysis, and the use of automation technology. Serving the right message to the right customer (at the correct time, on the best platform) makes your message resonate that much more.
According to a survey by Infosys, 86% of consumers say that personalization has some impact on what they purchase; and one quarter admit personalization 'significantly influences their buying decisions.
Here, we're going to go over what smart targeting is, and how businesses are using it to connect and grow their audiences.

What is Smart Targeting?
Smart Targeting predicts the interests of internet browsers using artificial intelligence (AI). This technology then uses those predictions to provide relevant content offers. Using smart targeting gives your audience a more personalized experience and allows you to grow your reach.
Through smart targeting you can incorporate smart content, this will display content based on previous data collected from your site visitors. For instance, you might create a smart form so your website visitors don't have to answer the same question twice. An example of this is when a pop-up has a question but also includes a box that says 'remember my decision'.
Other smart rules you might find in a CRM include:
Device Type: This smart rule lets you set the medium your content is viewed in (ie. mobile, tablet, or desktop).
Referral source: Based on how visitors on your site found it, this will formulate your content based on whichever site they came from.
Preferred language: With this rule, the user can view web page content based on the language set in their browser.
Lifecycle stage: This will display relevant content based on the lifecycle stage of the contact.
Next, let's explore some examples of smart targeting.
Examples of Smart Targeting
1. Wayfair
Recently I was looking on Wayfair for kitchen barstools. During Black Friday, I received a targeted email with the subject line emphasizing the last item I viewed. For instance, check out this email I got from Wayfair: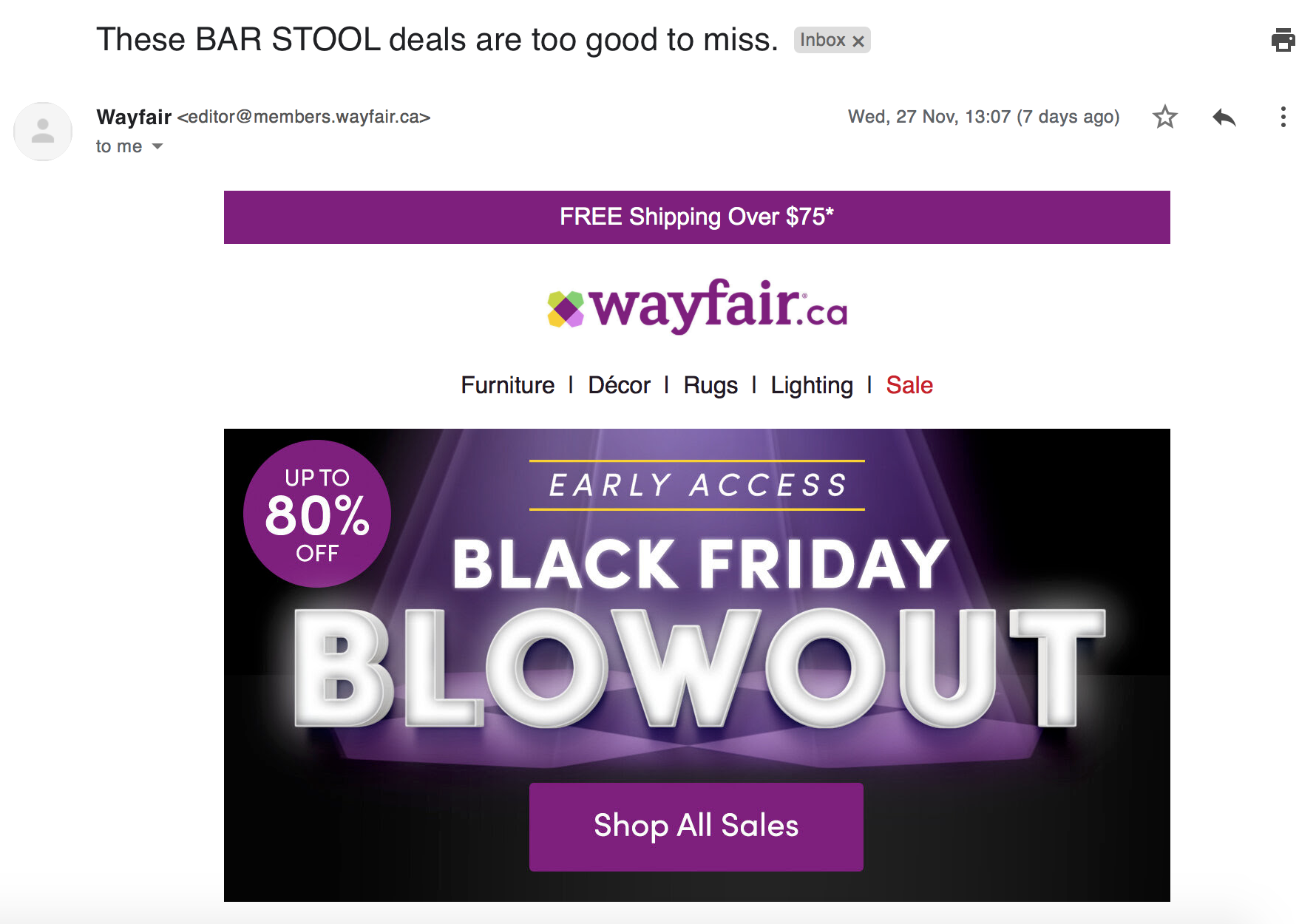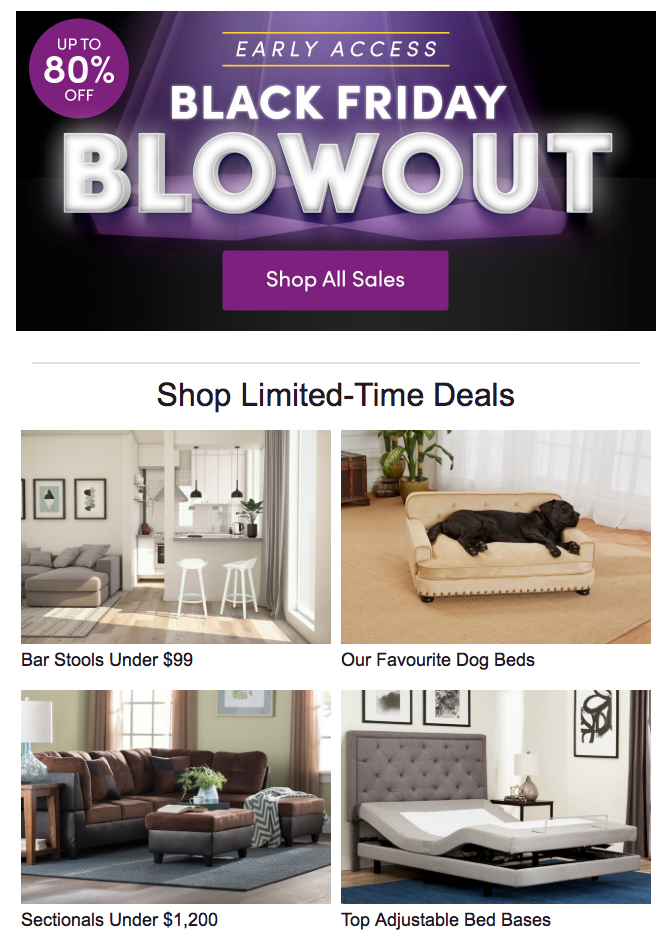 When I opened the email it showcased previous products I have looked at or saved on their site. This is a great example of smart targeting analyzing my browsing history, spotting a trend, and using AI to make a more streamlined purchase process for me.

2. Revolve Clothing
Revolve Clothing has amazing online marketing initiatives. They take their smart targeting to the next level by monitoring how frequently (or infrequently) you are purchasing on their site. Since I hadn't purchased from them in awhile I received an email enticing me to come back: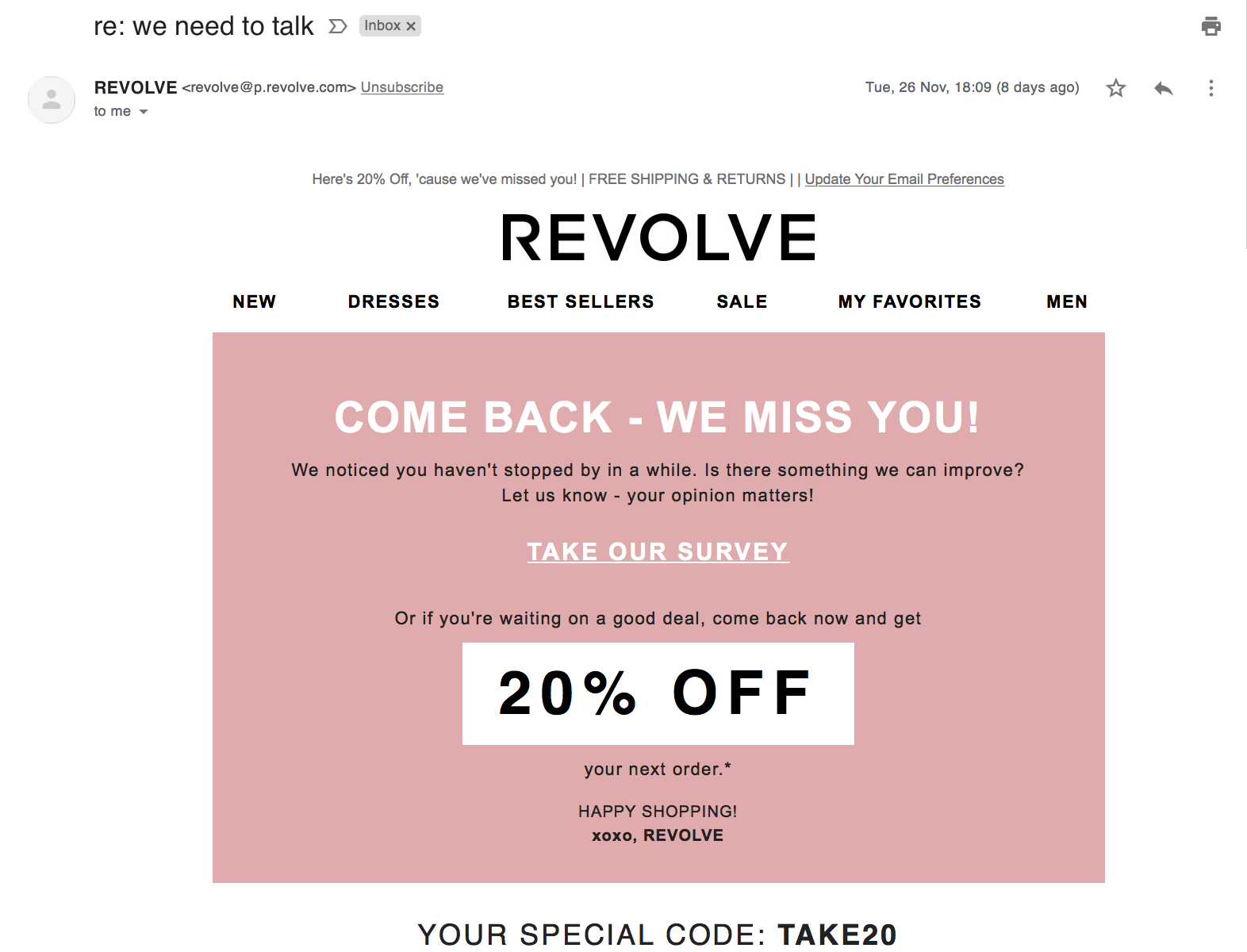 The targeting here is working by pulling up my past purchase history and identifying the possible reason behind why I haven't purchased in awhile. Not only does this improve customer experience, but it also gives me, the consumer, an incentive to check out the site.
3. Wix
Social media is a huge culprit of smart targeting. The ads some platforms show you look at your browsing history and use that data to suggest actionable websites for you to browse.
This ad from Instagram is a perfect example: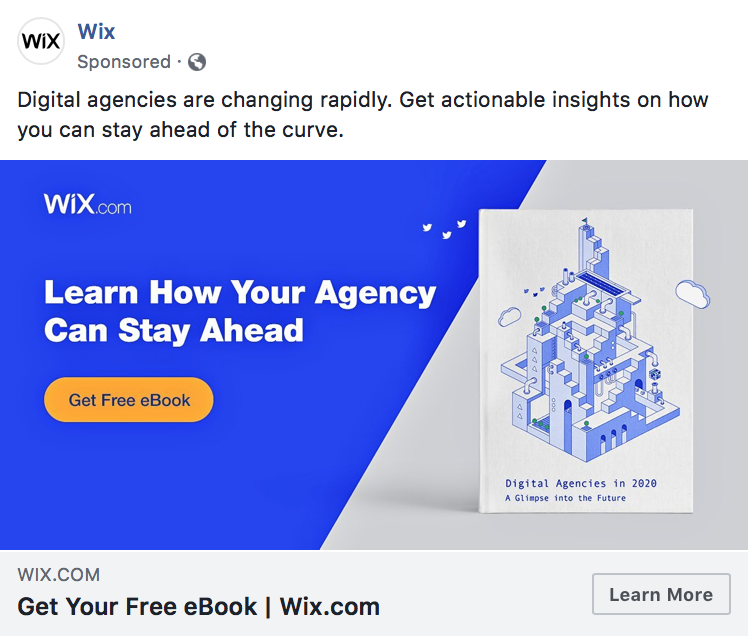 Making a recent purchase is a great indicator for smart targeting to choose ads from websites that will give you a more streamlined process of visitation or ordering products in the future. Wix is attracting its customers with practical value relevant to the audience. By ensuring it only reaches people related to the content they're serving, they are saving money on ad spend by increasing their chances of conversions.
Conclusion
Part of the customer experience is feeling separate from "Just another consumer". Incorporating a customer centric initiative in your agency can help improve customer satisfaction and retention. It can seem hard to do in a more digital-facing world, but things like smart targeting are making that transition an easy one.