Instagram video has become a trending topic ever since the head of the platform announced that it was no longer a photo-sharing app. And this trend isn't going anywhere, recently Tik Tok just surpassed 3 billion downloads globally — the first non-facebook app to reach this milestone.
More statistics prove that video is the fastest-growing segment of digital advertising, with a compound annual growth rate of 6.5% by 2025.
Video has changed content consumption because it provides information in a much more interactive, visual and entertaining way. Thanks to Instagram video posts, Stories, IGTV, and Instagram Live, any business can implement an effective video marketing strategy.
Instagram Is No Longer a Photo-Sharing App
On Jun 30, 2021, Adam Mosseri, the head of Instagram, announced that the company is focused on bringing new video-based features to the platform. Creators, video, shopping, and messaging are four key areas they are working on. While Instagram already has IGTV, Reels, and Stories, this time, the social network wants to embrace video more broadly. As a result, the development team is working on creating a full-screen video viewing mode that will immerse the viewer in the atmosphere of the current moment.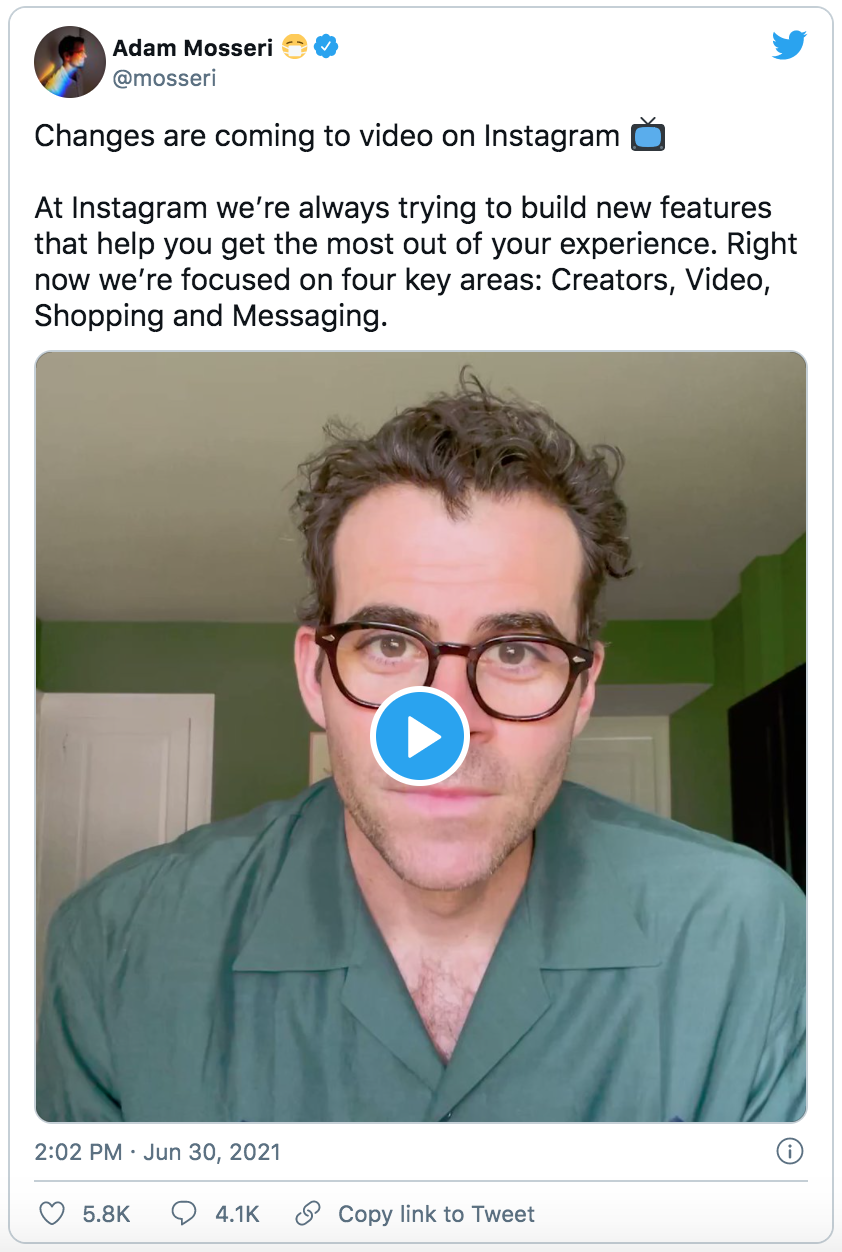 It is time for people to stop thinking about square photos as a service business card, as per Adam. Users are looking for entertainment on Instagram, and the app has many competitors in this area. Therefore, to maintain market positions, the social network needs large-scale changes. Now they will rely on entertainment videos to compete with TikTok and YouTube.
After Mosseri's announcement was posted, on Sunday 4th of July, Mark Zuckerberg unexpectedly posted a video on his Instagram account. Holding a large American flag and showing an excellent balance, Zuck zooms above a body of water atop an electric hydrofoil surfboard. We do not think it is a coincidence; Zuckerberg is almost "confirming" that video will be prioritized.
Why You Should Post Videos on Instagram
1. Instagram Is The Place To Get Discovered
Instagram is an excellent opportunity to demonstrate your product or service to the utmost — to make a detailed review of the service/products, show employees and the company backstage, and publish video feedback from customers.
2. Consumers Love Video on Instagram
Videos have much more views, likes, and saves than photo posts. They arouse more interest and involve more effectively in the content, and refresh the feed.
3. Video Drives The Most Engagement
Instagram is another effective channel of interaction with the audience and, even more — another sales channel. Video marketing is already a new round of marketing evolution, and it will become the dominant way of communicating with the audience soon. We have taken four formats of video content in Instagram: a video post in the feed, Stories, an IGTV video, and Instagram live. These four formats are additional ways to reach your audience. So let's take a closer look at the features of each type of video.
Instagram Video Guide
1. Video Posts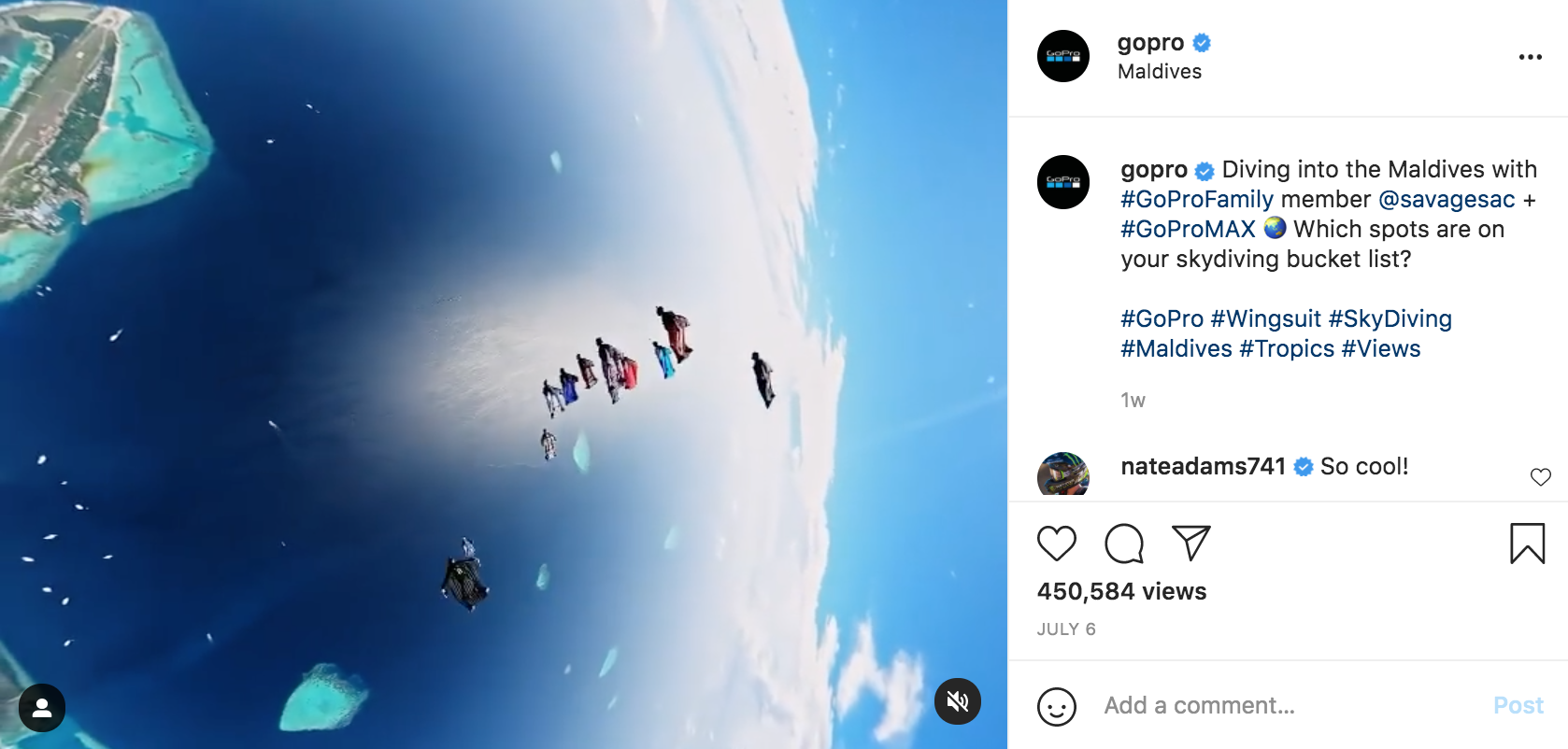 The main feed is the content that forms your Instagram profile. Instagram users love high-quality content, so it is important to monitor the parameters of the published video.
Instagram Video Post Best Practices:
Length: 3-60 seconds.
Orientation: vertical, horizontal, and square.
Aspect ratio: a horizontal video – 1.9:1, a vertical one – 4:5, a square one – 1:1.
Resolution: 600×315 (horizontal), 600×750 (vertical), 600×600 (square).
Bitrate: 3000-3500 kb/s.
Recommended formats: MP4, MOV.
Supported formats: 3G2, 3GP, 3GPP, AVI, WMV, MKV, GIF.
Let's just say that a vertical video for publishing in the feed is not the best choice. Such a video takes up almost the entire mobile device screen, pushing down the block with likes and comments.
To publish a video post to Instagram, you have a few options:
Upload a pre-recorded video from your camera roll with the help of the "+" button at the bottom of the Instagram app and choose Library.
Take a video at the moment and share it right away. Tap on "Video," then press down on the circle toward the bottom of your screen to start recording.
As an agency that is managing a few social media profiles, you can schedule Instagram videos like regular Instagram posts using Agency Vista's social media scheduler. All you need to do is add your video, pick up the preferable date and time for publishing, and post your video to Instagram at the scheduled time.
Moreover, you can trim the video to a minute or shorter by selecting the most successful excerpt right in the Instagram editor and applying a filter.
To create the right video marketing strategy, you need to understand its varieties. Agency Vista has collected ten key types of videos people want to watch along with essential tips to get more eyes on your videos.
2. Instagram Stories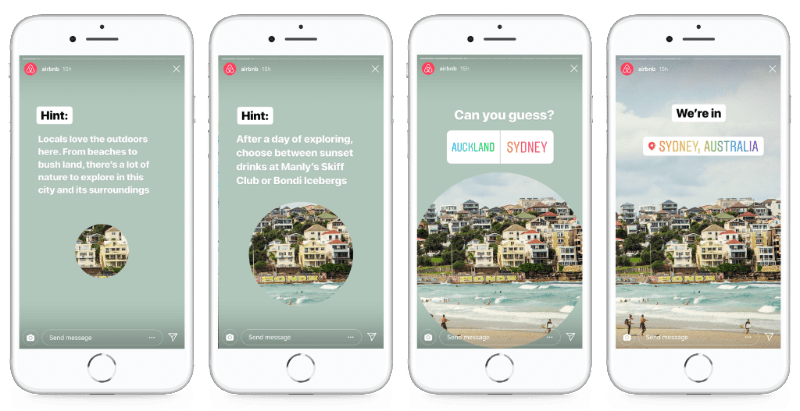 70% of Instagram users watch Stories daily. Stories are the most popular type of content on Instagram. And many users, even without checking the feed, immediately watch Stories — after all, the most relevant and engaging content is published here. Stories disappear after 24 hours, so this is an excellent opportunity to warm up interest in your account daily.
You can publish video responses to the followers' questions, demonstrating your expertise, show internal workflows or the usual (and unusual) joys of life if you run a personal blog.
Instagram Stories Best Practices:
Orientation: Vertical.
Aspect ratio: 9:16.
Video format: MP4.
Size: from 600*1067 to 1080*1920.
Length: no more than 15 seconds. You can still upload a video of any length, but it will be automatically trimmed into fragments of 15 seconds.
The maximum size of the video is no more than 4 GB.
To publish Instagram Stories, you have a few options also:
Record your video directly in Instagram Stories. Click on the camera icon in the upper-left corner of the feed and shoot a video in any of the modes available (Normal, Boomerang, Superzoom, Rewind, and Hands-Free).
Choose a pre-recorded video from the gallery by clicking on the camera icon in the upper-left corner of the feed and making a swipe down.
No matter what option you choose, you can add GIFs, stickers, text, and more to your story.
What content works best for Instagram Stories?
Instagram Stories are, first of all, live videos: they attract more attention, which means that you get increased outreach.
Show yourself real. Involve users in everyday life of your brand, show your workspace, employees – show you are real and exist. This approach will help potential customers to get to know your brand and increase trust.
Add a link to the website. Instagram Stories for Business is an opportunity to promote a blog or attract traffic to a website. If your account has more than 10,000 followers, you will be able to add a link to a post in Stories.
Do surveys. Instagram Stories has a poll function in the form of a sticker. You can add a question with two possible answers to a photo or video, and users will choose an answer option.
Category or a themed day. A category is structured content on a single topic that is often published on certain days. To make it easier to navigate by topic, assign a hashtag to the category. Hashtags in Stories are clickable, so it will be easy for users to navigate through the posts.
Announce events. Whether you are moving to a new office, launching a course, announcing an event, releasing a product, a company's birthday — such bright moments should definitely be shared in Stories.
Give step-by-step instructions. Tell your audience how to place an order on the site, register, get a promo code, and learn more about the discount policy.
Tell your followers about the new blog post. If you are actively blogging, do not forget to make Stories with announcements of recent posts.
Post reviews. Good reviews are direct proof of professionalism and satisfied customers. Openness helps to gain the trust of potential customers. You can save them in the Highlights album later.
3. Instagram Live Videos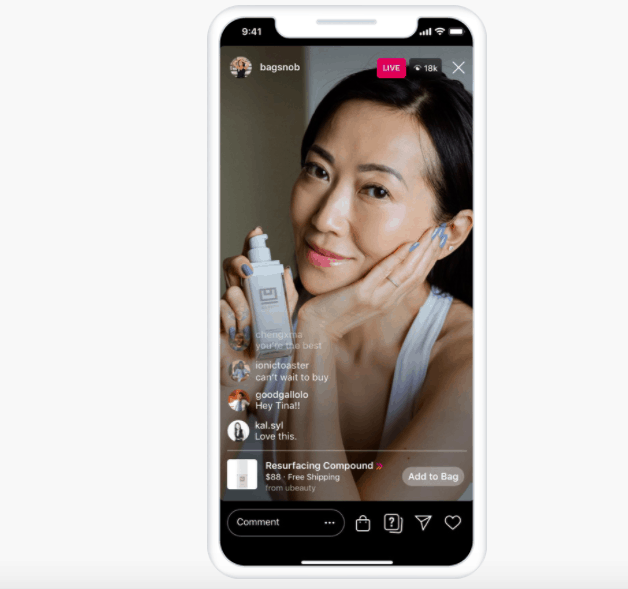 Instagram Live is an excellent and easy-to-use option that can further involve your subscribers in interacting with the channel and build trusting relationships with them. You can hold a live webinar, chat with followers, answer their questions, or show how your day is going.
Instagram Live Video Best Practices:
Video format: MP4.
Length: up to 60 minutes.
Orientation: Vertical.
Aspect ratio: 9:16.
To start an Instagram Live video, make sure you have a strong Internet connection, go to the Stories section, select the "Live" mode and start the broadcast. When you start a live video, an automatic notification will be sent to your followers so that they can quickly connect to you. Once connected, you will be able to see the number of active followers.
You can apply an Instagram Stories filter to your broadcast by tapping the filter icon. Finally, you can tap "Comment" to add and pin a comment to the live stream.
Instagram allows you to save a live video and share it to your Instagram Stories to be viewed over the next 24 hours.
What types of broadcasts work best for Instagram Live?
Discuss the specific topic. You set a topic and share your thoughts, talk about your experience. Brands arrange such broadcasts to get closer to subscribers and attract new audiences.
Hold a webinar or master class. Instagram allows you to conduct broadcasts for up to an hour. This is enough to hold a free webinar or master class, at the end of which you can sell a product or service.
Review/presentation. You can show the unpacking of the product, the product itself, or demonstrate how you provide a service.
Answers to questions. Invite subscribers to ask questions in the form for questions in Stories or the comments under the post. You can also ask a specific topic and invite subscribers to ask questions right during the broadcast.
Record an online video from the event. It is an excellent idea to broadcast a store opening, a company anniversary, or a new product launch.
Backstage. Show your subscribers what is happening behind the scenes. For example, you are organizing an event – show the preparation.
Announce the winners of the contest. If you have organized a contest — raffle a prize during the broadcast. This will increase the level of trust of subscribers because it is almost impossible to falsify the results during the broadcast.
4. IGTV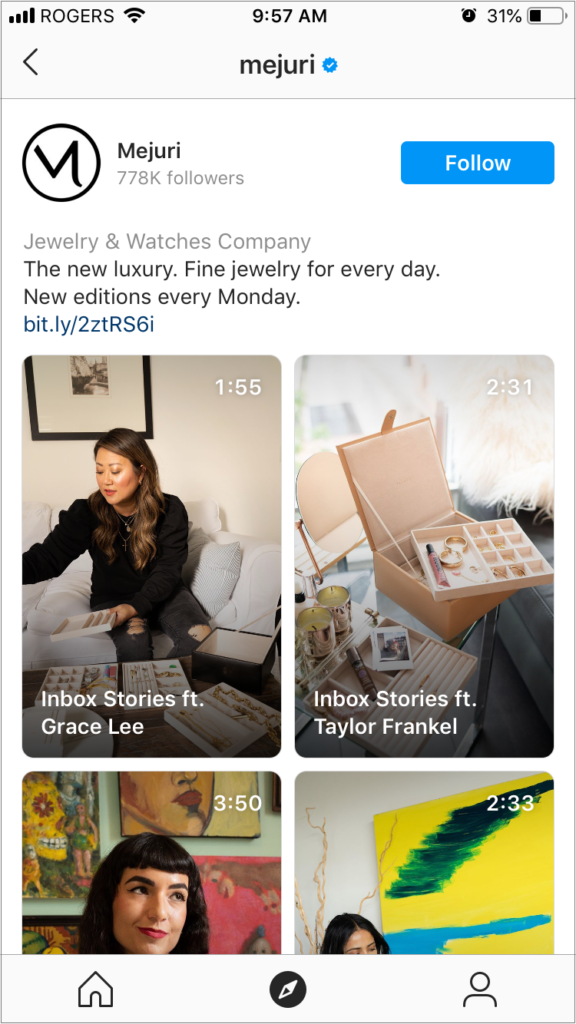 Instagram launched IGTV in June 2018 to compete with YouTube. IGTV allows users to upload their own videos and watch videos with a duration of 60 seconds to 1 hour directly on the platform. Long vertical videos on Instagram will help your brand to get closer to the audience and find new customers.
IGTV Best Practices:
Video format: MP4.
Length: 15 seconds – 10 minutes for smaller accounts; 15 seconds – 60 minutes for larger and verified accounts.
Size: 650MB for videos less than 10 minutes; 3.6GB for videos up to 60 minutes.
Orientation: vertical or horizontal.
Aspect ratio: vertical IGTV videos should have an aspect ratio of 9:16, while horizontal videos should be 16:9.
To upload a video in the Instagram app, click on the IGTV icon in the upper-right corner, then click on the plus sign and upload the video. Then you can choose a cover for the video and publish a preview of the video in a 60-second feed. Finally, click "Publish" and voila – the video is published on IGTV.
What content works best for IGTV?
Product overview. A moving picture is more eloquent than any words. If you do not have a product but a service, you can shoot reviews on behalf of a company representative, tell about the subtleties of communication, payment, working conditions.
Interview. You can talk to anyone: with a manager, a client, a partner, a competitor. The main thing is that the topic of the dialogue should be interesting for the audience.
Backstage. Customers are always interested in looking behind the scenes to see how you bake these fantastic cakes and collect bouquets or sew dresses. In short, show how your office and production exist so that you will become a little closer to your audience.
Industry news. You can either make small digests in video format or share your expert point of view about what is happening.
Games and promotions. IGTV can be used for gamification, that is, for entertaining the audience and working for loyalty. Viewing the video can become one of the conditions of the competition, or you can hide some code words in it. In general, it all depends on your imagination.
Events. If you or your employees speak at some conferences or have a holiday, you can record a live broadcast from this event and then make something like a report for IGTV. Again, it works for loyalty and also for recognition and reputation.
Conclusion
The popularity of videos on Instagram confirms a long-term trend associated with the growing importance of visual content. The published video should increase brand awareness, form an image, create a mood. Which Instagram video format will be effective for your business can only be determined in practice. Do not be afraid to experiment — the benefit of Instagram with its capabilities is endless.
As a business, you can connect with Top Instagram Marketing Agencies that Agency Vista has already researched, compiled, and verified. View profiles to discover more information on performance, portfolio, team, reviews, and others. Choose the best option that fits your business and enjoy the result!