If your client serves their customers locally, you should optimize their site for local SEO so that more people can find them. If you've heard the term 'SEO,' then you most likely are thinking of a very specific kind of optimization: the kind that involves putting keywords on pages. And while that is an important aspect of SEO, there is a lot more to it. In fact, that's just one part of a single type of SEO.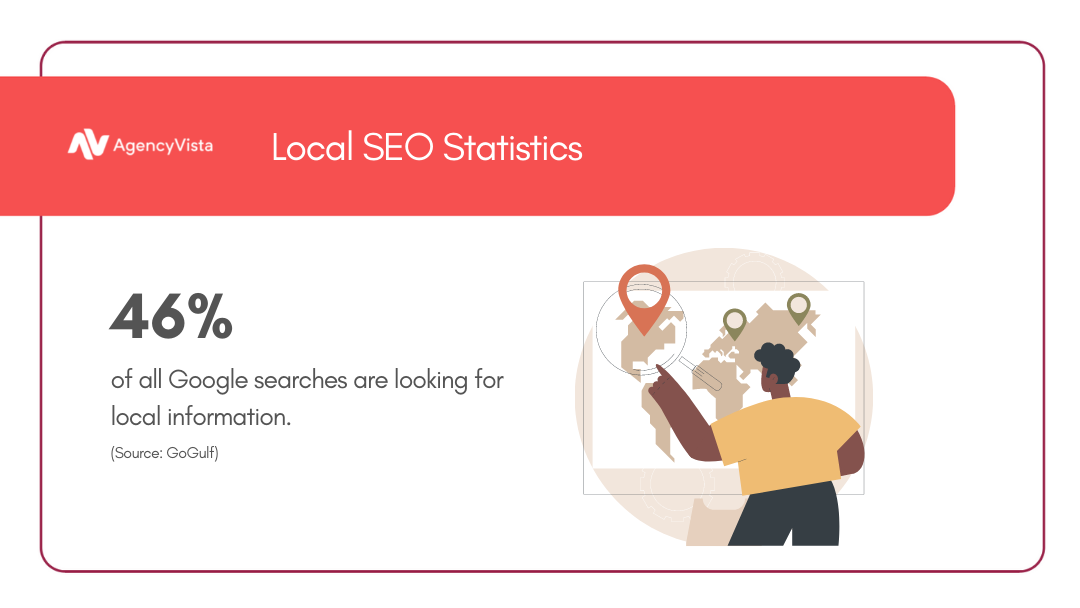 Does your client's brand provide services within a region, city, or a specific area of the city? Do you expect to compete in search queries with representatives of different business formats? With Google processing 2 trillion searches per year globally, local promotion is an effective tool for increasing the visibility of small and medium-sized businesses in search results.
The statistics show that 46% of all Google searches are linked to something local. This means the correct implementation of a local SEO strategy is a carte blanche for businesses that serve their customers locally. Here, at Agency Vista, we have decided to dive into the topic of local SEO and cover local SEO tips and tools for optimizing your website.
What is Local SEO?
Local SEO is a type of website optimization that allows a business to be more visible in local search results on Google. It becomes easier for businesses to "reach" high positions in the search results by responding to so-called geo-related queries – that is, if users specified in the search bar:
a specific location (country, city, district);
clarifying words "nearby," "nearest," and more;
or the option to recognize their location is activated on their devices.
After analyzing the behavior of users during trillions of searches, Google figured out that people seeking certain types of businesses need results from their immediate area. That's why Google's local search algorithm includes a proximity factor, which is a fancy way of saying that Google takes your location into account when you search for a local keyword (a query with local intent).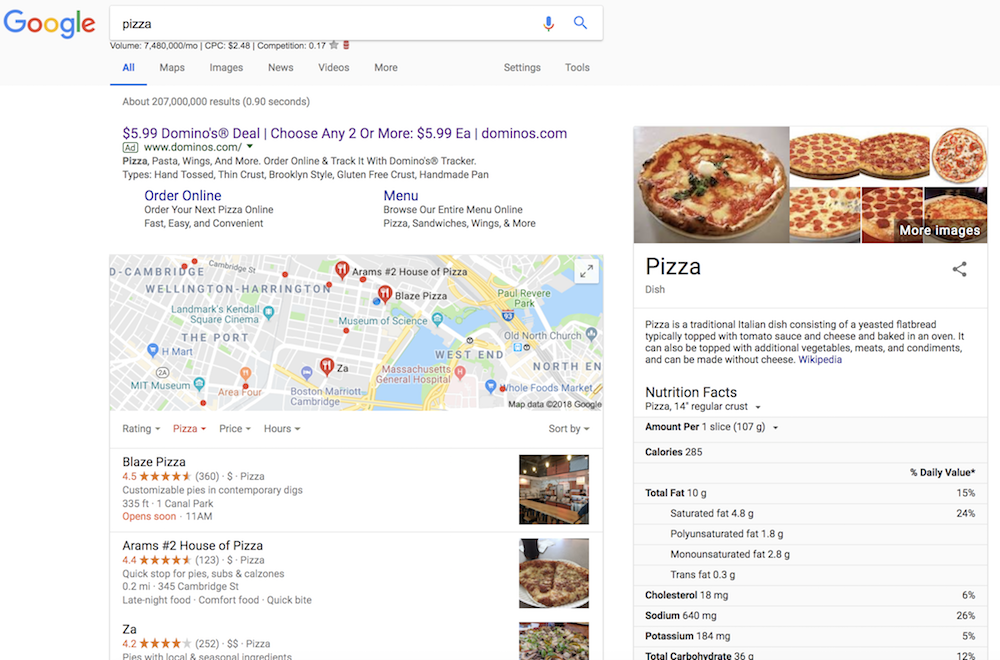 For example, if you're at work and want to get a pizza delivered for lunch, Googling "pizza delivery" shows a list of locations near your office in its local SERPS (search engine result pages). But if you try that same search at home, you'll get an entirely different set of results. This makes sense, considering you need a pizza delivered from somewhere nearby.
Local search has been around for years, but it was limited because people only use their desktop computers. With the recent growth in mobile internet access, however, mobile search has exploded, so local SEO has become hugely important for the success of any business offering local products or services and local marketers.
Who Needs Local SEO?
Local SEO is best for the following types of businesses:
If you have physical points of sale or service, for example, banks, cafes, beauty salons, travel companies, and many other "local" businesses;
If you operate in a specific geographical area, for example, delivery services, bakeries, or fitness centers;
If you're an online store that has pick-up points or points of sale.
78% of location-based mobile searches result in an offline purchase. Therefore, companies that do not use a local SEO strategy become invisible to most users. This way, they lose a significant share of search traffic, which could be converted into sales with a high probability.
It all adds up to the following – if you want customers to find your company more often, you should include local SEO in your business's overall marketing strategy. So, you will not miss a single potential customer who is ready to buy your product or service.
Essential Tips to Optimize Your Site for Local Search
Here are the essential tips to ensure your website is optimized locally:
1. Create content for local inquiries
Relevant and valuable content is crucial if you want people to find your local business online. If the key queries are collected, you should consider the structure and distribute them across different site pages.
When creating pages, you must take into account:
Title, description, and the h1, h2 meta tags must include the name of the city or district, where the company is located, and its activities.
Data reflecting contact information: addresses, products, services are structured using micro-markup.
Images on the site are optimized; namely, the name of the city, district, and street are written in the Alt attributes — this is one of the ranking factors when searching for images.
In the title and description, you should specify the competitive advantage, the price. You can attract customers with periodic promotions, discounts, which are also added to the metadata. This data has a positive effect on the clickability of the snippet located on the search results page.
When discussing local content, hosting local events, promoting local industry news, employees, and other educational content on your blog is also worth mentioning.
2. Boost your online reviews
The importance of reviews in local search continues to grow, so it is undoubtedly worth getting more Google reviews. Previously, they were only an essential factor of competitiveness. Right now, reviews are a necessary but insufficient condition for success since everyone gets many reviews.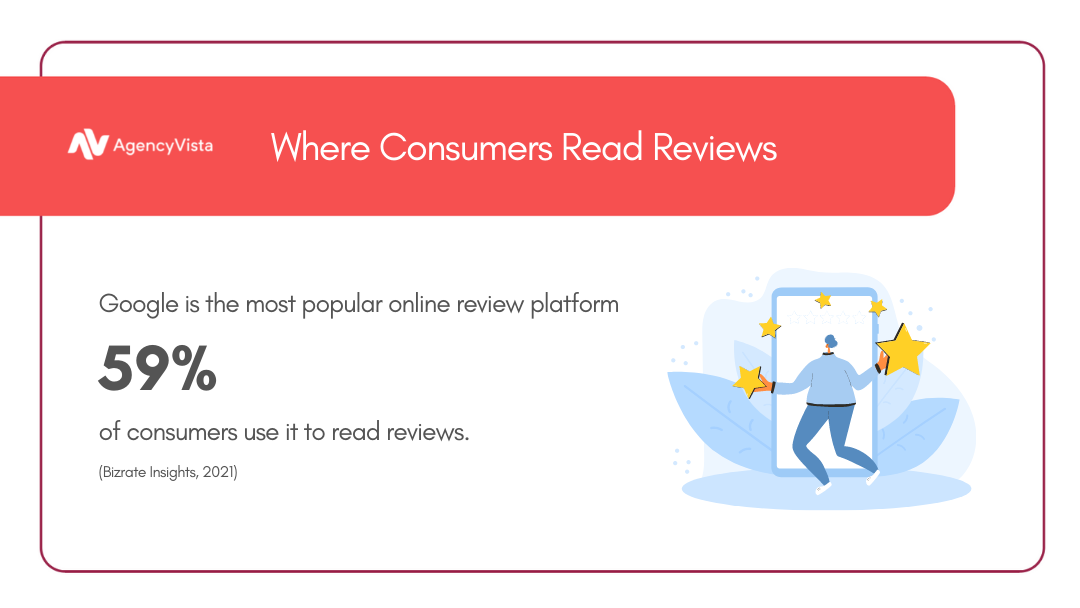 Ask customers to describe what product/service they were purchased to include relevant keywords in the text. Note that negative reviews increase the credibility of the site. Such reviews, however, should quickly receive a response from managers. Therefore, respond to reviews constructively, without personal attitude. The scale of commenting on different sites makes optimizers consider reviews as a tool for promoting the site in search results.
3. Claim your Google My Business page
Google My Business (GMB) is a tool that allows you to manage company information in the search engine and Google Maps. Simply stated, it is the personal profile of your business. Service registration is free, and it has many advantages.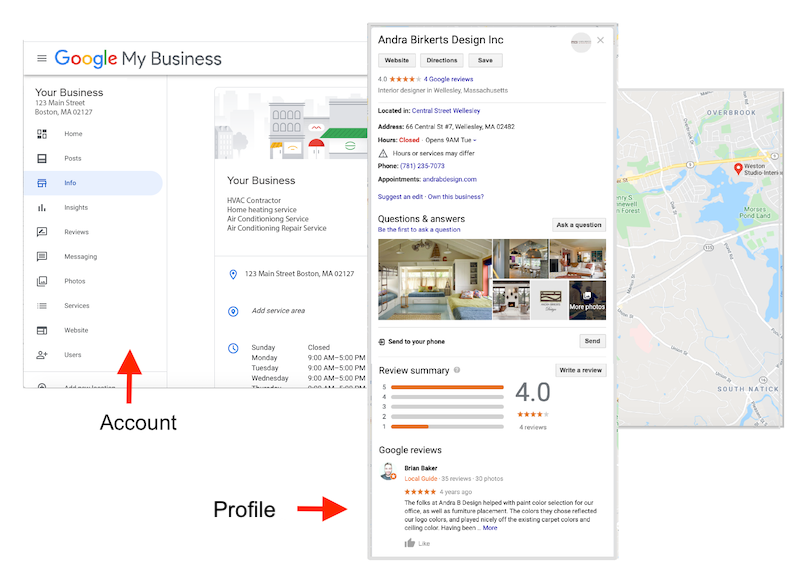 Today, smartphones allow people to easily find what they are looking for in a matter of seconds. As per the recent Google report, 60% of smartphone users contacted businesses directly through the GMB interface using the "click to call" option. Therefore, it is recommended to use these tools to link your business to a specific territory.
The same factors influence the company's position in local organic search as getting into the Local Pack:
product and service names, keywords in the page text;
site domain authority;
geographical relevance of keywords and physical location of the company;
completeness of filling out the company's profile or website.
If you want to be displayed above your competitors on maps, do not forget to pay attention to your Google profile and SEO optimization of the site. To rank well in search results based on local queries, optimize the site and the My Business Card. Google My Business is no longer optional; it is an effective tool to help your business meet Google's needs.
4. Get more relevant inbound links
Of course, links continue to play an essential role in local search. The essence of link-building is that links to the promoted site are placed on other websites. They will send traffic to the target resource, which will increase its value for search robots.
A high-quality link for local website promotion should have the following:
be from the website of the area where your target audience is located;
be from a resource whose topic corresponds to your business industry;
bring you relevant traffic;
build a reputation for your brand (lead visitors from the websites of well-known stores, professional resources, and others).
Also, you can get many links as a sponsor or partner. This is a proven tactic. Consider sponsoring or hosting an event promoting something local you love.
5. Make sure your website is mobile-friendly
Google has the highest share of organic mobile search traffic, with 61%. To have a mobile-friendly website is a must today as more and more people of all ages prefer to be online from smartphones. Google sees this trend and follows it. Sites that remain optimized only for the desktop version will lose organic traffic.
Search engine optimization of a website for mobile devices gives a clear SEO advantage because Google prioritizes websites optimized for smartphones and other mobile devices. In fact, 76% of people who search on their smartphones for something nearby visit a business within a day.
6. Implement micro markup for rich snippets
Before getting to the site, the search results can show a snippet relevant to its query. The attractiveness and informative content of the snippet directly affect clickability (CTR). High clickability gives a signal to the search engine about the usefulness of the site. And this increases the chances of a high ranking.
For local SEO, the following are essential:
phone number with the ability to dial from the search bar;
the physical address of the company and its display in the snippet;
website navigation element.
For search engines to understand where these elements are on the site, a micro-markup is needed. The most popular are schema.org and JSON-LD – for search results, OpenGraph – for social networks and news feeds.
7. Update NAP citations on your website
For all local sites, the following data is necessary:
All this information should be specified as accurately as possible on your website, Google maps, and organizations' catalogs. There should be no confusion: if the address, name, or phone number has changed, you should indicate the current information on all possible sources of information. If you have several addresses or phone numbers, you need to specify all the addresses and phone numbers.
Pay attention to your NAP citations: the more often your name or the contact information is mentioned, the higher the probability of being shown at the top of the local search.
8. Optimize online directories and mentions
Web directories are also crucial for SEO optimization of the site. If an authoritative source mentions your brand, this will positively impact its position in search results. The more often you are mentioned — the better for you and your business.
It is helpful to place the name of your business, physical address, phone number, and links in the mentions. Your main goal is the largest number of such mentions. These four map data aggregators provide a large amount of the map data for Apple, Yelp, Bing, Google, Trip Advisor, and more:
9. Optimize for voice search
Unlike manually entered queries, voice assistants primarily issue a card with the top 3 results. Therefore, in 2021, companies need to turn their attention to the voice search optimization strategy to appear at the top of local search results.
Focus your content strategy on conversational and extended keywords. For example, you can use the content adapted for voice assistants to create frequently asked questions (FAQ) pages on your site.
10. Invest time and money in social media marketing
People on social media ask friends for recommendations for almost everything – from local shops to car repairing services. Facebook Recommendations is a dedicated service that allows you to ask for any local tips and recommendations. Local businesses will be mentioned automatically and be visible to everyone who sees the post.
Moreover, social networks are a great channel to spread the news about new products/services. Social media marketing is an effective, reasonably low-cost solution to make better visibility for your local business.
Top Local SEO Tools of 2021
Even if you have only one site, manual monitoring of changes in local SEO is quite time-consuming and challenging – you always need to consider many factors and their impact on the position of the resource. On the other hand, if you have a whole network of sites, then you can not do without high-quality SEO tools at all.
Pricing: 14-day trial is available. The premium plan starts at $29/month.
BrightLocal was built to help every marketer working with a local business do their job better. Whether you are looking to boost local rankings, increase online visibility, build citations, develop an exceptional online reputation, or even grow your marketing agency, BrightLocal's powerful tools simplify local marketing success.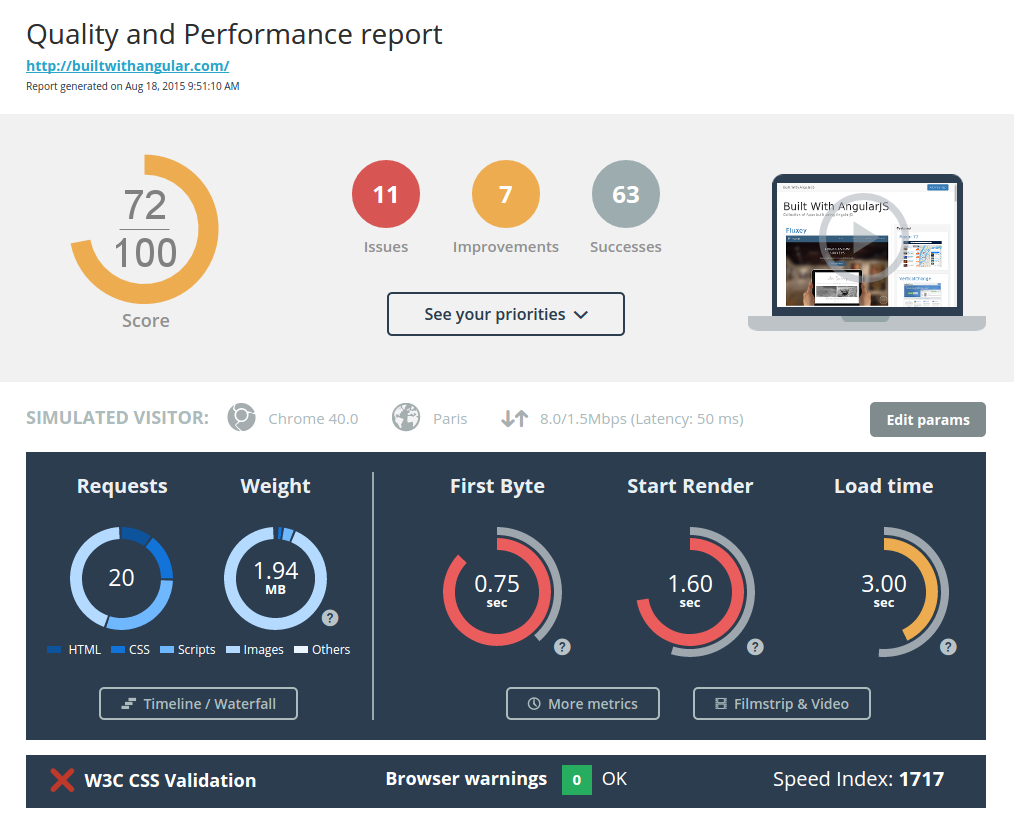 Pricing: Free
Without any installation, the web page is analyzed to identify problems with the quality and loading time. You can see the dynamics of the main performance indicators of your pages on the toolbar at any time. And receive weekly reports by email.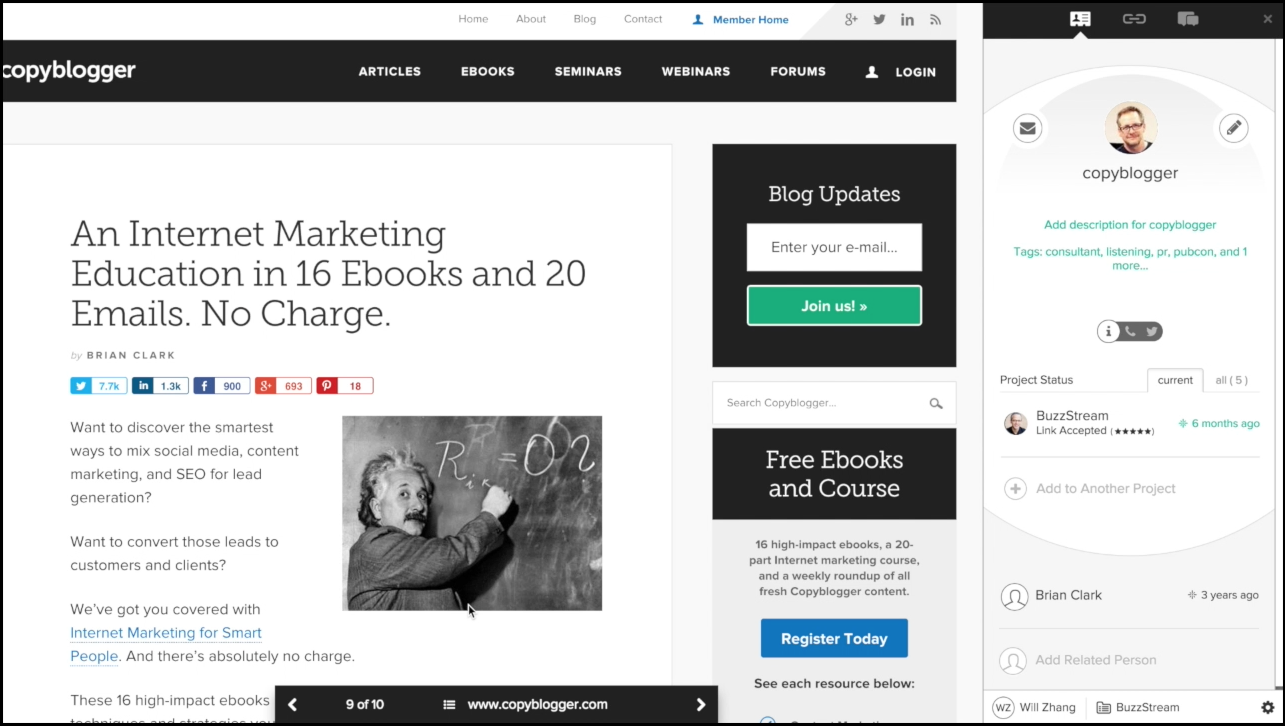 Pricing: Free trial is available. The premium plan starts at $24/month.
With BuzzStream, you can automate the process of finding influencers, establishing contact and correspondence with them. The tool allows you to automate sending of emails to bloggers.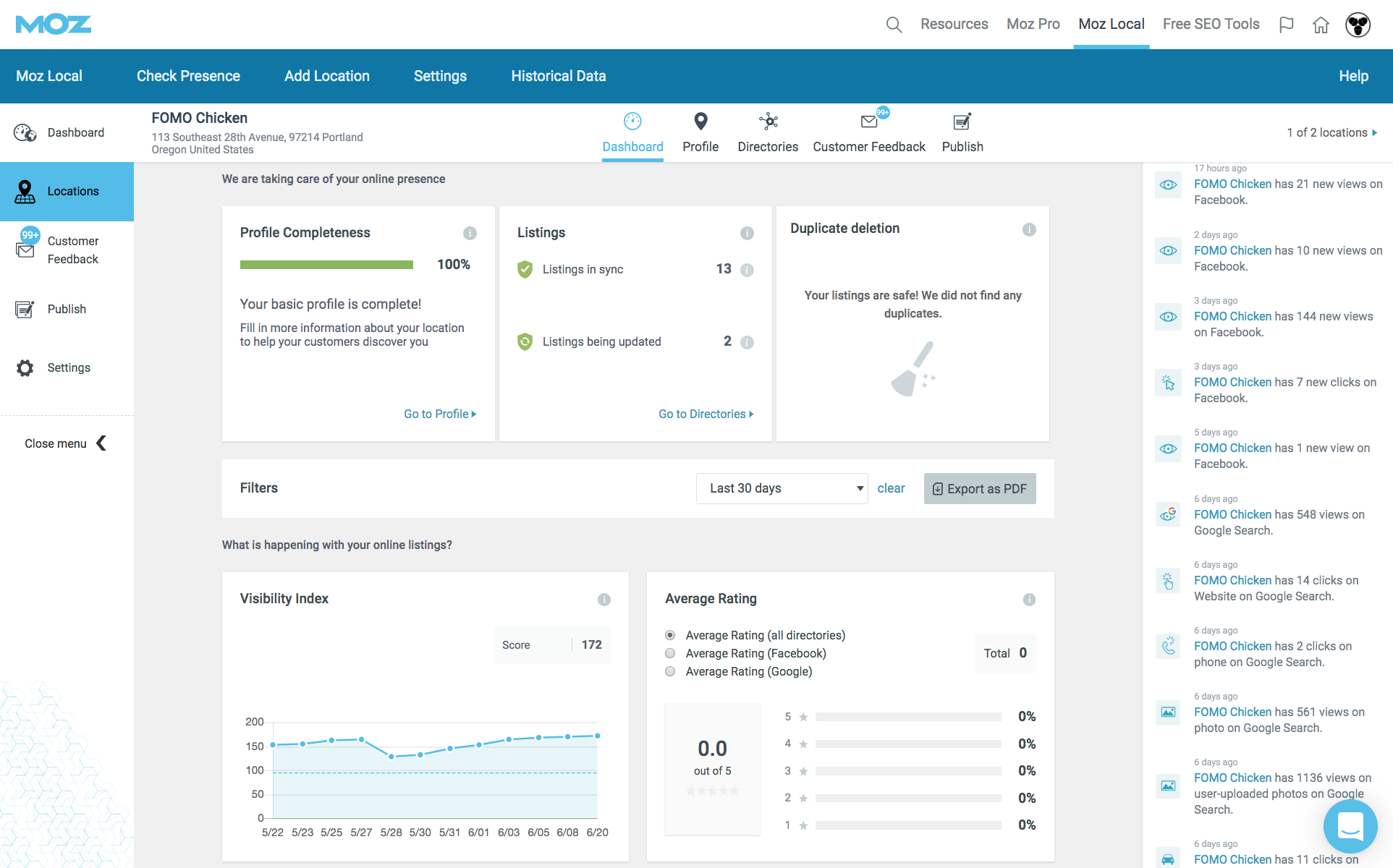 Pricing: Premium plan starts at $129/year.
Moz Local is an excellent tool to actively manage location data to optimize local search performance and stay up to speed about updates and interactions with your locations, reviews, and items requiring attention. Moreover, you will gain valuable insights into your Google and Facebook presence and publish your data to the platforms with ease.
Conclusion
Local promotion is an excellent tool for increasing the visibility of small businesses in search results. With its help, you can ensure the most targeted transitions to the site since most users are located in your city or even district. Thus, a small company becomes a serious competitor to any large organization in the city.
If you're a business looking for additional support with your local SEO strategy, check out Agency Vista's top-performing SEO agencies.
If you're an agency or tool looking to improve your own site's authority, reserve a time to speak with an Agency Vista representative about our growth solutions.