Local SEO is the search engine optimization of a website based on user requests from a specific geographical region. No doubt, it is easier for local businesses to promote both offline and online. A narrow target audience, located in a limited territory, is almost an ideal prey for marketers. The fact is nearly 46% of all Google searches are seeking local information. The main thing is the offered product or service should meet this target audience's needs and desires.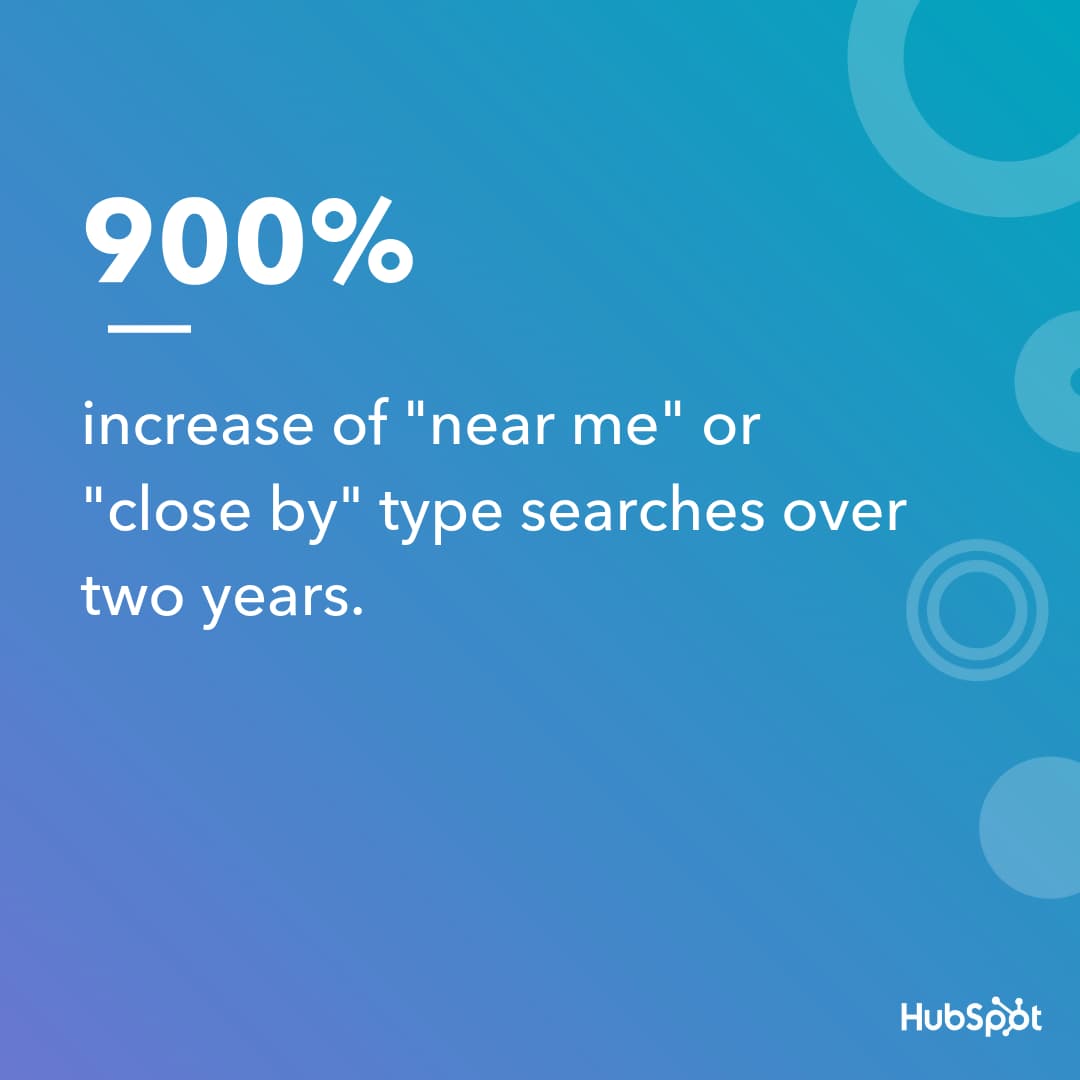 Most often, search engine promotion is localized for the sites of those businesses that users find by queries linked to the city or district: "where to get a haircut," "where to go for a business lunch," "where to make delicious coffee," etc. Users want to get more personalized search results considering their location. After users enter regional search queries, local companies go to the top of the search results.
When talking about local SEO, you should focus on the physical location of the business. That is, not just indicate "New York" in the headings, but focus on the address, the company itself, and use maps. Promotion in the local zone assumes that all pages will be somehow oriented to the local niche.
Why is local SEO important?
Website optimization for regional and local search promotion is one of the main growth points for any commercial site. Here are a few reasons why:
Personalization of the search. The best positions get either mega-markets or aggregators and catalogs. Or those who were able to circumvent the restrictions offered by search engines.
Search algorithms are moving towards a semantic web that operates with search entities rather than keywords. In other words, the search engine must distinguish your company from many others and trust it.
The Internet is already mobile. 79% of smartphone users make a purchase online through their mobile device. This means that the results will be linked to the location where the request came from. There is no point in promoting a beauty salon based on general queries without linking it to a specific area.

I am standing on the street looking for a barbershop nearby – and I do not need a barbershop on the other side of the city. Search engines understand this and will show me a list of those salons that are within walking distance from me. This means that the client will get those who have better adapted their business on the Internet for local search.
Do I need local optimization?
If your company works in a specific geographic region, local SEO will allow people living in that area to find you online quickly. If your company serves several areas, a holistic local optimization strategy will enable search engines to independently determine stores' locations. And you will compete with the business of these regions.
You need local SEO if you want to:
Gain local customers
Make your business more visible
Waste no time competing with eCommerce giants
Build trust
Increase footfall
Boost website traffic
Get more leads
Local SEO has a set of unique ranking indicators. A few of them are listed below:
Google Maps rating
Social media shares
NAP citations
Google My Business listing
Keywords used
Online reviews
Google My Business Listing
Google My Business is a marketing tool that allows you to post information about a company and promote the business on Google, especially on GoogleMaps. It is one of the easiest platforms to promote your business online. Google My Business makes it possible to get into the first lines of Google search results for some queries without much effort. Any business will discover a list of advantages when marketing with Google My Business listing.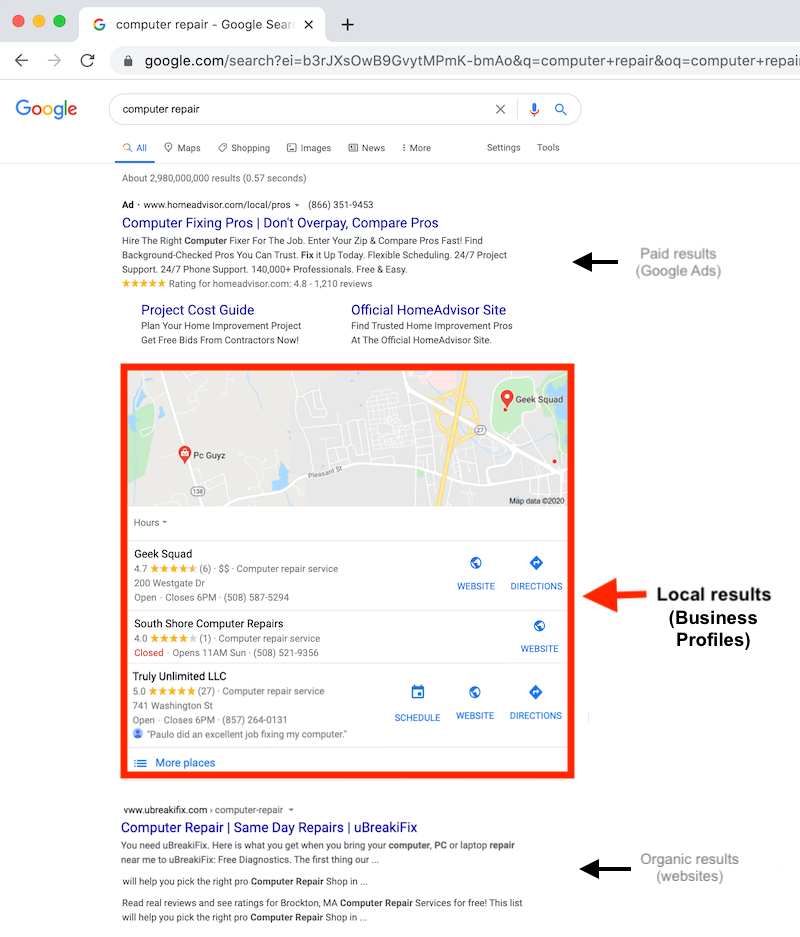 So, what are the benefits your organization gets from registering on Google My Business?
Edit and add information about the company. Try entering your company name and see if Google Maps locate it. If not, go to Google My Business. Registering an organization there, as well as verifying your account, will allow you to edit information added by other users about your company, respond to customer reviews, add working hours, and change them on holidays and weekends. You can also add all the services that your company provides, announce promotions and news.
Analyze traffic and Google search. You can go to the "Statistics" section and track whether the search was direct or random. You can also understand how users find your company – using Google search or search on maps. Of course, tracking statistics in Google My Business is much easier than in Google Analytics, but setting and achieving goals, tracking conversions, and detailed demographic statistics are still only available in Google Analytics.
Be in the right place at the right time. The user is looking for a company similar to yours, but it turns out to be closed. Then your glory hour comes. A person starts using a direct search on Google Maps, and your company is nearby.
Interact with customers and answer questions. Reviews increase your ranking in the Google space and help push your company higher when searching on Google Maps. Users have the opportunity to ask you questions and rate the company with stars from one to five. Thus they create a specific rating for you on the Google My Business platform and bring you higher in the search.
Use categories and attributes. The category should be chosen as close as possible to the field of activity of your company. It is recommended to determine the exact one, if possible. If you fill in this line incorrectly, your company will not be displayed when searching for a particular service, thus giving way to your competitors. The "Attributes" section helps you clarify detailed information about your business.
Describe the products and services that your company provides. You can add products that your company sells or services that it provides. This will help customers to focus on prices in advance. Thanks to this feature, you can filter out customers and leave only those interested in purchasing.
Once the registration is complete, your company will be on the maps, and users will be able to see your working hours, get directions directly to your office, view photos, and visit your website. Take care of the right, high-quality photos, ensure that the information is always updated, and all the suggested fields are filled in. Your Google My Business account will be your business card in Google space.
Local Keyword Research
If no one is looking for what you write about, you will not get traffic from Google, no matter how hard you try. According to the research, the first five organic results get 67% of all clicks. That is when keywords come in.
Keywords are search queries that users use in a search engine to find the information they are interested in. Keywords play an important role in search engine promotion. The easiest and most profitable way to attract more visitors to the website and turn them into buyers is to choose the right keywords. Keywords reveal the real tasks, goals, and problems of people, and help to understand precisely how potential customers find the site, which queries are more effective, and which of them will be a waste of time.
Keyword research is where local SEO starts. After conducting such research, you can develop a clear plan for website promotion, an effective content strategy, specific steps for link building, and much more. Another essential advantage of the research will be finding a number of keywords and phrases that are most effective in terms of popularity and low competition.
If you know your niche, you should have a complete understanding of your customers' information. When starting a search, think about the main keywords.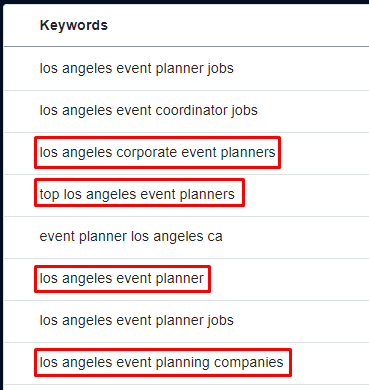 It would seem that everything is simple – popular queries for which you would like to be in the search:
Beauty salon nearby
Beauty salon "Z"
Working hours of beauty salon "Z"
Draw a route to "Z"
However, this is not exactly what is needed. To determine the appropriate key queries, mainly rely on your services and location:
Beauty salon in New York
Manicure in New York
Where can I get a haircut in New York
You can use Google search suggestions to create additional search query options. To do this, enter the beginning of a phrase in the search bar, and you will see similar frequently requested combinations.
When it comes to long-tail keywords, pay attention to such research tools like Keyword Explorer by Ahrefs or Google SERP features.
Using keywords to optimize content is a separate big topic. But you can start by adding keywords to:
Page title and title. This is a clickable link that users see in the search results.
The meta description will be automatically generated from the first 160 characters of your content. Therefore, this is the right place to use keywords. It contains a description that is located below the clickable link.
In links and posts on social media. If you share any website content, you can help users find it by adding the appropriate hashtag based on the keyword.
You will also use keywords and related terms in the content itself. Focus on the main keyword, and then use its variations.
Local Citations
When we talk about NAP citations, we mean any mentions of your company's name, address, and phone number all over the web. Some also talk about UNAP/NAPU (name, address, phone number, URL) and NAPW (name, address, phone number, website). Moz did a survey and concluded that citations are the fifth most important ranking signal for local queries.
You can come across structured and unstructured citations. Structured citations are those where the NAP information is presented in a visually structured way (business directories, social profiles, etc.). Unstructured citations are mentions of your business that are posted in an unstructured format (blogs, newspaper websites, etc.).
An essential point is your NAP data should be consistent in all the resources – website, Google My Business profile, local listings websites. Once verified, you are ready to build more NAP citations.
A citation audit is an important step to stick to consistency. Some of the citations will be incorrect and/or incomplete. Some citations will have the correct company name and address but the wrong phone number. Others will have the right company name and phone number, but the old address. Moz's local search tool and WhiteSpark are a few tools that can help you with the audit.
Now that you have found and corrected the existing citations, it is time to add even more mentions of you. WhiteSpark is still an excellent solution to build structured citations.
Moreover, you can use such industry-based websites as TripAdvisor, HealthGrades.com, HomeAdvisor.com, etc.
Do not underestimate such data aggregators as Infogroup or Acxiom that collect information about different companies.
Review websites (for example, ConsumerReports) are a great solution to run through the information and locate your company mentions. Check out if your company details are updated and accurate.
Social media is another powerful instrument for NAP citations. Create a few business accounts on popular social networks (Facebook, Twitter, etc.) and specify the accurate contact information.
Local Link Building
Link building in local SEO is not that standard SEO link building you may have heard about. It is more about involvement in the local community. As per experts, local link building is considered to be an influential ranking factor. The importance of links may vary, but it is impossible to promote sites in global, regional, and local search results without them.
The effectiveness of link building depends on the quality of the sites you choose for building links. Let's check a few useful methods.
1. Local catalogs
Check if there is a section in the catalog specifically for the services you are promoting. Potential clients of a digital agency from the city N will look for it in the "Marketing" section. Being in city N, it would be strange not to get this traffic to your site.
2. Local forums and communities
Yes, you can provide services online, send the contract by mail, and post links to local forums in other cities. Remote cooperation is becoming possible for more and more new areas. Are you developing a chain of coffee shops in the capital? Let potential franchise buyers from regional centers see you in the search, thanks to articles in local business communities.
3. Add your content on local commercial websites and blogs
Links on the sites of well-known companies in the city lead customers directly and increase local search ranking. Let's take a complex product – digital meetup. Place links to the meetup website on any possible resources of related fields. First of all, digital companies from the city of the master class (or conference). The algorithms are already so smart that they will rank your site at the top if it is referenced by readable articles in digital agencies' blogs.
4. Local mass media
This is probably the most obvious format for local link building. Residents of large cities read local media because their daily lives directly depend on the news. Schedule of main street closures, fare increases, holiday events, New Year's Eve subway schedules, and other highly-publicized news. Using mass media to increase site indexing is a good local SEO strategy.
5. Analyze your competitors' presence
With the Ahrefs service's help, you can find out where links to competitors from the TOP 10 are. At the same time, it is worth checking the traffic and other important indicators of both link donors and competitors in the Similarweb service or similar. Perhaps those sites are not as good and useful as it seems at first glance.
6. Thematic portals
If there are no local websites, you can place publications on industry-specific ones. In this case, it is less likely to get customers, but an article with a link to a reputable resource will add points to the site.
7. Guest posting
Guest posting and media publications are reliable ways to get high-quality links:
Useful content – tips, reviews, recommendations, collections of trends or interesting facts can be written for almost every company. If the material is unique and high-quality, portals in need of new articles will agree to free placement.
Company and industry news — if you have a reason to talk about your achievements, you need to use it; only the format of press releases is better to replace it with something more exciting.
Partnership and charity – not so much for the sake of links, but for the image of your company. You can arrange an independent action and certainly tell the local media about it.
Mentions — if a third-party site has posted something about the company, included it in the review, or mentioned it in another way, you can contact the author with a request to put a link to the site.
8. Local events
For an engaged target audience who knows exactly what event they want to go to, finding the right event will not be difficult. Participate in local events and make sure event websites will include the link to your business as a partner or contributor.
The methods of local link building are the same as for large-scale promotion. Difficulties arise due to the smaller number of sites and newsworthy events. The good news is that it is easier to stand out with the right approach and be remembered.
On-Site SEO
On-Page local SEO is a set of techniques and practices aimed at optimizing the internal content of web pages to achieve better ranking results in search engines. The ultimate goal of internal optimization is to achieve more traffic to the site.
Optimize your pages with "search intent" in mind.
If you want to rank for the particular query, you must consider those "search intentions" and create content that matches the top of the search results.
Make sure that the pages load quickly.
A low loading speed negatively affects the user experience. Users will immediately leave your page if it takes a long time to load – even if you are in the 1st place of the search results. You can use Google PageSpeed Insights to check the loading speed of the website.
Put keywords in the H1 tags, meta description, and title.
Firstly, there is still a small correlation between ranking and the presence of keywords in these elements. Secondly, it helps to demonstrate to users the maximum relevance of their search query.
Use descriptive URLs
A properly compiled URL with keywords has a high probability of getting into the top search results. A URL can give hints about the content it links to. Providing users with this information before they click on a link is a good idea.
Use Schema markup for better CTR
Schema markup helps search engines better understand the content of your pages. If you have ever seen results with rating stars, images, and reviews, then you know the effect of Schema. Is Schema markup a direct ranking factor? Not really. However, it is an indirect factor that affects the traffic and clickability of the link. The search engine takes this into account when determining the site's position in the search results.
Make your content unique, simple, and readable.
The search engine pays attention to the audience's behavioral signals (time on the site, viewing depth, bounce rate, etc.). This data (together with other factors) determines how much a particular page is interesting for readers and whether it should be shown to more users.
Internal web page optimization is creating a perfect page for both the user and the search engine.
Online Reviews
We all read and leave reviews. When talking about local SEO, online reviews of local business matter. 8 in 10 consumers consult online reviews for local businesses. This means that online reviews can boost your site's ranking on Google.
First, determine which websites will be most useful to you. If you are engaged in real estate services, Zillow is a site with reviews for you. If you are in the restaurant business, TripAdvisor is a good place to start.
If none of the resources work for you, use the basic platform for reviews – Google reviews. Reviews from this site are displayed next to your page in Google My Business, along with your rating.
How to get more reviews
Collect positive feedback using feedback widgets and newsletter signatures (link to your website or other social media profiles), and then motivate them to get more.
Smooth out negative reviews before they are published – forward low-rated reviews to customer support.
Provide bonuses and discounts for the next purchase (users get points for reviews on their purchases, which are then exchanged for discounts).
Offer free delivery and installation of goods (but it will be your competitive advantage only in strict compliance with commitments on quality and time of supply; otherwise, the effect will be the opposite).
Offer to download additional materials via a closed link – for sites that provide informational content.
Offer free consultation of a designer/programmer/technologist – depending on the subject of your business;
Include a gift for the order (if you attach a postcard as a gift, you can ask for a review on it).
Online reviews strongly influence most consumers. So, the more high-quality, positive feedback you get, the better your chances of convincing customers to spend their dollars on your business. Make sure that these reviews stand out prominently on your site.
Conclusion
We have covered the essential local SEO techniques in this guide. The result from local SEO justifies all the efforts spent. You will increase low-frequency traffic and bring conversions to a qualitatively new level. Moreover, you will be able to compete with big brands that have monopolized global search successfully. Invest your time and money into these proven practices, and enjoy your traffic!