Marketing automation is no longer a trend but a must-have for those who want to survive in a competitive digital era – increasing the marketing team's effectiveness, increasing sales, and optimizing marketing activities' budgets. In other words, for everyone.
Owners of various companies are actively investing in marketing automation because it makes a profit. Moreover, its proper organization allows marketers to cultivate leads with personalized content, turn potential customers into loyal ones. On average, 51% of companies are currently using marketing automation. With more than half of B2B companies (58%) plan to adopt the technology.
With the increasing demand for automation, marketing services are experiencing a good leap in development. They are flexible and convenient tools that help automate repetitive marketing operations and quickly analyze large amounts of data. Thanks to such tools, business owners can manage processes more efficiently and receive detailed analytics.
This article will discuss the top services for marketing automation and help you determine the tasks these services can solve.
Criteria for Choosing a Marketing Automation Tool
There are so many marketing automation tools out there that it is not always easy to choose. Therefore, it is recommended to pay attention to such criteria as:
Ease of use: If you have to spend too much time understanding how the program works, it may be interesting to compare other tools that can be much more adapted to your level and use.
Price: Quite often, the price depends on your contact list or the number of emails sent. Compare pricing plans not in absolute terms but in how many contacts you can work with for a certain amount of money. If you are interested in the program, but its subscription is expensive, take the time to test it. Most of them offer trial versions for 15 days or one month. This is the perfect solution to secure your investment.
Functionality: This is the main criterion that is rather critical. Make sure that the tool you are testing offers many features compared to the plan you have chosen.
Integrations: To get the most out of such a tool, you need to integrate it with your other services and platforms. So, when exploring any tool, please pay attention to the level of integration that it is capable of. In particular, what other tools it integrates with and how well.
Your needs: It will not be appropriate to have expensive software with many functions if you only need a few elements. So take the time to determine what you want to automate.
User reviews: User reviews are your chance to listen to genuine buyers and their feedback. These customer reviews are a goldmine for finding helpful information about a product, its ease of use, customer support, and more.
Top 10 Marketing Automation Services to Fuel Your Business
SharpSpring entered the market in 2014 and was built as an accessible, open system that agencies can use to provide marketing automation and integration with all client systems. SharpSpring marketing automation platform is a set of tools that allows you to attract potential customers throughout their entire life cycle, from generation to sale.
The features you can get from this solution are robust, making it a great potential alternative to other marketing automation products. Smart email automation, multi-channel analytics, dynamic landing page builder, social media management, dynamic form builder are a few advantages the platform offers. With SharpSpring, you can be sure that all your marketing efforts are under one roof.
Pricing: Free 14-day trial is available. The premium plan starts at $399/month.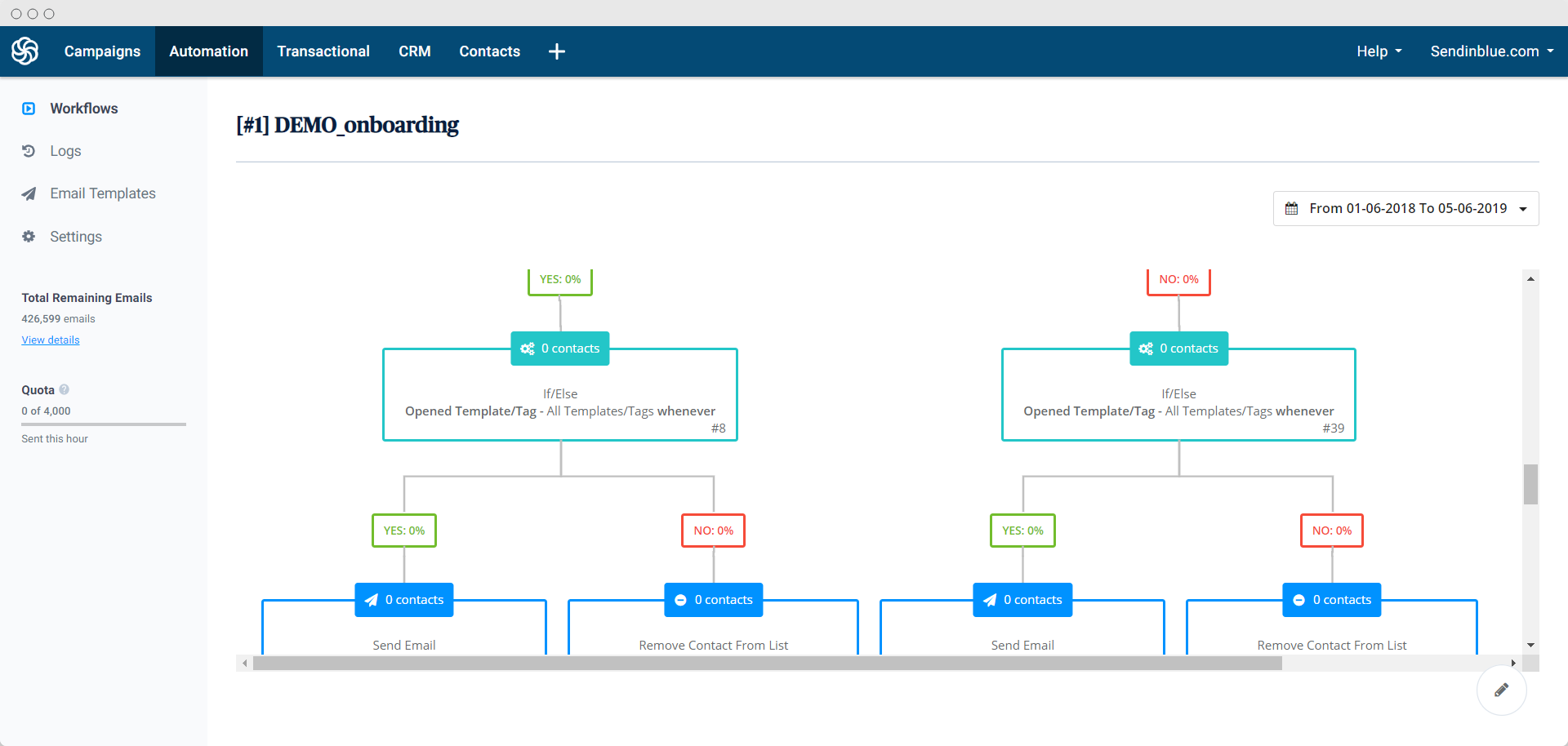 Sendinblue's main advantage of the system is the most simplified control mechanism. For example, the contact list for mailing can be downloaded from a CRM system or another service. In addition, the system can exchange data with analytics services, website creation platforms, spreadsheets, and other tools.
Sendinblue offers basic split testing, a visual editor, multi-user support, advanced analytics, and much more. Whichever plan you go for, you will get access to our full suite of automation features. Make manual tasks a thing of the past by letting the software do the work for you.
Pricing: Free plan is available. The premium plan starts from $65/month for unlimited marketing automation.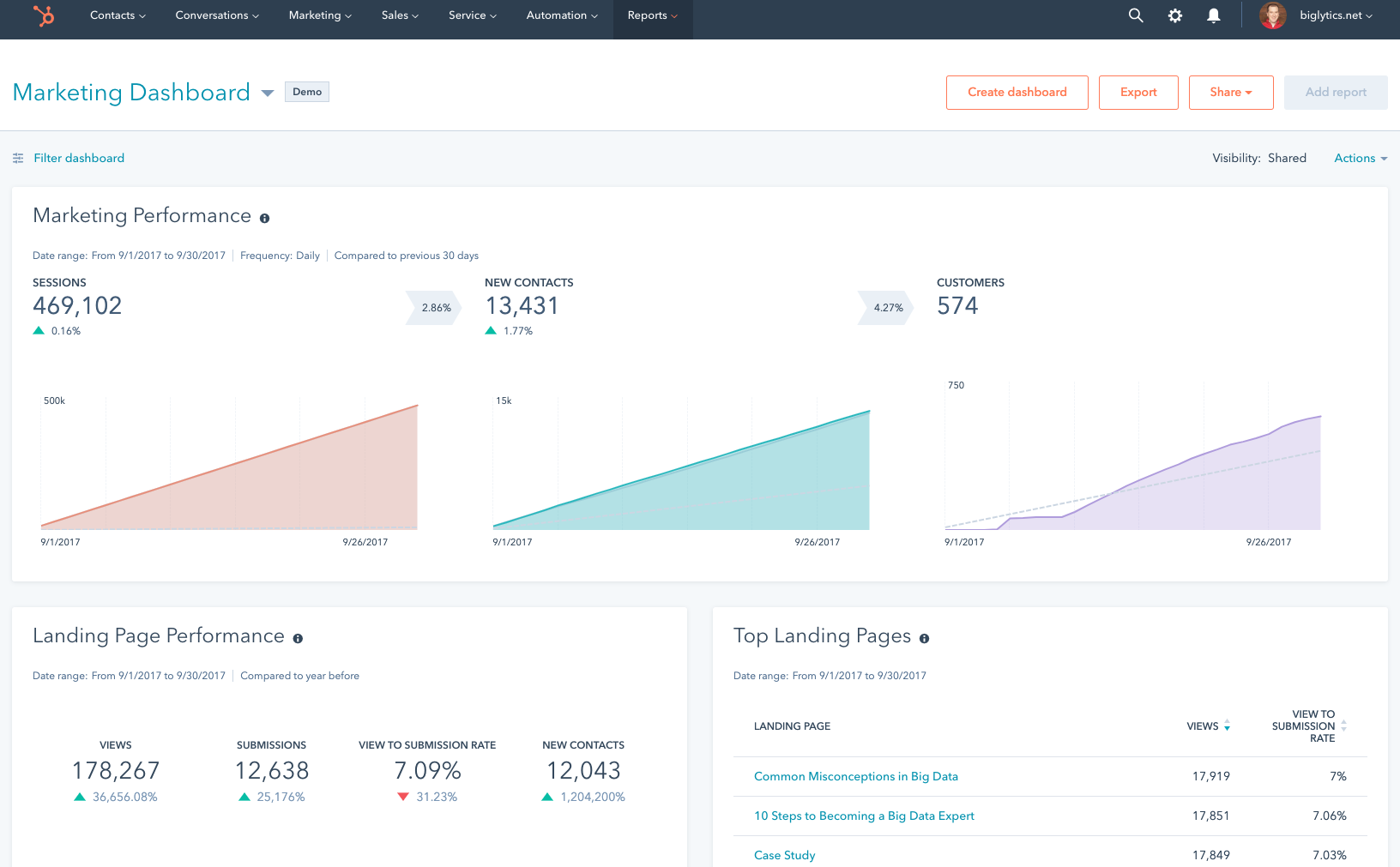 HubSpot is another marketing automation tool that allows you to scale your growth and spend less time on repetitive tasks. The service enables organizations to engage the audience, increase the number of consumers, launch email campaigns, and store the information necessary for work. In HubSpot, department employees can track various media channels: blogs, social networks, advertising, and other possible options.
To increase the conversion rate in Hubspot, teams have access to many functions that allow them to optimize the appearance of selling channels and a tool for interacting with the audience. These include a landing page builder, a form creation tool, a mailing list builder, and tools for tracking leads. Use HubSpot to streamline your marketing by bringing your team, tools, and data together in one place.
Pricing: Free 14-day trial is available. The starter plan starts at $50/month. The professional plan starts at $800/month.
What distinguishes this platform from others on this list is omnichannel: you can add multiple channels to one automation workflow: email, SMS, push notifications, Facebook Messenger, and more.
Omnisend enables you to easily leverage your 3rd party data to expand the scope of your personalized messaging. The service with advanced targeting, separate automation, and a simple drag-and-drop builder is a marketing automation tool worth paying attention to.
Pricing: Free plan is available. The standard plan starts at $16/month up to 500 contacts.
Pardot provides a complete solution that helps marketers create meaningful connections, generate more pipelines, and empower sales to close more deals. This software solution is developed for corporate marketing, that is, B2B marketing. It focuses on helping companies rationalize everything from lead generation to sales automation – increase the interest of leads in your products or services and promote them further along the sales pipeline.
Pricing: The growth plan starts at $1250/month for up to 10000 contacts.
Marketo is the world's largest marketing automation platform that gets measurable results and keeps customers engaged and coming back. The service helps find and attract customers, find out their needs for products, understand the details of search marketing, landing pages, social networks, and track user behavior.
Marketo quickly builds and scales automated marketing campaigns across channels that engage your customers in a personalized way without support from IT. The service fuels fast-growing small businesses and global companies.
Pricing: Prices are based on database size. Please get in touch with the sales team to get a quote.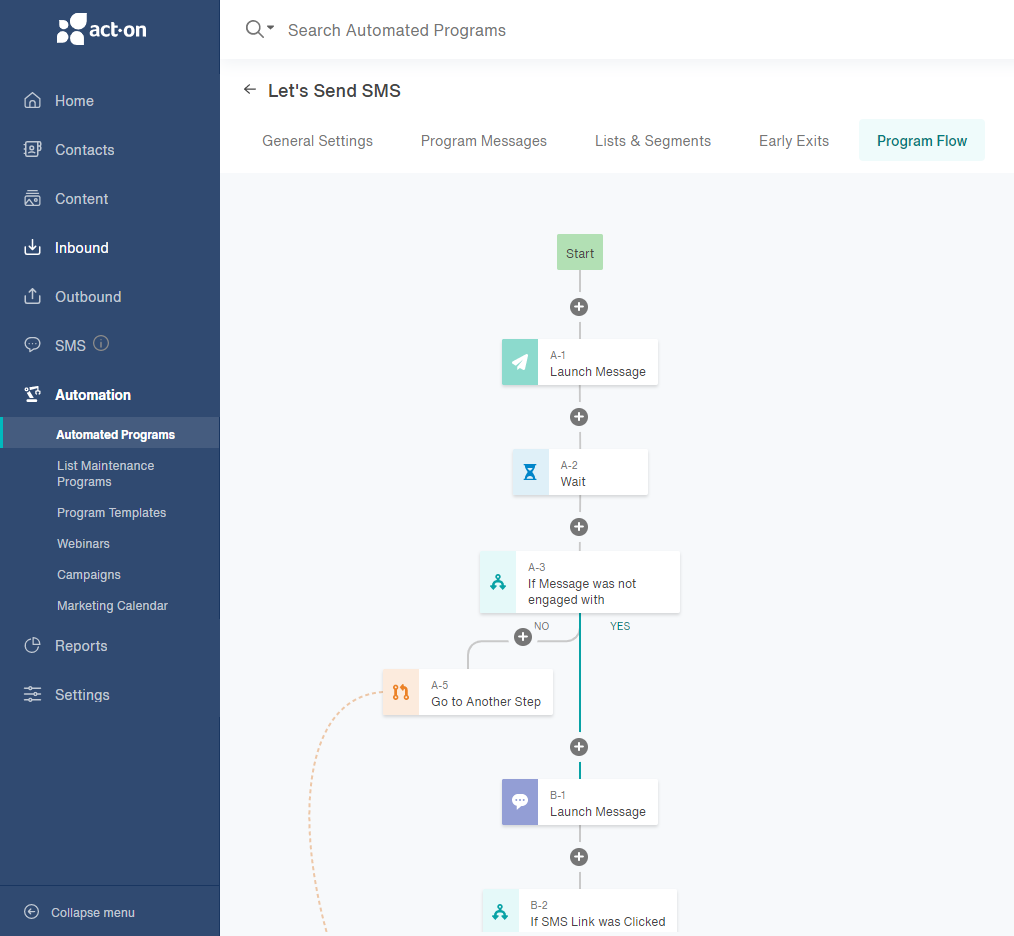 Whether creating awareness, driving demand, nurturing leads, or extending the customer lifecycle, Act-On's automation tools help you achieve exceptional value from all of your marketing programs.
Create, edit, share and save lead automation workflows with Act-On's website visitor tracking, landing page templates, and form builder. Guide your target audiences from consideration to purchase to loyalty with Act-On's automated marketing journey tools. Act-On's lifecycle marketing automation tools help you anticipate and meet your buyers along their preferred channels. The database automation tools empower every marketer to apply data from multiple sources, channels, and mediums to understand better and anticipate prospective and existing customers' behaviors.
Pricing: Professional plan starts at $900/month for up to 2500 contacts.
Rejoiner features all the email marketing software, tools, and hands-on consulting you need to increase conversion rates and crush your revenue goals. It is best for eCommerce companies and online retailers that require a team of email strategists, designers, and developers to help them design and launch their campaigns so they can start generating revenue fast.
The service allows mapping every touchpoint of your customer journey using an intuitive visual workflow builder. You will be able to run A/B tests on individual email templates or entire branches of your workflow. Tag, segment, branch, make true or false decisions and take action on every conversion opportunity.
Pricing: Prices are based on the number of active contacts. The professional plan starts at $120 for 2500 contacts.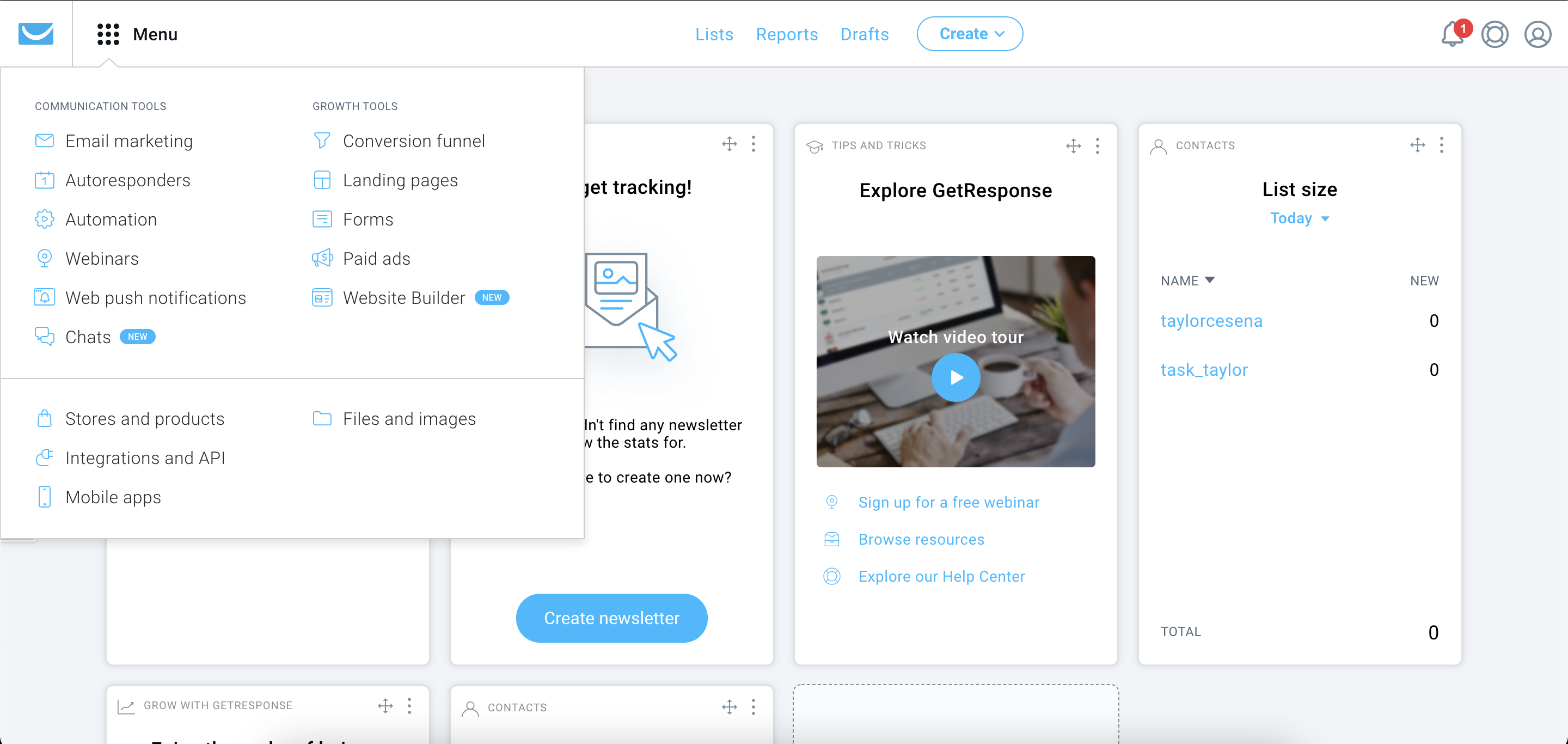 GetResponse is one of the most cost-effective services for marketing automation. It has an affordable cost, an effective CRM, and a rich selection of templates. Moreover, GetResponse has extensive integration capabilities. The most famous examples are considered to be SaaS solutions for eCommerce, for example, WooCommerce or Shopify.
Use pre-built workflows for specific campaigns or quickly build your automation. With the service, you will automatically reach cart abandoners or recommend products your customers love. Add a personal touch to every message and campaign using robust customer data.
Pricing: Free plan is available. The basic plan starts at $15/month for up to 1000 subscribers.
Oracle Marketing Cloud is widely considered to be the most powerful marketing automation tool for enterprise businesses. It helps create more closed-loop marketing and sales activities and manage cross-channel B2B marketing campaigns that nurture leads across each stage of the buying process. A best-in-class B2B marketing automation solution, Oracle Eloqua Marketing Automation offers campaign design, advanced lead scoring, real-time firmographic data, integrated sales tools. Try Eloqua to design and optimize a variety of cross-channel campaigns—from simple to sophisticated.
Pricing: Basic package starts at $2000/month for up to 10000 contacts.
Marketing Automation Trends for 2022
New trends, technologies, and use cases are changing the role and benefits of marketing automation for businesses. Read on to learn about a few significant trends in marketing automation for 2022.
"Smart" personalized content. Even though personalized content is not the latest trend, it is gaining more and more strength and is beginning to influence all aspects of marketing. Modern technologies allow you to analyze almost all users' behavior — how much time they spent on a particular web page, what links they often click, and more. All this information can be used to provide the user with the necessary information at the exact moment when it is most needed.
Content created using AI. Artificial intelligence and machine learning technologies are getting improved every day. It is worth investing in machine learning to develop better marketing campaigns today. Using machine learning and AI along with automation tools and services will boost the effectiveness of your campaigns.
Chatbots. Chatbots help provide round-the-clock and faster user support than before, automatically accept and sort orders, carry entertainment, and other valuable functions. Chatbots are a new interactive marketing channel that will continue to grow as AI makes automated responses more accurate and helpful for consumers.
The enhanced cross-channel marketing. When you work with email, social media, and mobile marketing in one place, it is easier to create a multi-channel marketing strategy. Delivering a consistent marketing message across channels and devices helps optimize your sales funnel, increase customer loyalty, and more.
Mobile marketing automation. With 70% of Internet time spent on mobile, you need to consider reaching and engaging these mobile users. Mobile marketing automation allows collecting information such as location, brewing habits, type of device, and more. After, you can start sending automated content to them: SMS updates, coupons, SMS surveys, and more.
Conclusion
In the world of ever-increasing media channels, there is a need for technologies that can scale, measure, and automate work processes. As a result, technologies and digital tools are becoming mandatory for modern businesses and practical-minded entrepreneurs. Using marketing automation services will help you handle all your marketing activities and save time for other business operations. You need to identify your unique needs and choose the right tool for your brand.
Connect with Agency Vista's top marketing automation marketing agencies to achieve the success of your marketing campaigns.