Powering Smarter Decisions with Agency Vista's New Comparison Feature
Holiday campaigns are quickly approaching and now is the time for businesses to evaluate if their marketing agency is delivering on their growth goals. Agency Vista continues to provide our network of 40,000+ members the opportunity to show how their verified services can best suit a business's needs.
Introducing Our New Side-by-Side Agency Comparison Feature
Agency Vista's new agency comparison feature allows businesses to receive a side-by-side preview of which agency can best suit their needs through real-time and verified information.
Agency Vista helps businesses select the right marketing agency to suit their growth goals. It's simple. Go to the agency search and refine the filters to find the best agency for your business needs. Select your top choices to receive a side-by-side agency comparison. If you're still not sure we have over 70,000+ keywords to filter your search results and find the best agency for your business with the qualifications that matter the most to you.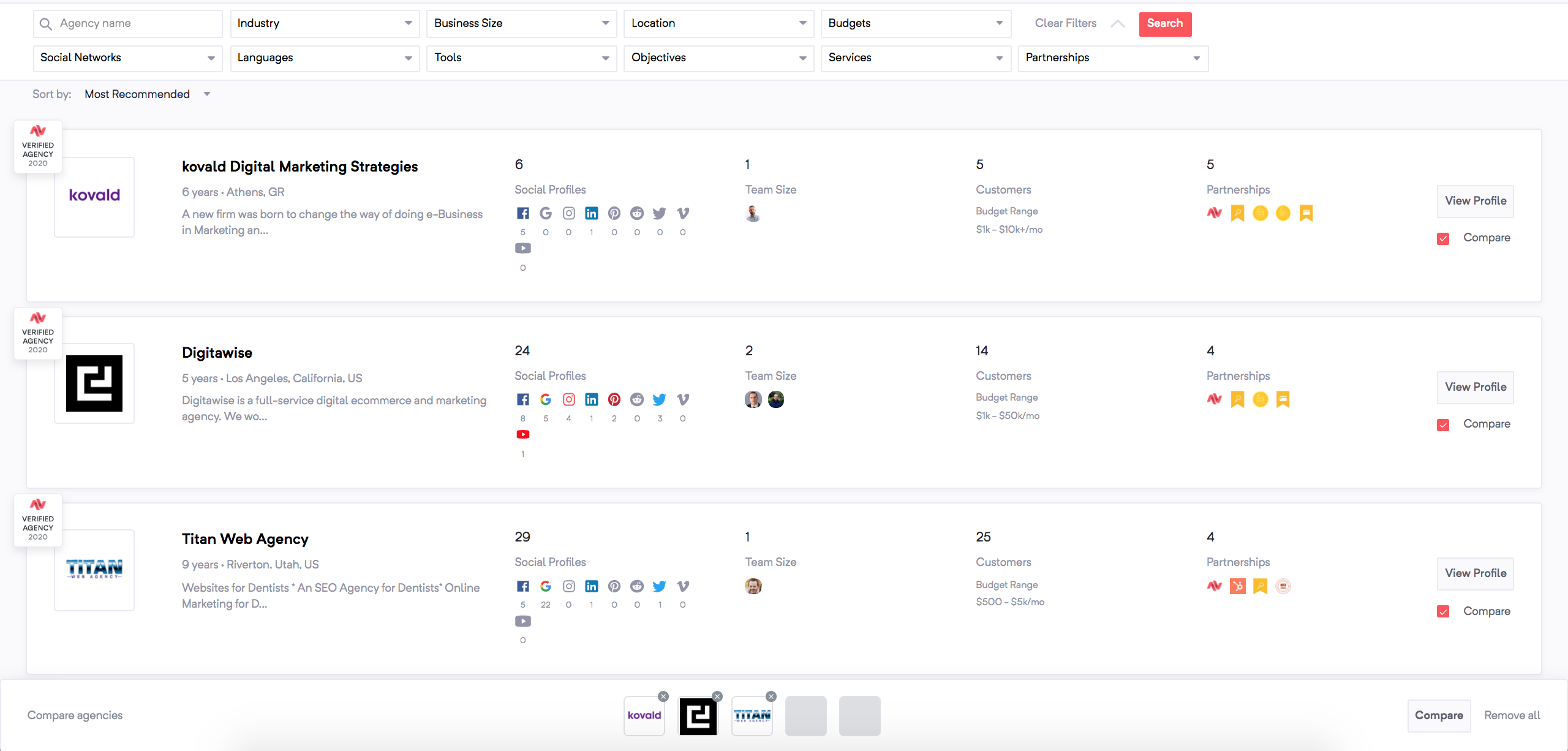 Once a business has selected their top choices they will be able to compare each agency based on:
Reviews
Location
Years in Business
Verified ClientsVis
Languages
Partnerships
Certifications
Team Size
Managed Social Media Profiles
Client Size
Budgets and Pricing
Services Provided
Client Locations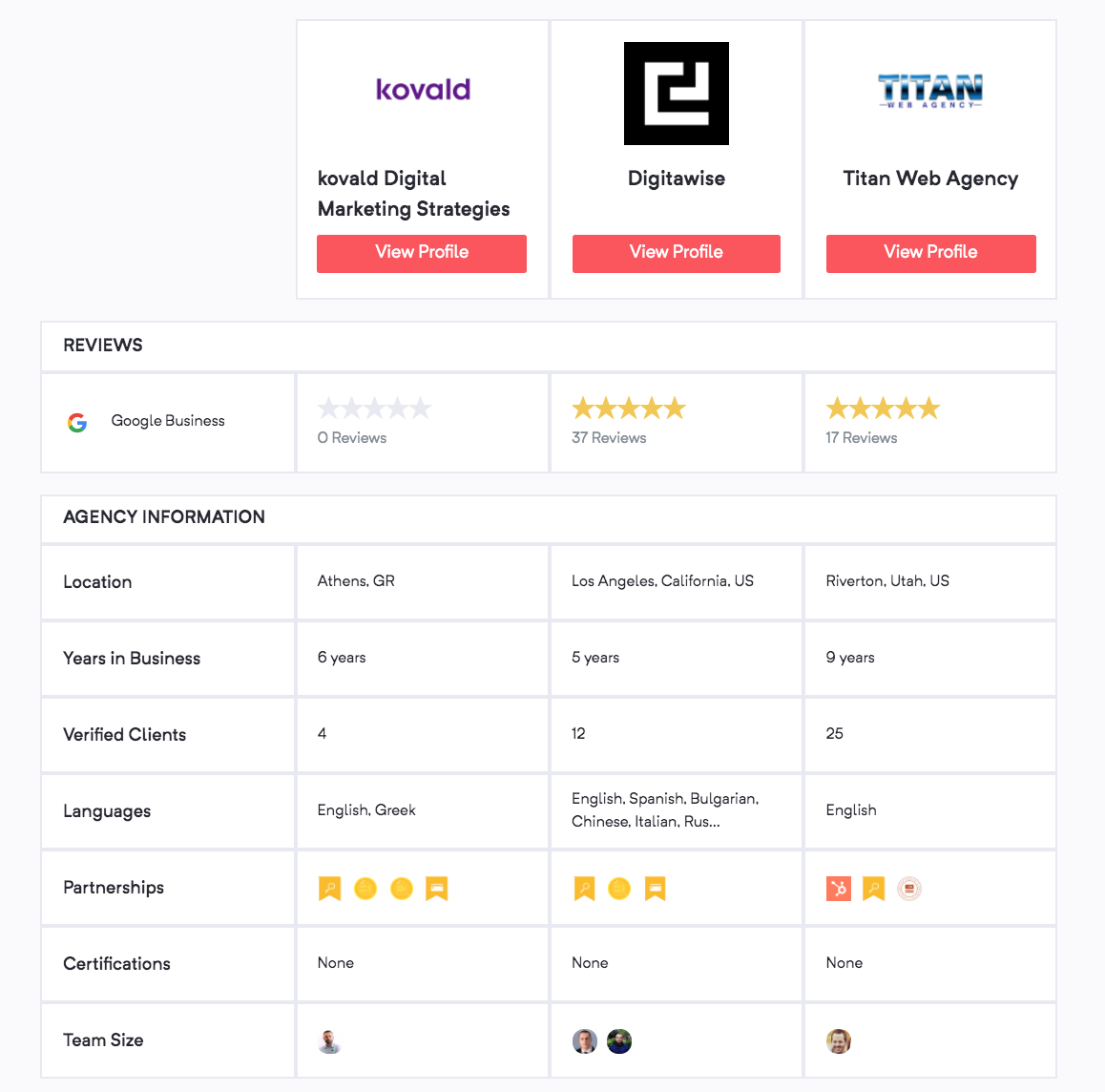 Beat Your Competitors to the Conversation
Agencies, now is the time to level-up! Make sure that you have completed your profile information so that your business can appear in the most number of searches that match the services you offer.
We recommend that you review your profile to ensure that it is looking its best so that you are attracting your ideal clients. Here is a must-have profile checklist for you to use:
Connect social profiles and blogs so that your latest social media updates flow into our network and are viewed by potential customers.
Add and verify clients so businesses can get a better understanding of the services you offer.
Set up your partnerships and certifications to ensure our businesses are aware that you are a verified expert known for excellent service.
Invite team members to attribute a personal touch to your agency and lend trust to profile visitors.
Promote job openings at your agency to a network of qualified candidates.
Become a verified agency by completing all outstanding steps on your profile to increase profile impressions and qualified lead generation.
Benefits of Becoming a Verified Agency
An Agency Vista verified badge celebrates businesses with the highest brand integrity and client satisfaction based on your profile information. The verified badge allows your agency to gain access to increased exposure of your profile for free. This includes being featured on the homepage, higher search ranking, marketing and growth opportunities, and eliminating the similar agencies section at the bottom of your profile.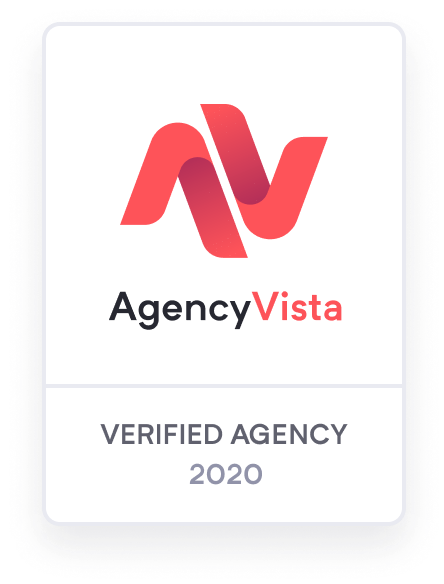 You also will receive an awesome looking badge for your Agency Vista profile to help your business stand out. The verified badge can also be posted on your website or added in your email signature as social proof that your agency is a credible business that delivers high-quality results.