Outsourced marketing myths can defer businesses from finding time-saving solutions to tedious tasks. A lot of business owners find themselves struggling between keeping their marketing in-house or outsourcing it to an agency. Deloitte reported that the top reason for outsourcing (70%) is cost reduction; the second reason is flexibility (40%). Speed to market is important to 20% of businesses. Access to tools and processes and agility matter to 15% of the surveyed, according to Deloitte's outsourcing statistics graphs.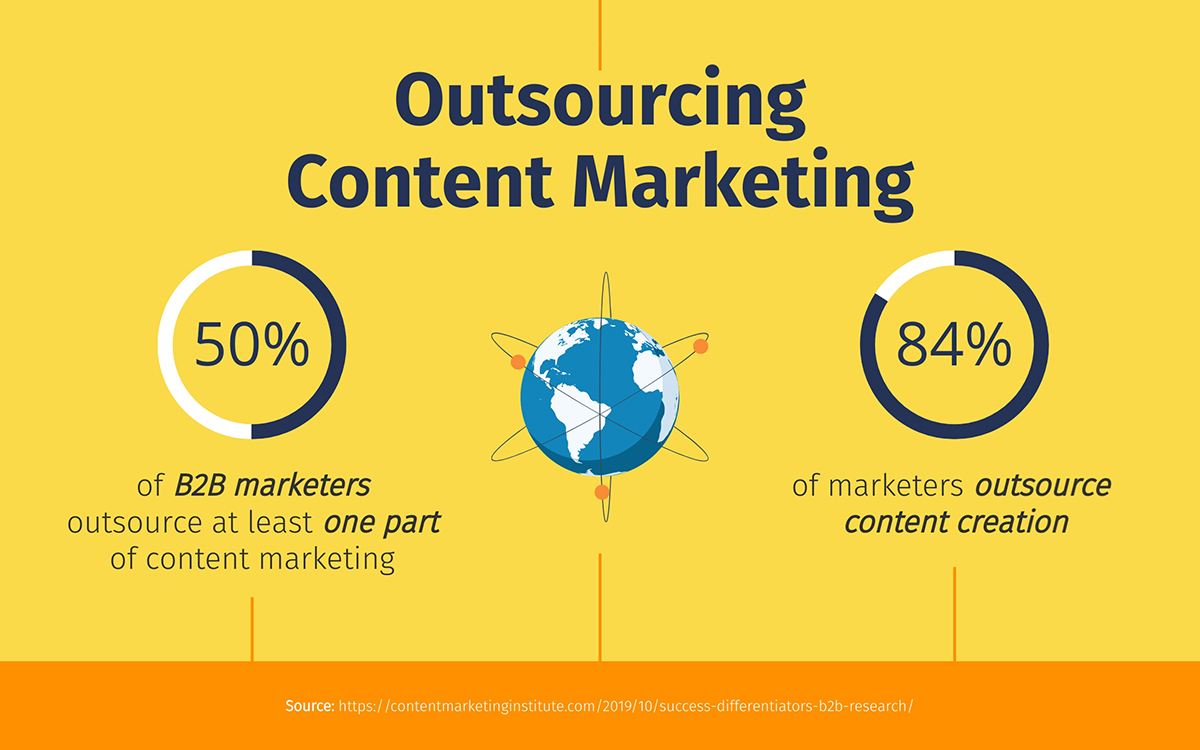 Agency Vista has listed the most common outsourced marketing myths that you should leave behind in 2021.
Outsourced Marketing: 5 Myths You Should Stop Believing
Myth #1: Outsourced marketing is expensive
Collaboration with highly qualified specialists is never cheap, whether it is an in-house team or remote one. This myth grows out of incorrect calculations and is broken by an elementary example. What marketing tasks can be outsourced? It depends on the company's capabilities; you can give only one function or complex marketing roles. For example, look at the list, and choose for yourself what you can quickly outsource:
Developing a marketing strategy
Content marketing
Social media marketing
Search Engine Optimization (SEO)
Email marketing
Contextual advertising
Website development
Branding and graphic design
Public relations (PR)
Situational analysis of the market
This is how many specialists you need to have in your staff to run comprehensive digital marketing. These are different positions with their specialization, and they can only combine them to the detriment of quality. It is already more expensive to maintain a marketing department (from 2 people) than outsourcing all marketing. You count all the financial expenses (salary, office and workplace expenses, taxes) and temporary ones (search, control, training of the new employees).
The overall picture is as follows: digital marketing must have a comprehensive approach to be effective, which involves several specialists from different areas. Moreover, If you are new in the business, you do not have as much experience as the professionals do. You are unlikely to be able to assess the quality of the contractors' work and will lose not only money but also precious time at the start.
The price is determined during negotiations and depends on the goals and objectives of the business. Due to the transfer of marketing functions, the company's costs are reduced, and the marketer's work is optimized for years. The actual economic effect is achieved by adapting the processes and capabilities.
Myth #2: You lose control when outsourcing
If the company's experience was unsuccessful due to an insufficiently optimized system for modern realities, the management is more likely to worry that it will lose management mechanisms and control over the situation. The same applies to the marketing process – taking this process outside the organization is often considered a dangerous step.
However, by signing a contract with an outsourced marketing agency, you automatically transfer all responsibility for managing processes to the contractors and demand from them detailed reports and actions according to your requirements; this is fixed in the contract. In the case of an in-house specialist, on the contrary, the situation may get out of control due to negligence, dishonesty, or, for example, sudden employment termination. You are not an employer for the company to which you delegate some marketing functions; you are a client with one complex task. In case of non-fulfillment of the procedures, outsourcers lose both their income and the client.
Also, there is one subtlety — for the company to maintain the control function, there must be a manager responsible for it. When the process is not assigned to anyone internally— no one controls it. Ensure to partner with the right specialist and build a more effective interaction with your third-party team by requesting real-time analytics and predictive forecasts. With the correct implementation of outsourcing, the organization does not lose but, on the contrary, gains additional control.
Myth #3: There will be language and communication barriers
Companies can choose outsourcing services within their country of operation (onshore outsourcing) or in neighboring countries or states in the same time zone. Quite often, outsourcing services from more distant countries are used for doing business. Some businesses may worry about a language barrier, different time zones, cultures, and ideologies regarding country differences.
The reality is that modern infrastructure allows us to hire highly qualified specialists worldwide, and the leading outsourcing regions demonstrate that the language barrier does not exist. English is undoubtedly the universal language for the digital industry, and outsource contractors in marketing or any other area have good English communication skills. Moreover, professional marketing specialists clearly understand that those who know English automatically get an advantage — they get the opportunity to use a deeper theoretical base. This is evident since English-speaking advertising and marketing are developing much faster than others.
To avoid any risk, choose the country for outsourcing carefully. Find a marketing service provider who can ensure that the team can communicate with you and run the project in the language required.
In terms of communication processes, finding the right tools, resources and developing quality communication skills are critical. The good thing is that numerous tools help to handle remote operations more flexibly. Among them are Slack, Zoom, GoToMeeting, Trello, and others.
Myth #4: A third-party company does not care about our business
Any company that provides outsourcing services or individual contractors themselves depends entirely on the success of their customers' business. That is why, with the proper distribution of responsibilities and the right choice of service provider, the outsourcer shows much more zeal to optimize the customer's processes than an in-house specialist.
Your goal is to deliver a clear and compelling message, and your outsourced marketing team will help you realize one. A professional team brings years of diverse industry experience and has access to tools, technologies, and efficiency optimization techniques.
Engage them to conduct research that will help identify your company's strong sides and get motivated. The specialists involved have experience in implementing marketing tools and solving problems in various markets, organizations with different corporate cultures, and various business models. As a result, such specialists are much more likely to find additional business growth points and successfully solve non-trivial marketing tasks.
Myth #5: Only large businesses embrace the outsourcing trend
Outsourcing is not only about big companies. 24% of small businesses outsource to increase the efficiency of their business. The only difference between outsourcing for small companies from outsourcing for large companies is that those small companies use it mainly to reduce costs and large companies to optimize many business processes.
Small and start-up businesses have functions that can be effectively implemented without outsourcing, of course, but this will significantly increase organizational, timing, and financial costs. For medium-sized and small firms, outsourcing is much more beneficial and provides good opportunities. The main benefit from outsourcing for businesses of different sizes is still the same – the use of someone else's highly professional experience, which has accumulated over a long time, and the constant access to the latest knowledge and technologies.
Conclusion
When talking about outsourced marketing, you can delegate completely different functions, complex and voluminous processes, and small tasks. Will you give the whole marketing or only a part of the tasks, for example, the Internet direction? A dilemma that only experience can solve.
Put these five outsourced marketing myths behind you, and remember that outsourcing provides opportunities for catapulting businesses to a dominant market share, large-scale growth, and new revenue opportunities.