Effective marketing strategies are essential in every business. Whether it is email marketing, SEO, or content marketing, they help businesses increase their revenue and achieve their goals. Performance-based marketing is slowly rising to the occasion because of how effective it is in selling products and services. For those who are not familiar with this type of marketing strategy, read on to know what it is, why it is effective and the recommended tools you can use to take advantage of this technique.
What is performance-based marketing?
Performance-based marketing is commission-based marketing wherein brands only pay their agency once their conversion goals are met or when specific actions are completed such as leads or closed sales.
What is great about performance-based marketing is that there is assurance that you will get your return on investment. You will also get better control over your ad spend because every cost has an equivalent revenue.
How does performance-based marketing work?
Performance-based marketing involves 3 key players:
The affiliate partner
Conversion goal
Commission rate
Once you have chosen an affiliate partner (could be a marketing agency or an influencer), you as the advertiser will set a conversion goal that they need to hit at a particular time frame. For example, you hire an influencer to promote your product and they need to hit 1,000 sales for the quarter from customers who use their affiliate link or coupon code. Once the goal is reached, you then agree to pay them a fixed commission for the sales they have brought you.
How do you create an effective performance-based marketing strategy?
1. Know your business goals
As a business owner, ask yourself: What is your main objective? Are you looking for leads, sales, drive traffic, or perhaps simply raise awareness about your business? Defining your marketing goal at the very beginning is crucial as this will determine which key metrics to track and what ad strategy to use.
2. Choose a credible affiliate partner
Choosing the right partner that will execute your business goals requires extensive research as this is the most important step in this process. The effectiveness of the marketing strategy you have in mind depends on them so it is important that you take your time in identifying the right online publishers or social media influencers.
Even though this is a commission-based partnership, it will still be a waste of time and resources if the agency you hire does not have the experience you require.
3. Generate unique links/codes
Once you have chosen a partner, create unique affiliate links or codes that your marketing partner will use for the campaign.
This unique link or code is how you will be able to track the effectiveness of the campaign as compared to others. Assign a UTM parameter, unique code or custom ID and make sure that you can clearly track it via Google Analytics or other reporting tools.
Top Performance-based Marketing Tools You Can Use
Look no further, Agency Vista is home to over 46,000 verified digital marketing agencies that you can sift through to find the most suitable performance marketing partner for your business. We understand the difficulty of choosing who to trust; that is why we verify all agencies and add a certified badge to those that meet the highest standards of performance and service. The agencies you will find in our platform have real user reviews that can help you make better decisions.
Features:
100% free to use
Over 46,000 Verified Profiles
Portfolio of Relevant Agency Information
Auto-generation of Leads for Agencies
Social Media Integration
2. PartnerStack
PartnerStack is a partnerships platform used to automate onboarding, training, payments, and more to empower their partners' success. They facilitate onboarding, create reward structures, and automate the payment process to ensure the success of a program.
3. Affise
Affise is an affiliate software that allows you to manage and track your advertising campaigns. You can configure dashboards, set up multi-currencies and flexible payouts, create AI smartlinks, anti-fraud protection, and more.
4. LeadDyno
Mostly used by eCommerce businesses, LeadDyno manages affiliate marketing campaigns and integrates with third-party websites such as Shopify, Wix, WordPress, Stripe, Chargify, BigCommerce, Recurly, and a lot more, to make the workflow smooth. Some of its major features include email automation, payout management, conversion tracking, and thorough reporting.
5. AffiliateWP
Made specifically for WordPress, this affiliate marketing solution boasts on its easy setup, accurate affiliate tracking, and real-time reporting. You can create affiliate landing pages, custom affiliate slugs, and affiliate forms via Gravity Forms and Ninja Forms.
6. Impact
Recognized as a global leader in partnership automation, Impact offers a complete performance-based marketing solution from initial contact to payout. From their database, you can search for an affiliate partner, create contracts and pay them automatically. They also use Dynamic Payouts that allows you to automatically adjust partner commissions up or down by a variety of factors such as geolocation, lifetime value, cart size, discount, or item category!
7. AnyTrack
AnyTrack simplifies conversion tracking and attribution reporting. Simply add AnyTrack tag into your site, integrate all your affiliate and ad networks, and immediately watch your data flow in. Now you don't have to look at multiple sources when analyzing your numbers, consolidate them all into a single dashboard and make faster decisions on your campaigns!
8. TapJoy
Looking to advertise on mobile apps? TapJoy focuses on mobile advertising and app monetization. If you are an advertiser looking to advertise on mobile games and apps such as Mobile Legends, SnapChat, or SHAREit, TapJoy offers in-app advertising and measures user behaviors like video completion, in-app purchases, ad engagement, and long-term retention to ensure that your ads are seen by users who will most likely to buy from you.
9. iDevAffiliate
iDevAffiliate is an affiliate marketing and tracking software that helps you build a profitable affiliate network. What's great about this tool is that it is very affordable and that you can buy the license for a one-time payment and enjoy not paying any monthly fees.
10. Partnerize
Partnerize is an end-to-end partnership platform that also offers automation of the entire process from partner discovery, recruitment, optimization, payment, and fraud prevention. Their easy-to-use dashboard provides high-level data that allows you to see the result of your campaigns and make decisions quickly.
11. SharpSpring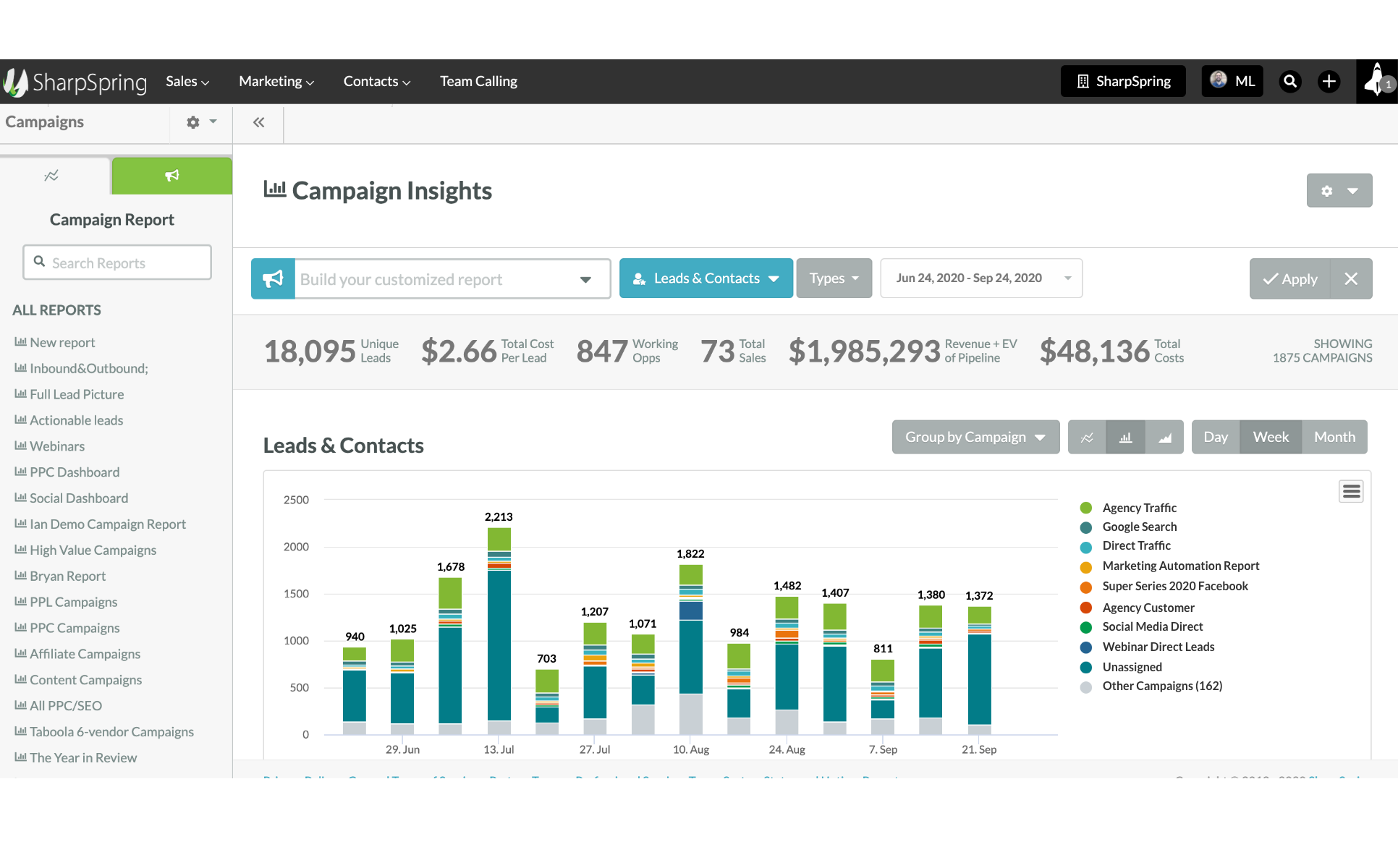 SharpSpring is a comprehensive revenue growth platform with robust sales and marketing automation features, functionality and performance. SharpSpring is one of the most flexible platforms on the market, offering powerful, behavior-based email marketing, native or 3rd party CRM integration, dynamic forms, landing page and blog builders, social media management, universal CMS compatibility, and integration with hundreds of applications. SharpSpring is usually less than 1/3 the cost of the competition, is the easiest company to work with and the easiest platform to use.
Final Thoughts
Performance-based marketing is one of the most-loved marketing strategies of businesses and advertisers. After all, who doesn't want to only pay for results right? However, even though it is as easy as it sounds to run a performance-based campaign for your business, finding the right tool is almost as important as the partner/influencer that will execute your campaign as the right tool will make the process 100x easier and less time-consuming for you.
Make the most of your performance-based marketing efforts with Agency Vista — get started today, for free!