Scheduling content for social media can take up a good chunk of your day, especially if you are an agency managing multiple brand's social media profiles. According to Content Marketing Institute, 81% of organizations use social media publishing/analytics tools. Content creation/collaboration/workflow tools increased from 48% in 2019 to 58% in 2020.
Most marketers are pulled into multiple meetings throughout the day, and time can get away from you quickly. Finding solutions to manage time better on repetitive or tedious tasks can help you focus on areas that will truly impact your business. Saving time does not mean automating everything. The content you post on social media should still be engaging, informative, and selling.
Agency Vista has collected seven time-saving tips for social media that will help get you on track. Stick around!
Scheduling Content For Social Media: Time-Saving Tips
1. Plan your social media content in advance
Planning is necessary to save time and proudly survive the "creative crisis." Agree, it is not so easy to sit down and make engaging and valuable content. All social platforms have their specifics and target audience, so it is advisable to make a content plan for Instagram, Facebook, LinkedIn, and other platforms separately.
A content plan is a schedule of publications in the social network to indicate the topic of the future post, date, time, and idea. The structure may be different, but the essence remains the same. We recommend using a visual content scheduler, like Agency Vista's, to create a content plan to structure and make publishing posts more appropriately automated.
Work one week ahead.
What events and launches are planned for this week?
Which new blogposts are scheduled to publish?
How much new content do you need to find ahead of time?
Which images could you create in advance?
Planning a week ahead, you can fill in many of the slots in your schedule that will hold posts from your archives—the reshared content that you've posted before. New content and curated content can join the schedule as the week progresses.
2. Use hashtags to find posts easier
Using hashtags correctly for your social strategy can become a powerful marketing tool, increase brand awareness, increase reach, and positively influence customer loyalty. With their help, users can partially organize the information chaos of social networks and extract the necessary data from the background noise. And Internet marketers use hashtags to convey information to their target audience.
Of course, you will need to spend some time to find out which hashtags work in your field and will work for the benefit of your business, but this tool can be another additional opportunity that will help you achieve your goals.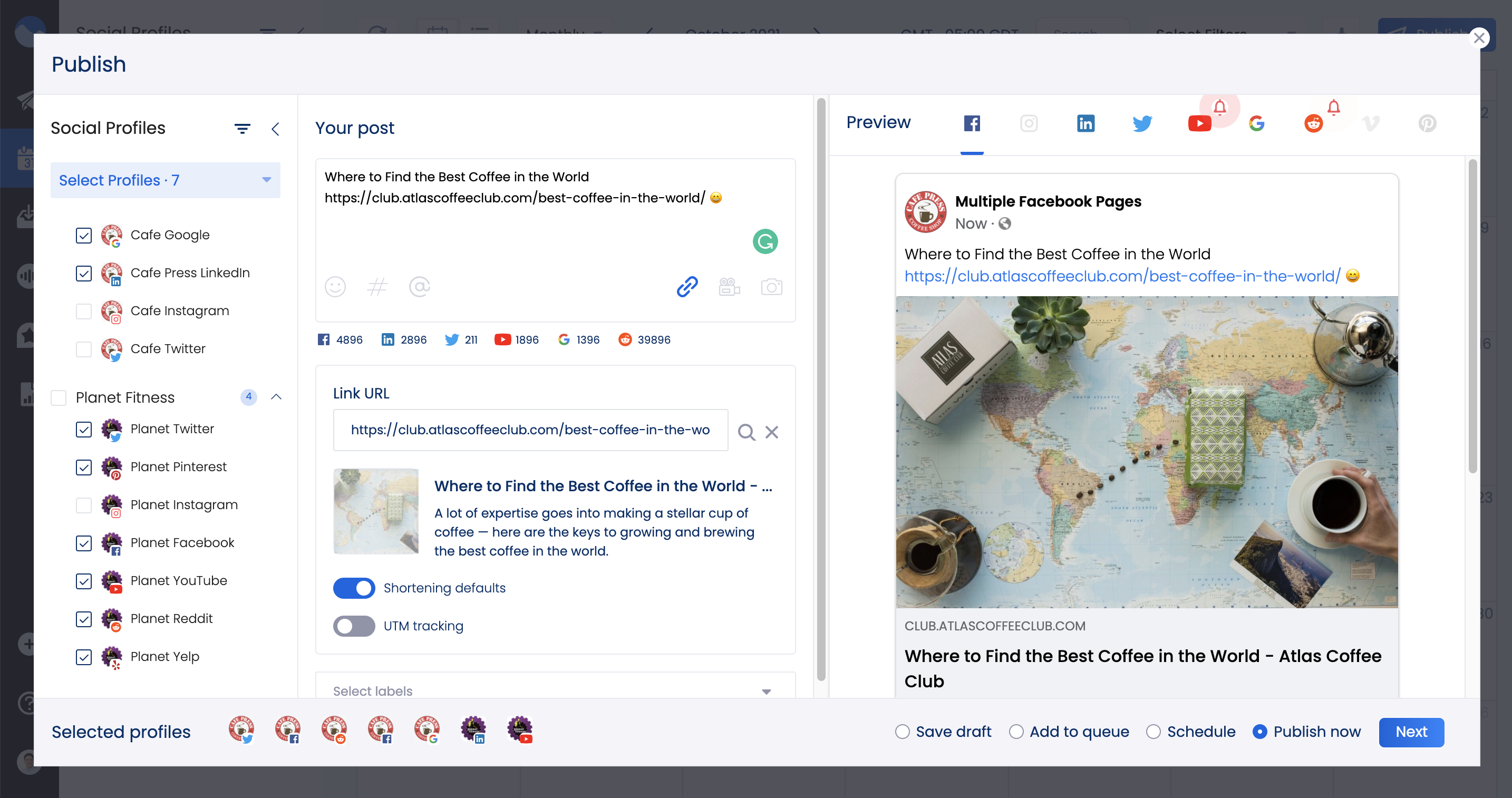 One way to save time when working with the content is to keep all your hashtags in one place. With Vista Social's social media scheduler, you can create bulk hashtag groups. We recommend writing down the most effective hashtags for different types of posts. The next time you prepare a post for publication, all you have to do is click the hashtag button and select the hashtag group you'd like to add to your post. It is an obvious time-saver for selecting hashtags.
3. Create universal mentions across different platforms
When it comes to online marketing, your social media handle is an essential part of your branding. It shows professionalism and helps monitor the web for mentions of your company, competitors, or other relevant topics.
Have you ever tried to tag someone in a post, and their username is different across each social media network? This is a pretty common thing to run into and can take up a lot of your time trying to find the right person or brand. In Agency Vista's social media scheduler, there is a username functionality called universal mentions.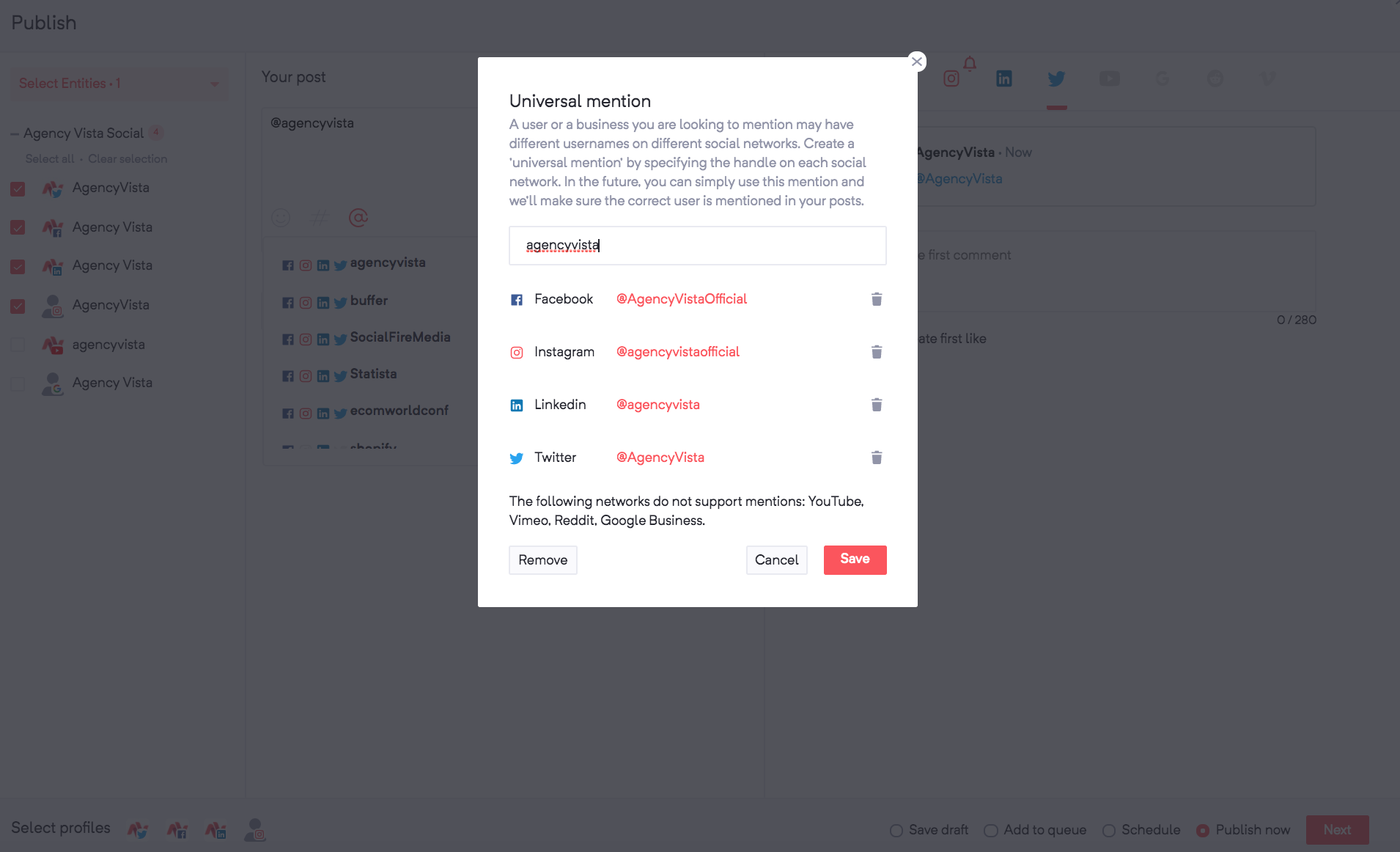 This allows you to create a group for a social media user and have all of their different usernames in one accessible place. So, when you go to mention this social media user when you're scheduling your posts, all you have to do is simply click the @ icon and select their name. The social media scheduler will make sure the correct username is used on the right platform.
4. Use a scheduling tool
People are spending more and more time on social media. As a business owner, it will become increasingly difficult for you to update your company's social media pages in time, write new content, and interact with your target audience.
Agency Vista is committed to marketing tech innovation and our goal is to deliver value to our agencies both in terms of marketing exposure as well as tools they use in their work. Agency Vista's social media scheduler's current features enable users to effectively manage their client's social media profiles through a feature rich social media publisher. Schedule and publish posts on Instagram, Google, Facebook, LinkedIn, Reddit, Twitter, Vimeo and YouTube.
Each upgraded plan on Agency Vista allows that member a certain number of profiles to schedule and publish content. For example, a starter plan allows 10 profiles (this could be your business and 9 other clients), Essential with 100 profiles, Premium with 200 profiles, and Viral with 500 profiles. If you even go above these allocations you can always add more profiles.
What's even better is Agency Vista's pricing is super simple: $1 per social profile per month. To give you a point of reference, to manage 200 profiles with a team of 5 people it will cost you $845/month on SproutSocial, $400 on Buffer and over $500 with Agora Pulse and eClicnher. All the while it will only be $199 with Agency Vista not to mention all other benefits of our subscriptions.
5. Discover the best time to post on each social media channel
If you have been in social media management for a while, you know how important it is to catch your followers when they are most active. When you post at the right time, you have a much better chance of attracting your audience. That is why it is crucial to discover the best times to post on social media to maximize opportunities to attract attention. There is specific dependence of the time of day and day of the week on users' behavior in social networks.
For example, while the best time to post on Facebook is 1pm-4pm, 6pm-10pm, Instagram users are most active at 11am-1pm, 7pm-9pm (Blog2Social, 2020). You can always check the in-app analytics for your social media accounts to find a breakdown of the times and days when your audience is most active.
6. Schedule posts to multiple accounts at once
Scheduling your posts to get published across all your social channels at once is an excellent solution to save time. Such services as Agency Vista's social media scheduler, for example, allow selecting the social profiles when scheduling content.
This allows your business to quickly publish content across a number of different profiles and social media platforms quickly and easily. Please take into account the features of each social network and adapt the content to them. Choose the interesting type of content to your users (text/video/photo), the frequency of publications, the attitude to external links, and others.
7. Create high-quality captions for your social media posts
Even though visual content dominates, verbal communication allows us to deliver information to other people and understand what they want from us/our business. Before you post a photo with a caption on social networks, make sure that your post meets these parameters:
A caption adds value to your publication.
Your style matches the style of your audience.
Your brand's voice stands out clearly.
Your main message comes first.
The post is not an advertisement.
There are no errors, false facts, or incorrect formatting in the caption.
You gave users a reason to interact with your account.
Getting your Tweets down to 71-100 characters will help to catch your audience's attention. Stick to 138-150 characters in your Instagram captions if you want to boost engagement. The maximum number of Pinterest boards is 500.
A high-quality caption should explain the images, call to action, increase readers' sympathy, arouse curiosity and desire to follow the brand, concretize and enhance the emotional message of the picture.
Ready to start scheduling your social media posts? Get started with Agency Vista's scheduler today
If you have a profile on Agency Vista, then you'll gain free access to managing 10 social profiles. No extra fees, no credit card which means no reason not to try it! Simply login to your profile and in your dashboard click "calendar" on the top menu bar to start scehduling social media content — right within Agency Vista. Otherwise, we would love for you to try Agency Vista's scheduler for free by signing up for a free profile in our agency ecosystem.