Simply being on social media and posting regularly isn't enough — consumers expect brands to produce new content ideas for them to engage with and learn from. With social media being already very saturated, it can be difficult to know how to successfully deliver and scale your content strategy.
Thus, professionals created agencies that provide acknowledged high-performance content at nationally competitive rates. Feel free to learn more about the top creative marketing agencies that have been researched, compiled, and verified.
Unlike other digital marketing strategies, like email campaigns, social media platforms allow you to interact with the audience in a more informal, direct manner, making it easier to keep your users engaged.
However, constantly coming up with new content ideas might be a little bit of a challenge. If that's the case, consider consulting with a company that offers creative branding services.
Content ideas that will help your social media strategy
1. Host a Contest/Giveaway
Giveaway posts are one of the most effective ways for boosting engagement. After all, everybody wants something for free. Not only that, but contest posts are more likely to be shared by your audience, therefore increasing brand visibility.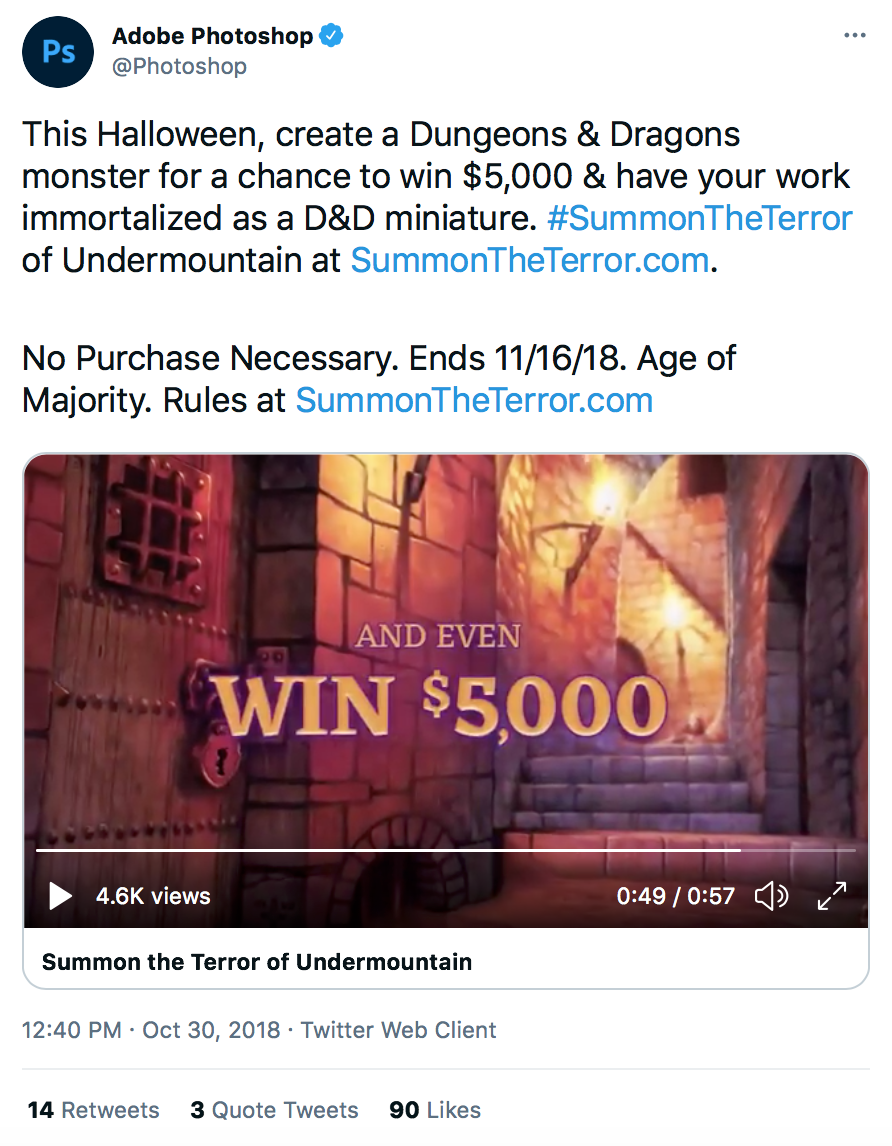 One great way to host these giveaways is by encouraging users to post their content, like having them post photos of themselves using the product, sharing their experience while using the product, etc.
However, when hosting contests, remember to include a terms and conditions section to cover yourself legally. Furthermore, including this section will make your giveaway seem legitimate, eliminating any skepticism users may have.
2. Focus on Videos
Videos can be pretty effective at drawing the users' attention, making them stop scrolling while browsing their feed. Video content ideas have different components that are worth breaking down. Here are the top categories for video content:
Live Videos
Live videos have risen in popularity recently. Platforms like Facebook, Instagram, and Twitter offer the ability to go live. But why should you do it?
First and foremost, 82% of users would prefer watching a live video from a brand over any social media post. Secondly, Facebook Live videos produce six times as many interactions as other types of videos.
In other words, live videos are a great way to engage your audience, and that genuine connection makes your audience believe you and our brand.
But what type of live videos should you host? Well, you could do an "Ask Me Anything" session where people get to know your company better or host launch events and press conferences, for example. In the below example, Chipotle's executive chef shares how to make margaritas for Cinco de Mayo.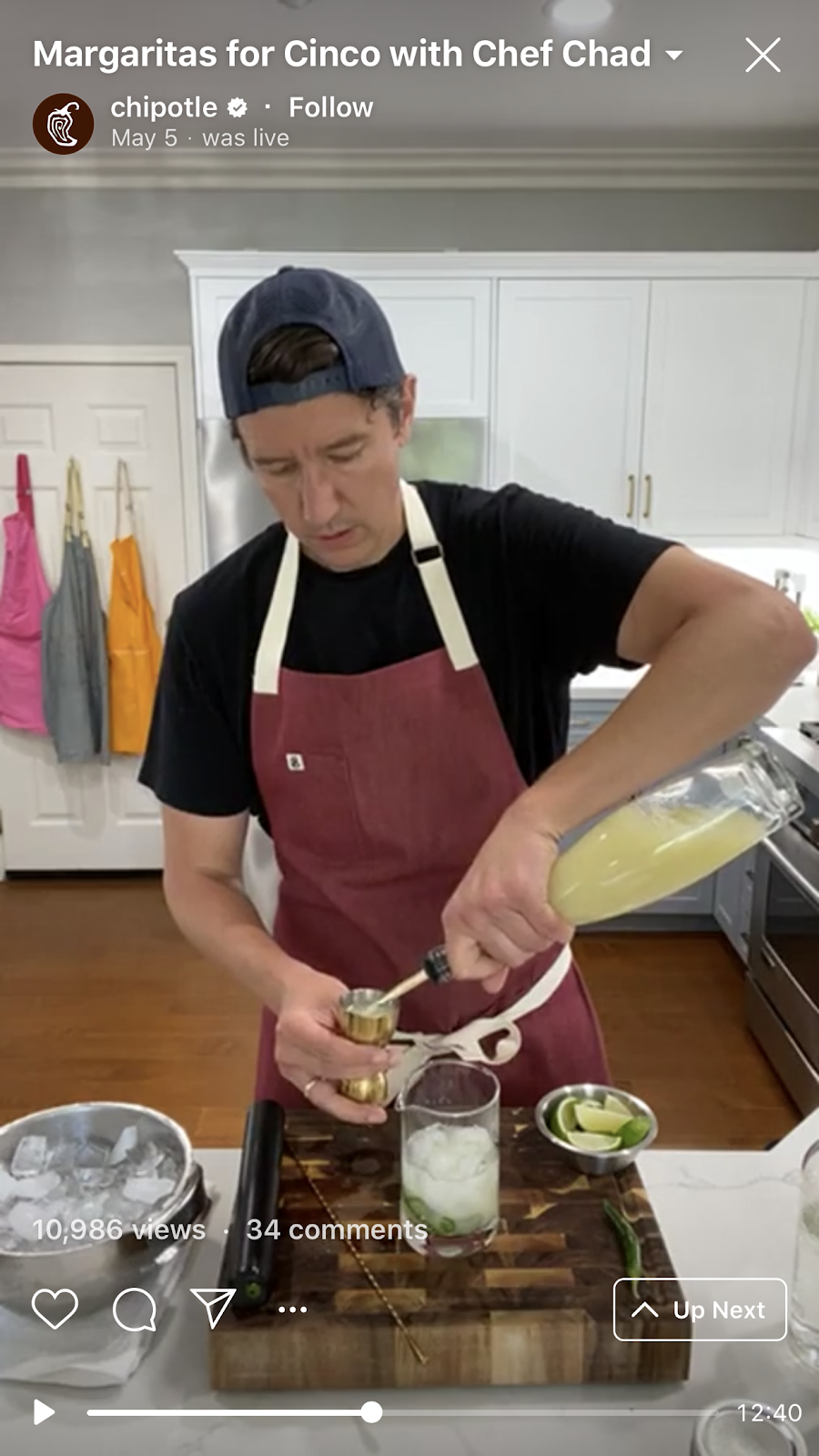 Short In-Feed Videos
In-feed videos do an excellent job at grabbing the users' attention. Compared to regular images, which a user's feed is most likely flooded by, the dynamic nature of videos will make your content stand out from the rest of the page, determining users to stop scrolling.
Keep in mind that these videos need to be short. There's no point in creating something that's longer than 15 seconds. The user will most likely lose interest in anything that goes above that mark.
Remember 65% of users who watched the first 3 seconds of a video are likely to watch it for up to 10 seconds. With that said, find a way to spark the user's interest within that time frame.
Stories
Like in-feed content, stories presented in a video format are better at grabbing attention than static images. However, there's one more reason to create video ads for stories.
You see, on Facebook Story, for example, images will only be shown for 5 seconds, whereas videos are allowed for up to 15 seconds. So, you will have more time to convince the users to interact with your company.
3. Offer Behind-the-Scenes Content
Showing followers how your company operates behind-the-scenes is an excellent way of working on your brand image as it allows you to engage and connect better with your audience. Not only that, but it will give users a reason to trust you more, ultimately helping you build a loyal customer base.
With that said, make sure to post photos or videos of the team behind your company and showcase how your brand's personality is present in their workplace.
Also, provide regular updates on the projects you are working on and maybe even let people have a look at your day-to-day life. Or, as we have previously mentioned, host regular AMA sessions so people can get to know your company better.
4. Poll Your Audience
Creating poll posts can be beneficial in multiple ways. Firstly, people love to give out their opinions; therefore, they will be more likely to engage with your posts.
Secondly, asking people for their opinion will show that the company is interested in its audience, ultimately creating a loyal follower base.
And finally, you can use polls to gather valuable information, like gaining market insights, judging consumer preferences, and better understanding consumer demographics.
5. Share Segments of Your Blog Posts
If you happen to run a company blog, make sure to share segments of its content on social media. Informative articles regarding industry or company news, how-to guides, etc., will provide value to your target audience and help increase your website's traffic.
6. Collaborate with Influencers
People have grown accustomed to the abundance of intrusive ads from self-promoting businesses in their feeds, and thus, users have learned to ignore them. That's precisely why you should partner up with an influencer.
Influencers can play a significant role in raising a company's brand awareness and building trust with its audience. They usually have a loyal fanbase, and their posts experience a high engagement rate.
That's because most people don't see an influencer as a self-promoting company but rather as a role model they can trust. And with 83% of consumers making purchase decisions based on their peers' recommendations, an influencer can create a significant boost in your sales.
With that said, search for an influencer that aligns with the industry where your company is active. Then create a piece of content featuring your influencer and the products or services you are promoting. In the example below, Danielle Bernstein (@weworewhat) posted about getting in shape with Bodyworewhat, an extension of her own brand, her photos also included FIJI water bottles. In dedicated posts, she promoted FIJI by reminding followers about the importance of staying hydrated with a discount code for home delivery.
That content will be posted on their social media page, and as a result, a part of their followers will migrate to you.
7. Share Customer Testimonials
Speaking of consumers making most of their purchase decisions based on peer recommendations, make sure to post testimonials from your customers from time to time.
Besides building trust, testimonials will also get people to actively participate in your social media marketing strategy, as they are encouraged to share their own experiences.
8. Start a Content Series
Posting content of the same format regularly, like once a week, will give your audience something to look forward to. It could be anything like articles, live videos, or the AMA sessions we previously talked about.
The key is to find something that will spark the interest of your audience. That way, you will encourage users to remain tuned in to your social media page, thus increasing your engagement rate.
Final Words
Social media can be one of the most powerful marketing tools in your arsenal. However, to get the most out of your social media strategy and reach its full potential, you will need to maintain engagement with your audience through coming up with great content ideas.
To achieve that, you will need to post intriguing content, and hopefully, these tips will help you do just that.
Author bio:
Tomas is a digital marketing specialist and a freelance blogger. His work is focusing on new web tech trends and digital voice distribution across different channels.