A social media strategy is a blueprint for a business's social media activity, covering exactly when, what, how and why you should post on social media networks.

As well as covering exactly what needs to be posted, it also includes well-considered and documented goals for your social media actions.

It covers posts, replies, likes and comments, and by offering key performance indicators tells you whether the execution has been a success or failure.

It requires a deep understanding of your audience, their needs and wants, which, of course, need to be neatly aligned with your business goals.

In this article, we'll take you step-by-step through the exact process to create a successful social media strategy for your clients.
Six Simple Steps to Building a Social Media Strategy
Step One: Understand Your Goals
A social media strategy should be tightly aligned with the goals your client wants to achieve.

Without a clear understanding of the business goals, you cannot create a successful social media strategy.

While this could be sales for an e-commerce store, there are other kinds of goals that might be equally important.

For instance, a real estate agent may be keen to generate leads for home buyers or sellers, while a lawyer may want to book consultations. Alternatively, another business may be primarily interested in referral traffic.

Before you dive into delivering work for your client, take the time to understand their goals. Either conduct an in-person interview or send a detailed google questionnaire via email.

It's also important to consider the role of social media for brick and mortar businesses. A cafe or pub may want to increase the number of in-person visits by raising awareness of events or special offers.

Once you have a clear understanding of your client's goals, the next step is to set clear goals i.e. "SMART goals".

Your goals should be:

Specific: Goals should be clearly defined to allow you to track progress and measure success.
Measurable: Goals should have a metric to measure progress against.
Attainable: Goals should definitely push the business, but they also need to be attainable.
Relevant: Goals need to meet your business goals and your audience needs.
Time: Goals should be tied to a deadline, with optional smaller milestones along the way.
For example, if your client is an e-commerce store selling dog-related products, an example of a poorly defined goal might be:

Increase sales from social media
On the other hand, for the same fictitious client, an example of a SMART goal would be:

Increase sales of dog collars by 10% over the next 3 months using Facebook adverts.
If your client's business is 100% online, you should measure the success of your social media campaigns using Google Analytics. Make sure to set up your clients' account before you start any advertising.

By starting with the end in mind — the results the client would like — everyone has a clear expectation for the results of a social media strategy. It's clear what will be deemed as a success and what will require further optimization.
Step Two: Understand Your Client's Audience
It's imperative to understand your clients' target existing and ideal audience. Once you know who they are, you need to understand what content they like, what content they engage with, and what content they share.

Start by creating audience personas. The key is to create a profile of your customers so you can craft social media marketing that speaks directly to them.

A customer persona should include demographic data, goals, pains, behaviors, goals, and buying habits. For example:

Sarah is a 45-year-old married mum of two busy boys. She works full time and runs the household, as her husband often works long hours. As her time is limited, she does most of her shopping online. She values the speed of delivery and convenience, over price.

An advertising campaign that speaks to Sarah would heavily emphasize the ease of purchase and the speed of delivery of your product direct to her home.

When you have a clear picture of your existing customer personas and also your ideal customer personas (you likely have more than one customer persona to consider), your next step is to gather real-world data.

There's a ton of data available online which tells you where your customer hangs out and what kinds of content they like. Consider these statistics:
Where do you think Sarah, our busy mum of two spends most of her time?

Social media analytics provide a ton of information about your clients' customers. You can learn what kinds of content they consume, what they engage with and where they spend most of their time.

Use these insights to inform your strategy and target customers with highly relevant adverts that speak directly to them.
Step Three: Solve Your Customers Pain
In step two, you have clearly defined your customers' needs and current pain points. Now, you need to position your brand as the solution to these issues.

However, you can easily make or break a campaign during this step. The best marketers know how to explain the products' benefits, not its features.

Why?

A benefit tells the customer how your product makes their life better or easier. A feature simply tells them what your product does.

List out your customers' pain points and ask yourself how your product solves that issue. Let's consider Sarah's pain point — limited time.

How can your solution solve that pain? If you're a gym owner, do you offer half-hour sessions? Or maybe you can offer an in-home consultation.

Knowing the benefits of your product or service is key to crafting a successful social media strategy.
Step Four: Understand the Competitive Landscape
The next step to creating a social media strategy is to analyze the competitive landscape.
What are competitors doing well at, are there areas that could be improved, are there any gaps?

It's important to know that you're not researching your competitors to steal their ideas or campaigns, instead, you can use the knowledge to learn what works well, then adapt and improve it for your campaigns.

Let's take two powerhouse e-commerce stores: Casper and Emma. Both brands are killing it in the bed industry, but both have very different approaches to social media.

Mattress shopping is boring and knowing that a stream of mattress adverts would be even more boring, Casper has cleverly managed to use humor to relate to fans.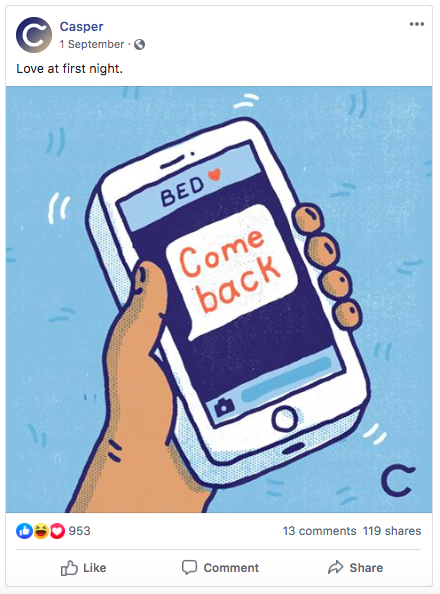 And it works. Look at the engagement in that advert.
The brand also does an excellent job of explaining its benefits. Casper offers a "full-money back, free pickup returns within 100 days."
In other words, you can buy a bed risk-free, solving a massive pain point for many customers.

Eve, on the other hand, moved away from displaying the product's features to talking about the brand and the wellness benefits of a good night's sleep.

Interestingly, instead of focusing on the experience of sleep (which is one of Casper's focuses), Eve sells the dream (pardon the pub) of a great morning. Eve is a "morning brand" and the product helps you live a balanced, healthy and energized life.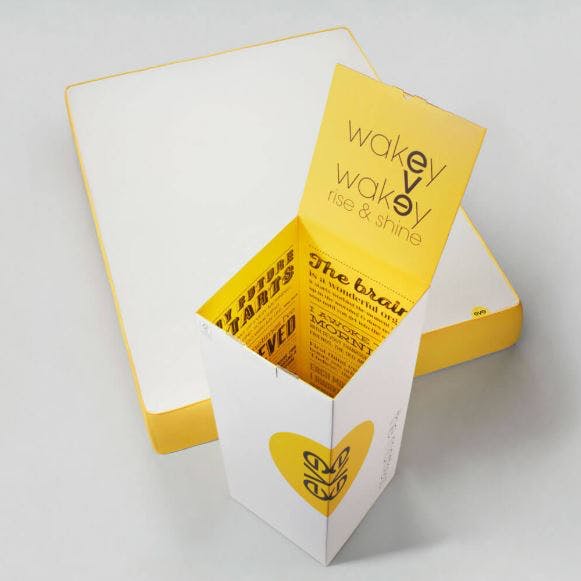 Two big brands in the same industry have found two very different, but very compelling ways to sell their products.

In other words, it's important to understand what your competitor is doing on social media, but also to create your own point of difference.

To analyze your competitors' social media activity, you first need to find them. You've likely got a good idea of who your competitors are, but take some time to research online.

Enter your keywords and industry terms into Google and see who ranks. For instance, if you're a bedding company, enter "bed sheets" or "duvet covers" into Google.

List out all the companies who are ranking on page one, whether it's via paid or organic, but excluding places like Amazon or eBay. These are your online competitors.

Next, review all of these companies' social media profiles. Are there any companies with active networks? Which channels are popular?

Create a spreadsheet that lists out your competitors and their social media activity. Add a tab for a number of followers on each channel, the type of content, the average number of comments, likes and so on. The more data you can get, the better.

Use this data to inform your own strategy by finding areas that are working well and those that can be improved.
Step Five: Create Killer Content
Once you've conducted steps one to four, you should have a good idea of what content to post and where to post, based on your audience's needs, business goals and competitive landscape.

But take a step back to consider the type of content. Will you post video adverts, user-generated content or sales adverts?

There's a ton of options, so you should aim to create a mix of different types of adverts to keep your audience engaged.
Video adverts
Studies show shoppers that view videos are 1.81 times more likely to purchase than shoppers that did not view a video.

Plus, with Facebook and Instagram pushing video more and more, it's an excellent opportunity for brands and businesses.

However, video adverts are harder and more time-consuming to create than standard image adverts, so you'll need to balance this into your overall strategy.
User-generated content
User-generated content remains a consistently effective and trustworthy component of social media strategies.
The statistics speak for themselves:
79% of people say UGC highly impacts their purchasing decisions;
61% of marketers said authenticity is what makes content marketing most effective.
People trust people, far more than they trust a brand or even an influencer. Use your customer reviews and content as an integral piece of your social media strategy.
Step Five: Create a Schedule
Before you start a social media campaign, create a schedule. Agree on the timelines with your client in advance.

We've covered the ins and outs of a successful social media calendar here, however, an example schedule may be:
1 long-form blog per week on Linkedin;
5 Twitter posts per day;
1 Facebook post per week.
Initially, you can use your experience to inform the schedule, but over the longer term, use the data from your posts to update and adapt the calendar.

You may find that increasing the number of posts, decreases engagement, or vice versa. It's important to keep on top of the data and tweak it until you get the perfect blend.

Consider who will be creating the content for the adverts (for instance, whose role is it to write the blogs?), and consider whether or not the suggested timeline is realistic.

As well as the predefined content schedule, a winning social media strategy will cover the timeliness of responses to customer comments and messages.

Remember that social media is, erm, social. Nowadays, that means fast responses and a concerted effort to ensure comments, messages or engagement opportunities aren't missed.

Did you know on Facebook, the average response time for companies is one day, three hours, and 47 minutes.

While 85% of customers on Facebook expect a response from companies within six hours.

Use your social media strategy to allocated resources for responding to social media comments. Decide who is responsible and what are the acceptable time frames.
Step Six: Workflow and Approval Process
If you're working with a new client, it's a good idea to add an approval workflow to your strategy.

Tools like Sendible, Social Report, Hootsuite and so on, often include features to hold an advert for approval, before it's published.
This handles the practical side, but be sure to outline the process at the start. An example approval process could be:
The agency sends the draft advert to the client.
The client has 48 hours to approve or provide revisions.
The agency has 48 hours to make the requested changes.
The client reviews revisions and approves.
The agency publishes the post within 24 hours of final approval.
This eliminates any ambiguity and ensures that all posts have the approval of the business. It may add some complexity to your workflow, but it could mean the difference between happy or unhappy clients.
Over to You
This guide has covered the six steps to building a successful social media strategy for your clients. As well as creating a social media strategy for your clients, once it's in place, it's important to analyze your efforts and continually adapt your strategy as you progress.
We hope you found this helpful and can easily implement these strategies within your current efforts. If you have any questions or would just like to connect with the Agency Vista team, click here and we'll be happy to help!