Looking for the best carousel post scheduling tools for Instagram? Then you are in the right place! There are numerous social media management tools available to marketers and businesses. But, not all of them offer modern solutions that can support your social media marketing needs.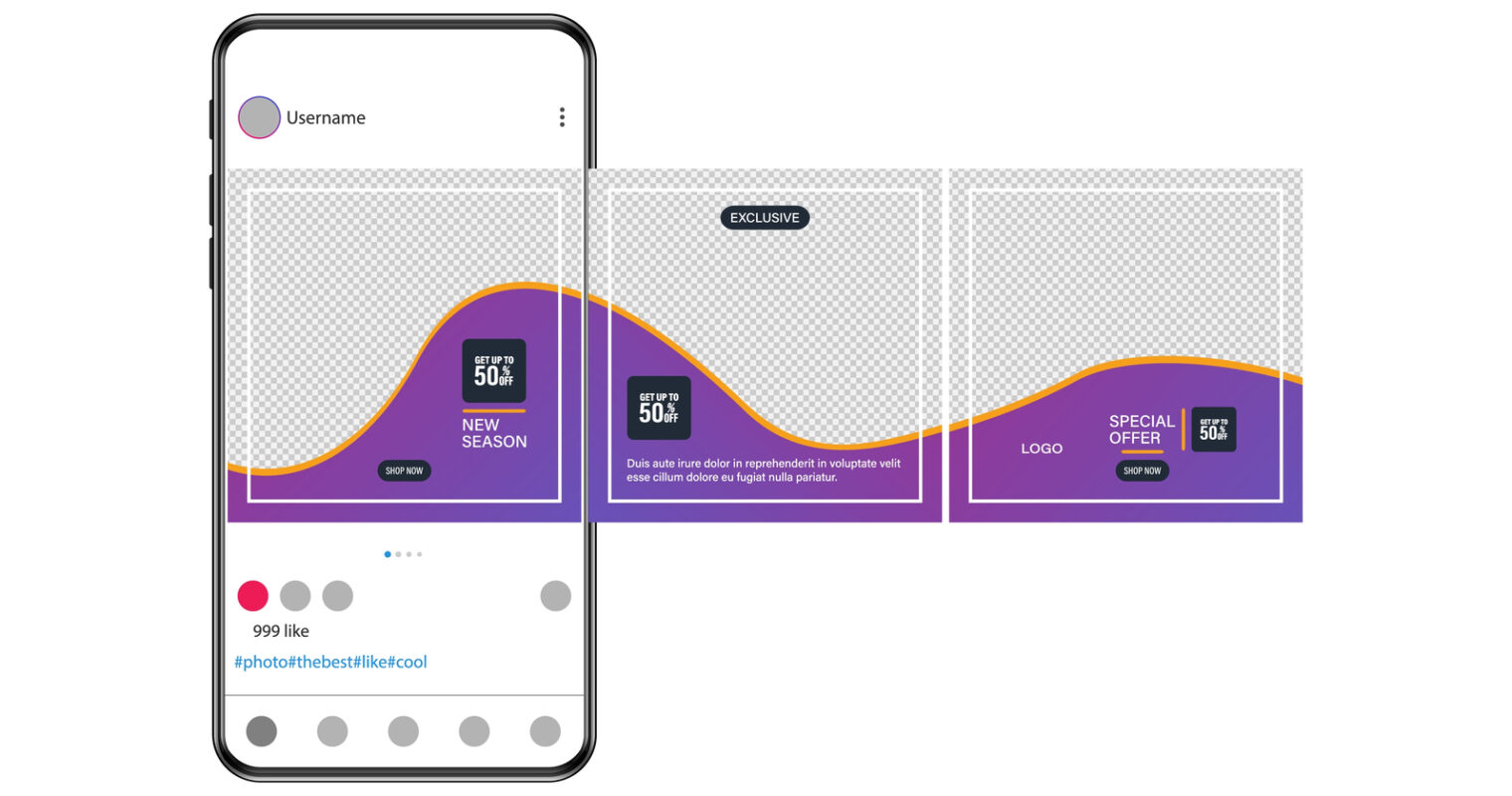 If you're looking to invest in a product, you don't want to get locked into one with a hefty monthly subscription that is always a little late to the game with feature capabilities. The days of the top 3 social media management tools that everyone knows are long gone. There are modern solutions available for all budget sizes that can best suit your marketing needs. With that said, let's dive in!
Why Consider Working With A Different Social Media Management Tool?
Many social media management tools' features come down to a social network's API. For example, Instagram's content publishing API currently doesn't allow for filters. So, that means social media management platforms using Instagram's content publishing API won't be able to offer that solution to their users. But, social network's API's are continually changing, and so is what they allow access to.
A social media API is a type of API exposed by social media platforms to allow third parties to access media data and functionalities, which they can integrate into their applications and websites.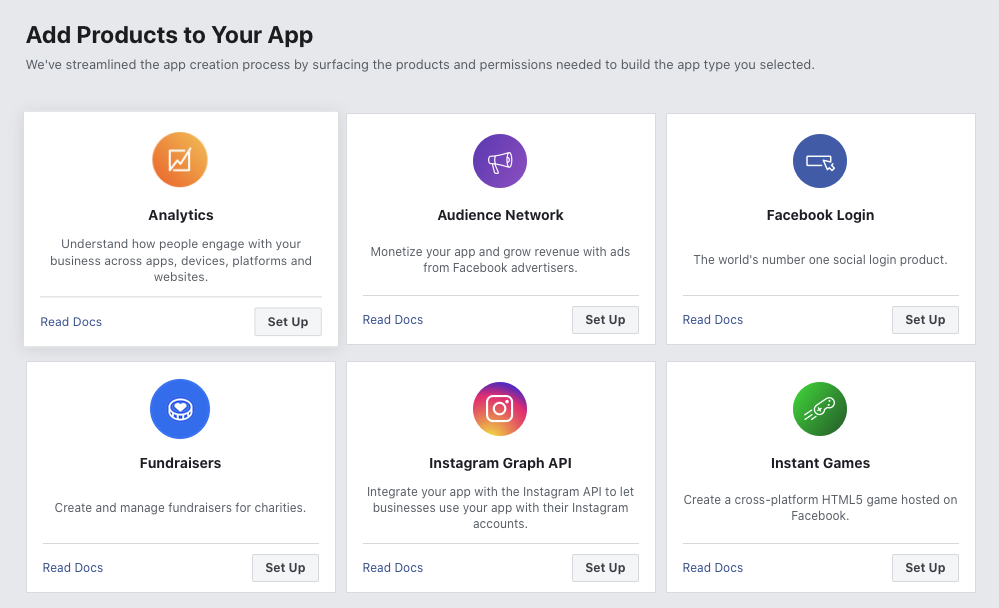 So, if you are currently using a social media management tool with reminder or notification scheduling, this could mean that the platform doesn't have access to the API. Notification or reminder scheduling is most often used as a workaround by tools. But, modern social media management platforms typically get access to APIs quickly as they try to stay ahead of the game.
The most well-known platforms available are already established, so they don't have to offer better pricing or newer features because of the perceived value. On the other hand, newer platforms have more powerful social media integrations at lower costs, which can better suit your business's needs. Having this background information is key in making an informed decision for your business on which platforms you will invest in.
What is Reminder or Notification Scheduling in Social Media?
As mentioned above, a workaround for social media management platforms that don't have API access to a network is notification or reminder scheduling.
Notification scheduling is when you create and schedule a post on a social media management platform, then receive a push notification on your phone when it is time to post. This process requires you to manually post the content yourself.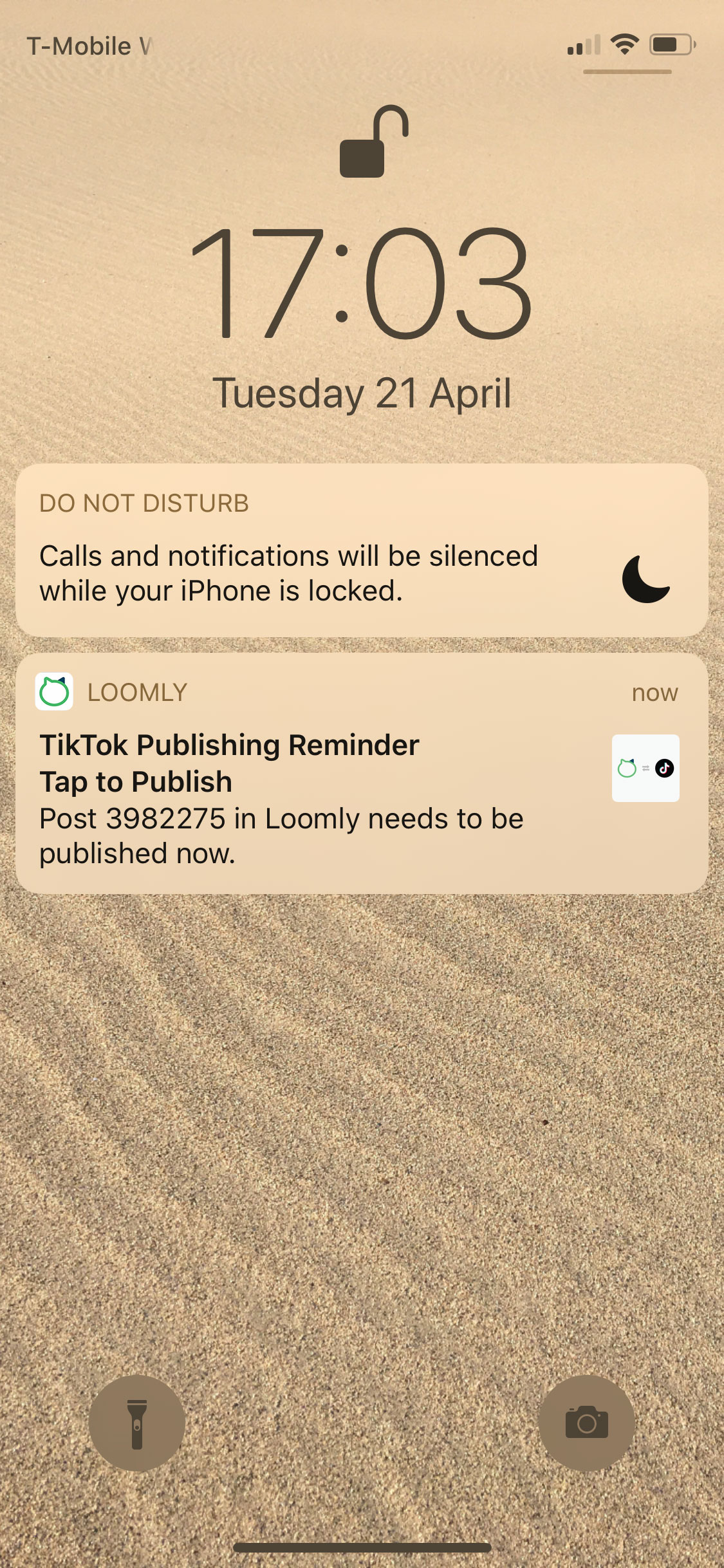 Now, some marketers prefer this option as it allows them to make any last-minute edits to their posts. But, most of the new social media management platforms allow for posts to be assigned to a team member to review the posts before they get published. You can generally go back and make edits before the post gets published.
For example, Vista Social lets you easily assign user permissions and create safeguards for ensuring that only the reviewed content is published to social networks.
Don't believe everything you read about notification scheduling being better than direct publishing; a lot of articles are outdated. Most are written by tools that only allow for this type of scheduling and try to convince their customers that this is the best option.
Carousel Posts Get Higher Engagement Than a Video Post on Instagram
Surprisingly, carousel posts receive higher engagement than a single video post on Instagram. Multiple studies have confirmed that a carousel post receives more engagement per post by 5.13% than a single video post on the platform.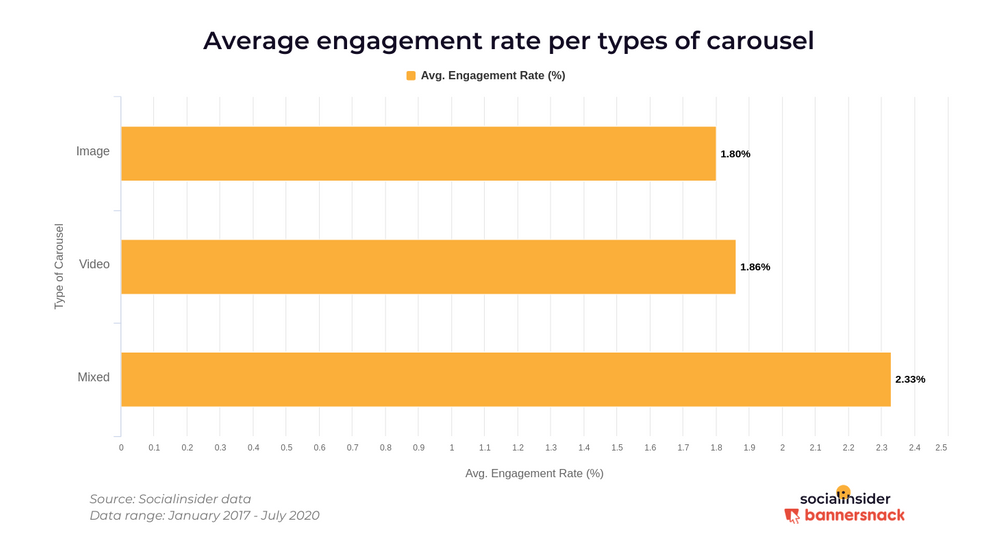 With TikTok's massive growth and Instagram Reels being a hot topic in the social media space, businesses have started investing more in video marketing. The one thing that people don't consider is attention span. You may have seen a viral video or had a friend whose video went viral. But, your Reel or TikTok tanked in engagement more often than not.
There is potential for your video to take off on the platform, but typically you won't see that massive engagement you've read about. Marketers need to consider that the average attention span is only 8-seconds long. Now, TikTok and Instagram have increased their video limit to 60-seconds, 7.5x longer than the average attention span.
Videos from businesses tend not to get to the point as quickly as a carousel post can. With so much competition and saturation online, brands must leave a lasting impression on their audience. Carousel posts that contain the maximum limit of 10 cards receive the highest engagement level of 2.07%.
6 Best Carousel Post Scheduling Tools for Instagram
1. Vista Social: Direct Carousel Post Publishing
Price: Forever free plan for up to 3 social profiles. Pro plan for $2 per profile with unlimited users.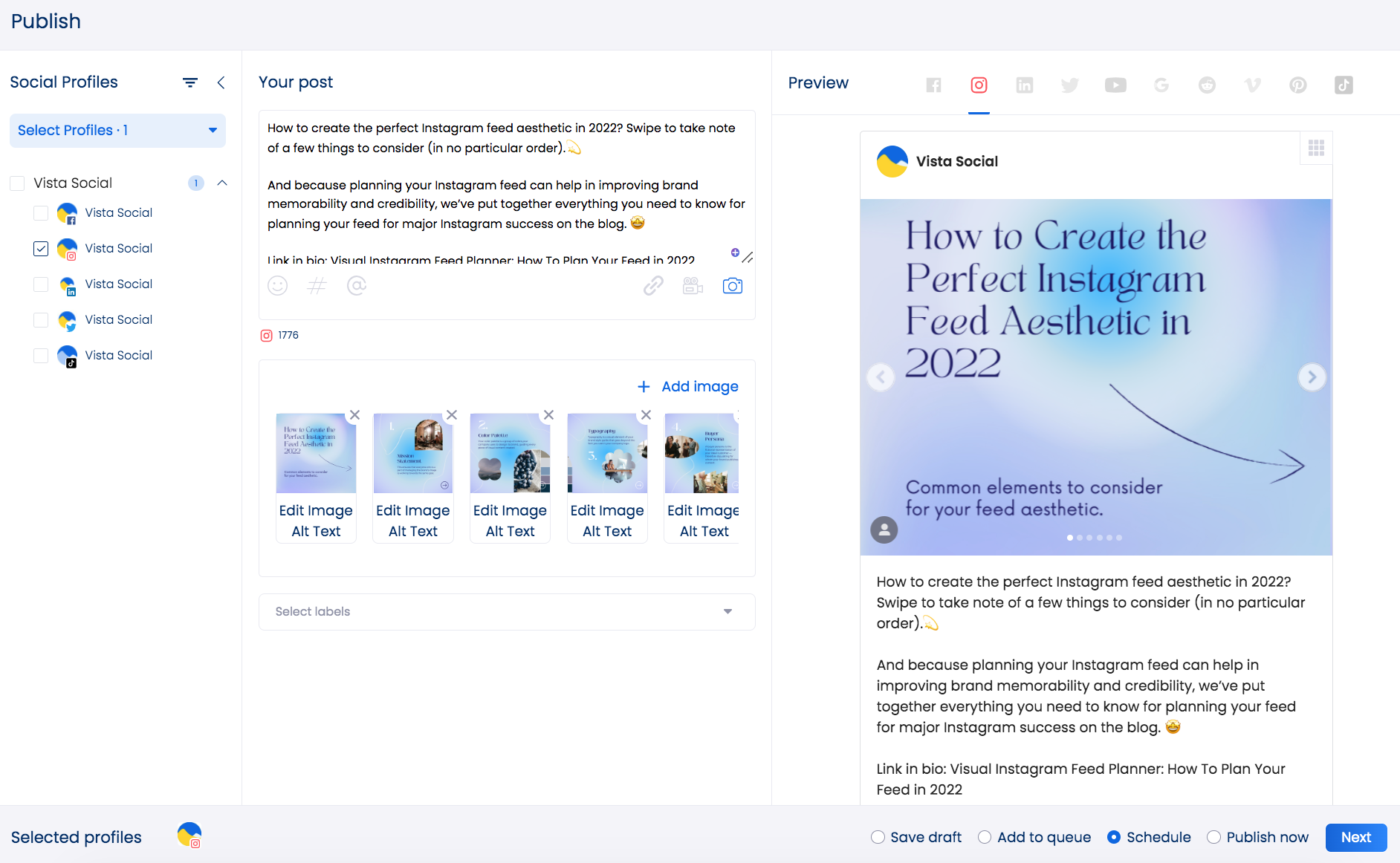 Vista Social was one of the first social media management platforms to offer direct carousel post publishing with no mobile app workarounds or notification/reminder scheduling.
Carousel posts can be scheduled with up to 10 videos or images (something not available by most platforms) — and automatically published to Instagram.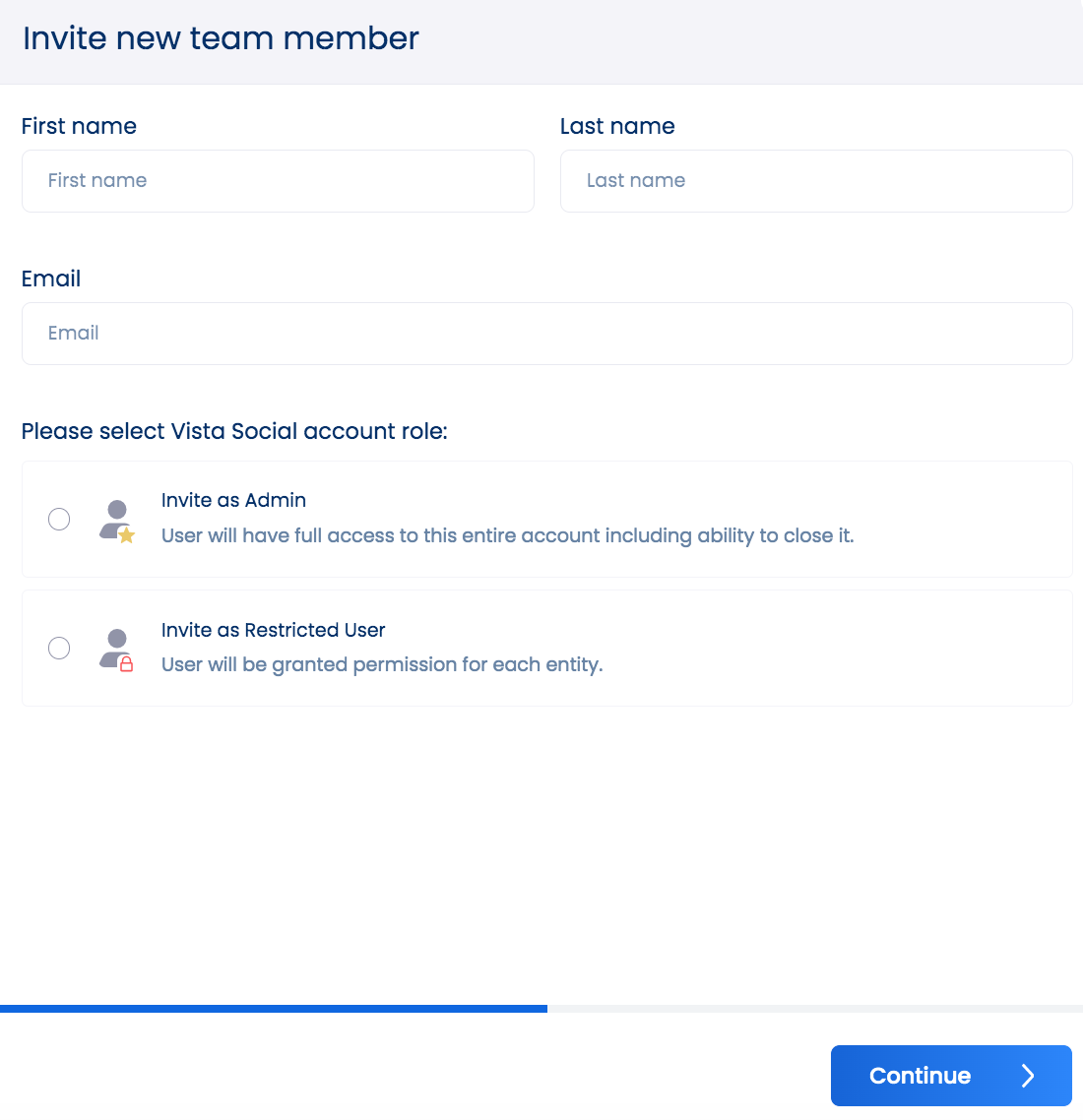 Vista Social is a social media publishing, engagement, listening, measurement, and review management platform. Their platform offers agencies to easily create entities to differentiate their client's accounts and easily manage their social media profiles.
Agencies can easily assign user permissions so that their internal teams will only have access to the accounts they manage. If they choose to give access to their clients, they will only see their own social media profiles.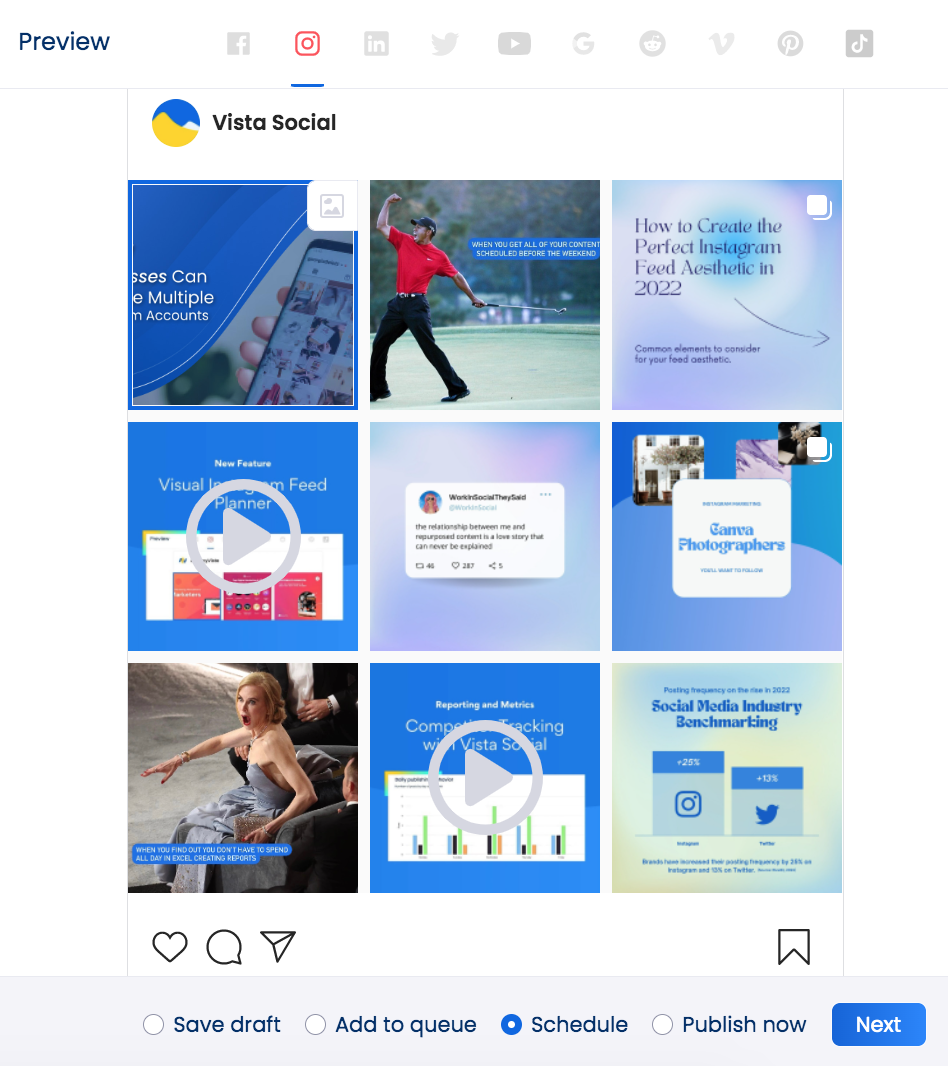 Vista Social has a visual Instagram feed planner that assists in creating a more on-brand aesthetic and builds consistency with your social media followers.
And the best part? Their free plan allows you to connect up to 3 profiles to check out their platform. After that, it's only an additional $3 per social media profile with unlimited users.
Social Media Management Tool Alternatives:
2. Iconosquare: Notification Carousel Post Scheduling
Price: Iconosquare pricing plans start at $49/month (billed annually); this plan provides you with only 2 users and 3 social media profiles. Additional social media profiles and users are each an extra $15/profile or user a month.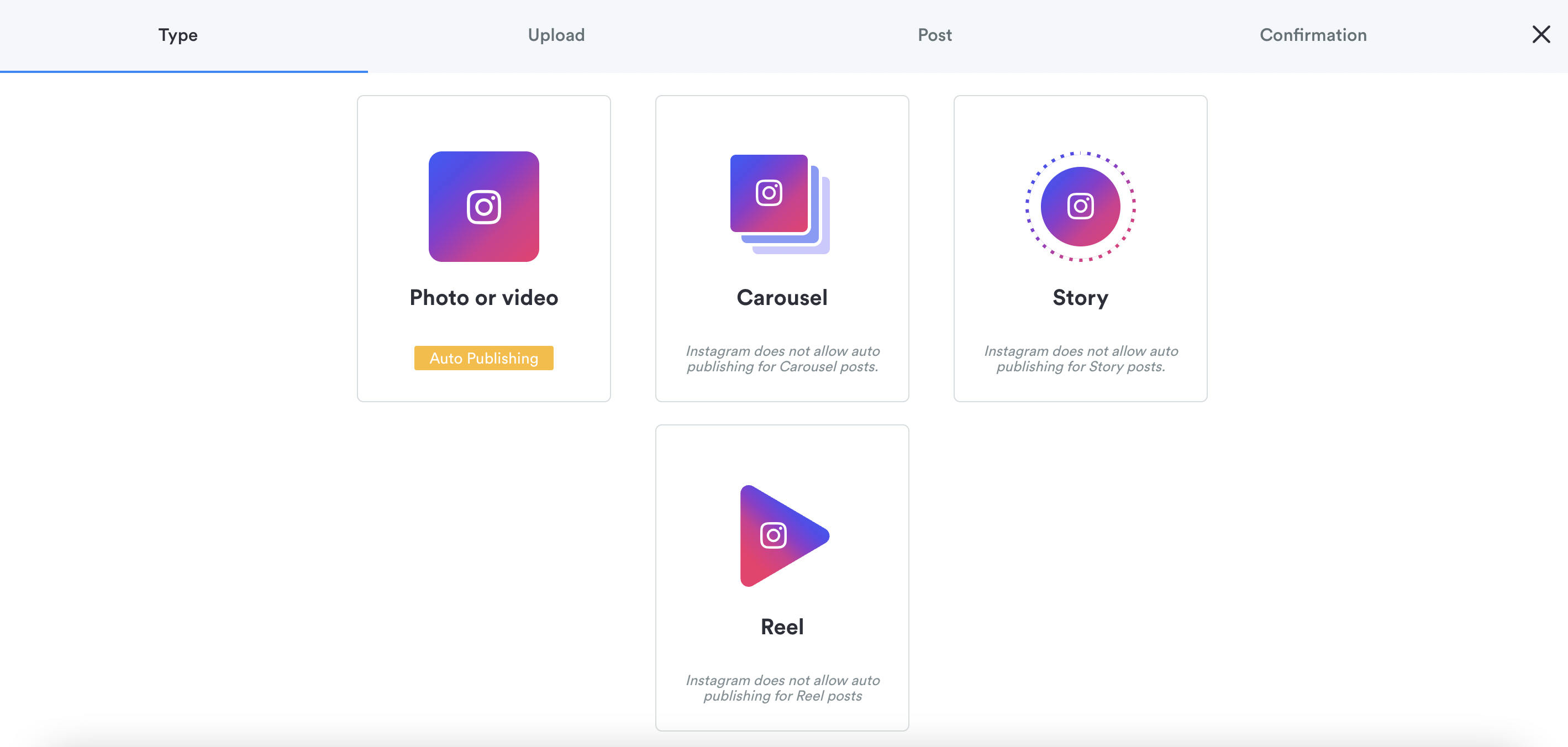 Iconosquare announced that they offer notification scheduling for carousel posts for users on Pro+ plans. To access this feature, you need to have downloaded their app and have the latest version.
As for being an Instagram tool, overall, Iconosquare offers many of the same capabilities as other all-in-one social media management tools. They offer a social media scheduler and social listening functionalities, but they offer in-depth analytics compared to some of the other available platforms.
Their analytics allow businesses to compare post-performance against industry benchmarks for over 100 industries. Iconosquare also allows you to compare organic vs. promoted posts to see how your promotional campaigns impacted KPIs.
3. Planoly: Direct Carousel Post Publishing and Notification Scheduling
Price: Planoly pricing plans start from $11.25/month (billed annually); this plan provides you with 1 Instagram profile, 1 Pinterest profile, and 1 user. To add an additional social set to the starter plan is $135/per additional set annually. Each additional user is an extra $51/per user annually.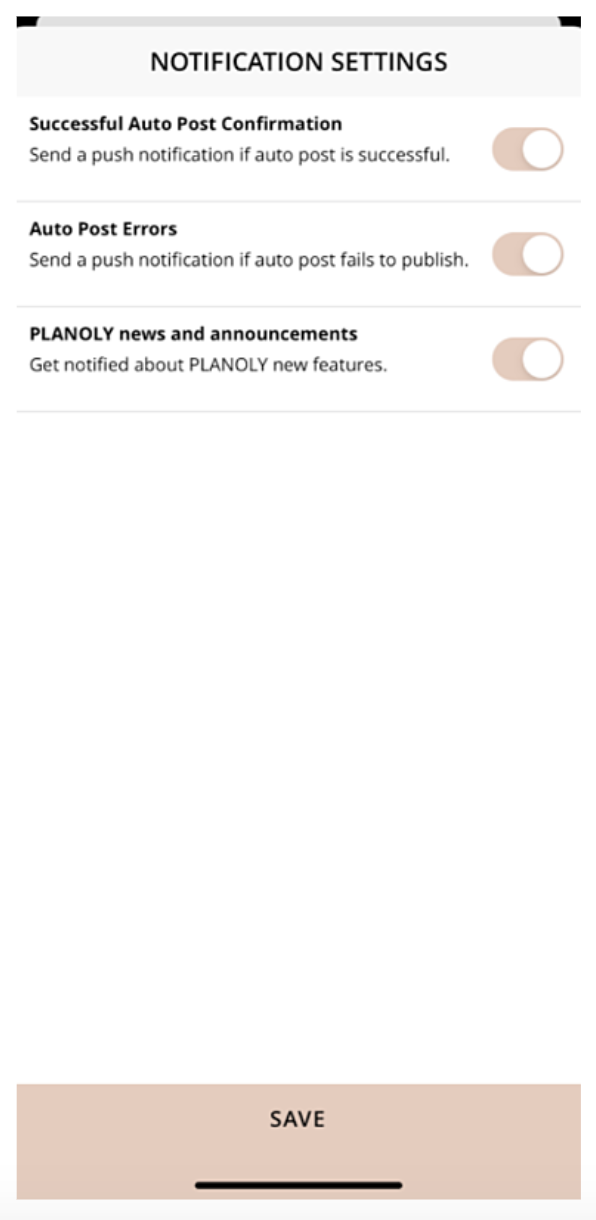 Planoly is a well-liked social media management platform among creators and fashion bloggers. The tool allows you to plan and schedule carousel posts on both the web dashboard and mobile app. The web dashboard allows for auto-post capabilities to Instagram, and the mobile app offers notification scheduling.
One thing to note is that once you merge content, this action cannot be undone on Planoly. Merging content refers to the single post images you include in your carousel post. Another thing to consider is that their carousel publishing options only allow for carousel posts with images, not video.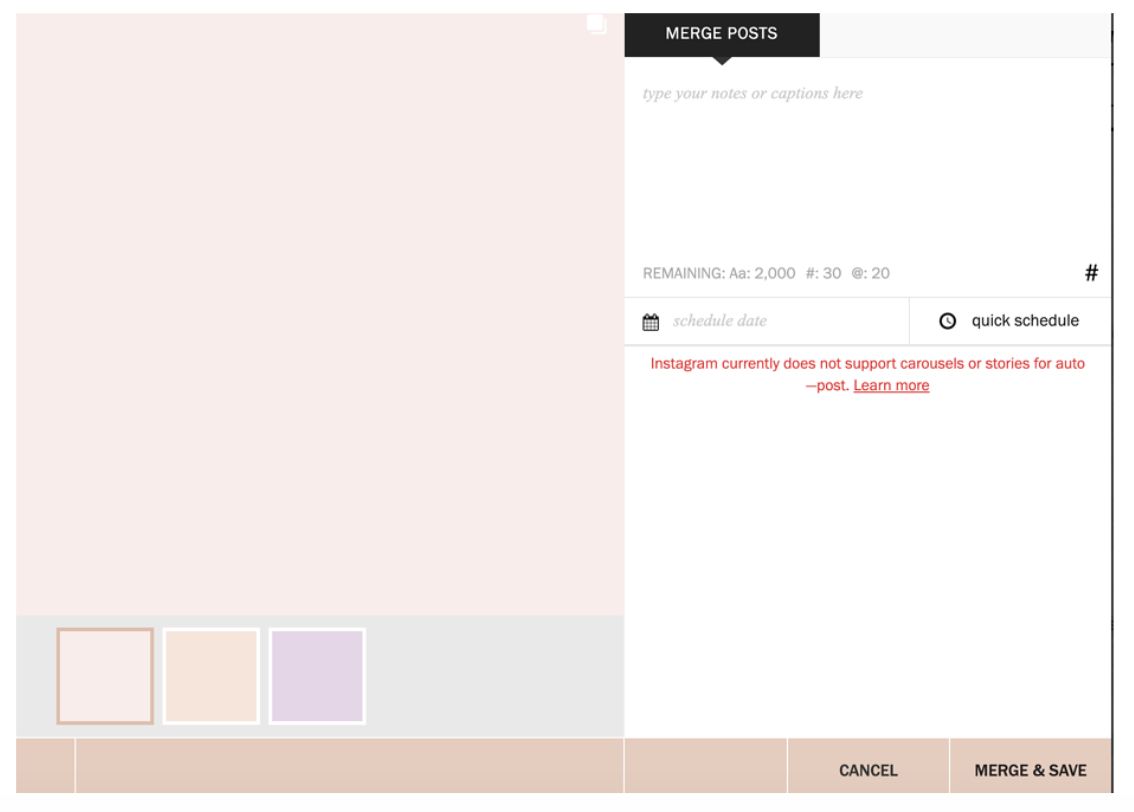 Their platform claims that Instagram does not support location or user tagging on carousel posts. However, this feature is available on Vista Social.
For agencies, their starter plan only offers 60 media uploads a month. This can be an issue when managing clients who post multiple times throughout the day. Another common strategy used by agencies is content batching; this is most often done so that the client can approve the posts before they get scheduled. This can create some issues for businesses who want to batch content ahead of time beyond a month.
4. Sendible: Direct Carousel Post Publishing [Images Only]
Pricing: Sendible pricing plans start from $29/month (billed annually); this plan provides you with 6 social profiles and 1 user.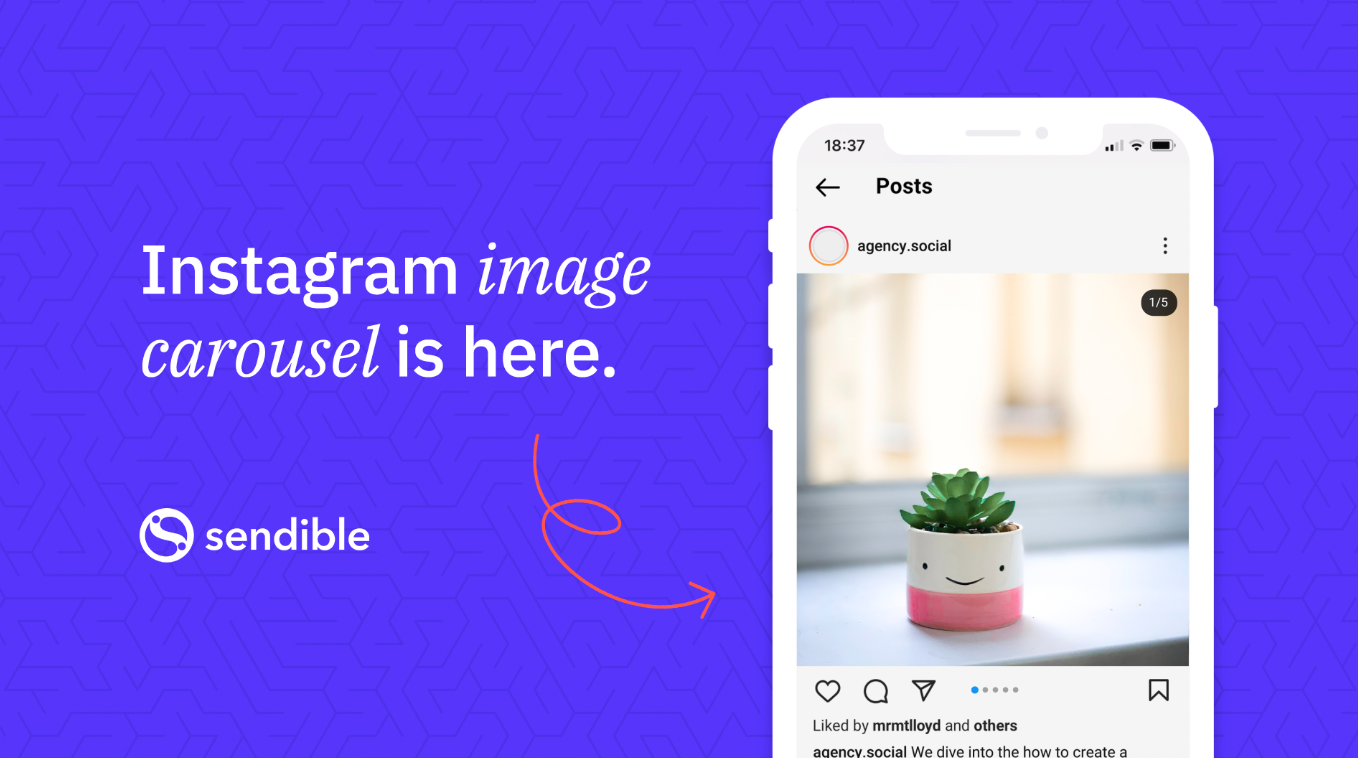 Sendible announced that they support auto-publishing multiple image posts to Instagram. Their all-in-one platform comes with the standard publishing, analytics, listening, and collaboration tools of a social media management tool.
Marketers should consider that studies have found that a combination of images and videos in the same carousel generates the highest engagement rate of 2.33% per post.
If you'd like to include videos in your carousel post on Sendible, you'd be required to use their notification scheduling.
Sendible includes multiple integration capabilities. One useful integration for Instagram users is the ability to create content in Canva and schedule them to your social profiles without leaving Sendible.
5. eClincher: Notification Carousel Post Scheduling
Pricing: Sendible pricing plans start from $59/month; this plan provides you with 10 social profiles and 1 user.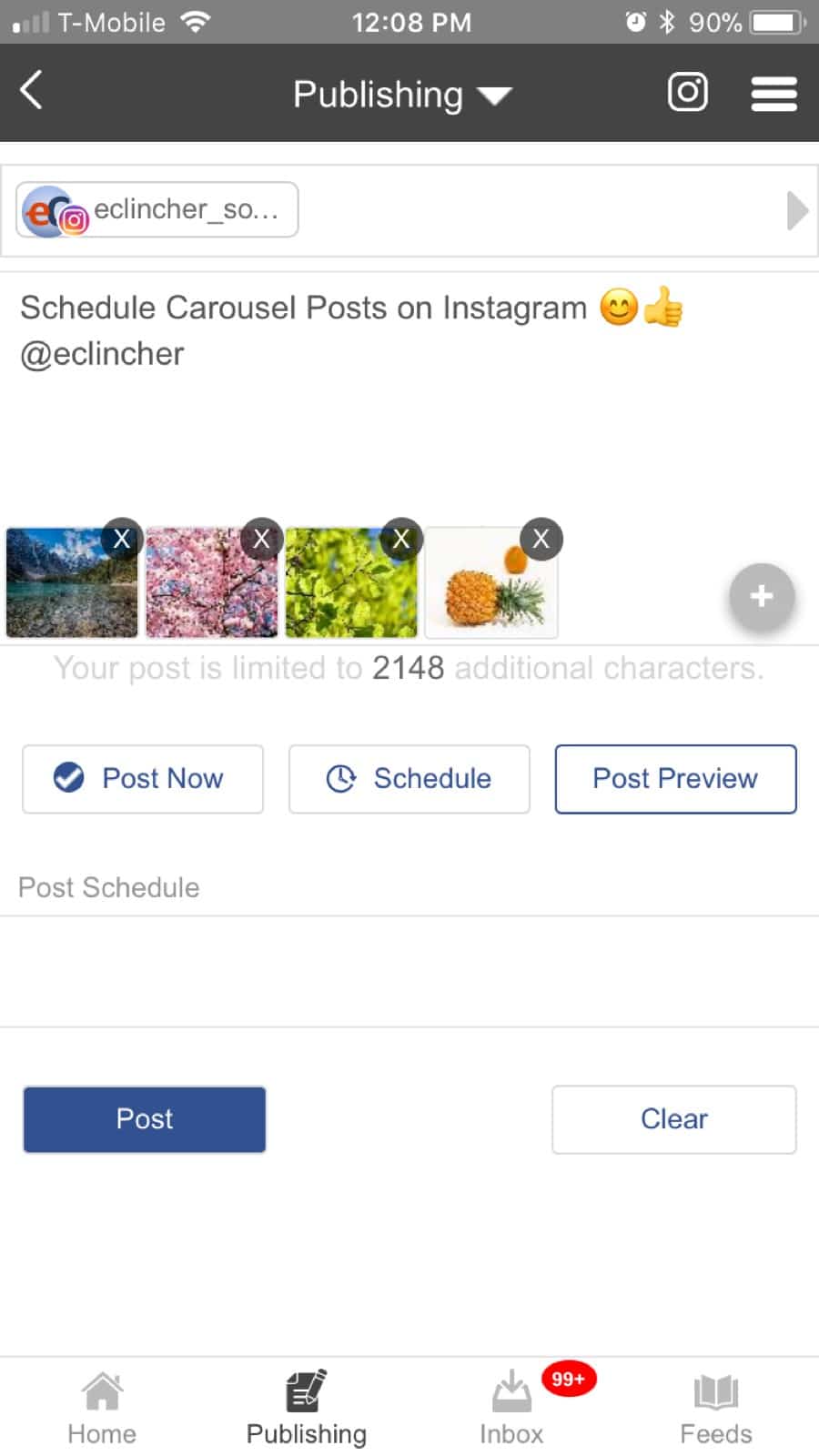 The long-awaited Instagram Carousel post scheduling is available on eClincher through reminders. Each time a user schedules a carousel post, you will receive a push notification on the eClincher app. This means that to schedule carousel posts, you must also have downloaded their mobile app.
eClincher is a simple to use social media management tool that offers some comprehensive features to its users. Outside of Instagram, one unique feature they offer is the ability to search for influencers on Twitter.
Currently, the platform offers social media management solutions for Facebook, Twitter, Instagram, Instagram Business, Google My Business, LinkedIn, Pinterest, YouTube, and Google Analytics. Some of eClincher's competitors provide newer social media integrations such as TikTok, OpenTable, Reddit, and Yelp!
6. Later: Direct Carousel Post Publishing
Pricing: Sendible pricing plans start from $15/month; this plan provides you with 1 social set (1 profile for each available platform) and 1 user. There are no add-ons available. 
Later is known for being one of the best Instagram management platforms. They allow auto-publish and notification scheduling for videos and images in a carousel post.
Later's platform also allows users to choose whether they want to schedule and publish content via the app or desktop. Additionally, Later has conducted their own studies on carousel posts to find that carousel posts outperform single image posts by 19% in terms of engagement rate, based on an analysis of posts shared in the last 36 months.
Since they are known for Instagram, their platforms lack the capabilities for other social media platforms. The social media integrations that Later supports are Instagram, Facebook, Pinterest, Twitter, TikTok, and LinkedIn.
Later includes Conversations in its higher plans. This allows you to manage your Instagram comments directly inside Later.
Which Instagram Carousel Post Scheduling Tool is For You?
The ability to auto-publish or directly publish a carousel post to Instagram is a new feature available as the Instagram API only recently allowed this functionality.
The best carousel post scheduling tool for your agency or brand will depend on your unique needs and goals. To better evaluate your options, here are some questions you should consider:
How should scheduling work? Do you want to direct publish or set up reminder scheduling?
Do you want one user-friendly dashboard, or do you want to use an app that requires you and all parties involved to download and maintain?
Are you posting only image carousel posts, or do you want the ability to post video carousel posts?
Which additional social media platforms do you need to be able to publish to?
What is your budget size?
What additional capabilities do you need from a social media management tool (i.e., publishing, engagement, listening, analytics, reviews)?
Once you have the answers, you can find something that matches your criteria. Suppose you are looking for direct Instagram carousel post publishing, the ability to schedule posts for multiple platforms, simple pricing, and a suite of powerful features. In that case, you should go for a modern tool like Vista Social.