Instagram today is not only an opportunity to share photos and videos with friends but also a powerful tool to support brand loyalty and be closer to customers, to know their interests and attitudes to your product. 81% of people use Instagram to research products and services. But repetitive tasks can slow down productivity, so we've put together the best Instagram scheduling tools in 2021 to help you!
By building an effective presence through Instagram, brands get a powerful sales tool and reach a new audience. But we all know that increased popularity causes fierce competition. If you promote one or more brands on social networks and publish content on several sites every day, you probably know how much time it takes to create and schedule each post. To increase productivity and scale, it's recommended to take advantage of a social media scheduling tool.
Like other social media scheduling apps, Instagram scheduling tools are third-party tools. These tools allow you to schedule posts for a week or two in advance and then automatically post the content according to the schedule. You can plan the order and time of publications, optimize your work and, as a result, save time. Besides, deferred posting services help simplify cross-posting. You can set up a publication schedule and post on several social networks at the same time.
Auto-posting programs are multifunctional – you can both plan publications and edit posts and their elements. Let's discover the best Instagram scheduling tools for 2021 to keep your brand top-of-mind.
Key Properties of Scheduled Instagram Posts
1. Organization
The user independently sets the schedule and frequency of publication of posts. The audience of the account knows precisely when a new post will appear.
2. Time-saving
The plan is set for several weeks or months: you can create a publication schedule at once and stop worrying.
Planning a publication for an audience segment in the desired time zone. This is useful if you and your audience are in different time zones.
The Benefits of Auto-posting for Instagram
Using Instagram scheduling tools allow you to support the marketing strategy of promoting your account while eliminating wasted time. It is essential to publish according to the schedule – at the hours when the audience is most active.
Scheduled Instagram posts help users to:
make a content plan for publications for a certain period;
promote several commercial accounts at once and do not forget about publications;
duplicate posts to other social networks;
study the audience's reaction to posts;
duplicate posts with high activity rates if they meet your current marketing goals;
delete irrelevant ads and edit posts with errors.
Once you strategize your content buckets, visually plan your Instagram feed, and prepare captions and hashtags, it is time to pick up the best Instagram scheduler.
Review of 10 Best Instagram Scheduling Tools 2021
The market offers a huge choice of various Instagram schedulers nowadays. Before you begin, make sure you have activated a business profile on Instagram. Also, note that images and video content can be scheduled with Instagram's acceptable aspect ratio (e.g., 4:5).
The Top Instagram Scheduling Tools' Functionality and Cost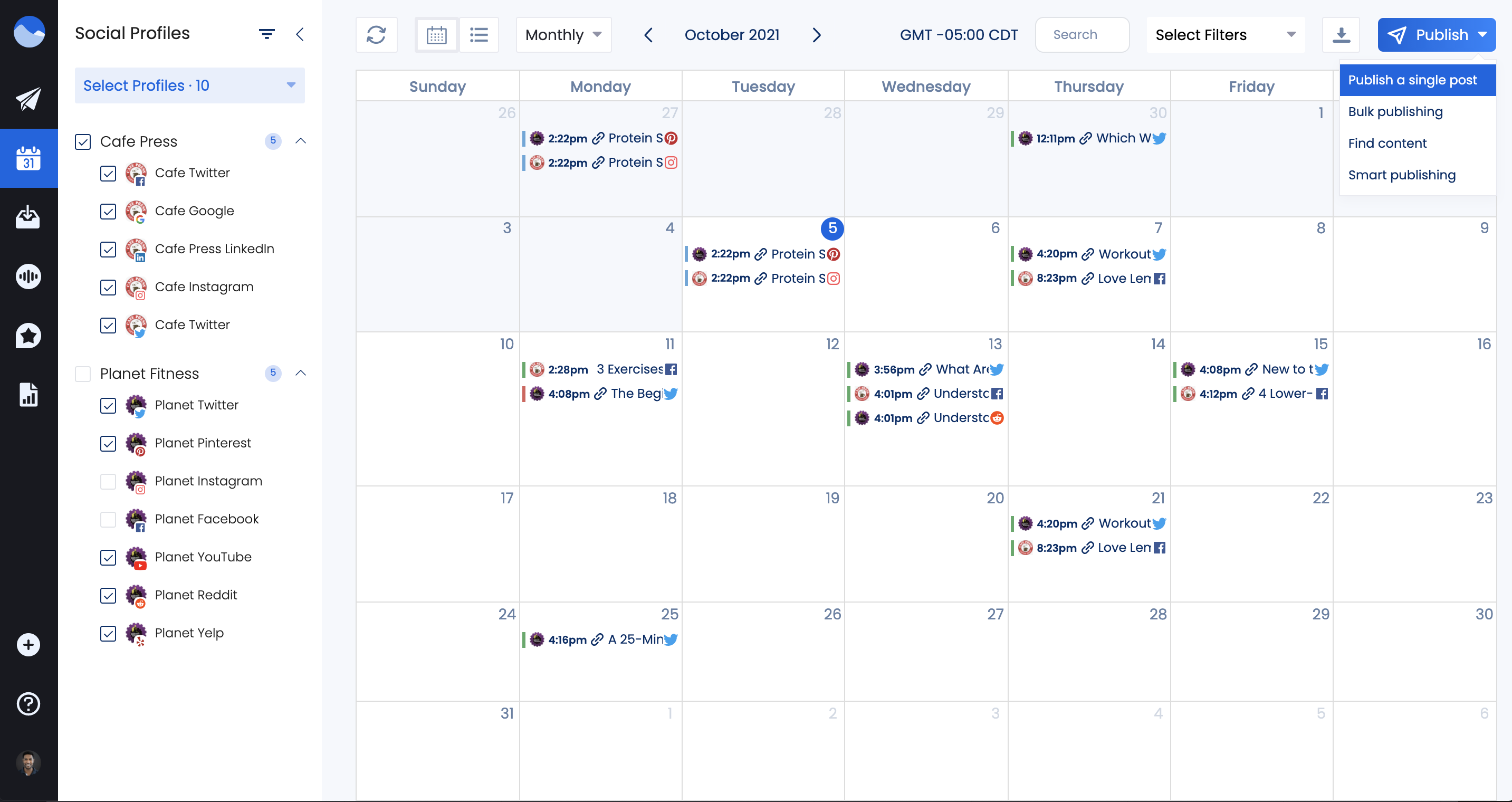 Vista Social is a modern social media management tool for pros! It helps you schedule posts, monitor mentions, collaborate with clients, and more. Vista Social allows for post previews on every network with the simple click of a button, so no hits and misses with how the post will turn out. You can preview how each post will look like before you schedule it!
Vista Social allows businesses and agencies to collaborate with their team and clients effortlessly! Easily assign user permissions and create safeguards for ensuring that only the reviewed content is published to social networks. And the best part? Once the social media post is approved to be published, you can simply schedule right in their user-friendly publisher.
Pricing: Free plan is available. The pro plan starts from $3/month per social profile.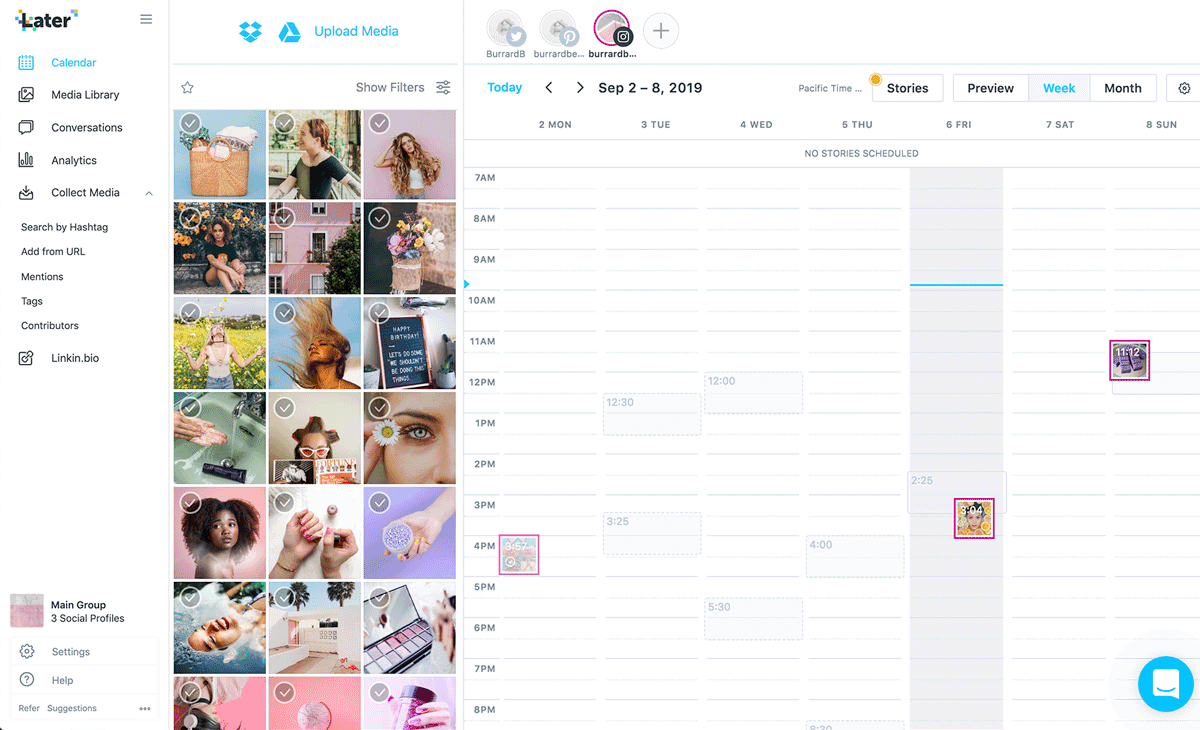 Founded as the first-to-market Instagram scheduler in 2014, Later has grown from a simple Instagram tool to the #1 visual marketing platform for Instagram, Facebook, Twitter, and Pinterest. The software itself will not publish posts on Instagram instead of you. It only allows you to plan a post and then send you a notification about that at the right time.
Syncing and downloading content from your desktop, Google Drive, and Dropbox, organization of content with the help of labels, analytics, search, and reposts are among the tool's key features. Social media marketers, bloggers, small business owners will get the most of the software.
Pricing: Free plan is available. The premium plan starts from $12.50/month.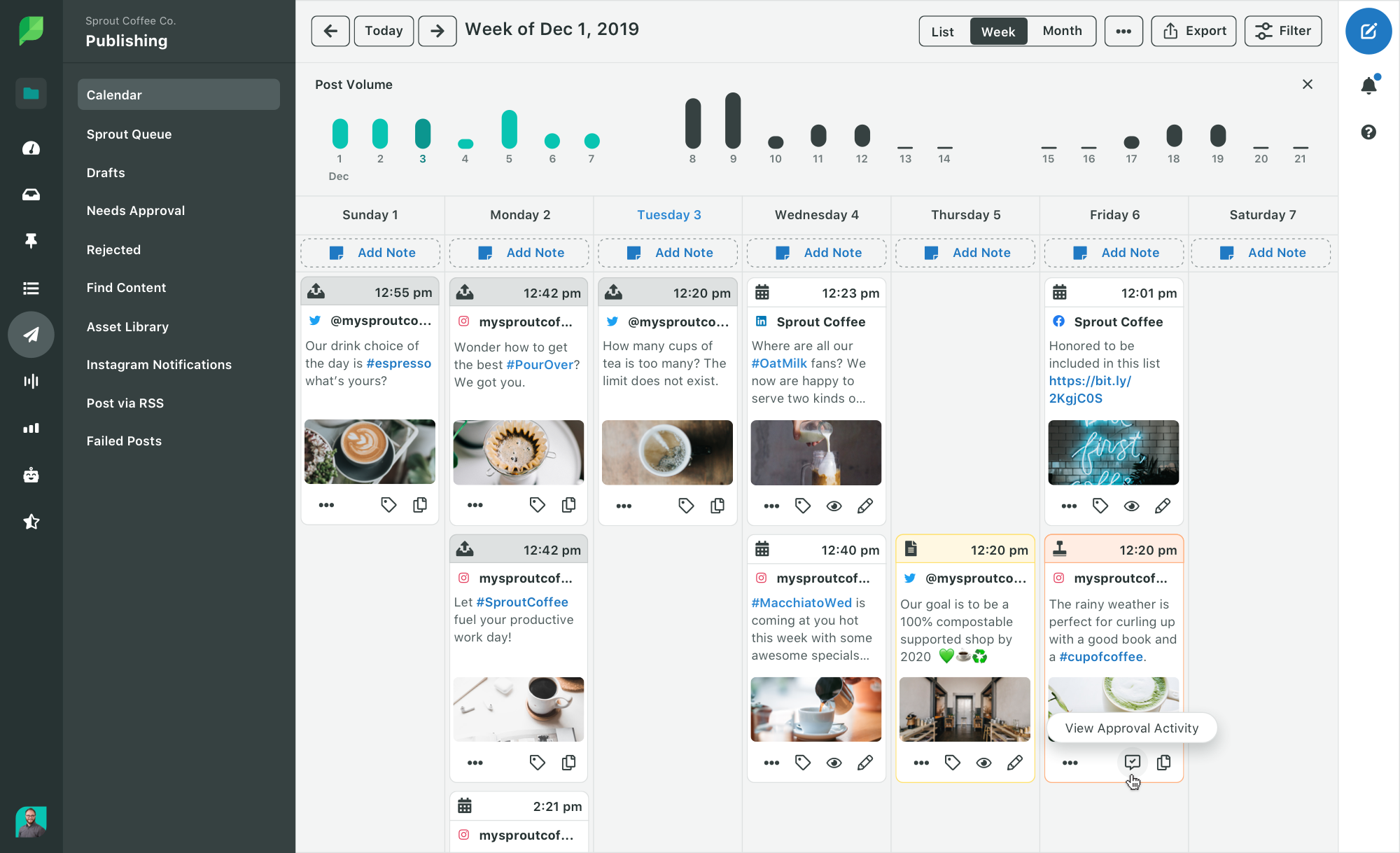 Sprout Social is a powerful, all-in-one social media management platform that unlocks the full potential of social to transform not just your marketing strategy – but every area of your organization.
This SMM management service can help businesses build up their social media metrics and see planned messages across the entire team. Supports teamwork, analytics, CRM, and HelpDesk functions are available. With Sprout, it is easy to upload your image, finalize your content and schedule it. The tool is positioned more as an enterprise service; that is why it is a bit pricey.
Pricing: Free 30-day trial is available. The premium plan starts from $99month per user.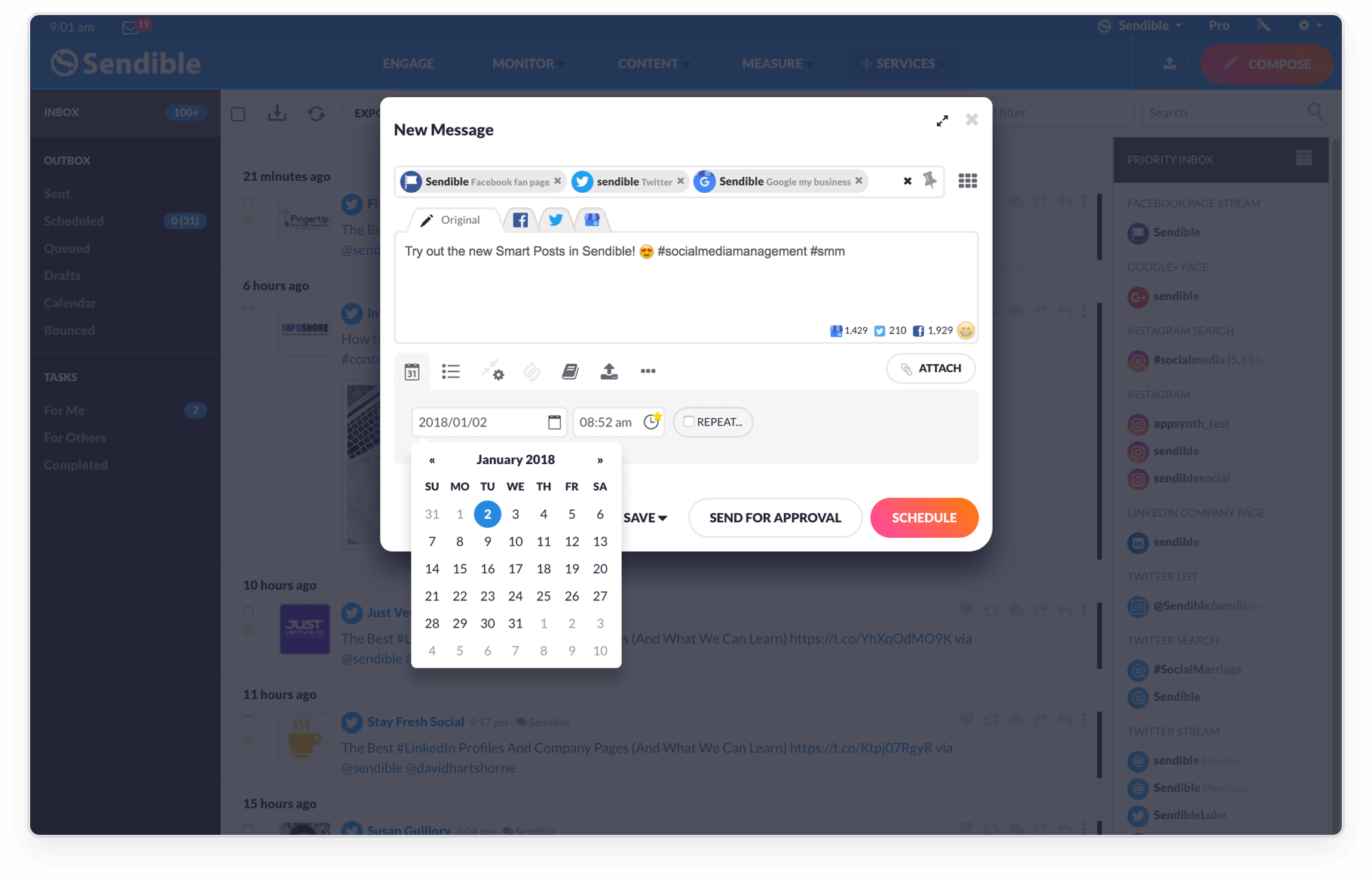 Over 20,000+ agencies, marketers, and brand managers rely on Sendible to amplify their brand stories. Sendible is a powerful solution to plan your content calendar in advance and get visibility on what is next. It is as easy as preparing a CSV file and importing it into our platform for scheduling later.
Choose Sendible to plan your posts, choose the optimal posting time, work on tasks in the Instagram team, publish content on several channels at once, and even monitor your brand's mentions in social networks.
Pricing: Free 14-day trial is available. The premium plan starts from $24/month.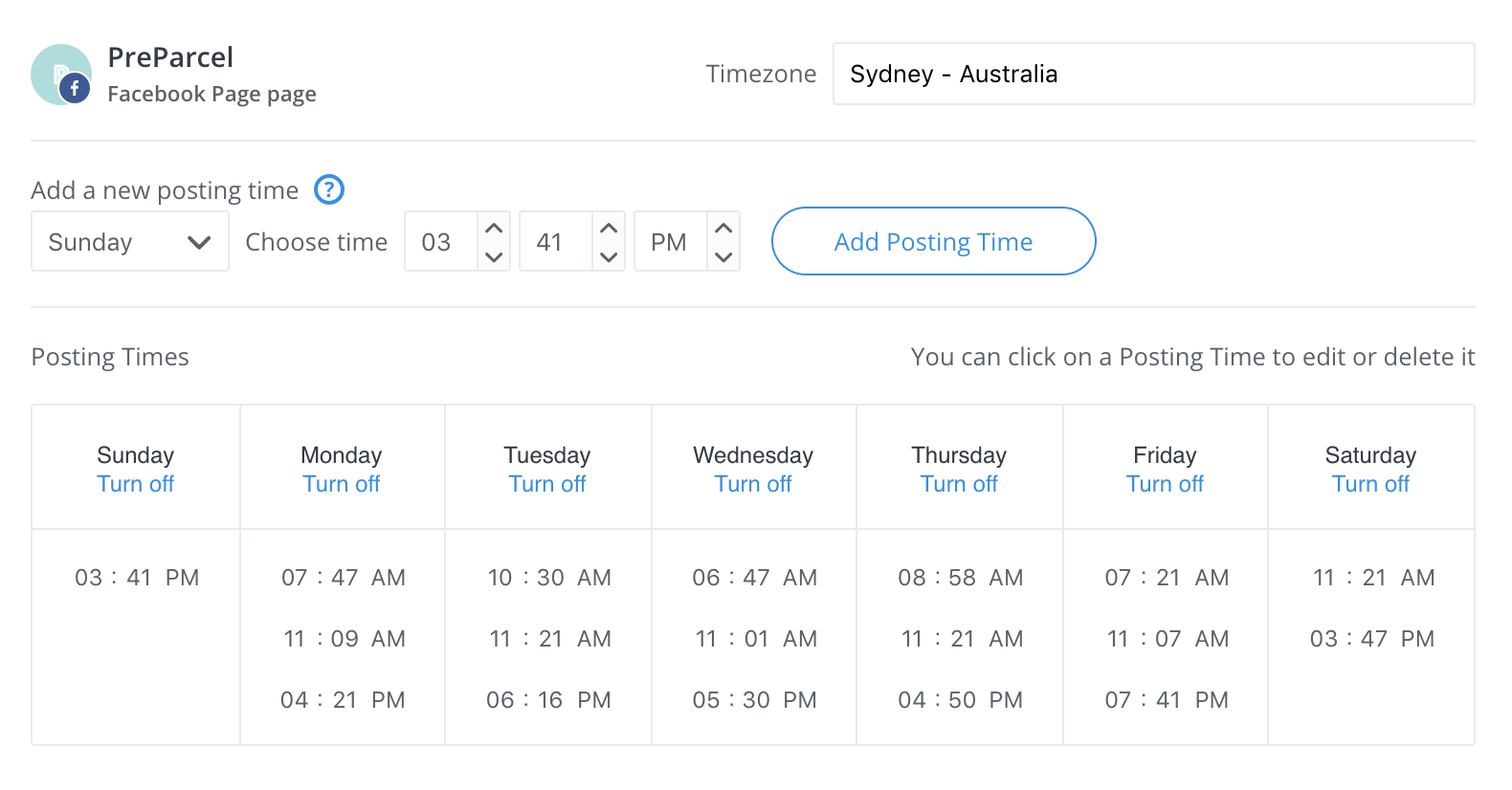 Buffer is a universal service for managing accounts in various social networks through one interface. The tool allows you to plan the publication of posts on Twitter, Facebook, Instagram, Google+, Pinterest, and LinkedIn. It pleases with its features, and the free plan is quite suitable for most users.
You can set up the publication of photos on a schedule from both the mobile app and the web interface. Once you link your Instagram account to Buffer, you will be able to add a photo, a caption, geotags, mention friends using tags, and, of course, specify the desired date and time of publication.
Pricing: Free plan is available. The premium plan starts from $15/month.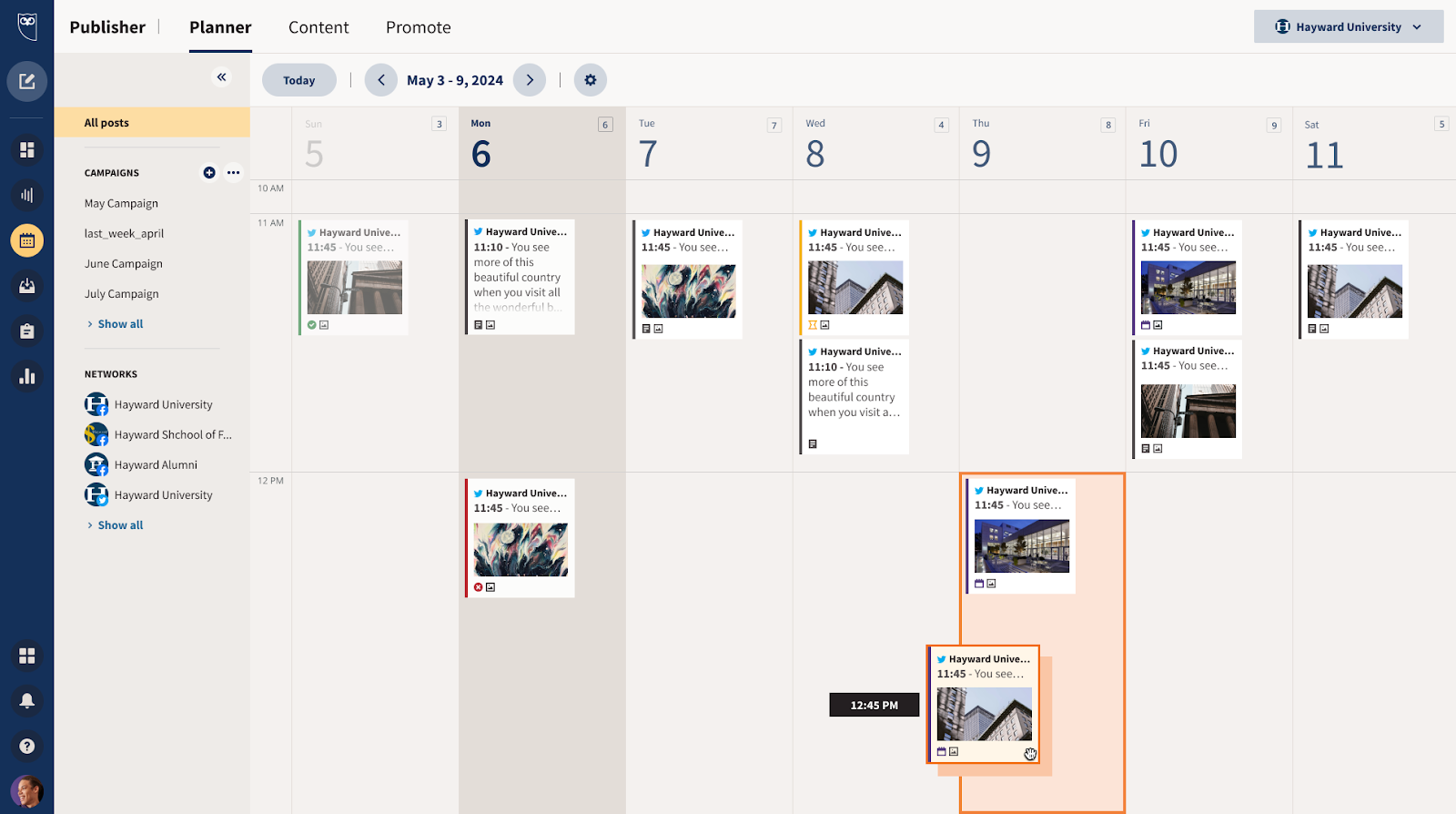 Hootsuite has proven to be a good tool for scheduled posting, monitoring your audience and its preferences. You can publish posts on several social networks at the same time. The app is supported by Instagram and Facebook, Twitter, YouTube, LinkedIn, etc.
You can create Instagram posts (for a day, for a week, for a month) and specify when they should be published. There is access to the lists of users you are subscribed to and the followers' list to analyze your audience's behavior. Also, you can set up monitoring of all uses of your brand's unique hashtags.
Pricing: Free 30-day trial is available. The premium plan starts from $19/month.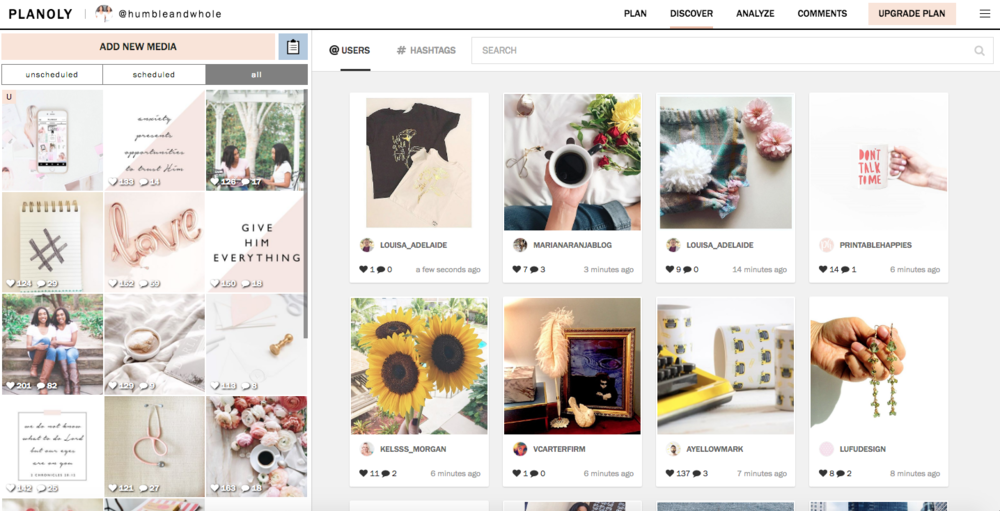 Are you still looking for an elegant Instagram scheduler? You have just found the one. Planoly is an all-in-one solution to plan your posts, tag products for single-click checkout, or link to your eCommerce.
Some of the advantages of Planoly are a desktop version and the ability to add team members (this will be necessary for those whose account is managed by an SMM specialist). With Planoly, it is easy to drive traffic back to your site and convert your social media browsers into buyers.
Pricing: Free plan is available. The premium plan starts from $7/month.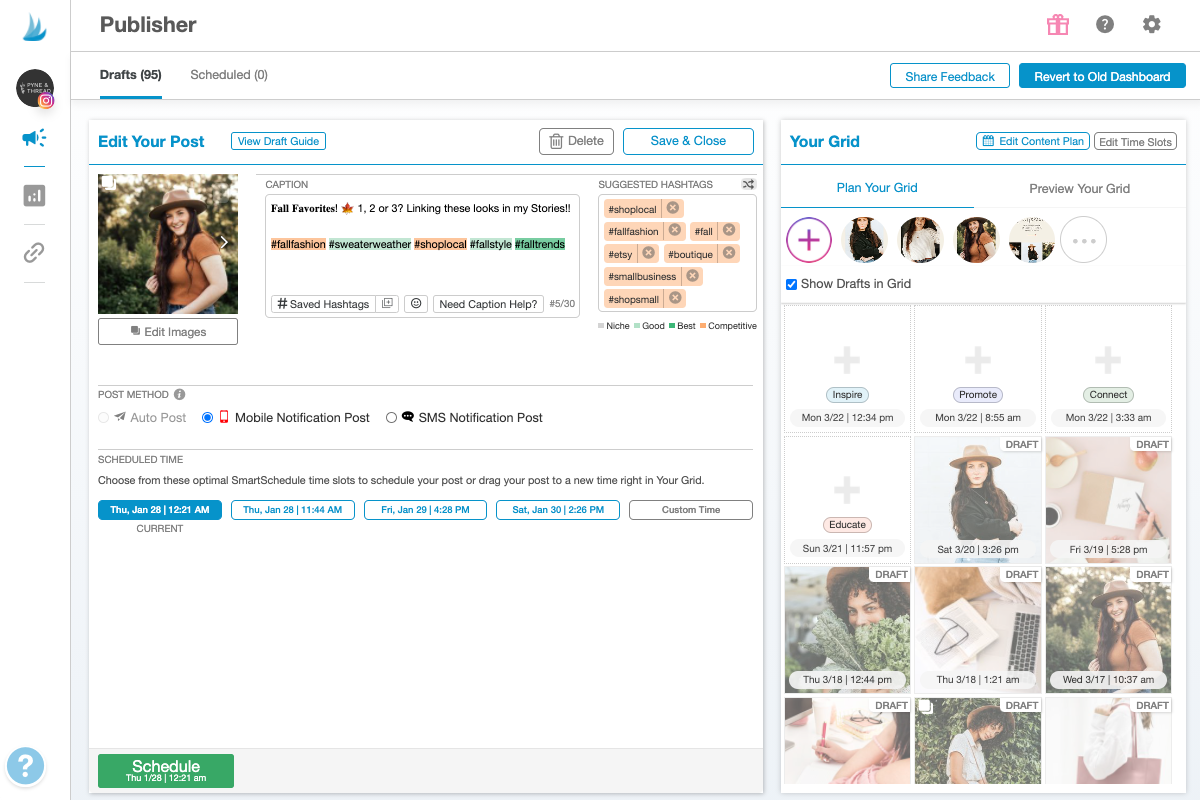 Try this smart Instagram scheduler that helps you plan, create, optimize, and analyze your Instagram posts, freeing you to get back to business.
Tailwind allows users to save photos and images directly from websites and add them to the image database or even directly to the content plan of deferred posts. Moreover, the system helps to analyze which hashtags are the most popular to insert them into the caption with one click. When setting up notifications with reminders about prepared posts, you can turn on/off the sound, choose the optimal type of reminder, etc.
Pricing: Free trial is available (up to 30 Instagram posts). The premium plan starts from $9.99/month.
Iconosquare is a powerful analytics, management, and scheduling platform for brands and agencies worldwide looking to up their presence on social media. It is an excellent solution to plan and publish your social media content in one place, to be posted now or later.
The tool displays the most popular posts with a large number of likes or comments and the optimal time for future publications, active subscribers, etc. You will be glad to discover location and account tagging, security, saved captions, hashtags suggestion, and other features.
Pricing: Free 14-day trial is available. The premium plan starts from $29/month.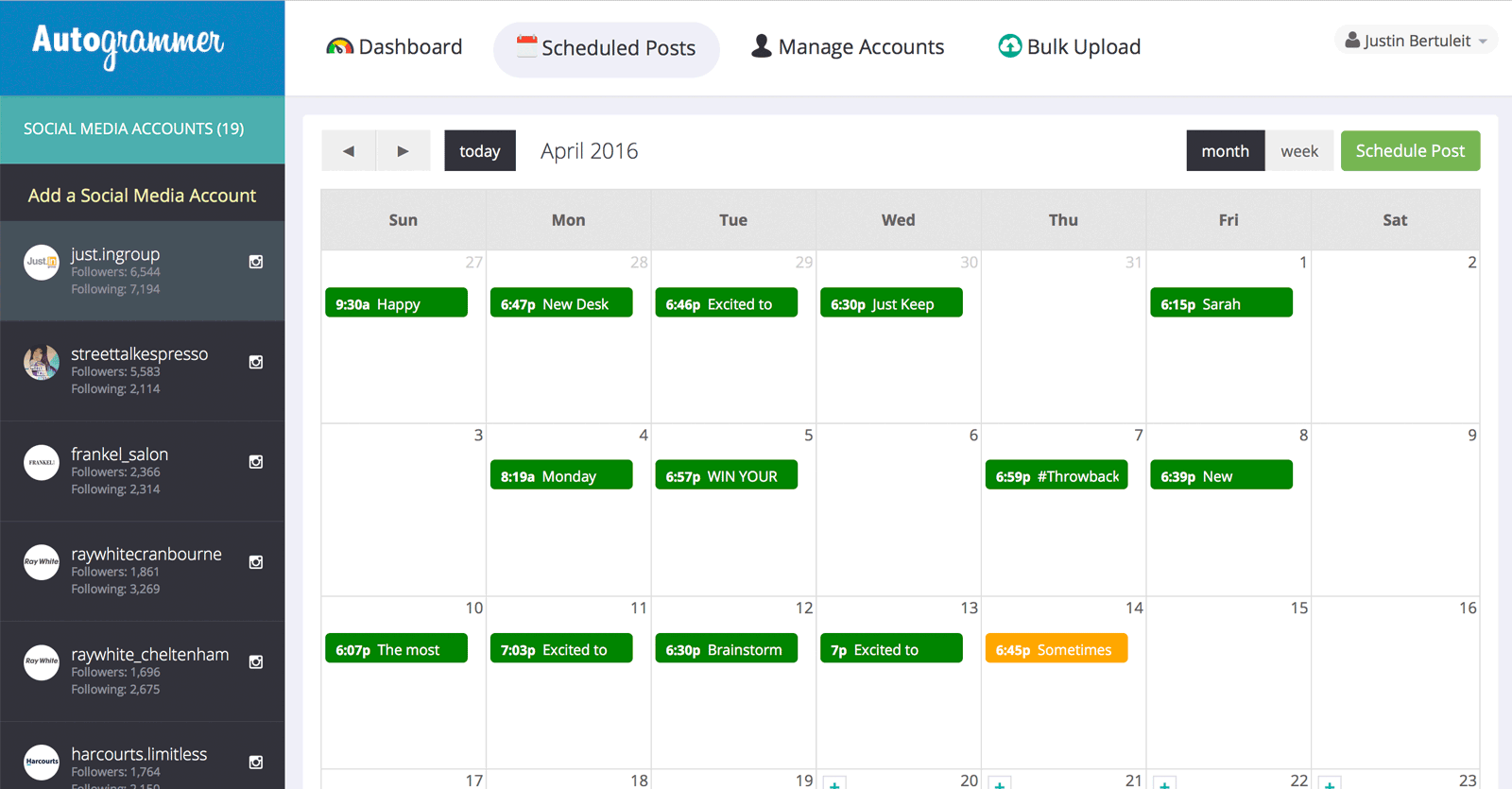 Autogrammer is not much different from the tools mentioned above. People choose this service for creating a schedule for posting on Instagram, managing multiple accounts, photo editing (filters, color correction, rotations, etc.), and bulk image loading.
Post content to Instagram, Facebook Profiles, Facebook Pages, Facebook Groups, Twitter, or schedule for posting at a future date and time to save you time. The only thing that the service cannot do is download videos. For publishing video content, check out some other alternatives.
Pricing: Free 7-day trial is available. The premium plan starts from $9.99/month.
Combin Scheduler is a free marketing tool for Mac, Linux, and Windows users. It is created for convenient Instagram content planning. Easily schedule Stories and posts for auto-publishing and create beautiful Instagram feeds.
The service includes scheduling ahead and instant posting, fully automated publishing, image size editing, location tagging, hashtags and account mentioning, bulk storing uploading, and much more. Create your own schedule for weeks and even months ahead, and free your time for other important tasks. As a result, you will get a stylish Instagram profile with a strong visual voice that attracts new followers like a magnet.
Pricing: Free
Conclusion
Competent development of the social media content calendar is the key to the successful promotion of Instagram profiles. The choice of a suitable program for auto-posting depends on the tasks and functions that the service should perform. Some solutions provide a limited set of features, but they are easy to use and fulfill their main task – scheduled posting. Others have advanced functionality, allowing you to automate most of the routine tasks and get an additional promotion tool.
Pick up the option that is most suitable for your project and business expectations. However, keep in mind that one time range is more suitable for advertising and the other for entertainment content. It is also important sometimes to refrain from publishing for a short period. It all depends on the topic of the profile, the quality of the content, and the hours of activity of your audience.