In late March and April, many advertisers noticed troubling trends dominate the SERP due to COVID-19 – which is why we have teamed up with K2 Analytics INC. to provide you with the complete guide to Pay-Per-Click campaign management.
Wordstream reported that, specifically, starting the second week of April, paid search conversions rebounded to about 89% of their pre-COVID levels.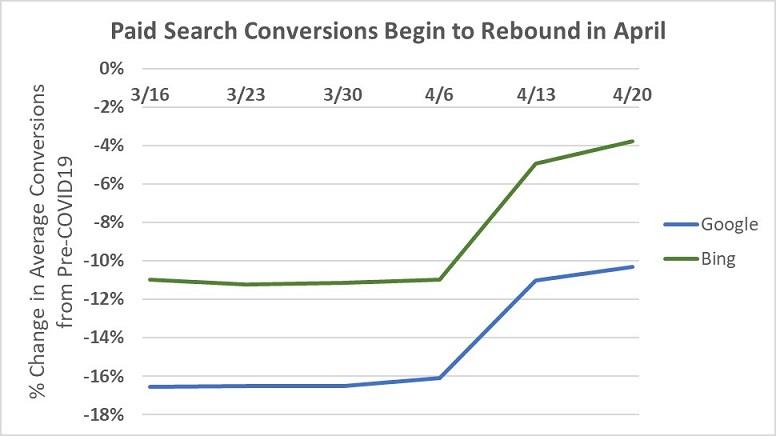 This week the Agency Vista marketing team had the opportunity to connect with K2 Analytics INC. Partner, Motty Osher.
K2 Analytics INC. is a full-service digital marketing agency based in Las Vegas, NV. They specialize in offering their clients a one-stop-shop for all of their online marketing needs from web design and social media management to Pay-Per-Click advertising and everything in between. They pride themselves on delivering the highest quality results that their clients would expect from a large marketing agency while still offering the personal touch that they could expect from a locally owned business – the best of both worlds.
Let's take a look at some of the insights he has shared with us on the complete guide to Pay-Per-Click campaign management.
Q1: What Is PPC Campaign Management?
Pay-Per-Click (PPC) advertising is a marketing campaign that allows a business to show up at the top of a search engine result page, like Google. Because these ads show up before organic search results, they are highly sought after and this creates competition for those spots.
That's where Pay-Pay-Click Campaign Management comes in. At K2 Analytics, our account managers do extensive market research to find the best keywords and audience for every PPC campaign so that our clients outcompete their competitors and to generate more leads, better clients, and ultimately a high return on their investment.
Q2: What are the best platforms for PPC campaigns?
Choosing the best platform for a Pay-Per-Click campaign will change based on who our client is, what industry they serve, and who their audience is. For example, a local service provider will probably gain much more from a Google PPC or Google Local Service platform than they would on Facebook or Instagram. On the other hand, an E-Commerce website that competes with major retailers might find that they see better results from Facebook, Instagram, and influencer marketing. So ultimately it comes down to who the client is and what their market share is.
Q3: How do you find the right keywords for PPC advertising?
In order to make sure that we find the right keywords for our clients' campaigns, we set initial goals, budgets, and expectations for what a successful PPC campaign looks like. Having a clear understanding of these allows us to look for keywords that will bring the highest success rate based on factors like the search volume and cost per click (CPC) of keywords.
Once the PPC campaign is set up, our account managers will monitor the campaigns and make changes to keywords as needed.
Q4: How do you structure a PPC campaign in the age of automation?
When it comes to creating and managing PPC campaigns, automation tools are great for scheduling our campaigns which helps on the delivery side of things, but there really is no automation tool that can replace the work that goes into making sure that each campaign meets and exceeds all expectations.
Our team puts in a great deal of time and effort to make sure that everything is as perfect as we can make it, from the initial keyword research to creating a landing page that generates a high level of conversions.
Q5: What are some best practices for PPC landing pages?
At K2 Analytics, we have different criteria for landing pages that changes based on the industry and market that our clients serve. While every landing page should have an aesthetically pleasing design, fast loading times, and feature relevant keywords, that is only the tip of the iceberg.
For example, for our clients who provide local services, the purpose of the landing page is to generate more conversions whether they are calls to the business or online bookings. These landing pages will feature examples of their work, calls to action, and testimonials that help legitimize the business in the eyes of the customer.
Q6: What are the best tools for keyword research?
There are a lot of great tools out there for keyword research like SEMrush and Google Search Console. These are especially useful because they offer a lot of great tools beyond just researching keywords. We use their analytics tools and data to help us gauge the effectiveness of our marketing campaigns.
With this information, we can then adjust and improve upon our websites, landing pages, and overall advertising campaigns.
Q7: Should you include negative keywords in your PPC campaign?
Negative keywords play an important role in Pay-Per-Click campaigns where we want to restrict when our ads show up in order to prevent the ad from showing up in irrelevant search results. If one of our clients provides a carpet cleaning service, we would use negative keywords to prevent their ad from showing up in "home cleaning services."
This helps our PPC campaigns be more effective by keeping the cost of ads down by only showing to users who are looking for their specific service.
Q8: Do you recommend using Facebook's ad library or MOAT to help inspire your own ad copy and creative?
Facebook's ad library and MOAT are excellent tools if you are just starting out and you want to get an idea of how to start creating ads. At K2 Analytics, we have our own system in place for creating unique and creative content as well as doing our own market testing.
Q9: Have you used a pacing calculator to monitor ad spend and optimizations? If not, how do you recommend marketers to track this?
It's imperative to monitor ad spend regularly to make sure that you aren't overspending or underspending. Our account managers are constantly tracking ad campaigns to make sure that they are performing as intended. We monitor these campaigns weekly and adjust them accordingly.
Q10: What are some tips to help prevent overspending or underspending?
Before we set up an advertising campaign, we like to sit down with our clients and establish an understanding of their goals, budget, and expectations that they have.
Always Track – set yourself with a timeline (based on the volume) to test your clicks and conversions. Depend on the competition within your vertical, you might need to change costs, keywords, and phrases more often at first until you get the best result.
Lead value – one of the most common concerns we got from our clients is that previous agencies or PPC specialists they hired didn't understand the actual value of a lead. In my opinion, this is the crucial point when it comes to overspend or underspend, PPC's forget that not every lead turns into an actual conversion to the business, and some businesses convert every 4-5 leads to a sale. This can change the whole strategy of the campaign, therefore, understanding what the end goal is, and what this lead is for and it's value, will help you a lot.
Thank You!
A huge thank you to Motty and the rest of the K2 Analytics INC. team that shared their insights on the complete guide to Pay-Per-Click campaign management for our #FeatureFriday post.
We'd love to hear your thoughts about #FeatureFriday and the topics discussed above. If you work at an agency and are interested in being a guest on our #FeatureFriday please reach out to yourfriends@agencyvista.com.