Have you been looking to evaluate Upcity alternatives for your marketing agency? Then you're in the right place. Google processes over 3.5 billion searches per day, and that number is only growing! The keyword 'marketing agency' has about 1,580,000,000 search results on Google alone. If you're lucky enough to have your business rank on the first page for that keyword, you most likely are receiving a high volume of traffic, but they may not be the most qualified. 
It is undoubtedly difficult for both businesses to find a reputable marketing agency within their budget range and marketing agencies to find qualified leads without taking time away from their clients. That's when B2B listing networks come into the picture. Upcity is one of those resources that help connect businesses to service providers.
It doesn't require additional installations either. With Upcity, you can easily get listed in their database, manage your online reputation, and gain reviews from your customers. But this isn't the only tool.
There are a bunch of Upcity alternatives providing similar features at a competitive price. Let's dig further as to why these options are worth considering.
Why Consider Upcity Alternatives?
Although Upcity offers a wide range of flexible plans with a free profile listing option, marketing agencies might not be able to leverage the true capabilities of this tool without spending a significant amount on subscriptions that offer a one-size-fits-all solution.
This post will walk through the top Upcity alternatives that even marketing agencies can opt for their mandatory online growth goals like brand awareness, online reputation management, and lead generation.
We have reviewed each Upcity alternatives for marketing agencies, so you don't have to! And when we conclude, you will be able to decide the best tool that caters to your marketing strategy needs ideally.
What are the Best Upcity Alternatives in 2022?
Developed especially for modern marketing agencies, Agency Vista is best for growing your online presence and fostering credible business relationships. It is hands down more powerful than Upcity and offers a wide range of features that are a must for all-sized marketing agencies at a fraction of cost.
Here are the key features Agency Vista offers:
Portfolio Builder: showcase and verify your past and current client projects.
Review Management: verified marketing agencies can access complimentary Reviews as a Service (RaaS) offering to get more reviews from current and previous customers.
Job Postings: post a job directly on your profile and attract top talent.
Automatic Lead Generation: receive prequalified leads on businesses searching for a marketing agency.
Partnerships and Certification Badges: increase your profile visibility by connecting your partner badges and certifications.
Appear in Premium Lists: rank on relevant top category lists that provide tremendous SEO benefits to your agency.
Inclusion in Marketing Materials: get recognized as a thought leader in Agency Vista content.
Dashboard: a centralized hub and management tool for all data points related to your profile.
Social Media Integration: integrate your social media accounts on your profile so profile visitors can connect with your content in real-time.
Network Directory: ability to be listed on the Agency Vista search for a wide variety of digital services.
Analytics: data or insights into listing performance and engagement.
Google My Business Integration: integrate Google My Business reviews into your profile.
Facebook Business Page Integration: integrate Facebook Business Page reviews into your profile.
Category Taxonomy: in-depth category taxonomy that clearly compares similar agencies.
Review Submission: allow users to submit new service reviews and edit existing reviews.
Localization and Specialization: service providers can be found or filtered based on geographic location or specialization.
Agency Vista vs. Upcity
While both platforms have directory listing features, there are certain advantages of using Agency Vista. For example, Upcity's network rank their providers based on top customer reviews. This is one method of ranking, but not necessarily an adequate way for businesses to compare as the reviews are generally paid for by an agency to their top clients and lack objectivity. Agency Vista's approach is to do the matching in a data-driven way that takes key information from both the business and the agency. 
Agency Vista's ecosystem is also tailored towards specifically marketing agencies, whereas Upcity focuses on all B2B service providers. This means that Agency Vista has a suite of features that solely focus on the common pain points to marketing agencies instead of providing a one-size-fits-all solution. Most agencies don't have a dedicated team member or the time to focus on growing their own marketing. Agency Vista plans are automatically applied to your account, so you don't have to take time away from your clients or break the bank hiring an in-house employee. 
Agency Vista Premium is the ideal solution for agencies looking to become a thought industry leader without breaking the bank! This plan makes it easy to create more effective marketing and sales processes that build loyal clients and generate revenue.
Be featured on Agency Vista home page: It's no doubt that the homepage has the most traffic on a website. When you upgrade to a premium plan, you'll be increasing awareness of your agency and offering an opportunity for executives to become more familiar with your solutions by being featured on the Agency Vista homepage.
Appear as a recommended agency on other agency profiles: When you upgrade to a premium plan, similar agencies will be removed from your profile to eliminate driving leads to your competitors. Additionally, you'll also get the added benefit of appearing under other profiles as a recommended agency and can acquire prospects from other agency profiles!
One monthly inclusion in our blog, newsletter, or press release: Each month the Agency Vista team will reach out to you with some ideas for getting you some additional exposure. It will be an idea for our blog that includes your agency, a newsletter, or a joint press release.
Be included in 5 premium lists: This unique placement is a key benefit to our upgraded plan members as 70-80% of people ignore paid search results, choosing to only click on organic search results. These lists offer a tremendous SEO boost to your agency, and unlike featured lists, premium lists are frequently distributed through our press release network.
Price: Agency Vista offers a free plan that allows you the basic features of an agency profile. However, if you're looking to increase your profile's exposure, recommendability, and traffic on and off Agency Vista — the upgraded plans start at $74/month billed annually. Compared to Upcity's pricing — $100/month subscription will get you only featured in their Top Local Agency Marketplace.
#2 Upcity Altnernative: Clutch.co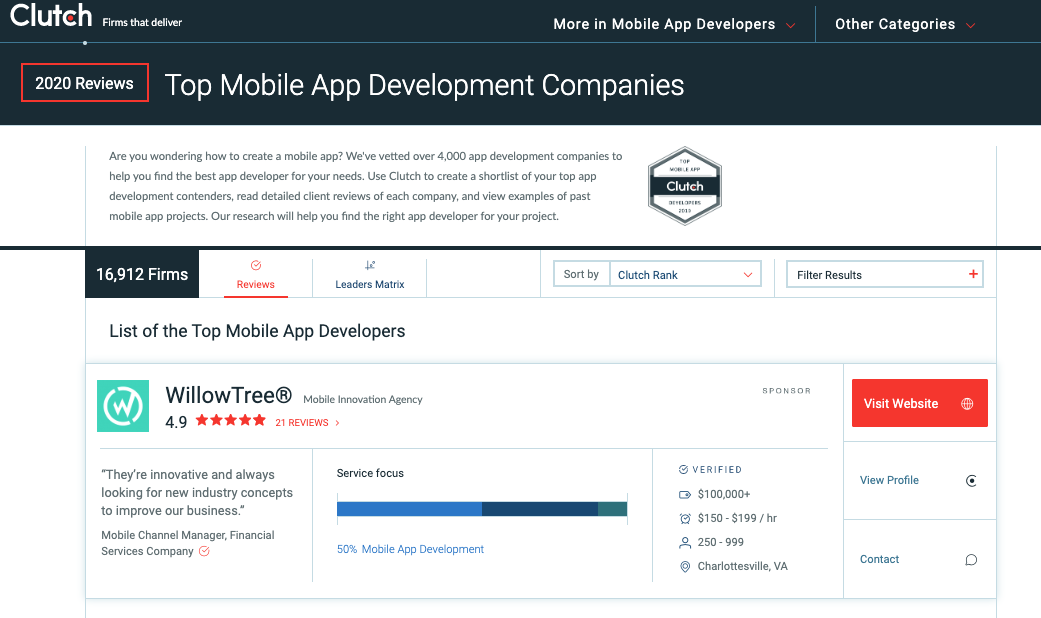 Much like Upcity, Clutch.co also started as a rating and reviews tool for business providers and is now quite popular among other agency tools in the review management segment. But as the year's progress, Clutch.co has undergone some changes. 
Here is a list of Clutch.co's key features:
Category Taxonomy
Review Search
Review Submission
Localization
Service Provider Profiles
Clutch.co vs. Upcity
Both tools rank their providers by reviews, but Clutch.co has a team of analysts behind the scenes that will write reviews on behalf of clients or evaluate posted reviews for quality.
Clutch.co is a great resource if you are solely looking to gain reviews for your business. They also have many badges that their service providers can purchase; however, this is something that other businesses are catching on to that the awards are purchased.
Price: Clutch.co offers a free plan, but you must have 3 client references to get listed that will later undergo review.
#3 Upcity Altnernative: Sortlist
Sortlist does not use a searchable directory. Instead, it has a directory of agencies on the back-end. It asks potential clients a series of questions about the services they would like. It then qualifies the prospects by phone and charges up to 5 agencies for an intro to a qualified lead.
Here is a list of Sortlist's key features:
Category Taxonomy
Localization
Service Provider Profiles
Sortlist vs. Upcity
Sortlist is best known in Europe for businesses in the advertising sector. There is no way to verify the information on a profile, but it tells you if the agency has claimed the profile. Businesses also can't easily compare profiles of prospective agencies on Sortlist, and their search can't be filtered by industry available on Upcity.
One thing to note is that Agency Vista's search allows you to filter based on a number of criteria important to a business's needs. If you're looking to specifically work with an agency that has experience with Hubspot or SharpSpring, then you can filter the search based on a specific tool experience. You also can narrow down the results by adding filters to specific social networks or objectives, providing you with more qualified leads.
Price: Sortlist offers a free plan with a basic profile. After that, the plans start at $300/month.
Agency Spotter uses concrete data – like verified client reviews – to help you find the best-fit marketing agency partners for your company. Their agency listings cover 40 marketing service areas, and searches can be filtered by criteria like budget range, agency size, industry expertise, and ownership diversity. Before being listed, all agencies go through an approval process.
Here is a list of Agency Spotter's key features:
Category Taxonomy
Review Search
Review Submission
Localization
Service Provider Profiles
Agency Spotter vs. Upcity
A free profile on Agency Spotter gives you the ability to update your agency portfolio and secure your reputation with client reviews. However, you would only be searchable by one service and don't get access to any leads.
Price: Agency Spotter offers a free plan with a basic profile. After that, the plans start at $197/month.
CrowdReviews provides rankings of search engine optimization (SEO) companies based on customer reviews. SEO companies are invited to become a part of the rankings by creating or claiming their profile and inviting their customers to speak for them. Both satisfied and dissatisfied clients are urged to voice their opinions on the results achieved by their online marketing agency and on their customer support practices and communications.
Here is a list of CrowdReview's key features:
Category Taxonomy
Review Search
Review Submission
Service Provider Profiles
CrowdReviews vs. Upcity
CrowdReviews doesn't allow any negative reviews left anonymously, and any on your company profile will automatically not get posted. They also operate under a cost-per-click model. However, there is no guarantee that those clicks turn into leads or clients.
Price: Agency Spotter offers a free plan with a basic profile. Their CPC model starts at $40/month and $2/click. 
And it's a wrap!
There you have it. Upcity is one of the oldest reputation management tools for B2B service providers, but Upcity alternatives like Agency Vista allow users an easily digestible and accessible profile with better features at competitive prices.
For tons of agencies, their own marketing can get put on the backburner while managing multiple clients. They want a solution for their online reputation and an all-in-one platform for their thought leadership, SEO, brand awareness, and lead generation. This should not be a hindrance anymore with tools like Agency Vista available.
With the comprehensive list discussed in this article, you will be able to make a unanimous choice for your agency and stay ahead of the curve.