TikTok hashtags play an essential role in the success of your video, being a helpful tool for navigating through content. When used correctly, hashtags can boost your visibility on the platform and get higher engagement rates.
This post will explore whether hashtags help on TikTok, which popular TikTok hashtags to copy and paste for your posts, and how you can leverage them to get more views.
Can You Copy and Paste Hashtags on TikTok?
Hashtags on TikTok work like they do on Twitter, Instagram, Facebook, and other social channels. It is enough to type the hashtag symbol (#) followed by a word/phrase to add a hashtag for a TikTok post. Ensure avoiding spaces, special characters, or punctuation.
Overall, TikTok allows entering up to 33 hashtags in the caption. When posting similar content to TikTok, you may find yourself using the same group of hashtags over and over again. Therefore, typing them time after time is not an option.
Instead, it is recommended for marketers to create preset groups of TikTok hashtags to copy/paste and reuse for their future posts. Are you still looking for a convenient tool to simplify this process? We have good news for you.
Vista Social is an excellent solution here that offers to group and save your hashtags for later. A few simple steps allow you to create a new hashtag group and automatically add it to your post. No hassle and 3-rd party apps involved!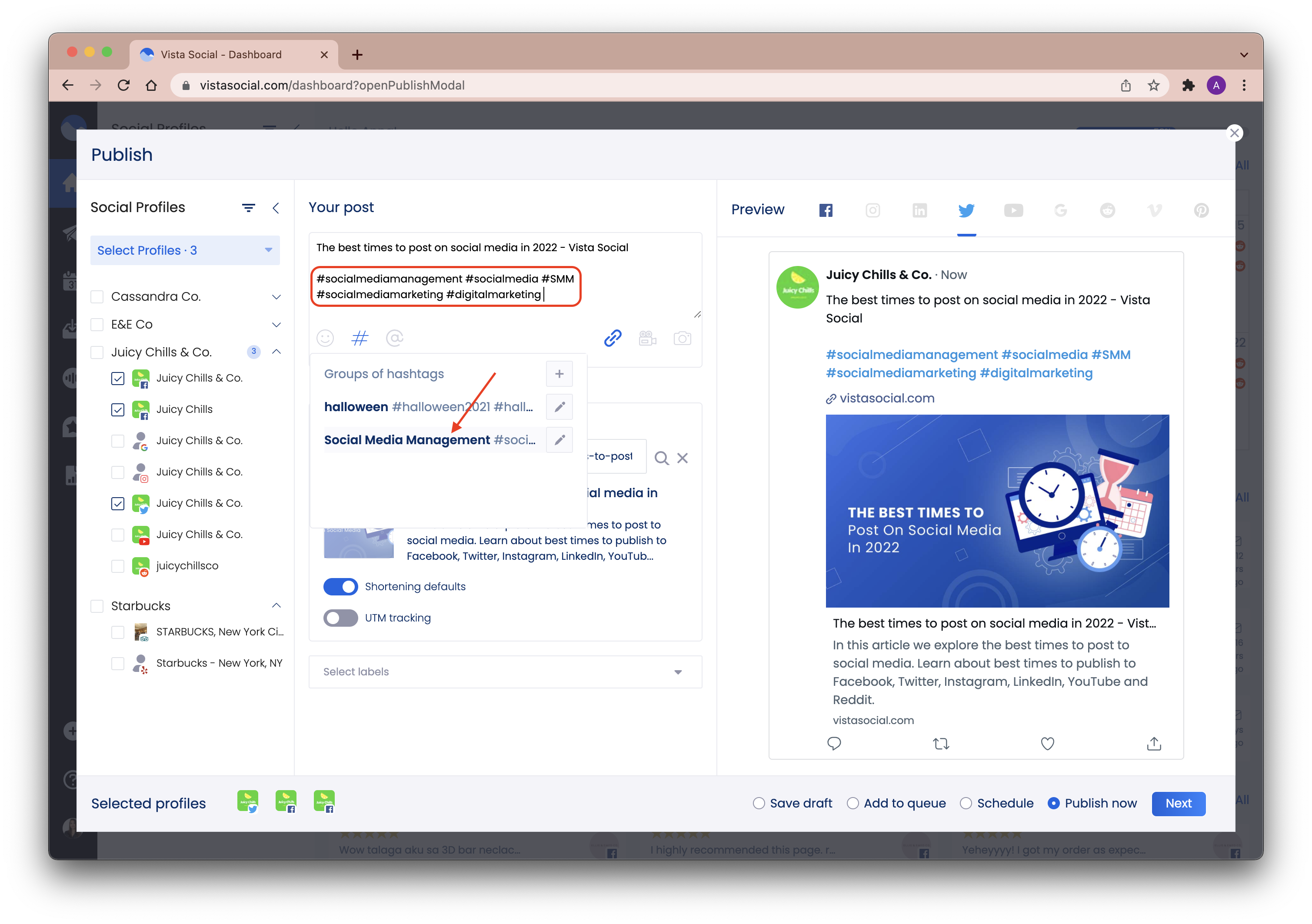 Should You Hashtag FYP?
When it comes to the TikTok hashtags you can easily copy and paste for your posts, you may consider throwing around hashtags like #FYP. On the surface, this type of tag is intended to mark content as worthy of the "For You Page."
Getting into the FYP is the success that many brands strive for. Who would not want to have their content featured here? A place in the recommendations feed allows you to:
Gain more followers and can monetize your content.
Start getting more recognition, leading to sponsorships, thought leadership, and sales.
Grow your community across the board by redirecting traffic to your other platforms.
Get free exposure without spending a fortune on your ads.
Does adding the 'FYP' hashtag to the posts work? Will it trick TikTok's complex algorithm and boost engagement?
As of January 2022, the hashtag "FYP" was the most used hashtag on TikTok, amassing over 18.57 trillion views across posts. However, understanding how the TikTok algorithm works, it seems unlikely that these tags would ever result in a boost. Moreover, the company never confirmed that to rely on them too much.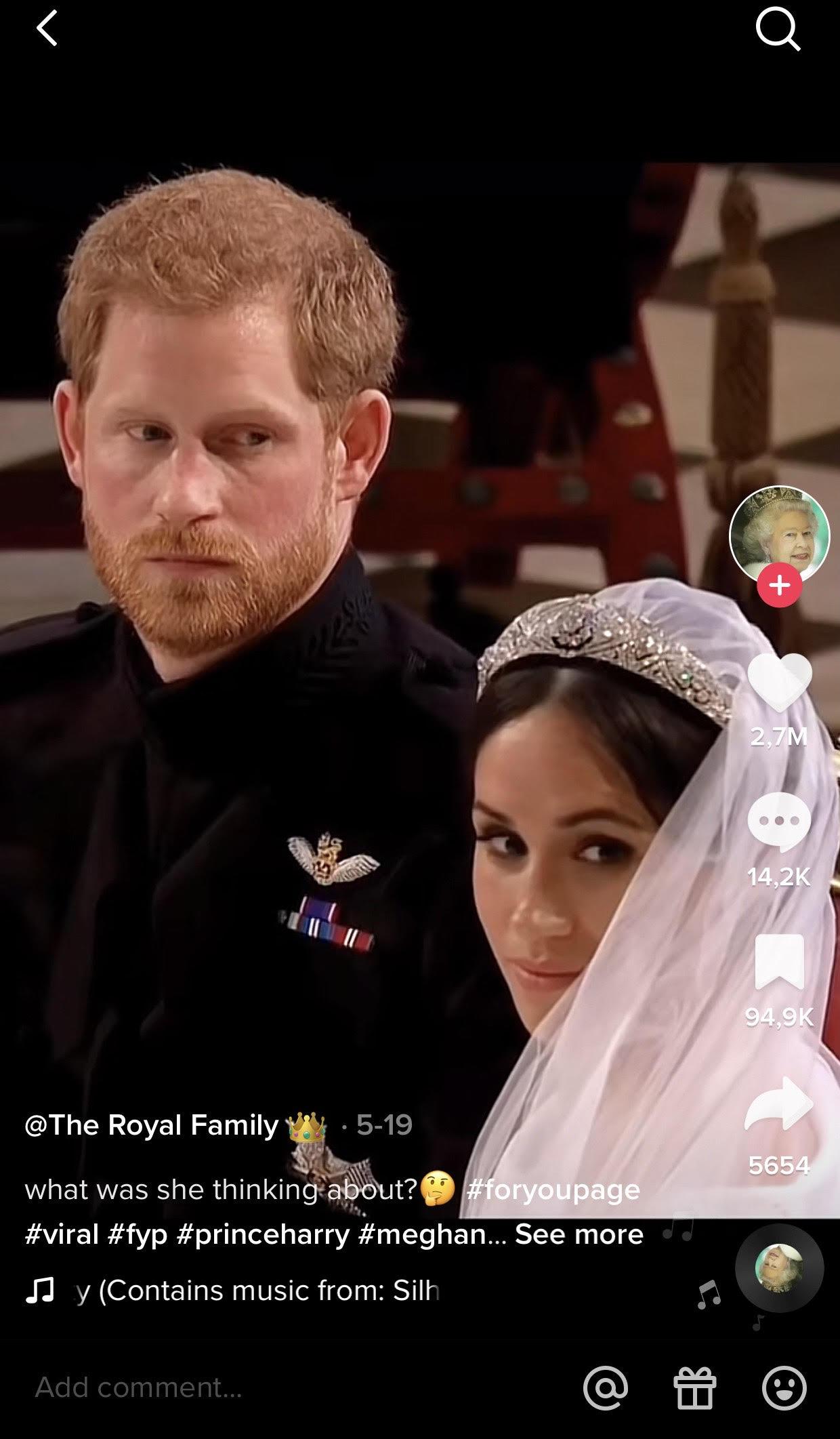 Hootsuite's experiment demonstrated that tagging videos with #FYP, #foryoupage, and other similar hashtags did not boost views at all.
Similar to #Like4Like and #Follow4Follow, this method falls short for those brands seeking an actively involved, long-term audience.
If you decide to use #FYP and #ForYou hashtags, you should remember it is not a panacea. Instead, it is much better to pick up a small number of relevant hashtags, popular and trending in your niche, and add them to the list of TikTok hashtags to copy and paste to the posts.
Do Hashtags Help on TikTok?
They absolutely do! Like on Instagram, Twitter, and other popular social media platforms, hashtags help organize and structure content, bring people to your videos, build strong communities, keep things simple, and more. 
Even though TikTok is the hottest social media channel, it is still new and not flooded like other popular platforms. So, using the proper hashtags gives you more chances to succeed in your niche.
It is recommended to have a TikTok hashtag strategy to get hashtags to work on TikTok. So what does it mean for you? It means leveraging your TikTok hashtags in a conscious and calculated way. This approach will help your content reach your target audience and get more likes, comments, and views.
When working on the list of TikTok hashtags that you can easily copy and paste for your posts, answer the following questions:
Whom are you trying to target with your video content?
What actions do you expect from your audience after they watch your TikTok? (Share? Follow? Purchase? Visit your other channel?).
Are you interested in the maximum exposure or targeting a specific audience more likely to engage with you?
When you answer the questions above, you will better understand what type of hashtags will be most effective for you. It is not about any random TikTok hashtags to copy and paste. For example, popular hashtags are an excellent choice to reach a broader audience. On the other hand, niche hashtags are more effective in targeting a specific demographic of users.
To search hashtags on TikTok, you can either use a platform like Vista Social's hashtag tools, open the TikTok app and tap "Discover" on the bottom of the screen, or use the search bar at the top.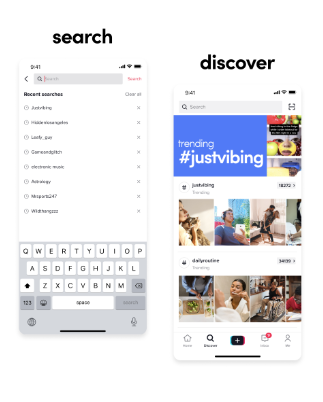 Are you curious about what TikTok hashtags get the most likes on TikTok? Let's find out.
What Hashtags Get The Most Likes on TikTok?
With TikTok being a fiercely competitive space, you must stick to the popular hashtags to reach a broader audience. The reason is apparent – many people are searching for them. Still, note that what is popular changes all the time. Below are the most popular TikTok hashtags to copy and paste into your posts in 2022.
Most Popular TikTok Hashtags
#tiktok
#foryoupage
#fyp
#foryou
#viral
#love
#funny
#memes
#followme
#cute
#fun
#music
#happy
#fashion
#follow
#comedy
#bestvideo
#tiktok4fun
#loveyoutiktok
#thisis4u
Top TikTok Hashtags for Beauty Industry
#beautyls
#beautyhacks
#beautytips
#danceforbeauty
#beautyblogger
#beautychallenge
#unlockbeauty
#sleepingbeauty
#naturalbeauty
#hudabeauty
Top TikTok Hashtags for Health and Fitness
#bestforhealth
#fittok
#fitnessgoals
#fitness
#healthtips
#lifestyle
#workout
#gym
#skincare
#homeremedies
Top TikTok Hashtags for Food Industry
#tiktokfood
#myrecipe
#cooking
#foodrecipe
#mysecretrecipe
#veganrecipe
#tiktokrecipe
#foodislove
#healthyfood
#newrecipe
Top TikTok Hashtags for Fashion Industry
#fashion
#FashionBlogger
#clothing
#outfit
#TikTokFashion
#OutfitOfTheDay
#fashionista
#StreetStyle
#design
#style
Top TikTok Hashtags for Entrepreneurs
#business
#startup
#crypto
#BusinessTips
#BlockChain
#BusinessIdeas
#EntrepreneurLife
#investment
#DigitalBusiness
#entrepreneur
Top TikTok Hashtags for Arts & Crafts
#ArtTok
#DIYCraft
#crafts
#DoItYourself
#artist
#handmade
#arttips
#ArtsAndCrafts
#PaperCrafts
#HomeDecor
FAQs
How Do I Get More Views on TikTok Hashtags?
Using trending and viral hashtags is essentially a way to get more views. You can access the updated list of viral TikTok hashtags under the "Discover" tab. Here, you will see trending audios and hashtags on any topic. Selecting any of them will show you all the videos that have used that hashtag.
Most are rather generic, e.g., #love, #meme, #music, #cute, and more. Funny, educational, related to specific communities, and inspiring crafting, cooking, or investing – everyone can find the hashtags for their topic.
Here are three essential tips for getting the most of your TikTok hashtags:
Narrow down your target audience. Begin with a generic search to understand which hashtags your audience is likely to look for. For example, type #Tech if you are in a tech niche, and from there, look at more specific hashtags used by the highest-ranking videos. Do not forget to engage with the content you see. As a result, TikTok's recommendation system will get you the videos most relevant to your niche. Analyze the hashtags used there and add them to your list.
Seek out your competition. Explore successful competitors' videos and pay attention to the hashtags they use. This approach will help you to promote your own content.
Create a branded hashtag to group all of your posts around a topic. Such a hashtag may include the brand's name and allow TikTok users to add it to their own posts.
How Do I Get 1K+ Views on TikTok?
On TikTok, the very second your video starts to play, it is counted as a view. So when talking about getting 1K+ views on TikTok, it is more than possible, and buying them is not the case here. Here are a few ways to get 1K+ TikTok views:
Add hashtags to your TikTok content. It is a powerful tool that helps the TikTok algorithm identify what you are uploading and who might be interested in watching it. Grab some trending hashtags to attract more audience attention.
Post short and engaging videos. Videos under 30 seconds have more chances to wind up on the FYP.
Use trending sounds for your TikToks. Music strongly influences the virality of content and TikTok views.
Define your specific audience. Selling to everyone, you will not sell to anyone. The more accurately you define the target audience, the more leverage you will have in your arsenal.
Try an educational video – experiment with how-to videos, answer FAQs, and more.
Use TikTok's Duets feature. Share a split-screen with another TikToker to create a funny dialogue.
Invite an influencer or guest star for a cross-over opportunity to access a new audience and receive more views.
Share your TikTok video on your other social platforms.
Use a caption to make one more pitch to your audience for why they should watch your video.
Create a TikTok Creator or TikTok Business account. You will get access to better analysis and understanding of your audience.
Choose the right time to post the video. Check your account analytics to identify the right time and make a post when your audience is actively using the app.
Create high-quality videos. People will be more likely to want to watch a video with good lighting, sound quality, and attractive edits.
Should I Like My Own TikToks?
Unfortunately, liking your own Tiktok does not affect how many people the video is shown to on the For You page. Therefore, it does not directly lead to any additional views. Instead, the app automatically filters out your own likes when weighing the engagement your content has received. Again, this comes down to keeping things fair – TikTok wants to show videos to the right people that will truly enjoy them.
At the same time, liking your own TikTok shows plus one more person who liked the video to others. Since people are more likely to support something others also support and like, this may help your video become more successful.
Liking from an alternative account is still an obvious way to boost your like count artificially, so TikTok almost certainly filters these likes as well. Asking your friends to like your Tiktoks may work; however, ensure it is not referred to as spam liking.
Can You Get Fake Views on TikTok?
You can buy likes and views for your TikTok videos, but you should understand that you are putting your account at risk by doing that. However, if you are just new to the app, generating credibility with no engagement on your videos is complicated. So, if you decide to proceed with fake views, do that in small increments to kickstart the growth of your account. Remember, your TikTok growth should look organic.
While numerous services deliver fake views and likes in a matter of moments, we recommend focusing your efforts on excellent content and honest interactions with other users that accelerate the actual growth of your account.
Conclusion
Using TikTok hashtags strategically can help you gain a competitive edge on the platform. While adding standard hashtags is a good start, the best results come from leveraging the Discover page and getting involved with the popular TikTok hashtags to copy/paste listed above. Use the tips suggested in the post to make the most of TikTok hashtags, and remember that not much will help you to succeed on the platform if you are not crafting unique and shareable content for your audience.