One of the biggest trends in marketing is the increased use of lead generation software. According to recent reports, 80% of marketers that use automation software drive increased leads (as much as 451% more), and that 77% of them convert more leads than those that don't use automation. Therefore, marketers are looking for new lead generation software that inspires a person to buy along with a more personal approach, the development of relationships, and trust.
92% of marketing agencies invest more time, resources, and budget into marketing automation integration. Today, the market offers unique programs for effective lead collection and management. They contain tools for analyzing sales channels, customer search services, organizing callbacks from corporate websites, promoting social networks, and tracking visitors.
Agency Vista has collected the best lead generation software for your agency to get high-quality, high-converting leads. However, before diving into the tools list itself, let's see what features you should pay attention to when investing in the software.
Essential Features of an Effective Lead Generation Tool
Every month, new tools for B2B sales automation and lead generation appear on the market. They help companies find high-quality leads, close deals, and scale their business faster and more efficiently. But what should you look for in lead generation software for your business?
Ease of use and access. Every person in your team should access and use the software; otherwise, it will be one more unused service. Choose a cloud-based, simple, and easy to navigate solution to allow the entire organization to get involved in lead generation.
Affordable price. Evaluate how much you are ready to invest and choose the most cost-effective solution for your business needs. Check out carefully what you are getting for the cost you are paying.
Customer service. It is OK not to be knowledgeable in operating new interfaces, so the developer should be open to any help. Tutorials, helpful tips, or even phone/chat support are an excellent help to those who have never dealt with the software.
Targeting the right audience. Your best sales lead generators are supposed to enhance and help you. Make sure your lead generation tool lets you reach the people you want to reach.
Analytics. Numbers mean a lot in marketing. Any service that can measure and provide you with reports on how well your campaigns, ads, posts are doing is an excellent choice.
Top 21 Lead Generation Software
Sales Lead Generation
Pricing: Free plan is available. The premium plan starts at $99/month.
Agency Vista is the largest marketing agency network connecting businesses with the top researched, compiled, and verified marketing agencies. If you are a marketing agency, Agency Vista's upgraded plans can take your marketing efforts to the next level without taking time away from your clients. Create an agency profile that lists which industries, budgets, and business size your agency prefers to work with and let the right businesses come to you. No more cheesy in-person meetings, repurposed pitch decks, and rehearsed spiels.
Pricing: The growth plan is $39/month.
What if there was a quick and easy way to convince your website visitors that you have what they need? TrustPulse is here to help. It is an honest marketing platform that leverages real-time customer activity to grow your business. Adding a social proof notification is one of the simplest and most effective marketing tactics to attract potential customers. TrustPulse will show a notification every time someone performs an action on your site – purchases, demo registrations, email newsletter signups, and more. Smart targeting, flexible design options, actionable analytics are among those key features the product offers.
Pricing: The premium plans range from $25/month to $300/month.
Salesforce is a powerful system designed to manage a variety of business processes, customer relationships, analytics, marketing, sales, and more. As one of the best sales lead generators, the CRM system is aimed at small, medium, and large businesses. This is a comprehensive business automation platform with many excellent solutions for different tasks. Among the system's advantages are scalability and rapid expansion of opportunities when changing the business, maximum flexibility and the ability to purchase additional applications for the platform, and automation of numerous business processes.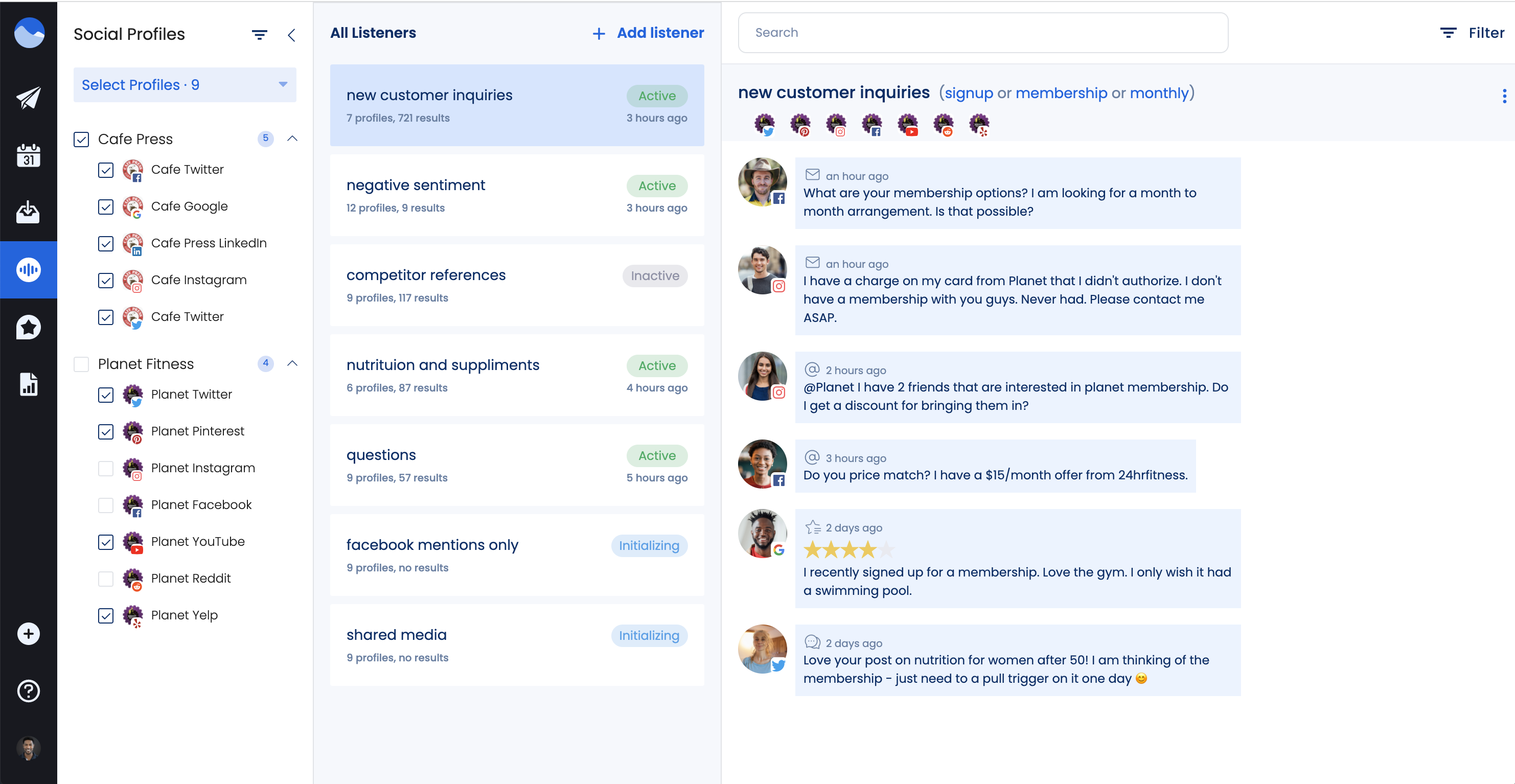 Pricing: Free plan is available. The pro plan starts at $3/month per social media profile.
Vista Social Listening tools help brands tap into global social conversations to extract actionable insights, identify industry gaps and improve brand health. Incorporate social media listening seamlessly into your business strategy with Vista Social's user-friendly platform. Speed up time to value with informative training and expansive education materials. Apply insights beyond social media. Revamp marketing, sales messaging, customer care, product development, and much more using listening data.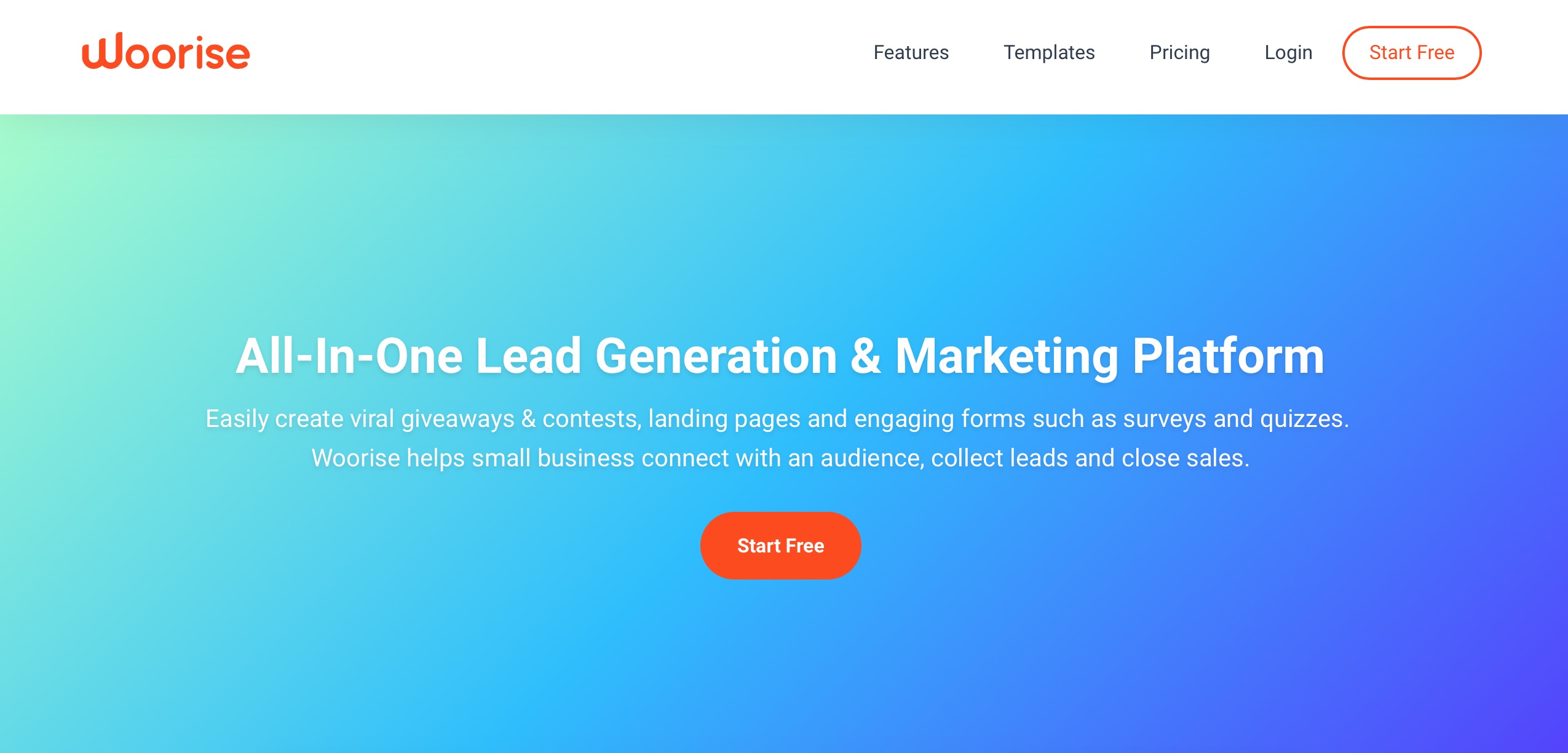 Pricing: Free plan and 14 days free trial are available. The Basic plan starts at $29/month.
Woorise is an all-in-one lead generation and marketing platform that allows you to create a wide range of interactive campaigns such as landing pages, forms, surveys, quizzes, viral giveaways & contests, accept payments and more to collect leads and engage your audience.
Woorise features include a modern landing page and form builder, 40+ field types and thousands of social actions, 100+ interactive templates, conditional logic, real-time email notifications, multi-language support and built-in analytics.
Woorise also integrates with popular marketing platforms such as Mailchimp, Hubspot, ActiveCampaign, Facebook, Google Analytics, Bitly, Zapier, PayPal, Stripe and many more allowing you to automatically send your new leads to the tools you already use.
Pricing: The premium plan starts at $79.99/month. Enterprise quote is provided upon request.
LinkedIn Sales Navigator offers sales organizations and agencies even more power to discover leads and manage their pipelines effectively. Sales Navigator integrates with several popular sales apps and customer relationship management programs, including Salesforce and HubSpot. In addition, its advanced search function gives reps the power to more narrowly target their ideal leads and discover relevant connections. The beauty of Sales Navigator is that the more you use it, the more valuable insights it will deliver.
Email Marketing
Pricing: Free plan is available. The premium plan starts at $9.99/month.
MailChimp is an online process automation service that allows you to create, send, and analyze email and advertising campaigns, both from the PC and mobile application. The service allows you to quickly create an email template with macros, import a contact list, and send a newsletter.
MailChimp provides knowledge bases for quick setup so that the software can be installed without any IT experience. One of the main advantages of MailChimp is flexibility, which is achieved due to an extensive list of integrations and functionality. In addition, MailChimp offers a few different versions of its platform; each version comes with additional features and higher tolerances for contacts and the number of emails you can send.
Pricing: Free plan is available. The premium plan starts at $25/month.
Sendinblue offers cloud-based digital marketing tools to over 175,000 growing companies worldwide, and it is ready to help your agency. It is an excellent solution to get personal with your customers and keep your growing audience engaged by always sending the perfect message at the right time, in the right place.
SendinBlue's payment subscription plans are unique because they make the service accessible to any business, regardless of size or marketing experience.
Pricing: A free trial is available. The premium plan starts at $20/month.
Whether you are launching an email marketing campaign, building a fantastic website in minutes, uploading products to your online store, or boosting sales with Google Ads, Constant Contact offers all the tools and guidance you need to achieve the desired results.
The tool allows you to create email marketing campaigns like a pro with easy-to-use features – customize and design great-looking emails, enjoy email marketing automation, get the most of smart eCommerce tools, and track your results.
CRM
Pricing: The growth plan is $1250/month.
Pardot is a popular marketing platform (owned by Salesforce) that provides a complete set of tools for marketers to attract potential customers and close more deals. The Pardot service offers the ability to integrate with CRM, conduct email marketing, generate and rank leads, and get ROI reports.
Modern micro-level web analytics allows Pardot to record all-important research activities and helps you determine which of the website visitors are most likely to become buyers. The Pardot price is at a high level of the spectrum, and an annual contract is required.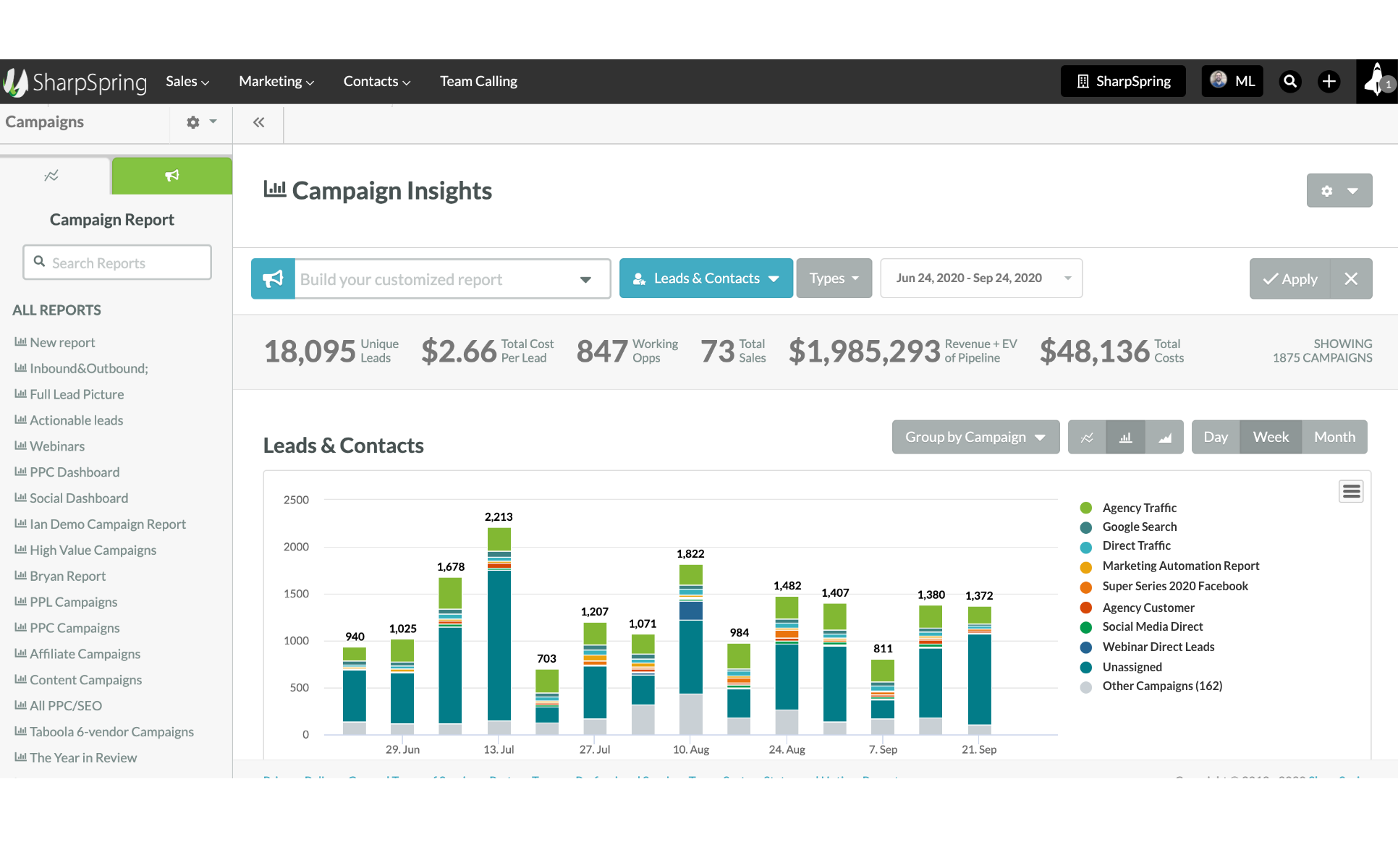 Pricing: Annual & monthly options upon request.
If you are looking for a single revenue growth platform, SharpSpring is the one to fuel agency and business growth with end-to-end sales, marketing automation, and CRM features. All the features in SharpSpring are designed to work together for you to:
generate quality leads;
win more customers with dynamic content and personalization;
convert leads faster with content and landing pages that convert.
SharpSpring understands how agencies work. You will be able to track the entire lead's life to show genuine ROI on our campaigns.
Live chat
Pricing: Free plan is available. The premium plan starts at $19.
Your customers are on websites, the phone, social media, the list goes on. JivoChat allows visitors to talk to you using their favorite platforms, so you never miss an opportunity to make a connection. Agents receive all chats, emails, and calls in one Jivo. As a result, you will get efficient client/agent communication, less distraction, and the necessary tools to provide exceptional customer support.
The tool has integrations with most major platforms – WordPress, Shopify, Magento, Bigcommerce, and applications such as Facebook, WhatsApp, and Apple Business Chat.
Pricing: The price is calculated and provided upon request.
The future of support is conversational. Intercom offers your customer satisfaction the boost it deserves with their industry-leading Business Messenger and seamlessly provides human, self-serve, and proactive support. No more choosing between an efficient team and excellent customer service. Intercom's tools offer the power and flexibility you need to provide personalized, human support to more customers—in less time. With the advanced support automation add-on, you will provide faster answers and reduce manual actions.
Pricing: Free plan is available. The premium plan starts at $159/month.
Try CallPage to increase your sales, generate more leads, and improve user experience. Only four steps are needed to get the product work:
Your potential customer clicks the CallPage button on your website.
A pop-up prompts potential customers to provide their phone numbers.
The widget connects them straight to your consultant.
The consultant talks with your potential customer on their mobile or landline.
Is not it easy to start getting more leads? Integrate CallPage with your favorite CRM and tools to boost your sales!
Calendar scheduling
Pricing: Free plan is available. The premium plan starts at $8/month.
Calendly takes the busy work of scheduling off your to-do list so you can get more done. Thousands of teams across the globe use Calendly to make millions of 1-click meetings every week. It is an excellent solution to coordinate, connect, and nurture relationships in one meeting lifecycle platform. Try a free version to get to know the leader in automated scheduling and see why millions connect using Calendly.
Pricing: Free trial is available. The premium plan starts at $6.95/month.
Doodle has been the leader in scheduling technology since 2007, with more than 30 million users every month. Anytime more than two people are trying to arrange a meeting, Doodle is essential – primarily when the meeting extends across time zones. This product is another simplest solution to schedule meetings with clients, colleagues, or teams. Doodle is top-rated in customer satisfaction, ease of admin, ease of doing business, quality of support, and ease of setup.
Pricing: Free plan is available. The premium plan starts at $9/month.
Power your agency with this innovative scheduling solution that shortens time-to-engagement in all phases of the customer lifecycle. ScheduleOnce software seamlessly integrates into your existing business processes and customer touchpoints, allowing you to easily connect with prospects and customers, ultimately leading to higher conversion rates and improved customer satisfaction. Start with a free version to evaluate all the tool's features before purchasing a Growth plan, ideal for advanced users and larger teams.
Advertising
Pricing: Free plan is available. The growth plan starts at $19/month.
Manage your marketing through AdRoll, combine its power with all its data and insights, and make decisions based on everything your customers do. AdRoll gives you one central place to access inventory from Google, Facebook, Instagram, and other 500 suppliers. The tool makes sure that your campaigns are executed by reaching the right people and getting the best possible placements online.
Pricing: You set up your own budget.
Google is where people search for what to do, where to go, and what to buy. Your digital ads can appear on Google at the very moment someone is looking for products or services like yours. Whether they are on desktop or mobile, a well-timed ad can turn people into valuable customers. In addition, Google ads give you control over your advertising budget. Set a monthly budget cap, and never go over it.
Pricing: Free trial is available. The premium plan starts at $49/month.
AdEspresso has the right combination of automation tools designed to make your agency's life easier than ever. Quickly create and analyze your clients' campaigns across three different channels – Facebook, Instagram, and Google – using AdEspresso'sAdEspresso's intuitive interface. Whether you want to sell more products, grow your fan base, or increase engagement with your community, AdEspresso will help you create and optimize an advertising campaign that truly works.
Landing page creation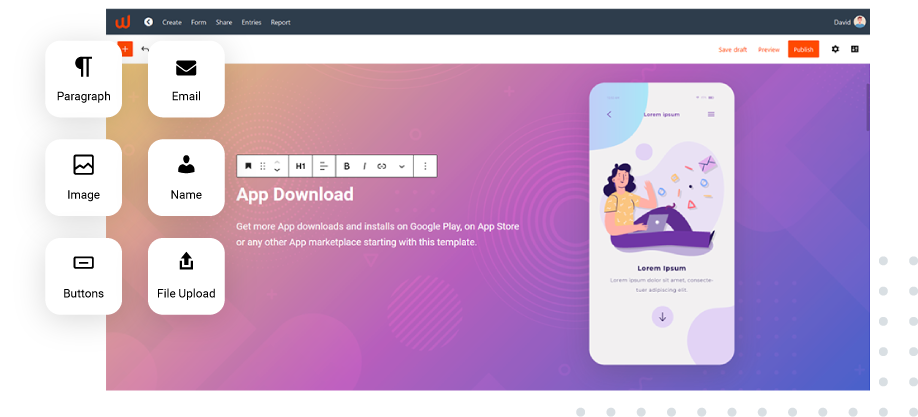 Pricing: Free plan is available. The basic plan starts at $23/month.
Woorise is an all-in-one lead generation platform that allows you to create a wide range of interactive campaigns such as viral giveaways & contests, landing pages, forms, surveys, quizzes, accept payments and more to collect leads and engage your audience. Woorise helps you to generate leads, grow your subscribers list and social media following, engage your audience and drive traffic to your website.
Woorise makes it easy to create powerful campaigns for your business including lead magnet campaigns, NPS campaigns, advanced marketing and feedback surveys, event registration and signup forms, accept payments and subscriptions and much more. Woorise also integrates with popular marketing platforms such as Mailchimp, Hubspot, ActiveCampaign, Aweber, Google Analytics, Bitly, Zapier, PayPal, Stripe and many more.
Pricing: Free trial is available. The premium plan starts at $27/month.
LeadPages is a service with many features for creating all types of landing pages and optimizing their performance. Customizable templates are available, and they can be run on any platform, including WordPress, Facebook, or another. You can create your template, supplement it with A/B testing and conversion rate statistics. LeadPages provides additional features for optimizing interaction, for example, forms, buttons, pop-ups, registration pages.
Conclusion
Today you can choose from a variety of strategies and tools for lead generation. The only difficulty is that there is no universal solution, and you always need to focus on the features of each specific business model. However, choosing the right tools for lead generation for your agency will help you scale faster, expand the customer base, and earn additional profit.
Connect with Top Lead Generation Marketing Agencies to get the most of your marketing campaigns and scale your digital growth!
If you are a marketing agency, discover how Agency Vista's plans can drive more conversions while managing your clients.