LGBTQ-owned marketing agencies can take your online growth goals to the next level. According to a 2019 survey of 4,000 Americans by YouGov, 24% of consumers are more likely to do business with an LGBTQIA+ friendly business. However, these LGBTQIA+-owned businesses don't always get the recognition they deserve. Agency Vista has researched, compiled, and verified the top LGBTQ-owned marketing agencies of 2021.
Brands are finally realizing that their target audience includes a variety of different types of people, whether it be related to gender, race, sexualitiy, ethnicity, or physical abilities. In 2021, inclusive marketing is a no-brainer because it reflects the real people and lives that are buying your product or service. Long gone are the days of marketing filled with fictional stories and unrealisitcally perfect models.
Don't just take our word for it, a Kantar study found that ads that are considered progressive are 25% more effective. The study focused on the effectiveness by KPIs related to progressive campaigns, the memorability of the ads, and the effectiveness by how pleased viewers were with the brand. This information backs up the idea that inclusivity is beneficial and more effective in the marketing world.
What better way to provide your customers with a better experience with your brand than partnering with an LGBTQ-owned marketing agency. Let's dive in!
20 Top LGBTQ Owned Ad Agencies And Marketing Companies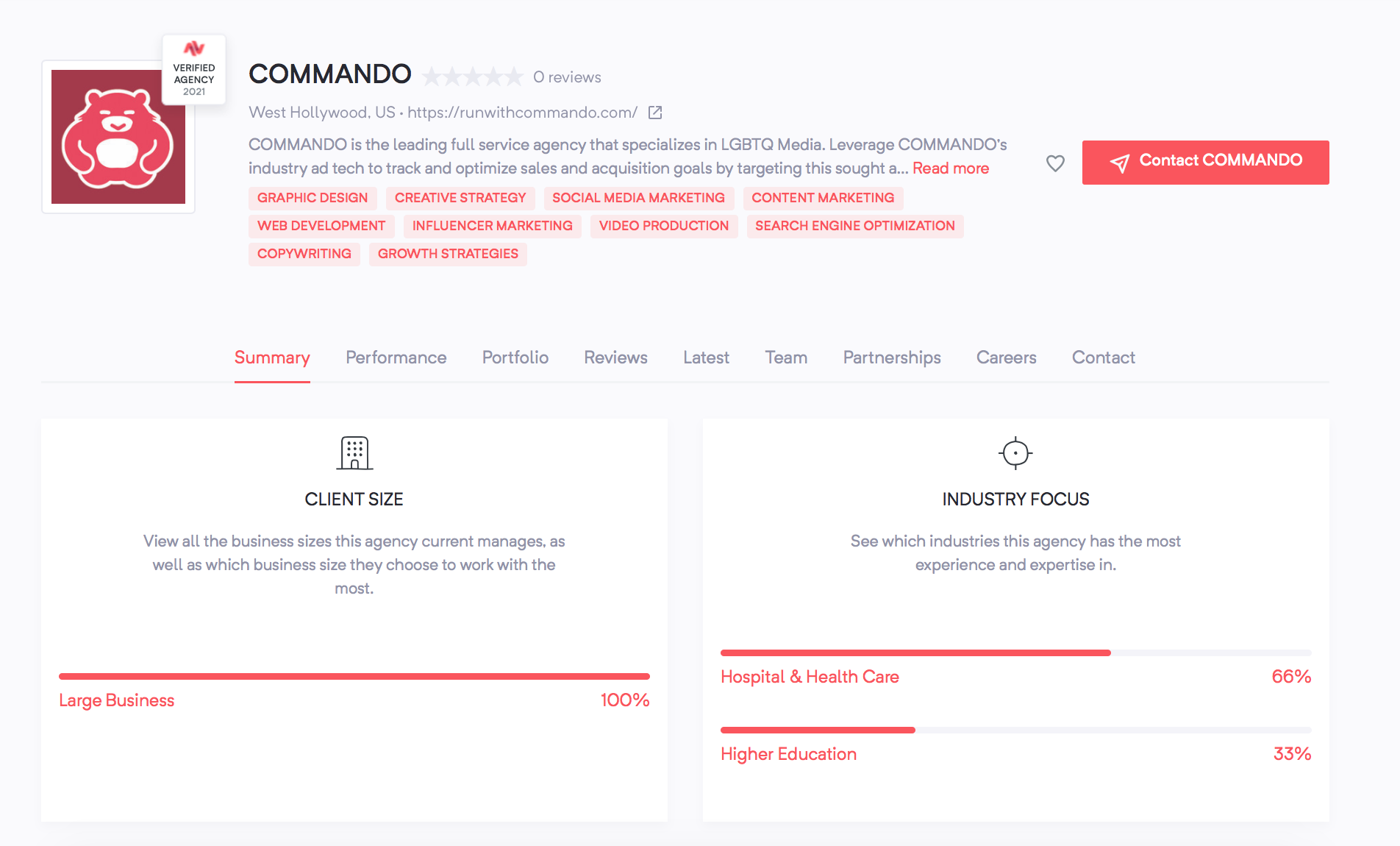 Headquarters: West Hollywood, US
Core services: Social Media, Desktop and Mobile Web, Dating Apps, Video and Streaming, Creative Services.
Partnerships: Agency Vista Verified Agency
COMMANDO is the leading full service agency that specializes in LGBTQ Media. Leverage COMMANDO's industry ad tech to track and optimize sales and acquisition goals by targeting this sought after audience on Dating, Social, Desktop, & Video platforms. Commando can help your local, regional or national business reach their target demographic efficiently and affordably. From YouTube to Snapchat including specific campaigns on dating apps such as Grindr, Scruff, Growlr, & HER. Commando can navigate all platforms both social and mobile to help grow your business or brand.
Headquarters: Tuscaloosa, AL
Core services: Branding Strategies, Marketing Strategies, Website Development, Illustration, Social Media Marketing.
Partnerships: Agency Vista Verified Agency
Sarah Minor is an experienced and passionate digital marketer, designer, and illustrator. The agency's philosophy is providing business owners with the fundamental tools needed to visually impress their customers that will help them stand out among their competitors, build trust, and grow their business. Sarah owns a company that believes in supporting equality in all things, loving all no matter whom they love, the color of their skin, what gender they are or identify as, and creating a world of possibilities for ALL.
Headquarters: Chicago, IL
Core services: Marketing Plan Development, Marketing Automation, Inbound Marketing, Website Design & Development, SEO Services, Sales Enablement, Account-Based Marketing.
Partnerships: Hubspot Solutions Partner
The beginnings of Simple Machines Marketing go back to 2008. The agency helps businesses grow by providing highly customized and agile marketing and sales solutions. From research and planning to CRM training and automation, this team has the resources and expertise to serve as the entire marketing department or supplement where you need them. The initiative, helpful, and can-do attitude are these fundamental values Simple Machines Marketing follows.
Headquarters: Washington, DC
Core services: Social Media Marketing, Brand Management, Graphic Design, Web Development, Reputation Management, Video Production.
Social Driver is headquartered in Washington, DC, with additional Bellingham, WA, Chicago, IL, Kansas City, MO, and Detroit, MI teams. The company's mantra is, "We believe the future is bright, all progress is social, and the drivers make history." Their culture is focused on partnership, creativity, stewardship, and collaboration. The designers, strategists, developers, and more provide their clients with innovative solutions to their biggest challenges. Social Driver agency strives to help businesses meet their goals and, through that work, make an impact for a brighter future.
Headquarters: Milwaukee, WI
Core services: Content Marketing, Growth Strategies, Email Marketing, Graphic Design, Social Media Marketing.
adBidtise is all about advocating and educating businesses about advertising and marketing options available to small to midsize companies. The agency is ready to help you make sound business decisions about your advertising and marketing investments. Whether you are interested in branding, lead generation, graphic design, or social media, adBidtise is the right partner to stand out and expand your brand. Explore plans and pricing that fit your business needs and goals to get started today.
Headquarters: Chicago, IL
Core services: Digital Strategy, UX Design, Web Development, Digital Marketing.
Mightybytes has a 23-year track record helping conscious companies, social enterprises, and large nonprofits solve problems, amplify their impact, and meet business and marketing goals. The company builds new websites, optimizes existing ones, migrates old sites to modern platforms, and simplifies over-complicated functionality, technology, and content architecture. So if you need a new website or a better digital marketing partner, give Mightybytes a shout.
Headquarters: San Antonio, TX
Core services: Branding, Content Marketing, Email Marketing, SEO, Public Relations, Social Media Marketing, Website Design.
Since its founding in 2018, this award-winning Miami and San Antonio marketing agency has transported brands to new and exciting destinations. The company is made up of passionate writers, designers, coders, and analyzers. Whether you are planning PR or social media campaigns, penning blog posts, or designing websites, they pour intellect and whimsy into the work. Build brand awareness, generate leads and engage target audiences like a pro with The Postcard Agency!
Headquarters: New York, NY
Core services: Website Design, SEO, PPC Advertising, Social Media Marketing, Email Marketing, Chatbots.
For small businesses in the NYC metro region, ProStrategix is the only small business marketing firm that lets you try before you buy. That is because the company believes in its experienced team and is sure that you can feel confident that your money is well spent. ProStrategix Consulting is sure that strategy is critical to marketing effectiveness and offers a marketing strategy guarantee. You do not pay for their strategy work unless they find a better target or message than what you have today.
Headquarters: Berkeley, CA
Core services: Social Media Management, Advertising, Graphic and Web Design, Film Production.
Brands today are being called to a higher purpose, and that purpose is service. Citizen Group knows that tomorrow's leading brands will have social justice and responsibility at their core, and they will be recognized and rewarded for the sum of their actions and innovations that improve people's lives.
Citizen is pro-social marketing, design, and brand management agency that shapes values-based brand strategies and creative initiatives. The company calls it the quadruple bottom line – people, planet, profits, and passion.
Headquarters: Skopje, North Macedonia
Core services: Social Media Marketing, Demand Analysis, Product Development, Launch and Reach, Sales Measurement, Customer Experience.
Nielsen is sure that effective marketing is about delivering your message to the right people, shaping their preferences, and, ultimately, driving sales. Their marketing effectiveness measurement systems excel in their scope and level of integration. Nielsen can help you measure how well you accomplish your advertising goals across video, audio, and text-based advertising on virtually any platform or device. From network television to streaming audio on a smartphone to social media on a tablet, they have got you covered whether you are buying or selling advertising.
Headquarters: Nashville, TN
Core services: Website Design, Social Media Management, Content Generation, and PPC Management.
Established in 2008, Social Link has developed systems and approaches to social media and internet marketing that maintain unmatched quality in the industry. The agency aims to be the go-to for marketing professionals for all small and medium-sized businesses needing the resources to help grow their business through connecting the right people at the right time with the right message to their brand. Growing is not easy. But with a Social Link, you can build up your brand and audience with their marketing services and digital strategies.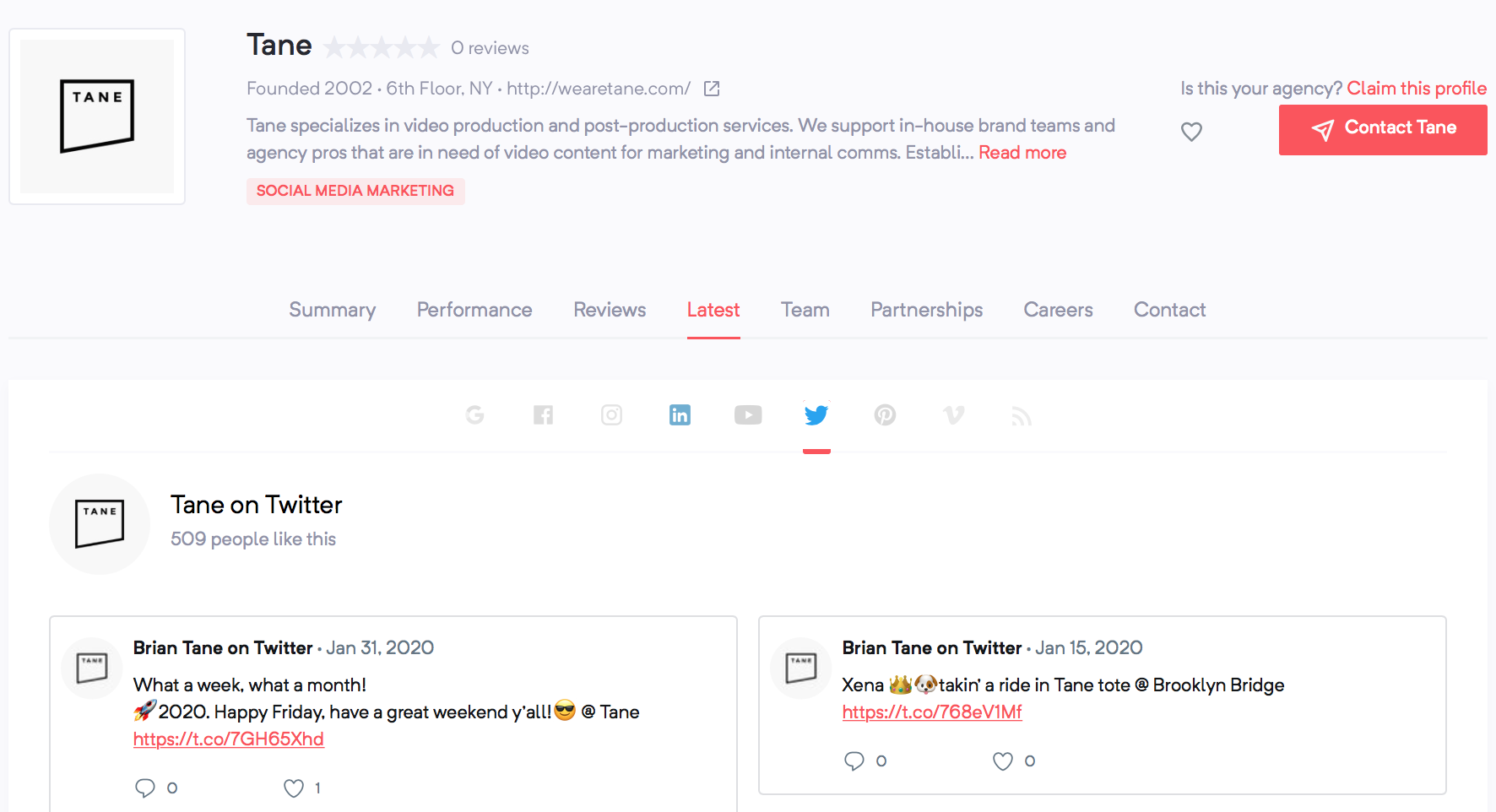 Headquarters: New York, NY
Core services: Video Production, Post-Production Services.
Tane is a creative agency based in NYC that specializes in video marketing and advertising. Since 2002, they have been helping brands and agencies elevate their messaging and enhance their campaigns through the development and production of video content for marketing and communications. With over 18 years of experience in video production and post-production services, they have made the INC. 5000 list of fastest-growing US companies three times. Tane is ready to launch your project by collaborating on your story, script, and style before a frame of footage is captured.
Headquarters: Washington, DC
Core services: Website Design & Development, SEO & SEM, Digital Marketing, Mobile App Development.
The secret to PBJ Marketing's success is the right balance of art and technology, insight and planning, strategy and execution — all working together to create a seamless, inspired, and memorable online experience. The team is all digital strategists working with you to envision, design, and create digital experiences that enhance lives. In addition, the company strives to dig deep into your analytics, review your digital footprint and make recommendations to optimize your revenue goals, increase conversions, memberships, subscriptions, donations, and keep people engaging.
Headquarters: Washington, DC
Core services: Strategy, Branding, Web Design, Content, Web Development, Digital Marketing.
Interactive Strategies is a digital marketing agency that operates according to a core set of beliefs that guide how they treat their clients and each other. Its strength lies in understanding the complex relationship between strategy, design, content, usability, technology, and marketing. This approach helps their clients evolve and transform their organizations and ensures measurable results in an ever-changing multi-channel, multi-touch world. Since 2001, the company has been helping associations, nonprofits, and commercial clients tackle complex challenges.
Headquarters: New York, NY
Core services: Search Engine Optimization, PPC, Consulting, Search Technology, Paid Media, Discovery, eCommerce & Marketplaces.
Today, Acronym is the largest independent AdAge Top 10 search marketing firm and the current Search Agency of the Year. The company helps global enterprise brands and their agencies understand customer intent that powers every aspect of digital, search engine marketing (PPC, SEO), analytics/UX, and keyword data integration across channels and devices.
The Acronym leadership team brings together a tightly knit group of experienced media and technology executives with broad experience across industries and verticals.
Headquarters: Orlando, FL
Core services: Web Development, Social Media Advertising, Inbound Marketing & Activation, Content Creation & Marketing, Campaign Optimization, Audit & Analytics.
Partnerships: Hubspot Solutions Partner
Chatter Buzz, a tech-creative growth-driven digital marketing and advertising agency focused on brand awareness and lead generation. Born from a passion with an entrepreneurial spirit, steeped in a foundation of technology, and hungry for expanding their knowledge, the Chatter Buzz team challenges themselves daily to propel the advancement of clients and brands.
Headquarters: San Francisco, CA
Core services: Advertising, Analytics, Branding, Content Marketing, SEO, Social Media Management, Website Development.
Colibri Digital Marketing is a certified Lesbian, Gay, Bisexual, and Transgender Business Enterprise. Evolved to meet the digital marketing needs of visionary organizations, Colibri Digital Marketing is San Francisco's first and only full-service, B Corp-certified digital marketing agency. The company's purpose is to lead people and organizations across the digital divide, ensuring that all who want to use digital marketing will grow as individuals and businesses.
Headquarters: Indianapolis, IN
Core services: Web Design, Web Development, SEO, Social Media Marketing, Email Marketing, PPC, Brand Strategy.
Ayokay is a collaborative boutique of web developers, graphic design artists, social media experts, SEO & content strategists, and event-based marketers. Ayokay was created in 2002, but it did not become a full-time endeavor until 2011. The agency has experience in many industries, including public health, e-commerce, fresh produce, packaged products, government, and nonprofit. The team is sure that effective marketing results from a comprehensive understanding of the industry and consumer base.
Headquarters: Tampa, FL
Core services: Digital Marketing, SEO, Paid Media, Social Media.
Sparxoo is an integrated digital marketing agency in Tampa. As a Google Certified Partner Agency, they are eager to ignite growth and make the impossible possible. The team consists of inventive designers, animators, strategists, award-winning writers, and coding ninjas. So if you are looking for brand leaders and digital trendsetters, you already know whom to contact.
Headquarters: Newark, NJ
Core services: Creative Services, Web Design, Social Media Marketing, Photography, Video & Rich Media.
The company's mission is to create branding campaigns and sleek communications for passionate companies with unique visions. Crafting innovative digital marketing strategies in today's market requires honed communication techniques and the creation of stellar visuals. At Medina=Citi you can rest assured that the agency will create a custom marketing campaign that will hit the mark with your audience, create waves of change, and influence your demographic to take action.
Headquarters: Austin, TX
Core services: Search Engine Optimization Services
PixelCutLabs agency is a small team that is outwardly driven by a desire to be unequivocally transparent, knowledge-forward, and accountable for all they do. The company strives to show a client their SEO strategy and how they ensure end-to-end transparency. PixelCutLabs specializes in working with eCommerce stores with less than $10m in annual revenue, accounting for over 50% of their clients. Do not hesitate to work with the company recognized by the US Search Awards for world-class SEO campaigns.
Get Started Today!
You can quickly and easily send an RFP to any agency you're interested in working with directly through a free Agency Vista business profile. Get started today and start more effectively connecting with your target audience through the help of an LGBTQ-owned marketing agency!