Beautiful website design, great accessibility, and high-end site functionality mean nothing if a site lacks visitors. That is why digital marketers put much effort into getting website traffic that converts. There are many website traffic sources, and each traffic source has its pros and cons.
This guide will help you comprehend and examine the top traffic sources for a website. You will also learn how to check a website's traffic and effectively increase it. Let's dive in!
What is Website Traffic, and Why is It Important?
Website traffic is the number of visitors to a specific website. Due to the fact that a website's traffic covers both natural demand for a brand and the results of its promotion, it is an essential metric for every business.
Website traffic is crucial because it allows you to perform an extensive user behavior analysis, collect browser statistics and data on user locations, identify gaps in your brand promotion strategy, etc. Moreover, understanding, analyzing, differentiating, and estimating your site traffic also helps improve your entire marketing strategy.
What are the Main Website Traffic Sources?

The sources of traffic represent the ways through which users come to your site. There are six primary website traffic sources — organic, email, direct, social media, referral, and paid traffic. These traffic sources for websites can also be divided into two main categories: free and paid. So, take a look at the top traffic sources below.
1. Organic Traffic
Organic traffic is also known as search traffic or SEO traffic. Thus, when users reach your website after entering a search query in Google or another search engine, you get organic traffic. Here search query means a target phrase or a combination of keywords users type in to get the most appropriate information.
Like any other search engine, Google has a particular search algorithm that crawls web pages and processes their content to find the most relevant data to users' queries. Thus, websites seeking quality organic traffic need to create meaningful content and optimize it with niche-related keywords to help pages rank for specific search queries.
Finding the proper queries to target is not a big deal if you use a reliable keyword tool. There are various functional tools to conduct detailed SEO keyword research. For example, consider the keyword suggestion tool from SE Ranking. This advanced SEO keywords tool provides accurate data on keyword search volume and competition, shows actual organic search results, offers valuable keyword suggestions, and more.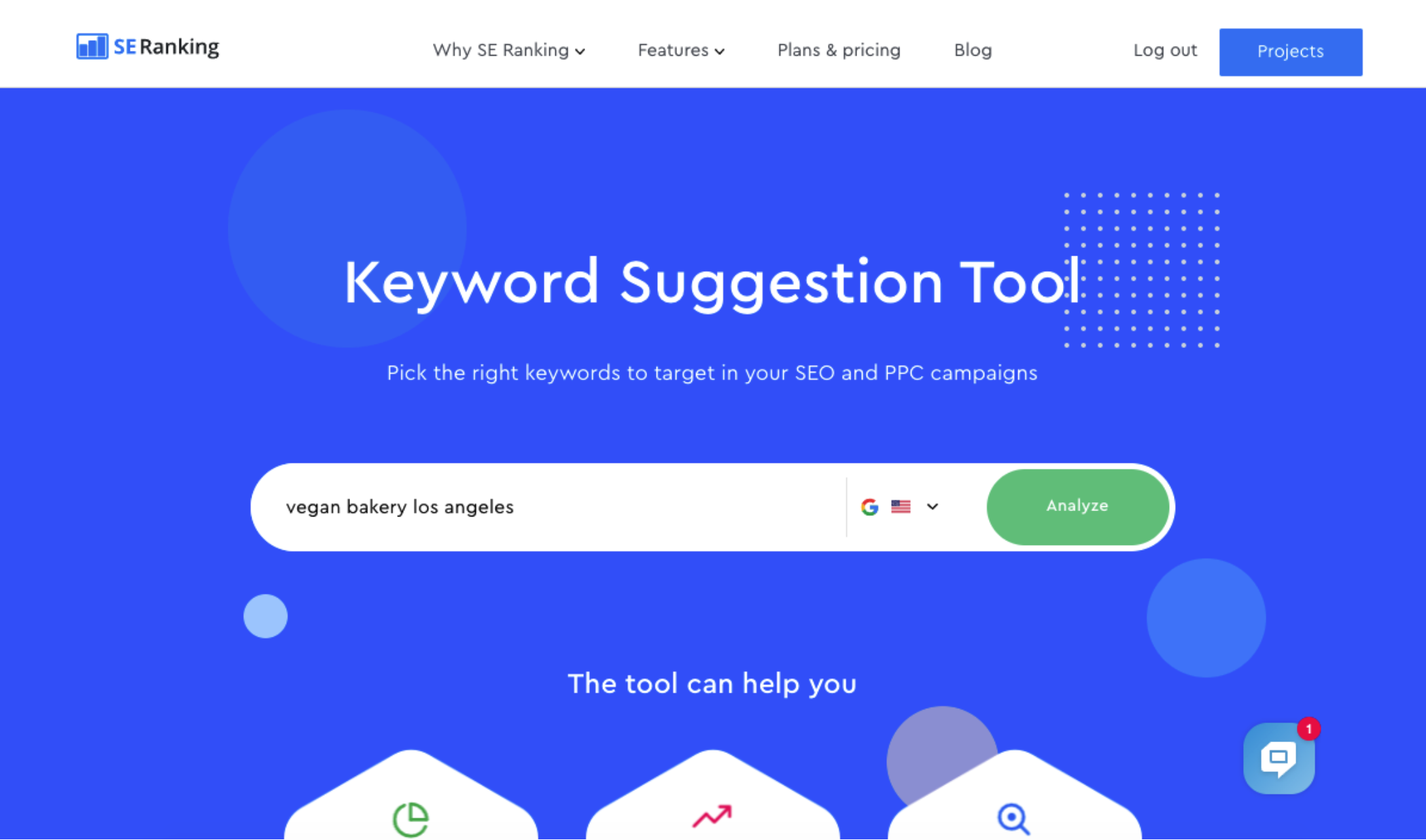 Organic traffic is the best option among all website traffic sources for achieving long-lasting results. By choosing organic website promotion, you can access an infinite array of keywords to target. Although this traffic source is free, it requires your undivided attention, time, and effort. You need to optimize every page of your site, write compelling blog posts, provide case studies, and track Google search algorithm updates to keep the site up-to-date.
Moreover, organic traffic is one of the most competitive traffic sources for websites, so you need to contend with billions of similar web pages. Yet, if your content is unique, informative, and engaging, you can achieve a steady flow of quality SEO traffic.
2. Website Traffic from Email Marketing Campaigns
Email traffic source refers to visitors drawn from your email campaigns. Speaking about main website traffic sources, we should mention that email traffic is the most suitable option for businesses. It involves managing the current base of customers and partners.
Even so, an email traffic source needs consistency and an excellent email marketing strategy. As users receive tons of junk emails and spam, getting them to open your email becomes a real challenge. Therefore, you need to win users' attention by creating persuasive and conversion-driven emails. Some professional email automation platforms can help you save both time and resources and simplify the entire process of composing and sending your emails.
Remember that your company email only has a few seconds to be noticed. So, make sure the subject line is catchy and the sender's name is clear. Indeed, constant enhancement of the email subscription database can be fairly complicated. That is why this source of website traffic is perfect for re-engaging an existing audience (sending events & sale announcements, upselling products or services, sharing educational materials, and more).
3. Direct Traffic
Direct traffic is one of the most important traffic sources for your brand to be recognized. Fundamentally, direct website traffic represents the traffic when users access your website via a site URL or a bookmarked website page. Yet, any other traffic channel that Google Analytics cannot differentiate also falls within the category of direct traffic (incognito mode for browsing, PPT or PDF link, links sent in messengers or via SMS, and more).
As for the direct traffic pros and cons, they are somewhat ambiguous. Indeed, the direct traffic source showcases users' demand for a particular website. Even so, other traffic channels may be misidentified as direct traffic, and it can interfere with determining the effectiveness of specific website traffic sources.
4. Website Traffic from Social Media Platforms
The number of social network users worldwide is constantly increasing, and that is why there is a high demand for a social media traffic source. Social traffic is a free traffic channel that implies ongoing social activity. If users find your content attractive, they will click on a post and navigate your business website, bringing you relevant social media traffic.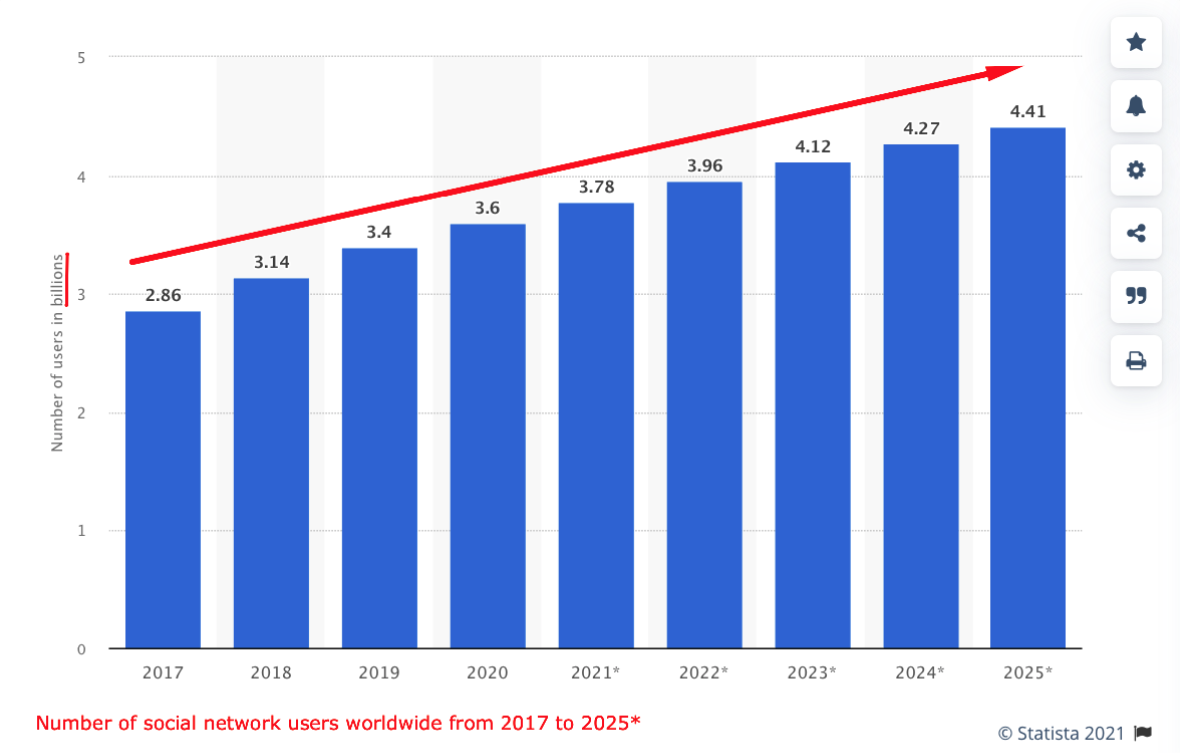 However, traffic is not the only goal of social platforms, as they aim for communication, sharing knowledge and expertise, influencing, and more. Thus, if you run social media activity only to draw more new clients to your website, the likelihood of success is low. To get social traffic, you need to develop your content idea, emphasize content presentation, find a niche-oriented topic to discuss, etc.
As with other website traffic sources, social media traffic has advantages and disadvantages. Although social traffic provides a higher engagement rate than other traffic sources for websites, social platforms represent a changing environment of trends. Therefore, keeping up with new tendencies may be tricky. Moreover, each social network has specific ranking algorithms that complicate content promotion.
5. Referral Traffic
Referral traffic is a free traffic source, and it occurs when users come to your website from third-party domains or other sites. For example, you run one of the largest online stores selling coffee, and a popular coffee blog features your website as a place to buy some rare and specialty coffee beans. So, if some of those blog readers are interested in buying coffee, they will probably navigate to your website. In this case, the blog brings you a backlink and becomes your source of referral traffic.
Creating unique content others would like to share, quality guest-posting, and commenting on forums, and niche-related blogs are some practical ways to achieve referral links. Still, like other website traffic sources, referral traffic has its benefits and pitfalls. This channel represents targeted and measurable traffic from which you can get relevant links from authentic resources and examine their origin.
Nevertheless, traffic from referrals belongs to uncertain traffic sources for websites and requires the precise attention of marketing specialists. The reason for such circumspection is the need to check the quality and authority of resources that link to your site since receiving backlinks affects its SEO performance.
6. Website Traffic from Paid Advertising
Paid traffic is a powerful traffic channel that combines pay-per-click ads, shopping ads, display ads, and advertising on social media platforms. So you buy traffic to your website by launching conversion-oriented advertising campaigns. Whether you choose to place ads on Google, Bing, Facebook, or YouTube or want to draw more leads with the help of display ads or retargeting, paid traffic allows you to get instant results.
Although a paid traffic source delivers a fast outcome, it is pretty expensive. The CPC (cost-per-click) rate usually depends on the business industry. Thus, a law firm can pay $84.11 for one user clicking an ad polished for the niche-related keyword. And this price is far from the limit.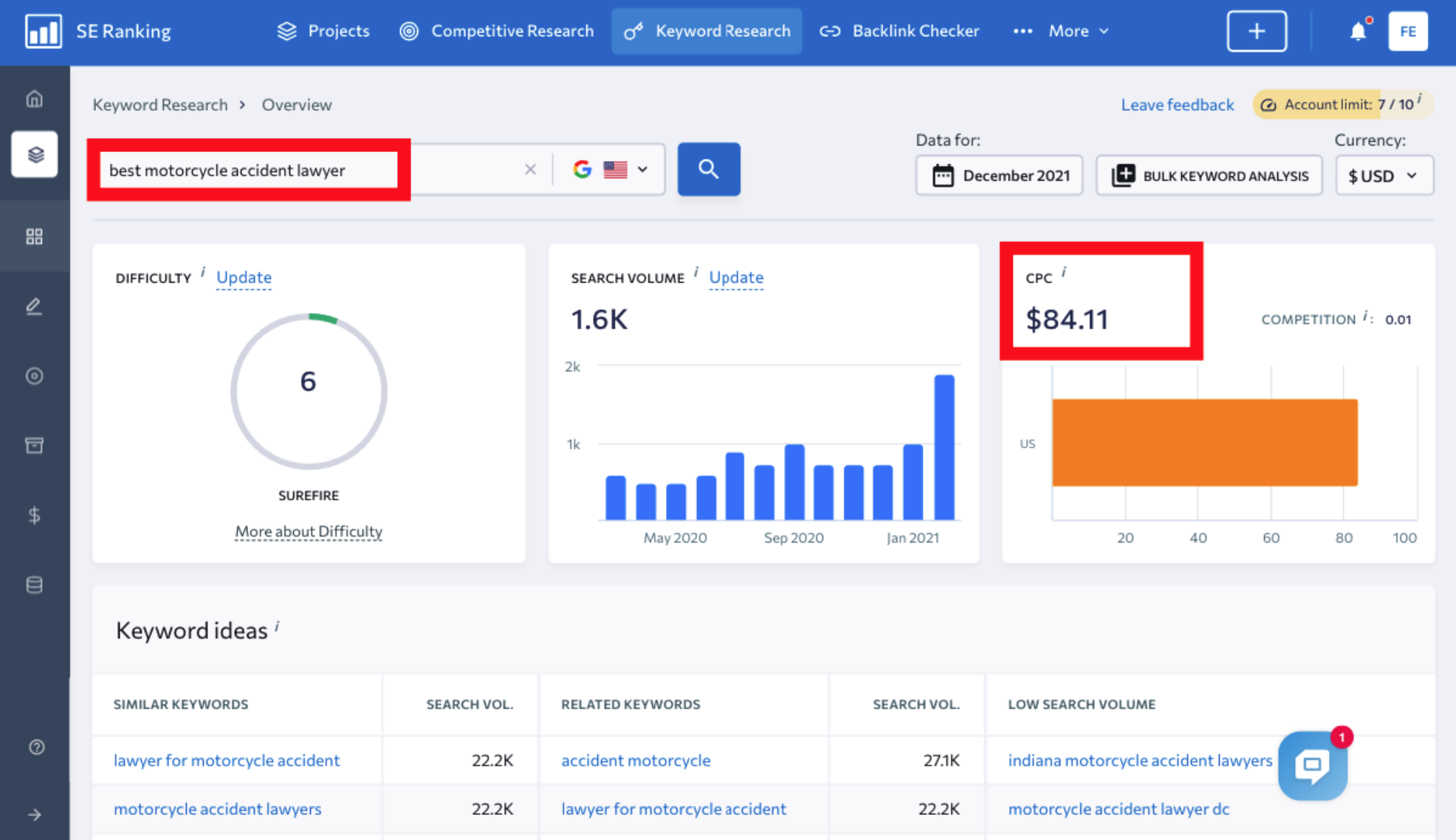 On top of that, paid advertising drives traffic only when you handle your campaigns. Once your budget runs out, or you decide to turn off ads for some reason, your website will lack traffic flow. Remember that successful advertising campaigns need precise targeting and knowledge of the prospects' needs and preferences.
What Traffic Metrics Should You Track?
It is impossible to correctly evaluate the effectiveness of website traffic sources without knowing and tracking the essential traffic metrics. Traffic metrics, along with the primary traffic sources for websites, provide an understanding of the quality and productivity of your marketing efforts.
1. Users
The Users metric displays the number of unique visitors to your website. Collect data on first-time visitors and those who have been to your site before because you can track new and returning site users. Be sure not to confuse the Users and Sessions metrics. Sessions show different times unique users come to your site, and that is why the number of sessions usually exceeds the number of users.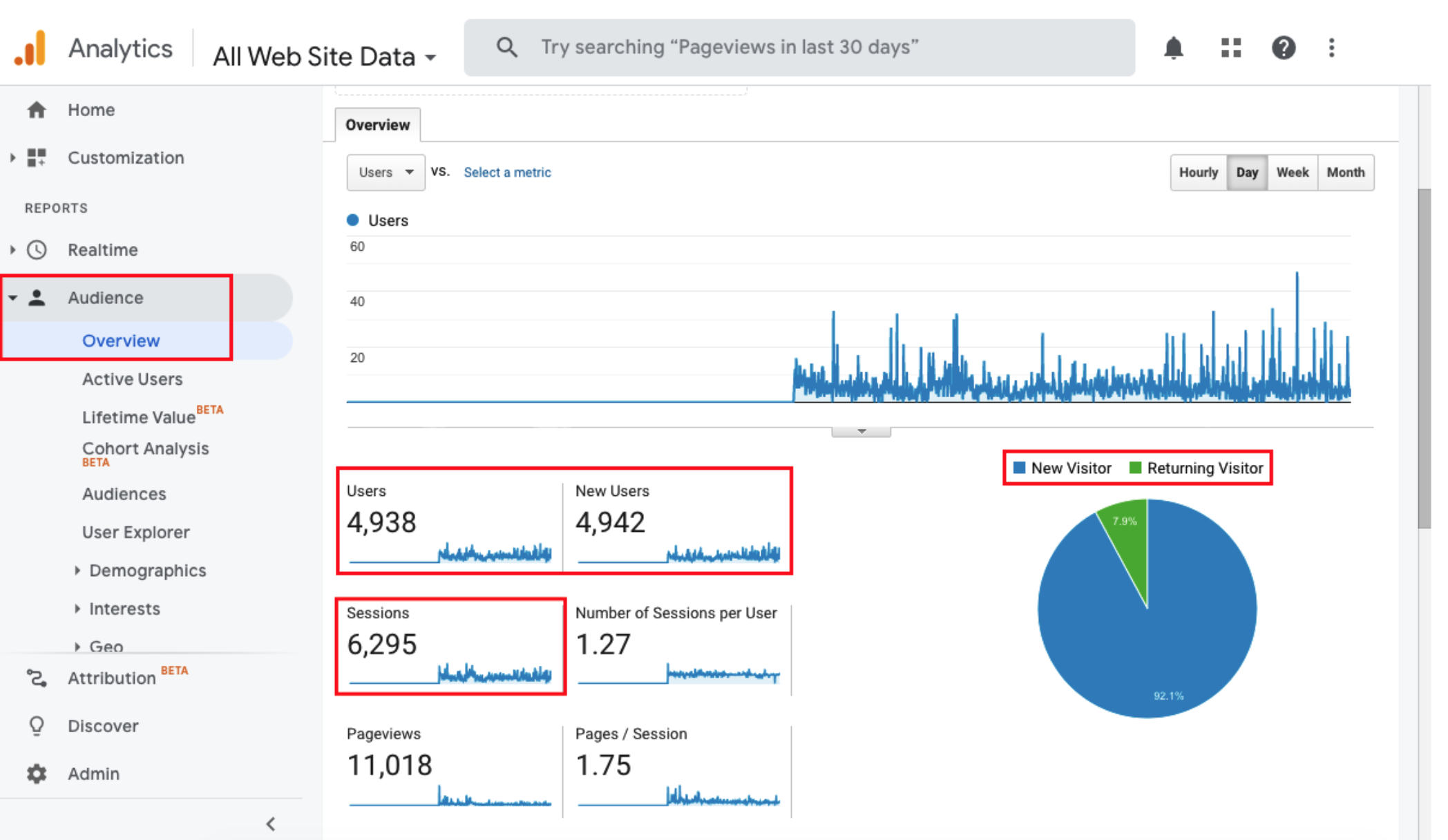 2. User Source & Medium
Source showcases the origin of your website traffic, for example, YouTube or Google search. Meanwhile, the medium represents how this traffic occurred, highlighting website traffic sources like organic traffic, referrals, etc. Understanding the source of your website traffic is crucial for building the right development strategy so you can identify possible gaps and create a blueprint for their improvement.
3. Bounce Rate
It displays the number of users who leave your website page without performing any action and helps determine issues that interfere with conversions. Yet, an increased bounce rate does not always denote a problem. Suppose you have an informational resource, such as a blog, or users visit your site to find a phone number or office address. In that case, high bouncing is commonplace.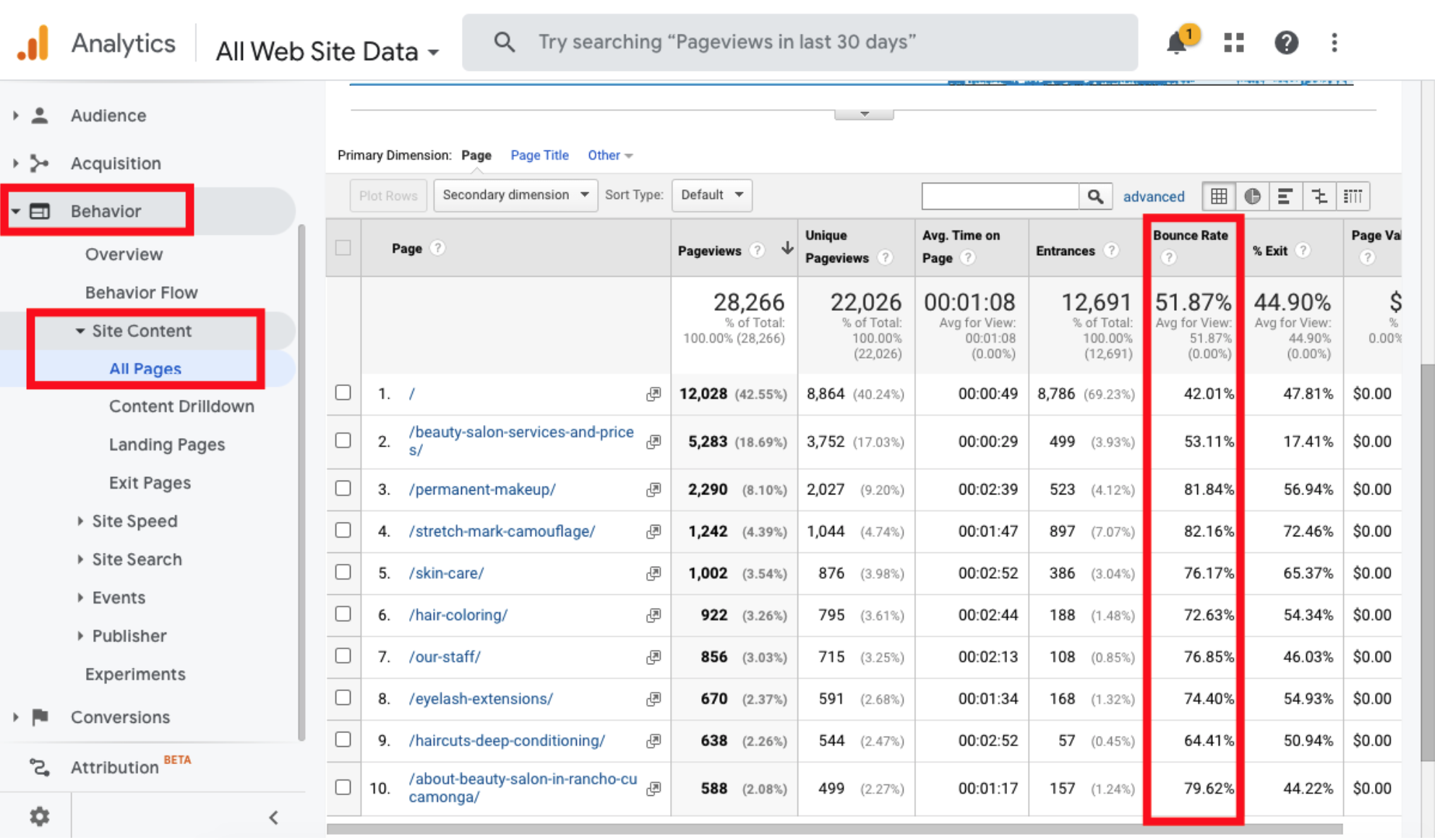 4. Session Duration or Time on Page
The session duration indicates the time users spend on the website. It can be calculated by dividing the entire session duration time in seconds by the total number of sessions. For the sake of accuracy, select the same timeframe for both values. The time on page metric specifies the time site users spend on a particular page. To calculate it correctly, you need to divide the total time on the page by the total number of page views.
5. Visitor Location
Google Analytics also allows you to collect geographical data to analyze your audience and sharpen your marketing strategy. The GA functionality makes it possible to obtain and analyze Geo reports with information on visitors' location and language based on the IP used to browse your website. In this case, the IP address does not reveal users' exact location but shows their Internet connection.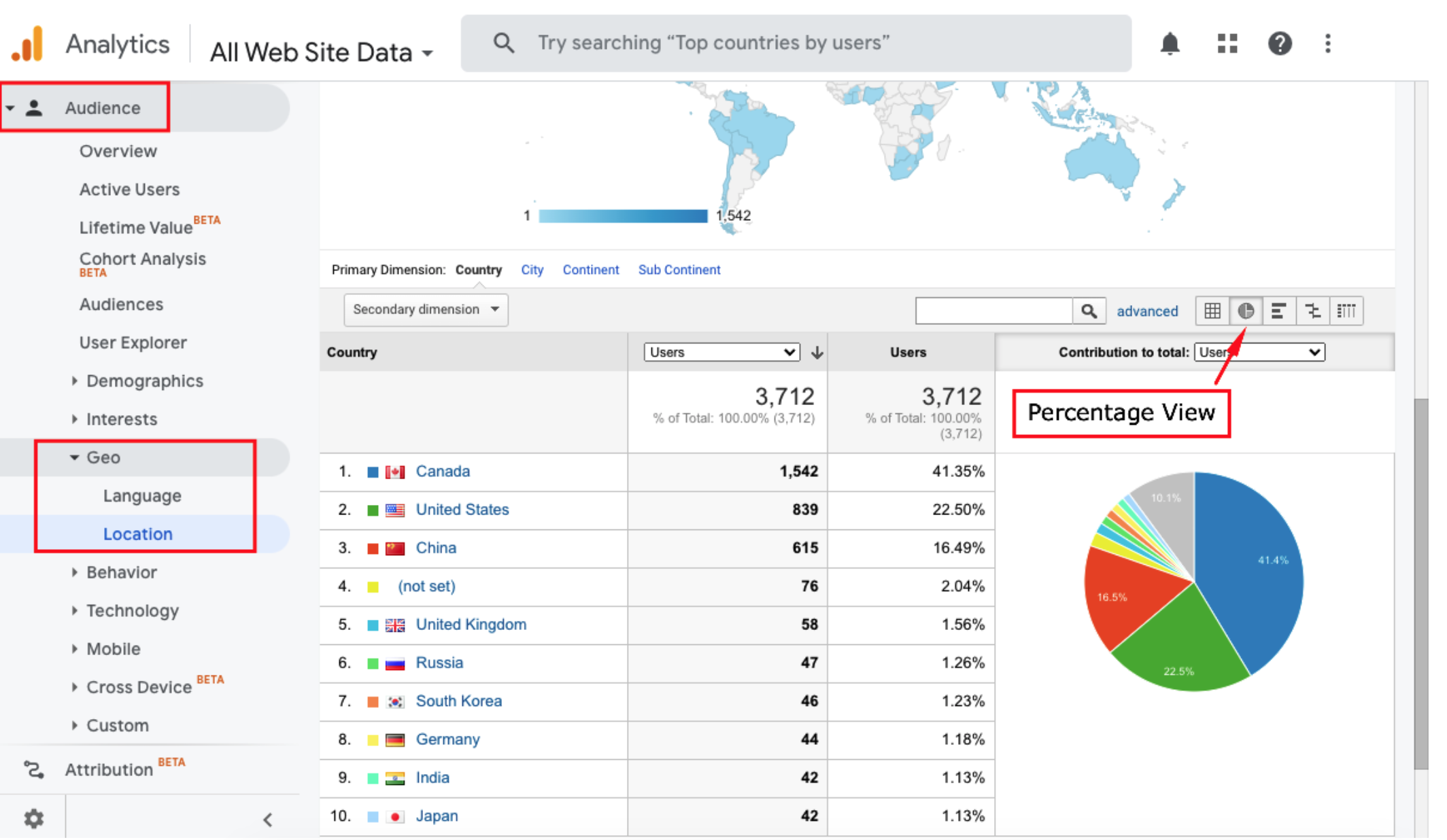 6. Landing pages
If you go to Behavior and Site Content and then navigate to the Landing Pages in Google Analytics, you can track the efficiency of the first pages users interact with on your website. These are landing pages with special offers, new site pages you build and publish, particular blog posts, etc. Understanding the website traffic sources coming to these landing pages and evaluating top landing page metrics can help boost the overall performance of site pages.
7. Device Type
Another important metric to track together with the traffic sources for websites is the device type. The data gathered with the help of this metric helps refine your website's accessibility and usability and enables you to gauge how different devices affect user interaction and conversions. To check categories of devices users employ to visit your website (desktop, mobile & tablet), go to the Audience tab and navigate to Mobile and Overview. To examine the mobile device information, click the Devices tab.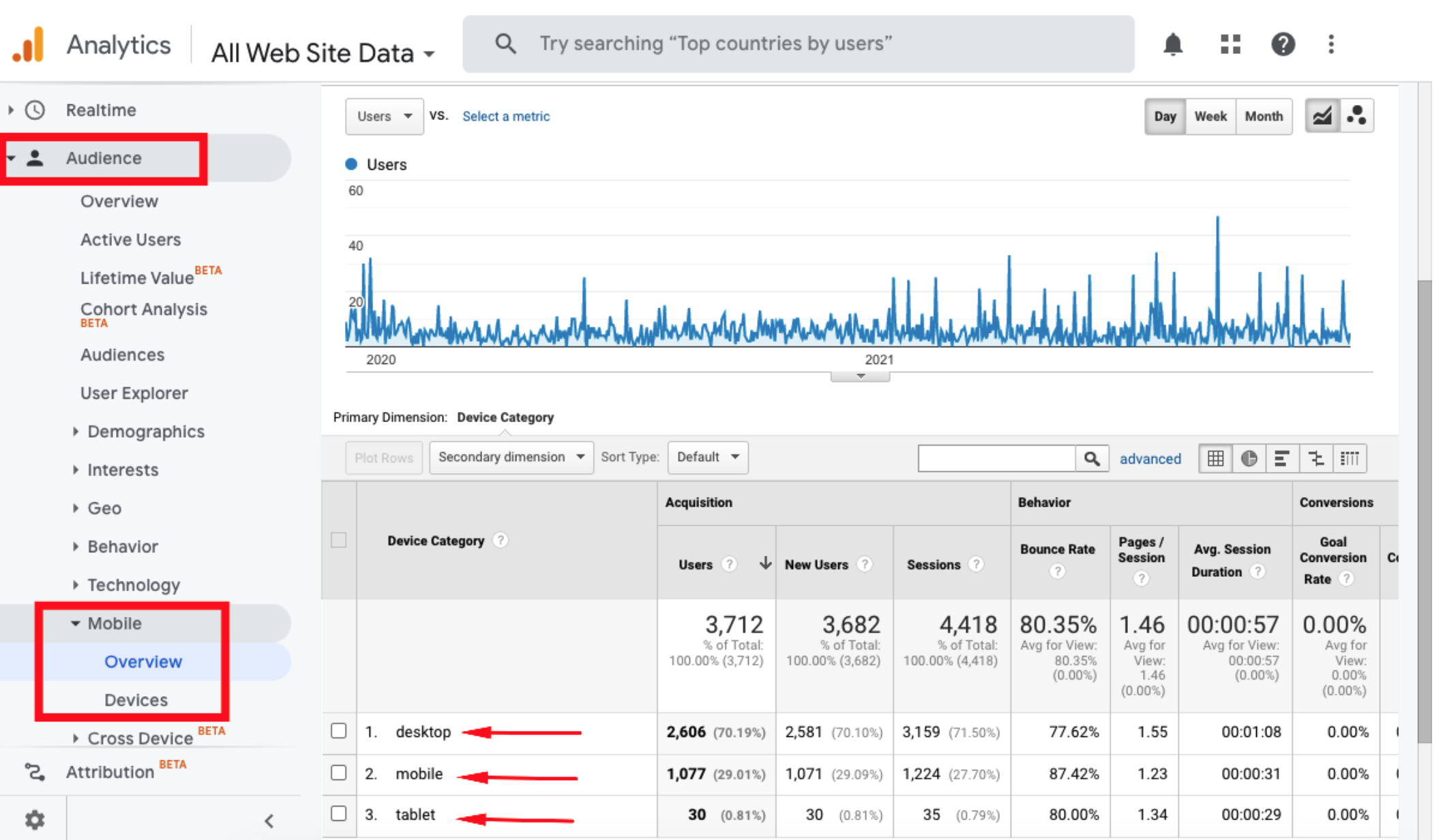 8. Events and Goals
Each website has its own specific objectives to analyze. Events and goals metrics are usually used to keep track of user interactions and better understand site conversions. Google Analytics enables you to set up different event goals, configure custom events, and process real-time reports. Thus, you can track demo registrations, purchases, contact form submissions, or set other parameters to evaluate your site's effectiveness.
How to Increase Website Traffic Efficiently?
You have already discovered the top website traffic sources and the essential traffic metrics to analyze. But how to increase website traffic? What strategy should you choose to get quality traffic on an ongoing basis? We have prepared five proven tips to follow.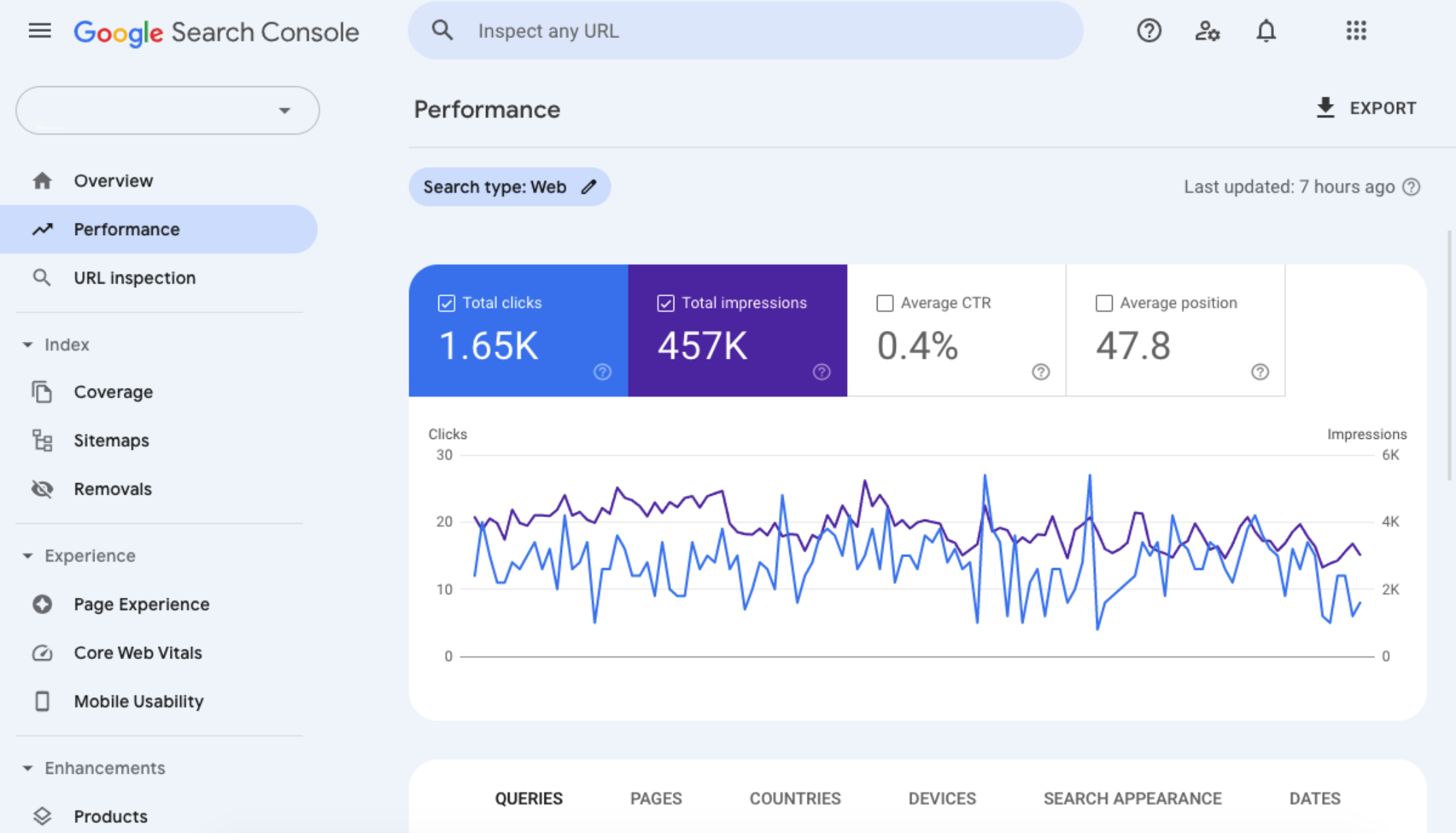 1. Optimize Your Website for SEO
Comprehensive SEO optimization is the hallmark of improved website visibility since you can gain potential customers directly from the search engine results pages. To enhance your SEO performance, you need to research the most relevant keyword suggestions for each page. Then do your best to optimize those pages for the selected keywords. Bear in mind that each page has to contain unique content, a catchy meta title, and an informative meta description.
2. Work on Your Content
Outdated website copy, plagiarized texts, and keyword-stuffed content nullify your chances to draw quality website traffic. The increased competition in organic search requires you to compose original material that educates and informs users on specific topics. Therefore, your website needs a well-thought-out blog strategy so that you can come up with evergreen content that refines your rankings.
3. Run PPC Wisely
PPC belongs to paid website traffic sources, which means that irrelevant campaigns can waste your budget. You may attract the wrong audience, capture people from the wrong location, or experience a situation when the customer acquisition cost is much higher than the potential lifetime value (LTV). That is why it is important to make your product or service resolve the pains of your potential customers and target the right keywords with suitable CPC (cost-per-click).
4. Boost Your Activity on Social Media
A boost in social traffic requires ongoing social media activity. Produce new content series, run social ads, stay open-minded when communicating with your audience, and always track your results via social media analytics tools. Your potential customers want to see your product or service as the only solution to their concerns, so think about the optimal content presentation and a niche-specific account style.
5. Opt for Video Traffic
The recent video marketing stats from Wyzowl show that over 90% of users watch an interactive explainer video to gather more details on the services or products they are interested in, which demonstrates video traffic's power and influence. Therefore, implementing a video marketing strategy in your business enhances your opportunities of attracting more leads and increasing your brand awareness.
Summary
Nowadays, it is essential to learn and analyze traffic sources for websites, traffic metrics, and site traffic as a whole. As more and more businesses go online due to the broad development opportunities and access to an extensive customer base, inspecting and growing your traffic should be a part of your daily routine. Hopefully, our guide on crucial website traffic sources will help you succeed in improving your online performance.
Author Bio:
Kelly Breland – Digital Marketing Manager, SE Ranking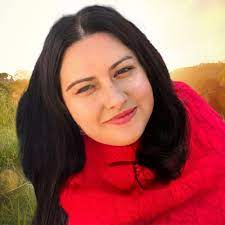 Kelly Breland is a Digital Marketing Manager at SE Ranking with experience in SEO, digital and content marketing. She is a persistent advocate of using content marketing to build a solid brand. In her spare time, she is engaged in gardening.