The truth is that there is no one-size-fits-all formula. Figuring out the optimal posting time on TikTok can be tricky since your specific content, target audience, and when they are awake matter. We have looked more closely at TikTok and analyzed the latest research data to help you out here. This post will cover a few essential aspects you need to know about finding the best time to post on TikTok in 2022. Let's dive in.
What Is The Best Time to Post on TikTok in 2022?
What if we told you there was an Optimal Time feature that would analyze your social media accounts' data and recommend the most optimal times to post for your specific audience? This new feature makes it easy for brands and agencies to discover when to schedule your posts. You are provided with the optimal time recommendations based on your audience's engagement patterns.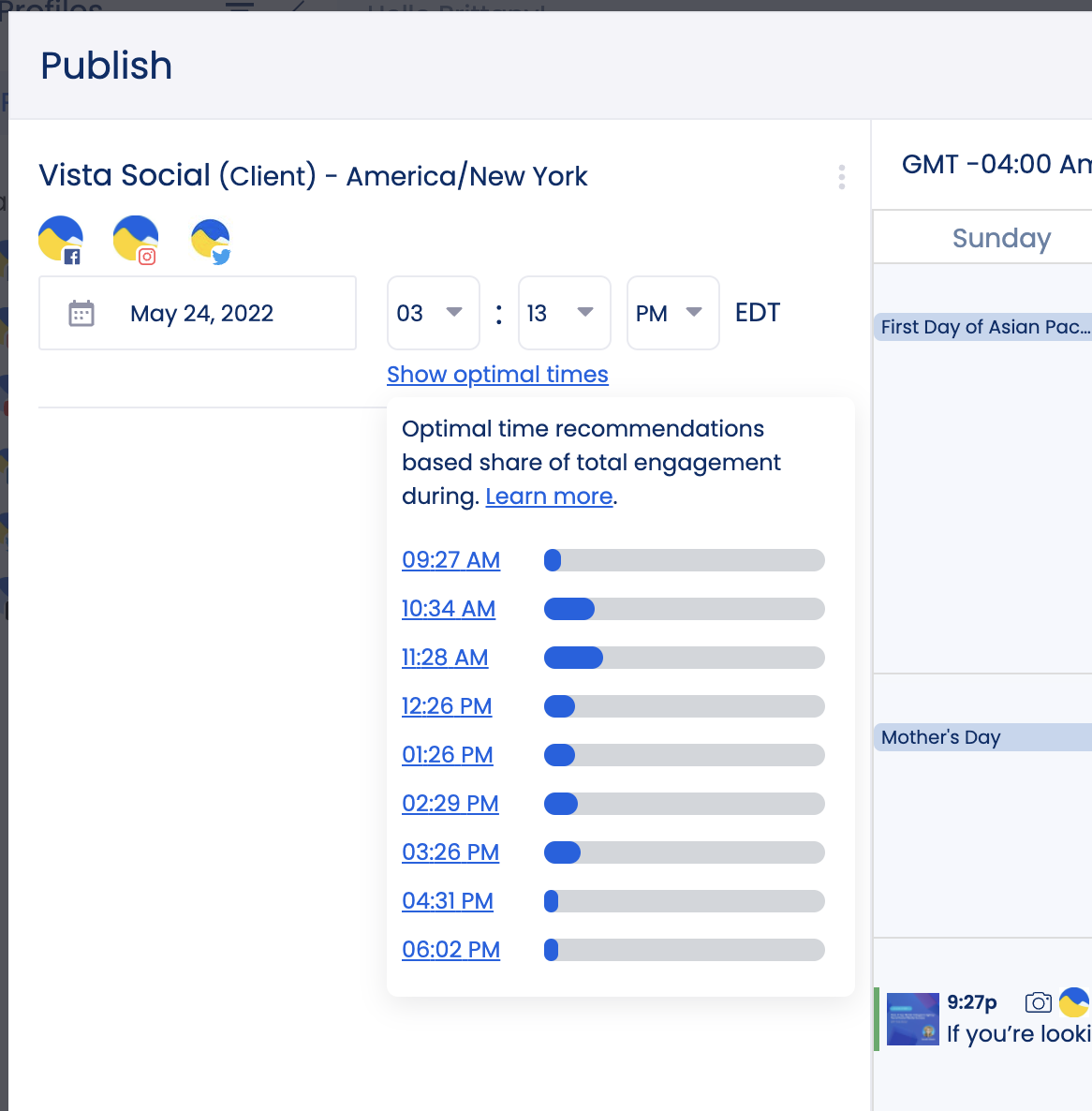 If you are already on one of Vista Social's plans, optimal timing is automatically enabled on all your accounts. Here's how to get started:
1.Navigate to Vista Social's Publisher and create your post. Add your media, write your caption, add universal mentions, emojis, and more.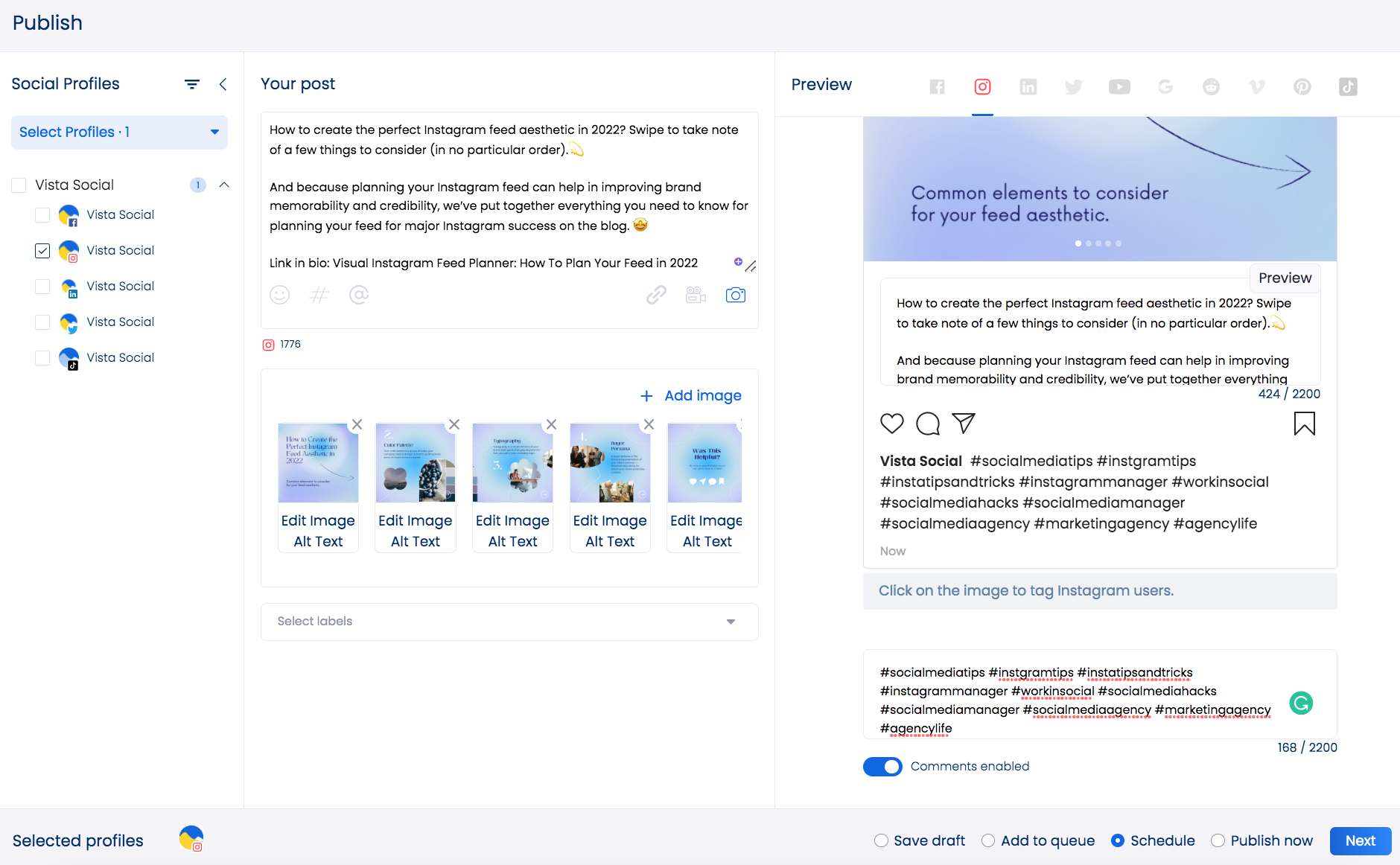 2. Select the social media platforms you want to schedule content on. Except for TikTok, you can schedule posts for every popular social platform with Vista Social.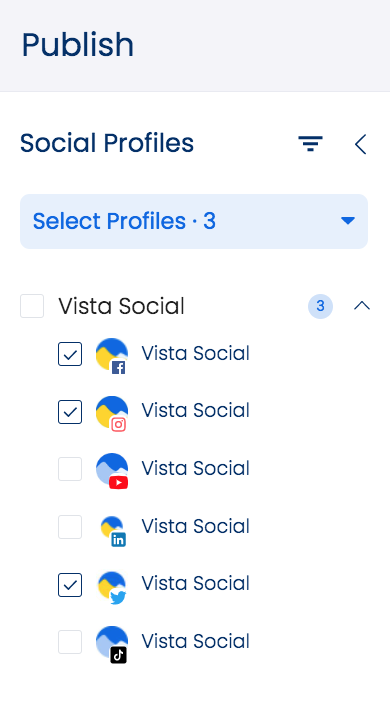 3. Schedule your post and find the optimal time. Once your post is optimized for the relevant social platform, click Schedule at the bottom of the Publisher. There will be a link labeled 'Find optimal time.' Select this option to see an overview of when to post on social media based on your audience's engagement patterns.
You also can schedule the post individually and then pick the optimal time for each platform.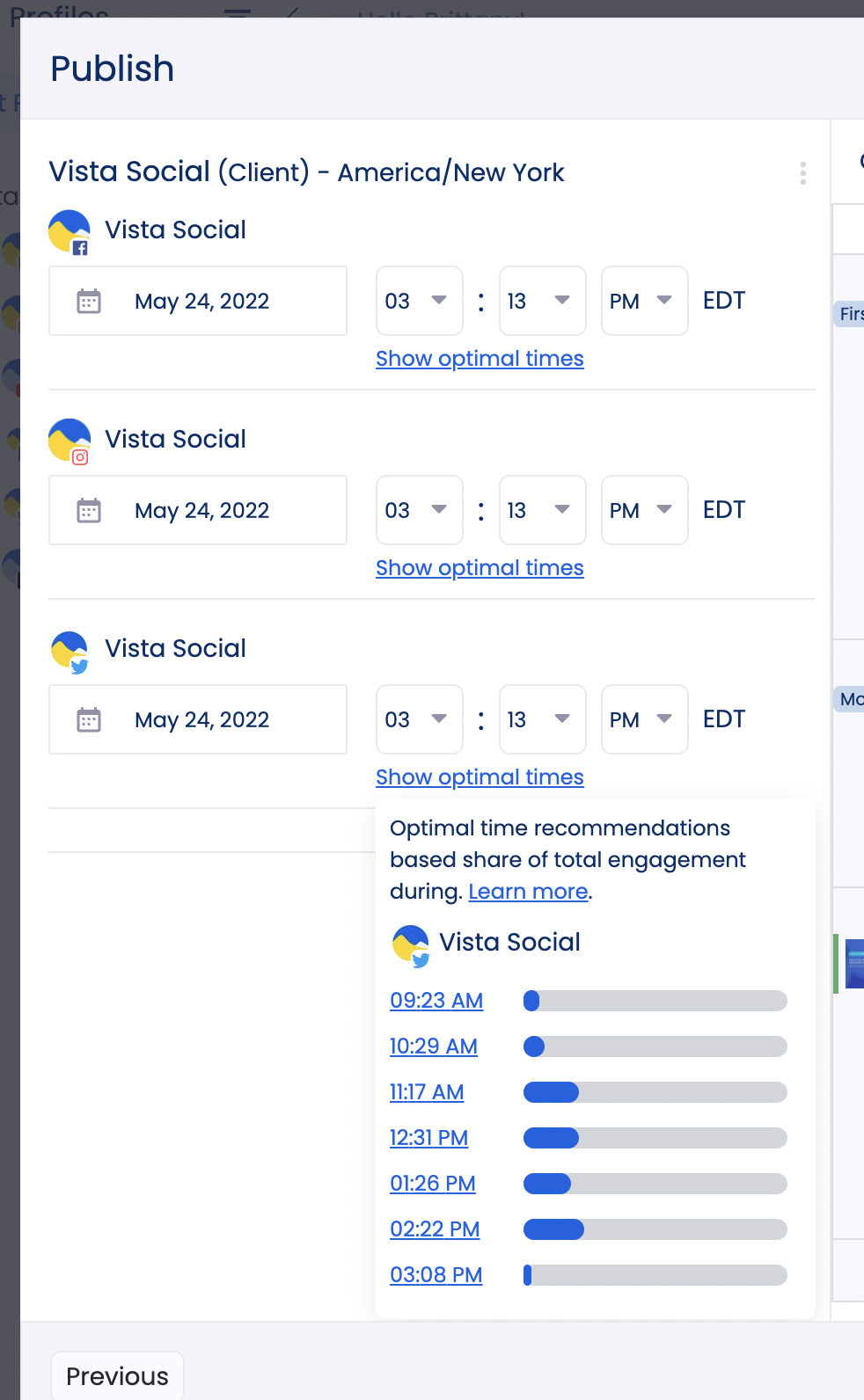 It is that easy. And the best part? You can get started for free!
So, When is the Best Time to Post on TikTok in 2022?
There is a right time for everything, and sharing content on TikTok is no exception. Influencer Marketing Hub revealed the results from over 100,000 posts they analyzed to find the best engagement rates. Here are the results (in EST):
Monday: 6 AM, 10 AM, 10 PM
Tuesday: 2 AM, 4 AM, 9 AM
Wednesday: 7 AM, 8 AM, 11 PM
Thursday: 9 AM, 12 AM, 7 PM
Friday: 5 AM, 1 PM, 3 PM
Saturday: 11 AM, 7 PM, 8 PM
Sunday: 7 AM, 8 AM, 4 PM
Use free online tools like The Time Zone Converter to convert these timings according to your audience's region.
To sum it up, the best time to post on TikTok is between 6 AM – 10 AM and 7 PM – 11 PM. And the best days for TikTok posting are Tuesday, Thursday, and Friday.
The Worst Time to Post on TikTok in 2022
Sharing your video content at the wrong time can waste money and effort to boost your engagement. Now, when you know the best time to post on TikTok, you can figure out the time at which the engagement is very low.
We have looked through the timing list above and determined the worst time for TikTok posts in 2022. Simply put, any timeframe far away from the listed best times can be considered the worst. Here are the results (in EST):
Monday: 11:00 AM to 9:00 PM
Tuesday: 10:00 AM to 12:00 AM
Wednesday: 9:00 AM to 10:00 PM
Thursday: 1:00 PM to 6:00 PM
Friday: 4:00 PM to 4:00 AM
Saturday: 12:00 PM to 6:00 PM
Sunday: 5:00 PM to 6:00 AM
Consider this global statistics as a helpful starting point. Note that the best time for you to post on TikTok depends on your specific target audience, their location, and their habits.
How to Find the Best Times to Post on TikTok?
The best time to post a TikTok video is different for everyone. All the above tips can be beneficial and positively impact audience reach. But never focus only on global statistics and third-party recommendations. It is necessary to analyze your own profile and draw appropriate conclusions about the best timing for your publications.
Here are a few tips to keep in mind:
1. Create a TikTok Pro Account to Access Analytics
Here are the steps to follow:
Tap the three dots in the top-right corner of your profile.
Navigate to "Manage my account."
Tap "Switch to Pro Account."
Choose your business category, and tap" Done."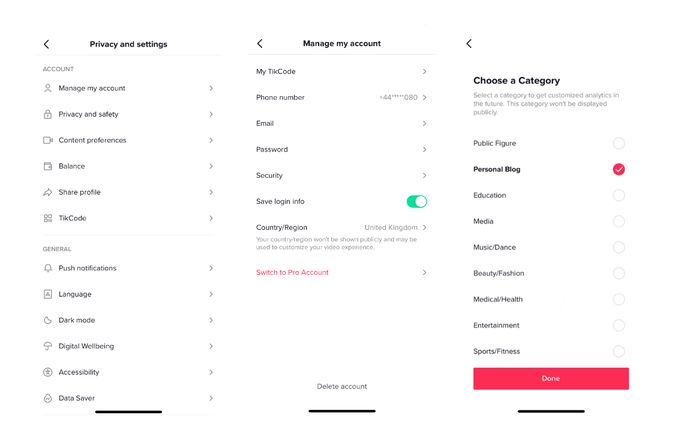 Once the process is completed, you will get a dialogue box welcoming you to your pro account. Now, you can access the "Analytics" section in your Settings menu.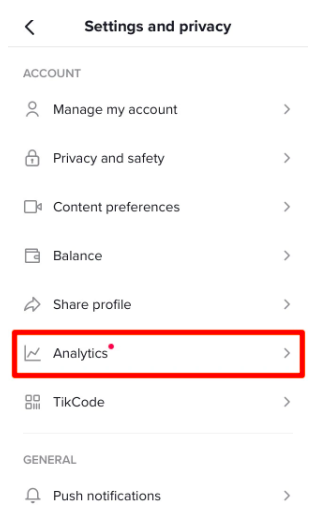 With TikTok analytics, you can access four tabs – Overview, Content, Followers, and LIVE. You will learn more about overall video views, followers, specific metrics on your posts, follower growth, and more.
2. Determine When Your Audience is Most Active
Identifying when your followers are most engaged is your precious information when scheduling TikTok posts. TikTok Analytics' most valuable insight is the "Follower Activity" section.
Navigate to the Followers tab and look right below the 'Top territories' section.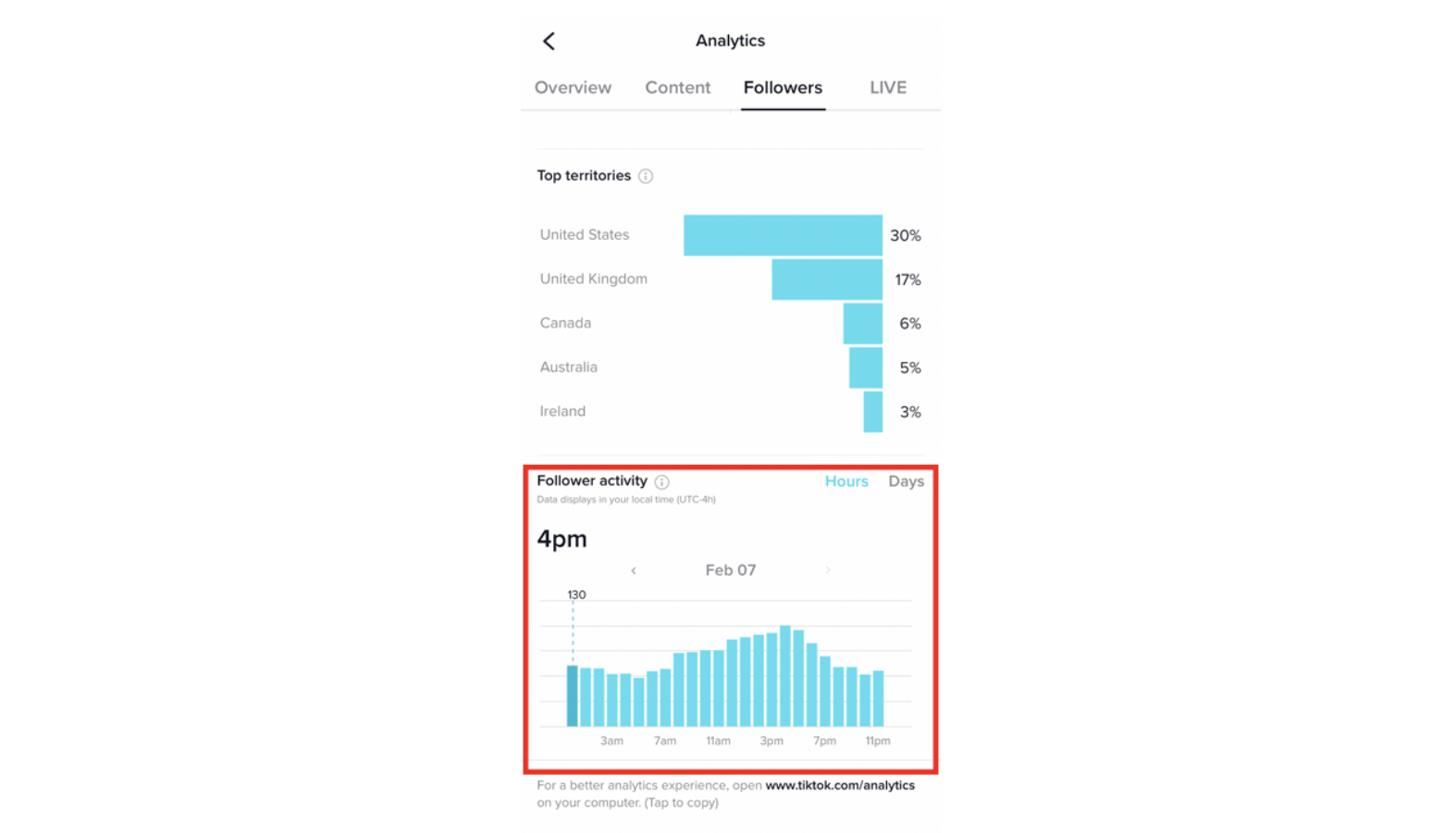 You can see the number of followers active on any specific day and hour of the day.
Keep in mind that TikTok shows timing in UTC. So, you will need to use any timezone conversion tools to convert the hours into the time zone of your audience's location.
3. Track Your Content Performance
How is it helpful to find the best time to post on TikTok? Monitoring your content's performance allows you to see a pattern between your high-performing content and its posting time.
Tap Content at the top of the TikTok analytics section. Here, you can evaluate the performance of the content posted over the last seven days. In addition, you will get access to various performance metrics – the number of likes, shares, comments, reach, and average watch time.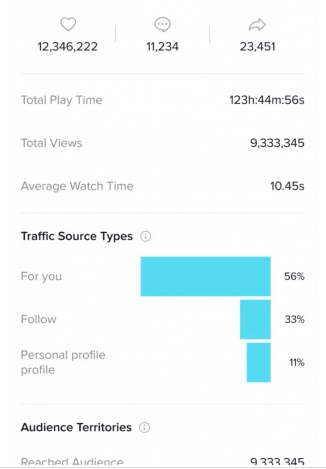 When analyzing these metrics for your most successful videos, check the posting date and time underneath the video thumbnail. Then, compare this information with other high-performing videos. And here you go – you get one of the best times to post on TikTok. Oh, do not forget to convert it.
4. Check Out Other Social Media Platforms
Are you posting similar content on some other social media channels? Is there any active audience on your Instagram or Facebook?
If so, you can go ahead and check out the analytics tools of your other social accounts. With a similar target audience, you can take advantage of the audience's cities mentioned on Instagram. Collect all the data that you find valuable and use it while deciding on the best time to post on TikTok.
How to Find Out Where Your TikTok Audience is Located?
We have not touched on that matter above to stop and discuss the topic separately. 'Where is your audience located?' is one of the critical questions you need to get the answer to when trying to understand the best timing for your TikTok content.
The TikTok app is currently available in 141 countries. So, similar to other social media platforms, TikTok has a global audience. This means the time zones will dictate that your content will be viewed during the busiest hours within a specific geography.
Defining the location of most of your audience can help you learn when they will be online and active. If you have a Pro account and can access Analytics, you will quickly establish your followers' location. Navigate to the 'Followers' tab and scroll down to the 'Top territories' section.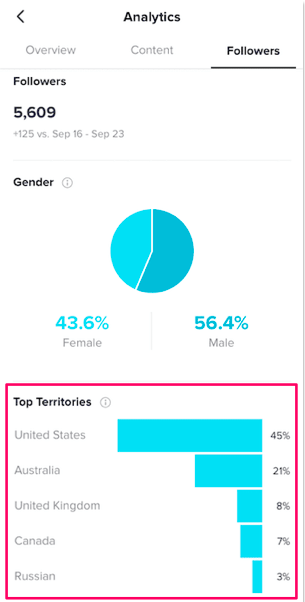 The example above shows that most of the followers reside in the USA. Unfortunately, TikTok does not show the breakdown by the city to determine the best timing when the audience is online. This might be a problem for marketers whose audience is based in countries with multiple time zones. Still, no panic; it is possible to work around the issue by tracking content performance and trying other options we listed above.
Conclusion
Even with continually changing and evolving TikTok trends and growth tactics, it is always better to stick to the strategy. Your task is to ensure the content gets picked up by the algorithm and reaches the right audience. So, timing is one of the key factors you must consider here.
While global research data might be helpful to start, nothing beats the accuracy of checking your own TikTok analytics. Following the tips above will help you collect the information required to find the best time to post on TikTok. Note that it is not a one-time process, so keep an eye on and adjust your TikTok marketing strategy accordingly. 
Looking for an expert team to deliver powerful TikTok marketing campaigns? Consider Agency Vista's Top TikTok Marketing Agencies. They have innovative marketing strategies and techniques to ensure clients stay ahead of the curve.