Marketing is no longer a boys club. The digital marketing industry is interested in female leaders who deal with technology and influence the strategy and trends in the niche itself. Agency Vista strives to put the most notable and verified marketing agencies in front of businesses. Our team has hand-selected the top women-owned marketing agencies and their incredible leaders below.
Throughout history, women have had strong purchasing habits – in the US, only they drive 70-80% of all consumer purchasing decisions. Who better to provide innovative solutions, efficiency, and leadership? Women tend to take a more holistic approach to marketing, combining experience, facts, knowledge, and different opinions, making them excellent marketing professionals.
Female leaders of these companies offer effective marketing programs and develop the personal brand, declaring themselves to the world as industry experts.
Women-Owned Agencies To Watch Out For In 2021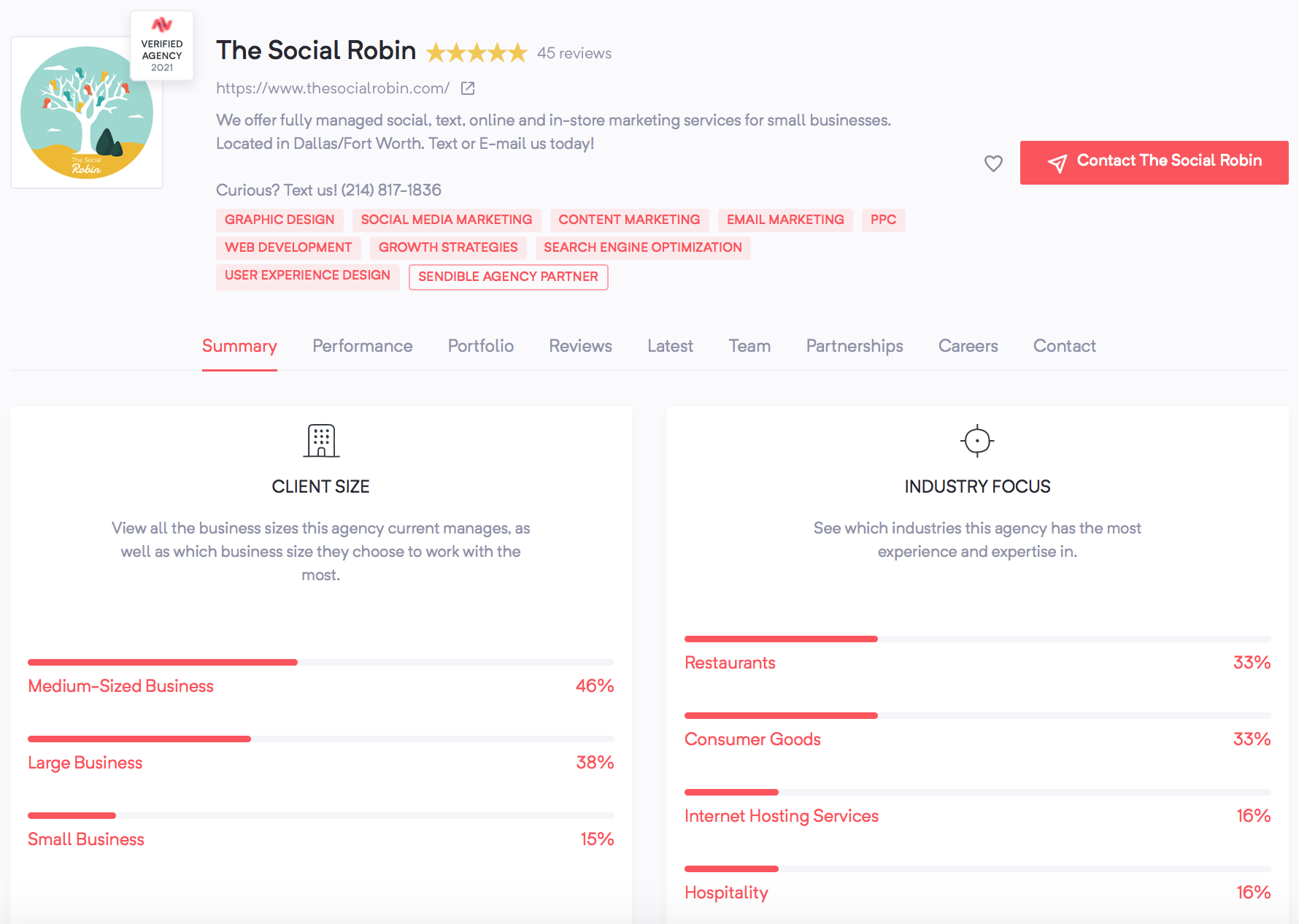 Headquarters: Dallas/Fort Worth, TX
Core services: Social Media Marketing, Graphic Design, Content Marketing, Email Marketing, PPC, SEO, Web Development, & User Experience
Partnerships: Sendible Agency Partner, Agency Vista Verified Agency
This Texas-based marketing business uses digital, traditional and innovative marketing strategies to help clients achieve the success they want without breaking the bank. Syndi Braun, the CEO of Social Robin, puts her best foot forward and does what she can to help her clients achieve their business goals. In a world of forceful up-sells and cringe-marketing, she strives to consult with clients and "prescribe" to them what they need based on their goals so that they have every opportunity to do exactly what they set out for without spending a dime for something that isn't aligned with their goals. For small business, every penny counts. The Social Robin keeps that fact close to their heart, which allows them to always instill humility and honesty in their agency.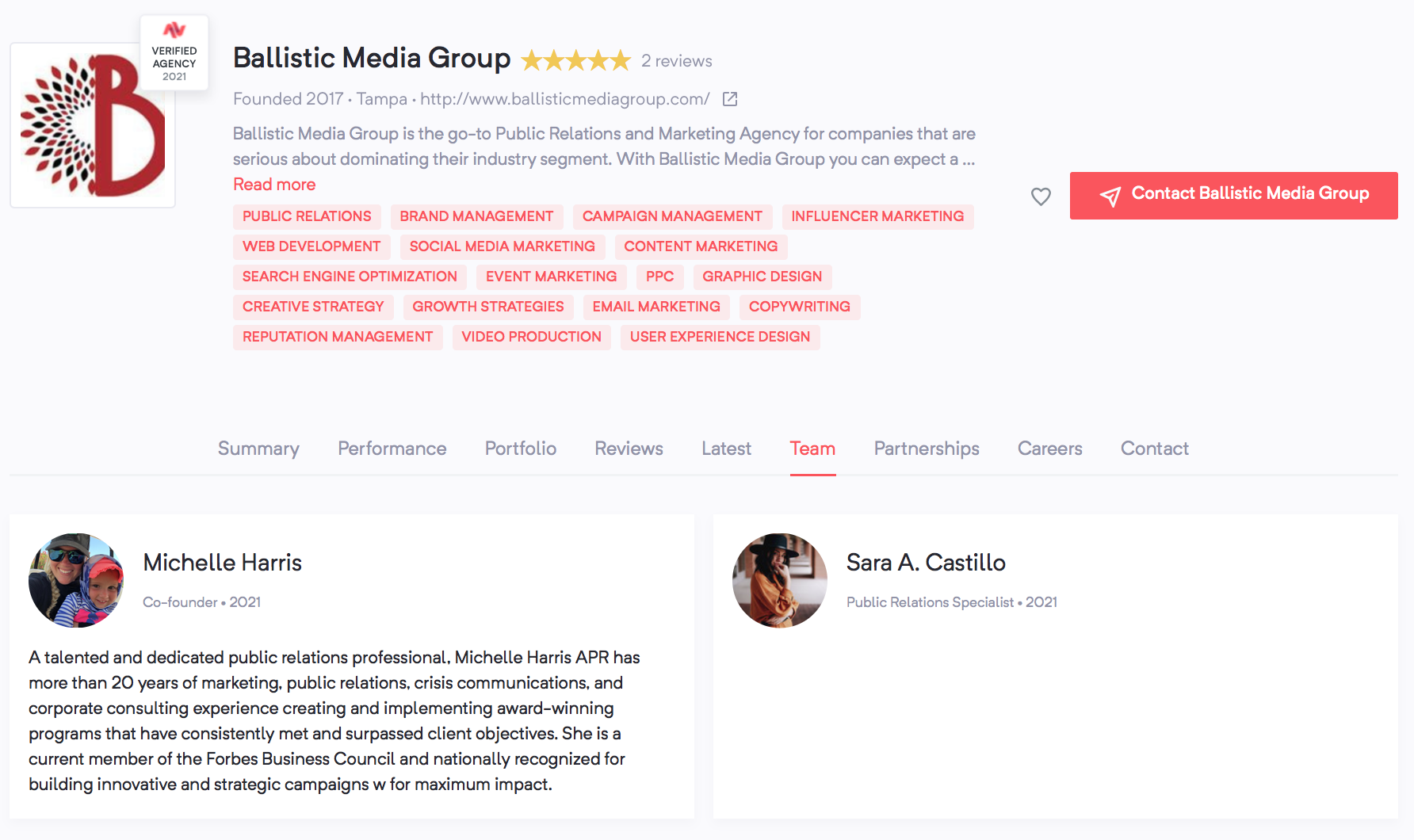 Headquarters: Tampa, FL
Core services: Public Relations, Brand Management, Campaign Management, Influencer Marketing, Web Development, Social Media Marketing, Event Marketing, PPC, Graphic Design, Creative Strategy, Email Marketing, Reputation Management, User Experience, & Video Production
Partnerships: Agency Vista Verified Agency
Ballistic Media Group is the go-to advertising agency for companies that are serious about growth. The company offers strategic, creative, and media solutions for brands looking for results. Their mantra is simple: when their clients win, they win.
Ballistic Media Groups co-founder, Michelle Harris APR, has more than 20 years of marketing, public relations, crisis communications and corporate consulting experience creating and implementing award-winning programs that have consistently met and surpassed client objectives. She is nationally recognized for building innovative and strategic campaigns while collaborating with clients to define requirements and allocate resources that build brand solutions for maximum impact.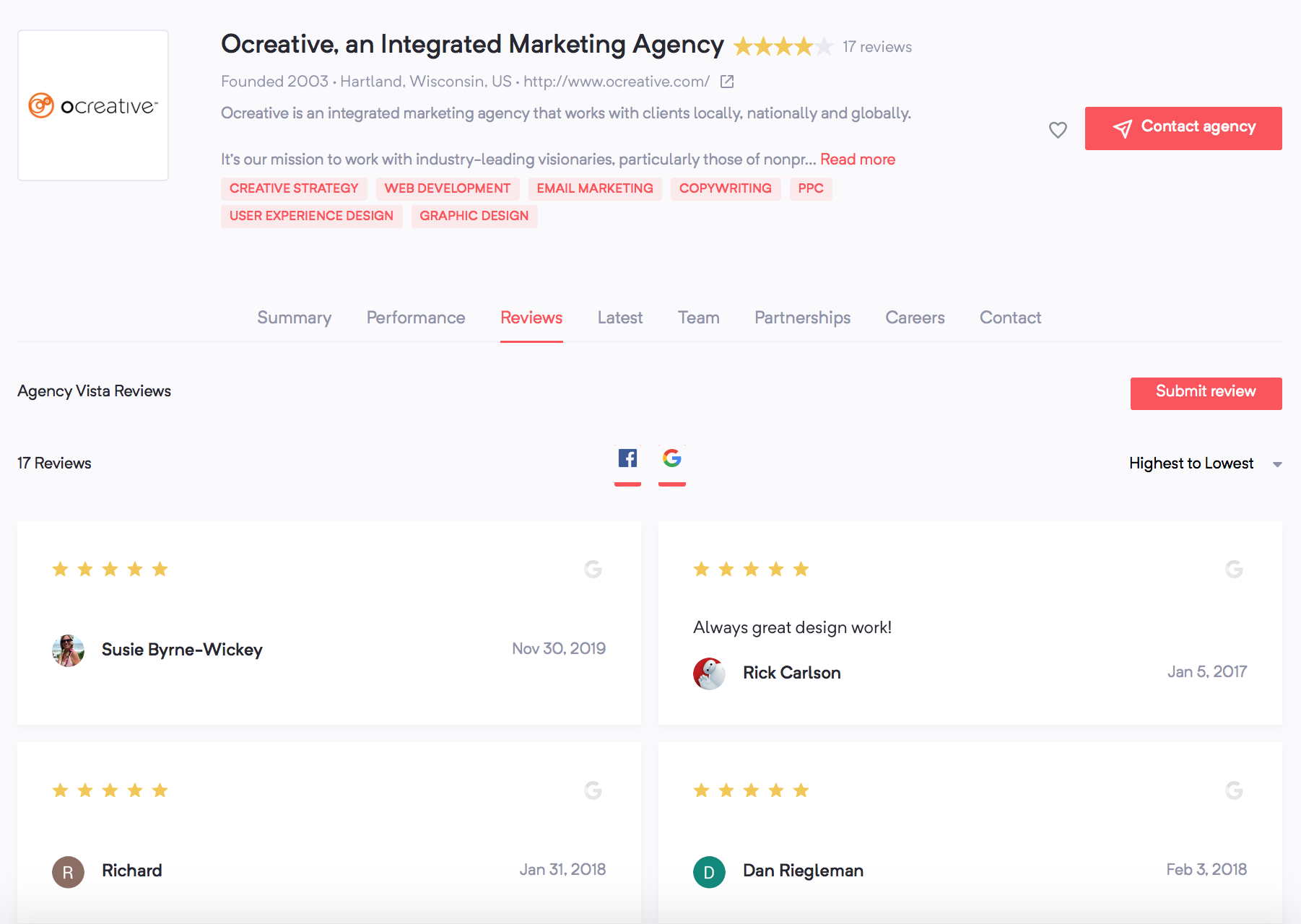 Headquarters: Hartland, WI
Core services: User Experience Design, Graphic Design, Creative Strategy, Web Development, Email Marketing, Copywriting, & PPC
Andrea Koeppel is the CEO and Chief Creative Officer at Ocreative. She focuses on exploring the best in people. From nurturing the talent of her dedicated team to finding the creative spark in her clients, it's Andrea's ability to identify what moves people that drives Ocreative's tenacity. Andrea began Ocreative on November 1, 2003 as a one-woman show and has worked tirelessly, since then, to turn the small freelancing business into a full-fledged, multi-disciplinary, creative powerhouse.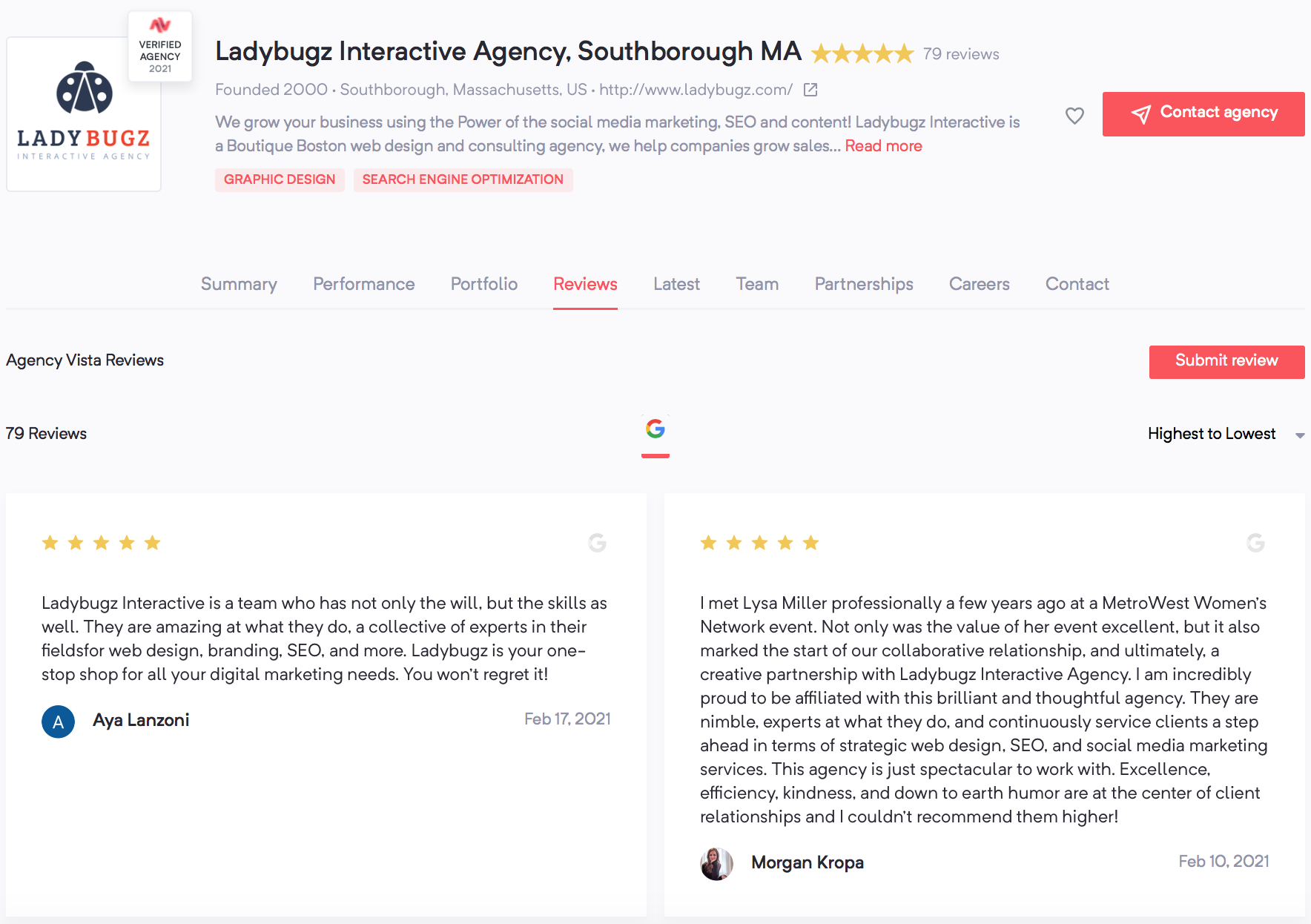 Headquarters: Southborough, MA
Core services: Website Design, Development & Digital Marketing
Ladybugz Interactive Agency's founder Lysa Miller loves people and loves helping people at heart. So when she put all that into her own agency, it is pretty amazing. The agency's reputation speaks for itself. The company has been listed as a "Top Ten Web Design Companies in Boston" on the Manifest and Seolium. Moreover, it became a top-ranking SEO company in Boston on SEO Blog and Visual Objects. Ladybugz helps companies grow sales and revenues and provide web design, online marketing, SEO, online PR, and other creative consulting services.
Headquarters: Dallas, TX
Core services: Digital Marketing, Strategy & Transformation
Eyeful is a digital marketing agency, and eCommerce consultancy founded by Antonella Pisani in 2016 focused on delivering growth by providing actionable, pragmatic insights. After running eCommerce and acquisition and retention marketing for large companies, Antonella decided to start her own consulting firm focused on helping mid-sized businesses.
The team includes former in-house marketers specializing in search management, search engine optimization(SEO), paid social management, and digital strategy and transformation work. Eyeful helps promote luxury products, department stores, food delivery services, healthcare, jewelry, B2B, and nonprofit sectors.
Headquarters: San Diego, CA
Core services: Web Design, Content Marketing, Branding for B2B Companies
Kara Jensen is a CEO and co-founder at Bop Design. Kara is a thought leader, influencer, and successful entrepreneur that provides the leadership and energy that has inspired the creation of Bop Design.
The company specializes in creating holistic marketing strategies that include B2B web design and development, content marketing, social media, SEO, logo design, branding, and marketing collateral. The team truly believes that every B2B company—regardless of its size—deserves cost-effective design and comprehensive marketing solutions. Offering a wide array of branding services, they act as a tactical extension to the client's internal marketing department helping the firm achieve its marketing objectives.
Headquarters: Beacon, NY
Core services: Strategy & Analysis, Content & Design, Performance Marketing & SEO, Marketing Technology & Ops, Web Design & Dev
Whitney Mitchell founded Beacon Digital Marketing to be the B2B digital agency. Whitney is a highly sought-after B2B online marketing expert with more than 12 years of experience leading marketing and communications teams in various organizations, including nonprofits, small businesses, tech startups, and large global corporations.
The agency's team are B2B SaaS experts who know HubSpot through and through. They have expertise in many high-tech industries, including cybersecurity, fintech, healthcare, recruiting, legal technologies, compliance, and regulatory affairs.
Headquarters: Miami, FL
Core services: Video, Custom Content, Content Amplification, PR & Media Outreach
S&G was founded by Lauren Fairbanks, who has grown the company from a two-person team to an award-winning agency specializing in helping international brands move into the US market. The company is expanding its content marketing services to the retail, healthcare, technology, and manufacturing industries.
S&G creates branded content experiences for companies who want to stand out from competitors, transform into thought leaders, and connect with customers and clients in a meaningful way that drives bottom-line results.
Headquarters: London, United Kingdom
Core services: Connected Packaging, Branding, Web Design, Playable Ads, Video Production, Social Media Marketing
Established in 2015 by Jenny Stanley, Appetite Creative is a multi-award-winning creative technology company with a passion for bringing advertising to life, inspiring others through creativity and innovation, and delivering results. Jenny has proved herself as an exceptionally energizing and inspirational team leader that is a regular speaker on Women in business, creativity in a programmatic world, connecting the online and offline world, and branding in the tech world.
Appetite Creative delivers effective branding, digital campaigns, and projects with a flexible, agnostic approach, unique digital solutions, branding, and marketing skills.
Headquarters: London, United Kingdom
Core services: Digital Marketing, Branding, Design, Development, Social Media, Community Management, Thought Leadership, Brand Collaborations & Brand Consultancy
Founded by Sarah Fulford-Williams, the agency has a team of creative, independent thinkers who challenge the norm and push boundaries. They create forward-thinking brand identities and high-quality digital campaigns, helping brands cut through the noise, engage the people who matter most, and grow. The company lives and breathes brand and social, content and campaigns, design and development.
Sarah believes that a great brand is a foundation upon which everything else is built. She is passionate about getting her clients covered!
Headquarters: Minneapolis, MN
Core services: Web Design & Development, Digital Marketing, ABM, Analytics, UX, Visual Design & Branding
With a marketing, branding, and web design background, Kathy Mrozek has been leading Windmill Strategy for the last 15 years as founder and principal. Leveraging her team's combined experience, they provide smart marketing solutions suited to any business needs and goals.
Windmill Strategy is a B2B industrial web design company and digital marketing firm that helps companies achieve increased visibility and engagement, stronger branding, higher quality leads, and greater marketing ROI to accelerate growth.
Headquarters: Chicago, IL
Core services: Branding, Content Strategy, Social Media, User Experience, Drupal & Email Marketing, Web Development, Mobile Application Development
Anna Trzyna is a successful co-founder and President at Kahoots Creative Group. Rooted in design thinking principles, the company works with brands to evolve their digital presence and create more value for their customers. Branding, website development and maintenance, sales materials, email marketing, marketing automation, and more work collaboratively with the client's team and coach them along the way.
From small sites to sophisticated applications, working with startups or large corporations, the team puts all the efforts into every project, making user-centric, functional products that everyone involved can be proud of.
Headquarters: Charlotte, NC
Core services: Advertising & Marketing, Business Services
BlueCap Marketing is an ambitious majority women-owned alliance of experienced marketing professionals who work with forward-leaning passion. The company was founded in 2013, and its key focuses are provocative, highly effective sports and entertainment marketing platforms. They generate new revenue and build lasting consumer bonds for the brand partners. The team includes marketing specialists with a combined 50 years of award-winning know-how ready to break through the noise and do great things.
Conclusion
What do these successful women have in common? These acknowledged owners of marketing agencies are united by the fact that women are not afraid to occupy leadership positions; they are intelligent, ambitious, and thought leaders. The future of females in marketing and advertising is increasingly built on creating a space in which women's voices are heard. Women-owned digital marketing agencies can tackle all your online marketing objectives to get consistent results.