Word-Of-Mouth Marketing (WOMM) isn't just about getting all your customers to speak about your brand, its products, and services. It's about turning these existing and potential customers into your permanent, loyal fans! Once you get people to do this, you will dominate word-of-mouth for your marketing agency. 
 WOMM is all about building long-lasting relationships with people. A Nielsen study found 83% of respondents trust recommendations from friends and families, and a similar study years prior saw 92% of individuals trust recommendations from people in general, even if they're a complete stranger. Shocking, right?
As a business, your aim should be to get people talking about your brand till they cannot think of your competitors anymore.
What is Word-Of-Mouth Marketing?
Word-Of-Mouth Marketing is basically many happy customers, talking to potential customers about how your brand, and its products and services, are far better than any others. Happy and satisfied customers automatically promote your brand organically to get more people to try your services. WOMM does not necessarily mean picking up the phone and talking or meeting each other and speaking about your brand. It is also sharing likable content on social media like videos, GIFs, explainer videos, short videos, blogs, and other written and audio content.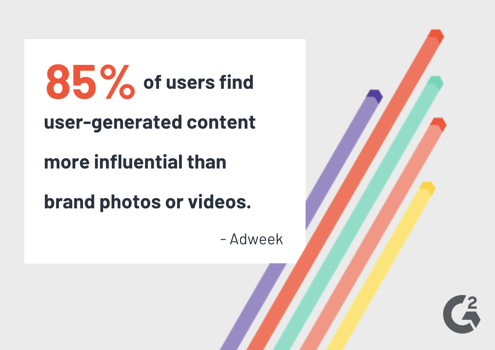 WOMM is one of the best ways to market your product since most customers prefer purchasing from brands that have online referrals. Social media referrals play a huge role in turning the tide regarding followers, potential customers, and returning clients. Key stakeholders and upper management also get affected by online reviews, referrals, and general brand consensus.
Social Media Word-Of-Mouth Marketing is:
Twitter Retweets
Twitter @s
Facebook Likes
Amazon review
Yelp reviews
Trip Advisor Reviews
LinkedIn Likes and Shares
Customer Testimonials
Video Testimonials
Brand Mentions in posts
Online Message Forums
Basically, at the end of the day, with the help of WOMM, your customers end up doing all the work for you. Your marketing team needs to be consistent with customer involvement and enhancing and improving the overall experience each day.
Benefits of Word-Of-Mouth Marketing
There is no doubt that everyone wants their brand to grow and become larger than life. If you're still unsure about the benefits of WOMM, we have some more information for you.
1. More Sales
Who doesn't like more sales? Customers who talk about your brand make free referrals. These referrals are wholly organic and unpaid. Potential customers prefer buying from businesses through personal references rather than from those that they know nothing about. Most customers who readily recommend your brand to others tend to keep making purchases from your brand too. You are getting additional sales only through a positive customer experience. Some businesses also offer discounts or points via customer loyalty programs for more followers and buyers. 
2. Free Marketing
Word-Of-Mouth marketing is free. The only part that paid is Word-Of-Mouth Advertising (information below). Your marketing team's only effort is to ensure each customer feels unique and to focus their attention on constantly improving customer interaction and experience. If you offer an experience that is worth talking about, customers will mention it to others. 
3. Brand Growth
Most marketing agencies have to strategize and prepare lengthy reports about brand awareness and growth. Word-Of-Mouth marketing does this automatically. WOMM is a viral phenomenon. Most customers who are happy with the brand readily share posts, tweets, new product information, and any other online content collateral on their pages. Your brand name slowly starts going viral, and more people start helping the brand grow. As people start tagging your brand name, sharing content, making videos with your hashtags, and more, your brand keeps rising exponentially. 
4. Agency Marketing
Social Media Marketing Agencies like The Social Robin benefit greatly from WOMM, where platforms like Agency Vista contact clients on their behalf and offer them gift cards to leave a review for the agency. The Social Robin has the ability to house reviews, and digital marketing agencies like these can get RaaS – Reviews As A Service Campaigns. 
What is Word-Of-Mouth Advertising?
Word-Of-Mouth Advertising is a form of paid marketing. It involves paying an influencer or Authority figure to speak about your brand and engage their followers to build brand recognition. Like all forms of advertising, you will have control over when the content is pushed to audiences and potential customers.
Word-Of-Mouth Advertising is not an organic form of marketing, but it does get fantastic results. The thing to consider for this type of advertising is whether the person (influencer or Authority figure) is the best person to market your products or services.
Many times, companies only choose an influencer with the most number of followers. These businesses do not consider that this influencer may not be the right person for the job. An example of this would be if your product is a vegan, cruelty-free lipstick, but you hire an influencer who had made another post about the benefits of eating meat just a few weeks prior. The resultant fallout from followers would be devastating.
You should ask a few critical questions before spending money on Word-Of-Mouth advertising. Some questions would be:
Does the person represent the fundamental beliefs of the brand?
Does the person use similar products/ services?
Do they believe in the benefit of the product/ service?
Are you willing to allow this person to be the face of your brand?
Is the risk of backlash from followers worth the effort?
How will the brand benefit?
Will this help targeted sales?
Once you get answers to these questions, you should carefully consider each influencer you select and choose from the best (according to the brand fit). It is also best practice to have someone from your marketing team reach out to the influencer in advance and have an informal chat about values, beliefs, and past projects.
How To Dominate Word-Of-Mouth For Your Marketing Agency
1. User-Generated Content (UGC)
As the name suggests, UGC is content that is created by users. This content is about products, services, brands, reviews, referrals, and so on. Many users create review posts to try new products – influencers do this a lot! UGC is honest, transparent, helps build trust, and basically helps in spreading the word.
As word of your brand, its products, and services grow, customers will start tagging your brand and adding user-generated content to the buzz. UGC is helpful because it is not a paid form of content. UGC is not considered Word-Of-Mouth Advertising. It is genuine content created by consumers of the product without a monetary benefit. Non-Authority figures and regular Instagram and Facebook users also create UGC content that should be liked and shared by your brand. If this happens organically over a while, your brand will see a boom in recognition and subsequent sales.
You can take extremely easy and quick steps to reciprocate the gesture by thanking your consumers. How does one do this? It's simple. Like, repost, retweet, and share their content (tagging them) to your feeds and posts. Building trust via social media, and thanking customers for trying your products, and speaking and writing about them is a great way to benefit from UGC in the long term.
2. Get Reviews
Getting reviews is an excellent Word-Of-Mouth strategy. Customers leave reviews on tried and tested products and services for others to read and share. These reviews also help in forming a judgment about the products and whether the effect is beneficial. Visitors who read these reviews may get impressed with the positive feedback, and in turn, also make a purchase from your website. Most people leave honest, truthful reviews that are read by others.
At such times, even if the review is negative, you should ask someone from the monitoring team to monitor and thank the customer for leaving a comment. Making an inquiry about anyways that the customer experience can be improved will go a long way in ensuring that customers (even negative ones) keep returning to your website.
You should share all positive reviews and those that are written about the product or service quality, usability, performance, and consumer benefits. Doing this regularly acts as a form of social proof in the minds of others who are yet to try your brand.
3. Referral Programs
Many brands have referral programs on their sites where they offer referral codes to clients who refer the brand to another potential customer. An excellent way to track this metric is if you have an app. App downloads and sign-ins are a perfect way to keep track of the referral program.
Many businesses offer a discount on future purchases or a non-monetary benefit like a shout-out or a particular post, a small gift, or re-tagging and sharing user-generated content. At such times, referrals work brilliantly to increase brand awareness and increase subsequent sales.
4. Create a Unique Hashtag
Most brands create unique hashtags for brand identification. Initially, all posts should only be brand posts, with constant use of the unique hashtag. This hashtag has to feature prominently in all placeholders and posts and should be highlighted without fail. As users get used to seeing the brand, its content, and the new hashtag, they will use this hashtag in UGC to create a buzz and increase fan following.
Hashtags are an excellent method to track brand awareness and to increase recognition in leaps and bounds. Customers and brands start using your hashtag, even if they are not creating content about your brand. A repost, a thank you, retweet, and a shout-out can help get dozens of more followers within a few hours. This number could increase as time flies.
Here are some things to consider when creating a unique hashtag:
Have an easy-to-remember hashtag. Complicated hashtags are tough to remember and will not create the necessary impact on social media.
Create an atmosphere that allows sharing and liking pictures, GIFs, and videos surrounding the hashtag. You could also offer a freebie, a feature, or a discount.
Keep sharing all user-generated content to create a sense of belonging and community. Openly praising and thanking customers also goes a long way in building brand loyalty.
5. Connect with Influencers and Authority Figures
As we mentioned earlier, while explaining Word-Of-Mouth Advertising, influencers and authority figures can help with excellent Word-Of-Mouth Marketing. Influencers and online authority figures have a huge fan following that can be leveraged and influenced to follow your brand. Many customers have made an outright purchase only become an influencer suggested the benefits of the product.
Including influencers in your marketing budget is essential for gaining the attention of new customers. Once your brand has built a big following on social media platforms, you can stop using influencer marketing services and instead only opt for such marketing tactics during product and service launches.
6. Create Visual Triggers
Visual triggers are those that are mesmerizing and memorable. Most businesses create visual stimuli for customers on their websites, so they share the website directly on their social media. Creating a stunning website is a one-time expense. The cost of building the website will be covered by subsequent sales and shout-outs to your brand.
Many successful brands also use visual triggers to promote their products. An excellent example of this would be IKEA. They showcase all their products as a benefit to the customer. This makes customers realize that they need the products from IKEA. So they go ahead and buy them. Creating visual triggers requires a little thinking and consideration, but it can bring fabulous results if done correctly.
7. Giveaways
Everyone loves getting free stuff. Most people are willing to be part of giveaways to tag 2-3 other people and spread the word. For start-ups and entrepreneurs, giveaways are excellent (inexpensive) methods to gain more followers. Giveaways and contests (with the prize as something from your store) can generate a lot of interest on social media, with people across the globe participating and sharing your products and services. Some businesses are also known to ask questions about their products as part of the contests to generate interest.
Asking people to share the responses, retweet benefits of your products, and write a good review, can also work in your favor. Doing all these activities on social media helps create newer audiences every few weeks. These new audiences, in turn, also spread the word about your brand and its products and services.
8. Affiliate Programs
Affiliate programs are another excellent method of increasing word of mouth. Customers signing up for your affiliate program get benefits and discounts when they make a purchase. You can also ask them to refer their friends and acquaintances in return for a commission that can be redeemed in their next purchase on your website.
Niche bloggers write articles and blog about your products and services. They include a placeholder backlink to your website to increase awareness and sales. These links are usually affiliate links that either bring new customers directly to your website or to a payment portal to purchase the product.
Making a monetary incentive to returning customers is a relatively low cost since you only have to pay the commission if a sale is made. In the long term, these costs average themselves out without creating an issue in your balance sheet. Even if new customers do not make a sale each time, there is regular brand awareness. 
Final Thoughts
When you are trying to gain customers, you should always create engaging experiences. Digital marketing agencies that can generate this type of response from all customers are the ones that should be hired immediately. Word-Of-Mouth Marketing can help offer unique experiences to consumers without a huge marketing budget. Ideally, you should ensure that your clients are getting everything they want from you, and they do not need to go to competitors. If you make the content shareable and memorable, loyal users will share it and help the brand grow exponentially.