Of course, each brand needs to develop a user-friendly website, overcome all the Magento 2 migration challenges (or similar ones on another platform), and dedicate enough attention to SEO, advertising, and other promotion methods. These steps allow you to attract new customers and expand the range of the potential audience.
However, you should also remember to provide your customers and fans with a personalized brand communication experience. This is done by involving customers in different activities carried out by the company. In addition to all the other obvious benefits, this approach will help you get valuable user-generated content (UGC).
What Is User-Generated Content (UGC)?
User-generated content (UGC) is an important part of content marketing nowadays. Since more and more people are buying online, the audience that can create unique digital content regarding your brand is also growing.
What exactly is UGC? In simple words, it's content created by consumers of a brand. There might be the following:
comments;
reviews;
photos;
social media posts
etc.
According to the "State of User-Generated Content" report (2022) by TINT (trusted enterprise User-Generated Content platform), 60% of marketers see a higher audience engagement with UGC than branded content.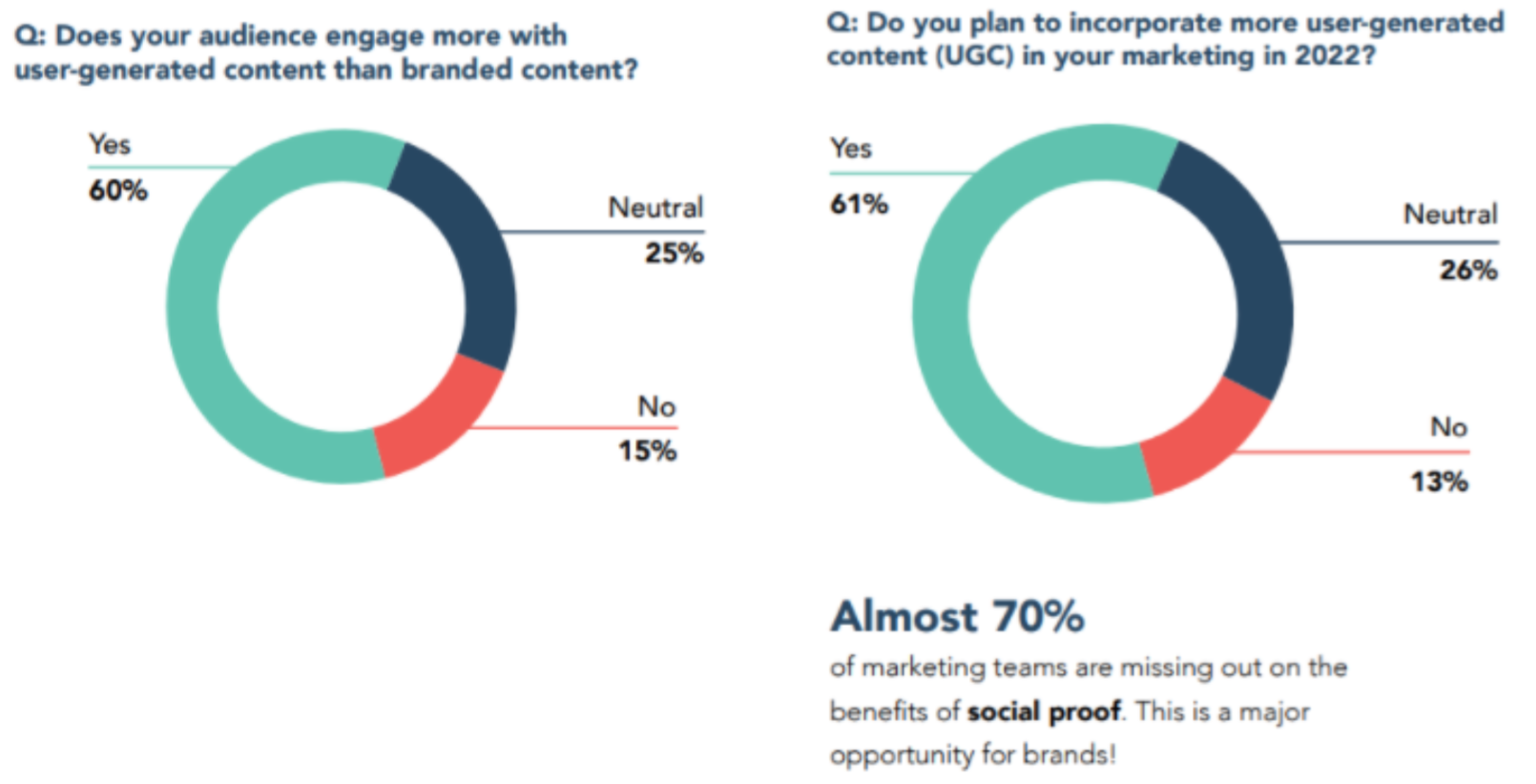 So, users definitely trust content created by other customers more. And this is not surprising because companies don't pay for it, so it is more authentic and sincere.
Meanwhile, only 60% of marketers plan to incorporate more UGC into their marketing in 2022. And about 70% of marketing teams are still missing out on the benefits of using UGC.
That means you have a great chance to stand out among your competitors and engage a broader audience with your marketing campaigns.
UGC Benefits
What advantages does UGC bring to brands? Among the main ones, let's list the following.
Delivering the brand message
Increasing the number of social media followers
Strengthening customer relationships
Expanding the community
Gaining the trust of the target audience
Optimizing SEO strategies
Growing sales volume
Cutting the expenses on marketing campaigns
Ensuring diversity in your content
So let's dive into the most effective methods of implementing UGC in your marketing strategies.
5 Ways to Incorporate UGC into Your Marketing
1. Highlighting Reviews
So how much influence do reviews have on customer decision-making? The answer is – a lot.
Statistics show that 91% of 18-34-year-olds trust reviews as much as they rely on personal recommendations. And 93% of customers admit that online reviews impact their decisions.
Feedback from others proves to the potential customers that your offers are trustworthy. In addition, ratings and reviews bring additional traffic to your site and boost conversions.
It's important to encourage your customers to leave reviews about your products/services and the brand in general. You can offer to write reviews on your website, social media pages, or third-party sites such as Google, TripAdvisor, Trustpilot, etc. Reviews left on any platform play an essential role in driving conversions.
Take a look at how wisely the ColouredContacts online store uses customer reviews. There is a review section from Trustpilot on their website and also a block with photo reviews of customers wearing the brand's lenses. Such an approach to utilizing user-generated reviews helps brands to drive sales.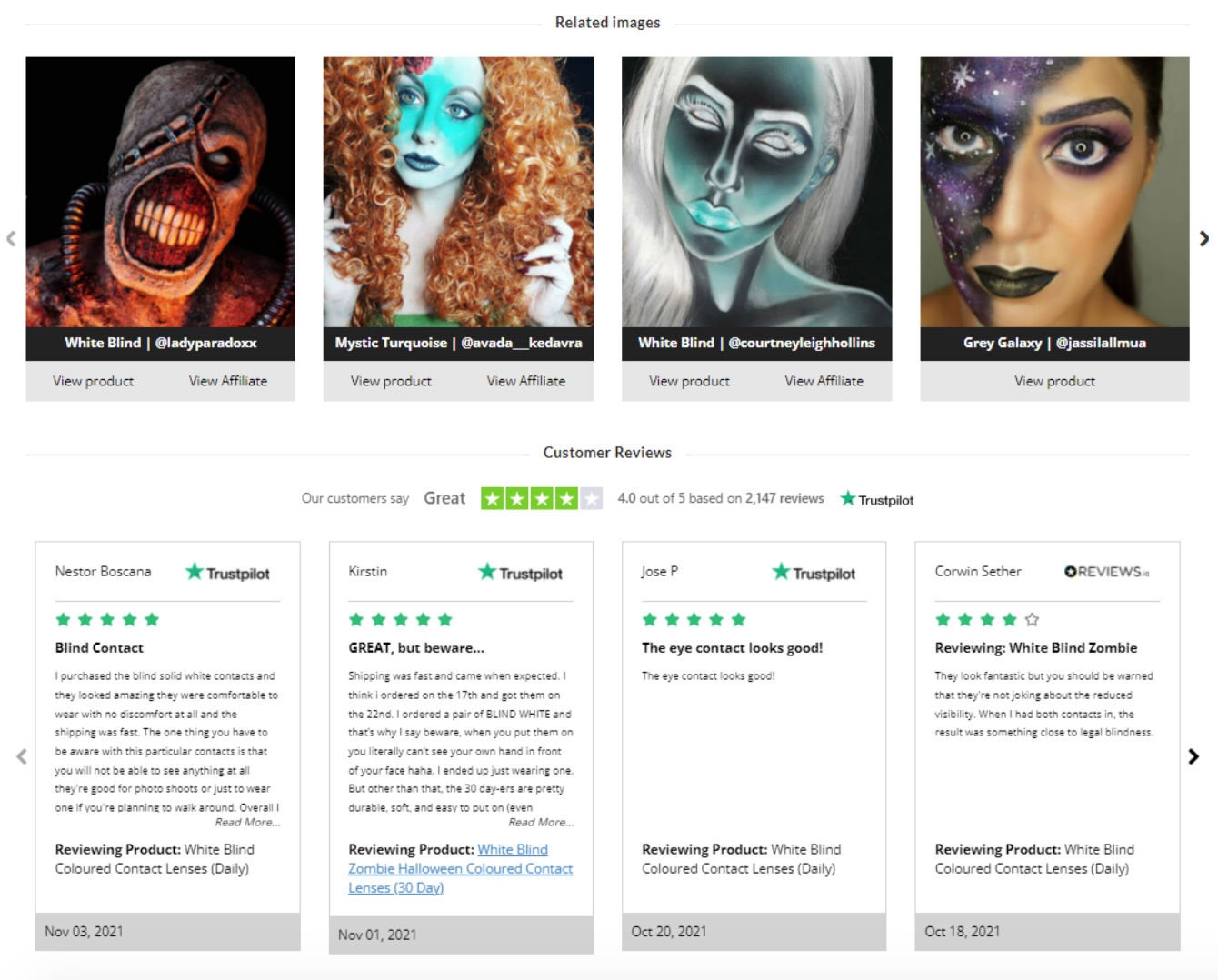 A great idea is to encourage your customers to write reviews. There are different ways to do this:
Pop-ups on the website
Automated emails upon order completion
Gift coupons
Bonus points
Gift cards
Contests
Product samples in exchange for feedback
Now, the crucial point is that you must not only strive to get more feedback but also manage it wisely. And in case you face negative reactions, don't get upset. Instead, take them as an opportunity to improve your business and gain the respect of your customers by responding to them intelligently.
Remember that you should respond to bad and good reviews because both play a vital role in building your brand image. Reacting to the comments shows that you value your customers and are grateful for their trust.
2. Activating Social Media
Social media is one of the primary sources for getting and leveraging UGC from customers and brand fans. It's the most accessible place to get the attention of your target audience, connect with it and gain maximum impact.
Which social media tactics can you implement to grow the effectiveness of your UGC marketing?
Organizing different contests and giveaways, putting the condition to create and post the content related to the brand, such as photos or videos.
Collaborating with influencers: e.g., providing the brand's products or services in exchange for their content.
Creating unique branded hashtags that customers can use for their posts and stories.
Let's look at how LEGO takes advantage of UGC to get an idea of how it works. The brand announced LEGO Build Day on its Instagram, encouraging fans to share their creations using the hashtag #LEGOBuildDay.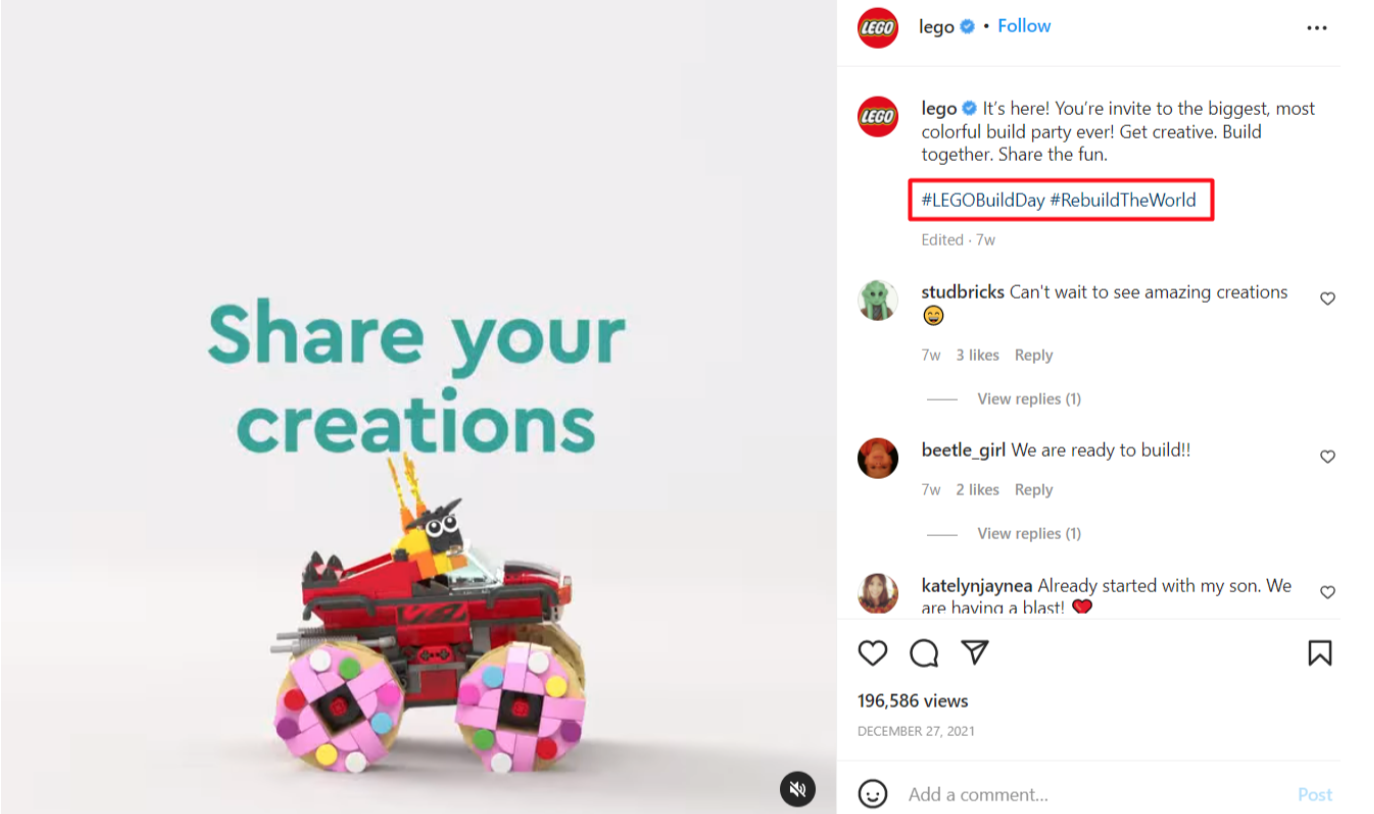 The hashtag was quite popular: people mentioned it in 15,033 posts.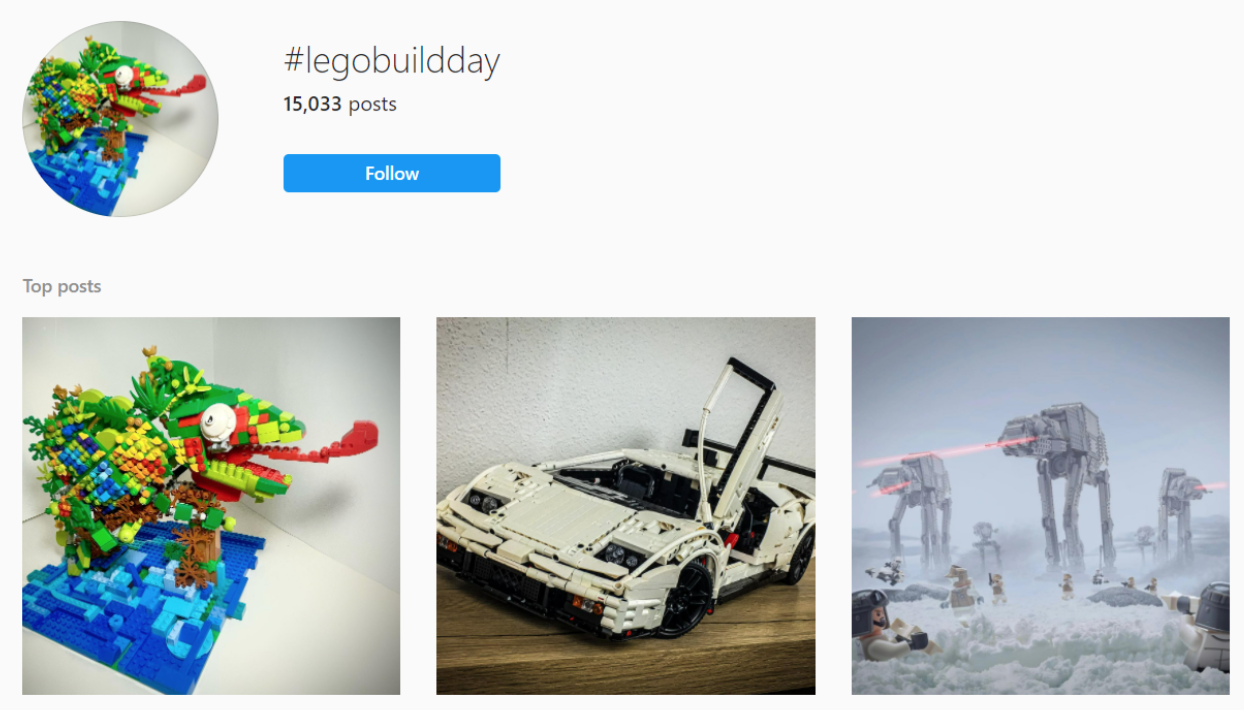 If you decide to implement such a practice in your marketing, it is worth bearing in mind these two recommendations:
The hashtag should be simple and memorable to increase the chances that users won't make errors.
The hashtag should be unique and related to your brand to make it stand out from competitors.
This will broaden your audience and increase user engagement, making your brand more recognizable and, accordingly, boosting sales.
You can use UGC for your own social media content, as well as for the site, just like in the ColouredContacts example above. Keep in mind that you should always tag the authors.
3. Video Content
User-generated video content helps connect with your audience more than any other type of content. UGC videos have tremendous potential. They are often reposted, so the chances of becoming viral are high.
Customer videos bring an authentic glimpse into your products or services and help the brand gain credibility. People tend to trust client testimonials more than traditional marketing videos. So it's a great way to expand your audience's coverage and show support for customers.
For example, let's look at how a beauty brand called Ilia benefits from user-generated videos. On their Facebook, they post customers' video tutorials applying Ilia products. The screenshot below features one of those videos. A girl named Kendall does her makeup using Ilia cosmetics, without filters and openly demonstrating its features. Next to the video is a list of the products applied and the links to purchasing them.

4. Gamification
Gamification is another way to create UGC and engage your audience. When using this strategy, the brand offers users to complete several tasks, providing a reward for participation.
Various tricks can be used:
competency levels;
badges;
scores;
leaderboards, and so on.
Rewards for winners can include special discounts, gifts, VIP statuses, etc. This elevates audience engagement in the various campaigns the brand is running.
Even small rewards inspire customers to give their best effort and complete tasks they probably wouldn't do in other cases. Gamification helps build a strong and lasting relationship with your audience and turn followers into loyal customers. It will also serve as an additional motivation for existing customers to order even more from you.
The olive oil brand Filippo Berio held a relatively simple but effective contest. It invited all its fans to color a picture of a pesto sauce jar and post it on Twitter or Instagram, tagging the brand's account and adding a special hashtag. All participants had a chance to win pesto products from the brand.
The contest caused a pretty high activity on both social networks.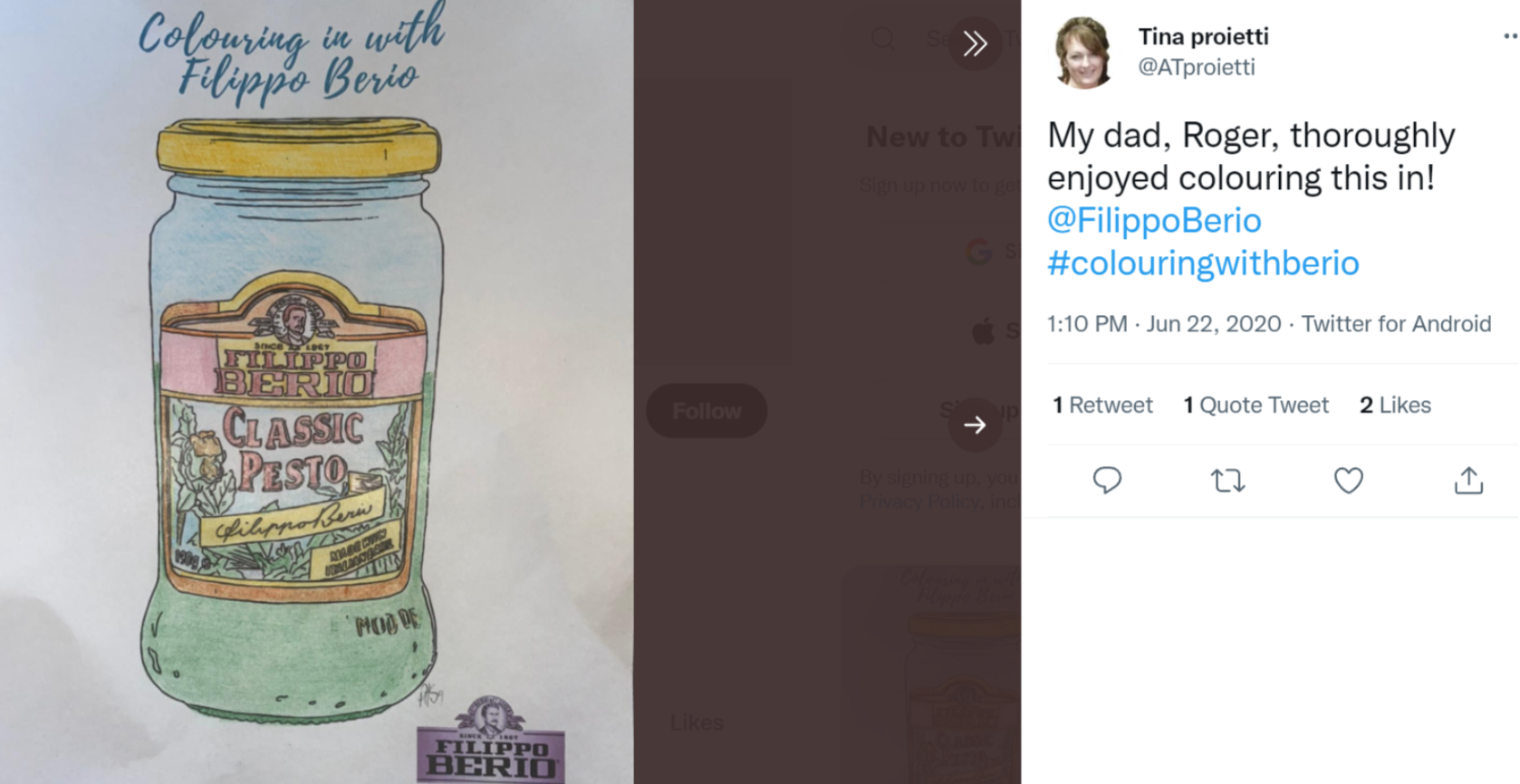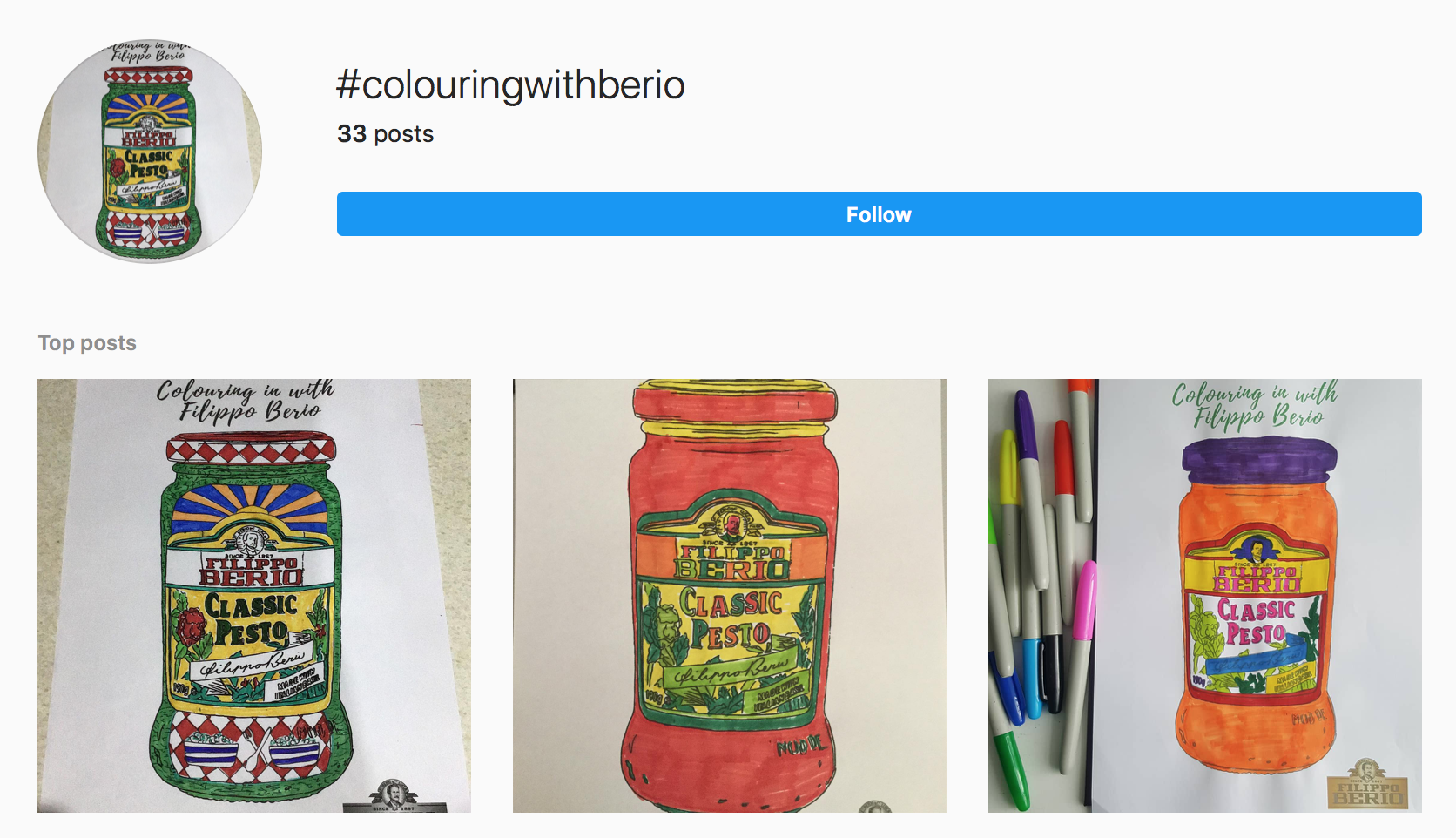 5. Seasonal Content
Holidays offer many opportunities for businesses to connect with their audiences on an emotional level and thereby increase their loyalty. Therefore, it is worth developing original and effective ways to incorporate UGC into your marketing activities before any holidays.
First, you should understand the habits of your target audience and clearly define the goals you want to achieve with UGC during the holiday season. It will help you choose the most appropriate platforms and methods of earning UGC.
You can invite customers to share photos, holiday-themed videos, and other content related to your brand. Hold a contest, giveaway, offer bonuses for writing a review, sharing posts with friends, and so on.
A successful example of a holiday marketing campaign involving UGC content is the Costa Coffee brand's promotion, which they ran in 2015 before Christmas. They encouraged clients to post selfies with a hashtag for a chance to win a gift set.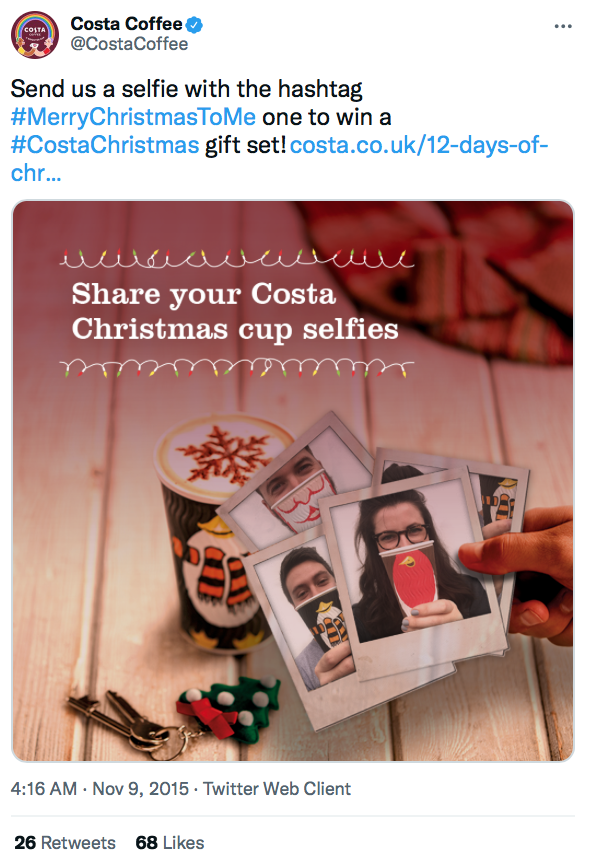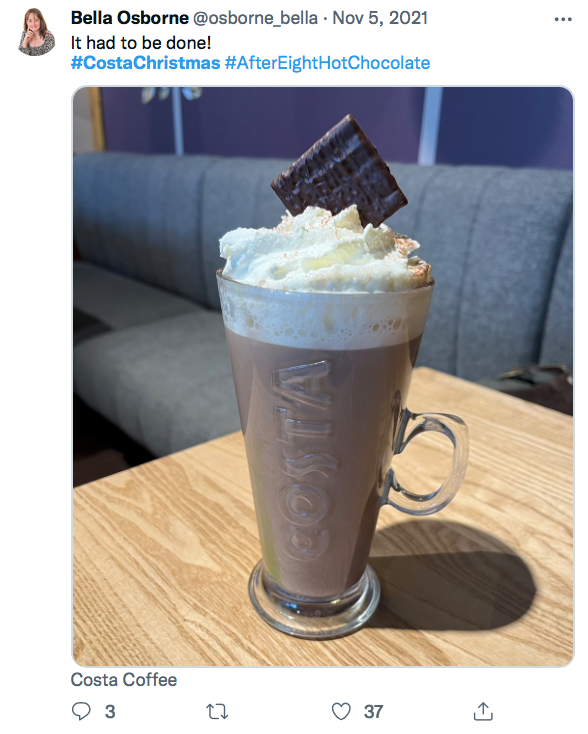 Why have I decided to highlight pre-holiday UGC marketing as a separate category? The fact is that before holidays people's mood tends to improve and they are more willing to participate in various activities of their favorite brands. Therefore, don't miss the opportunity to get unique UGC and boost your sales.
Wrapping Up
User-generated content produced by customers is a precious resource. It helps expand brand popularity and recognition, as well as to stand out from competitors. Therefore, marketers should make some effort to get it and then use it to their benefit.
Of course, there is no universal approach to collecting UGC. Find the proper methods for your business, depending on its objectives and target audience. And the tips provided in this article will assist you in this.
Expand the use of UGC in your business processes, and you will surely see positive results.
About the Author
Alex Husar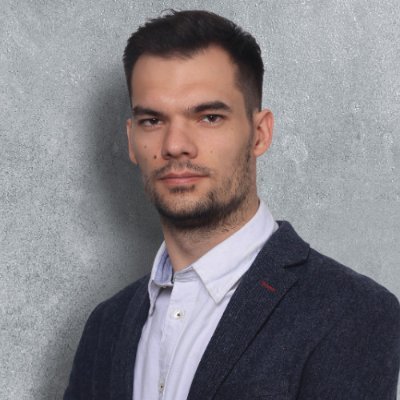 Alex Husar, chief technology officer at Onilab with 8+ years of experience in developing PWAs, Magento migration, and Salesforce development. He graduated from the Czech Technical University and obtained a bachelor's degree in Computer Software Engineering. Alex's expertise includes both full-stack dev skills and a strong ability to provide project-critical guidance to the whole team.