Coming up with creative September marketing ideas can be a struggle. Most of us are coming out of "vacation mode" and into a very busy time of year. It can feel like consumers have already seen every kind of back-to-school or fall fashion ad. Those cute fall puns that you have been googling have already been used a hundred times before, and you can feel overwhelmed in the mix of it all. Lucky for you, the Agency Vista team has prepared a list of creative September marketing ideas for you.
In this post, we'll cover the various September awareness causes, holidays, and national days. And real examples from successful brands to spark your creativity. Let's dive in!
September Awareness:
Baby safety
Better breakfast
Fall hat
Update your resume (international)
Self-improvement
Self-care awareness
Childhood cancer
Childhood obesity
Addiction recovery
Suicide prevention
Disaster preparedness
Food safety
Wilderness
Life insurance
Mortgage professionals
September Holidays & National Days:
National College Colors Day (Sept. 3)
National Wildlife Day (Sept. 4)
National Tailgating Day (First Saturday in September)
World Beard Day (Sept. 4)
National Cheese Pizza Day (Sept. 5)
National Read a Book Day (Sept. 6)
National Labor Day (First Monday in September)
National Beer Lovers Day (Sept. 7)
National School Picture Day (Second Thursday in September)
National Swap Ideas Day (Sept. 10)
Patriot Day and National Day of Service and Remembrance (Sept. 11)
National Video Games Day (Sept. 12)
National Day of Encouragement (Sept. 12)
National Grandparents Day (Sept. 12)
National Celiac Disease Awareness Day (Sept. 13)
National Boss/Employee Exchange Day (Monday after Labor Day)
National Sober Day (Sept. 14)
National Double Cheeseburger Day (Sept. 15)
National Online Learning Day (Sept. 15)
National Hug Your Boss Day (Sept. 17)
National Dance Day (Third Saturday in September)
National CleanUp Day (Third Saturday In September)
National Care for Kids Day (Sept. 20)
National New York Day (Sept. 21)
American Business Women's Day (Sept. 22)
National Comic Book Day (Sept. 25)
National Lobster Day (Sept. 25)
National Quesadilla Day (Sept. 25)
National Family Health and Fitness Day USA (Sept. 25)
National Singles Day (Sept. 25)
National Pancake Day (Sept. 26)
National Family Day (Sept. 27)
National Women's Health & Fitness Day (Sept. 29)
National Love People Day (Sept. 30)
September Weekly National Holidays:
National Childhood Injury Prevention Week (Sept. 1–7)
National Biscuit and Gravy Week (Sept. 5–11)
National Waffle Week (Sept. 5–11)
National Historically Black Colleges and Universities Week (Sept. 7-10)
National Days of Prayer and Remembrance (Sept. 10–12)
National Assisted Living Week (12-18, starts Grandparent's Day)
Constitution Week (Sept. 17-23)
National Indoor Plant Week (Sept. 19–25)
National Keep Kids Creative Week (Sept. 19–26)
National Farm Safety and Health Week (Sept. 19–25)
National Farm Animals Awareness Week (Sept. 19–25)
Tolkien Week (Sept. 19–25)
International Week of the Deaf People (Sept. 20–26)
Banned Books Week (Sept. 26–Oct. 2)
7 Creative September Marketing Ideas 
When talking about September's daily national holidays, we cannot omit the following ones.
U.S. Labor Day: Sept. 6 (first Monday)
Labor Day is a national holiday that is dedicated to American workers and their contribution to the economy. This holiday marks the end of summer, and many Americans use the three-day weekend to enjoy their summer vacation for the last time. Some go to parks and beaches; others arrange picnics in their yard with family and friends.
Labor Day weekend is an excellent business opportunity for industries like retail, hospitality, and tourism. Many stores organize sales of household goods, clothing, and school supplies, liquidating their summer stocks. Do not be afraid to be creative and add Labor Day branding to your social media posts, arrange the holiday contests, create a Labor Day referral program. Celebrate with your customers on social media, and no reminders of work today!
Labor Day Hashtags:
#LaborDay
#LaborDayWeekend
#HappyLaborDay
#LaborDayDale
National Day of Service and Remembrance: Sept. 11
This Patriot Day is a day to remember the fallen heroes who died due to the terrorist attacks in 2001 in New York and Washington. Sept. 11 is known as a day of remembrance and patriotism and as a day of service. On the eve of the anniversary and after it, people across the country continue to participate in volunteer actions in charitable food funds, schools, parks, and other places.
While holidays and anniversaries are an excellent time for brands to turn the hype up, you should be very careful with what you post on Sept. 11. Do not laugh on social media, and do not try to sell stuff. Instead, show your customers your patriotic, respectful attitude and remind them that there is always hope for the future.
National Day of Service and Remembrance Hashtags:
#NationalDayofServiceandRememberance
#DayofServiceandRememberance
#911Day
Positive Thinking Day: Sept. 13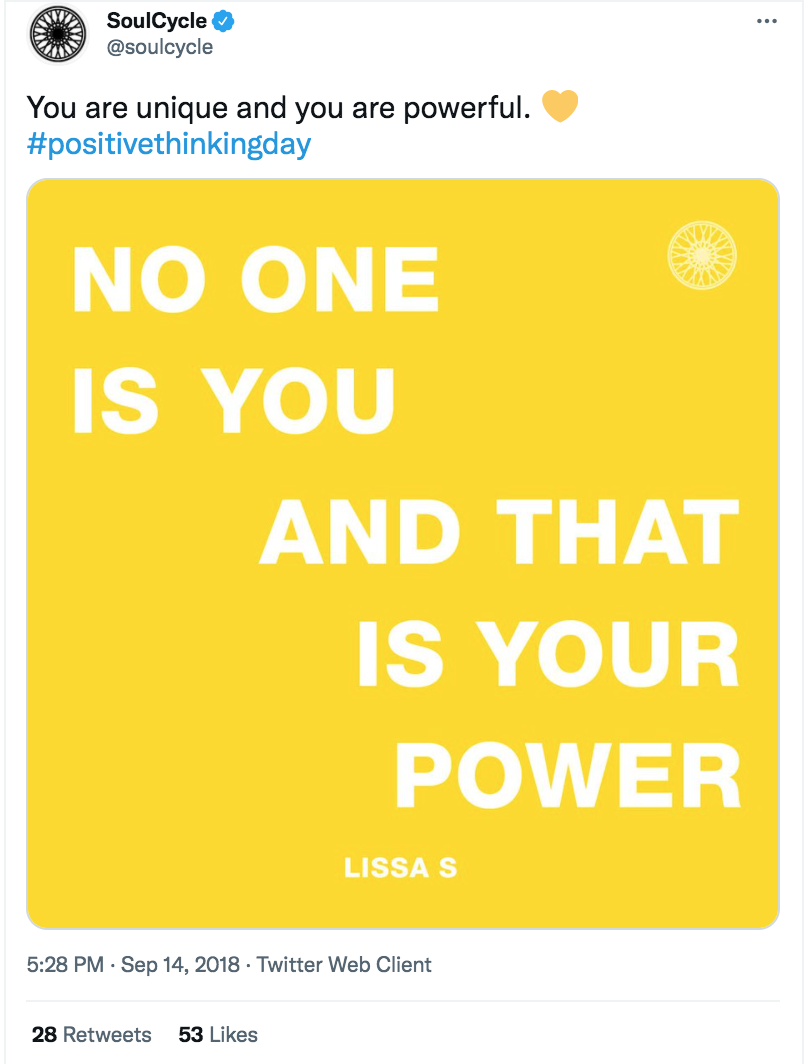 On Sept. 13 in 2003, the States began to celebrate the day of positive thinking. On this day, they offer to concentrate on good and kind things that give you a feeling of happiness, confidence, and contentment. Any business can grab this marketing idea to motivate, encourage, compliment, thank, help, or inspire its target audience. So, connect your product or service with positivity and wish a happy holiday to your customers!
Positive Thinking Day Hashtags:
#PositiveThinkingDay
#PositiveThinking
#Optimistic
#PositiveWords
#ThinkPositive
#PositiveMindset
Back To School
Back to school season (BTS) has long been one of the main events of a September marketing calendar. Every year demand jumps during this period are becoming more noticeable, and profits are growing. According to Statista, the expected back-to-school spending of U.S. parents per child is $612. American online retailers are actively using this: they launch special sections on websites and brand pages and develop brand zones with manufacturers.
Any brand can take advantage of this event and organize discounts for students, hold a promotional week dedicated to returning to school, or offer themed products for school children. If your business is focused on college students, this is a great time to create a buzz in social networks or collaborate with student organizations to hold virtual events.
Back to School Hashtags:
#BacktoSchool
#School
#Education
#DistanceLearning
#VirtualLearning
#SchoolSupplies
#FirstDayofSchool
Football Season
Football is not just a game – it is emotions, experiences, love for the city, and your country as a whole. Football develops the spirit of patriotism and unites the people. Think over how you can connect your brand with the upcoming football season and increase your profits.
It is the perfect opportunity to engage with your clients and market through the sport they love. Are you running a bar or a restaurant? Invite the fans to your place and stand your guests with a lot of beer and snacks. Integrate the football topic into your marketing strategy and connect with customers.
Football Season Hashtags:
#NFLPreseason
#NFLTop100
#NFLUpdates
#AmericanFootball
#Football
#NFL
#CollegeFootball
#NFLNews
#Touchdown
#FantasyFootball
#FootballSeason
Football Season Team Specific Hashtags:
#DallasCowboys
#CowboysNation
#NewEnglandPatriots
#PatsNation
#PittsburghSteelers
#SteelersNation
#BuffaloBills
#BillsMafia
National Suicide Prevention Week: Sept. 5–11
Suicide prevention work requires the coordination and cooperation of many sectors of society, both public and private, including the health sector and non-health sectors, such as education, employment, agriculture, business, justice, legislation, defense, politics, and the media. If your business is related to the health area, you should join the conversations on social media and register for an event dedicated to mental health complications. Talk about better mental health care and raise awareness on this stigmatized and often taboo topic.
Suicide Prevention Week Hashtags:
#SuicidePrevention
#MentalHealthAwareness
#MentalHealthMatters
#SuicideAwareness
#EndTheStigma
#MentalHealthAdvocate
#SuicidePreventionWeek
National Singles Week: Sept. 19–25
The single population continues to be an integral part of growing businesses, organizations, and communities. Not everyone is part of a power couple. So, this day celebrates their unique qualities and opportunities to network with ingenuity and independence.
Any brand can join National Singles Week and celebrate with single adults. Invite singles to your store and offer special discounts for products/services, host or join an event, and make sure to use #NationalSinglesWeek to share on social media.
Singles Week Hashtags:
#SinglesWeek
#SingleLife
#DatingAdvice
#RelationshipGoals
#DatingTips
#SelfLove
Conclusion
We hope these creative September marketing ideas and examples will help you craft the perfect content for your audience! Grab the most relevant marketing ideas from this article and generate buzz on social media. Make this month one to remember and say hello to business growth!
Ready to drive more click-throughs from your marketing campaigns? Find the perfect agency to help scale your digital growth!
If you are a marketing agency, discover how Agency Vista's plans can drive more conversions for you while you're managing your clients.