Looking to grow your blogs traffic? Well then you came to the right place! Blogs have become one of the most popular content marketing tools, and it is not surprising. First of all, they attract organic traffic due to a sizeable semantic core. Secondly, they provide natural external links from reputable resources and social networks. This increases the search rankings of resources. Finally, the blog allows the company to communicate with potential and existing customers in real-time. This creates a positive business reputation and ensures the loyalty of the audience.
57% of marketers say they have gained customers specifically through blogging — which is why it's crucial to continue to grow your blogs traffic. In most cases, the business benefits when the blog is part of the corporate website. In this situation, it is easier for brands to convert traffic and increase the site's visibility in search engines.
However, the effectiveness of any marketing tool depends on the way it is used. So, for some brands, the blog turns into the central advertising platform, and for others, it becomes the main reason for a negative attitude to content marketing.
Once your article is up and running, the next challenging task is to grow your blogs traffic. Below you will find the top 10 content marketing apps and recommendations on making blogging the primary means of attracting new customers. Let's get started.
Review of Top 10 Content Marketing Apps to Grow Your Blogs Traffic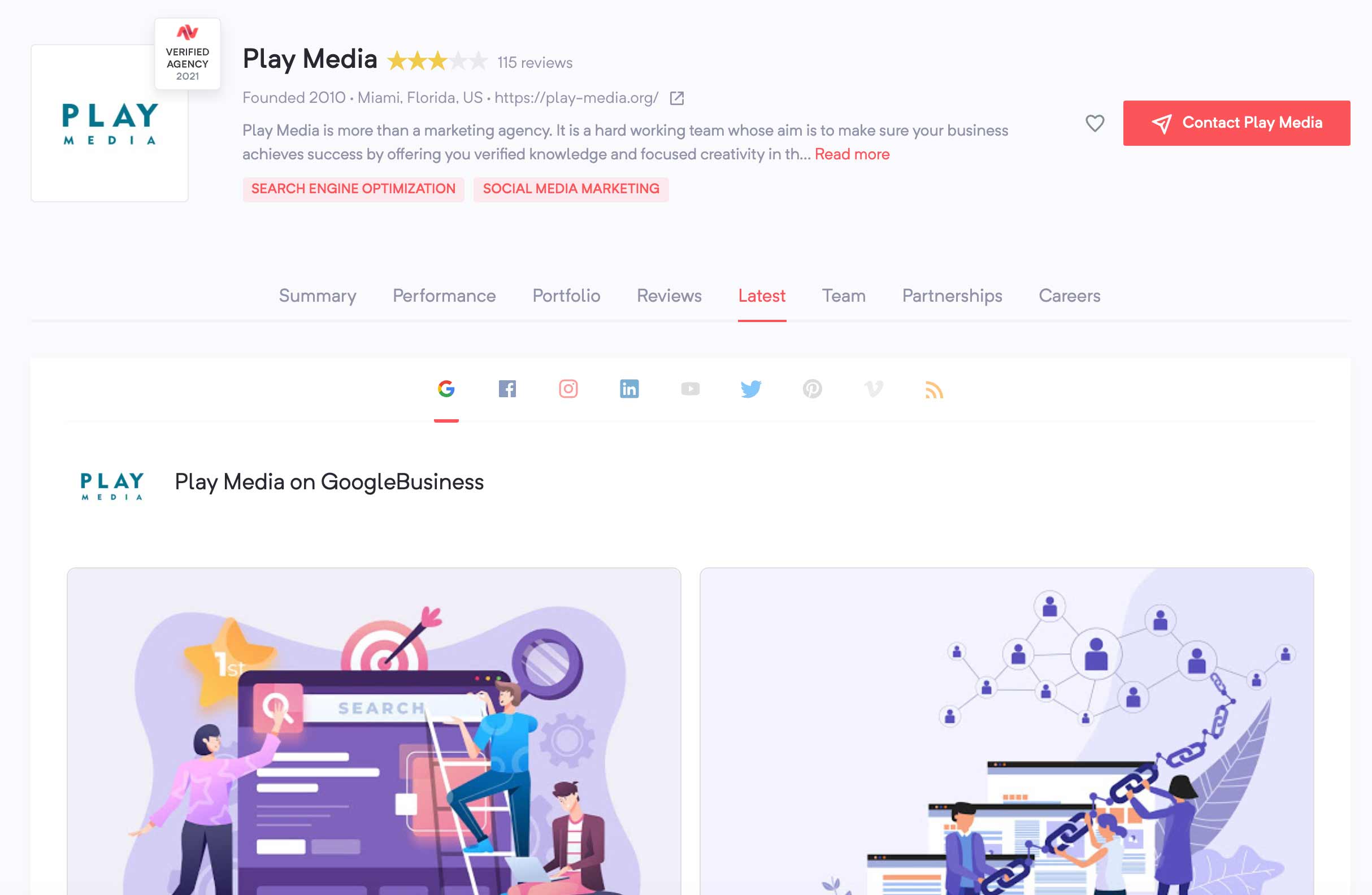 If you're a business, Agency Vista can connect you with the top content marketing agencies to get a head start on producing engaging content to your audience.
If you're a marketing agency, Agency Vista helps you reach new audiences by connecting you with your target audience. Connect your social media and blog on your profile without having to continually monitor and manage it. Get 10+ supercharged for SEO pages when you connect 3 or more social accounts.
Agency Vista also allows guest blogging to their members! What better way to highlight your expertise than by helping educate Agency Vista's ecosystem of 45,000+ members? By contributing detailed, on-trend content, you'll help grow your visibility and help others learn. Create content on Agency Vista's search engine optimized insights page to get instant exposure to targeted traffic and establish your authority in your niche.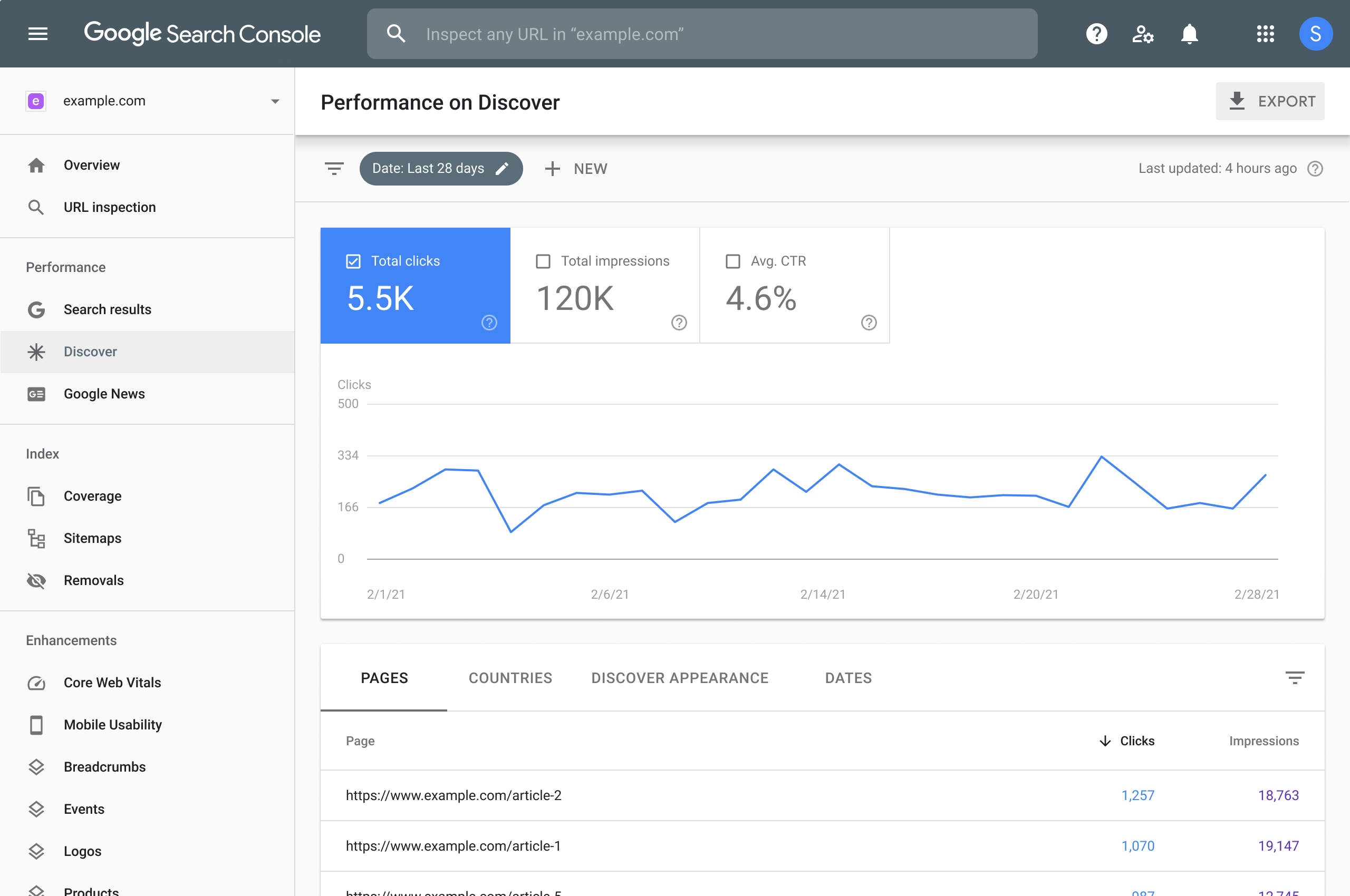 When talking about the top 10 content marketing apps free of charge, it is worth mentioning Google Search Console. Search Console is a free online tool from Google, consisting of panels showing how a site works in the Google search engine. To use the console, you need to confirm that you are the owner of the site.
With the search console, you can endlessly edit and modify your website and instantly index Google changes. The tool helps ensure that your business grows in tandem with the traffic you attract and convert. Make your site shine in Google Search results!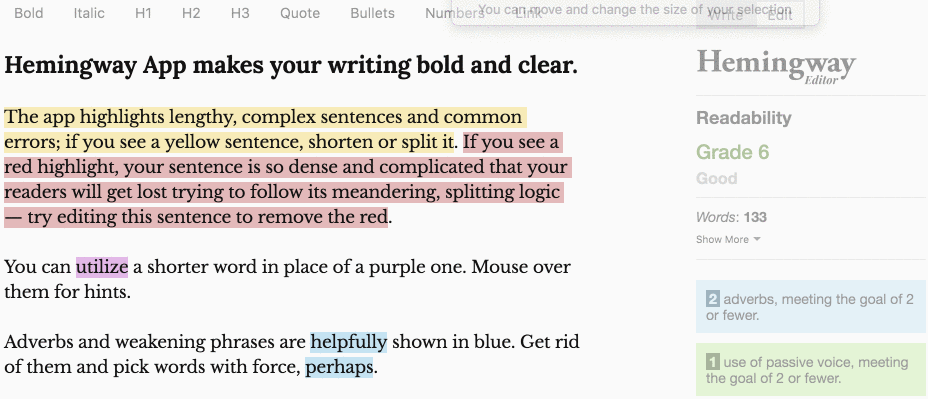 Today, a beautifully composed and up-to-date text is not enough for a web page's success. Readability determines the emotional perception of the information that you see on the site.
Hemingway App is an excellent web editor that checks the text for readability. This useful marketing tool will help you simplify your text, add accents, get rid of unnecessary adverbs, and make it easier to read. You can evaluate how difficult the text is to read by copying and pasting it into the editor. After a short analysis, complex structures will be marked with color, and you can see the recommended changes and edits in the tooltips. The progress bar will help you see the change in the scale of the "readability" of the text in real-time.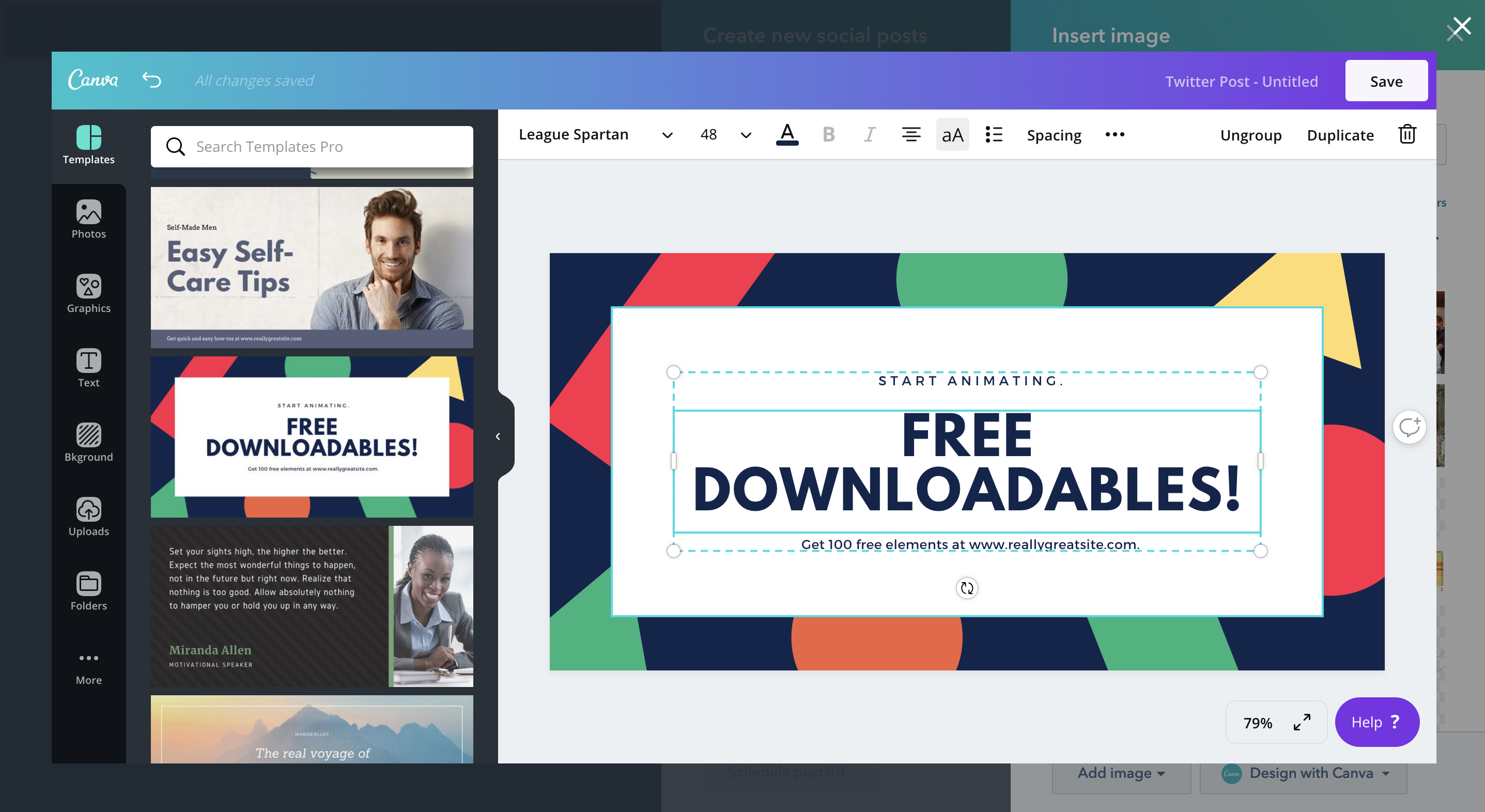 40% of marketers predict that between 51% and 80% of businesses will heavily rely on visual content in 2021. And it is pretty easy to cope with any graphic design object when you have a professional template handy.
Canva is an excellent online design tool that offers various features, including high-quality images, photos, mockups, and fonts. The user selects one of the suggested layouts and creates their product based on it. And the functions of artificial intelligence help give the design a professional look: observe the color scheme, carefully place the elements, etc. Ready-made templates can be edited in Drag-n-Drop mode, adding or removing elements, as well as changing existing ones.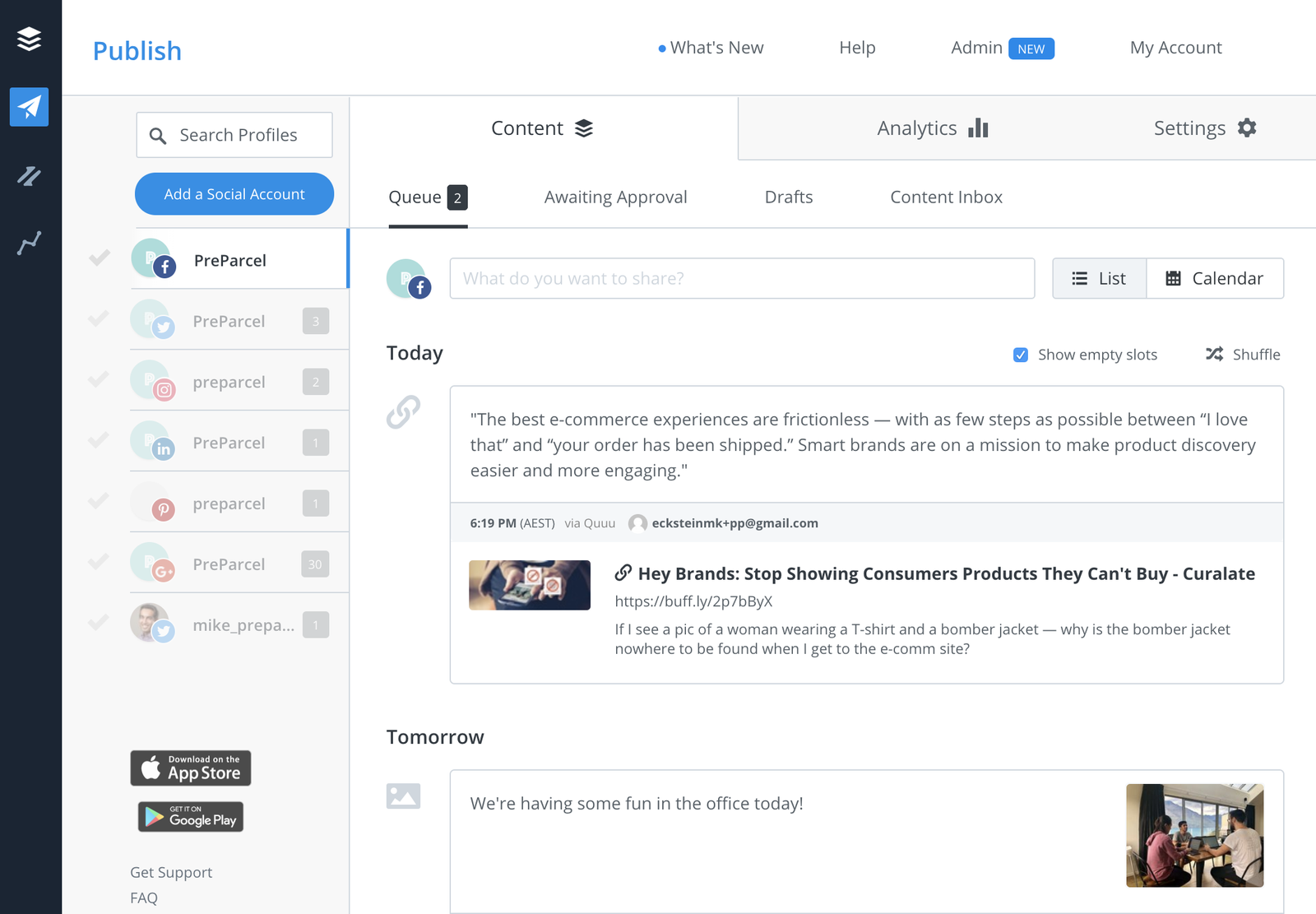 When it comes to content promotion and the top 10 content marketing apps free to use, we cannot omit Buffer. This platform is currently serving more than 73 000 customers all over the globe. It is probably the easiest way to share content and schedule it in advance.
Publishing tools allow you to plan, collaborate, and publish thumb-stopping content that drives meaningful engagement and growth for your brand. With Buffer, you can also measure social media performance, create gorgeous reports, and get recommendations to grow faster. In terms of engagement, you will see all of your comments, stay on top of essential interactions, and turn followers into fans.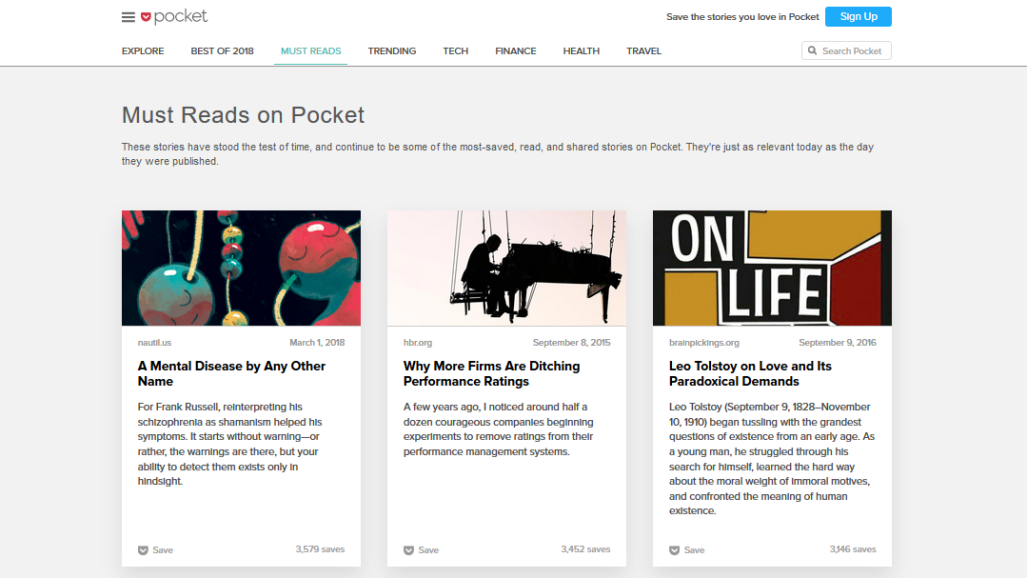 If you want to create engaging content and have bright ideas for your marketing campaigns, you must read aggressively. If something catches your interest, there is probably something to it. With an award-winning Pocket app, you can save anything from across the web in a distraction-free space for you to focus and let the ideas flow.
Over the years, the service has been worked out to the smallest detail, and it continues to develop and adapt to new realities. It is among those acquisitions that form the software basis of your Mac, iPhone, iPad.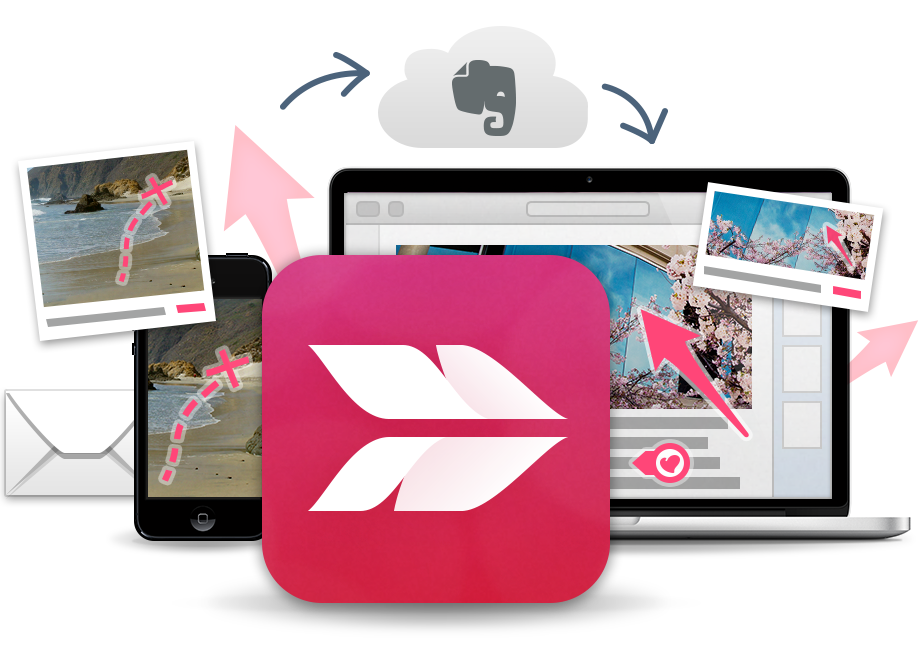 To grow your blogs traffic, you need to make sure to deliver well-written and valuable content to your readers. Back up a blog post with case studies, screenshots, research works, etc.
Skitch is a perfect tool to get your point across with fewer words using annotation, shapes, and sketches so that your ideas become a reality faster. It does not try to be a powerhouse app, but it still offers a perfect choice of tools and features for daily use. The tool is free to download and use, but you will need an Evernote account to use it.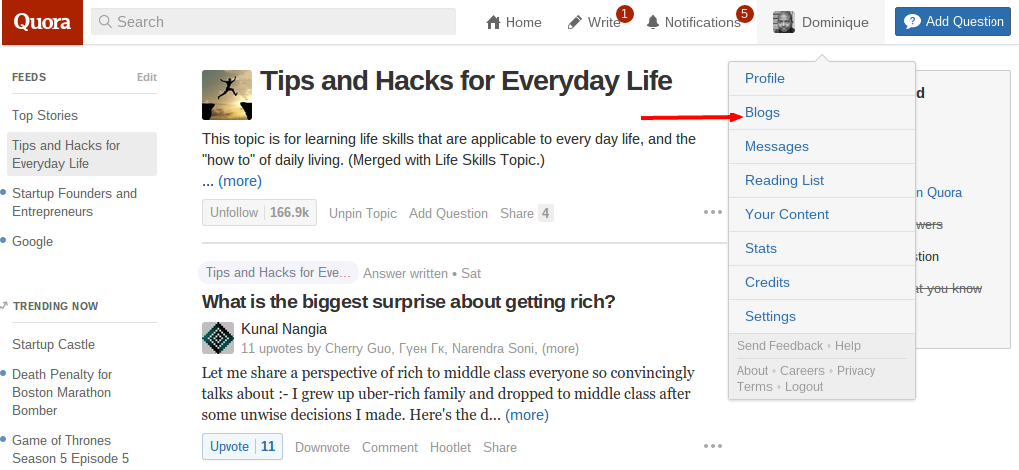 Quora.com is one of the leading Q&A sites in the world. It is prevalent in the United States, Great Britain, Canada, Australia, etc. Here you can ask and answer questions, follow topics, and answer with additional questions and comments. The platform then algorithmically displays the best answers to the questions.
Quora helps validate an idea, test the MVP, get feedback, communicate with like-minded people, and get expert opinions. For an active business, you can attract the audience's attention, get traffic links, and promote your content. Quora has reached 78.07% of traffic from search engines. This means that the Quora audience is interested in the content of the site.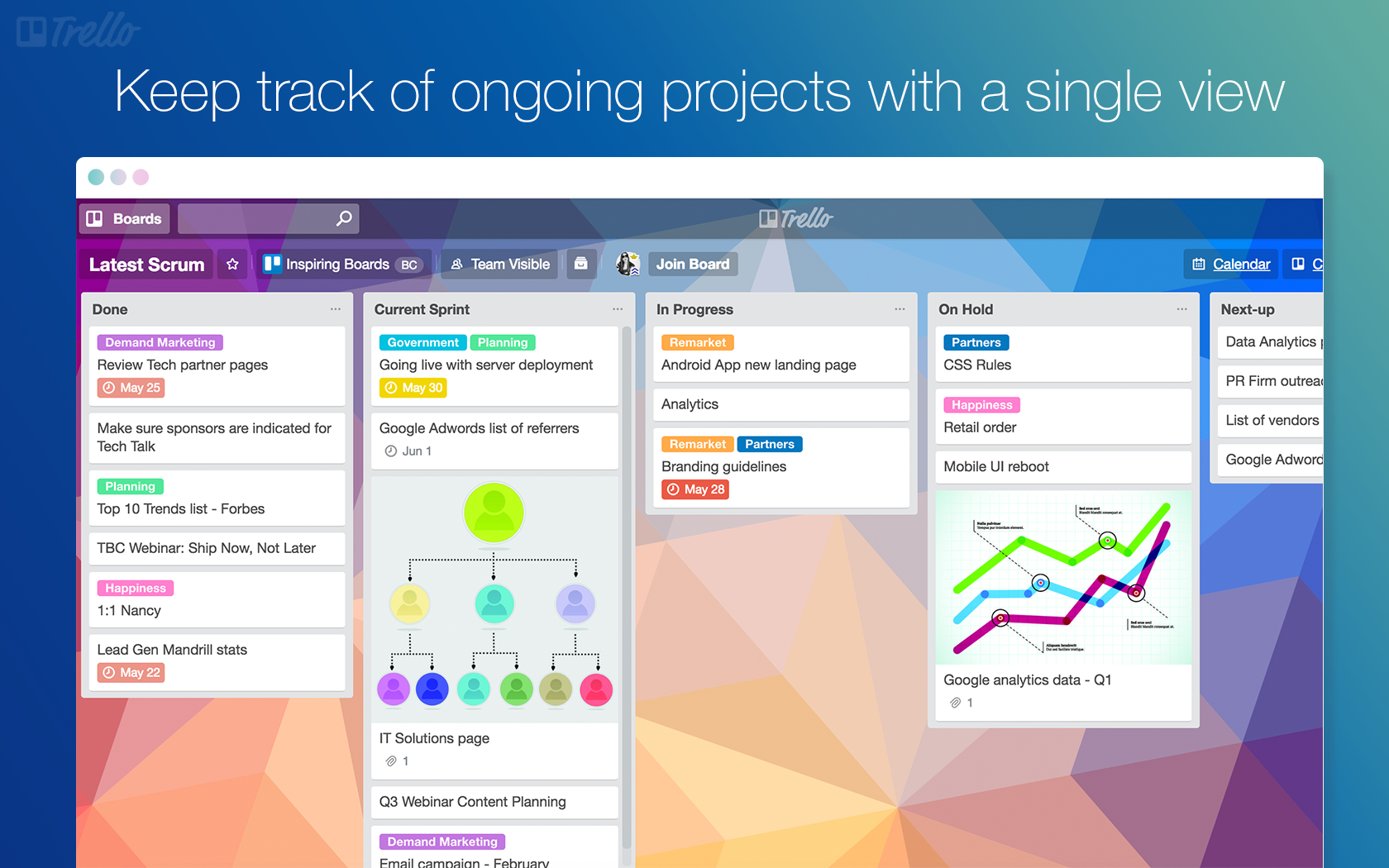 Trello is one of the best top 10 content marketing apps free to use. If you want to organize personal or teamwork without unnecessary effort and in the shortest possible time, be sure to pay attention to Trello – a free, multifunctional online service. The program is available to everyone. There is both a free version with limited functionality and a pro version with many extensions.
You can install Trello on your computer, tablet, or mobile phone. It will be an excellent alternative to notebooks, Excel spreadsheets, and ordinary stickers. With Trello, your content marketing strategy will become more streamlined and effective. Everything will be all in one place, easy to find, and easier to manage.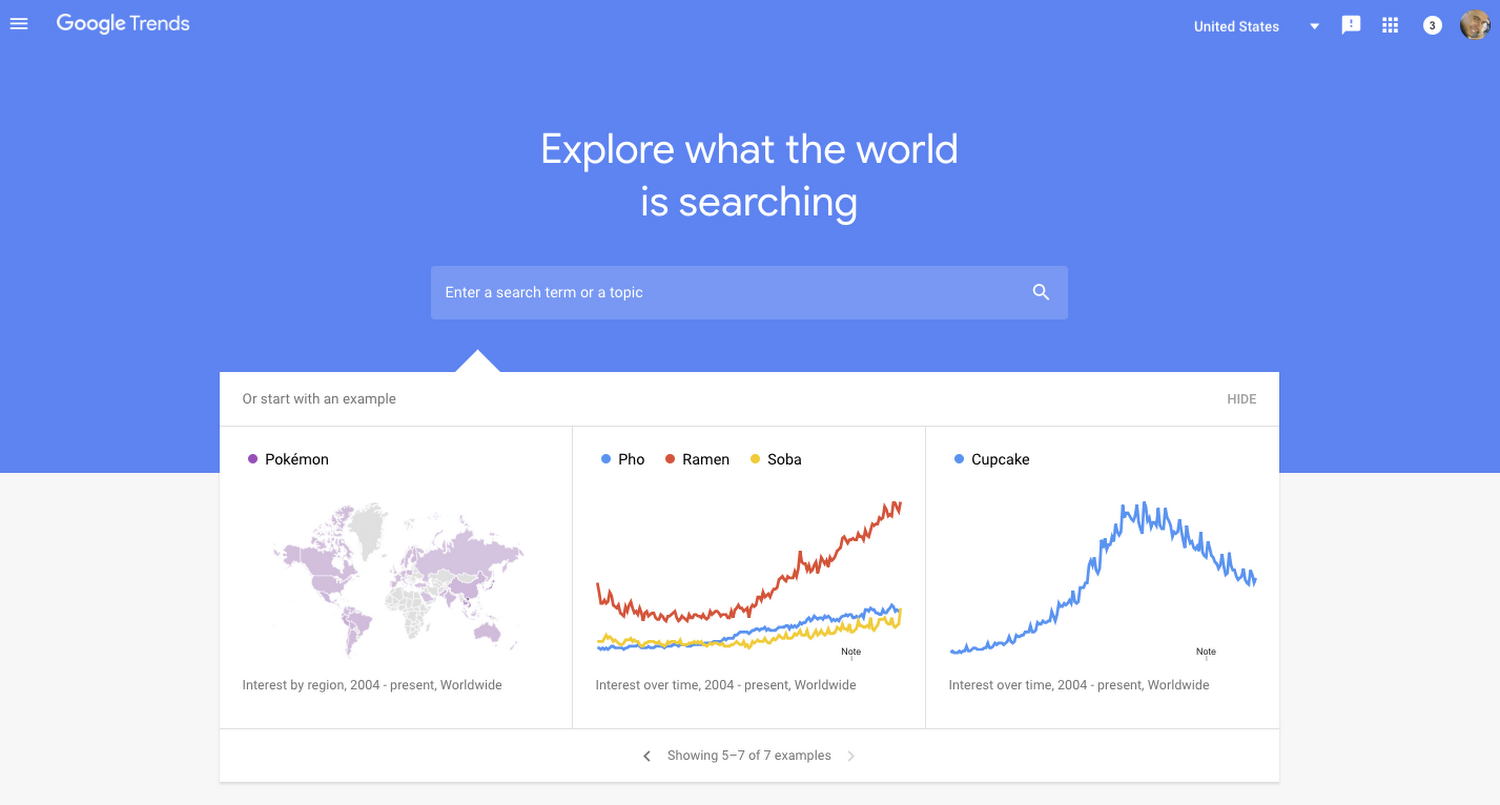 Classical marketing's main tasks are the study of demand and competition, positioning, and promotion of a product (product, service, brand) both in the current moment and future. One of the most popular services to automate collecting and analyzing marketing information is Google Trends.
It is a dynamic website that evaluates the most popular search queries and sorts them by several parameters. Information is collected around the world in reference to regions, updated automatically online. Use Google Trends to determine the topic's popularity, find out what the audience is currently concerned about, what events or facts can affect the business, and identify existing trends.
Below we will share a few proven tips to grow your blogs traffic like an expert marketer.
A Few More Tips to Grow Your Blogs Traffic
Are you still struggling to get your blog up and running? Have you read many guides and maybe even bought some courses, but none of them helped increase traffic? Make sure to follow the tips below to increase the blog's traffic and convert readers into customers.
1. Optimize your site for SEO
When used correctly, SEO can help your business take the first position on the search engine results page (SERP) and attract traffic. You can start optimizing your site by researching keywords for your content. You will find out how many people are looking for a keyword and how much competition there is around it.
The optimization process can be divided into two categories:
Off-page SEO refers to everything you can do to promote your web resources, such as link building, marketing on social networks, and much more.
Internal SEO is the process of optimizing various parts of your site, including content (heading tags (H1-H6), meta description tags, title tags, image Alt attributes, etc.)
2. Create high-quality content
Relevant content will bring you relevant reach. In other words, if you write a blog article being an expert, it will help increase traffic.
Your content should be built around the main keywords. Hence, choose keywords that are currently relevant and have pretty high traffic. You can use Google Keyword Planner or Semrush (SEMrush free account is great value for free) for more in-depth keyword analysis.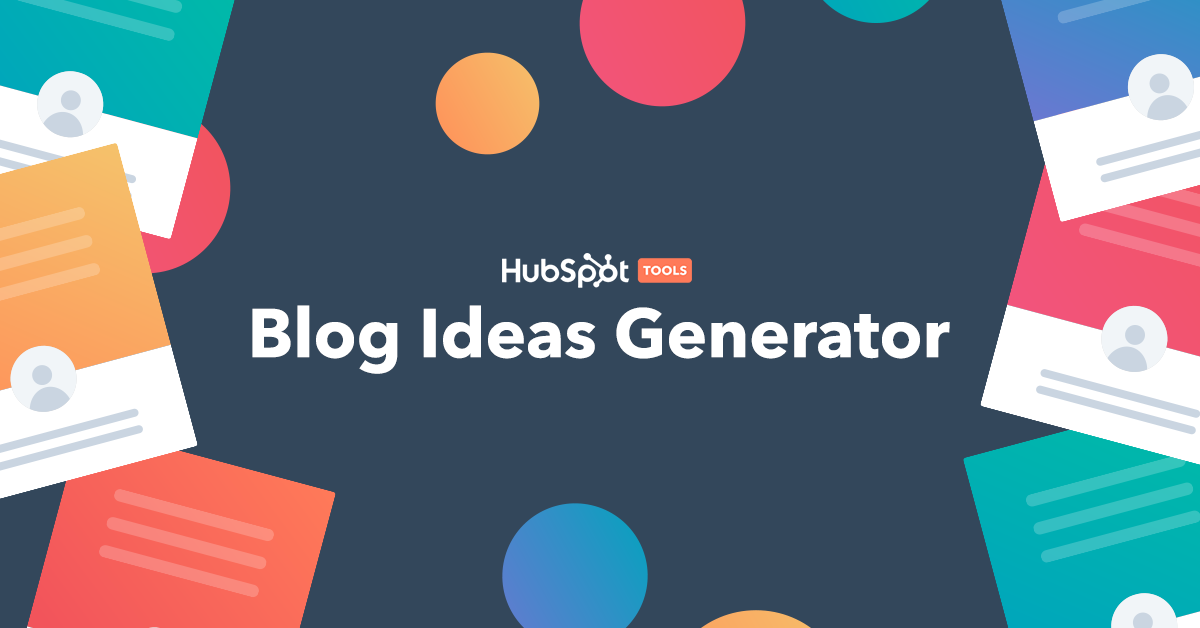 Do not use long sentences or big words. Write informative content. Your content should provide answers. Also, you should use images and videos. Let your readers relax by using visual elements in the text.
Strong headlines matter. In search results, people read the headlines first before going to the site. The more attractive they are, the more traffic you get. Remember that quality, exciting content motivates visitors to come back again and again.
3. Optimize your blog for mobile devices
Over half of all Google search visits (56%) take place on a mobile device. This fact fully answers the question of why the site should be optimized for mobile devices. If a user is unable to use your site correctly, he will most likely never return. You will lose a considerable part of the potential traffic.
When a website is mobile-optimized, it becomes responsive, so it automatically adjusts the display depending on the screen size. In this way, it is convenient for visitors to view the site since they do not have to increase, decrease, and move its content in all directions.
4. Make internal linking
Google uses links (internal and external) to determine the value of a page. If a page has many links, Google will consider it essential, and it will have a good rating.
That is why every time you create content, place internal links to the relevant articles or pages on your site. For example, if a post is about starting a business, you can insert links to articles about business ideas and business plans.
Another advantage of internal links is they keep visitors on the site. Visitors will not search for information from your competitors if you have internal links to articles with answers to their questions.
5. Get the most of social networks
Social networks are a powerful tool for driving traffic to your site. First, always check to see if your content is easy to share. People like to share exciting messages they found online with friends and family. Do not miss this opportunity and add information-sharing tools to your blog.
Every time you upload a new blog article, share it on social networks. It costs nothing and can significantly increase traffic to the site.
6. Use email marketing campaigns
Interact with your visitors by sending regular newsletters and promotions via email. Constant communication with existing visitors helps them not forget about you and encourages them to revisit your site.
To launch an email newsletter, use one of the email marketing services, such as MailChimp or Constant Contact. You can try out their free versions and then buy pro ones as the site grows.
But remember, do not terrorize your clients with too many emails. Provide readers with value. Send them an email containing a summary of your site's news at crucial moments.
Conclusion
The business promotion today is a job in a challenging economic period. As an effective marketing instrument, a blog allows a brand to interact with the audience at every stage of the consumer journey. And any site owner strives to increase its blog traffic. After all, the more people visit your site, the more likely some of them will turn into customers.
Organic traffic affects the resource's position in the search results and the position – on the traffic. We have covered the top 10 content marketing apps free to use for your business. No marketing budget? Not a problem! Bookmark this article and try the methods and tips listed here for your projects.