Many businesses outsource Instagram marketing to a vetted team so that they can stay competitive and utilize the network to their fullest advantage. Over the past few years, Instagram has transformed from a platform for demonstrating status and achievements into a valuable social network for businesses.
Instagram is the perfect channel to reach a massive audience since over 1 billion people use the platform every month. If you are a business owner, you understand that promoting your brand through Instagram will give you a significant advantage over competitors. You will share your brand's philosophy, attract new users' attention, involve them in the sales funnel, and turn them into loyal customers.
But managing an Instagram account to achieve winning results is a rather complicated and time-consuming process. You will need to continually create engaging content, respond to real-time messages and comments, jump in on trending topics, craft insightful captions, drive action to relevant links, and the list goes on. That is precisely when outsourcing Instagram marketing is beneficial for your business development.
Key Reasons To Outsource Instagram Marketing
In the days of rapid updates and frequent changes to the way we advertise, many companies have chosen to hire an Instagram proficient marketing agency to ensure their relevance and timeliness in this social media marketing age. This may sound like an excessive use of outsourcing, but not once you consider the various factors and benefits.
Having someone else who will take care of your Instagram on the professional level is an excellent opportunity to focus your time and energy on other essential business processes. Cooperation with an outsourced marketing agency will save you from tedious tasks – we've all got lost in time trying to select the perfect font, let an expert scale your Instagram marketing with ease. While your Instagram account is active and engaging, you will concentrate on business growth and development.
Instagram is open 24/7 around the year, so think over if you have the time to monitor and respond to all the comments, questions, and complaints. No? It is time to outsource!
You get strategic help from social media experts.
All over the world, businesses are striving to become more efficient, reduce their risks and make extensive use of specialized expert experience. It is not surprising that the use of outsourcing services is growing.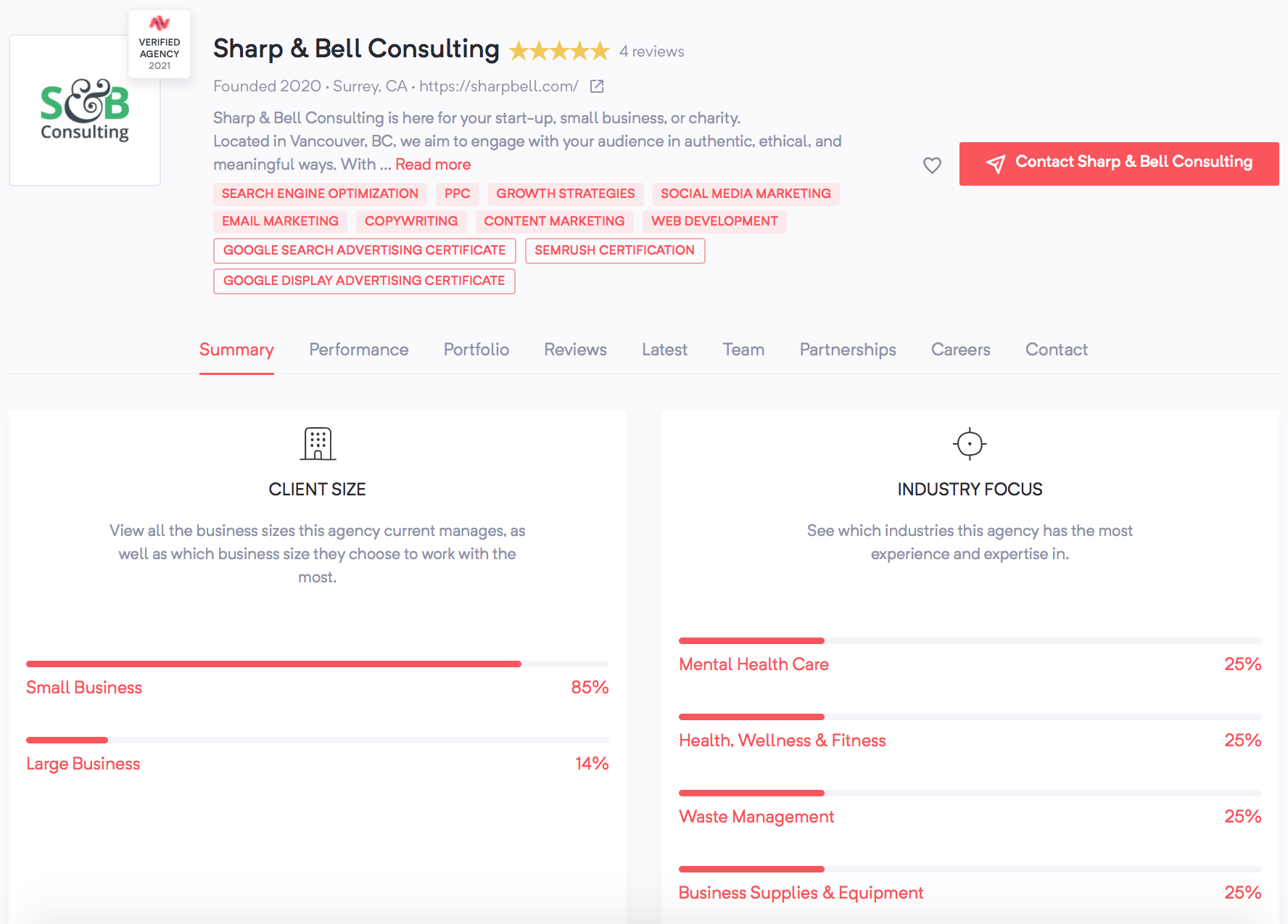 Finding a real professional is rather challenging today, with everyone claiming they're an expert. Agency Vista researches, compiles, and verifies the top marketing agencies in 230 countries to make it easier for businesses to find a qualified and vetted expert. Just look for the Agency Vista verified badge on an agency's profile to see if they meet the highest standards of performance and service.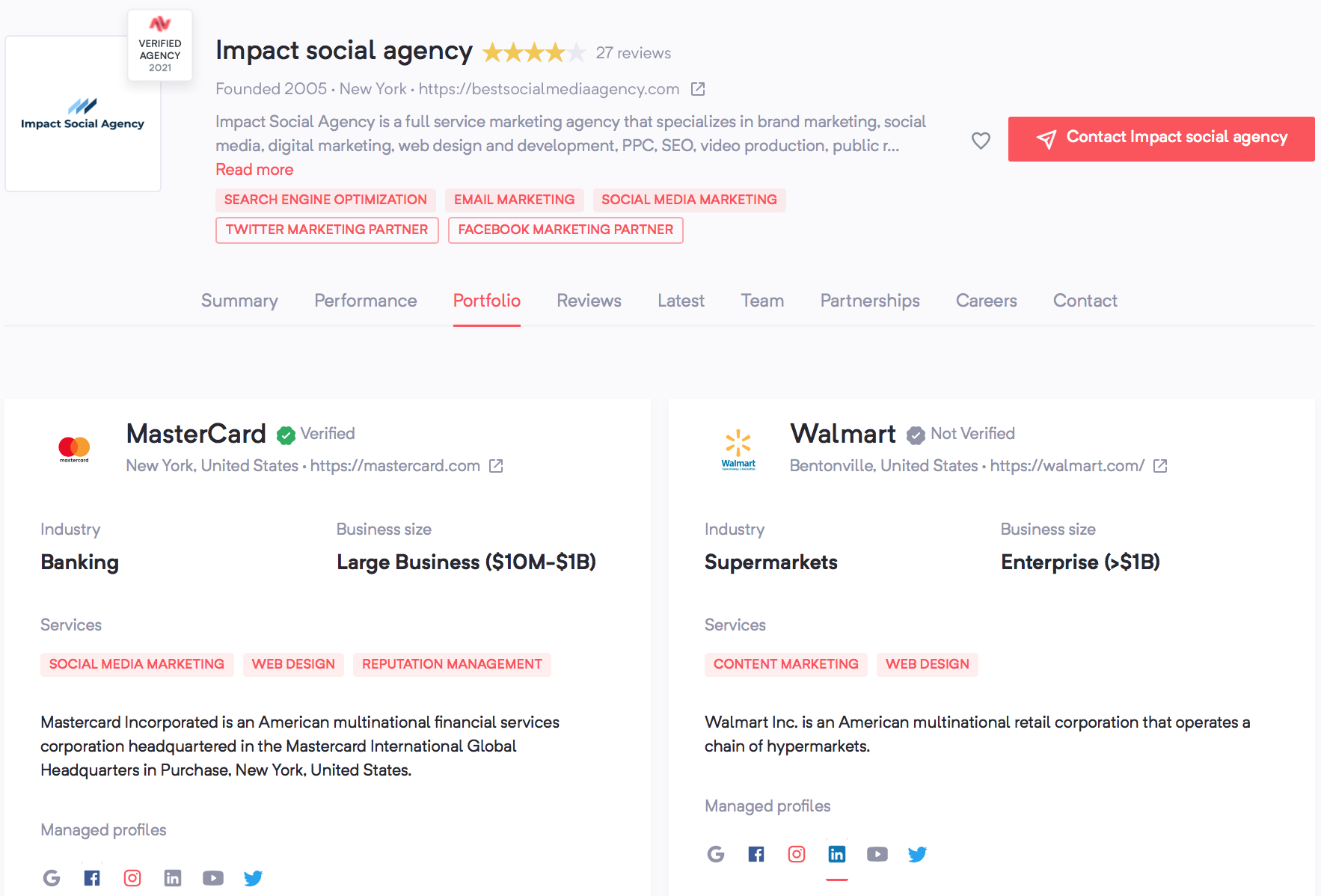 On an agency's profile, you can find key information about their expertise, review their client portfolio, check out their social media, read real reviews, view their team members, discover their partnerships, and more! You can also view in their client portfolio if the client has verified this information providing businesses with a trusted resource when selecting a partner.
You avoid creative burnout.
We can get lost spending hours scrolling Instagram's feed, making Stories, and interacting with content. Every day, people open social networks and start comparing themselves with others — and it's no different with business Instagram accounts. You may check out your competitor's profile only to find they have more likes, followers, and comments. It can make you want to recreate their content ideas in hopes of attracting that audience to your profile — but then you lose your unique brand voice. The deeper you are integrated into social networks, the easier it is to manipulate your time and brain.
When outsourcing your Instagram marketing, you escape from this triggering environment. Sure thing, you can delete your account at all, but this will mean losing potential customers, partners, and development opportunities. Hand your Instagram marketing over to a professional who can increase engagement, customer experience, and many other KPIs your business has.
You choose a cost-effective solution.
Even if you have an in-house team, the repetitive and tedious tasks around Instagram can take up a lot of time that could be better utilized. Having a digital marketer on staff is great — but, with the rapid growth of digital, it's nearly impossible to find someone who is an expert at everything. Think about it, digital marketing also includes email, SEO, content marketing, paid marketing, blogging, social media marketing, influencer marketing, and more!
It is a big question if your in-house specialist will have the proper expertise in all areas of social media. This will be either a super-specialist who will request a high salary for all skills or a person who knows a little about each area but is unlikely to promote your company correctly. Marketing teams usually consist of a project manager, graphic designer, copywriter, videographer, social media manager, paid marketing manager, and SEO expert — at the minimum. Are you ready to hire all these specialists separately for your department? Check out a Digital Marketing Manager's average salary and understand that this option is not cost-effective at all.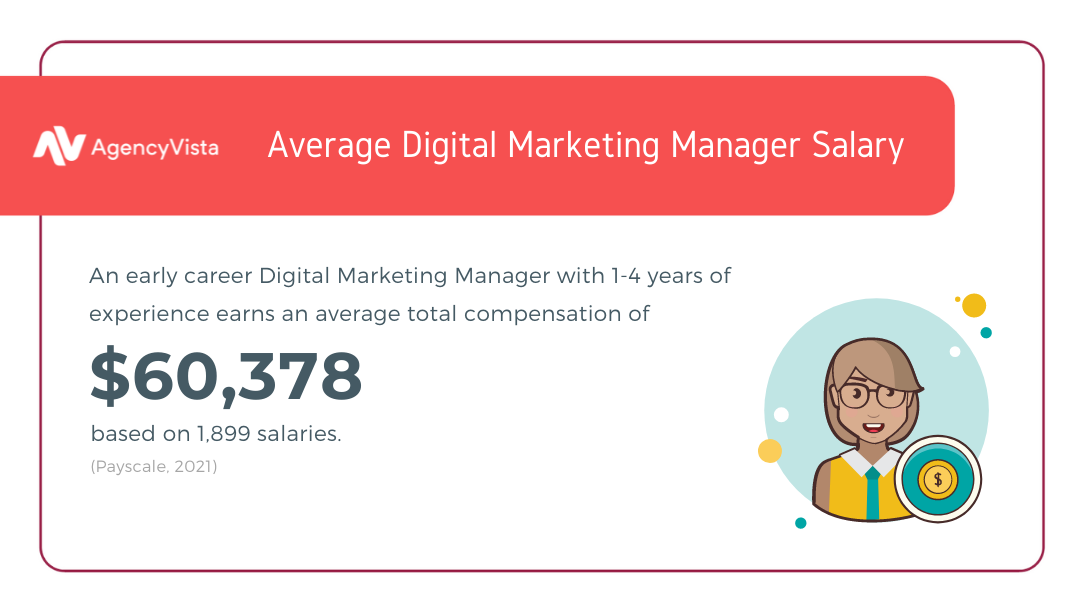 Outsourcing Instagram marketing has a lot of cost-effective benefits to a business –these include reduction of the salary fund for employees and taxes, expenses on employee training. Your outsourced team does not go on sick leave or vacation; they are not late and do not sit in social networks during working hours. In addition to saving on personnel, the advantages of outsourcing usually include savings on workplace equipment and rent for it.
You bring new opinions and fresh perspectives.
An Instagram account allows your business to connect with your target audience when it's convenient for them. Your office hours may be 8-5, but Instagram never shuts its doors. This allows your target audience to discover your brand at a time that works for them. It also provides your current customers with another channel to connect with you if they have a question about your business. With so much competition right now, not answering a customer's questions within a reasonable time can result in them taking their business elsewhere.
As a business owner, you may think that customers come to your brand for one reason when it could be something you may have not even thought of. With Instagram Stories allowing functionalities like polls, quizzes, and questions — you can better connect with your audience and learn more about them. When you know your business inside and out, you may feel stuck with the same content.
If your own Instagram marketing does not bring results, outsourcing your Instagram marketing will give your business a fresh new approach to better engage with your target audience. Vetted marketing agencies have the experience and resources to quickly and effectively scale your Instagram account.
5 Ways To Outsource Instagram Marketing
Depending on your budget and how much control you want to have over your account, we will list five key ways to outsource your Instagram marketing. Let's go.
1. Outsource Instagram content creation
Your business may have the right messaging, but if it's not in a digestible and engaging format, you'll lose your audience's attention. There is a rise in declining attention spans on social media. The human attention span has now dropped to just eight seconds, down from 12 seconds in 2000. In just two decades, our attention span has fallen to one second lower than that of the notoriously ill-focused goldfish!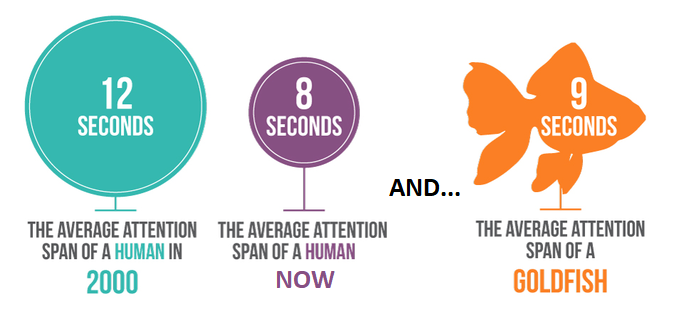 Creating eye-catchy content is easier for some industries than for others! There are countless legal and medical companies that have no means of creating an aesthetically pleasing brand identity, and outsourcing is oftentimes the best option. Outsourcing your Instagram marketing to an agency gives you more time to provide excellent service to your customers. Meanwhile, your online brand identity looks more professional and defined than ever before.
2. Outsource caption writing and proofreading
Beautifully written captions attract attention, reveal the essence of the photo, and arouse interest. The text can encourage your followers to take action from that piece of content, whether it's to read your blog post, sign-up for your newsletter, or complete a purchase.
Copywriting is essentially the art of communicating valuable information to your target audience in a way that they are receptive to. If your target audience is Gen Z, then you'll want to make sure you're using phrases that resonate with them. This can be difficult to do if you don't reflect your target audience.
Does it sound challenging? No worries! If you are far from this area and writing is not your passion, you can hire a vetted marketing agency and forget about all this hassle. A qualified copywriter will work on a combination of useful and unique captions to drive action. It is only essential for you to discuss your brand voice, target audience, and KPIs from each piece of content.
3. Outsource posting
For small and medium-sized businesses, it is essential to post once a day, sometimes more. Stories are also crucial for businesses on Instagram – they are used to effectively inform the audience about promotions, discounts, sales, and other advertising activities. It is better to use the feed for publishing entertaining, engaging, or informational content. So, maintaining posting regularity is crucial. If planning and posting routine is not your thing, you can easily outsource Instagram posting.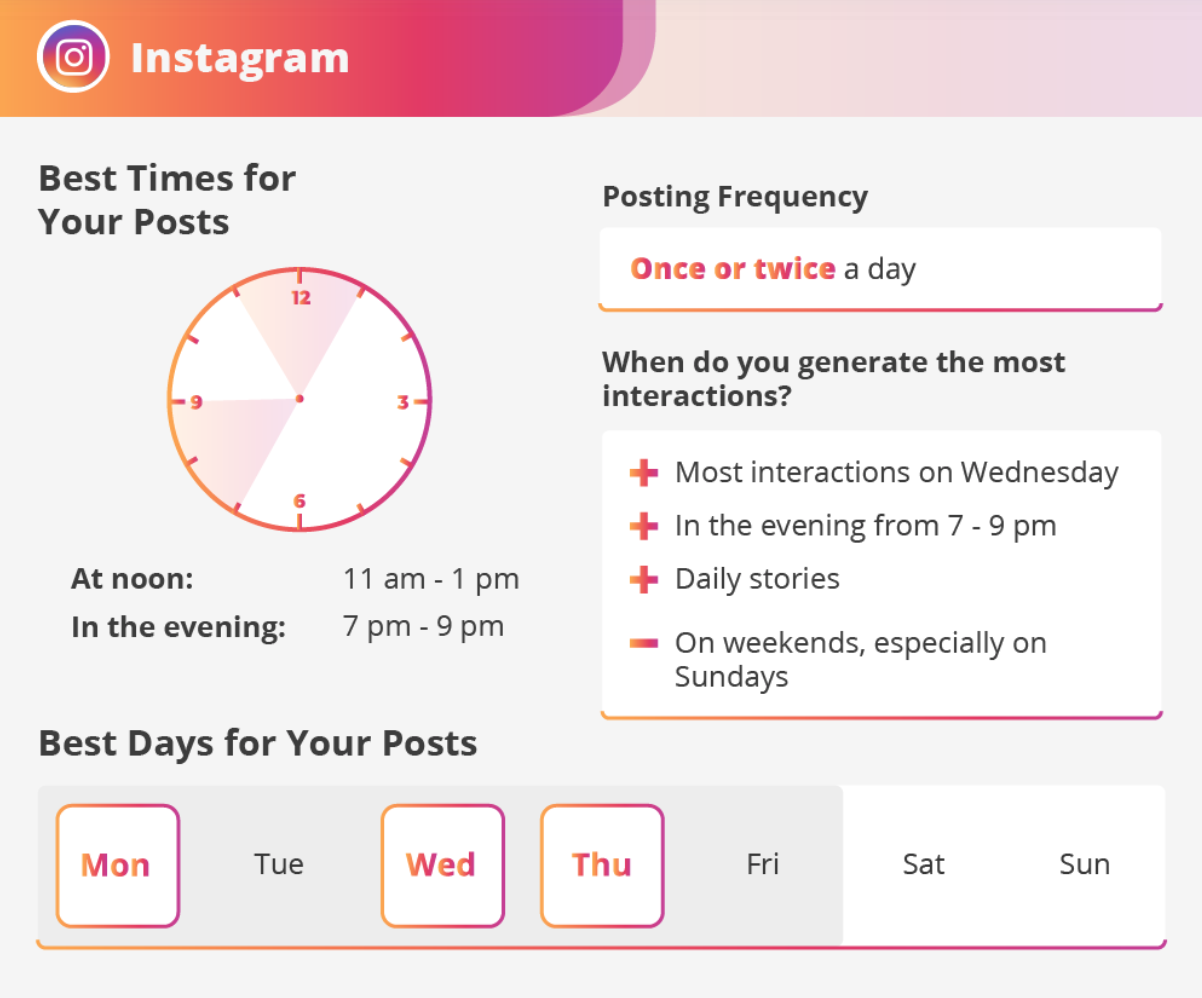 Your business may be capable of posting but only at certain times throughout the day. With ever-changing Instagram algorithms, receiving the most amount of engagement when the post is first published is key for increasing the number of impressions it receives. It's crucial to post your content when your ideal target audience is online. For example, if you are an e-commerce business, you can have customers all over the world. The time difference can interfere with when your customers are online. If you're in New York, but most of your customers are in California — posting at 8 am EST would be 5 am PST.
It's also important to consider how your target audience may spend their day. If you're targeting someone who works a 9-5, then they most likely will not be on Instagram during working hours. Making sure the content you've worked so hard to craft is reaching the maximum number of people is key to successfully marketing your business.
4. Outsource Instagram engagement
Growing an Instagram account takes time. Sure, you can buy your Instagram engagement — but those fake accounts won't result in sales. Keep in mind that users can easily detect bot-like behavior on social media. One of the most efficient ways to grow your Instagram page is to engage with users who don't follow you. Of course, you can hit the discover page and manually "like" relevant photos from like-minded users, but this would take an eternity to see any substantial results.
This daily engagement process takes much time and energy. Not willing to handle this part of Instagram marketing? Not a problem – outsource this task to someone with good copywriting and customer service skills. Your business can focus on monitoring your Instagram growth through setting KPIs with your marketing agency.
While high-quality content and clever use of hashtags are essential for promotion on Instagram, another component of success is the loyalty of followers and their involvement in what is happening in your profile.
5. Outsource all the areas of Instagram marketing
As you can see, Instagram promotion is a multi-stage process that includes identifying customer needs and the analysis of competitors, regular updating of the account and tracking its activity, conducting contests, promotions, giveaways, monitoring of feedback, and its correction. In addition, today, it is so difficult to stand out among the endless sea of Instagram content.
While many companies choose to outsource Instagram marketing and leave all decisions to their hired curator, your followers may pick up on the lack of authenticity with this method. Consider outsourcing only portions of your Instagram page to start, and strive to maintain a genuine voice that truly represents your brand.
Conclusion
A presence of your business on Instagram is an excellent way to be in the spotlight of those who will bring you their money tomorrow. But managing an Instagram account just for checking the box means to lose time, finances, and human resources, which you could spend on improving your product, hiring the right specialists, or launching a new direction.
No doubt, you achieve your goals by working with an outsource SMM team. Trust the professionals and gain expertise from someone who lives and breathes social media! You will enjoy the result of carefully selected and tested tools, profound experience, and robust competencies.
Ready to take your Instagram marketing to the next level? Discover top-rated and verified Instagram marketing agencies on Agency Vista!