Instagram is a global community with more than 1 billion active users. People come to Instagram looking for inspiration and ways to express themselves in the language of images. This platform allows companies to promote products and services by engaging interested people around the world. And you might be curious about how to reach this Instagram success. The formula is simple: the more active you are on Instagram – the better your account will work. Your followers want to get high-quality content, and they want it regularly. So, consistency, high levels of engagement, and quality of the content are those three pillars you lean on to build a strong Instagram presence.
To successfully run a business profile on Instagram, you need to adhere to a number of requirements that SMM managers have deduced in the process. These include developing the profile in a single style, filling it with high-quality content, a competent selection of hashtags, and much more. Planning and scheduling your Instagram posts to help you engage your audience and increase the number of subscribers. For the audience to stay engaged, one post per week is not enough. You need to post regularly, without interruptions, for days off or holidays.
This article will discuss the importance of staying consistent on Instagram and how to schedule Instagram posts to drive better engagement. Stick around to learn more about the benefits beyond simply saving time.
Why It Is Essential to Schedule Instagram Posts
A business account in social networks aims to capture the market, increase brand awareness, bring customers to the site, or banal, sell a product/service. Publishing posts is part of an advertising campaign, and it has its own performance metrics. If you do not plan and schedule Instagram posts, it is difficult to track the effectiveness and build a strategy.
Why You Should Schedule Instagram Posts
Keep discipline. A ready-made plan and scheduling help to discipline working hours, plan the development of creatives, and launch advertising posts. Also, there can be many accounts, and it is challenging to keep track of each one. When all the publications are planned and scheduled in advance, you always know what is coming out on Instagram today or any other day.
Save your time and energy. Switching between tasks causes mental stress. Instead of dropping everything every day and writing another post, use specific tools that allow you to plan your content. Allow a few hours at the beginning or end of the week for a content plan to write a few posts and think through the visual part. Move the content to your planner, and the scheduled Instagram posts will come out clearly on your schedule. You will be happy to discover how much you save your time!
Improve your aesthetics. On Instagram, more than on any other social network, brands care about the account's appearance. Scheduled posts help you track the harmony of the feed even before the posts are published. Aesthetics is the first thing that potential customers will notice when they visit your profile. The unique and consistent design of the Instagram feed is visually pleasing and can significantly improve brand awareness and increase business success.
Publishing from a PC. One of the main limitations of Instagram is the inability to publish content via a desktop PC. Of course, this creates many problems for active users who have to constantly jump from PC to mobile gadgets to make a post. However, planning tools allow you to debug this process and work with Instagram using a computer.
Quality control of the content. Perhaps the most essential thing in planning: the SMM analyst sees the result of work, collects statistics, and analyzes the content. This will allow you to abandon unsuccessful categories, topics, and formats and develop new ones. After analyzing the results, you can set a goal for the next period of work. For example, increase engagement several times, increase the number of subscribers, or the frequency of link clicks.
How to Schedule Instagram Posts
The popularity and conversion rate of your Instagram account directly depends on the quality of your posts. If you use Instagram as a business tool, it is imperative to follow a few steps to maximize your posting potential.
1. Create engaging photos and videos
Content is still a vital tool for business. To schedule your posts, you need to have enough engaging content first. It should be engaging, interesting, and unusual. Learn more about creating relevant social media content for your inspiration. The industry is unpredictable, so feel free to test non-standard ideas.
Why not maximize your efforts and allow one 'shoot' day to make a bunch of different content? Once the content is made, organize it by campaign, color, theme, or photoshoot.
2. Identify the best time to post on Instagram
To determine the best times to post on social media is an essential step to beat social networks' algorithms this year. Make sure your post is available for the followers while they are online and scrolling the feed. To achieve this goal, you need to determine the best day and time for your Instagram publication.
As an option, you can check your Instagram Insights (available for business accounts only) and review your audience metrics. Alternatively, the Later's Best Time to Post feature will be a great help to calculate the best times for your specific account.
If we take the best Instagram posting time in general, you can observe the following per Blog2Social:
Best times: 11am-1pm, 7pm-9pm
Best days: Monday, Wednesday, Thursday
Post frequency: Once or twice a day
3. Plan your feed
Ok, you already have a bunch of beautiful content and know when your target audience is active. Now it is time to move to the next level and plan your Instagram feed. Your posts and other profile details should have a particular style. Visual tools achieve this effect. It can be the same fonts, the similar color scheme of photos, filters, frames, memorable little things in the pictures, an individual concept of presenting the information.
Today the market offers a significant number of different apps that allow you to preview photos before posting. Among them are Unum, Planoly, etc.
4. Prepare your optimized captions and hashtags
Writing your captions along with using the best hashtags for your social strategy is rather a time-consuming process. But it cannot be avoided. High-quality captions and relevant hashtags increase audience reach, increase brand awareness, and help attract customers' attention to an event or trend.
Instagram allows 30 hashtags per post. Using 30 hashtags ensures that your public post is visible to countless people currently viewing image and video content. Such apps as inTags or Hashtag Inspector will help you get more followers, likes, and comments on Instagram.
5. Decide on the Instagram scheduling tools
Tools and services for deferred posting on Instagram will help you reduce the time spent on the posting process and discover many new features for managing publications. Today, you can find both free and premium solutions for your needs. Below we will check out a few apps to have a free hand and run a successful Instagram profile.
Scheduling Instagram Posts through Third-Party Tools
The native Instagram app does not allow you to schedule or delay posts, and so you will need dedicated scheduling tools or third-party apps.
In 2019, Facebook rolled out a new update with Instagram and IGTV scheduling feature – Facebook's Creator Studio. This feature allows business accounts to schedule their posts up to 6 months in advance.
Except for the Facebook scheduling feature, you can take advantage of the third-party social media software applications. It is essential to convert your profile to a business profile to work with third-party tools. A business account allows you to connect apps for selling products and services, set up targeted ads, and view profile statistics.
Here are a few steps to follow when scheduling your Instagram posts:
Pull up your account settings and choose "Switch to Business Profile."
Connect your Instagram account with Facebook one. This is required for verification purposes.
Enter your business phone number, email address, and physical address.
Click 'Done' to save the changes.
Reviews of the best Instagram scheduling tools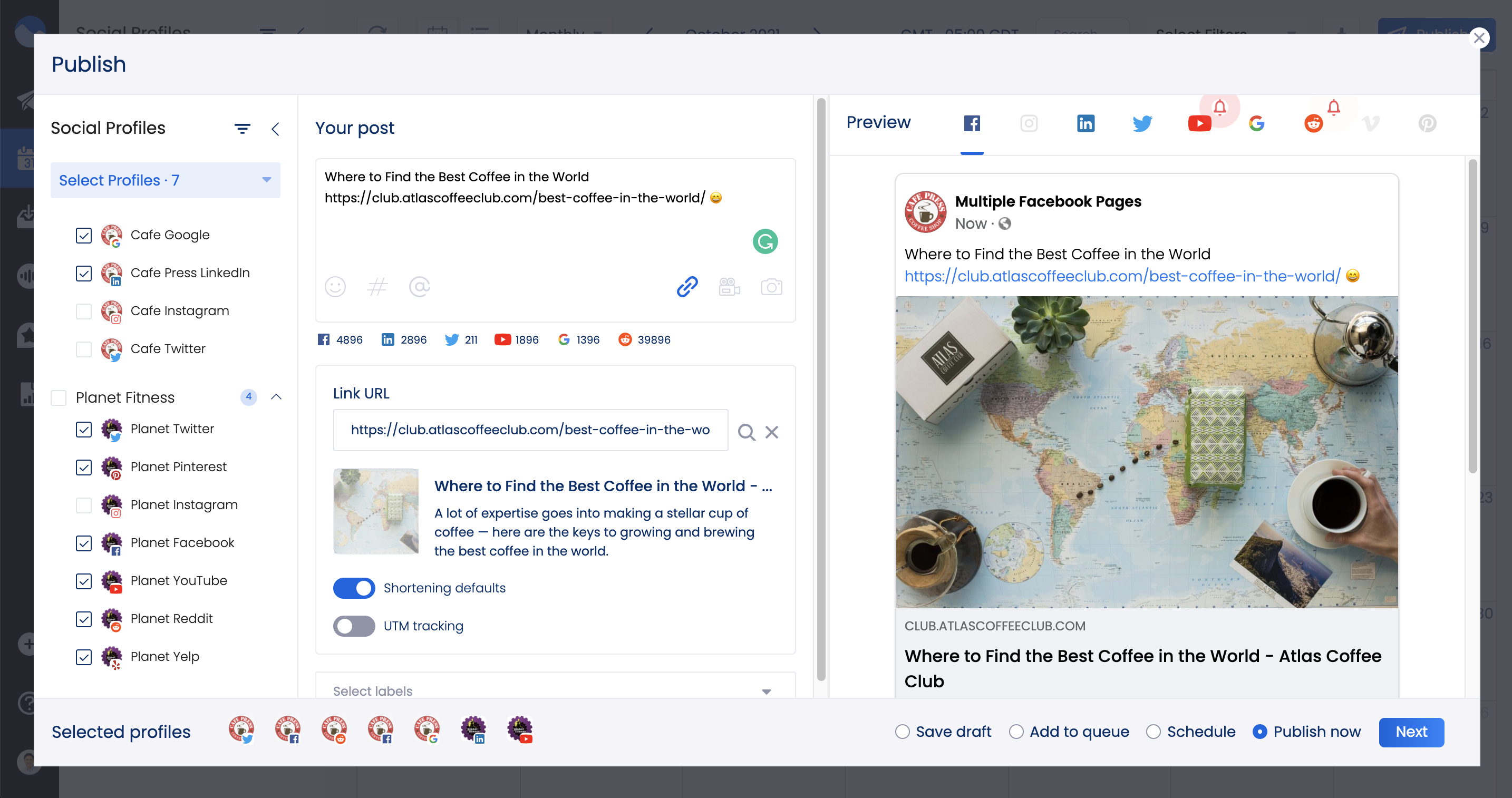 Vista Social is a modern social media management tool for pros! It helps you schedule posts, monitor mentions, collaborate with clients, and more. Vista Social allows for post previews on every network with the simple click of a button, so no hits and misses with how the post will turn out. You can preview how each post will look like before you schedule it!
Vista Social allows businesses and agencies to collaborate with their team and clients effortlessly! Easily assign user permissions and create safeguards for ensuring that only the reviewed content is published to social networks. And the best part? Once the social media post is approved to be published, you can simply schedule right in their user-friendly publisher.
Pricing: Free plan is available. Pro plan starts from $3/month per social profile.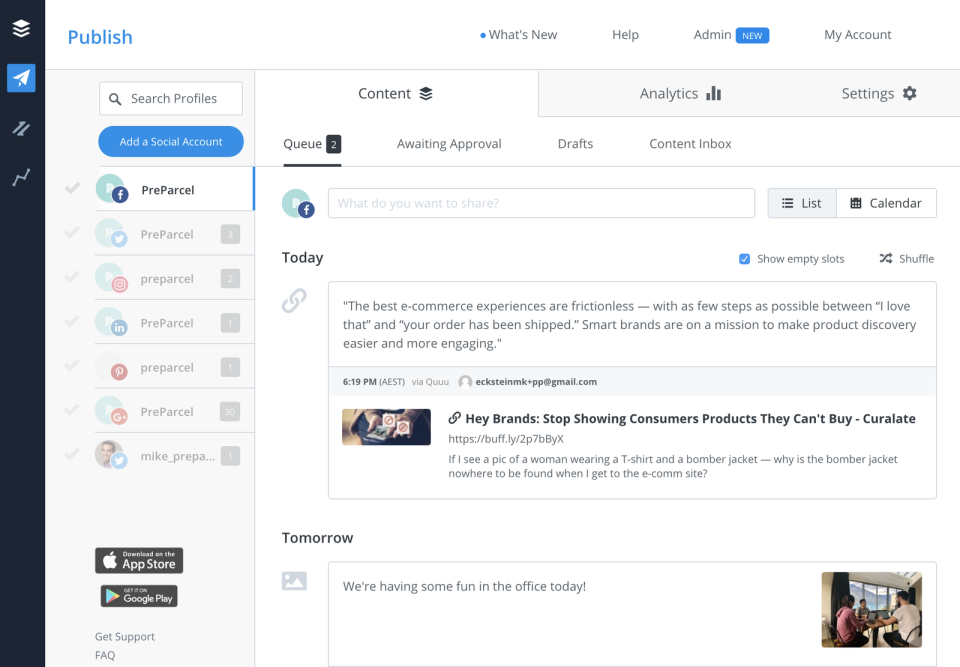 Buffer is a convenient service for automatic or delayed posting and cross-posting (publishing content in several social networks at once). It is an excellent solution for solopreneurs and small businesses using multiple social media accounts.
With Buffer, you can post to Instagram, Facebook, Twitter, Google+, LinkedIn, and Pinterest. If you find the standard rates not the most suitable, Buffer can offer unique plans for small, medium, and large businesses. Choose the profiles from which you plan to post content, create a post, attach a picture to it – that is all, you can be happy with yourself.
Pricing: Free plan is available. Pro plan starts from $15/month.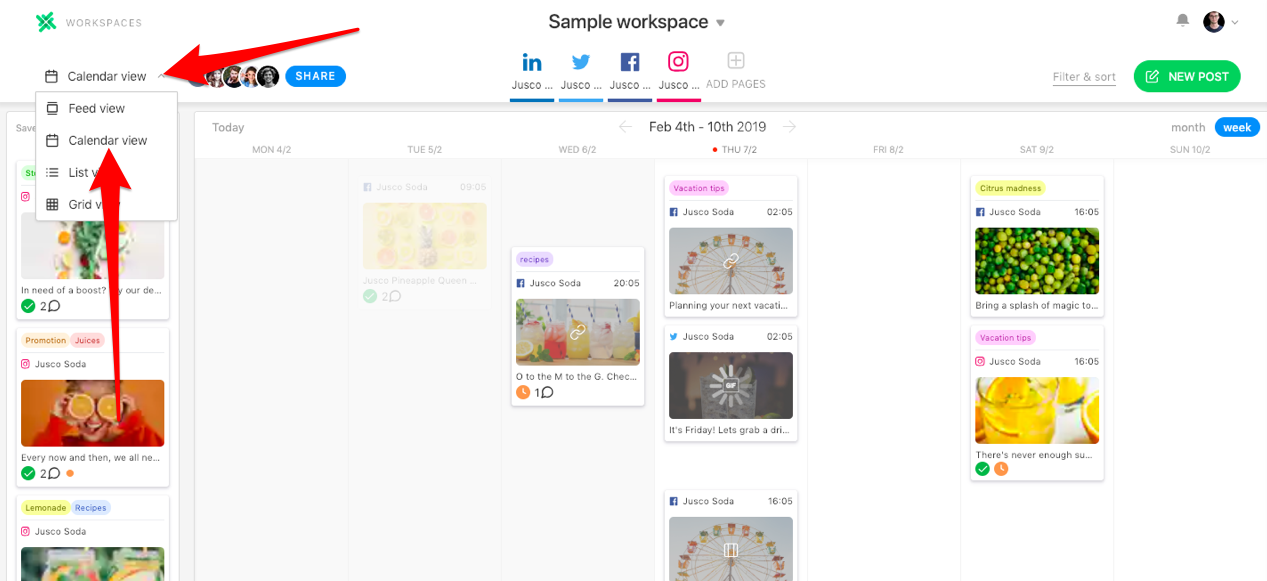 Featuring an intuitive and "what you see is what you get" design, with Planable, you can coordinate large-scale social media campaigns and view your content exactly as it would appear on the feed.
Planable allows users to schedule and collaborate on their Instagram content with little no hassle. The solution supports multiple formats – videos, images, stories – which can be edited and customized. Planable offers four viewing modes: list, calendar feed, and grid view for a bird-eye view of their Instagram campaigns. The latter option is beneficial for users who want to plan and see how their grids will look like ahead of time. Add to that a workspace where parties can openly collaborate and share feedback on content and a multi-level approval workflow, and you can be sure that with Planable, no piece of content will be released into the wild without going through the motions first.
One of Planable's latest features is Instagram direct publishing. This allows users to schedule and publish their content (stories included) directly through Planable, without requiring any extra steps – like fiddling with push notifications in the middle of the night.
Pricing: Free plan is available. Starter plan starts from $39/month.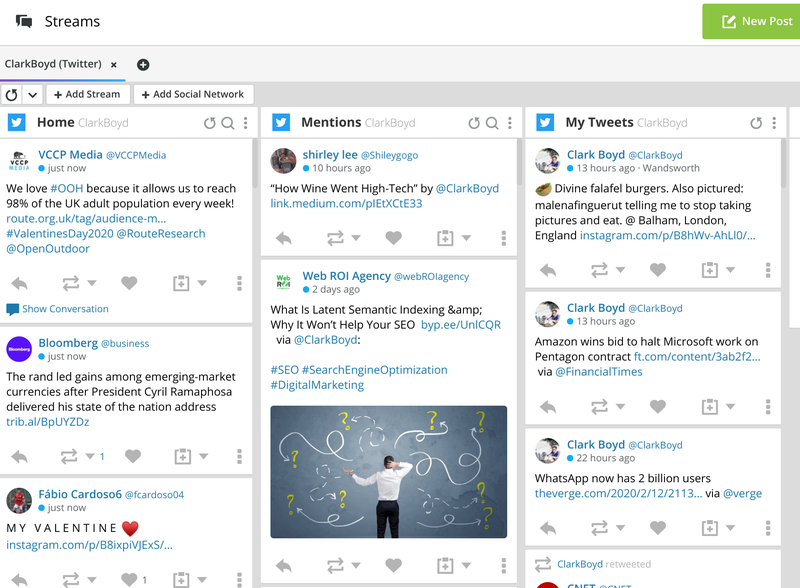 Hootsuite is another social media content management app that allows posting on Facebook, Twitter, Instagram, YouTube, Google+, LinkedIn, and WordPress. The system can maintain up to 50+ personal profiles and groups, providing automation of basic processes – from the regular automatic posting of messages to tracking subscribers' reactions.
The product is suitable for both companies and active users of social networks. Marketers and group owners can use the service as a content marketing, cross-hosting, and analytics tool.
Pricing: Free 30-day trial is available. Pro plan starts from $19/month.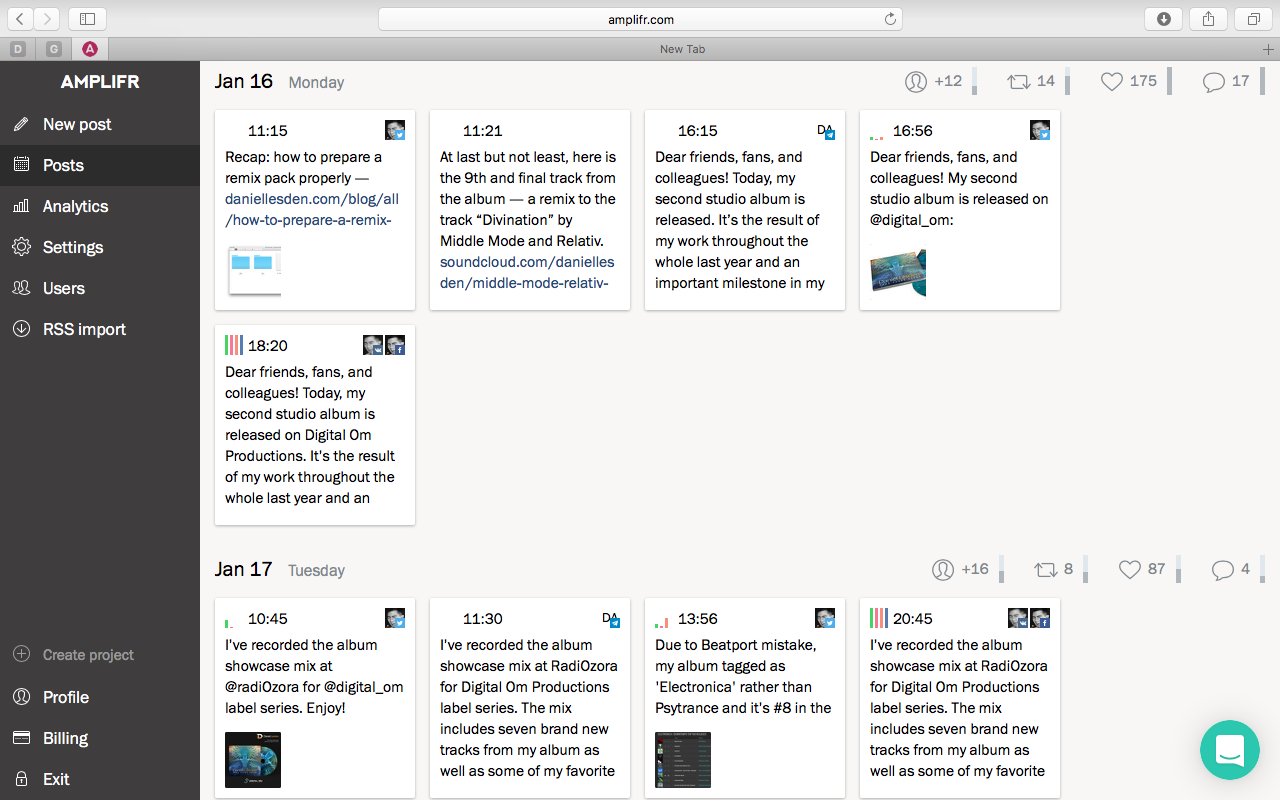 The service is designed for freelancers, marketing agencies, and entrepreneurs. The tool kit provides a complete cycle of Instagram promotion in auto mode. You can drag and drop publications, sort by labels and pages, and keep track of your statistics. Moreover, the platform allows creating separate versions for each social network and sets for grouping pages and templates for fast inserting fragments.
Create a schedule, as you like, for every day or week ahead. Or leave it to Amplifr — with a clever algorithm, they will create the ideal schedule especially for you.
Pricing: Free 7-day trial is available. Pro plan starts from $30/month.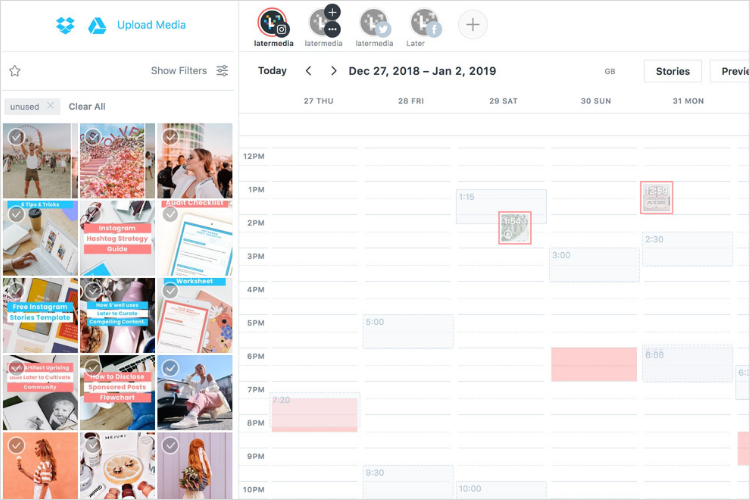 The tool will be helpful for individuals and companies that have profiles on Instagram. With the service's help, you can prepare posts that are later published automatically on a specific day at a particular time. You can add photos, videos, and hashtags to your messages. Media files are imported from the memory of mobile devices and PCs and Google Drive, and Dropbox.
The program contains analytics tools that allow you to get detailed statistics of likes, comments, views, and clicks.
Pricing: Free plan is available. Pro plan starts from $12.50/month.
Mistakes to Avoid When Scheduling Posts for Instagram
As mentioned above, scheduling Instagram posts is an excellent solution to drive better engagement, but it does not mean that your social media schedule should be put on autopilot. Below we have listed a few mistakes to avoid.
Mistake 1: Focus on automation and neglect interaction with your audience.
When you schedule an Instagram post in advance, this means you will probably be offline and will not be able to see the new comments. However, interacting with your audience is essential to be successful on the platform.
Make sure to respond to every comment on the post: thank your followers for their compliments, answer their questions. The audience's dialogue with the profile administrator will increase the engagement and, consequently, the record's coverage. Be polite and open, and engage in discussions. Ensure a dedicated person receives all the comments/questions from your followers to respond promptly.
Mistake 2: Not reviewing your scheduled Instagram posts for errors.
You are scheduling many posts in a click, so making any mistake in a hurry is possible. You should know that the absence of errors is one of the most critical conditions for any business's success on the Internet. Low literacy levels can undermine trust in blogs, e-books, case studies, and other digital marketing resources. This can lead to the loss of potential customers and directly affect your profits. Make sure to review your posts for errors and edit them if necessary before scheduling.
Mistake 3: You leave no room for live publications.
While post scheduling is one of the best hacks for SMM specialists today, it is essential not to forget to post anything live. Some things cannot be planned, so you need to have room for live Instagram posts. You may want to discuss some event taking place right now or ask questions about something relevant within your industry.
Conclusion
A beautifully and logically developed Instagram profile is not just a matter of aesthetics. This is a modern need for commercial account owners or those who want to become famous bloggers and opinion leaders. Today we have covered the benefits and ways to schedule Instagram posts as an effective solution to achieve your goals and objectives. With deferred posting, you can plan the order and time of publications, optimize your work, and reduce time spent. Are you ready to start planning and scheduling your Instagram posts? Go ahead!