93% of marketers agree that consumers trust UGC (user-generated content) more than content created by brands. People trust people. User-generated content is more important than ever as a turbulent global landscape leads consumers to expect brands to show a real, more authentic face. With screentime at an all-time high, people are constantly creating and engaging with content.
The coronavirus pandemic has become a catalyst for eCommerce and digital transformation. While online shopping was growing fast before COVID-19 hit, quarantine, self-isolation, social restrictions – all these measures have pushed even more people online. In the conditions of increased competition for the consumer, only those brands that provide the best customer experience will survive.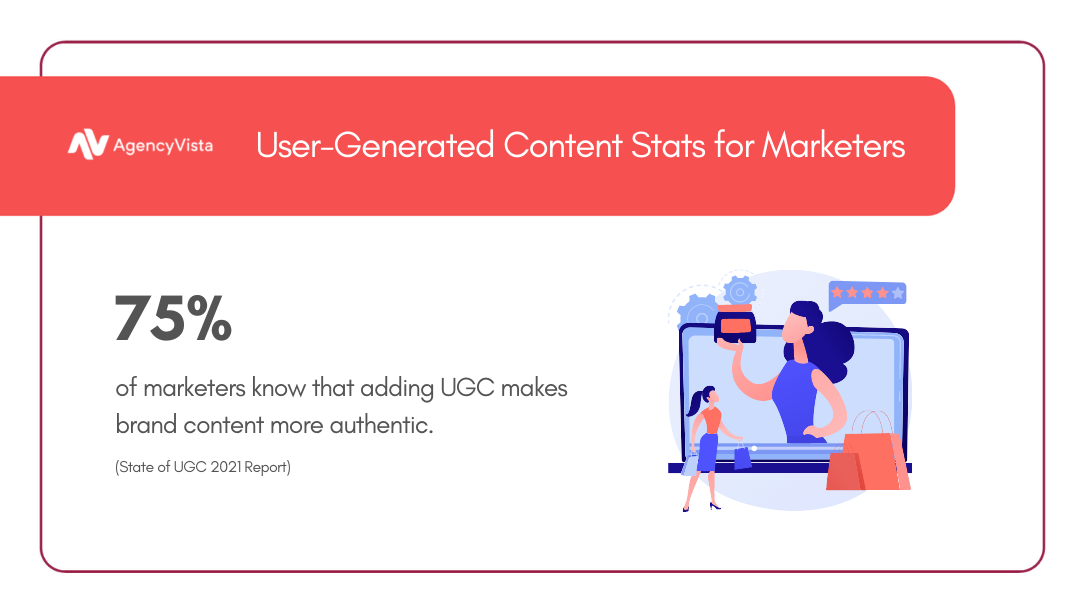 Buyers have become highly selective in their purchase decisions and search for trustworthy, relevant, and authentic content. That is precisely when user-generated content (UGC) comes in. Although user reviews have always been a powerful tool for building a loyal audience and attracting new customers, this type of content has reached a new level with the development of social networks.
What is UGC? Why is this type of content effective in a post-pandemic future? Keep reading this blog post to get answers to these questions.
What is UGC (User-Generated Content)?
UGC is the original content created by the brand's audience – reviews, podcasts, comments, photos, or videos of how the user interacts or demonstrates your product, and much more.
People trust other customers. Therefore, user-generated content has been one of the most effective marketing strategies in 2021. Customers get the opportunity to express their opinion about the brand and its product, and the brand receives not only feedback but also free content and excellent reach.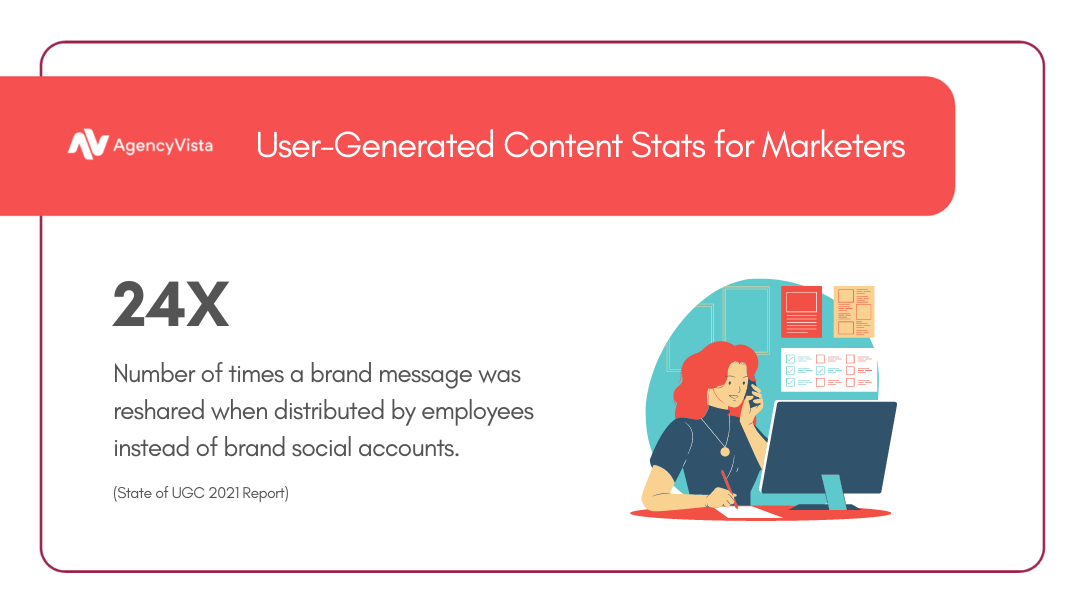 72% of consumers say real customer photos and videos are the content they most want to see on eCommerce sites when making purchasing decisions. Isn't it an impressive percentage? Stackla's data report reveals even more insights into the topic.
Gone are the days when users blindly accepted the content that was provided to them. Instead, today there are requirements for its authenticity, transparency, and desires for personalized online service. The global pandemic has only increased the influence of UGC. 56% of consumers report a colossal impact by images and videos from social media when online shopping.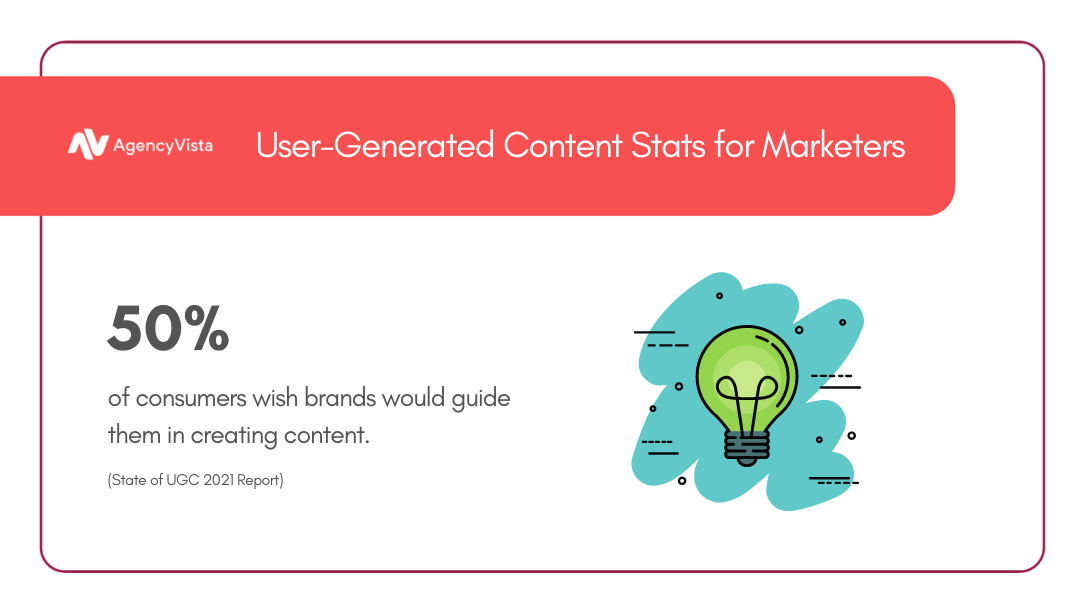 The awareness of brands that consumers have changed their attitude to content and the format of human-brand communications is crucial. If brands want to turn potential customers into buyers, then the correct approach to content will help.
Why is UGC So Effective for Brands?
88% of consumers say authenticity is essential when deciding which brands they like and support. As long as marketing strategies become outdated, the content generated by users becomes more and more effective.
Let's take a closer look at the advantages of using UGC:
1. Audience's trust
One of the essential bonuses that you can get when using user-generated content is the trust of users. When your brand shows interest in thoughts, ideas, feelings, shows your openness, attention, and respect – you will cause people to trust and believe in your project.
2. Increased users' reach and engagement
When people trust you and talk about that, others will not stand apart, and there is an excellent chance that they will be interested in your company. Here the phenomenon of social proof comes into force, which you have probably heard about.
Social proof has a strong influence on people, so you can significantly expand your audience. Thus, UGC not only strengthens relationships with existing customers but also reaches new users.
Moreover, you want to create content and share it when you can become the main character in the brand's social networks.
3. Viral potential
Today, you can create any content in social networks, and non-standard posts become viral: funny, visually attractive. So the brand can be presented in a new way. Moreover, the virality of user-generated content will likely be greater than that of regular content since people tend to share their creativity with friends, family, and acquaintances.
4. Creating a community
With the help of UGC content, you can create groups and communities of loyal users, with whom you can then share brand news, possibly provide some exclusive. The presence of a community of people dedicated to the brand is, without exaggeration, the goal of every marketer.
5. Building an emotional connection with your audience
With the help of UGC, the brand gets the opportunity to communicate with the audience and receive sincere feedback. People want to be heard by the brand and leave reviews, comments, create photos and videos. Therefore, it is essential to respond to user content and leave customers the opportunity to give feedback.
6. Effective SEO promotion
Using user-generated content on the site has a powerful positive impact on SEO. The volume of relevant content on the pages increases significantly, low-frequency queries appear naturally, and LSI queries are generated – these all create a semantic context and help search engines determine the page's topic. And if you post reviews and ratings in snippets, it will increase the CTR in the search results.
In addition to the direct impact on SEO, UGC content improves behavioral factors, involving the user interacting with the website and increasing the duration of sessions.
Essential Types of UGC
1. Reviews
A user review is the most popular, frequent, and familiar user content that plays a significant role in sales. Research shows that 91% of people regularly or occasionally read online reviews, and 84% trust online reviews as much as a personal recommendation. By studying the reviews, the project team receives feedback, and users learn customers' opinions about the product and service of the online store.
Some tips for working with reviews:
Make it easier to send a review and make the option available only to buyers.
Do not write reviews yourself — stimulate customers.
Work with the negative reviews.
Add a block with a summary of ratings.
This type of UGC actively works in conjunction with sales. Some users write reviews without any motives, but the "write a review – get something" scheme receives a better reaction. You can encourage customers to write reviews with a "pop-up" banner on the website, on social networks, using email marketing. You can offer a discount, a bonus, or a small gift in return for a review.
Agency Vista profiles allow both marketing agencies and marketing software to share authentic feedback about your products and services. Once you become a verified profile on their network, you can unlock their complimentary RaaS (Reviews as a Service) offering. This will allow you to collect trust-inspiring and marketable reviews, without taking time away from managing your business.
2. Comments
Comments are the simplest type of user-generated content. Users can leave comments on the product pages and blog articles or posts on social networks. The presence of comments is a sign that the product is attractive to users. Both the project team and other visitors can learn a lot of valuable things from the comments. Do not leave comments without attention; respond to them so people understand that you hear them.
In addition, users often share their valuable experiences in the comments section, which can be helpful for you and other site visitors.
3. Product review
A product overview is a detailed review of a specific product, demonstrating everyday use and consumer analysis, expert content. For the author, this is an opportunity to show expertise and get bonuses if they are provided. For other users — it is an opportunity to get to know the product better and make an objective decision.
Such UGC can be in the standard text format, or you can come up with something more creative – ask customers to shoot a video review, take photos, compose a poem, or write a song dedicated to your product. And don't forget to show your appreciation for this valuable content!
4. Photo and video posts on social media
Today's consumers are eager to act as content creators for their favorite brands. Adding users' photos is an easy way to increase the amount of UGC content on the site. It is easy to take a photo today, so people are easily involved in the process. Users consider photographs uploaded by other users to be more reliable; they motivate them to purchase.
Video with the product is also an excellent format for social networks. According to statistics, 93% of brands get new customers thanks to the user video content in social networks.
5. Podcasts
It is another engaging UGC format that should not be written off. Although podcasts are not as popular as photos or videos, they still allow listeners to "absorb" advertising more efficiently.
Creating a Strategy for a UGC Campaign
A successful UGC campaign implies a profitable exchange between users and an online business. The project receives valuable user content, and participants receive all sorts of rewards.
The main stages of the UGC campaign implementation:
1. Set goals and objectives
First, formulate why you need user-generated content. For example, the goal of a UGC campaign may be:
generate new customers;
search for fresh ideas and solutions (creating a new slogan, logo, redesign, and more);
new ready-made content for content marketing;
increase awareness and loyalty;
increase the number of subscribers.
2. Come up with an exciting idea that suits your target audience, and choose the type of content
Think over what you would like to ask your customers about (for example, create a slogan, shoot a morning run in sneakers from your company on video, write a review about your product, take a thematic photo with your products, and more).
You can announce a contest where you choose the best material and award the winners or publish the content on the website or social networks. When conducting contests, remember that the more complex the task you set, the more likely you will receive a much smaller amount of content.
3. Think about the reward
You need to reward users who will generate content — products from the online store, discounts, bonuses, access to a limited assortment, and more.
4. Choose a platform
Social networks are the most popular place to publish UGC. Here the content is created for the sake of content – for customers to express their sympathy for the brand and share it with others. It is a brilliant marketing move, given the outreach you can get in social networks. You can use it to increase brand loyalty and attract new customers.
To launch UGC on social networks, ask your customers to create a particular type of content and share it by marking it with the selected hashtag (your company's name or ongoing promotion, for example). When choosing a social network, you need to remember which content is the most suitable for the specific platform and what restrictions are applied there.
5. Encourage your users to create UGC
There are various ways to stimulate the creation of UGC:
integrate buttons for switching to social networks on the site;
use a pop-up or a banner offering to get a discount on the next purchase for a review;
announce the possibility of exchanging content for bonuses in social networks or mailing lists;
create a hashtag for user posts and periodically remind about it;
set up an Instagram feed gallery on the site with links to products.
A great solution is to launch a contest, a challenge, or a flash mob. Contests arouse excitement and make it possible to get a lot of user content quickly.
6. Thank your audience and choose the winners
If you held a contest or a flash mob, carefully choose the winners since the selected content characterizes your project. When awarding the winners, do not forget to thank all the participants.
7. Analyze your UGC campaign
Collect statistics on new subscribers, leads, and sales during the UGC campaign. This will give you an accurate understanding of how your company is developing and what effect UGC has on its development.
How Brands Use UGC
There are quite a lot of successful examples of using user-generated content; here are some of them.
UGC Example #1: Bjorn Born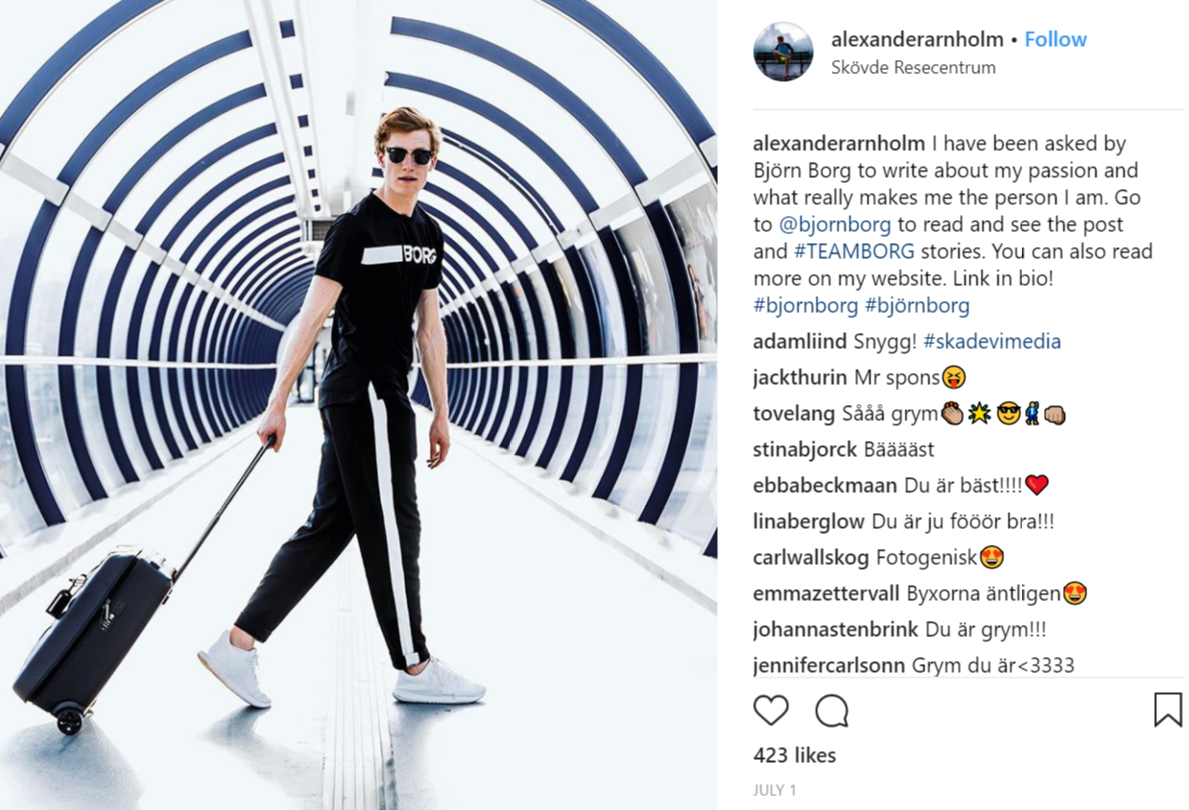 Swedish sports brand Björn Borg is a motivator for their subscribers. The company organizes various sports challenges, thereby motivating subscribers to play sports. They, in turn, share their sports achievements, training, and other sports activities, not forgetting to mark their favorite brand. Thus, Björn Borg creates a loyal community around itself and fills its feed with live UGC.
UGC Example #2: Karl Lagerfeld
Luxury brand Karl Lagerfeld has launched the World of Karl section on the website. On one of its pages, the fashion retailer reposts users' photos under the hashtag #karllagerfeld. The section is integrated with the online store: the system recognizes products from the brand's assortment in photos and links them to their purchase. As a result, the client can immediately buy a bag, coat, or T-shirt. More than 1 million posts have been published on Instagram under the brand's hashtag.
UGC Example #3: Tarte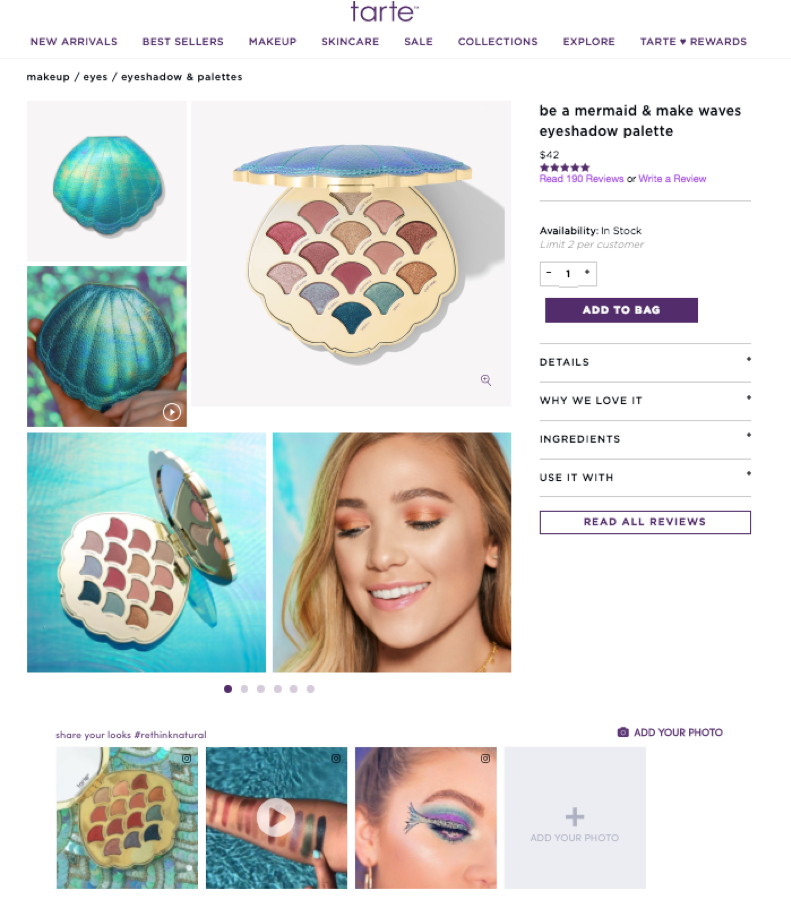 The cosmetic brand Tarte offers bonuses to the Tarte Rewards loyalty program participants for reviews of the brand's products. The retailer has launched a section on the website "Tarte Talk" – a feed with updated photos at the time of publication of a new review. User photos are also displayed on the pages of specific products — the system finds them in social networks using the company hashtag #rethinknatural, and the brand mark recognizes and transfers them to the site. Before buying, the client can see how the product looks on other customers.
Conclusion
The popularity of UGC is evident: people do not trust the ads of brand representatives praising products. To decide on a purchase, you need social proof — the opinion of ordinary users that the product you like is worthy of spending money.
Today consumers strive for personalization, transparency, and authentic experience; they want to play an active role in creating the content for the brands they love. Get the most of this tendency to enhance your ROI, growth, and shopping experience!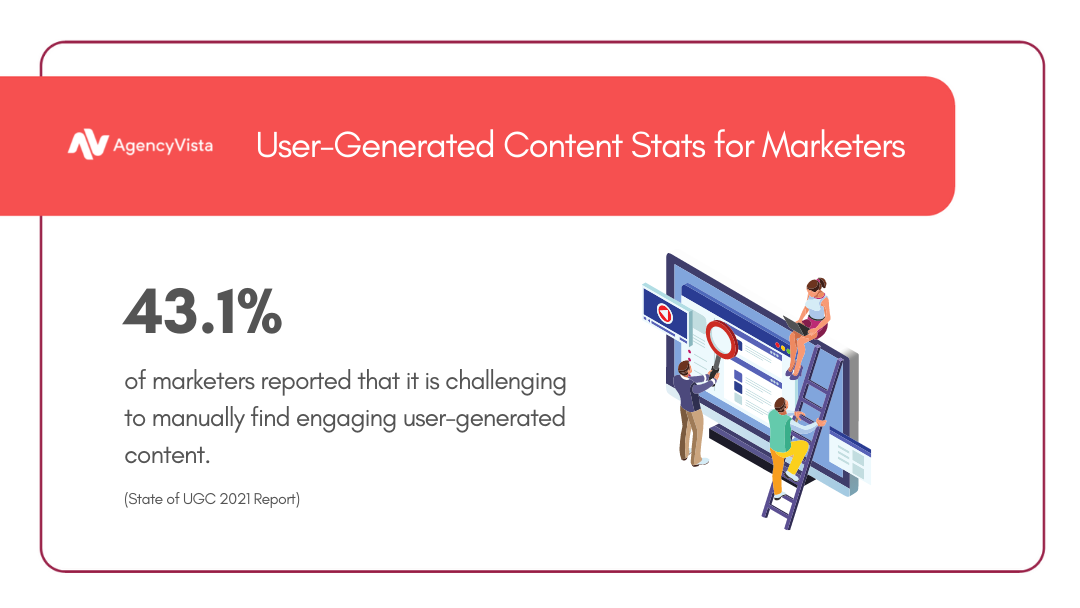 Don't have time to monitor the market, build an effective UGC campaign, or deal with promotion channels? Find the perfect agency to boost your marketing campaigns and scale your digital growth!