Reel Talk: creating, managing, and optimizing short-form videos is a lot of work. That's why we've rounded up the best Facebook and Instagram Reels scheduling tools.
Meta has gone all-in on Reels—and they're not looking back. Most social media management tools claim to be "all-in-one," but are they reely?
If your current workflow requires you to keep multiple tabs and tools open, it may be time to revamp your process.
It's time to focus on the features and tactics that support your current goals, so you can spend more time channeling your efforts where it matters!
So far, there are only 3 Facebook and Instagram Reels scheduling tools available:
Best Facebook and Instagram Reels Scheduling Tools
1. Vista Social
Vista Social ranks at the top of the list as it is the only platform that lets you schedule Reels with trending audio!
With Vista Social, you can schedule your short-form videos to Facebook, Instagram, and TikTok with songs and sounds at the same time—yet have them auto-publish at your best time for each network.
Not only can you schedule Reels, but you can tap into features like content creation, comments and DM moderation, analytics and reports, social listening, review management, and team collaboration.
Vista Social offers a seamless Reels management workflow:
With Vista Social, brands and agencies get access to priority support without any additional charge! You can reach out via video call, social media, or email.
Pricing: Vista Social plans are very simple, with only 2 options: free and paid. The free plan lets you connect up to 3 social profiles with 1 user; the Pro plan is only $3/social profile per month with unlimited users, post scheduling, and profiles connected.
2. Creator Studio
Creator Studio recently made Reels scheduling available to all users, with different formatting options to customize your content and schedule it from your desktop.
The button's 'Create Reel' label is a bit deceptive since you're not creating the Reel in Creator Studio. The video will need to be made ahead of time with audio and transitions, then uploaded to your desktop.

The platform offers some video editing capabilities, such as reframing horizontal videos to vertical or square and trimming the clip length!
Although Creator Studio is a viable option, it doesn't offer team collaboration tools or suggest the best time for you to schedule—which is key for connecting your content to your audience at the right time.
Price: Free.
3. Sprout Social
Sprout Social is one of the most recognized social media management platforms for enterprise users.
As a Meta Business Partner, they had access to the Facebook Reels API before other platforms—but have not made any announcements yet about actually offering Facebook Reels scheduling.
Sprout Social announced Instagram Reels scheduling on August 2, almost a month after Vista Social made Instagram Reels direct publishing available.
With Sprout Social, you can publish, engage, and report on your Instagram Reel's performance.
Price: Sprout Social doesn't offer a free plan. Their lowest-priced plan starts at $99 per user/month with only 5 social profiles connected.
Instagram Reels Scheduling Tools
As mentioned above, currently there are only 3 Facebook and Instagram Reels scheduling tools available.
Most other tools on the market only offer Instagram Reels auto publishing. Here is a quick roundup of the best Instagram Reels scheduling apps & tools for 2023:
Vista Social
Planoly
Preview App
Hootsuite
Metricool
Later
What Do People Use to Make Reels?
There are a ton of ways people can make Reels—it can be done directly on Instagram or Facebook (with the help of templates) or in a third-party tool like Canva or InShot.
The problem? Most Facebook and Instagram Reels scheduling tools don't offer content creation capabilities or integrations.
Reels are one of the most powerful content types for reaching new audiences and building a community. But, when you're wearing multiple hats, finding the time to create Reels can be a challenge!
So, when narrowing down which Facebook and Instagram Reels scheduling tool is best, you'll want to consider one that can support your content creation needs.
How Do You Auto Schedule a Reel on Instagram for Free?
To auto-schedule a Reel on Instagram for free, you'll want to look for a social media management tool that offers a free plan or free trial like Vista Social.
Leading Facebook and Instagram Reels scheduling tools should have features that show you when your audience is most likely to engage—and let you auto-schedule your Reels to publish at your best times.
Figuring out when to post on Facebook or Instagram can be a total mystery. But there's no need to channel your inner detective when social media management tools can do the work for you!
How to Schedule Reels on Creator Studio?
You can schedule Reels on Creator Studio by selecting the 'Create Reel' option in the Facebook tab or by tapping 'Instagram Feed' in the Instagram tab.
A lot of social media managers have complained that Creator Studio is a bit buggy with poor customer support:
Brands and agencies should consider if they need to schedule posts for other social networks like TikTok, YouTube Shorts, Pinterest, Reddit, and more!
With the right workflow in place, brands and agencies can stay on track with their strategy and win back valuable time.
So, Who Is The Best Reels Scheduling Tool?
While regular Feed posts still have their place on Instagram, Reels are the number one tactic for reaching new audiences. Brands and agencies should consider a tool that offers both Facebook and Instagram Reels scheduling.
If you're tired of your current platform being late to the game in rolling out new features like the ability to schedule Facebook Reels, it may be time to try out a new tool! Remember, with every new change comes opportunity.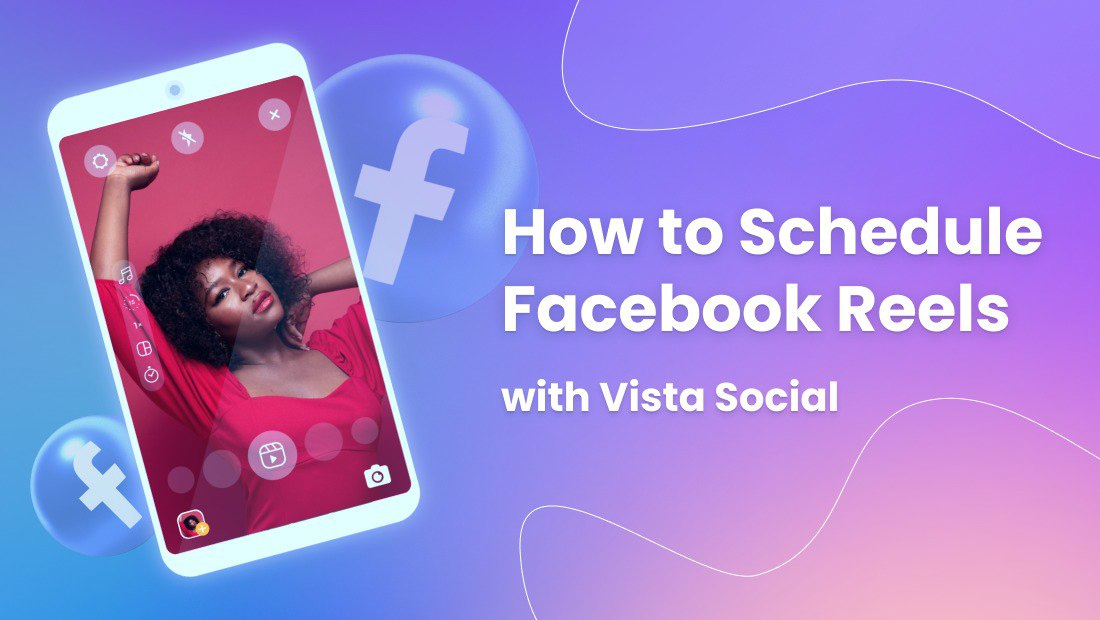 The best Facebook and Instagram Reels scheduling tools will make the content creating to publishing to optimizing process quicker and easier and keep you within one app—rather than losing time switching between tabs.
Here are some questions your team should consider before evaluating your options:
Do you need to be able to schedule Reels to both Facebook and Instagram? Or just Instagram?
Do you want to streamline your Reels workflow within one dashboard to save time and improve efficiency?
Do you need to schedule posts to other platforms outside of Meta like TikTok, Reddit, YouTube, and more?
Do you need more than 1 user to have access to the dashboard?
Is priority support important to your business when scheduling posts?
If you're looking for Reels auto publishing to both Facebook and Instagram, simple pricing, a clean UI, priority support (without added fees)—then, you should trial a plan with a modern tool like Vista Social!