Building long-term and strong relationships with a client is the primary indicator of the project's success. Unfortunately, the reality is that these relationships are getting shorter. Today the average client-digital agency tenure is less than three years. This means an exceptional client experience has never been more critical. Wrapping up a project on a positive and productive note is essential as kicking it off. With that said, service-based businesses start paying more attention to a Client Offboarding Packet.
Referrals are one proven strategy for reaching new customers when it comes to marketing agencies. 84% of B2B decision-makers start the buying process with a referral. Recommendations from existing and past clients are essential in building trust in a brand and attracting new clients. These recommendations are based on their own experience or knowledge, so maintaining past-client relationships is necessary.
This post will talk about a Client Offboarding Packet and its benefits to finishing the project and professionally offboard your clients.
Why You Should Have a Client Offboarding Packet for Your Agency
We all know that first impressions count, but last impressions are forever. As an agency that wants to be an industry leader, you want to finish the project with your client process on a high note. However, the client process should not end when receiving the final invoice; you need to do more.
If, at the beginning of a relationship with a client, an intake questionnaire can be an excellent step, the best way to say goodbye to your clients is using a client offboarding package. You can also come across such synonyms as a client Offboarding Packet or a Client Exit Packet. They all mean a small brochure in PDF, MS Word, email, or any other format that allows you to summarize your collaboration and say goodbye correctly.
This brochure in the preferred format allows you to:
Leave a heartfelt thank you message for the excellent collaboration.
Summarize deliverables and outcomes.
List down resources, helpful tutorials, and tools your customer can refer to in the future.
Specify troubleshooting steps in case your client runs into an issue.
Request feedback and a testimonial (yes, you are interested in your customer's experience, not just your profit).
List your additional offers and services the client might be interested in.
List the things/channels you will be leaving upon the project's closure.
Invite your clients to your referral program.
As you can see, a Client Offboarding Packet has numerous benefits for both – your agency and your client. You both will have a natural feeling of closure on the project and keep things organized.
Now, let's go through the must-have information in your agency's Client Offboarding Packet.
FYI: Agency Vista allows all verified agencies to quickly and easily intake customer information using a free intake questionnaire. You can fully customize and white label this process.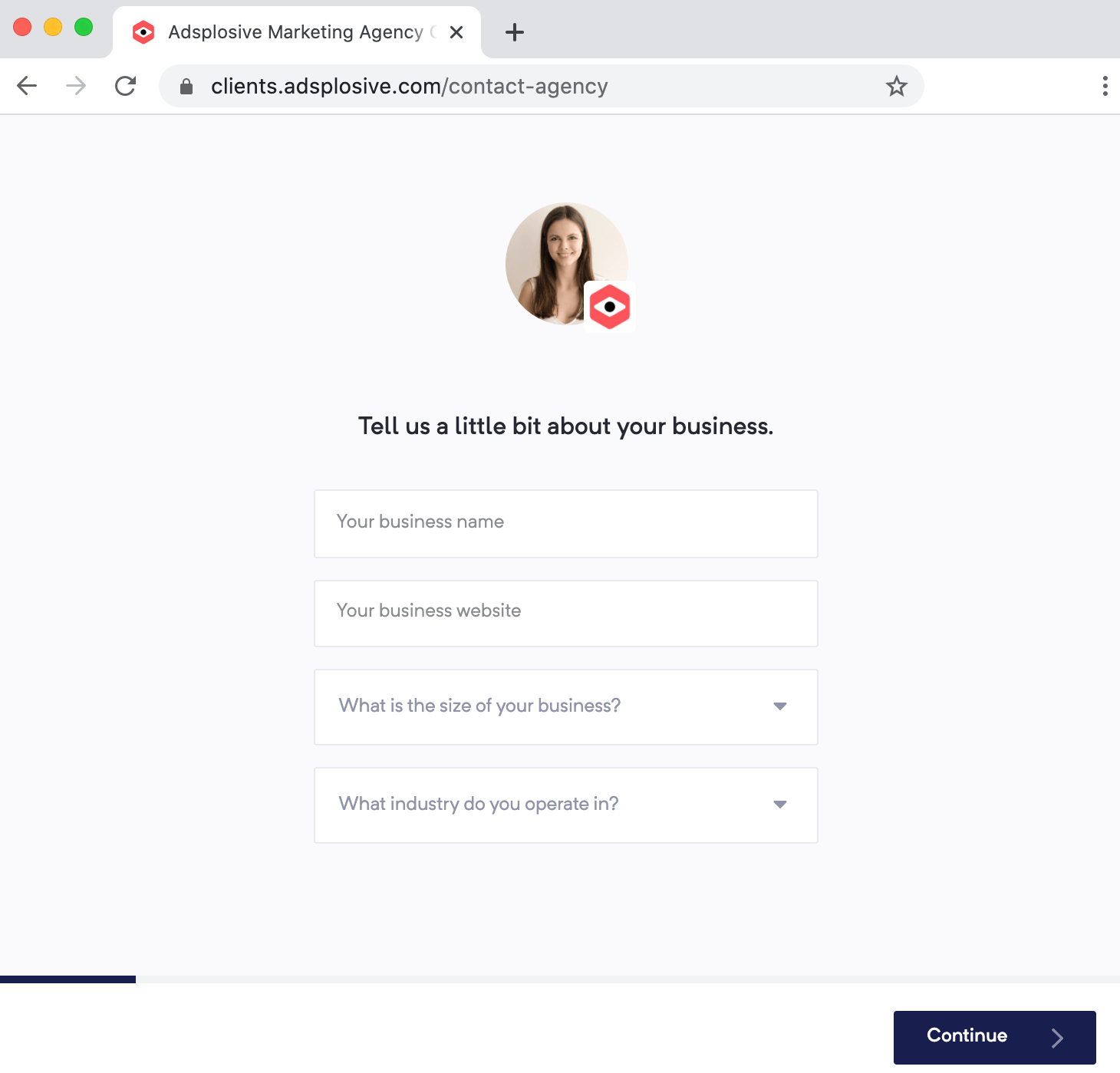 What Is Included in a Client Offboarding Packet
Here are several key things we recommend your Client Offboarding Packet include.
1. Leave a personalized goodbye message.
An introduction of your Client Offboarding Packet is a thank you note. Everyone likes to feel appreciated, so take this opportunity to express your gratitude and appreciation to the client for choosing your agency. Also, it is worth mentioning some specific examples that you enjoyed working with. It can be timely responses, trust in your processes, paying the invoices on time, and more. Specify the time you worked together and focus on the achievements obtained.
Make sure not to sound generic since it should be a sincere and personalized message. It is the last impression you want to leave your client with, and it should be perfect. Finally, you want to continue that personal connection and collaborate in the future.
2. Summarize the project deliverables and outcomes.
Show your client that the choice of your agency was right and represent the "before" – "after" to your client. This way, you will emphasize how much you helped achieve a goal or solved a problem through collaboration. For example, you can use the following metrics – they had 1500 Instagram followers before working together; in a month, the client had 3000 followers, and so on.
Mention the project-related links, accounts, passwords, and essential files if necessary. Ensure everything you have created for a client is saved and access to the materials is provided.
Pro tip: Do not hurry to delete the client's deliverables and drafts on your end for six months. It would be very nice to provide a client with a copy of the required information if they lose it.
3. List helpful tools, resources, and tutorials.
Even if you are OK with answering the client's numerous questions after the project is finished, you should optimize your customer work process. Ensure providing some helpful guides, step-by-step instructions, tutorials, blog posts, videos, and other resources. Clients will appreciate you going the extra mile and helping them not be alone with possible issues.
If you used any applications or tools to optimize your client's marketing work, include them in the list of resources and explain how to work with them. Such an approach will show that you care about the client's interests.
4. Request feedback or testimonial.
Not all companies ask for customer feedback, but this will help you stand out from the competitors. Requesting feedback shows that you are interested in the client's evaluation of the result and open to constructive criticism. You can include a link to the questionnaire, attach a fillable worksheet, or simply send an email with the questions.
Moreover, if customers are happy with the collaboration, they will be glad to praise you and provide a testimonial. So do not forget to add it to your website or social media pages.
Feedback request is an excellent chance to impress your future customers (and receive more referrals). In addition, you demonstrate that you strive to provide your clients with the highest brand integrity and client satisfaction.
If you partner with Agency Vista, your clients can leave you a review right on your Agency Vista profile. Use a review request email campaign and ensure your Agency Vista profile link is inserted.
5. Mention your additional offers and services.
No doubt, you want to continue selling more service packages. Based on the finished project and the client's needs, you can include a list of the service that could be helpful for a customer in the future.
This step will inform your customer about the range of your services and the opportunity to work together further. The good idea is to present your client with a specific discounted offer for a new project.
6. List the things/channels you will be leaving.
If your client and you both have access to some applications/tools/channels, it will be correct to notify them that you will be removing or leaving within a specific time.
Moreover, ask your client to remove you as admin from a website, social media accounts, project management systems, communication systems, and more.
7. Invite a client to your referral program.
Since a Client Offboarding Packet reminds clients how great you are, it is a perfect time to invite them to join your referral program. No doubt, more businesses will go your way.
8. Present a goodbye gift.
This point is optional, but you must agree it is a pleasant one. We are talking about a small gift as a part of your Clint Offboarding Packet. This way, you will stick in your clients' minds, and they will remember your agency whenever they need any marketing-related assistance. Think over a book, small candle, or coupon code.
Conclusion
By creating strong relationships with clients, you will take your business's efficiency and financial security to a new level. A quality Client Offboarding Packet is a perfect way to complete a project, set clients up for success, and minimize further questions. Ensure to include the details listed in this post to appreciate your collaboration and leave the door open for more projects in the future.